This list is incomplete as I still haven't tried all the things I want to. Some are Trashy, some are classy, but here are some of my favorites of all time.
47. Cheeseburger, Red Hot Ranch, Chicago, IL
There's locations of this miracle place and most things come with fantastic fries. One of the best late night burgers I ever have. Get some fried shrimp and hot dog which is an abbreviated version of a Chicago Dog (no pickle or tomato) for a magical meal
46. Al's Italian Beef (Original Location, Taylor Street, Chicago, IL
There's no bathroom to wash your hand for this Italian version of a French dip. The Giardinara and some hot or sweet peppers kick this out of the park.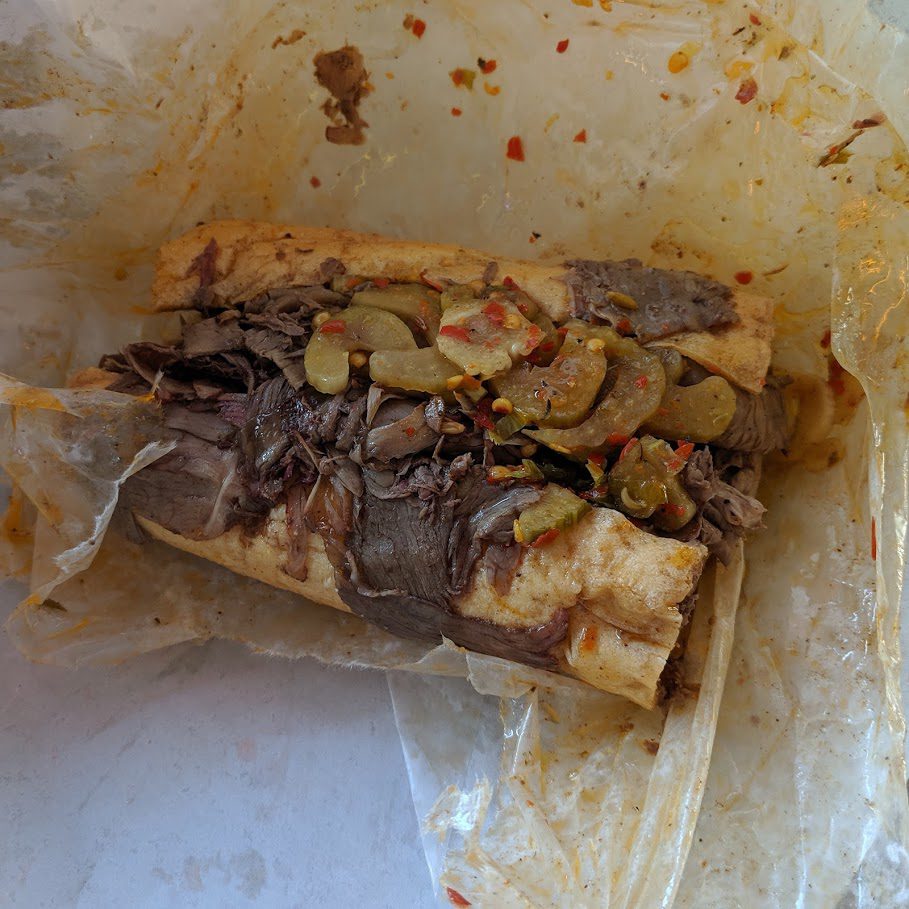 45. The Onion Burger, El Reno, OK (Multiple Locations)
Originally a depression era food stretcher, this fusion of meat and onions is perfection and well worth the trip to the town just 40 minutes outside of Oklahoma City. I went to two of the 3 most well known purveyors, Johnnies Grill and Sids Diner. Sids has a few other locations. Johnnies Grill is not to be confused with the Johnnys that is in Oklahoma City.
44. Chaps Pit Beef, Baltimore, MD
On an industrial highway next to a strip club and across the street from a tire joint and a sex shop is a little shack of wonder called Chaps. Its a 45 minute bus ride from downtown. Get anything with the beef. I added sausage. Load it up with tiger horseradish sauce, fresh horseradish and onions. Yum.
43. Texas Hot 'Coney', Heids of Liverpool, Liverpool, NY (Syracuse)
Usually a Coney is a chili dog. Usually a Texas Hot Dog is Chili Dog. Here a Coney is a white pork and veal sausage. You can get that 'Coney', topped with chili, but for a little more they will make you a Texas Hot which means its topped with a thick meat sauce, onions and mustard.
42. Beef On Weck, Original Charlie the Butcher, Williamsville, NY (Buffalo)
Their are many locations but the original is the best. Super tender roast beef on a fresh bun and excellent sides. Pile on the horseradish to blow your top!
41. La Cova Fumada, Barcelona, Spain
This neighborhood restaurant has a local delicacy called bombas. Bombas are potato croquettes with meat inside topped with a super garlicy sauce and a dollup of hot sauce. They are not very patient with people who are unfamiliar with the menu though.
40. Bray's Hamburgers, Detroit, MI
The Original is Two small patties and thousand Island dressing and some magical grilled onions. I had asked for some of the "special sauce" on the side which is a garlic sauce used on a different burger. In an old building that has been renovated so it doesn't look old. Theres a donkey statue inside that used to be on the roof.
39. Dinics, Philadelphia, PA
Screw the cheesesteak, this joint serves the best sandwich in Philly, the Roast pork with Broccoli Raab and Sharp provolone in the Reading terminal market. Its juicy deliciousness makes the best cheesesteak seem like a dry desert. Afterwards get a donut from Beiler's and some landjaeger from Smuckers (not the jam folks)
38. Swensons, Akron, OH
Home of the galley boy, a burger with two sauces, a tartar sauce and a bbq sauce.
37. Ethyls Alcohol and Food, Manhattan, NY
Home of the five dollar burger which is slightly smaller than a shake shack burger. It has sweet pickles on it that taste like relish and it is my second favorite burger in NYC. Nice crunchy sear on the patty.
36. Langlois Market, Langois, OR
I had just gotten a speeding ticket on the Oregon Coastal Highway. Needing a break I saw a sign, "worlds greatest hot dog". So I got one of these weird looking things with a homemade sweet mustard and homemade pickles and it was suprisingly fantastic.
35. Mighty Quinns BBQ-New York City (Multiple locations)
Brisket that equals the best in Texas for a wallet friendly price in a quick serve atmosphere. The Sauce is unnecessary. Make sure they give you the pickled onions, brined cucumbers and pickled bird chiles. The other sides are just okay. If you have a friend and are flush with cash, get a brontosaurus rib, a huge short rib that is several pounds. Steer cleer of the burnt ends as they are just scraps drenched in sauce.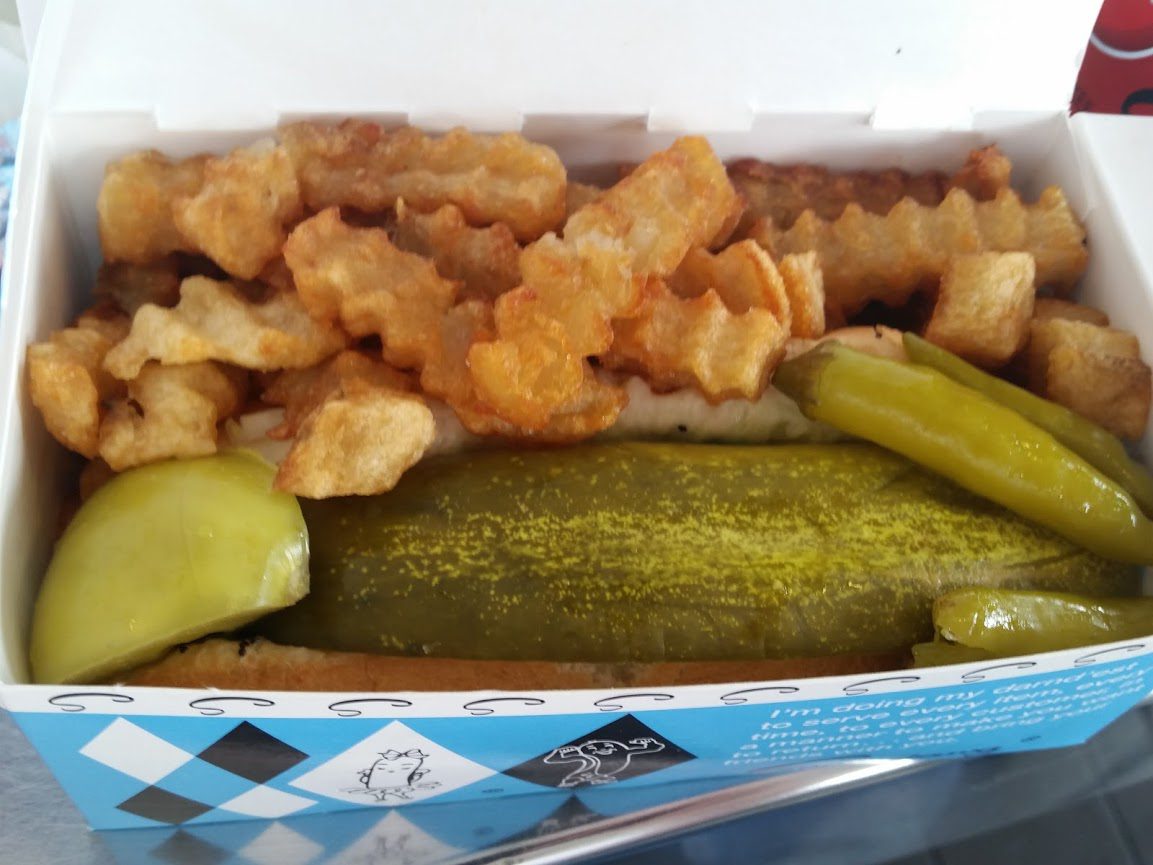 34. Superdawg-Chicago, IL (Multiple Locations)
Try to get to the original location if you can. Featuring on pretty much every single hot dog show ever, I was able to swing by in 2016 on the Great Upper Midwest Burger trip. Chicago dog perfection including a pickled green tomato and crammed in a box with the only crinkle cut fries I have ever loved.
33. Black Iron Burger-East Village location ONLY-New York City
There are other locations of this joint that have inconsistant reviews, but this is Trashy Travel's go to burger joint in NYC. I've tried 3 of the their burgers and all are perfect. Add to that some phenomenal thin onion rings, an excellent version of California garlic fries and you have burger perfection
32. The Donut Shop-Natchez, MS
The first time I road tripped by myself in my now annual pilgrimage from Memphis to New Orleans, I stopped at this place for Donuts but saw that they sold Tamales and I bought a half dozen. It was the first time I tried Delta style tamales, which are mostly meat and just a little bit of corn. I devoured them shirtless in my hotel room later that night which was necessary because they were very messy. Now I find out that they have burgers too so I must go back.
31. Real Chili-Milwaukee, WI (Multiple Locations)
Trashy Travel feels that there is a severe shortage of real chili, that is beanless, all meat chili. Probably inspired by the nearby Chili Johns in Green Bay. this chain has it going on. They do spoon it over either beans or spagetti, but I paid extra to skip that. The hotter the chili, the more expensive, but I believe the hot is just cooked down mild. Be careful of the upcharges for cheese, onion, jalapeno and more. That, as they say, is how they get you.
30. Bourques Superstore, Port Barre, LA
This is a supermarket and it is sort of out of the way, but if you are near Baton Rouge it is worth a detour to get their Jalapeno Sausage Cheese Bread. Thats it. Get one for the drive and one to take home. Heaven.
29. Dicks Hamburgers-Seattle, WA (multiple locations)
One of those "this shouldn't be good" kinds of places, many of these locations are beautiful roadside stands with way better than they should be burgers and fries. Stick with doubles for best results. The fries are impressive natural shoe strings that don't travel well, but they are served with the secret sauce/tartar sauce for dipping. If you are looking for an unsweetened beverage better bring your own seltzer.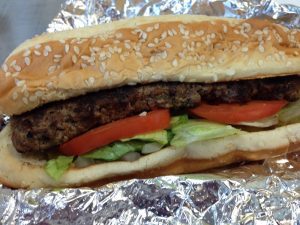 28. Char-Grill, Raleigh, NC (Multiple Locations)
Bizarre ordering system where you fill out your own ticket and drop it in a slot and they call you to a window when your order is ready. HUGE grilled burgers and boiled bright red slaw dogs that put burger king to shame.
27. Dinosaur BBQ, Manhattan, NY
There a multiple locations of this restaurant but this is only for the Harlem Location. The other NYC location is not nearly as good and doesn't have inhouse made desserts and the sides aren't as good. The only bbq in NY with several pescatarian options, Dinosaur Harlem has Amazing Ribs and a deat called the sweetheart special which gives you four sides and a whole rack to share. Sides include great garlicey Cole Slaw, great beans and these oddly good "Syracuse Salt potatoes" which are small potatoes served in a butter sauce. The only only good and reasonable peel and eat shrimp in NY with a delicious and spicy cocktail sauce. Top in off with tart and tasty key lime pie for cheap and its a great meal. Brisket can be hit or miss though.
26. Missoula Club-Missoula, MT
Huge bar that makes tasty griddled burgers and not much else.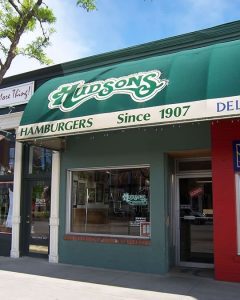 25. Hudson's Hamburgers-Couer d'Alene, ID
Grilled cheeseburgers, no fries with super thin hand sliced onions and pickles. No fries but they do have pie.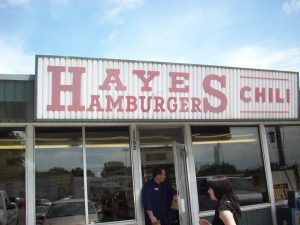 24, Hayes Hamburgers-Kansas City, MO
We were eating somewhere else in Kansas City and a server told us about this place. Delicious tiny chili topped sliders.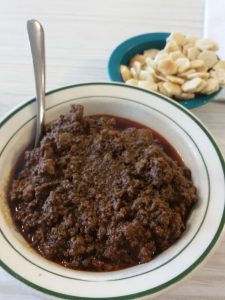 23. Chili Johns-Los Angeles, CA/Green Bay, WI
I have been to both of these locations, the LA location near the end of Route 66. Not quite a chain, the Chili Johns in Green Bay told me that many years ago, they gave a family member permission to open the LA Location and they have been both operating as solo entities for decades ever since. The LA location oozes charm. Very similar to Real Chilis methods. Served over either beans or chili, upcharges for toppings, more for hot. Unlimited oyster crackers. Yum.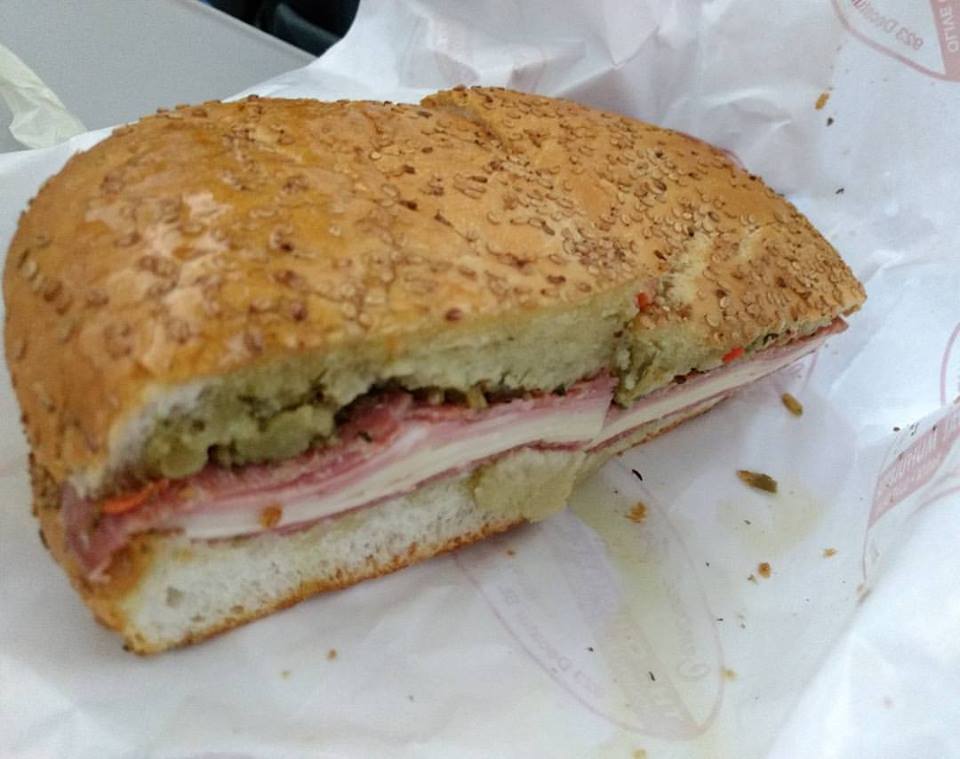 22. Central Grocery, New Orleans, LA
They only do one thing and it is perfection-The Muffalatta. Buy one as soon as you get to New Orleans and put it in your hotel room for when you get home drunk. Drunk you will thank you. Cold cuts, cheese and Olive salad, pressed is round bread under a weight. You can also buy a jar to pepperocini to kick it up a notch.
21. Mai-Kai, Fort Lauderdale, FL
This is my favorite bar on Earth and the Greatest Tiki bar on Earth. Let me be clear, the food is…good to okay, but when you combine it with half off appetizers at happy hour with the best tiki drinks anywhere and the Shanghai Chicken (deep fried bacon wrapped chicken bites) become the best food ever. The Thai style crispy shrimp is a thing of wonder and the braised short rib, a steal at happy hour is magical. The cheese tangs stepped right out of a 70s party cookbook. And FREE dumplings and sushi in the bar at happy hour on Wednesdays.
20. Hattie B's Nashville, TN (Multiple Locations)
I've tried the Princes, the originators of this Hot Chicken, but Hattie B's has taken it to the next level. Hot Chicken is fried chicken that starts out as if someone accidentally dumped an entire bottle of cayenne pepper in the flour mixture and then they take that and dip it in a hot sauce. Its magical and despite the torture, you keep coming back for more. Hatties also has great side dishes and dishes it out way faster than Princes.
19. Tadich Grill, San Francisco, CA
Not cheap, but this classic huge menu seafood restaurant is a must. Great crabcakes, and you can get the regional Louie salads or Ciopino, a tomato based Seafood stew.
18. Joes Stone Crab-Miami Beach, FL
The best restaurant in Florida. Stone crabs are stone crabs (get the Mediums, don't get suckered for the larger ones) but what makes this place phenomenal are the sides. Sadly they don't have their garlic dressing anymore, but Joe's vinegrette is amazing (salads can be split), the Garlic spinach or creamed spinach are divine and this dated oddity, grilled tomatoes is something i always dream about. It is a huge tomato slice covered with spinach, breadcrumbs and a normal cheese, maybe american?, that is broiled until it fuses together in awesomeness. Your life is meaningless if you skip the key lime pie.
17. Katalinas, Columbus, OH
Pancakes balls filled with Pumpkin apple butter or nutella, served with spicy candied bacon. Get a side of brussel sprout hash. Best during summer as its in an old gas station and has all outdoor seating.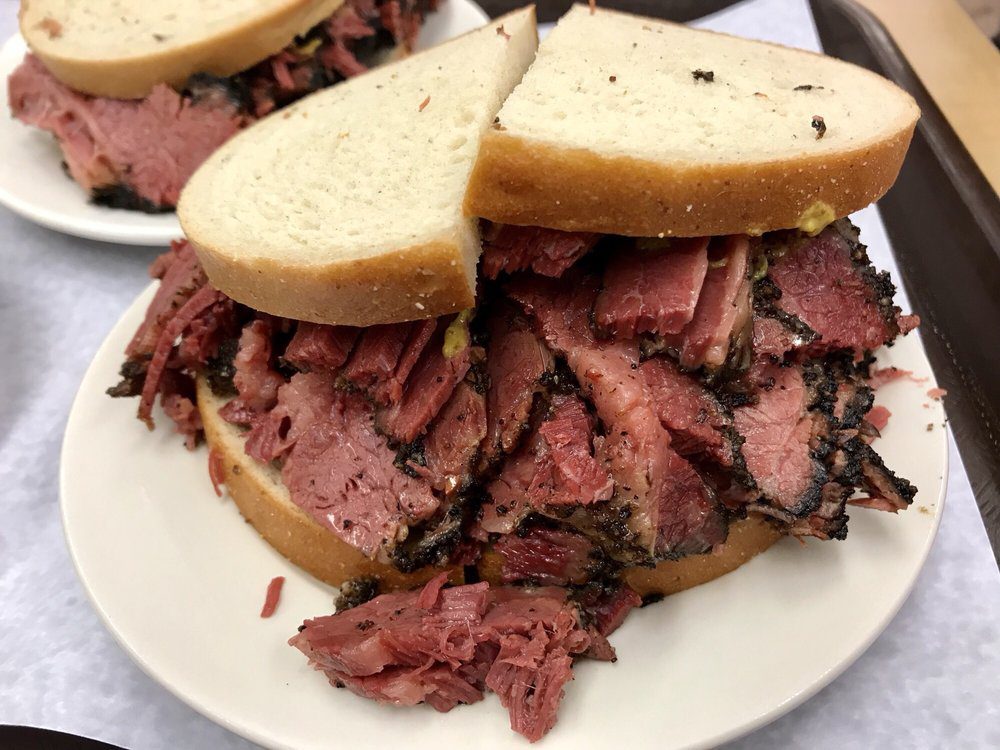 16. Katz Deli, Manhattan, NY
A rare survivor home to the best pastrami anywhere. Tip the guy a buck to pad your sandwich. They give you a piece to eat while you are hand carving it so be ready to eat. Pro tip, get it to go, ask for a side of russian dressing and half sour pickles.
15. Hatties Tamales, Memphis, TN
Theres a storefront, but I always by these in a satellite trailer in appliance store parking lot. The Delta tamale mentioned above is one of my favorite food items. Mostly meat, with a little bit of cornmeal around the edges with a spicy kick. Ten bucks gets you 8 or these delicious meat cigars.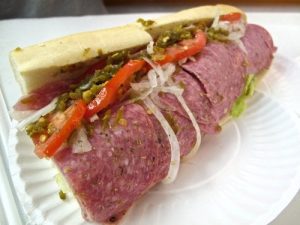 14. White House Sub Shop, Atlantic City, NJ
The only thing worth going to AC for, this old sub shop has the best cold cut italian anywhere with GREEN cherry pepper relish served on huge rolls baked from local bakeries all day. Theres other subs like a decent steak sandwich but the italian is the reason to go here. Period
13. Als Hamburgers, Green Bay, WI
They recently changed owners but this 80 year old burger joint has phenomenal burgers, fries and onion rings. People eat breakfast here too but I can't figure out why.
12. The Coffee Pot, Roanoke, VA
Theres a giant coffee pot on one side of the building and a big event room that has bands and karaoke. For some reason, the food here is great, including an insanely good vinegar cole slaw. Stay away from the shrimp though. I had the meatloaf and mashed potatoes. One minus is that they allow smoking and it gets very smoky.
11. Village Coney, Columbus, OH
Trashy travel is always on the quest for a great chili dog and this lunch spot has amazing ones topped with the most delicious fresh cole slaw anywhere. Great onion rings too. I got extra slaw to go and drunk ate it after sick weekend at ace of cups.
10. Matts Bar, Minneapolis, MN
Home of the famous jucy Lucy, a cheese stuffed burger. This one lives up to the hype. The regular burger is worthy too.
9. White Manna, Hackensack, NJ
Vintage teeny tiny diner that serves perfect thick sliders on potato buns that fuse cheese, onion and meat together into the perfect flavor bomb. They just do one thing and they do it well. Theres a one "n" White Mana in Jersey City but its not as good.
8/7. Hey Hey Lounge/Schmidts Sausage House (Columbus, OH)
Columbus Ohio has regional specialty, the Sauerkraut ball, and these two very different restaurants have excellent versions. It is sausage and sauerkraut blended into a paste, rolled in bread crumbs and deep fried. Hey Hey is a huge divey bar with other good bar food that makes a homestyle, chunky, very peppery version with pure horseradish for dipping. Schmidts is creamed until the inside is super fine and served with a mustard for dipping. Schmidts also has German Food and is famous for gigantic cream puffs in many flavors.
6. Mihms Charcol Grill, Menasha, WI
My favorite burger in Wisconsin, this simple burger is grilled over charcoal and topped with butter and onion on a sheyboygan hard roll that is crusty on the outside and soft on inside. Smoky, juicy and delicious.
5. Bar Guernica, Boise, ID
Boise has a big Basque population and this small bar serves fantastic Basque inspired food. The garlic dressing on their salad is mind blowing, the croquette balls served with tiger sauce are divine and the Lamb dip and Pork with pimento sandwiches are awe inspiring.
4. Paynes BBQ, Memphis, TN
In an old gas station, this bbq joint serves some of the oddest, but best bbq around. They top everything with neon green slaw and a hot, sweet bbq sauce. The normal folks can get the pork sandwich, but the baloney sandwich on white bread with the slaw and sauce shouldn't be as amazing as it it. Get the beans and tamales if they have them too.
3. Memphis is general
I've been going for 5 years in a row so far and I still haven't eaten everything here. You have fantastic burgers at Ernestine and Hazels and Alex's Tavern, the best bbq anywhere with regional variations within Memphis such as BBQ Spagetti, Cornish Game Hens, rib tips and others and the great fried chicken varieties of Gus' and Uncle Lous that is dipped in their sweet spicy love sauce. Yum. Even the cash saver supermarket has mind blowing fried chicken for cheap.
2. Neyows, New Orleans, LA
Recently doubled in size, this Cajun restaurant serves my current favorite version of my favorite food in New Orleans, Chargrilled oysters. I didn't like oysters til I tried this dish and now I am addicted. Oysters and covered in butter and garlic and cheese and grilled til they get brown and crusty. They serve it with pieces of the bread used locally for po boy sandwiches to sop up the garlic butter. Other versions I enjoy in New Orleans can be found at nearby Katies and the Chain Acme Oyster House.
1 Mary Chung, Cambridge, MA
Home to my favorite dish in the entire world, Suan La Chow Show. Suan La Chow show is only available in the Boston area but should only be eaten here. Wontons on a bed of beansprouts in a spicy, savory sauce with pickled garlic. Also their peking ravioli and its dipping sauce are fantastic. Main courses can be hit or miss but Suan La Chow show never disappoints.