Las Vegas
Weed is Legal in Nevada.  Dispensaries are everywhere.
Events-
Vegas StrEATS is a street food and culture festival hosted every second Saturday in downtown Las Vegas, showcasing the valley's hottest local food trucks, artists, musicians, & fashion.
Some annual events:
Early April-Viva Las Vegas Rockabilly Festival
Memorial Day-Punk Rock Bowling Festival
Late July-Elvis Festival
Eats-
Chengdu Taste-Branch of Los Angeles mini chain in a strip mall alley behind the Golden TIki.  Get the spicy wontons  3950 Schiff Dr, Las Vegas, NV 89103   (702) 437-7888
Lawry's The Prime Rib-4043 Howard Hughes Pkwy., Las Vegas, NV-Actually a chain, this place specializes in only Prime rib, and seasons everything with Lawrys seasonings and dressings.
Memphis Championship BBQ, 4379 Las Vegas Boulevard,
North Las Vegas, (702) 644-0000 also other locations.  Chain run by Mike Mills, who won numerous bbq championships.
Bob Taylor's Ranch House –6250 Rio Vista Las Vegas, waaaay off the strip, this place cooks all their steaks over a mesquite fire.  Yum.
Golden Gate Casino-One Fremont Street, Las Vegas, NV -part of the "old" Las Vegas experience, they are the home of the $3.99 cent shrimp cocktail, which is voted the best in the city.
Four Kegs Sports Bar-276 N Jones Boulevard Suite B, Las Vegas, NV 89107 (702) 870-0255 Grungy old sports bar that makes amazing Strombolis with 24 hour take out
Hash House A Go Go ·6800 W Sahara Ave · Las Vegas (702) 804-4646 -Crazy breakfasts including bacon COOKED INTO A WAFFLE!!
Farm Basket-former fried chicken chain known for its "Great Gobbler" sandwich, made with breaded turkey breast, Miracle Whip and cranberry sauce.
6148 W Charleston Blvd, Las Vegas, NV, 89146 702-878-6343
The Hush Puppy -7185 W Charleston Blvd, Las Vegas, NV 89117 (702) 363-5988 Very limited hours except for Sunday, lots of cheap all you can eat plates and New Orleans Style Seafood Dishes. They now have a 2nd location
Huntridge Pharmacy & Soda Fountain- 1144 E Charleston Blvd, Las Vegas, NV 89104
Phone:(702) 382-7373 Drugstore with an old timey soda fountain
American Coney Island Las Vegas- 301 Fremont St, Las Vegas, NV 89101  Open 24 hours  (702) 388-2120-Vegas branch of Detroit Classic.  Chili dogs around 4.50 in 2019
Market Street Cafe-24-hour diner at the California with Hawaiian food like spam stuff and oxtail soup. California Hotel & Casino- 12 E Ogden Ave, Las Vegas, NV 89101  (702) 385-1222
Dougie J's Cafe -6235 S Pecos, Ste 106, Las Vegas, NV 89120  (702) 917-9248-Casual Brunchy and burger place in honor of a military hero.
Classic Restaurants
Bob Taylor's Ranch House -Homey, wood-paneled, ranch-style gourmet restaurant serving mesquite-grilled steaks & seafood.   6250 Rio Vista St, Las Vegas, NV 89130 (702) 645-1399
Golden Steer -restaurant, bar & lounge serving steak, seafood & wine in vintage Vegas atmosphere. 308 W Sahara Ave, Las Vegas, NV 89102  (702) 384-4470
Chicago Joes-820 S 4th St- Las Vegas, NV 89101-Italian restauarant in an old house
Hugo's Cellar-All ladies receive a long-stemmed rose. Since 1976, 'Hugo's Table-side Salad' accompanies each entree, Lots of Flambe including Bananas Foster or Cherries Jubilee for two. In the Four Queens Hotel And Casino-202 Fremont St, Las Vegas, NV 89101  (702) 385-4011-All entrees include Bottled Water, Cheese Lavosh and Fresh Baked Breads, Table-Side Salad, sorbet between courses, ,Chocolate Dipped Strawberries, Apricots and Baby Figs, ,Butter Pomme Puree, Forbidden Black Rice or
Roasted Fingerling Potatoes and Fresh Vegetable Du Jour
Pamplemousse Le Restaurant-Las Vegas' oldest French restaurant. Complimentary crudités with a side of house-made vinaigrette. 400 E. Sahara Ave. Las Vegas, NV 89104
(702) 733-2066 $58 five course prix fixe menu
Top of Binion's Ranch Steakhouse ?-24th floor restaurant with blue cheese or boursin crusted steaks, prime rib, seafood, panoramic views & a vintage Vegas vibe.128 Fremont St, Las Vegas, NV 89101  (702) 382-1600  Binions Cafe downstairs has a Cheap and good burger and a frank n burger which has both.
The D Cafe-301 Fremont St, Las Vegas, NV 89101 Fremont St inexpensive restaruant with  prime rib that is more than the 13 dollar one at the orleans but still inexpensive.
Siegel's 1941 -throwback eatery & bar offers steaks & other American fare. in the El Cortez,, 600 Fremont St, Las Vegas, NV :(702) 385-5200
Bars-
TheDive Bar -4110 S Maryland Pkwy, Las Vegas, Nevada 89119-Home of the Life is Shit festival, around the end of September.
Peppermill's Fireside Lounge-2985 S. Las Vegas Blvd., Las Vegas, (702) 735-7635 Open 24 hours. Average drink  $5.
old-school lounge  rimmed with mirrors, low, cozy booths and a fire pit surrounded by water. Sassy waitresses that sit down at your table as they take your order.  Many couples come to the Fireside just to make out.
Teatro Euro Bar At MGM Grand (Studio Walk) Las Vegas, NV
(702) 891-3695-Go go bar with a 60s spy vibe
Beauty Bar Las Vegas is located at 517 Fremont Street, at the intersection of Fremont Street and Las Vegas Boulevard. Part of a mini chain of beauty bars which started in New York, this place has hair dryer seats and hipster music from 60s to today.  Has a stage for live music with occasional punk shows.
ELLIS ISLAND CASINO & BREWERY , 4178 Koval Lane , Las Vegas , NV
cheap beer. This is what you get at Ellis Island, where their delicious brews are only $1, all the time. They have four varieties — Light, Dark, Amber and Hefe Weiss — and some top-notch barbecue to chase it down with.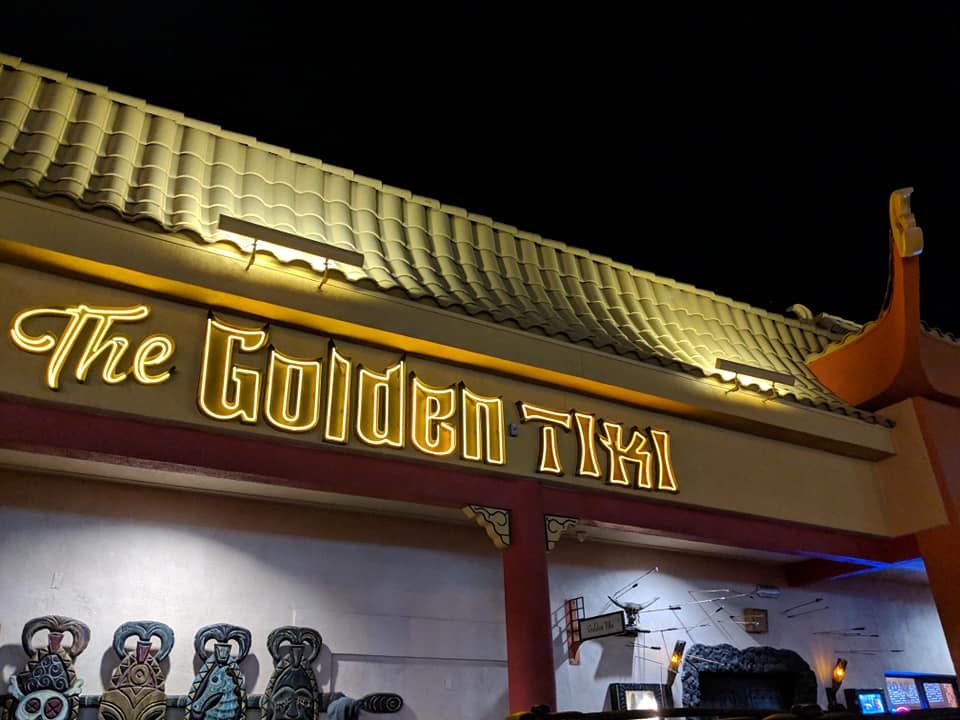 The Golden Tiki-24 hours-Exotic, tiki bar-themed hangout with a long bar featuring tropical cocktails & DJ music. 3939 Spring Mountain Rd, Las Vegas, NV 89102(702) 222-3196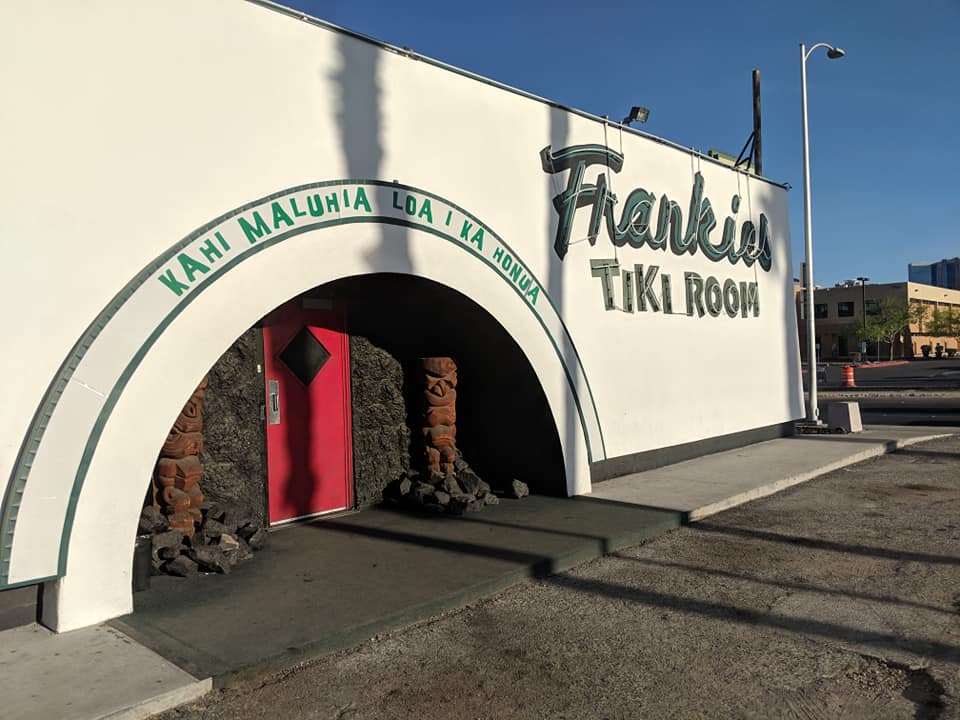 Frankie's Tiki Room-1712 W Charleston Blvd, Las Vegas, NV 89102
(702) 385-3110 24 hours. Smoking    www.frankiestikiroom.com
Dinos-1516 Las Vegas Blvd S, Las Vegas, NV 89104 (702) 382-3894 Dive bar with Karaoke
Tiki Di Amore-2850 E Tropicana Ave, Las Vegas, NV 89121
Hours:
Closed ? Opens 5PM
Phone: (702) 433-4967
Velveteen Rabbit-1218 S Main St, Las Vegas, Nevada 89104-Cocktail Bar with occasional DJ Nights
Museums
Cannabition Cannabis Museum– 450 Fremont St #140, Las Vegas, NV 89101  (702) 909-0420-Claims to have worlds largest bong.  Lets just see about that….
Wierder than usual-The Liberace Musuem-This has moved to the Thriller Villa,  a Micheal Jackson Museum and there is a car collection at another location.  The cost is now an outrageous 130 dollars.
The Neon Museum Las Vegas -The Neon Museum is a non-profit dedicated to preserving the city's most iconic art form – the neon sign. Tour the Neon Boneyard today! 770 N Las Vegas Blvd, Las Vegas, NV 89101
(702) 387-6366
Dancing-
The Mint-332 W Sahara Ave.,Las Vegas, Nevada 89102 (702) 776-3313-Bar and Casino with Live Swing events and lessons and some mod and other dj nights
Live Music-
Backstage Bar & Billiards– 601 Fremont St, Las Vegas, NV 89101 (702) 382-2227

Double Down Saloon -4640 Paradise Road, Las Vegas, NV, 702.791.5775-dive bar unlike most in LV.-apparantly related to the East Village bar of the same name, this location has FREE live bands many nights a week.  Every 1st Wednesday of the month they have Franks and Deans Weenie roast with free hot dogs and a performance by Franks and Deans, a rat pack punk rock cover bands.
Legends Lounge -865 N. Lamb Blvd -Las Vegas NV 89110 702.437.9674
The Griffin-511 Fremont St, Las Vegas, NV 89101-Fireplaces, dark, dark, dark, cool cocktail signs and sometimes live music
LVCS-Las Vegas Country Saloon -425 Fremont St, Las Vegas, NV 89101  Closes most nights at 2AM  (702) 382-3531 -despite the name, this venue has the Dead Kennedys, the Queers and other acts.
The Bunkhouse Saloon-Cowboy themed bar but normal music live shows-124 S 11th St, Las Vegas, NV 89101  (702) 982-1764
Fan Nation Festival, Annual fest with Hundreds of bands playing all over town.
Amusement parks-
Adventuredome (Grand Slam Canyon) Amusement Park Address: 3900 Las Vegas Blvd South, Las Vegas, NV 89119
Phone Number: (702) 794-3985
New York, New York Casino has an amusement park on site.
Pinball Museum-100000square feet. The new address is 1610 E. Tropicana, Las Vegas NV
The Hard Rock Hotel and Casino, despite my disdain for the concept, is THE place where the young go to play.  Otherwise, be prepared for lots of overweight midwestern types.
Stratosphere Hotel and Casino and Amusement Park– Address: 2000 Las Vegas Boulevard South, Las Vegas, Nevada 89104 Phone Number: (702) 382-4446
A tiny rollercoaster sits above a gigantic tower for the most scary coaster ride anywhere.
Shops-
The worlds largest gift shop, Bonanza Gifts is on the corner of The Strip and Sahara Avenue in Las Vegas
Hotels-
Trashy Travel HATES misleading and offensive resort fees.  Be very careful when booking hotels.  Some travel sites let you search including resort fees
The Four Queens Fremont Street has NO resort fees as of 2019 .  Book Direct. They also have Magnolias, a reasonable 24 hour restaurant and the hyper romantic Hugos Cellar where the womens menus don't have prices..  Four Queens-202 Fremont St, Las Vegas, NV 89101 : (702) 385-4011
Artisan Las Vegas-1501 W Sahara Ave, Las Vegas, Nevada 89102-Unique rooms sometimes super cheap and occasional cool bands playing.
El Cortez Hotel and Casino
The El Cortez is the longest continuously-running hotel and casino in Las Vegas. Insanely cheap 600 Fremont St, Las Vegas, NV 89101 (702) 385-5200 24/7 13 dollar prime rib in the restaurant but you have to ask for it.
Primm, Nevada-
Buffalo Bill's Hotel and Casino and Amusement Park– Address: P.O. Box 19129, Primm, NV 89019
Located 35 miles south of Las Vegas, this resort has, among other things, a 200+ foot rollercoaster.
Reno, NV
Venues
Jub Jub's Thirst Parlor: 71 S Wells Ave, Reno, NV 89502 Closes 2AM
(775) 384-1652-Bar with local and touring bands.  Smoke free.
The Holland Project-140 Vesta St, Reno, NV 89502 (775) 742-1858 art gallery/venue
The local alternative weekly for Reno is the Reno News and Review.
The Burning Man festival takes place in Black Rock not far from Reno.
Eats-
Our Bar-211 West 1st St, Reno, NV 89501-Great burgers and FRIED AVOCADO?!  Must try.
Casale's Halfway Club, 2501 E 4th St, Reno, NV 89512-1937 Italian restaurant with cool signage.  Nevadas oldest restaurant