South Carolina Tips
There is excellent regional food in the area.  Check out Dixie Dining,Roadfood, and the Wish you were here postcards atEpicuriousfor more.
This map may not reflect the content below
Anderson, SC
Record Store-Rainbow Records- 2705 N Main St # B, Anderson, SC 29621
Charleston, SC
Hotels-
Planters Inn- 112 N Market St, Charleston, SC 29401(843) 722-2345 This will possibly never be in the budget for us, but this is the hotel that the famous tiki drink Planters Punch originated.  Also a famous coconut cake.$$$$$$$$
Ansonborough Inn-21 Hasell St, Charleston, SC 29401-Properly booked you might get a deal on this hotel with a welcome wine and cheese hour and a lovely lobby lounge area to meet people.  We stayed in a King bed room and the ceiling was like 20 feet or more!
Live Music-
Music Farm-32C Ann Street, Charleston, SC-843-722-8904
Tin Roof, 1117 Magnolia Rd, Charleston, SC 29407
(843) 571-0775-upscale dive bar
You can also find live music across the border in Savannah, GA
Bars
Vendue Inn's rooftop bar and terrace (23 Vendue Range, Charleston; 803/723-0485). Meat market bar with views of the harbor and historic buildings.
Recovery Room Tavern-685 King St, Charleston, SC 29403
Pinball, darts, pool & bocce, along with wings, sandwiches & beer (843) 727-0999
The Tattooed Moose-4845 Chateau Ave, North Charleston, SC 29405(843) 277-2990-Bar with good food.  Good late hang.
Record Store-
Manifest Disc and Tape, 946 Orleans Rd., Charleston, SC 29407
Record Stop Charleston– 43 John St, Charleston, SC 29403 (843) 648-1899
Monster Music & Movies-West Ashley Shoppes Shopping Center- 946 Orleans Rd, Charleston, SC 29407  (843) 571-4657
Eats-
Bertha's Kitchen-2332 Meeting Street Rd, Charleston, SC 29405-(843) 554-6519-Counter serve restaurant with southern specialties like Okra Soup
Dave's Carry-Out-42 Morris St C, Charleston, SC 29403- (843) 577-7943-Seafood, soul food, devilled crab.
Slightly North of Broad Restaurant aka SNOB-Really Fancy Modern Southern & Lowcountry cuisine served in an airy, 18th-century warehouse.  Best shrimp and grits.-192 E Bay St, Charleston, SC 29401 (843) 723-3424
"Cue" means pork smoked over hickory coals and drenched in spicy mustard sauce. Drop into Melvin's Southern Bar-B-Cue & Ribs (935 Houston Northcutt Blvd., Mount Pleasant; 803/881-0549;
dinner for two $20) to sample the Big Joe sandwich with Carolina Secret Sauce.
On the other side of Charleston, Melvin's brother Thomas serves his own pulled-pork version of the Big Joe sandwich at Bessinger's BBQ (1602 Savannah Hwy.; 843/556-1354; dinner for two $15).
Lewis Barbecue Charleston-Texas-style house-smoked meats -464 N Nassau St, Charleston, SC 29403
lewisbarbecue.com (843) 805-9500
H & R Sweet Shop-102 Royall Ave, Mount Pleasant, SC 29464  (843) 884-2118-time machine amazing burger joint in an old cafe.  Fried chicken and other southern specialties as well.
Little Jack's Tavern -710 King St, Charleston, SC 29403 (843) 531-6868-Little too fancy cocktail/gastropub-y for us at trashy travel, but the burger here is legit.  Big city prices though.
The Glass Onion-1219 Savannah Hwy, Charleston, SC 29407  (843) 225-1717-Soul food joint
Hannibal's Kitchen-16 Blake St, Charleston, SC 29403
Family-owned joint known for crab rice, shark steak & other Southern seafood specialties (843) 722-2256
Clemson, SC
Eats-
Goober's-: 614 SC-93, Clemson, SC 29631-Bar food with a great burger
Skin's Hotdogs-1070 Tiger Blvd, Clemson, SC 29631-Chili dogs since 1946
Columbia, SC
The Free Weekly paper is The Free Times.
Record Stores-
Manifest Disc and Tape, 1563-A Broad River Road., Columbia, SC 29210
Manifest Disc and Tape, 1932 Main St., Columbia, SC 29201
Eats-
Rockaway Athletic Club-2719 Rosewood Dr, Columbia, SC 29205  (803) 256-1075-brick building with no sign famous for their burgers with pimento cheese.
Live Music-
New Brookland Tavern & Restaurant -122 State St., West Columbia, SC (803) 791-4413-Touring indie bands play here, but its more heavy on hardcore
Hunter Gatherer (900 Main Street ph: (803) 748-0540) showcases bands, more jazz but sometimes indie.  Hunter Gatherer has yummy food also and makes their own beer.
Clubs-
Art Bar, 1211 Park Street, Columbia, South Carolina, , 803.929.0198
Called "the best place to dance, ever" by a hipster travel helper in the early 00s (wed is indie night)
Myrtle Beach, SC
Myrtle Beach Pavillion Park Amusement Park 812 North Ocean Blvd, Myrtle Beach, SC 29577
Phone Number: (803) 448-6456
Another amusement park in Myrtle Beach-Family Kingdom Amusement Park-Address: South 3rd Avenue, Myrtle Beach, South Carolina 29577  Phone Number: (843) 626-3447
Live Music-
The Bowery-110 9th Ave N, Myrtle Beach, SC 29577 (843) 626-3445-Old trashy club with food and rock shows.
Eats-
Peaches Corner-900 N Ocean Blvd, Myrtle Beach, SC 29577 (843) 448-7424-Since 1937, Chili Dogs, Chili burgers and more.
Sam's Corner -7718 N Kings Hwy, Myrtle Beach, SC 29572  (843) 449-3342-Another old Chili dog joint.
Dillon, SC
If you have ever driven I-95 in the south you have seen it:  A wonderous place of kitch.  South of the Border can't be missed.  It even has a giant Neon sign pointing to it saying "you can't miss it".  Of course, you couldn't miss the Sombrero Eiffel Tower anyway.  Definately worth a stop.  Check out the roadside america piece on them.
Florence, SC
Record Store-
Goats Head Records– 2295 Hoffmeyer Rd, Florence, SC 29501-The ONLY locally owned Record Store in Florence, SC that specializes in New and Used Vinyl


Greenville, SC
There is an occasional punk rock flea market.
Record Store-Pharmacy Records-21 Shoppers Dr, Greenville, SC 29607
Hotels-
Live Music-
Spazzatorium-Hmm., so this is a hard one to pin down.  This is/was a cool gallery space/band venue with lots of DIY shows.  Currently it appears to be closed but is soon to reopen following some fundraisers.   Check the myspace.
Bars-c
GasLight Lounge & Grill-600 Keith Dr, Greenville, SC 29607-One of the most unique bars in the country. Karoake, dance nights and a few propositions
Venues-The Radio Room-110 Poinsett Hwy, Greenville, SC 29609-(864) 609-4441
Eats-
Northgate Soda Shop – 918 N Main St, Greenville, SC 29609 (864) 235-6770 Counter with pimento cheese burger, fried baloney topped with Chili called Cincinatti Steak and slaw dogs.
Grandma's Kitchen-1314 S Pleasantburg Dr, Greenville, SC 29605 (864) 422-0013
Pete's On Poinsett-2658 Poinsett Hwy, Greenville, SC 29609-Burger joint in an old Wendys or maybe a pizza hut
OJ's Diner-907 Pendleton St, Greenville, SC 29601-Steam table southern food spot
Clock Drive-In-1844 Wade Hampton Blvd, Greenville, SC 29609
(864) 244-5122
Beaufort, SC and the low country vicinity, Including Hilton Head
Hotels-
Old Academy Bed and Breakfast-904 Hampton Street, Walterboro-843-549-3232-Four rooms, 65 to 85 dollars.
Eats-
Old Post House(101 Pitt St., Old Mount Pleasant; (843) 388-8935-Fancy restaurant and inn with Pimento Cheese Cheeseburgers.  The burgers are a bargain at $14 as of this writing.  Other Entrees High 20 and 30 dollar range.  Rooms are about $170 per night.
Old Post Office Restaurant (1442 Hwy. 174, Edisto Island; 803/869-2339; dinner for two $60) to lick stamps. Philip Bardin serves tastier fare– pecan-coated chicken, shrimp pâté– Closes during Winter.
H & R Sweet Shop- 102 Royall Ave, Mt Pleasant, SC 29464-Established 1945-Burgers
The Shrimp Shack (1925 Sea Island Pkwy, Saint Helena Island, SC 29920-4813
Helena Island; 803/838-2962;  no credit cards) No Frills window joint famous for a "shrimp burger"
Get a gooey slice of pecan pie at Kudzu Bakery (120
King St., Georgetown; 843/546-1847
Harold's Country Club Bar & Grill (at Peeples Service Station (Hwy. 17A, Yemassee;  843/589-4360; (no credit cards), a former filling station cluttered with pool tables, pinball machines, and auto parts. Call to reserve this very unique experience.  Open only Wednesday which is hot dog day, Thursday is Pot Luck, Saturday is steak night.  A ribeye is realtively inexpensive
On weekends, the same crowd heads to Pawleys Island for live
outdoor music and spicy crab cakes at Frank's Outback (10434 Ocean Hwy.; 843/237-1777).
Gaffney, SC
Eats-Harold's Restaurant-602 N Limestone St, Gaffney, SC 29340-Famous for chili burgers made from smashed meatballs and also fried pig jowl.
Greer, SC
Eats-
Laurenda's Family Restaurant-300 S Line St, Greer, SC 29651 (864) 848-3012-Meat and 3 no frill place.  Closed Tuesdays and Saturdays
Cannon's Drive-In & Catering-409 Trade St, Greer, SC 29651-Another no frills low country boil spot.
Hemingway, SC
Eats-
Scott's Bar-B-Que-Whole hog bbq plus boiled peanuts, in an old house.  2734 Hemingway Hwy, Hemingway, SC 29554 (843) 558-0134 Only Wednesday to Sunday
Hilton Head, SC
The Salty Dog Cafe and Inn have been featured on the Best of on the Food Network.  Dogs allowed.  South Beach, Hilton Head.
Holly Hill, SC
Eats-Sweatman's Barbeque-All you can eat bbq in an  old farmhouse  1427 Eutaw Rd, Holly Hill, SC 29059  (803) 496-1227-ONLY FRIDAY AND SATURDAY
North Augusta, SC
Eats-
Sno-Cap Drive in-618 West Ave, North Augusta, SC 29841 (803) 279-4004-drive in restaurant since 1964
North Charleston, SC
Bars-
Eats–
Coney Island Hot Wieners – Park Circle, SC-4258 Spruill Ave, North Charleston, SC 29405
Venues-The Mill-1026 E Montague Ave, North Charleston, SC 29405
(843) 225-2650
Record Store-Gray Cat Music-1021 E Montague Ave #102, North Charleston, SC 29405 (843) 203-6700
Spartanberg, SC
Live music-
All ages venue Ground Zero-3059 Howard Street
Spartanburg SC
29303
Eats-
The Beacon Drive-in – 255 John B White Sr Blvd, Spartanburg, SC 29306  (864) 585-9387-Huge classic drive in with awesome onion rings.  Get it a plenty
College Town Cafe– 608 Ethel Rd, Spartanburg, SC 29301-Chili dogs and more
Aunt B's cafe-950 Hayne St, Spartanburg, SC 29301-southern food
Sugar-n-Spice-212 S Pine St, Spartanburg, SC 29302-1 864-585-3991-Drive in renovated restaurant with a cool vintage sign.  Famous for roast beef sandwiches served "aplenty" style which is a regional description of fries and rings and slaw all on the side in a heap.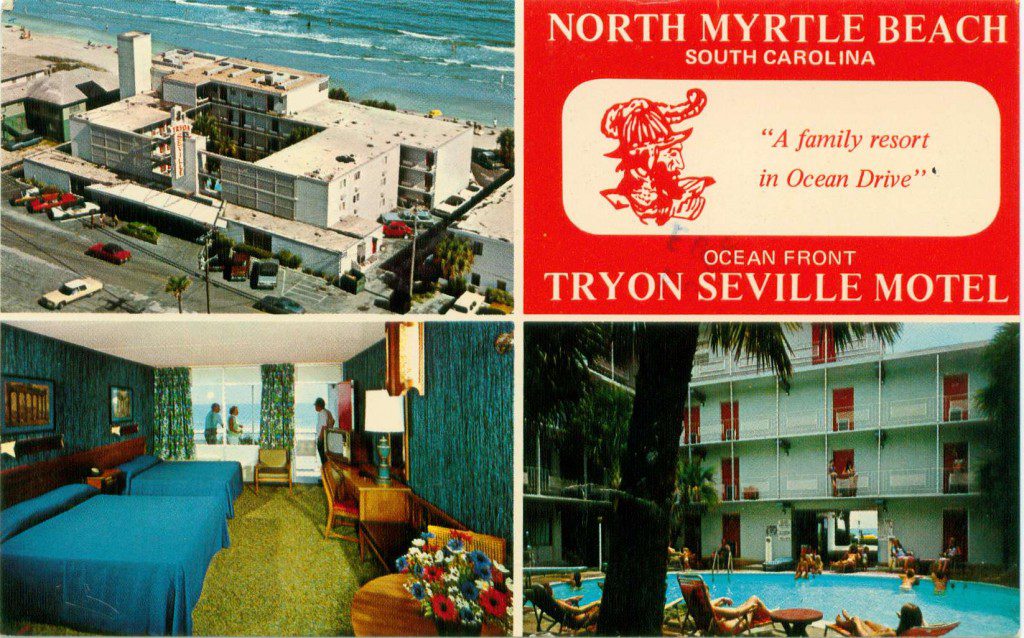 Tryson Seville 1961