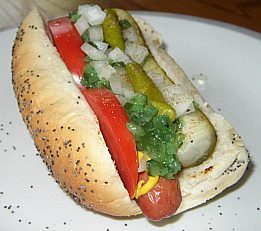 Pictured above:
A must have chicago dog, topped with tomatoes, onion, mustard, Neon green relish, a whole pickle spear and sprinkled with celery salt in a steamed poppy seed bun.          
THIS IS THE PAGE FOR THE REST OF ILLINOIS-FOR CHICAGO AREA CLICK HERE.
Byron, IL
Eats-
Sam's Drive-In – 705 W Blackhawk Dr, Byron, IL 61010 (815) 234-8281-Drive in restauant with a sign that is a car. Closes in Winter.
Carbondale, IL
Live Music
Hanger 9–511 South Illinois Avenue. Carbondale IL. 62901
Champaign-Urbana  
As a college town, Champaign-Urbana has a few cool things going on.  First of all, they are home to PARASOL RECORDS, (TT-Sadly Parasol has closed) one of the best record shops around for indie music. 
The following information may not be up to date.  When possible, it is recommended that you phone ahead.
BARS
Esquire Lounge-106 N. Walnut, Champaign (217-398-5858)
Mike and Mollys-105 North Market Street  Champaign, IL 61820 (217) 355-1236
Legends-522 East Green, Champaign
Murphys Pub-604 East Green, Ch (217-352-7275) (they also serve food)
BAND CLUBS
Cowboy Monkey-6 Taylor Street, Champaign.
Highdive-51 Main, Champaign
Red Herring – 1209 W. Oregon Urbana, IL 61801- 217-344-1176 
The Red Herring is located in the downstairs of the Channing-Murray Foundation. Part-time vegetarian restaurant, and part-time concert venue. The Venue host shows from the independent media center.  IMC shows are all ages, non-smoking, and alcohol free, unless otherwise noted.
DANCE CLUBS
Chester Street-63 Chester, Ch (217-356-5607) (unofficially a "gay bar", but mixed)
VINTAGE SHOPS
Dandelion-9 E Taylor (217-355-9333)
Carrie's-204 N. Neil Street (217-352-3231)
Le Shoppe-110 East University (217-398-1520)
SKATER/RAVER SHOPS
Big Wheel-502 East John, Ch (217-384-4864)
RECORD SHOPS
Record Swap-114 E University Ave.Champaign, IL 61820 (217) 367-7927
MISC. SHOPS
Caffe Paradisso-801 S Lincoln Ave, Urbana 384-6066-paradiso has shows sometimes and allows smoking, as well as games
Eats-
Radio Maria-119 North Walnut, Ch  (217-398-7729) Ecclectic
Fiesta Cafe-216 South First, Ch (217-352-5902) Mexican
Meatheads-1305 S Neil St, Champaign, IL 61820 (217) 352-5555 burger joint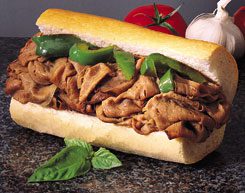 Pictured:
Italian Beef
Chicago Postcard Musuem-Huge collection of Vintage Linen postcards
Arlington Heights, IL
Dinorex Arlington Heights , an indoor amusement park that claims to be the "Kingdom of the Dinosaurs". There are two Illinois locations, one in Arlington Heights and another in Crystal Lake. Both offer free admission and feature several kid sized thrill rides, including a junior roller coaster.
1227 N. Rand Road, Arlington Heights, IL
Casey, IL
This Towns slogan is "Big things, Small town" and is home to a giant chair, giant mailbox, giant pitchfork and More.  Info Here.
Chrisman, IL
Eats-
Riggen's Frostop : 314 N Pennsylvania St, Chrisman, IL 61924 (217) 269-2223-Remants of a root beer ice cream chain, the food at each of these is different.  This one has tasty burgers and onion rings.
Attraction-The World's Largest Catsup Bottle is at 800 South Morrison Avenue, just south of Main Street in downtown Collinsville, Illinois.  In July they have a festival.
Des Plaines, IL
Eats-
The Choo Choo
– 600 Lee St, Des Plaines, IL 60016  (847) 391-9815-Burger restaurant where they are served via a model train.
Edwardsville, IL (outside of St. Louis, MO)
Bars-
The Stagger Inn again-Local divey bar with shuffleboard and live bands.104 E Vandalia St, Edwardsville, IL 62025 (618) 656-4221 right next to a comic shop and across from the Walgreens
East Moline, IL
Eats
Saint Giuseppes Pizza- 363 Avenue of the Cities, East Moline, IL 61244  (309) 755-8810-Recently moved Quad cities style pizza joint.  Normally cut in strips, they have a pizza buffet in the day cut in triangles.
Evanston, IL (outside Chicago)
Eats
Wiener and Still Champion-802 Dempster, Evanston, IL 60202 (847) 869-0100.  Hot dog joint that also makes the krispy kreme donut burger, the luther burger.  Corn dogs.  They make a sauce of the week! And have fried pickles too
Gurnee, IL
Amusement Park
Six Flags Great America 
542 N Route 21, Gurnee, IL 60031
(847) 249-4636
Big, Standard Six Flags Park
Galesburg, IL (near Moline)
Eats-
Coney Island -77 S Cherry St, Galesburg, IL 61401  (309) 343-4990 Great decor.
Gray's Sandwich Shop – 1160 W Main St, Galesburg, IL 61401  (309) 342-6615-The Regional pork tenderloin, plus burgers.
Joliet, IL
Ace Drive-In – 1207 Plainfield Rd, Joliet, IL 60435 (815) 726-7741-Root beer drive in that seems to be known for their BBQ beef sandwiches, IE beef with bbq sauce.
Kankakee, IL
Eats-Jaenicke's Root Beer Stand- 390 E River St, Kankakee, IL 60901-Cash only drive in probably best to just stick to the Chili Dogs and ice cream
Martinsville, OH
Eats-
Moonshine Store-"Home of the Moonburger"-6017 E 300th Rd
Martinsville, IL 62442  (618) 569-9200 Closed Sunday and ONLY open 6 am to 12:30 pm.
Milan, IL
Eats-
Pizza Joynt -655 10th Ave W, Milan, IL 61264 (309) 787-4942-Quad city style pizza with some crazy pizzas like the number 18 with Coney sauce (chili) and chopped hot dogs. and the regional taco pizza usually topped with lettuce, tomato and crunched up tortilla chips.
Spinner's Pizza- 319 1st Ave W, Milan, IL 61264  (309) 787-3000-Another quad city style pizza joint that serves something called bubble bread too.
Moline, IL (Quad Cities)
Bars-
The Yankee Doodle- 2401 16th St, Moline, IL 61265 Closes 1AM, : (309) 764-5326-Dive bar, pizza joint, Laundromat but not one of those laundry bars. Also a liquor store.
Eats-
Eat a loose meat sandwich at a Maid Rite!  Also get a Malt at a Whiteys location.
Lagomarcino's – 1422 5th Ave, Moline, IL 61265  (309) 764-1814-old timey chocolate shop and cafe.
Murphysboro, Illinois (near Evansville)
Eats-
17th Street Bar and Grill– 32 North 17th Street, Murphysboro, Illinois  62966, 618-684-3722- Features world championship winning BBQ.
Oregon, IL
Eats-
Jay's Drive In- 107 W Washington St, Oregon, IL 61061 (815) 732-2396
River Grove IL (near Chicago)
Gene's & Jude's- old-school hot dog stand that is Steamed with mustard, onion, relish and sport peppers, and served encased in  fries. Ketchup is banned from the premises.  They also Serve Tamales- 2720 River Road, River Grove IL 60171
Port Byron, IL
Eats-
Riverbend Pizza Place-709 S High St, Port Byron, IL 61275 (309) 523-3324, 30 plus year vets serving quad city style pizza.
Rock Island, IL (Part of the Quad Cities)
Eats-
This area invented a style of pizza known as Quad City Style.  It has malt syrup in the crust that gives it a nutty flavor.  Its also cut into strips. Find it at Harris Pizza, Since 1960.  3903 14thAve., Rock Island, IL, Now a mini chain.
Jim's Rib Haven-531 24th St, Rock Island, IL 61201- (309) 786-8084-Divey looking joint with super saucey delicious non bbq ribs.
Aunt Bea's Cafe -321 12th Ave, Rock Island, IL 61265 (309) 292-7550-Scratch made Southern food.
Arthur's Garden Deli -3727 46th Ave, Rock Island, IL 61201 (309) 793-1230-Classic charming family deli where the number one is called the "Work of Art". with Ham, Chicken, Beef, Swiss, Cheddar and Provolone!!!?  Also signs of fads gone by, stuffed potatoes.
Silvis, IL
Eats-
Frank's Pizzeria -711 N 1st Ave, Silvis, IL 61282  (309) 755-0625-Perhaps the original Quad cities style pizza.  Cool and old .  Also good fried chicken.
Springfield, IL
Springfield has its very own sandwich: the Horseshoe.toast on a plate with a hearty hamburger patty resting on top,  underneath a mound of French fries covered with a thick cheese sauce, now there are variations available with Ham and other things.  Available at D'Arcy's Pink, 661 West Stanford Avenue
There are many local Chilli restaurants serving a 2 L chilli
Dew Chilli Parlor -1216 S 5th St, Springfield, IL 62703
Charlie Parker's Diner, 700 North St,  217 241 2104.  diner food served in a quonset hut
other food
Cozy Dog Drive In, 2935 South 6th St., 217-525-1992 cozydogdrivein.com, on historic Route 66. Their specialty is the Cozy Dog, a cornbread-encased hot dog known elsewhere as a corn dog. $3-$8.
Head West Sub Stop,  submarine sandwiches, plus other locations
530 E Capitol St,  217 789 9101.
The Chili Parlor, 820 S. 9th Street,217 522 3722, classic Springfield chili parlors. with or without beans, with or without meat  with six different levels of spiciness. Formerly Joe Rogers.
Maid-Rite Sandwich Shop, 118 N Pasfield St, 217 523 0723.  loose meat sandwiches of spiced ground beef. Used to be lots of these.  Sandwiches are similar to sloppy joes
Kuma's Corner-2900 W Belmont Ave, Chicago, IL 60618-5804
(773) 604-8769  www.kumascorner.com   Burger joint with hybrid burgers like pulled pork on a burger or Sausage…
Wauconda, IL
Musuem
Curt Teich Postcard Archives at the 
Lake County Forest Preserve
24237 West Ivanhoe Road, Wauconda, IL
(847) 968-3411  · lcfpd.org
The largest collection of the Curt Teich Postcard company who produced millions of Linen postcards
Woodbridge, IL
Eats-
Doggie Diner-7536 Janes Ave, Woodridge, IL 60517 (630) 985-8008-Chicago style dogs but they have HUGE gyros that you can get topped with giant slices of feta.  Charmless sign.
Wood River, IL (Greater St Louis Area)
Eats-