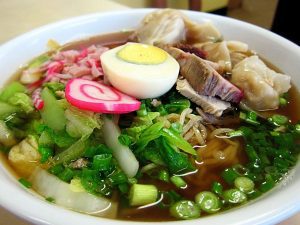 Saimin, a noodle soup that is common around Hawaii
Spam Musubi, another dish common around Hawaii
Hawaii Food Blog–
Hawaiian Concert Guide seems to be more about exotica.
No Suck Fest-Annual DIY punk event around July
Honolulu, HI
Essential Shopping.
Baileys has the largest selections of "aloha" ie hawaiian shirts anywhere, ranging from 4 bucks to the thousands.
15,000+ aloha shirts are divided into 4 subgroups: (Used, New, Vintage and Specialty) just inland at the Diamond Head end of Waikiki. 808-734-7628 , 517 Kapahulu Ave. Honolulu, HI 96815
Hours Mon.-Sun. 10:00-18:00
The local alternative weekly for Honolulu is theHonolulu Weekly.
Party information website partyhi.com coming soon.  myspace.com/partyhi
will have information on cool parties & events in the meantime
Punk Shows at DIY Space Crace Mountain.
Read the plate lunch critique for food tips in Hawaii.
Local Specialties:
Puka Dog is a local specialty hot dog chain which serves dogs in a Puka, which is a roll toasted from the inside out.  The hot dog is shoved inside and it is served with a selection of sweet or spicy chutney type sauces.  Multiple locations on multiple islands
Eats-
Helena Hawaiian Foods – homestyle Hawaiian cooking in a diner like space. Cash only.
1240 N School St, Honolulu, HI 96817 (808) 845-8044 since 1946
Hy's Steak House -Old-school Hotel restaurant with classic tableside dish preparation.  Fancy for here. 2440 Kuhio Ave, Honolulu, HI 96815: (808) 922-5555
Me Bar-B-Que -Counter-serve Korean barbecue -151 Uluniu Ave, Honolulu, HI 96815
(808) 926-9717
Rainbow Drive-In -Since 1961-Burgers and the regional spam and Loco Moco dishes: 3308 Kanaina Ave, Honolulu, HI 96815  (808) 737-0177
Bars-
Arnold's Beach Bar & Grill-339 Saratoga Rd, Honolulu, HI 96815-Tiki Dive Bar
Anna Obriens-The Best Rock and Roll Dive Bar in Honolulu.  Live Music  2440 S. Beretania near Pucks Alley
Eats-
MAC 24-7, 2500 Kuhio Avenue, Waikiki Beach, HI 96815
located in a Hilton Hotel (sorry), this is one of a few 24 hr spots to get good eats ala Cafeteria in New York. their pulled pork sandwich is fantabulous. (via ursula 1000)
Sansei Seafood/Sushi Bar, 2552 Kalakaua Avenue, Honolulu, HI 96815 great sushi–super fresh–not too pricey–right on the famous (and touristy) beach strip.
good clothing boutique:831 Queen, queenshawaii.com1739 KALAKAUA AV
Honolulu's longest running afterhours spot:
AFTER HOURS (Fridays and Saturdays)
10pm-6am @ GALAXY –
Clubs-
Next Door, 43 N. Hotel St.,a former brothel and adult video store  converted into  a cool combo of cinema lounge and concert hall
Must Drinks:
La Mariana,  50 Sand Island Rd, Kalihi/Sand Island
Turn toward the ocean on Sand Island Rd. from Nimitz Hwy.; immediately after the first stoplight on Sand Island, take a right and drive toward the ocean; it's not far from the airport  808/848-2800.  Fifty year old tiki bar in an industrial part of Honolulu.  Early and erratic hours.  Dinner too, but the drinks are the real attraction.
Essential Reads:
http://www.honoluluclublife.com/ – for latest dance parties
Quad Magazine (Island Hip Hop) –http://www.quadmag.com/
Hilo area-
Cafe 100 is a local institution, and the birthplace of the Loco Moco, an egg over rice and gravy.
They eat more spam than anyone else in Hawaii.
Kailua Kona, HI
Eats-
Ultimate Burger-74-5450 Makala Blvd, Ste E112, Kailua Kona, HI 96740  (808) 329-2326  Open Daily 10:30 am – 9:00 pm Grass fed local burger joint.
Obviously, I need lots of help with this one.