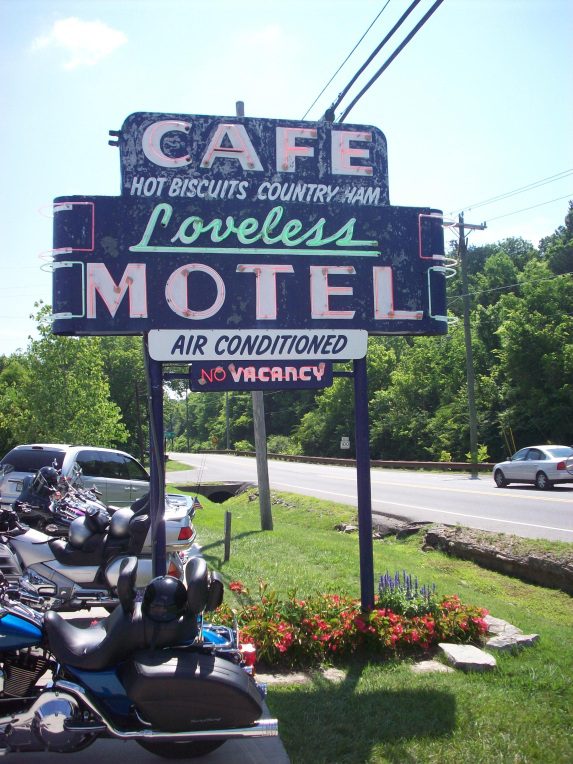 You're in the South now.  Enjoy regional specialities like the Slaw Dog, Meat and Three, Fried Chicken and BBQ!  Enjoy Grims snacks such as Sweet and Tangy BBQ chips, available at stores throughout the area.
Memphis Now Has Its Own Page
Chattanooga, Tennessee
Til Sept 2017
WAYNE-O-RAMA!-1800 Rossville Avenue, #108, Chattanooga, TN 37408
Wayne-O-Rama is open Wednesday through Sunday, 11 am to 6 pm.
Wayne-O-Rama will be open until September 30 2017.  Gallery of Wayne White, creator of much of the sets of Pee Wees Playhouse.  There is also an art show nearby til Oct 1 at the Hunter Museum.
Must SEE-
Rock City-Classic must see roadside attraction on Lookout Mountain on the Chattanooga Border.  DONT MISS FAIRYLAND CAVERNS 1400 Patten Rd, Lookout Mountain, GA 30750 (706) 820-2531
Amusement Park
Lake Winnepesaukah,Chattanooga,  (706) 866-5681
Live Music-The Lizard Lounge
Local music link-Enigma Online.
Venues-
JJ's Bohemia-231 E. Martin Luther King Blvd. Chattanooga, TN 37403 (423) 266-1400
Eats-
A quick note: theres an adorable veggie friendly place called the yellow deli.  Please avoid it as it is run by an end of times religious cult that believes in corporal punishment and worker exploitation.
Bea's Restaurant – all-you-can-eat Southern food and fried chicken- 4500 Dodds Ave, Chattanooga, TN 37407  (423) 867-3618
Merv's Hamburgers (now Fresh Burger Grill)- 713 Mountain Creek Rd, Chattanooga, TN 37405  (423) 877-0221
Champy's Famous Fried Chicken -526 E Ml King Blvd,Chattanooga, TN 37403 (423) 752-9198 Big rustic style bar with signs, et al and fried chicken.  Mini chain with Delta Style Tamales too
Chatt Smoke House-416 E Ml King Blvd, Chattanooga, TN 37403 (423) 468-4978-Based on pictures alone, this joint has the best ribs in Chattanooga
Dub's Place -4408 Dayton Blvd, Chattanooga, TN 37415  (423) 875-3151 Classic burger and ice cream stand selling a "crumble burger" which is essentially a loose meat sandwich.
Mike's Hole In The Wall -538 Cherokee Blvd,Chattanooga, TN 37405 Dive bar with great burgers.
Purple Daisy Picnic Cafe-4001 St Elmo Ave, Chattanooga, TN 37409 – 423-822-6477- Home to the Rainbow Sandwich-A three layered sandwich w/ homemade chicken salad, pimento cheese & cucumber spread on crustless white & wheat bread
Sugar's Ribs-2450 15th Ave, Chattanooga, TN 37404  (423) 826-1199 Sun-Thurs 11am to 9pm Fri-Sat 11am to 10pm-A bunch of different types of sauce at this bbq joint on a hill with a great view.
Zarzour's-1627 Rossville Ave., Chattanooga, TN – (423) 266-0424-meat and 3 place OR cheeseburger place ONLY OPEN 11 am to 2 pm M-F.
Taco Mamacita, 109 North Market Street, Chattanooga, TN 37405-mini regional chain with bbq taco and po boy style tacos and peruvian chicken
Aretha Frankensteins -Beer bar that they call a punk rock waffle house decorated with Cereal boxes.  Salad NOT recommended.  Shrimp and grits are good- 518 Tremont St, Chattanooga, TN 37405  (423) 265-7685
Cleveland, TN
Eats-
Rebel Drive-In Restaurant –  1010 Lee Hwy, Cleveland, TN 37311 Closed Sunday  (423) 790-7796-home of the lottaburger.  Great biscuits.  Diner fare.
Columbia, TN
Eats-
Jumbo House -1410 Nashville Hwy, Columbia, TN 38401  (931) 388-2440-Vintage burger drive in restaurant with roadside style.  Fried chicken gizzards.  Chili on dogs unfortunately has beans and fries are crinkle cut.
Johnson City, TN
Eats-
Mid City Grill
Closed Sunday Monday-106 South Commerce St, Johnson City, TN 37604 Burger joint with Graffiti art.Only open for lunch too.
Kingsport, TN
Eats-
Pal's-327 Revere St, Kingsport, TN 37660  (423) 239-3442-Pals is a chain of burger and chili dog joints but this is one of the originals, if not the original from 1956 Fand the decor is great.
Sloopys-819 N Eastman Rd, Kingsport, TN 37664, (423) 378-5638-Retro style burger joint with 2 lb burgers available.
Knoxville, TN
The alternative weekly for Knoxville is the Metro Pulse.
Local Specialty is the pig burger, ground pork rib meat served with bbq sauce.  Available in many local places such as Dixsons BBQ.
Eats-
M & M Catering-7409 Middlebrook Pike-Knoxville, TN 37909 (865) 692-1003 -Said to be the best bbq in knoxville.  Strange hours, its just a walk up window, bbq by the lb. and they do a fish fry weekly too.
Littons– 2803 Essary Drive, Knoxville, TN 865-688-0429 Huuuuuge chili dogs, Pimento Cheese burgers and more!
Drive in Pizza Palace-3132 Magnolia Avenue, Knoxville, TN 37914 (865) 524-4388-was featured on Triple D.  Italian style yes, but also good greek salads and onion rings.
Sweet P's Barbeque & Soul House – 3725 Maryville Pike, Knoxville, TN 37920
(865) 247-7748 Closed Monday
Live Music-
Pilot Light-106 East Jackson Avenue  Knoxville, TN 37915 (865) 524-8188-Lots of bands play here on their way to and from other places.
Preservation Pub -2 story club with live music.  28 Market Square, Knoxville, TN 37902
Til 3 AM  (865) 524-2224
Manchester, TN (between Nashville and Chattanooga)
Eats-
J&G Pizza and Steakhouse– 520 McMinnville Highway, Manchester, TN 37355, Ranch Style family style pizza place.  The main reason I put it on here aside from the architecture is the J&G Sandwich, a hoagie roll topped with canadian bacon and mozzarella baked then topped with lettuce, tomato, pickles and a light drizzle of italian dressing
Memphis, TN has its own page!
Murfreesboro, TN
Eats-
Buster's Place-1615 NW Broad St, Murfreesboro, TN 37129  (615) 895-5464-good burgers that are cheap!  Plus BBQ.  Fries are crinkle cut with as you may know Trashytravel.com consider an abomination
Nolensville, TN (near Nashville)
Martins BBQ Joint-7238 Nolensville Road  Nolensville, TN 37135 (615) 776-1856-whole hog bbq.  Five bucks gets you 3 sliders where you can try all their sauces, including an Alabama style white sauce.  Redneck tacos which are served in cornbread.
Pigeon Forge, Tennessee
Amusement Park
Dollywood 700 Dollywood Lane, Pigeon Forge,  (423) 428-9488
Nashville, TN 
The Local weekly Alternative Paper is the Nashville Scene.  Check out Nashvilles Dead.
The Monsters of Pop festival features tons of indie/alt bands.
Museum-
Cooter's Place in Nashville-Museum in Nashville, Tennessee-Dukes of Hazzard relics, plus the General Lee, on display in a museum founded by Ben "Cooter" Jones.: 2613 McGavock Pike B, Nashville, TN 37214 Open Daily  8:30AM–9PM   (615) 872-8358
Live music-
The Basement-Under Grimeys Records-1604 8th Ave S• Nashville, TN• 37203-5061 615.254.8006-only open for shows
Betty's Grill -cash-only & smoker-friendly bar with live bands, pool & beer. Plus Great burger- 407 49th Ave N, Nashville, TN 37209
(615) 297-7257
The Cobra-2511 Gallatin Avenue, Nashville, TN 37206  (629) 800-2515
Drkmttr Collective-1111 Dickerson Pike, Nashville, Tennessee
The East Room – 2412 Gallatin Ave, Nashville, TN 37206 (347) 559-6031
328 Performance Hall -328 Fourth Ave Nashville 615-259-3288
RCKTWN-401 Sixth Avenue South Nashville,  Event Line 615-843-4000.
The Mercy Lounge-One Cannery Row, Nashville, TN 37203
The End-2219 Elliston Place-Nashville, TN  (615) 321-4457-visiting indie bands play here.  Also known as the Exit In.
springwater, nashvilles only rock and roll dive bar
Springwater Supper Club & Lounge 115 27th Ave N , Nashville, TN 37203
The 5 Spot -1006 Forrest Ave, Nashville, TN 37206 (615) 650-9333-Live bands plus a swing dance party on mondays.
The Stone Fox-712 51st Avenue N. Nashville, TN 37209-Live Music venue
BETTY'S BAR-407 49th Ave N., Nashville, TN  Hard to find info on this joint, but they have punk shows
Foobar-2511 Gallatin Avenue Nashville, TN 37206-3215 – (615) 226-7305
Open Daily 5pm-2:45am
Cafe Coco, 210 Louise Ave, Nashville, TN-24 hour cafe/music venue
Record Shops
Fond Object Records-1313 McGavock Pike, Nashville, TN 37216
(615) 499-4498
Grimey's New & Preloved Music -1604 8th Ave. South, Nashville, TN 37203
PH: 615-254-4801
Grimey's Too! 1702 8th Ave. South, Nashville, TN 37203
PH: 615-942-9683-Open 7 Days A Week-Both Grimeys have occasional in store performances
The Groove-1103 Calvin Ave. Nashville TN 37206 615.227.5760 
Bars-
Nudie's Honky Tonk -409 Broadway, Nashville, TN 37203 til 3AM-hot pork rinds and beer cheese
Eats-
Arnold's Country Kitchen, 605 8th Ave S, Nashville, TN 37203
(615) 256-4455 Classic meat and three joint but they close early, only open through lunch.
Dino's Bar -411 Gallatin Ave, Nashville, TN 37206  (615) 226-3566 Dive bar with noteworthy burgers. Open til 3 am.
Robert's Western World, 416 Broadway, 615-244-9552-Square dancing and cheap food including a well known fried baloney sandwich.  Great signage for photo ops.
Hog Heaven -Smoked chicken with signature white sauce (also good, pulled turkey w white sauce), spare ribs & pork served through a walk-up window. 115 27th Ave N, Nashville, TN 37203
(615) 329-1234
Monell's, 1235 Sixth Avenue North, (615) 248-4747,  meals are served family style at long tables.  pork chops, baked chicken, meatloaf, turnip greens and corn pudding. Very cheap.
Rotier's, 2413 Elliston Place, (615) 327-9892, one of the best grilled burgers around, served on french bread, as well as stuff like baked ham with creamed potatoes, squash and fried okra. Virtually everything on the menu costs less than $10. Closed sunday.
Prince's Hot Chicken Shack-123 Ewing Dr, Nashville, TN 37207   (615) 226-9442 Fried Chicken Dipped in hot sauce.  Said by many to best the best fried chicken on earth!  (ed-by me too.  This was AWESOME)
Hattie B's-Another Hot Chicken contender–112 19th Avenue S , Nashville, TN 37203-Now multiple locations.  Better sides than the classic Princes.
Sylvan Park Restaurant-4502 Murphy Rd -Nashville, TN 37209 (615) 292-9275 another meat and 3 place with chess pie
Ice Cream!-
Bobbie's Dairy Dip, 5301 Charlotte Ave, Nashville, TN 37209
(615) 463-8088 www.myspace.com/bobbiesdairydip  Ice cream in a classic 50s joint
Elliston Place Soda Shop-2111 Elliston Pl, Nashville, TN 37203
(615) 327-1090 Vintage ice cream joint and greasy spoon.
Loveless Cafe-Meat and three place out in the "country" with the best biscuits I ever had.
Savarino's Cucina-2121 Belcourt Avenue, Nashville, TN 37212 (615) 460-9878-sicilian italian joint that was featured on diners drive ins and dives.  All fresh pastas.  Hit or miss reviews on yelp, but the sandwiches have a good reputation.
Shops-
Katy K Ranch Dressing-vintage and new western boutique-2407 12th Ave S Nashville, TN
Camden, TN (Near Nashville) From roadsideamerica.com
Patsy Cline Crash Site Memorial -Take I-40, Exit 126 (Hwy. 641) proceed north approx. 15 mi. through the lights at the Highway 70 bypass and Highway 70. Turn left on Mount Carmel Road just past Highway 70 and proceed approximately 2 1/2 mi. Memorial is on the right.
Dickson, TN (Near Nashville)
Eats-Catfish Kitchen-3069 Hwy 70 E, Dickson, TN 37055
(615) 446-4480 exactly what it sounds like, Catfish a buncha ways, shrimp, froglegs, Steak for Landlubbers and the coolest sign ever.
Paris, TN
Paris has a scale model of the Eiffel Tower.  Its Halfway between Memphis and Nashville
Eiffel Tower Park–1020 Maurice Fields Drive, Paris, TN 38242
Theres also the Paris Winery, where you can buy fine Paris Wines which make great gifts.
South Pittsburg, TN
Eats-
Dixie Freeze ?-200 Elm Ave, South Pittsburg, TN 37380 (423) 837-6423-Closed Sunday. "home of the dagwood sandwich". Ice cream roadside joint.  The dagwood sandwich is a  double burger with a piece of toast between the 2 patties.
Spring Hill, TN (Greater Nashville)
Eats-
Jack of Hearts BBQ – 5343 Main St, Spring Hill, TN  Daily· 11AM–8PM Closed Sunday: (931) 451-7887-Great onion rings