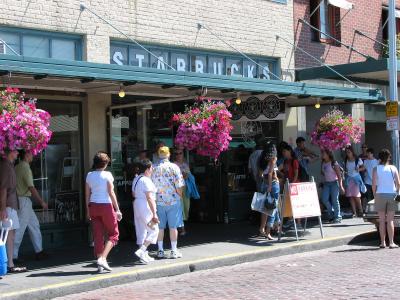 The pit of hell, the first ever Starbucks, Now Gone.
Washington
Note: If you are renting a car, you can set up a temporary account for cashless tolling within 72 hours of your trip.  Details here.
Weed is legal here and you can find dispensaries everywhere.
You can visit Jimi Hendrix's Grave and also the graves of Bruce and Brandon Lee in Seattle.  Hendrix is buried in Greenwood Memorial Park, Renton, WA and Bruce and Brandon Lee are in Lake Wood Cemetary at 1554 15th Ave E, Seattle, WA 98112.
Annual Sasquatch Music Festival is around late May.  Info here.
Seattle has an annual punk festival called Pizzafest.
Seattle
Pinball-
Regional Specialty-The Seattle style hot dog, topped with cream cheese and onions.  Available at Taxi Dog at Pike Place in Seattle. Also at carts Hot Dog Joes.
Mini Chain Dicks has great Hamburgers.  Get a special or the deluxe and fries. Tartar sauce for dipping fries!
Seattle's oldest neighborhood, Pioneer Square is home of the original Skid Row.  It is between First and Fourth Avenues in the downtown area.  They used to have a deal where you can pay one cover and get into several clubs for live music in addition to seeing art galleries and "trendy" restaurants but I am not sure if they do this.  These tend to be blues and cover bands .
Two hip neighborhoods within walking or cabbing distance from downtown are Belltown and Capitol Hill. Each offers theater, readings, art galleries, music, boutiques, bistros and coffeehouses and clubs of all kinds, though Capitol Hill's vibe is cooler. Another neighborhood worth checking out is Fremont. North of downtown, it's the home of a 20-something-foot statue of Lenin, rescued from destruction at the hands of pissed-off ex-Communists in Slovakia; a giant concrete troll, who sits underneath the Aurora Bridge clutching a real Volkswagen Bug in its hand; and other wonders of Seattle public art.
Other Museums-
Museum of Flight-9404 E Marginal Way S, Seattle, WA 98108 Open Daily 10AM–5PM
Phone: (206) 764-5720.  Nearby the Museum Eat at Randys Restaurant
Randy's Restaurant -Model planes & aviation memorabilia decorate a retro diner in an old Dennys with cool booths.  Decor is better than the food -10016 E Marginal Way S, Tukwila, WA 98168  (206) 763-9333
Tiki Bars-
Hula Hula-Tiki-themed bar with nightly karaoke, bamboo decor & pub grub served alongside flaming cocktails.106 1st Ave N, Seattle, WA 98109 (206) 284-5003.  Get a sandwich at Tortas Condesa across the street.
'Ohana · Belltown-Hawaiian eats, sushi & tropical cocktails in an upbeat setting with bamboo booths & a tiki bar. 2207 1st Ave, Seattle, WA 98121 (206) 956-9329
Bars-
Merchant's Cafe and Saloon– 109 Yesler Way, Seattle, WA 98104  (206) 467-5070-one of the many places that claim to be Seattles oldest.  I'm not sure from the photos whether the food is good or not.
Rumba-Caribbean food, a lot of different rums and a vague tiki island vibe-1112 Pike St, Seattle, WA 98101 (206) 583-7177
Food
Mike's Chili Parlor -The Kind of joint this website exists for. Tiny, low-key, family-owned bar serving burgers, hot dogs & chili since 1922.  1447 NW Ballard Way, Seattle, WA 98107.  Lunch only on Sunday, Lunch and Dinner the rest of the days. (206) 782-2808
There is a local chain of a hybrid Japanese burger called Katsu Burger.
Ivars is a chain of reasonably priced fish restaurants.
Agua Verde – 1303 NE Boat St, Seattle, WA  (206) 545-8570
near Brooklyn Ave NE.  Unique and good mexican food like halibut tacos and mango margaritas.  Local Favorite and cheap.  Kayak rentals too.  Waterfront.
Bakeman's Restaurant-122 Cherry St, Seattle, WA 98104 (206) 622-3375-Classic old school joint that roasts turkeys and make meat loaf sandwiches they sell for cheap.  NOTE: SADLY BAKESMANS HAS CLOSED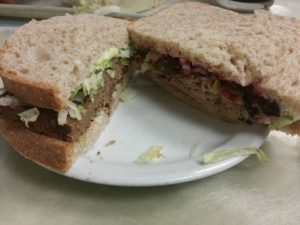 Beths Cafe-Famous for 12 egg omlettes. 24 hour  Late night. 7311 Aurora Ave N. ~ SEATTLE WA ~ Phone: (206)782-5588
Caffe Ladro- 2205 Queen Anne Ave N, Seattle, WA  (206) 282-5313.  Great coffee and Amazing and cheap homemade pastries.
Care Flora-2901 East Madison Street-Unusually good vegetarian food.  
Mandalay Cafe-1411 North 45th Street-Indian Food and artSalumi-309 3rd Ave. S.,Seattle, WA,206-621-8772-Okay, get this.  Mario Batalis dad retired from his Boeing job to make homemade salami and sausage.  This is part deli, part restaurant.  Lunch only, or takeout.
Matt's Famous Chili Dogs · Georgetown-Counter-serve joint serving personalized franks  with toppings, plus burgers & fries. 6615 E Marginal Way S, Seattle, WA 98108 Closed weekends. (tt-great sign, didn't love the dogs)
Roxy's Bar & Grill -2823 SW Roxbury St, Seattle, WA 98126 (206) 935-7400-Late night bowling alley-chinese restaurant famous for 'salt and pepper' wings.  2 am closing.
Tortas Condesa -1510 E Olive Way, Seattle, WA 98122-Take out window with great sandwiches!
Loretta's Northwesterner -8617 14th Ave S, Seattle, WA 98108,  (206) 327-9649-Neighborhood joint with great burgers.
Zippy's Giant Burgers  · Highline, 1/3-pound patties make for big burgers at this fast-food spot with vintage sodas & retro digs. 9614 14th Ave SW, Seattle, WA 98106
The 5 Point Cafe · Belltown-Circa-1929 American diner open 24/7- 415 Cedar St, Seattle, WA 98121 "Alcoholics serving alcoholics since 1929"
Hotels-Ace Hotel-2425 First Ave., Seattle, WA 206-448-4721-Belltowns hotel for the hip.  The First Ace Hotel 85 rooms from 130 dollars per night with shared bath.  
University Inn-4140 Roosevelt Way NE, Seattle, Washington, 98105, United States-Cheaper if you book in advance on a booking service
Marco Polo Motel-Not far from the Giant troll, Okay rooms not far from lots of the cool stuff.  Easy parking. 4114 Aurora North, Seattle, WA 98103  (206) 633-4090
Live Music Clubs-
LO-FI Performance Gallery-music venue & dance club for psychedelic, rock & hip-hop, plus spoken word & performance art.429 Eastlake Ave E, Seattle, WA 98109 til 2AM (206) 254-2824
Mississippi Studios and Bar Bar -in a renovated church : 3939 N Mississippi Ave, Portland, OR 97227 most days til 1 · most weekends11AM–2AM · (503) 288-3895
Slim's Last Chance-Tex Mex Chili restaurant with Live Music-5606 1st Avenue South, Seattle, WA 98108 open til 1 am  (206) 762-7900
Rendezvous -Live Music Venue- 2322 2nd Ave, Seattle, WA 98121
Showbox Theater-1426 1st Ave-tel: (206) 628-3151-Good place to hear midsize acts.
Crocodile Cafe-2200 2nd Ave at: Blanchard-tel: (206) 441-5611
High Dive-513 N 36th, Seattle, WA 98103 206.632.0212
Chop Suey– 1325 E. Madison, Seattle, WA 98122, 206.324.8000
HIGHLINE 210 BROADWAY AVE E. SEATTLE WA 98102. MON-FRI 11:AM–2:AM SAT-SUN 9:AM–2:AM. 206.328.7837
El Corazon – 109 Eastlake Ave E, Seattle, WA 98109  (206) 262-0482
Nuemos–ARO.space-925 E Pike St.
The Comet Tavern-922 East Pike Street  Seattle, WA 98122 (206) 322-9272 Capital Hill Neighborhood
The Sunset Tavern –5433 Ballard Ave NW, Seattle, WA 98107
Phone:(206) 784-4880-home of the long running Rockabilly ball
Lucky Liquor – 10325 E Marginal Way S, Tukwila, WA 98168: (206) 673-4081-Awesome dive bar club with a shitty PA system, great booking and great burgers.  Nice patio out front too.  Highly recommended.  Right Near the 24 hour Randys restaurant too.
Bars-
Revolver-1514 E Olive Way, Seattle, WA 98122 cool bar with good Vinyl DJs
Shorty's-Coney Island-themed bar with Hot dogs and lots of Pinball- 2222 2nd Ave, Seattle, WA 98121  weekends til 2AM
Lava Lounge-2226 2nd Ave -Seattle, WA-Vaguely tiki dive bar, but not tiki enough to be listed under tiki bars.  Right near Shortys above.
Screwdriver Bar-2320 1st Ave, Seattle, WA 98121-Bar with Pinball and usually cool djs like the Boots Dj Go-Go Night with Multiple gogos.
Other stuff
Les Amis-3420 Evanston Avenue North-Freemont-Trendy boutique
Richard Hugo House-1634 11th Avenue-Former funeral home, now a community center with lots of readings.
Archie McPhee-2428 NW Market Street in Seattle's Ballard district in the building with the giant lizard head. Great Novelty store.(206) 297-0240-its hugggge!!!!!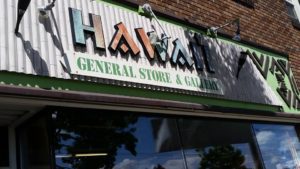 Hawaii General Store -General Store · Wallingford Home of Hawaiian-style clothing, food, art, music, books & luau supplies. Address: 258 NE 45th St, Seattle, WA 98105
Leroy Mens Wear-204 Pike St, Seattle, WA 98101-Retro style mens retailer with 40s and 50s style clothes. Closed Sunday.
Record Stores-
Easy Street Records, 4559 California Ave. SW, Seattle, WA-This is also a restaurant/hangout too.
Rat City Records · Highline: 9632 16th Ave SW, Seattle, WA 98126
Phone: (206) 432-9537

Sub Pop Records has a store in Terminal C of the Airport.
Sonic Boom,2209 NW Market St, Seattle, WA 98107
Bellevue, WA
Record Stores-
Silver Platters, Northtowne Shopping Center (by QFC) 2616 Bellevue Way NE
Bellevue, WA 98004, (425) 643-3472

Bellingham, WA
Check out these great Bellingham and Washington State links atBarstop.com.
Live Music-
Special shows and art happenings are at Allied Arts Center of Whatcom County-1418 Cornwall Ave,Bellingham, WA (360) 650-9317
The 3B Tavern-1226 N. State St., Bellingham, (360)733-8765-Lots of great bands play here.
Eats-
Boomer's Drive In-retro style drive with-310 N Samish Way
Bellingham, WA 98225 (360) 647-2666
BOTHELL, WA
Tiki bar-North Shore Lagoon. 18607 Bothell Way NE, Bothell, WA-Hotel, tiki bar, movie theater, pub and more.  Great place to stay.  Owned by the McMenamins folks so if you hate them stay away.
Bremerton, WA
Eats-
Rodeo Drive-In -Drive-in movie theater that has some good food items like cheesesteaks. Since 1949, in summer only. 7369 WA-3, Bremerton, WA 98312 (360) 698-6030
Ellensburg, WA
Eats-2 great vintage places here
Rossow's U-Tote-Em -807 W University Way, Ellensburg, WA 98926:  (509) 925-1500-Great onion rings too
Campus U-Tote-Em : 810 E University Way, Ellensburg, WA 98926 (509) 925-1600
George, WA (this city is impossible to research on the web.)
Eats-Scalehouse Cafe-300 N Washington Way, George, WA 98848
+1 509-785-3505
Issaquah, WA (Outside of Seattle)
Eats-Triple XXX Rootbeer Drive-in-98 NE Gilman Blvd, Issaquah, WA 98027 425-392-1266-unique decor, sandwiches and more.
Olympia, WA
Home to lots of cool bands and to K Records.
Some shows are listed at OlympiaPopRocks.
All ages shows up at NORTHERN.
Bars-Brotherhood Lounge-119 Capitol Way N · Olympia, WA 98501
Cryptatropa Bar -421 4th Ave E, Olympia, WA 98501 (360) 754-3867 metal bar
Eats-
Ben Moore's Restaurant & Bar -Address: 112 4th Ave W, Olympia, WA 98501 (360) 357-7527-Supposed to have a good blue cheese burger
Fish Tale Brew Pub -515 Jefferson St SE, Olympia, WA 98501 (360) 943-3650-crab cakes, cod tacos
Record Store
Rainy Day Records, 2008 West Harrison Ave, Olympia,WA 98502
Live Music-
Le Voyeur Cafe and Lounge -404 4th Ave E, Olympia, WA 98501
Phone:(360) 943-5710
Obsidian– 414 4th Ave E, Olympia, WA 98501,  (360) 890-4425
Rhythm and Rye-311 Capitol Way N, Olympia, Washington, WA 98501 (360) 705-0760-Burlesque and Music
Richmond, WA
Tiki Bar-Lees Tahitian-1342 Jadwin Ave ,Richland, WA-Slight tiki and karoake Chinese/Polynesian restaurant.
Eats-Once part of a 500 store chain, there are few remaining spudnuts left.  Its a donut made with Potato Flour.  The Spudnut Shop, 228 Williams Boulevard, Uptown Plaza , Richland, WA 99352 , 509-943-3000
Spokane, WA
Many of the hotels are super close to all the clubs in town.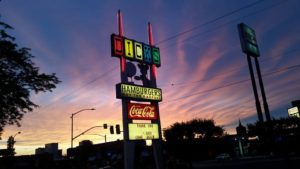 Eats-
Dick's Hamburgers -(509) 747-2481 -10 E 3rd Ave, Spokane, WA 99202, serving burgers and fries in the original, pre industrialized mcdonalds style.  Unrelated to chain with same name in seattle.  They do have tartar sauce for dipping your fries
Franks Diner-Great looking restaurant in old train cars-1516 W 2nd Ave
Spokane, WA 99204  (509) 747-8798-I wanted to but was unable to get a burger here.
Jennys Diner-1412 W 2nd Ave, Spokane, WA 99201   "best hash browns in town" Breakfast and lunch only, tons of parking, closed Mondays
Mary Lou's Milk Bottle-Milk bottle–shaped restaurant with classic ice cream and burgers : 802 W Garland Ave, Spokane, WA 99205.  Theres another milk shaped building in town too but its not a restaurant
Park Inn – 103 W 9th Ave, Spokane, WA 99204 (509) 747-4425- Oldest Restaurant in Eastern WA.
Bars-
Mootsy's-406 W Sprague Ave, Spokane, WA 99201 (509) 838-1570-cool dive bar.
Music Clubs-
Knitting Factory Concert House – Spokane
919 W. Sprague Ave. Spokane, WA
509-244-3279
The Observatory -15 S Howard St, Spokane, WA 99201 (509) 598-8933
The Hop-706 N Monroe St, Spokane, WA 99201
Phone:(509) 328-5467
Unique-Garageland -Address: 230 W Riverside Ave, Spokane, WA 99201-Combo Restaurant and Vintage vinyl store.
Hotels-
Ruby2-There is a Ruby 1 a few blocks away, but the Ruby 2 is a plush renovated old motel with lots of artistic touches.  Minus points for charging 5 bucks for parking and not having in room coffee.  They do give a 2 for 1 drink coupon for the bar at the Ruby 1.  123 S Post St, Spokane, WA 99201
Tiki Lodge-1420 W 2nd Ave, Spokane, WA 99201-Cheap but I wouldn't recommend staying here but good photo ops and its near the other milk bottle building and Franks Diner and Jennys Diner.
Tacoma, WA
This is what this site exists for:
Bob's Java-Jive -No-frills, retro watering hole with live music, beer & karaoke in a coffee-pot-shaped building. 2102 S Tacoma Way, Tacoma, WA 98409
Phone: (253) 475-9843
Tiki Bar-Tacoma Cabana -Tropical drinks, pupu platters & island-style eats served in a lounge decked out like a tiki hut. Pacific Ave, Tacoma, WA 98402
The Weekly Volcano has listings for the South Puget Sound area.  Also see their "Spew" blog.
Venues-
Hells Kitchen appears to be a mostly metal club, with some crossover punk and burlesque too.  3829 6th ave, Tacoma
The New Frontier Lounge -301 E 25th StTacoma, WA 98421
(253) 572-4020
here are some places of note, submitted by a hipster travel fan
Shops
urbanXchange-buy sell trade clothing.  Evolve daily and Experience, fashion art and sound. www.hipsterswanted.com 1934 Pacific Ave.
Blackwater Cafe– coffee surrounded by artists and contemporary art.  http://www.blackwatertacoma.com
The Helm Gallery-contemporary art and monthly music shows and art parties. http://www.thehelmgallery.com
The Grand Cinema– Art house non profit movie theatre-606 S. Fawcett Ave, Tacoma, WA 98402
Corina's Bakery-handmade cakes and desserts, including vegan style in a quaint old world charm eat in shop. 510 6th Ave. Tacoma, WA
We are on 6th Ave. between Fawcett and Tacoma
Museum of Glass– museum dedicated just to glass art.1801 Dock Street Tacoma, WA 98402-3217
After checking out the art, go blow some glass of your own: http://www.mspaceglassarts.com/
http://www.tacomaglassblowing.com/
Middle floor merchants– 20 independent shops located on the middle floor of the enormous and historical building of Sanford & Son antiques.
Record Stores-
Turntable Treasures -Music store selling vinyl records, plus new & pre-owned turntables, stereo systems & accessories. 608 N Prospect St, Tacoma, WA 98406
Phone: (253) 272-9229
Hi-Voltage Records -2714 6th Ave, Tacoma, WA 98406
House of records tacoma, WA
Rocket Records Tacoma, WA
Walla, Walla, WA
Home of another famous sweet onion, many local spots feature them on their menus.
Eats-
Ice-Burg Drive-In-616 W Birch St, Walla Walla, WA Tel: (509) 529-1793 perfect little 50's hamburger stand in pristine condition. And of course, must have onion rings.
Fast Eddy's also has must have ONION RINGS-600 W Main St, Walla Walla, WA 99362
Record Stores-
Hot Poop-this is for real- 210 E Main St, Walla Walla, WA 99362
Yakima, WA
Stores-Churchill's Booklovers Haunt-125 S 2nd St, Yakima, WA 98901
Eats-
Pepp-Mint Stick Drive-In-4002 Main St, Union Gap, WA 98903
Stop & Go Drive Inn-2820 Fruitvale Blvd, Yakima, WA 98902- 509-452-4641
Miner's Drive-In Restaurant – open since 1948,  2415 S 1st St, Yakima, WA 98903 (509) 457-8194 Open late-Giganitc burgers
Lariat BBQ-621 W Yakima Ave, Yakima, WA 98902-Not real bbq but best sign ever.  Burgers, ham and "bbq' sandwiches.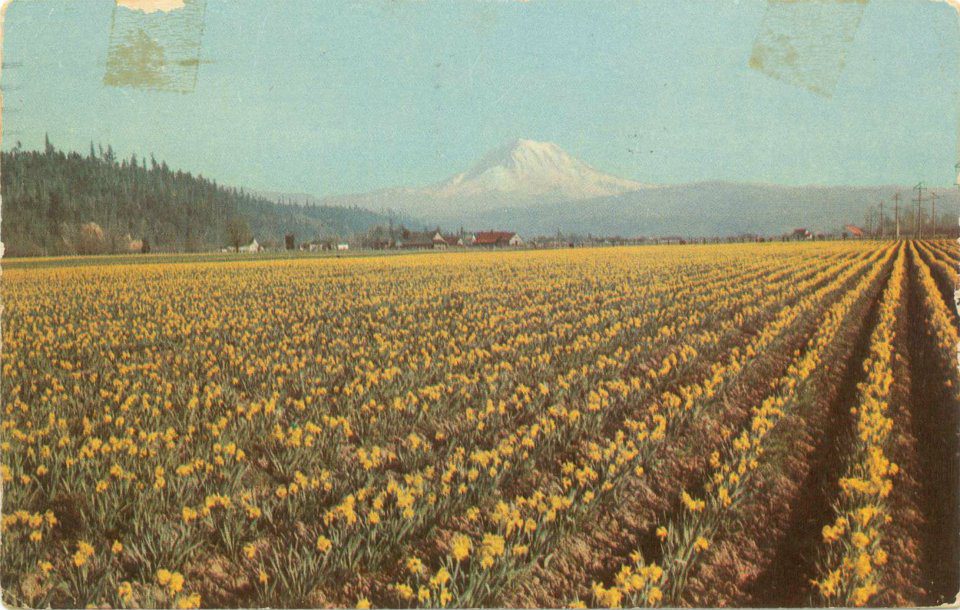 Vintage postcard, Mount Ranier and Daffodils