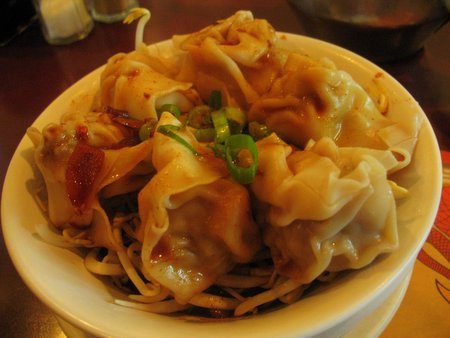 My Favorite dish in the whole world.  Suan La Chow Show, available only at Mary Chungs in Cambridge.  Wontons on a bed of beansproats in a savory sauce.  Yum!!!
Food Blogs-
Boston Hidden Restaurants, featuring their cool gallery of dive bars.  They also run Boston Restaurant Talk.
This page is for the Boston Area.  For Outside of Boston, Click Here.
Boston, MA.
Great band List-Boston Hassle.
Some bands to look out for:  Viva Viva.
The Local Alternative Weeklies are The Improper Bostonian  and the Weekly Dig.  You can also check out Back Bay Beat for more local stuff.
Discount Show tickets-Bostix.
For Concerts check out Mass Concerts.com.
Local art info on unusual art spots can be found at Art Initiative.
The bars close early, especially in Cambridge, but there are still a few fun things to do there. But if you are a fan of spicy food, you MUST go to MARY CHUNGS on Mass Ave in Central Square, Cambridge. Its a few blocks down from MIT. They have an amazing dish called Suan La Chow Show, which are wontons on a bed of beansproats in a sweet, sour and spicy sauce. Also their Peking Ravioli (known elsewhere as pan fried dumplings) are excellent, and the dipping sauce that goes with it also comes with the Scallion Pancakes that are on the brunch dim sum menu on weekends.
Other Yum food and stuff
Also nearby in Cambridge, there is a great, huge thrift store called the Garment District.  They have a pricer, picked over section as well as a clothing by the pound section.  200 Broadway , Cambridge (617) 876-5230
The Museum of Fine Arts 465 Huntington Avenue, (617) 267-9300, is open Wednesday, Thursday and Friday until 9:45 p.m. (Thursdays and Fridays after 5 p.m., only the West Wing is open).  Fridays is a very big singles scene and the museum has bands and cocktails.  $12.
For a slight touristy diversion, you can take the blue like to Revere Beach.  Walk over to the water and you will find Kellys Roast Beef. Its not necessarily cheap, or necessarily good, but you can eat a roast beef or fried clams by the water.  It depresses me to go there because Revere Beach used to have an awesome amusement park like Coney Island right where those ugly buildings are.  Kelly's Roast Beef, 410 Revere Beach Blvd, Revere, MA  (781) 284-9129
Boston Eats-
Live Music-
Paradise Rock Club-classic club
Record Stores-
There are a few Newbury Comics stores around town.  They are very good indie/comic shops.
Mars Records, 840 Mass Ave., Cambridge, MA 02139
Shopping –
Bobby from Boston-545 Washington St, Lynn, MA 01901 -Vintage spiffy duds (moved from Boston)
Allston (Boston)
Eats-
The Avenue Allston -1249 Commonwealth Ave, Boston, MA 02134  (617) 903-3110 Great Late night burgers and tons of fried awesome options, like sweet potato tots.
Brookline, MA
Cambridge, MA
Generally, Bars in Cambrige close a little later than their counterparts in Boston, usually 2 am instead of  1 am.  However each bar is different.  Some only stay open later Thursday to Saturday.
Eats-
Live Music-
Charlestown, MA
East Boston, MA
Actually North of Boston, this area is where Bostons Logan Airport is Located.  Trashy Travel lived here for several years.  There's a well known pizza place here called Santarpios which we actually DO NOT LIKE.
Eats-
Record Stores-
The Midway Cafe-3496 Washington Street, Jamaica Plain, MA 02130 (617) 524-9038
Somerville, MA
Art-
The Somerville Theater has a branch of the Museum of Bad Art in its Basement
Eats-
Redbones BBQ-55 Chester Street, Davis Square, Somerville, 617-628-2200-Moist tender bbq near the Davis Square Red Line Station.
Thrifting-
Goodwill Davis Square
Revere, MA
Revere Beach
Watertown, MA
Eats-Deluxe Town Diner – 627 Mt Auburn St, Watertown, MA 02472 (617) 926-8400-an AMAZING stunning diner with phenomenal fresh homemade food.  Great crabcakes and blue plate specials