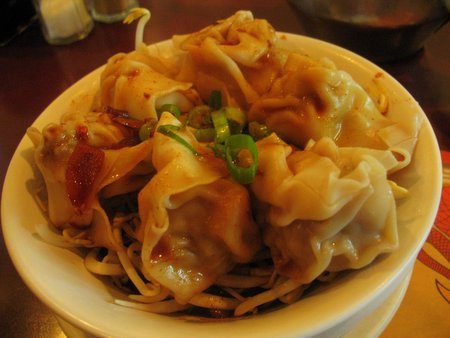 My Favorite dish in the whole world.  Suan La Chow Show, available only at Mary Chungs in Cambridge.  Wontons on a bed of beansproats in a savory sauce.  Yum!!!
Food Blogs-
Boston Hidden Restaurants, featuring their cool gallery of dive bars.  They also run Boston Restaurant Talk.
This is for the Boston Area.  For Outside of Boston, Click Here.
Boston, MA.
Great band List-Boston Hassle.
Some bands to look out for:Aloud and Viva Viva.
The Local Alternative Weeklies are The Improper Bostonian  and the Weekly Dig.  You can also check out Back Bay Beat for more local stuff.
There is a weekly and monthly mod party both run by Cheap Thrills a gogo. (on hiatus).  There is a party called 
Soulelujah
that is the first Saturday of the Month.at Middle East and Zuzu.
Discount Show tickets-Bostix.
For Concerts check out Mass Concerts.com.
Boston is another town where it is notoriously hard to find a public bathroom.  
This site
keeps a list of Public Restrooms.
Local art info on unusual art spots can be found at Art Initiative.
The bars close early, especially in Cambridge, but there are still a few fun things to do there. But if you are a fan of spicy food, you MUST go to MARY CHUNGS on Mass Ave in Central Square, Cambridge. Its a few blocks down from MIT. They have an amazing dish called Suan La Chow Show, which are wontons on a bed of beansproats in a sweet, sour and spicy sauce. Also their Peking Ravioli (known elsewhere as pan fried dumplings) are excellent, and the dipping sauce that goes with it also comes with the Scallion Pancakes that are on the brunch dim sum menu on weekends.
Other Yum food and stuff
Sunset Grill & Tap, 130 Brighton Ave, Allston, MA 02134, (617) 254-1331-sunday, monday and tuesday nights with only a two drink minimum, they have a free amazing over the top food buffet from midnight to one am and at their other locations.
Speeds Dogs-Hot Dog truck serving dogs soaked in brown sugar and apple cider then grilled over charcoal and served on a bun with homemade chili, sweet cranberry relish, or other toppings. Boston Speed Dog: 42 Newmarket Square, Boston MA 02118
Right next door to Mary Chungs you will find the
Middle East club
, which gets some great bands.
Also nearby in Cambridge, there is a great, huge thrift store called the Garment District.  They have a pricer, picked over section as well as a clothing by the pound section.  200 Broadway , Cambridge
(617) 876-5230
The Museum of Fine Arts 465 Huntington Avenue, (617) 267-9300, is open Wednesday, Thursday and Friday until 9:45 p.m. (Thursdays and Fridays after 5 p.m., only the West Wing is open).  Fridays is a very big singles scene and the museum has bands and cocktails.  $12.
Boston has the most Starbucks I have ever seen in one city, which is good if you have to use the bathroom I suppose.  Boston and NYC are both cities where this can be a challenge so this helps.  Other places you can easily find restrooms without a hassle, bars and hotels.
People always rave about the No Name Seafood restaurant and Legal Seafoods.  Also Great is Yankee Lobster Company.
For a slight touristy diversion, you can take the blue like to Revere Beach.  Walk over to the water and you will find Kellys Roast Beef. Its not necessarily cheap, or necessarily good, but you can eat a roast beef or fried clams by the water.  It depresses me to go there because Revere Beach used to have an awesome amusement park like Coney Island right where those ugly buildings are.  Kelly's Roast Beef, 410 Revere Beach Blvd, Revere, MA  (781) 284-9129
Live Music-
The Roxy-279 Tremont Street-Boston, MA 02116- 617-338-ROXY (7699)-Big club that sometimes features bands like Yo La Tengo.
Paradise Rock Club-classic club
Great Scott
-1222 Commonwealth Avenue, Allston, MA 02134
Record Stores-
There are a few Newbury Comics stores around town.  They are very good indie/comic shops.
Mars Records, 840 Mass Ave., Cambridge, MA 02139
Shopping –
Bobby from Boston-19 Thayer St, Boston, MA 02118 -Vintage spiffy duds
Allston (Boston)
Eats-
The Avenue Allston -1249 Commonwealth Ave, Boston, MA 02134
Phone: (617) 903-3110 Great Late night burgers and tons of fried awesome options, like sweet potato tots.
Brookline, MA
Cambridge, MA
Generally, Bars in Cambrige close a little later than their counterparts in Boston, usually 2 am instead of  1 am.  However each bar is different.  Some only stay open later Thursday to Saturday.
Eats-
Mary Chung-My favorite restaurant in the whole wide world, mainly for the delicious Suan La Chow Show.  Get those and get peking ravioli and all is right with the world.  Mains are okay, but the apps, oh wow.464 Massachusetts Ave, Cambridge, MA 02139
Phone:(617) 864-1991
Live Music-
Thrifting-
Goodwill Central Square
Boomerang
The Garment District
Charlestown, MA
Eats-Warren Tavern -Legendary circa-1780 tavern draws locals with decent food near the bunker hill monunment. Parking is a bitch. 2 Pleasant St, Charlestown, MA 02129
(617) 241-8142
Record Stores-
Deep Thoughts JP
-Address: 138b South St, Jamaica Plain, MA 02130: (617) 522-3587-Record Store with occasional instores
The Midway Cafe-3496 Washington Street, Jamaica Plain, MA 02130 (617) 524-9038
Mattapan, MA
Eats-
Simco's -1509 Blue Hill Ave ,Mattapan, MA 02126 Old timey Hot dog stand, chili dogs (chili has beans though), slaw dogs. Great onion rings.
Somerville, MA
Art-
The Somerville Theater has a branch of the Museum of Bad Art in its Basement
Eats-
Redbones BBQ-55 Chester Street, Davis Square, Somerville, 617-628-2200-Moist tender bbq near the Davis Square Red Line Station.
Music-
The Burren ?- 247 Elm St, Somerville, MA 02144 (617) 776-6896-Irish pub with folk, bluegrass, blues and other bands. They have lunchtime concerts!
Thrifting-
Goodwill Davis Square
Revere, MA
Revere Beach
Eats-
Kellys Roast Beef
– 410 Revere Beach Blvd Revere, MA 02151 stand serving roast beef and seafood by the beach.  Easy to get to from Boston.  Don't get the seafood dude, though its good…
Watertown, MA
Eats-Deluxe Town Diner – 627 Mt Auburn St, Watertown, MA 02472 (617) 926-8400-an AMAZING stunning diner with phenomenal fresh homemade food.  Great crabcakes and blue plate specials
Celebrity Pizza-
wonderful old timey ice cream parlor with 24 flavors of soft serve also serving fried seafood platters, pizza & sandwiches -684 Mt Auburn St, Watertown, MA 02472