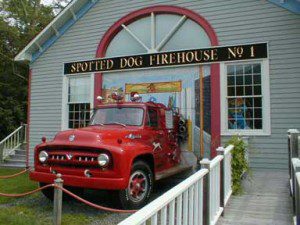 The Rest of NY

The Spotted dog in Mt. Tremper, NY, home of the worlds largest kalaidescope.
Binghamton, NY
Regional Specialty the Spiedie -A sandwich which consists of cubes of chicken, pork, lamb, veal, venison or beef.
Eats-Lupo's S & S Char Pit -Address: 6 W State St, Binghamton, NY 13901 (607) 723-6106 home of the Spiedie
Sharkey's Restaurant -56 Glenwood Ave, Binghamton, NY 13905 (607) 729-9201 open til 1 am. Spiedies, Pierogies and more. Since 1937. Its a bar too. Glug glug
Bars-
The Belmar Pub & Grill-wood paneled bar with a backyard, serving burgers 95 Main St
Binghamton, New York 13905 (607) 724-5920
Live Music-
Fitzie's Pub-: 9 Main St, Binghamton, NY 13905 closes 3AM most nights : (607) 217-5446-Simple bar with live punk rock shows.
New Rochelle, NY
New Roc City-Entertainment complex with Movie theaters, skating rinks, video game rooms and a space shot freefall type ride.
Rye, NY
Rye Playland amusement park-one of only 2 historic landmark amusement parks that also operate currently.  Great blend of the old and the new.  Antique Carousel and Carousel Type ride called the derby racer which is only one of 3 left in existence.  Okay coaster, unique old mill ride (old fashioned tunnel of love) and many other rides.  Check with the MTA for ride and rail packages from NYC.  Playland Parkway, Rye, NY 10580(914) 921-0370
Albany, NY
The Alt weekly for the Capital area is Metroland.
A couple of Albany area blogs, the Ridiculous Food Society andAll over Albany.
Record Store-
Music Shack, 65 Central Ave, Albany, NY 12206
Eats-
Gus's Hot Dogs, 212 25th Street, Watervliet (Albany area), 273-8743 Small old timey burger and dog joint
Famous Lunch-Mini hots dogs! 4 inches long and served with Zippy Sauce. (Troy, NY-Greater Albany area)
Clubs-
Bogie's-297 Ontario St-Albany, NY 12208 (518) 482-4393
Fuze Box 12 Central Ave Albany, NY 12210-1305 – (518) 432-8866-Rock club housed in a former white tower hamburger joint. They still have the burger joint signs.
Pauly's Hotel -337 Central Ave, Albany, NY 12206 (518) 426-0828
Valentine's 17 New Scotland Ave, Albany, NY 12208 – (518) 432-6572
Burnt Hills, NY (near ALBANY)
DONUT ALERT! Get a world class CIDER DONUT at
Fo'Castle Farms, 166 Kingsley Road, Burnt Hills, NY
Armonk, NY
Schultz's Cider Mill -103 Old Route 22 , Armonk Phone: 914-273-3521Schultz's Cider Mill offers seasonally fresh fruits and vegetables daily, But have the MOST AMAZING doughnuts every Saturday and Sunday. They are open daily from 8am-5:30pm, closed on Tuesdays.
Beacon, NY
Art-
an art Museum worthy of Hipster Travel, Dia:Beacon is a huge 240,000 square foot space filled with huge mammoth pieces.
3 Beekman street
Beacon, NY 12508
T: 845.440.0100
Brewster, NY
Eats-
Red Rooster Drive in-old timey burger and ice cream place. 1566 Rt 22, Brewster, NY 10509 (845) 279-8046
Buffalo, NY
Buffalos alternative weeklies are the ARTVOICE and Buffalo Beat.
Local specialty drink-Loganberry sodaWhen in Buffalo, visit the birthplace of the Buffalo Wing at theAnchor Bar, 1047 Main Street, Buffalo
Other Regional specialites are MIGHTY TACO, with many locations.
Then there is Beef on Weck at Charlie the Butcher, 1065 Wehrle Dr., Buffalo, NY ,716-633-8330 – Slow-roasted beef, sliced thin and piled on a hard roll that is crusted with pretzel salt and caraway seeds. The top half of the roll gets dipped briefly in beef juice.
You can also get Beef on Weck at Schwabls, a hundred and fifty year old joint serving many Roast beef delights. 789 Center Rd, Buffalo, NY 14224, (716) 674-9821
They also love their hot dogs, like the red hots served at Ted's Jumbo Red Hots – 2351 Niagra Falls Blvd in Amherst, Outside the City 716-691-7883 served plain, with cheese, and/or chili. charcoal grilled, also, other locations.
Also, for beef on Weck, Charlie the Butchers, 295 Main Street, Buffalo, NY 14203-2408 (in Historic Ellicott Square Building) plus other locations
Bar Bill Tavern-185 Main St, East Aurora, NY – (716) 652-7959 Some people claim that this place has the best wings AND the best beef on weck
Blackthorn Restaurant & Pub, 2134 Seneca St, Buffalo, NY 14210-2365
(716) 825-9327-Beef on weck, and crab cakes
Drive In-Transit Drive In-6655 Transit Rd.,Lockport, NY (Outside of Buffalo), 14094 (716) 625-8535
Live Music-Mohawk Place-47 East Mohawk Street Buffalo, New York (716) 855-3931
Nietzsche's -248 Allen St., Buffalo, NY 14201 (716) 886-8539-Regional acts play here.Record Store-
New World, 512 Elmwood Ave, Buffalo, NY 14222Central Valley, NY
Eats-
DUG Out-159 Route 32, Central Valley, NY 10917 Vintage ice cream stand
Cooperstown
Eats-
Brooks House of BBQ-In the town of Oneonta, 24 miles south of Cooperstown-607-432-1782, 5560 State Highway 7, Oneonta, New York-Famous for bbq chicken.Darien, NY (near Buffalo)
Cortland Manor, NY
Popeyes Pub-Bar in a historic building with love bands, usually punk and metal-
2056 East Main Street Cortlandt Manor, NY 10567-2622 – (914) 737-9325Amusement Park-
Six Flags Darien Lake-9963 Allegheny Road, Darien Center, (716) 599-4641Clifton Park, NY(greater Albany area)
Venue in a strip mall that looks like it might have been a supermarket at some time. Odd, big space, with relatively low ceilings. Intimate show experiences can be had..
Corning, NY
Eats-
Jim's Texas Hots -8 W Market St, Corning, NY 14830
(607) 936-1820 a texas hot is a chili dog. They serve a texas hot, a ny hot, a wisconsin hot and a slaw dog.
Elmira, NY
Eats-
M & M Red Hots- 212 Baldwin St, Elmira, NY 14901 (607) 732-9417-Chili Dog joint
McConnell's Hots – 1138 Lake St, Elmira, NY 14901
Phone:(607) 733-4687. Another chili dog place.
Endicott, NY
Eats-Phil's Chicken House
1208 Union Center Main H, Endicott, NY – (607) 748-7574-Famous for BBQ chicken
Farmingdale, NY
Amusement Park
Adventureland
-2245 Route 110, Farmingdale, (516) 694-6868- Small family park.Live Music-
The downtown
-190 main street , Farmingdale Long island-accessable from NYC via LIRR.Fire Island
For info on Fire Island Clubs and events go to
Flanders, NY
Attraction-
Giant Duck-Its a giant duck.
Route 24, Flanders N.Y.
(631) 852-8292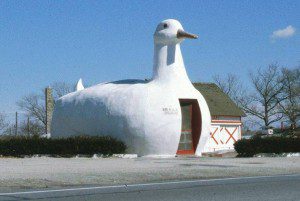 Fort Edwards, NY
Eats-
Ron & Cathy's Restaurant- 1737 Saratoga Rd, Fort Edward, NY 12828-Decades old restaurant with very little internet presence (518) 538-9599
Garrison, NY
Food-
The Bird & Bottle Inn 1123 Old Albany Post Road Garrison, NY 10524 (800) 782-6837. Nice dinners served in this 18th Century House. They have rooms which are pricey, but really not because they include a credit for dinner.
Gardiner, NY
Eats-
Mountain Brauhaus Restaurant-3123 Rt 44 55, Gardiner, NY 12525 (845) 255-9766-Amazing German Restaurant. Closed Monday and Tuesday
Glen Falls, NY
Eats-
New Way Lunch-21 South St, Glens Falls, NY 12801 (518) 792-9803-Another branch of this mini chili dog chain.
Hillburn, NY
Food-
Mount Fuji-Route 17 North, Hillburn, New York-845-357-4270-Hibachi style japanese steakhouse in a giant pagoda, with a tiki bar.
Hudson, NY
Live Music
The Hudson River Theater, 521 Warren Street. Hudson, NY-Odd collection of shows here, like Marshall Crenshaw or Graham Parker, then things like Monade, a Stereolab side project.
Helsinki Hudson-405 Columbia Street, Hudson, New York 12534
Hudson Falls, NY
Eats-
Dog Shack-449 Lower Main St, Hudson Falls, NY 12839 (518) 747-9500-Chili dogs. Great sign.
Zack's Drive Inn -152 River St, Hudson Falls, NY 12839 (518) 793-2366-Another chili dog joint. Good Onion Rings.
Mandy's Pizza & Subs-1229 Burgoyne Ave, Hudson Falls, NY 12839- (518) 747-0911-Don't get the pizza, get something on the rolls. Finger rolls are supposed to be great.
Lisa's -67 Main St, Hudson Falls, NY 12839 (518) 741-6410-Wood paneled diner with a number of unique items.
Huntington, NY
Eats-
Herrell's Ice Cream Huntington-46L Gerard Street, Huntington, NY 11743 631-673-1100
Ithaca, NY
Ithacas alternative weekly is the Ithaca Times.
Johnson City, NY
Tonys Texas Hots-300 Main Street, Johnson City, NY (607) 797-0366-Not open for dinner. Breakfast and Lunch only. Get a chili dog
Kingston, NY
Venues-
BSP Lounge -323 Wall St, Kingston, NY 12401 (845) 481-5158
Eats
Dallas Hot Weiners-51 N Front St, Kingston, NY 12401 (845) 338-6094. Texas style hot dogs ala coneys and Michigans. Also locations in Saugerties and Albany
Lake George, NY
Lake George is a resort area in Upstate NY. You can take a train to Albany from Penn Station and take a cab to Lake George Village for about $90 rt. While in the Neighborhood, you can also drive up to Lake Champlain and take a ferry to Burlington, VT.
The last Howard Johnsons restaurant is here. Since most Hojo items were frozen the items are all recreated to mixed Reviews .Howard Johnsons Family Restaurant –
2143 Rte 9, Lake George, NY 12845 (518) 685-3022
Tiki Festival-Ohana Luau At the Lake. Sells out crazy early! Usually around June
Hotel
The Tiki Resort-2 Canada Street, Lake George, NY 12845, 518-668-5744, its the tiki resort where they hold Luau at the Lake. Heart shaped tubs too!
Surfside On The Lake – located directly on Lake George.400 Canada Street Lake George, NY 12845 (518) 668-2442 Midcentury hotel for fans of the perior. Does a great job for roadside fans-hosts for an annual Elvis Festival in June
Amusement Park-
Great Escape Fun Park
-Route 9, , Lake George, (518) 792-3500 -excellent park with amazing Comet rollercoaster.Lake Placid, NY
The Last Howard Johnsons Restaurant is in Lake Placid. 98 Saranac Avenue, Lake Placid. 1-800-858-4656Liverpool, NY (near Syracuse)
Eats-
The Sagamore Club Grille-800-358-3585-pricey restaurant in 115+ year old hotel in Bolton Landing, 10 miles from Lake George. Not trashy. Several dining options in the hotel.
Ollie's Dog House-14 Beach Rd, Lake George, NY 12845-Chicago Dogs
The Loft-3 State Rt 149, Lake George, NY 12845 (518) 793-2296-Great burger in a barn shaped building. Don't get the hot dogs.
The Saltwater Cowboy-164 Canada St, Lake George, NY 12845-Newer fried seafood and lobster roll restaurant.
Shaughnessy's Olde Log Inn -2814 State Rte 9, Lake George, NY 12845 (518) 668-3334-Old tourist joint with fine dining options and Blu-Balls, mini chicken cordon blu appetizers and the Adirondack sandwich, steak, onions, pepperocini, special sauce and cheese.
Bars-
King Neptunes Pub-518-668-2017-Bar with live music.
Long Island, NY
Long Island has a local version of the Village Voice.
Record Stores-
Music Den, 4950 Nesconset Hwy, Port Jefferson Station, NY
Vinyl Solution, 33 N. Main St., Port Chester, NY 10573
Long Island City, Queens, NY
Elevator Museum -21-03 44th Ave, St 206, Long Island City -917-748-2328
Mamaroneck, NY
Eats-
Walter's -937 Palmer Ave. Mamaroneck, NY-Hot dog shack in a Pagoda. Must try. They serve their hot dogs split on grilled buns.
Massapequa, New York
Eats-
Big Daddys-1 Park Ln, Massapequa, New York (516) 799-8877 WEDNESDAY – Smoked Prime Rib Night! Cajun restaurant
Medford, NY
Eats-
First National Franks, 3147 Rte. 112 Medford, NY 11772 631-696-1900, giant dogs on giant buns, plus burgers and fries. Giant dog on the sign
Montauk, NY
Food
Duryeas Lobster Deck, Tuthill Road, Montauk, Phone: (631) 668-2410. Old fashioned lobster shack.
The unusual-
The Montague Bookmill is a used bookstore housed in an 1842 gristmill, and has some occasional events as well.
Moriches, NY
Atlantic Seafood -117 Montauk Hwy, Center Moriches, NY 11934 (631) 878-8406
Classic old timey seafood restaurant with a shark mouth for an entrance.
Mount Kisko, NY
Indoor Go Kart Track-Grand Prix New York Racing, 333 North Bedford Road, Mount Kisco – (914) 241-3131 www.gpny.com
Mount Tremper, NY

The worlds largest kaleidescope-5340 NY-28, Mt Tremper, NY 12457
New Paltz, New York
Music-
>6 Mohonk-House where they put on parties….
New Paltz, NY
Venues-
38 Main Street New Paltz, NY 12561- (845) 255-9800
www.myspace.com/snugs_tavernWierd stuff- TrapezeSchool has moved. You can call 845-658-8540 for info on trapeze flying in New Paltz. Learn how to fly through the air with the greatest of ease.
Niagara Falls, NY-Now has its own page
Eats
The Silo-in an old Coal Silo, have The Silo Haystack: a full pound of rib eye blanketed with melted mozzarella, onions, peppers mushrooms and a mound of crispy shredded hash browns.
115 North Water St, Lewiston, NY 14092
Mountaindale, NY
High Voltage and Creek Bar-47 MAIN ST., MOUNTAINDALE, NY 12763-American restaurant and bar with an outdoor bar with occasional cool events
Tacky Activities-across the border in Clifton Hills, it is loaded with tacky like the wonderful
Galaxy Golf-
4960 Clifton Hill, Niagara Falls, ON L2G 3N4-indoor glow in the dark mini golf
Pawling, NY
Live Music-
Daryl's House Club – 130 NY-22, Pawling, NY 12564 (845) 289-0185
Plattsburgh NY
Bars-
Bobby's Lounge-5028 S Catherine St, Plattsburgh, NY 12901 (518) 561-0657-nice dive bar with good burgers and ok wings.
Eats
Plattsburgh is a hotbed of Michigans, similar to coneys
Clare & Carl's: 4727 U.S. 9, Plattsburgh NY-hot dog stand Open April through October-Old timey hot dog joint serving up Michigans, which are hot dogs with meat sauce
You can also try them at the seasonal Ronnies Michigans-1265 State Route 3, Plattsburgh, NY. (518) 561-3879
Michigan's Plus-In an old IHOP, serves one of the areas many "michigan" dogs-(518) 561-0537, 313 Cornelia St, Plattsburgh, NY 12901-They also have tater tots with cheese and michigan sauce.
Gus' Red Hots-3 Cumberland Head Rd, Plattsburgh, NY 12901-(518) 561-3711
McSweeney's Red Hots -535 North Margaret Street, Plattsburgh, NY

(518) 562-9309-Michigans abound at this mini chain

Other Eats-

Grandma's Spanish Kitchen -5139 US Ave, Plattsburgh, NY 12901 (518) 536-4550-Restaurant with a spinach pasta dish called tallarin verde, a Peruvian dish.

Himalaya Restaurant -78 Margaret St, Plattsburgh, NY 12901 (518) 772-7034-Get the shapta, served with steamed bread.

Arnie's Restaurant

-20 Margaret St, Plattsburgh, NY 12901 (518) 563-3003-unchanged in decades average italian restaurant. I only have it on here for the sign because its super cool. The food looks average though people seem to like their chili with beans.

Port Jarvis, NY

Eats-

Texas Lunch-Chili Dogs and Chili Burgers-57 Jersey Ave, Port Jervis, NY 12771, (845) 856-2125

Fogwood & Fig

-24 Front St, Port Jervis, NY 12771 (845) 672-4222-Vegetarian restaurant with a beet burger.

Queensbury, NY (Lake George Area)

Eats

Mr B's Best Beef & Subs-833 State Rt 9,Queensbury, NY 12804 (518) 793-5919. Seems to have spent a former life as a Neba or other former chain. Roast beef, horseradish sauce, not arbys.

New Way Lunch of Queensbury-731 Upper Glen St, Queensbury, NY 12804 m(518) 761-3356-Chili dog joint which has only a few locations.

Martha's Dandee Creme -1133 US Rt 9, Queensbury, NY 12804 (518) 793-0372-Giganic soft serve cones, foot long coneys, huge fish sandwiches and fried clams.

Drive in

Live Music-
Bug Jar-219 Monroe Ave, Rochester NY (716)454-2966-oddly named music venue with great regional touring bands.Eats-

Local specialty, The Zwiebel white hot, a brat usually served with a meat sauce on top, like a sweet meatless chili.

Dinosaur BBQ-99 Court Street, Rochester, NY
Sticky Lips Pit BBQ, 625 Culver Road, 585-288-1910. Rochester
(In VICTOR, NY) The Village Pig and it's full of pork plus
smoked chicken, ribs and Creole dishes. Interestingly, they don't allow customers under the age of 25. Jim Andres, owner of the new barbecue eatery and bar at 75 Coville St., set the unusual age restriction to avoid the undesirable behaviors of two subsets of customers: screaming or crying children and irresponsible younger drinkers. "We simply don't want to deal with it."Hours are 3:00 p.m. to midnight, Tuesday through Sunday. Located at 75 Colville Street (585-924-3590).
Spot Coffee-a coffee theme park, 200 East Ave @ Matthews 585.613.4600, Rochester, NY 14604 (in the "hip" east end of town)

Also check out regional chains DiBellas Sub Shops, and the Red Osier Landmark Restaurant whose Red Osier Roast Beef, is available at local sports stadiums.Record Stores-
Fantastic Records, 3400 Monroe Ave., Rochester, NY 14618
Ultra Sonic Sound, 635 Monroe Ave., Rochester, NY 14607Other stores-

House of Guitars-8 floors of New and Used Musical Instruments-645 Titus Ave, Rochester, NY. 585-544-3500
You have got to see this store- It is the most amazing music store.Amusement park
Seabreeze Amusement Park-4600 Culver Road, Rochester, NY (716) 323-1900 (800) 395-2500Schenectady, NY
Eats-

Smithtown, LI You can't just eat there though, as it there is an etiquette guide.
Mike's Restaurant (518) 382-9213, 1135 Erie Blvd ,
Schenectady, NY 12305-the sign says, "finest ever made FIRST PRIZE Mikes Frankfurts-first prize with our sauce" which is a chili sauce. Also burgers and battered rings.
Dairy Circus-1 Lyric St , Scotia, NY 12302 (518) 374-5725- Because you can't get a dip at Jumpin Jacks

Venue-
Saints&Sinners 558 smithtown bypass smithtown, new york (on the corner of rt.111/347)Syracuse, NY

Syracuse's local alternative weekly is the
New Times.

Venue-
Happy Endings Cake and Coffeehouse-317 S. Clinton St.


Syracuse, New York

Eats-

Dinosaur Bar-b-que – 246 W. Willow Street, Syracuse, NY 315-476-4937-Dry rubbed and smoked BBQ ribs

Tarrytown, NY

Eats-

Pik Nik BBQ -45 Main St, Tarrytown, NY 10591 (914) 631-5600-good ribs.

Troy, NY
A couple of Blogs about the Troy area. Bath on Hudson and Troy Night Out-Troy night out is actually an event
Music-

ground zero-Ground Zero is a student-run music club at RPI in Troy, NY

Warrensburg, NY

Eats-

New Way Lunch -3748 Main St, Warrensburg, NY 12885 (518) 623-2103-Chili dog restaurant with a few locations.

Watervliet, NY (Albany area)


Eats
Gus's Hot Dogs: 212 25th Street, Watervliet NY 12189-like the nearby Troy lunch, they serve tiny 3 inch dogs with a chili sauce

Williston Park, NY

Eats-
Hildebrandt's-84 Hillside Ave, Williston Park, NY – (516) 741-0608-Old timey lunch counter with good burgers and Ice cream served in classic glass dishes. Since 1927

Westchester, NY

Record Store-
Music Arcade, 1077 Old Country Rd, Westbury, NY 11590
Westhampton, NY

Eats-

Casa Basso -Italian restaurant in a Castle! 59 Montauk Hwy, Westhampton, NY 11977 dinner only. Closed Monday. (631) 288-1841

Yorkville, NY

Eats-
Voss' Bar-B-Q -Route 5A, Yorkville, NY -Not what you think of as BBQ, this place serves upstate style bbq which is slice roasted meat with BBQ sauce. However, the hot dogs here are unusual overflowing gut bombs of amazing toppings.