Cincinnati
Check Cincymusic for local info.  City Beat is the local alternative paper with Best of Cincinnati listings.North of downtown Cincinnati, the neighborhood of Northside is becoming the hip place with a lot of local pubs and some unique restaurants. A great indie music store, Shake It Records nearby.
Home of our favorites Vacation.
Museum-
American Sign Museum-1330 Monmouth Ave, Cincinnati, OH 45225 (513) 541-6366
A recommended bar is the Comet with a great Jukebox and occasional live music such as local garage rock band The Greenhornes.  No Cover, cheap drinks, football sized San Francisco style burritos.  4579 Hamilton Avenue, Cincinnati, OH; 513-541-8900
Eats-
Ollies Trolley-1607 Central Avenue.  I dont know if this is open still, but if it is, its big news.  Ollies makes amazing burgers if it is indeed the same place.  A spice encrusted burger with a spicy sauce.  One in a million. Caution: in a sketchy neighborhood
Hathaways Coffee Shop-25 W 5th St, Cincinnati, OH 45202, 513-621-1332-Was open for decades but recently moved.
Putzs Cream whip-Putz Place & West Fork, Exit 17 off I-74, Cincinnati, 513-681-8668-Ice Cream stand only open in summer.
Montgomery Inn-9440 Montgomery Rd., Montgomery, OH (513) 791-3482- Famous Ribs.
Blue Ash Chili Restaurant-9565 Kenwood Rd, Cincinnati, Ohio – (513) 984-6107-of all the chili joints, this one makes a Six way topped with jalapenos that are fried!
Terrys turf club.  Fussy burgers in a crazy decorated joint, filet mignon chili, crab cakes.4618 Eastern Avenue  Cincinnati, OH 45226 (513) 533-4222
Mr. Genes Dog House-3703 Beekman St, Cincinnati, OH 45223  (513) 541-7636-window only coneys and chicago dogs.
The Root Beer Stand -11566 Reading Rd, Cincinnati, OH 45241 (513) 769-4349-Gorgeous drive in with a lovely lawn with picnic tables to enjoy your coneys and ice cream and Chili Burgers aka Chattanooga cheeseburgers.  Yum.  Get a root beer at any joint that has it in the name!
Hitching Post-4535 Kellogg Ave, Cincinnati, OH 45226 (513) 871-4293-fried chicken, chili and great chili cheese fries.  Historic.
Pleasant Ridge Chili Restaurant– 6032 Montgomery Rd, Cincinnati, OH 45213 (513) 531-2365 Cincinnati chili favorites along with classic diner comfort food and breakfast served all day
Senate-Gastropub with all kinds of wacky hot dogs and Bone marrow. Closed Monday
Zip Dip -Old-school parlor since 1951. 4050 Drew Ave, Cincinnati, OH 45248
(513) 574-6252-Soft serve and burgers and dogs.  Dishes for dogs too.
Zip's Cafe-1036 Delta Ave, Cincinnati, OH 45208-Burgers, fried fish sandwiches & other pub-grub classics go alongside beer at this old spot(513) 871-9876
Treats-
Aglamesis Bros-3046 Madison Rd,Cincinnati, OH 45209 (513) 531-5196-retro marble countertop ice cream and candy shop, now with multiple locations.  Unique flavors.since 1908
Gold Top Dairy Bar – Ice Cream Shop: 2810 Blue Rock Rd, Cincinnati, OH 45239 (513) 741-2941-Ice Cream and coneys
Record Stores-
Everybody's, 6106 Montgomery Rd., Cincinnati, OH 45213
Shake It Records-4156 Hamilton Avenue Cincinnati, OH 45223 (513) 591-0123.  They also have some links to local happenings
Bars-
Arnold's Bar & Grill-210 E 8th St, Cincinnati, OH 45202 (513) 421-6234-Historic bar and grill, oldest in the city.
Live Music-
MOTR Pub-1345 Main Street  Cincinnati, OH 45202 (513) 381-6687
Northside Tavern-4163 Hamilton Ave A, Cincinnati, OH 45223(513) 542-3603
Northside Yacht Club- 4231 Spring Grove Ave, Cincinnati, OH 45223 (513) 541-0528
Bogarts-2621 Vine Street-Cincinnati OH-Bigger live nation spot
The Mockbee-2260 Central Pkwy, Cincinnati, OH, United States, Ohio (513) 621-1900
In Newport, Kentucky you will find the Southgate House -24 East Third Street -Newport, KY 859-431-2201-It is a most unique venue!
THE COMET-4579 Hamilton Ave Cincinnati, OH-Hard to find info on the shows here but they have shows
Junker's Tavern- 4156 Langland St, Cincinnati, OH 45223 (513) 541-5470-dive bar with occasional live music.
Amusement Park-
Paramounts Kings Island-Huge great amusement park.  Worth a special trip.
Must see-
Jungle Jim's International Market, 5440 Dixie Highway (Route 4)
Fairfield, OH 45014, 513.674.6000-a huge food market with interactive displays and more.  We bought these "Amish Recipe Whoopie Pies" in the bakery that were the best Whoopie pies we ever had.
Hotels-
Pricey but amazing
Cincinnatian hotel-601 Vine St.  Rooms from 160 per night. Hilton destroyed the Classy Palace Restaurant inside.
Traders world-huge indoor flea market operating Saturday and Sunday-601 Union Road, Monroe, Ohio 45050, Between Cincinnati and Dayton, Ohio
Exit 29 on East Side of I-75 ~ Take Exit 29,  513-424-5708
Alliance, OH
Attraction-
The Troll Hole Museum -World's largest troll collection: 228 E Main St, Alliance, OH 44601 (330) 596-1157
Eats-
College Inn Eatery -935 W State St, Alliance, OH 44601  (330) 823-3332-Huge portions of diner food.
Live Music-
Jupiter Studios -346 E Main St, Alliance, OH 44601  (330) 581-5272-huge. They have a kitchen, a bar, a stage for bands, art galleries, arcade games,  plenty of tables to sit or eat at, pool table, and, cheap cocktails,.
Athens, OH
Live Music
Union Bar & Grill-18 West Union Street  Athens, OH 45701  (740) 593-5060
Smiling Skull Saloon.108 W Union St, Athens, Ohio 45701 (740) 589-2474, bar with live music
RIP GEAUGA LAKE
(See Aurora Below)
Cleveland
SOUL PARTY-Monthly-The Secret Soul Club at the Five O'clock Lounge.
Local Chain Mr. Hero has a sub called the roman burger.  "A unique combination of beef patties covered with Swiss American cheese, grilled Genoa salami and Italian luncheon meats that are carmelized to a yummy perfection"
The local chain MELT makes amazing unique sandwiches.
The Local Alternative weekly is the Cleveland Scene.  They also have the Cleveland Free Times.
Bowling Alley-
Trashy Travel has 3 listed here but two have shows.  Dickeys Lanes is just a bowling alley.  Dickey Lanes- 3275 W 25th St, Cleveland, OH 44109  (216) 741-9774
Bars-
Harbor Inn-1219 Main Ave, Cleveland, OH 44113 (216) 241-3232-Oldest continuously operating bar in Cleveland.
Cebars -591 E 185th St, Cleveland, OH 44119  (216) 481-9509-Cebars Euclid Tavern, not to be confused with the other Euclid tavern has blues jams on Sunday and similar acts,  plus fish frys and the like.
The Riverwood Cafe aka the Telstar-18500 Detroit Ave, Lakewood, OH 44107 1 216-521-9999-old bar that are chicken wing specialists with flavors like sweet heat and honey garlic.
Around the Corner Saloon & Cafe-18616 Detroit Ave, Lakewood, OH 44107 (216) 521-4413-Bar with a patio and weekend no cover dancing.  Not sure what the music is.  Food specials like Thursdays 49 cent wings and fifteen cent mussels and two for one burgers on Mondays.  Specials don't work if its a holiday such as Mardi Gras or St Patricks Day.
Ridgewood Inn -5759 Ridge Rd, Cleveland, OH 44129 (440) 884-0310-Friday fish fry and pierogies year round.  I thought this meant daily but I thought wrong.  Cool sign, old building.
Parkview Nite Club-1261 W 58th St, Cleveland, OH 44102 (216) 961-1341-Locals bar with a big dining room serving Hot Chicken, Fried Asparagus and more.
Jermans Cafe-3840 St. Clair Ave, Cleveland, Ohio 44114 (216) 361-8771-Briefly closed this is the 2nd oldest bar in the City.
Hotz's Café-2529 W 10th St, Cleveland, OH 44113 (216) 771-7004-Since 1919, family owned beer and shot place that was once frequented by many baseball greats.  Shuffleboard table.
Ugly Broad Tavern-: 3908 Denison Ave, Cleveland, OH 44109  (216) 351-9826-"the best in beer and bullshit"-Smoking allowed.  Wings/fried baloney sandwiches for food.
Clubs-
Funhouse Saloon-1539 W 117th St, Cleveland, OH 44107 punk rock Formerly Spitfire

Now That's Class-11213 Detroit Avenue  Cleveland, OH 44102 (216) 221-8576
Maple Lanes-6918 St Clair Ave, Cleveland, Ohio 44103-(216) 431-9593-Bowling alley with very occasional rock shows  The bowling uses humans to set the pins.
The Social Room-2261 Lee Road, Cleveland Heights.  used to have bands, now just a neighborhood bar
The Grog Shop-1765 Coventry Road, Cleveland Heights, 216-321-5588. The coolest shows and best bands are here.
Beachland Ballroom-15711 Waterloo Rd. Cleveland-tel: 216/383-1124-On the weekends they have a vintage clothing and vinyl store too.

The Foundry Concert Club -Small concert space featuring local & national bands & serving burgers 11729 Detroit Ave, Lakewood, OH 44107(216) 323-8201
Avon Lake, OH (Greater Cleveland)
Bars-
Close Quarters Pub -31953 Lake Rd,Avon Lake, OH 44012 (440) 933-5217-Teeny tiny dive bar that somehow has a kitchen to serve the regional Sauerkraut balls.
Bexley, OH
Treats-
Graeter's Ice Cream – 2282 E Main St, Bexley, OH 43209-Not sure if this is the original but it is very old.  Now this stuff is everywhere but this store has its vintage style.
Canton, OH
Live Music-
Buzzbin Art & Music Shop-Live music, lots and lots of Tap beer and an art gallery. 331 Cleveland Ave NW, Canton, OH 44702  (330) 754-6770
Chagrin Falls, OH (Greater Cleveland)
Bars-
Greenville Inn -7150 Pine St, Chagrin Falls, OH 44022  (440) 247-8068 Bavarian style front, mix of bands of varying quality.
Chillicothe, OH
Eats-
Carl's Townhouse – 95 W 2nd St, Chillicothe, OH 45601  (740) 773-1660-Rescued historic restaurant that was actually moved to another part of town
Sumburger — old-fashioned drive-in serving burgers, chicken & seafood : 1487 N Bridge St, Chillicothe, OH 45601 (740) 772-1055-Now they have a second location
Conneaut, OH
Eats-
White Turkey Drive In-Seasonal Mothers Day to Labor Day-388 E Main Rd • Conneaut, OH 44030 • Phone: (440)593-2209-Family recipe turkey sandwiches, chili dogs, burgers and root beer.
Curtice, OH
Treats-
D G's Ice Cream Shop- 10609 Jerusalem Rd, Curtice, OH 43412 (419) 836-7254-Cute soft serve joint with Ice cream shaped trash cans-Seasonal summer to fall.
Doylestown, OH
Treats-
 Eastlake, OH
Treats-
Cooper's Twist & Shake-Retro A frame ice cream joint- 35766 Lakeshore Blvd, Eastlake, OH 44095 (440) 946-3376
Fairlawn, OH
Eats-
Greenville, OH
Eats-
Hamilton, OH
Eats-
Jolly's Drive-In -210 N Erie Hwy, Hamilton, OH 45011 (513) 894-7541 Real rustic drive in restaurant.  Foot long coneys
Lebanon, OH
Eats-
Village Ice Cream Parlor & Restaurant-22 S Broadway St, Lebanon, OH 45036  (513) 932-6918, vintage ice cream parlor that reminds me of an old HOJO on the inside.
Lima, OH
Eats-
Lima is home to not 1 but 3 Kewpee Hamburgers!  Must eat!  Also get the old fashioned super thick its almost ice cream malts.  Heres 2
Mansfield, OH
Eats-
Moraine, OH
Eats-
Mount Sterling, OH
Treats-
New Philadelpha, OH
Eats-
Funday's – 1345 4th St NW, New Philadelphia, OH 44663 (330) 343-8856-drive in restaurant
Newtown, OH
Eats-
Dairy Corner -Ice cream and coney dog shop : 3501 Church St, Newtown, OH 45244-Daily 12–10PM
Norwalk, OH
Eats-
Vargo's Drive In-192 Milan Ave, Norwalk, OH 44857  (419) 668-8694-Ice cream and a classic mini golf course.
Parkman, OH
Eats
Frozen Dee-Lite Cafe-16508 Main Market Rd, Parkman, OH 44080 (440) 548-2800-Fried green beans, fried pickles, loaded potato skins and, oh yeah, ice cream.
Portsmouth, OH
Treats-Second Street Dari Creme-Cool ass Ice Cream and coney joint-333 2nd St, Portsmouth, OH 45662-Open Daily and year round· 7AM–10PM
(740) 354-1610
Sidney, OH
Eats-
Spot Restaurant -hamburgers & cream pies,great sign  201 S Ohio Ave, Sidney, OH 45365  (937) 492-9181  thespottoeat.com
Steubenville, OH
Eats-
Di Carlo's Original Pizza Inn- 4531 Sunset Blvd, Steubenville, OH 43952  (740) 264-3634-Conerstone of a regional empire of square pizza where the toppings are only lightly cooked.  As the restaurant chained out into West Virginia, they are basically raw on a cooked crust.  You can ask them to brown it more and you should.  This location has lots of columns and the like.
Stow, OH
Eats-
Tip Top Restaurant & Catering -Googie building- 3428 Darrow Rd, Stow, OH 44224
: (330) 688-3171
Wadsworth, OH
Eats-
Boss Frosty's Ice Cream – 962 Broad St, Wadsworth, OH 44281 (330) 990-5550-Tiny place, big parking lot, chili dogs and hamburgers. Nice thick coney sauce.
Rootbeer Drive-in-766 Broad St, Wadsworth, OH 44281  330-334-1346-Cool looking drive in with burgers .
Warren, OH
Eats-
Hot Dog Shoppe-coney dogs, burgers, fries & shakes.  740 W Market St, Warren, OH 44481 Most days 10 am to 10 PM  (330) 395-7057
Holy Hot Dog -1913 Niles Cortland Rd NE, Warren, OH 44484 (234) 830-0036 The Burgers are actually the attraction here.  Great patties on potato rolls
Yellow Springs, OH
Eats/Treats/Play-
Young's Jersey Dairy -Ice cream shop, cheese store, restaurant with miniature golf & batting cages.: 6880 Springfield Xenia Rd, Yellow Springs, OH 45387
Also On site is the Golden Jersey Inn, famous for Ribs and home cooking.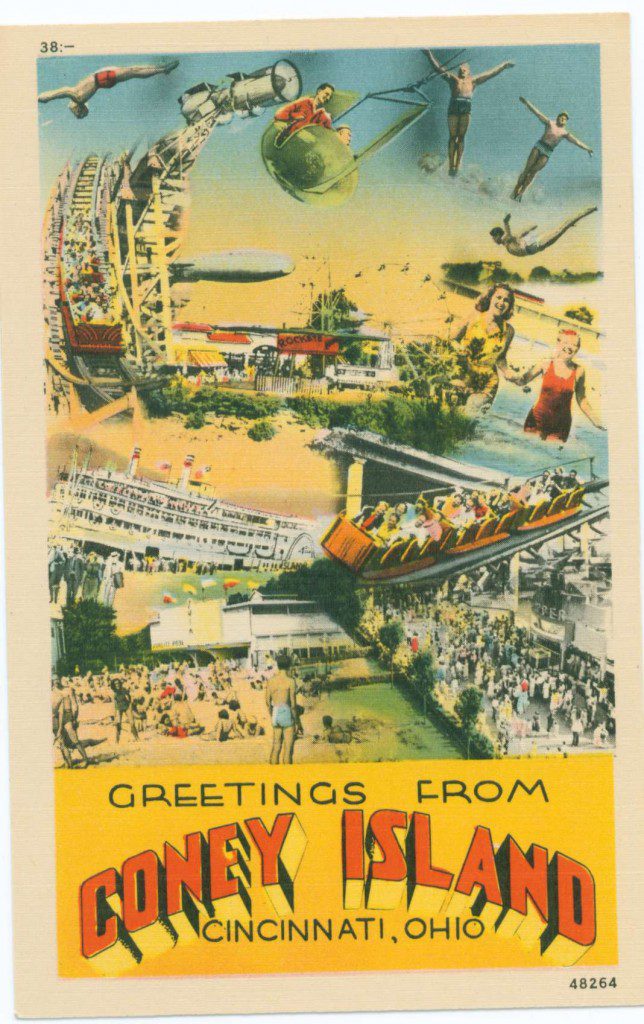 They have their own Coney Island out here