Minnesota Tips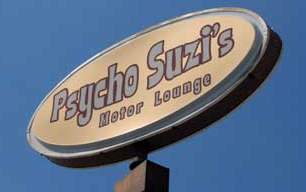 Psycho Suzi's Motor Lounge in Minneapolis
Austin, MN
In the town where Hormel was greated, lies the Spam Museum. Love the "meat" or hate it, this place is a must see and its free. (SPAM Museum:101 3rd Ave NE, Austin, MN 55912)
Eats-
Tendermaid-Lone spinoff of the regional loosemeat sandwich shop. Loosemeat is like taco meat on a bun but they usually call it a burger. Since 1938!-217 4th Ave NE, Austin, MN, United States, Minnesota (507) 437-7907
Brainerd, MN
Eats-
The Barn-711 Washington St, Brainerd, MN 56401-diner with some very rich food and pies. Sadly the Sawmill inn down the road, almost a hundred and ten years old closed. The barn also has maid rite loosemeat sandwiches.
Yesterday's Gone Bar & Grill-219 S 9th St, Brainerd, MN 56401-(218) 824-2050-Looks sort of like a 1980s applebees but great burgers, Patty melt and onion rings and cheese fries. Also Pool table.
Arcade-Big Jays Pizza Arcade-217 S 7th St, Brainerd, MN 56401-Arcade with pizza.
Brooklyn Park, MN (Greater Minneapolis)
Eats-
Wagners Drive In-7000 W Broadway Ave, Brooklyn Park, MN 55428 Burgers and more with car service.
Cloquet, MN (greater Duluth)
Eats-
Caution: ONLY OPEN SEASONALLY!
Gordy's Hi Hat Drive-Inn, 411 Sunnyside Dr Cloquet, MN 55720 (218) 879-6125-old timey burger joint road stop with great onion rings. Since its in this area, they also have fried cheese curds. Also try the roast beef sandwich and the chili
Gordys chili is available year round at the Warming House, 218.879.4090
411 Sunnyside Dr. Cloquet, MN 55720 which is an ice cream and coffee shop which only has cold sandwiches.
Champlin, MN
Eats-
QFanatic: 180 Miller Rd., Champlin, MN 55316 763.323.6550-BBQ with bunches of sauces like expresso BBQ. Also unique is that they have "pulled Ham".
Delano, MN (Greater Minneapolis)
Eats-
Peppermint Twist Drive In
-115 Babcock Blvd, Delano, MN 55328 Hot pink drive inn with a kids playground. Originally painted this way to differentiate it from a Hardees down the street. Gourmet burgers, cash only, closed Monday and Tuesday
Duluth, MN
Live Music-
Jade Fountain Cocktail Lounge– 305 N Central Ave, Duluth, MN 55807
Record Store
Electric Fetus Records, 12 E Superior St. , Duluth, MN 55802
(218) 722-9970(218) 722-9970
Eats-
Coney Island Deluxe-112 W 1st St, Duluth, MN 55802 (218) 722-2772-chili dogs nom nom
Northern Waters Smokehaus -394 South Lake Ave., Duluth, MN 55802 , 888-663-7800 -specializing in smoked fish,varieties of smoked salmon: dilled, sprinkled with black pepper and coriander, Cajun spiced, and traditional, but they also have meats like bison pastrami
Forestville, MN
Historic Forestville
is a well preserved 1899 town that is run seasonably with guides in period attire.21899 County Road 118, Preston, MN 55965
507-765-2785
This is a big NOPE for us, but if you are the kind of person that enjoys 13 miles of underground caves (They do have official tours), then this is your place.
Do not use your phone's GPS to direct you to Mystery Cave! They are often not accurate. Follow these instructions instead.
Forestville/Mystery Cave State Park is located in southeastern Minnesota (Fillmore County) between Spring Valley and Preston. Entrance to the park is four miles south of State Highway 16 on Fillmore County Highway 5, then two miles east on Fillmore County 118.
To get to Mystery Cave from the park:
Take County Road 118 west to County Road 5.
Turn left and follow County Road 5 south for two miles.
Turn right onto 180th Street. Go west three quarters of a mile.
At the next intersection, turn right onto Old Cave Road.
Proceed north one half mile to the Mystery Cave Entrance Road on the left.
Note-if you are a fan of caves check out the Minnesota Cave Preserve
Grand Rapids, MN
Museum-
Judy Garland Museum-2727 S Pokegama Ave, Grand Rapids, MN 55744 (218) 327-9276
Collection of Judy Garland & Wizard of Oz artifacts, with an interactive kids' museum & gardens.
Le Roy, MN
Sweets Hotel-Vintage small hotel with a cool old dining room bar/restaurant.-128 W Main St, Le Roy, MN 55951
Luverne, MN
Eats-
Tasty Drive Inn- 804 S Kniss Ave, Luverne, MN 56156 (507) 283-8317-A little hard to find current info in 2023. Was called JJs Tasty drive in but on the big g its just this.
Mantorville, MN
Eats-
Hubbell House
-502 N Main St, Mantorville, MN 55955 (507) 635-2331-NOT trashy fancy 1854 restaurant, prime rib, amazing onion rings.
Milaca, MN
Eats-
Onamia, MN
Eats-
Happy's Drive-In-11373 Stevens Rd, Onamia, MN 56359 (320) 532-3336-They have happy burgers.
Rochester, MN
Home of the Mayo Clinic
Eats
John Hardy's Bar-B Q
-929 W Frontage Rd, Rochester, MN 55901 (507) 288-3936 They have two long time locations, this one reviews a little better. They serve you garlic or buttery bread.
St Paul, MN
Profane Existance has some punk and hardcore events listed.
Live Music-
Turf Club-1601 University Ave W at: Snelling Avenue, St Paul-tel: (651) 647-0486 in the Hamline-Midway Neighborhood. Also check out the Clown lounge downstairs.
Every year in Minneapolis they hold a winter carnival with lots of things made out of snow.
Years ago like the cow parade in New York City, St. Paul had numerous snoopys all over town to honor Charles Schultz, a hometown guy. There are 40 left and you can find them here. (click on Convention and Visitors Bureau).
The mall of the americas has an indoor amusement park that is Nickolodeon themed.
Record stores-
Eclipse Records-1692 Grand Street, St. Paul
Thrift stores-
Lula-1587 Selby Avenue
Hotels
Radisson Riverfront Hotel, 11 East Kellogg Boulevard, (651) 292-1900. revolving rooftop restaurant in house. A skyway connects the hotel to the rest of the city's hub.
St. Paul's Best Western Kelly Inn, 161 St. Anthony Avenue, (651) 227-8711, near the State Capitol. Doubles from $95.
EATS-
Casper's and Runyon's Nook –492 Hamline Ave S, Saint Paul, MN 55116 (651) 698-4347-this place gets high ratings for their burgers, good looking rings and they have a small bowling alley too. And Juicy Lucy Sliders! and some fancy cheese curd variations.
Mancini's Char House-531 West Seventh Street, (651) 224-7345, neighborhood steak house and a retro lounge often offering live music. Relatively inexpensive and great garlic bread.
Cossetta's, 211 West Seventh Street, (651) 222-3476, southern Italian cuisine served in a cafeteria- style space. Dinner for two with wine runs around $30.
Mickey's Diner, 36 West Seventh Street, (651) 222-5633, 24 hour service. all-day breakfast, burgers and malts.
Half Time Rec-1013 Front Ave, Saint Paul, MN 55103 (651) 488-8245-home of the paddy shack burger, topped with pickled green tomato.
Saint Dinette-261 E 5th St, Saint Paul, MN 55101 (651) 800-1415-Fancy place with a good burger
THE TAVERN ON GRAND– 656 Grand Avenue, Saint Paul, MN 55105 (651) 228-9030 Famous for the regional specialty Walleye sandwich, plus apple crisp

Dari-ette Drive-In – 1440 Minnehaha Ave E, St Paul, MN 55106 (651) 776-3470-Italian take on the Old timey drive in restaurant and ice cream shop with a meatball sandwich, the regional "Gondola" sandwich and burgers too and probably the cheapest banana split anywhere.
DeGidio's Restaurant & Bar-425 7th St W, Saint Paul, MN 55102 (651) 291-7105-Classic italian with a specialty "hot dago" sausage sandwich, with free herb bread with garlic butter and classic prohibition era booths.
Skinner's Pub– 919 Randolph Ave, St Paul, MN 55102-(651) 291-0146-Neighborhood pub with pizza and tacos.
Minneapolis-BARS CLOSE AT 2 AM!!!
Local events found at the Current
Nicollet Avenue between 14th and 28th street is known as Eat Street with more than 50 restaurants of all cuisines.
Best Attraction-
The Museum of Questionable Medical Devices, has closed and its collection donated to the Science Museum of Minnesota in St. Paul. Only a few of the items are on display there.
Arts Center-Fallout Urban Art Center-2609 Stevens Ave, Minneapolis, MN 55408 (612) 462-3873
Eats-
Band Box Diner -729 S 10th St, Minneapolis, MN 55404 (612) 332-0850-Cool as hell old diner that says hamburgers on the outside. Not sure if the burgers are good or not but A plus for ambience.
Bryant Lake Bowl-A combination bowling alley restaurant/bar/theater offering food, alcohol and live theater and music performances. 810 West Lake Street – Minneapolis, MN 55408 -612-825-3737
5-8 Club – 5800 Cedar Ave S, Minneapolis, MN 55417-Another claimant to the Juicy Lucy orgin story-they have the Saucy Sally which is stuffed with special sauce. Super YUM! (612) 823-5858
Matt's Bar, 3500 Cedar Ave S, Mpls., 612.722.7072
Home of the Original Jucy Lucy, a double cheeseburger piled with fried onions
Murrays steak house-$$$$-26 South 6th Street, Minneapolis, MN 55402-from the outside, it looks like a place that time forgot with an incredible sign you will want to take pictures of. Not cheap, but you can get deals here at lunch and happy hour, and a ceasar or house salad comes with all. Specialty of the house is the charmingly named Butter knife steak.
Psycho Suzi's Motor Lounge-1900 Marshall St NE, Minneapolis, MN 55418, 612-788-9069, Huge Tiki bar with Tiki Drinks, Fried asparagus, fried Cheese curds, Fried Mini hot dogs, candy bars, and pickle roll ups, salami and cream cheese wrapped around a pickle.
Parlour-730 N Washington Ave, Minneapolis, MN 55401 (612) 354-3135-Trashy travel hates gastropub joints, but this burger looks good as well as being voted one of the best.
The Wienery- 612-333-5798 , 414 Cedar Ave.,Minneapolis, divey hole in the wall that serves all sorts of crazy hot dogs with fresh cut as you order toppings. Only open til six pm!!!!! And closes earlier on weekends. But they have a dog and french fries called the drive in with chili and cole slaw
Gasthof Zur Gemutlichkeit-2300 Northeast University Avenue,Minneapolis, MN 55418 (612) 781-3860-german stuff, including the meterwurst, a 3 foot sausage
Al's Breakfast-Classic diner- 413 14th Ave SE, Minneapolis, MN 55414 (612) 331-9991 only open til 1 pm but they are open for dinner late night on friday and saturday.
Clubs-
Secret Headquarters at Betty Dangers Country Club-2501 MARSHALL STREET NE, MINNEAPOLIS, MN 55418 -in the original location of Pscho Suzis, once an A&W, with hipster mini golf and a ferris wheel. The original owner wanted to sell, unclear the future.
7th Street Entry-First Avenue and 7th Street-701 1st Ave N,tel: (612) 332-1775 Another club with a Prince connection, this live music/dance club was featured in Purple Rain and has lots of great bands too.
Band Clubs-
Fraternal Order of Eagles #34– 2507 East 25th Street, Minneapolis, MN 55406 Open to the public with pulltab machines and karaoke and lots of live music
Fine Line Music Cafe-318 1st Ave. N., Minneapolis, MN (612) 338-8100-Local and National acts.

Reverie Cafe + Bar – 1931 Nicollet Ave, Minneapolis, MN 55403 (612) 353-5252
Terminal Bar-409 Hennepin Ave E, 612-623-4545-Best venue for local acts.
Triple Rock-629 Cedar Avenue South, Minneapolis. -new venue
Memory Lanes -bowling alley with occasional bands that they have play on a platform covering lanes- 2520 26th Ave S, Minneapolis, MN 55406 (612) 721-6211
Seward Community Cafe-Vegan and wheat free cafe with occasional live music and other events : 2129 E Franklin Ave, Minneapolis, MN 55404: (612) 332-1011
PILLLAR Forum Cafe– 2300 Central Ave NE, Minneapolis, MN 55418 (612) 875-4140-Skater cafe with occasional bands
Mortimer's Bar and Restaurant-2001 Lyndale Ave S, Minneapolis, MN 55405 (612) 872-1688
Record Stores-
Electric Fetus, 2000 4th Ave S., Minneapolis, MN 612-870-9300-Long running shop.
Extreme Noise Records, 407 West Lake St. (Lake St. at Grand Ave.) Minneapolis, MN 55408, 612-824-0100 specializing in punk records and run as a non profit.
Roadrunner Records, 4304 Nicollet Ave South, Minneapolis, MN 55409 Local notes on Minneapolis from
CMJ Magazines
Localzine Section:
To get home after midnite, use Rainbow Cab 612-729-4243.
See the giant cherry in spoon at the Walker Sculpture Garden-725 Vineland Place, 612-375-7622 For a great cheap meal, visit the vietnamese restaurants along University Avenue, east of Hamline.
Since all the bars close at 2 am, you can still dance at First Avenue til 3 am or The Saloon, a gay club with djs at 830 Hennepin Ave.
Vegetarian restaurant Hard times Cafe-1821 Riverside Ave

Little Tijuana Neighborhood Lounge-17 E. 26th Street (612-872-0578) serves late night mexican and they have a great malt.
Pizza Luce-Best Pizza in town served til 3am.  119 N. Fourth Street and other locations
Red Wing, MN
Eats-
Bev's Cafe – 221 Bush St, Red Wing, MN 55066 (651) 388-5227 Breakfast and lunch only diner and ice cream joint
Saint Cloud, MN
Eats-
Val's Rapid Service -(320) 251-5775 , 628 E Saint Germain St, St Cloud, MN 56304-old fashioned burger joint serving burgers similar to the original mcdonalds style,ie, back when they were good. You pick up a phone inside the restaurant to order.
Shakopee, MN
Amusement park
Valleyfair-nice sized family amusement park with real coasters. 35 miles southeast of the twin cities.
Taylor Falls, MN
Eats-The Drive In Restaurant-572 Bench St, Taylors Falls, MN 55084- 651-465-7831-Since 1956. Mini golf and typical drive in fare. Has a giant Frostop mug. Nice buns and onion rings. Crinkle cut fries.
Winona, MN
Eats-
Lakeview Drive Inn– 610 E Sarnia St, Winona, MN 55987-Lakeview Drive Inn was founded in 1938 and is an original family owned and operated drive inn restaurant.-(507) 454-3723
Live Music/Bar/Record store-Broken World Records -Address: 265 E 3rd St, Winona, MN 55987
No Name Bar– 252 E 3rd St, Winona, MN 55987-Live Music bar