For Montreal and Southern Quebec-, Click Here. Suggestions, comments? Send them to me at evan @ trashytravel.com
The Northwest Territories-Yellowknife
Can you imagine high rise building way up in the great white north?  Well, that is what's happening in Yellowknife on the northern side of the Great Slave Lake.  It has been getting an influx of tourists drawn my midnite tee times and other benefits of long daylight hours.  There are 2 new hotels going up, complete with japanese speaking staff to accomadate up to 10,000 Japanese tourists there to see the northern lights.   Look for a copy of UP HERE magazine for more info.  Go Wild Tours based in Inuvik near the arctic circle offers package trips.
Kitchener, ON (Waterloo area)
Live Music-
The Boathouse in Kitchener's Victoria Park, 57 Jubilee Drive, Kicthener, ON
London, ON (near toronto)
Live Music- Call the Office – 216 York Street, on the north-west corner of York and Clarence (just south and across the street from Galleria mall).
Hamilton, ON
Record Store-
Sonic Unyon, 22 Wilson Street, Hamilton, ON, L8P 4X2
Live Music
The Underground-41 Catharine St N-Hamilton, ON 905.741.ROCK
This Ain't Hollywood-345 James Street North, Hamilton, ON L8L 1H3-live music venue in an old public house
Niagara Falls, ON
Bar-
The Daily Planet has some Superman theming, is part of a hostel, and is where the locals hang out to party.  4573 Queen Street, Niagara Falls, Ontario, L2E 2L7
Ottowa, ON
The alternative weekly for Ottowa is the Ottowa Xpress.
Live Music–
Zaphods-27 York Street , Ottawa, ON-613.562.1010
Ritual Night Club-137 Besserer Street, Ottawa, ON K1N 9M7, Canada, 613-680-7661-more a clubby club, but they have some big shows.
Peterborough, ON
Live Music-The MOHO-(montreal house) Awesome old building. They are very bad at updating their site, so if you are coming you might want to join their email list.282 Aylmer St.Peterborogh ON, K9J 3K7,705.748.2955
London, Ontario
Live music-
Call the office-lots o punk bands here.Call the Office is located at 216 York Street, on the north-west corner of York and Clarence (just south and across the street from Galleria mall). British Columbia
Sudbury, ON
Live Music-
The Asylum-19 Regent St, Sudbury, ON P3C 4B7, Canada
Alberta, Canada
Edmonton, Alberta
Local Chain-Burger Baron-Vintage burger chain with many locations but no central management
Live Music-
The Buckingham– 10439 82 Ave NW, Edmonton, AB T6E 2A1, Canada
Calgary, Alberta
Live Music-
Broken City– 613 11 Ave SW, Calgary, AB T2R 0E1, Canada
Eats-
Peters' Drive-In– 219 16 Ave NE, Calgary, AB T2E 1J9, Canada  +1 403-277-2747-Burgers and Shakes in a giant window joint.
Medicine Hat, Alberta
Eats-
Tino's Drive-In- 860 14 St SW, Medicine Hat, AB T1A 4W1, Canada  +1 403-526-4300 Burgers, Ice Cream and Chili garlic tots in a castle shaped building.
Manitoba, Canada
WInepeg, Manitoba
Eats-
Bridge Drive-In-Seasonal ice cream stand since 1957 : 766 Jubilee Ave, Winnipeg, MB R3L 1P7, Canada +1 204-475-6850 "home of the creamiest shakes"
Dairi-Wip Drive-In -383 Marion St, Winnipeg, MB R2H 0V4, Canada (204) 233-5144-Burgers, ice cream and a great sign.
Mrs Mike's-286 Tache Avenue, Winnipeg, MB R2H 2A2, Canada (204) 237-3977-Chili burgers in an adorable tiny restarant. (closes  in Winter)
VJ's Drive-In -170 Main Street, Winnipeg, MB R3C 1A6 Canada  (204) 943-2655-Tiny little burger and dog take out joint
Red Top Drive Inn -219 Saint Mary's Road, Winnipeg, MB R2H 1J2,Canada, (204) 233-7943-giant vintage style drive in with great chili fries.
Live Music-
Handsome Daughter– 61 Sherbrook St, Winnipeg, MB R3C 2B3, Canada Dive bar with live music
Saskatchewan, Canada
Saskatoon, Saskatchewan
Live Music-
Vangelis Tavern- 801 Broadway Ave, Saskatoon, SK S7N 1B5, Canada
Vancouver, BC
Nice city with a huge heroin problem.  When booking hotels bear in mind the East Hastings area is a very large open air drug market.
Good event listings here.

Granville Island is a touristy island near Vancouver.  It can be reached by ferry.  On the Island is the Granville Island Museum, which is 3 museums.  One of sport fishing, one of model ships and a giant room of model trains.  1502 Duranleau Street. 604-683-1939
Bars-
The Cambie Bar & Grill – 300 Cambie St, Vancouver, BC V6B 2N3, Canada: +1 604-688-9158 Big huge beer bar with hostel upstairs.
Funky Winker Beans – 37 W Hastings St, Vancouver, BC V6B 1G4, Canada: +1 604-569-3515 Punk bar with live bands
Black Frog Eatery -108 Cambie St, Vancouver, BC V6B 2M8, Canada: +1 604-602-0527 Full of Alberta Ex Pats.
Live Music-
The Cobalt Cabaret ?- 917 Main St, Vancouver, BC V6A 2V8, Canada  +1 604-398-4010
The Lido-Cash-only bar with bands in a chill neighborhood.: 518 E Broadway, Vancouver, BC V5T 1X4, Canada most nights til 1 am: +1 604-879-5436
Eats-
Ovaltine Cafe – 251 E Hastings St, Vancouver, BC V6A 1P2, Canada: +1 604-685-7021 One of Vancouvers oldest restaurants
Save On Meats-43 W Hastings St, Vancouver, BC V6B 1G4, Canada-Diner and butcher.  Good burgers but all burgers in Vancouver have to be cooked well done by law.
Tomahawk BBQ–1550 Philip Avenue  North Vancouver, BC V7P 2V8, Canada (604) 988-2612-Indian Trading post with Totem Poles.  They serve Yorkshire pudding with roast beef dinner, the Tomahawk beef dip sammy with garlic butter french dip sandwich, steak and mushroom pie 
White Spot, 2850 Cambie Street-604-873-1252-good local hamburger chain
The Cannibal Cafe – 1818 Commercial Dr, Vancouver, BC V5N 4A5, Canada: +1 604-558-4199 Named after a song, they don't serve humans.
Live Music-
Hindenburg-23 W Cordova St, Vancouver, BC V6B 1C8, Canada
The Waldorf Hotel-1489 East Hastings Street Vancouver BC : 604-253-7141. The Waldorf Hotel, designed in 1947 in modernist style with a tiki bar that is more like a regular club.  Nice rooms but far from many things.
Tiki Bars-The Tiki Bar at the Waldorf-see above.  Tuesdays are punk rock.
Shameful Tiki Room-4362 Main Street, Vancouver, BC V5V 3P9, Theres one in Seattle too.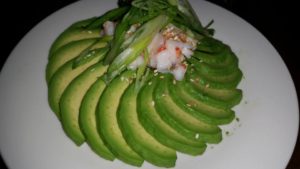 Record Stores-
Zulu Records, 1869 W. 4th Ave., Vancouver, BC, V6J 1M4
Victoria, BC
Official tourist site-Tourism Victoria.  Online list of clubs can be found here.  Club Vibes has listings for western Canada including Vancouver and Victoria.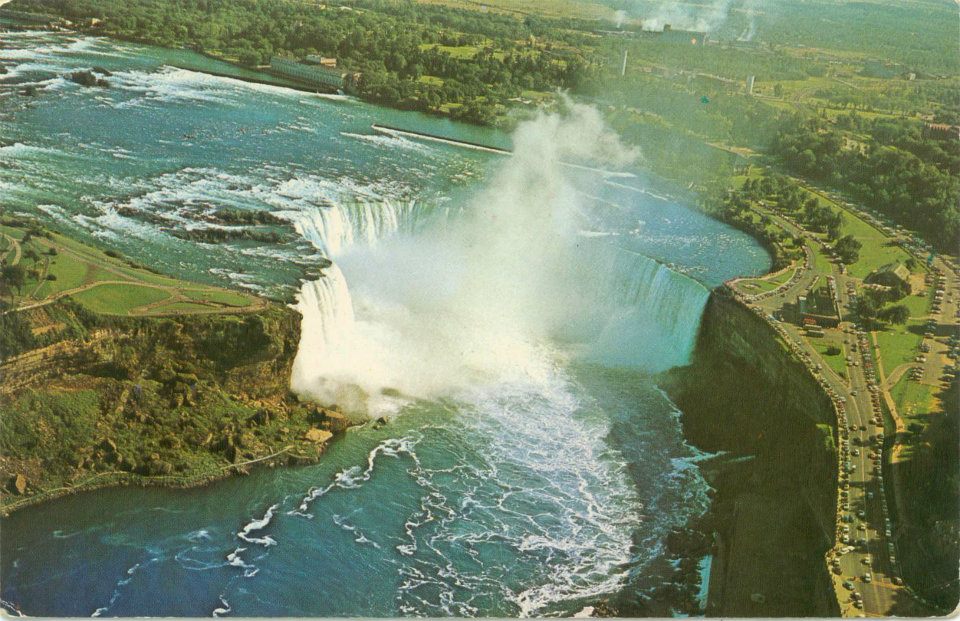 1970 postcard-Aeriel view of Horseshoe Fall, Niagara Falls, Canada