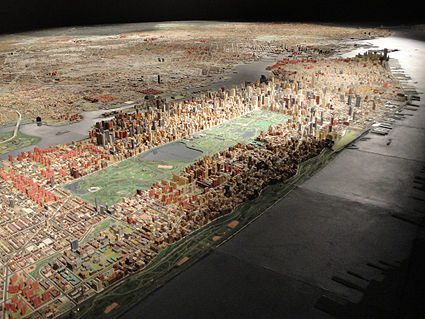 Panorama at the Queens Museum of Art
Queens, NY
Check out Forgotten NY's article on the Remnants of the 1964 Worlds Fair.
Flushing, Queens is home to a Chinatown that is said to be better than Manhattans and also has very authentic Thai food as well.  
Serious Eats articles about where to Eat.
Real Cheap Eats Queens
Astoria, Queens
Eats-
Petey's Burger-Mini chain of awesome burgers, fries and onion rings, including a version of animal style fries with sauce and sauteed onions.-3017 30th Ave, Astoria, NY 11102
(718) 267-6300
Burger Club-Too many burger options, good onion rings and other apps, including an unusual Mozzarella cheese stick made with fresh Mozz on a bed of…Ham.   32-02 30th Ave, Astoria, NY 11102- (718) 777-7788
Flushing, Queens
Musuems-
See the panorama, above
Louis Armstrong House-The Louis Armstrong House was the home of Louis Armstrong and his wife Lucille Wilson from 1943 until his death in 1971. Lucille gave ownership of it to the city of New York in order to create a museum focused on her husband. 34-56 107th St, Flushing, NY 11368  Monday Closed (718) 478-8274
Eats-
Spicy & Tasty-Sichuan Restaurant that is one of the best restaurants in the area. 39-07 Prince St, Flushing, NY 11354 (718) 359-1601
Max and Mina's Ice Cream-7126 Main Street  Flushing, NY 11367-(718) 793-8629-Hard to get to without a car, this place was made famous for having strange ice cream flavors like Ketchup.  Theres lots of non gross flavors too.
X'ian Famous Foods-41-28 Main Street Bsmt #36, Flushing, NY 11354-"western" Chinese food with locations in Manhattan and newer "Upscale" Restaurant B'iang.  They make hand pulled noodles topped with stewed meats like Cumin Lamb Noodles.  Amazing!
Long Island City, Queens
Museums-
Queens Museum of Art-Home to the Fantastic Panorama pictured above and near many relics of the Worlds Fair 
Elevator Museum -21-03 44th Ave, St 206, Long Island City -917-748-2328
Staten Island, NY
The Bronx, NY
Arthur Avenue in the Bronx is a Little Italy that is superior to Manhattans..
City Island, Bronx, NY
JOHNNY'S famous REEF RESTAURANT-2 City Island Avenue  Bronx, NY 10464 (718) 885-2086-Casual clam shack type restaurant
New Rochelle, NY
2056 East Main Street Cortlandt Manor, NY 10567-2622 – (914) 737-9325