Regional Chain-Duchess, known for chili dogs around the Fairfield area.
Bethel, CT
Eats-
Sycamore Drive-In – 282 Greenwood Ave, Bethel, CT 06801  (203) 748-2716-Vintage Drive In
New Haven, CT
Home of Yale University, New Haven has a similar appearance to Boston.  Lots and lots of brick.  In Lighthouse State Park, you will find a cool antique freestanding Carousel.  Rides run 50 cents.
Facebook local punk boards-CT Punx, New Haven Punks
Shopping-
Caseus Fromagerie Bistro-93 Whitney Avenue, New Haven, CT 06510-Cheese shop and farm to table restaurant.  If you only have a limited time in New Haven though you should ONLY be eating Louis Lunch and any Apizza.
Local Alternative Paper-
The New Haven Advocate.
Eats
A famous landmark near Yale is Louis Lunch.  Its at 261-263 Crown St, New Haven, CT 06511. Phone: 203-562-5507.  They only have beef hamburgers which they serve on toast.  They don't have ketchup, mustard or mayo.  A "works" burger has onion, tomato and a dab of cheese spread.  It may sound weird, but it was amazing.  I had two of them.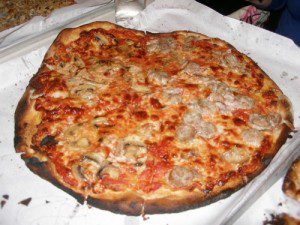 Pizza-brick oven style, said by many to be better than NY.  Serveral local "rivalrys"
Frank Pepes-157 Wooster Street, New Haven, CT 203-865-5762 plus other locations or
Modern Apizza-874 State St, New Haven, CT (203) 776-5306 Best deal the Italian Bomb (Sausage, Bacon, Pepperoni, Mushroom, Onion, Pepper & Garlic)  or
Sallys Apizza -Founded: 1938 237 Wooster Street, New Haven CT 06511-much smaller than the others and more limited hours
Archie Moore's-188½ Willow Street, New Haven, CT – (203) 773-9870-Now a mini chain.  Wings and "Bottlecap Sliders" with Jalapeno. The first one since 1898
Da Legna -858 State St, New Haven, CT 06511  (203) 495-9999-More great Apizza with some creative toppings including one with vegan meatballs which I presume means they make a vegan cheese one.
The Pantry-2 Mechanic St, New Haven, CT 06511 (203) 787-0392-The Pantry's Cinnamon Bun Pancake is a fluffy pancake with cinnamon swirl and icing in place of syrup
Around the Yale area are tons of bars and clubs too.
Bars-
Rudy's Bar -1227 Chapel St, New Haven, CT 06511-Old bar that recently moved.  Famous Belgian Fries. Open til 1 am, 2 am on Friday and Saturday.
The Bar at Firehouse 12- 45 Crown St, New Haven, CT 06510-Upstairs has jazz.  Downstairs can be cool
116 Crown-116 Crown St, New Haven, CT 06510-fancy cocktail bar.  Closed Monday
Ordinary– 990 Chapel St, New Haven, CT 06510  (203) 907-0238-Very old cozy wood bar once part of the Hotel Taft, now apartments.
Live Music
The Bar– 254 Crown St, New Haven, CT 06511-Lots of good regional and national touring bands BUT they also serve the regional Apizza and they have a signature mashed potato and Bacon pizza that can't be missed.
Cafe Nine-250 STATE STREET, NEW HAVEN, CT 06511 203-789-8281-Very close to Metro North for day trips to NYC
Three Sheets -372 Elm St, New Haven, CT 06511- (475) 202-6909
Toads Place-300 York Street, New Haven-dance and band club with great bands like the Tubes.
Three Sheets -372 Elm Street, New Haven, CT 06511 (475) 202-6909-They use the asshole word "Gastrodive" to describe themselves, but they have bands.  And Food.
Bristol, CT
Bristol is known for being the home of Espn and its many networks, but it has a few other attractions as well.  It is home to a wonderful carousel museum at 95 Riverside Avenue, Route 72, (860) 585-5411.
It is also home to Lake Compounce, the longest continually operating amusement park in the country.  Family owned for over 140 years, it is now in the process of growing into a more traditional park.  They have a great old coaster, the wildcat, and now have added an amazing new coaster called Boulder Dash which takes advantage of the terrain and rides across a mountain on park property.  They also have a skyride that is really a ski lift that takes a half hour to complete, and a ride called coast hunt which is a combination haunted house/shooting gallery.  We highly recommend the park, but realize that it is no Six Flags park, but it is a nice place to spend a day.
Eats-
Merritt Canteen-Est 1942 with burgers, chili dogs dogs, wings, shakes & more.  4355 Main St, Bridgeport, CT 06606 (203) 372-1416 Famous chili.
Tomlinson's Restaurant-Stand with burgers and chili dogs that started in the 1930s
but is now in a bigger building.1400 Noble Ave, Bridgeport, CT 06610
Museum-
Barnum Museum – 805 Main Street in Bridgeport, Connecticut, United States.  P. T. Barnum Museum: 820 Main St, Bridgeport, CT 06604
Canton, CT
Eats-
Reno's Drive-In-228 Albany Tpke, Canton, CT 06019  (860) 693-0701-Chili dogs and dogs available with hot pepper relish, which is pickle relish with hot peppers in it.  Burgers too but the dogs seem to be the winners.
Cheshire, CT
Eats-
Blackie's Hot Dog Stand, 2200 Waterbury Road
Cheshire, CT 06410, 203.699.1819   Closed on Fridays all year round
Open Daily January through March: 11am-7pm
April through December: 11am-8pm
Open since 1928, they do not serve French fries and are closed on Fridays. THey have birch beer on tap and cartons of chocolate milk. The Blackie's dog is smothered in their homemade hot pepper relish and spicy mustard.
Rose Dairy -908 S Main St, Cheshire, CT 06410  (203) 271-3262-ice cream joint with hummel hot dogs and the regional pepper relish.  Don't get the chili as it is canned and has beans.
Colchester, CT
Eats-
Harry's Place -104 Broadway St, Colchester, CT 06415  (860) 537-2410-burgers and lobster rolls in a classic window joint.
Danbury, CT
Record Stores-
Trash American Style, 12 Mill Plane Rd., Danbury, CT 06811
Live Music-
Tuxedo Junction-2 Ives Street, Danbury, CT-Awful name but books some good shows.
Derby, CT
Eats-
Dew Drop Inn-Chicken wing specialist with a decent burger too.25 North Ave
Derby, CT 06418  (203) 735-7757
Fairfield, CT
Eats
Rawley's Drive-In:Hot dog Stand in an old house.  Dogs and shakes, dogs are deep fried and one of the toppings on the "all the way" is deep fried bacon.
Rawley's Drive-In: 1886 Post Rd, Fairfield CT.  Holly ate here.
Super Duper Weenie – 306 Black Rock Turnpike, Fairfield, CT 06825 (203) 334-3647-Hot dogs, sausages and burgers in a fancier way.
Guilford, CT
The Place Restaurant-Seasonal outdoor cafe with seafood cooked over a fire pit & you sit on tree stumps. 901 Boston Post Rd, Guilford, CT 06437 (203) 453-9276  You can BYOB
Haddam, CT
Eats-
Pilot House -1364 Saybrook Rd, Haddam, CT 06438-Hot dog joint with a custom celery based hot relish that has been around for 70 years but it may be in danger of closing.
Hamden, CT (New Haven Area)
Eats-
Eli's Brick Oven Pizza and Market-2402 Whitney Ave., Hamden, CT – (203) 288-1686 New Haven Style Pizza.
Glenwood Drive-In-2538 Whitney Ave., Hamden, CT – (203) 281-0604, Hot Dogs, Chili Dogs, Burgers and Great Onion Rings. They also have lobster rolls and all are served in New England Style Buns
Live Music and Performance spaces-
Best Video -1842 Whitney Ave, Hamden, CT 06517 (203) 287-9286-Coffee, Wine bar, Performance space, Video rental
The Space -The Space is an all-ages multicultural music and arts venue in Hamden, Connecticut, a suburb of New Haven. 295 Treadwell St, Hamden, CT 06514 (203) 288-6400, Outer space is a 21 plus venue across the Street
Hartford, CT
Bushnell Park off I-84 Between Elm and Jewell Street next to the State Capitol Building is home to an antique Carousel maintained by the Carousel Museum in Bristol.  50 Cents per ride.
Eats-
Woody's Hot Dogs -915 Main Street  Hartford, CT 06103 (860) 278-5499-home of the deputy dog topped with pulled pork and cheese.
Live music-
Webster Theatre -31 Webster Street ,Hartford CT 06114 -860.246.8001
Local Alternative Paper
Real ARTways-theater,gallery, cinema.  56 Arbor St. Hartford-860-232-1006
Higganum, CT
Higgies Food & Ice Cream-236 Saybrook Rd, Higganum, CT 06441 (860) 554-5540-Chili dog place of local note
Manchester, CT (Hartford metro area)
Eats-
Shady Glen Restaurant and Ice Cream Parlor-840 Middle Turnpike E, Manchester, CT- 06040-Last of a mini chain similar to Howard Johnsons with Ice Cream and family friendly fare with booths customized with server cut outs and a beautiful trippy mural.  Famous for their burgers with a cheese skirt
Live Music-
Hungry Tiger Cafe & Restaurant-120 Charter Oak St, Manchester, CT 060400-Bar with Live Music
Meriden, CT
Eats-A regional specialty around here is the Steamed Cheeseburger and nobody does it better than
Teds.-1044 Broad St. Meriden, CT (203)237-6660-Teds has amazing fries too.  Daily 11 am to 8 pm.
If you are a completist you can also try the steamed hamburgers down the road at
K LaMay's Steamed Cheeseburgers-690 E Main St, Meriden, CT 06450
Middletown, CT
Eats-
O'Rourke Diner-728 Main Street, Middletown, CT, (860) 346-6101-Gourmet Diner with crazy hashes and more, plus a great version of the local CT only favorite, the Steamed Cheeseburger.  Crazy Hours, call first.  Closed Sunday.
Shop-
Wild Bill's Nostalgia Center -toy and collectable shop-1003 Newfield St, Middletown, CT 06457  (860) 635-1226
Monroe, CT
Museum-
The Warren's Occult Museum – 60-122 Lynn Dr, Monroe, CT 06468-They have to move
Naugatuck, CT
Eats-Al's Hot Dog Stand-248 South Main Street, Naugatuck, CT – (203) 729-6229-located off Rte. 8 and there is an exit ramp right by the parking lot. Hot dogs with a custom Hawaiian Relish. Also a hot pepper relish too.  Good slaw and White birch beer.
New Britian, CT
Eats-
Capitol Lunch -1929  hot dogs, burgers & fries joint: 510 Main St, New Britain, CT 06051  (860) 229-8237 "hot dogs with the famous sauce"
New London, CT
Bars-
Half Keg-647 Broad St, New London, CT 06320-Beer Only bar that is in a hanger shaped building that resemebles a keg.
Eats-Kamp Dog
15 Broad Street, New London, CT – (860) 443-3000-chili dogs and Dippers, Rolls of sausage, bacon, and ham that are  battered, deep-fried, and served with maple syrup
Live Music-El N' Gee Club-This club closed in 2013 but as of 2022 the linked facebook page is promoting nearby music events.
New Middlefield, CT
Eats-
Guida's Restaurant -484 Meriden Rd, Middlefield, CT 06455 (860) 349-9039-Not affiliated with the band, full diner with Chili dogs.  You can get hot pepper relish as a topping too!
Newington, CT (greater Hartford)
Eats-
Doogies hot dogs
, 2525 Berlin Turnpike, Newington, CT (860) 666-6200 who make a two foot long hot dog with onion peppers, chili cheese and bacon.  Now these two foot dogs are being served and folding into a mini chain called the Clam Digger, seafood, philly steaks and big ass hot dogs.
GoldBurgers
– 1096 Main St, Newington, CT 06111 (860) 665-0478
Newtown, CT
Eats-Botsford Drive-In –
282 S. Main St., Route 25, Newtown, CT Home of the King dog with mustard, relish, and sauerkraut, , onion, bacon, cheese, and chili.
North Haven, CT
Eats-
Nick's Char-Pit -22 Middletown Ave, North Haven, CT 06473  (203) 776-0853-real charcoal grilled burgers and chili dogs with house made chili.  Great onion rings.
Norwich, CT
Eats-
OLDE TYMES-360 West Main St., Norwich, CT (860) 887-6865-Get this: they have something called a Rodney Burger that is a hamburger, battered and deep fried.  Also southern style food like biscuits and sausage gravy.
Orange, CT
Museum-PEZ Visitor Center
35 Prindle Hill Rd
Orange, CT 06477
Phone: 203-298-0201-Where they make Pez Candy
Plainville, CT
Eats-
Big Steve Grill-81 Whiting St, Plainville, CT 06062  (860) 410-4304-Chili dog and burger place with the bomber burger, a stuffed burger and a sloppy Steve chili on a bun sandwich.  Hummel hot dogs and the regional hot relish.
Southington, CT
Eats-
Smokin' With Chris -59 W Center St, Southington, CT 06489 (860) 620-9133-Bbq joint with good onion rings and good hot dogs available with a chow chow relish.  Chili available made of bbq meat and some live music.
Fancy Bagels -Fancy burgers and franks.-405 Queen St, Southington, CT 06489  (860) 621-0055-very bizarre business combo.  Looks like a bagel shop with legit bagels.  Has legit chili dogs too with the regional hot relish.
Stamford, CT
Eats-
Elm Street Diner-463 Elm St , Stamford, CT 06902 (203) 325-1141-CRAZY ice cream and donut creations.  Free donuts with Yelp check in as of this writing.  Normally breakfast pics bore trashy travel but theirs are INSANE.
Lakeside Diner – known for its homemade donuts. 1050 Long Ridge Rd, Stamford, CT 06903 Lunch and breakfast only : (203) 322-2252
Live Music-Seaside Tavern -bar with occasional live punk, rock and metal music: 891 Cove Rd, Stamford, CT 06902 (203) 964-9225
Stratford, CT
Eats-
Windmill Tavern-400 Hollister St, Stratford, CT 06615-Large bar with burgers and dogs and 3 different kinds of chili to top the dogs and burgers
Blue Sky Diner -273 Ferry Blvd, Stratford, CT 06615
Phone:(475) 282-4400 6AM–10PM
Milk shakes, variety of hot dogs and chili dogs, and a Cubanito Burger,
Half Pound Burger w/ Mozzarella Cheese, Ham,Pickles, Sliced Tomatoes, and Red Onion.
Danny's Drive-in – 940 Ferry Blvd, Stratford, CT 06614 (203) 378-6728 Onion and bell pepper on every burger.
Thomaston, CT
Rozzi's -265 Watertown Rd,Thomaston, CT 06787  (860) 484-4488-Average diner with an outstanding chili dog and some day a decent lobster roll.
Union, CT
Eats-
Travelers Food and Books-1257 Buckley Hwy # I-84,Union, Connecticut, CT 06076
(860) 684-4920 Strange classic hybrid books and food.  Off I-84
Wallingford, CT
Eats-
American Steamed Cheeseburgers -92 Quinnipiac St, Wallingford, CT 06492 Most nights til–12AM (203) 294-8888 Absolute regional burger style and this place also has a steamed steak sandwich.
The Pig Rig BBQ-950 Yale Ave, Wallingford, CT 06492   (203) 265-0765-AMAZING bbq ribs (real smoked) , great burnt ends and even an awesome chili dog with real homemade chili.
Live music-
Cherry Street Station -Dive bar in a former train depot featuring heavy metal, rock & punk acts – 491 N Cherry St Ext, Wallingford, CT 06492 (203) 265-2902 most nights til 1 am
Wamleg-190 ward street , Wallingford, Connecticut 06492 (860) 329-2968
Waterbury, CT
This town is a 14 dollar train ride from NYC via Metro North trains.  Its not a very big town, but has some cool New England Architecture.  There doesn't seem a whole lot to do there, but I happened to run across the best of listing from the Waterbury Observer, their "alternative weekly" which has NO LISTINGS for bars and clubs except for Berrys Emerald Pub, 894 Bank Street "located behind the 2nd Precinct" which is not exactly where I would want to spend my time getting trashed.  If you don't mind that the number is 203-574-4229.
They also list the Old Corner Cafe at 178 North Main Street in Union City (203-729-8087) as the Best Neighborhood Bar and Best Beer Selection, but I am not familiar where that is in relation to Waterbury.
Waterbury is also the home to two of the famous Nardellis Sandwich shops at 540 Plank Road, Waterbury, CT 06705 (203) 754-5600,  and 515 Watertown Ave Waterbury, CT 06708 (203) 753-7400 famous for their italian sandwiches
The Dog House-1264 Meriden Rd, Waterbury, CT 06705  (203) 525-2886_teeny teeny tiny shack with chili dogs which are available with a hot pepper relish, a rib eye sandwich and sausage and pepper sandwiches made of sausage patties.
Burger Builders -1051 Wolcott St, Waterbury, CT 06705  (203) 753-2526-Not much on decor on this newish burger joint but good looking burgers and also lobster rolls and fried seafood.
Record Store-
Brass City Records, 489 Meadow St, Waterbury, CT 06702
Watertown, CT
Eats-
G's Burgers -1300 Main St, Watertown, CT 06795 (860) 274-5551-great chili dogs as well as burgers.
West Haven, CT (New Haven)
Eats-
Zuppardi's Apizza -clam pie pizza where the clams are shucked tableside.- 179 Union Ave, West Haven, CT 06516   (203) 934-1949
Live Music-
The Cave-221 Bull Hill Lane   ,West Haven, Connecticut 06516-All ages music venue
Windsor, CT
Museum-Vintage Radio & Communication Museum of CT -115 Pierson Ln, Windsor, CT 06095 (860) 683-2903
Eats-
Bart's Drive-In and The Beanery Bistro –55 Palisado Ave, Windsor, CT 06095 (860) 688-2224-Former riverside clam shack but now a more full operation but still fried clams, hot dogs but not chili dogs, though they do serve slaw dogs and fried clams.  Great onion rings and great burgers.
The Original Ranch House-27 Windsor Ave, Windsor, CT 06095 (860) 522-2266-Chili Dog joint with full menu of typical grill items.  Great sign.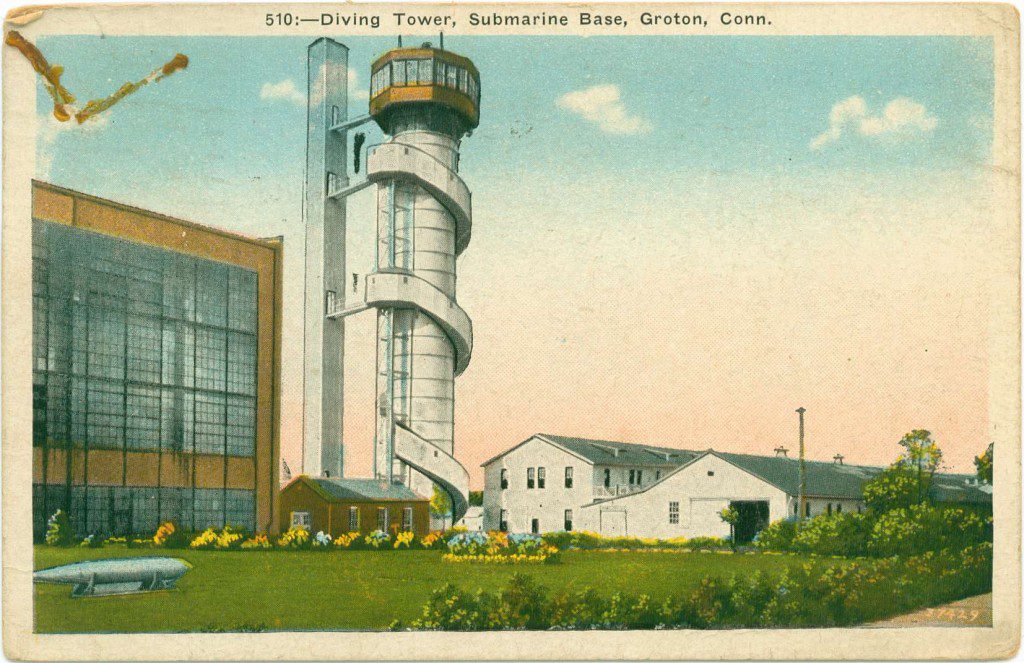 1935 Postcard of the Diving Tower in Groton CT. Deep sea divers would practice inside.