Pictured above:
A must have chicago dog, topped with tomatoes, onion, mustard, Neon green relish, a whole pickle spear and sprinkled with celery salt in a steamed poppy seed bun.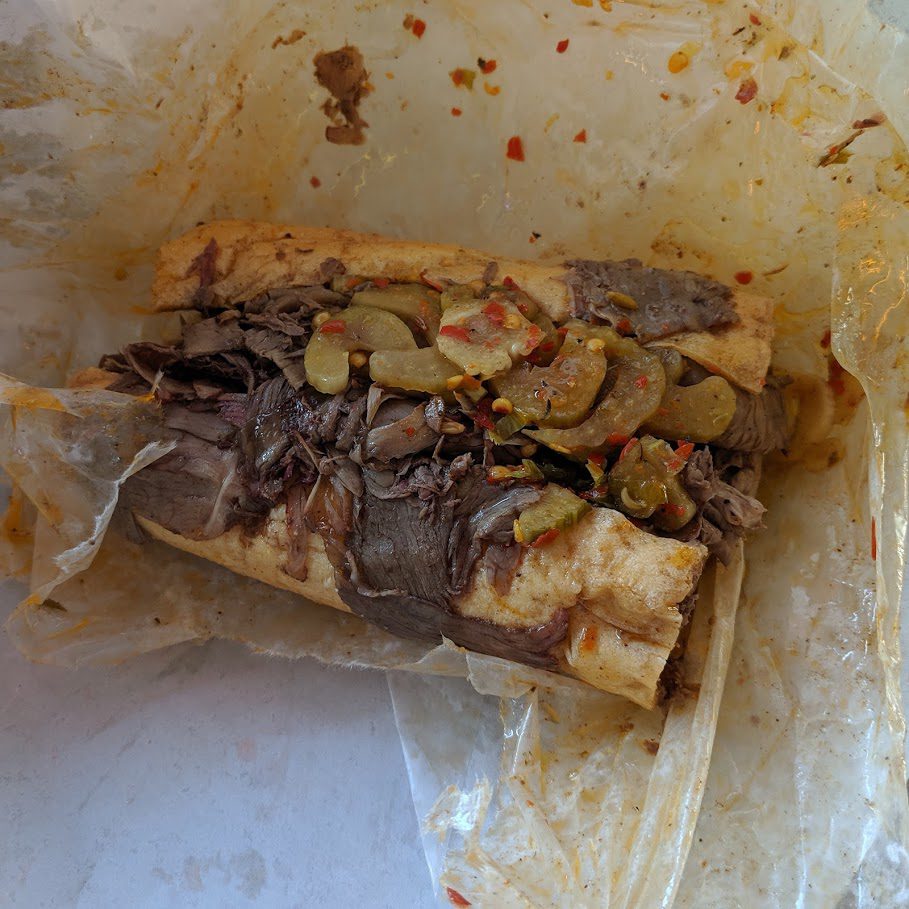 Pictured: Italian Beef
Chicago, IL
Chicago is the Tippy Top of the Blues Highway and with it, you can still find a variation on the Delta style tamale here.  Some hot dog places take tamales and put then on a bun with chili and call it a mother in Law Sandwich.  Tamale pictured above.
Find Tamales at
Supreme Tamale Company-1495 Brummel Ave, Elk Grove Village, IL 60007 or the TOM TOM beef tamales in Supermarkets.
Chicago has a flaming cheese dish called saganaki that was invented at the now closed Parthenon restaurant.  You can find versions around town at other places like the Greek Islands.  200 S Halsted St, Chicago, IL 60661
Though its nowhere near the Ocean, there are a number of seafood options around town.  Many of the late night Italian Beef/Burger/Hot Dog/French Fry joints have fried shrimp too.  And the wicker park area has a number of Mexican seafood joints, like the amazing Amelias.
Flying In-
There are subways that go directly to the city from O'hare and Midway.  If you fly into O'hare, that line goes directly through the Logan Square and Wicker Park neighborhoods which have a number of cool spots.  At the time of this writing, a day day unlimited subway pass was $20, available from any subway ticket machine.
MP Shows puts on some good events around town
Flavorpill.net has a good picks list for local events.
Online arts guide-Centerstage Chicago.COM.  They have a great list of Chicago Records Stores.
New City is the weekly for Chicago.  There is also the Chicago Reader.
Record Stores
Gramaphone 2843 N Clark St, Chicago, IL 60657
Reckless Records is another mini chain of note-at 1532 N Milwaukee Ave , Chicago (773) 235-3727  and 3157 N Broadway St , Chicago (773) 404-5080.
Dusty-Groove America -1180 N Milwaukee Ave , Chicago (773) 645-1200-great vinyl specialists, also online.  Very few 45s
Laurie's Planet Of Sound -4703 N Lincoln Ave , Chicago (773) 271-3569

Permanent Records-1914 West Chicago Avenue  Chicago, IL 60622 (773) 278-1744-indie shop with lots of instores-Also with a LA shop
Bars-
Royal Palms Shuffleboard Club-1750 N Milwaukee Ave, Chicago, IL 60647, cavernous branch of the shuffleboard club started in NYC with a different food truck everyday and bathrooms with flamingo wallpaper.
GREEN MILL JAZZ CLUB-4802 N. BROADWAY AVE., CHICAGO, IL 60640 773.878.5552-trad jazz and swing bar
The Owl-Logan Square-2521 N Milwaukee Ave, Chicago, IL 60647-Bar with lots of owl figurines and a waterfall plus lots of rum cocktails.
Phyllis Musical Inn- 1800 W Division St, Chicago, IL 60622 Cash only beer and shot dive bar unchanged since 1952  (773) 486-9862
Rainbo Club -1150 N Damen Ave , Chicago (773) 489-5999-dive bar popular with local indie bands and their friends (HT-might be closing?)
Rednofive-440 North Halsted Street-popular with the cooler kids
Simon's Tavern-5210 N Clark St  Chicago, IL 60640, (773) 878-0894 Dive Bar since 1934
Lodging-
Longman and Eagle is a hipster bar/restaurant with 6 rooms to rent upstairs from $95 dollars (added 12/2016)
Band Clubs-
DIY-House of Heavy Petting and Club Soda.
Empty Bottle-1035 N Western Ave , Chicago (773) 276-3600-Listed as one of the best places in Chicago to see live music.
Hideout-1354 W Wabansia, Chicago Il 60622 -773-227-4433
Cobra Lounge – 235 N Ashland Ave, Chicago, IL 60607 (312) 226-6300-TT faves White Mystery play here a lot
Crown Tap Room, 2821 N. Milwaukee Ave. Chicago, IL, 60647 (773) 252-9741
Other live music-
Bottom Lounge–1375 West Lake Street  Chicago, IL 60607 (312) 666-6775
Double Door -1572 N. Milwaukee Avenue ,Chicago -773.489.3160
The Metro -3730 N. Clark -Chicago 773.549.4140
The GMan Tavern aka Gingerman -Old dive with live music-Cash only: 3740 N Clark St, Chicago, IL 60613
Liar's Club – 1665 W Fullerton Ave, Chicago, IL 60614 (773) 665-1110-Nice interior and occassional bands.
Schuba's and Lincoln Hall -3159 N. Southport Ave Chicago 773.525.2508
The Vic Theatre-3145 North Sheffield, Chicago IL  (773) 472-0449
Abbey Pub 3420 W. Grace [at Elston]-Chicago 773-478-4408-Irish Pub with live music.
Subterranean-2011 W. North Ave.Chicago, IL 60647
Emporium Arcade Bar– 2363 N Milwaukee Ave, Chicago, IL 60647 and other locations.  Arcade bar with some okay music events and some not.
Burlington Bar– 3425 W Fullerton Ave, Chicago, IL 60647 Punk bar with touring bands.  Near Coles and Quenchers too. (773) 384-3243
Quenchers Saloon -300 types of beer, and punk bands: 2401 N Western Ave, Chicago, IL 60647  (773) 276-9730-They do a lot of things to tater tots too.  Someone send me a picture of their chili.
Cole's Bar -Free Live music, comedy & open-mike nights: 2338 N Milwaukee Ave, Chicago, IL 60647: (773) 276-5802
Eats-
While in town you must get a chicago style dog loaded with tomato, pickle, mustard, relish, onion and sprinkled with celery salt.  Available all over town. That being Said
THE BEST THING IN CHICAGO YOU CAN EAT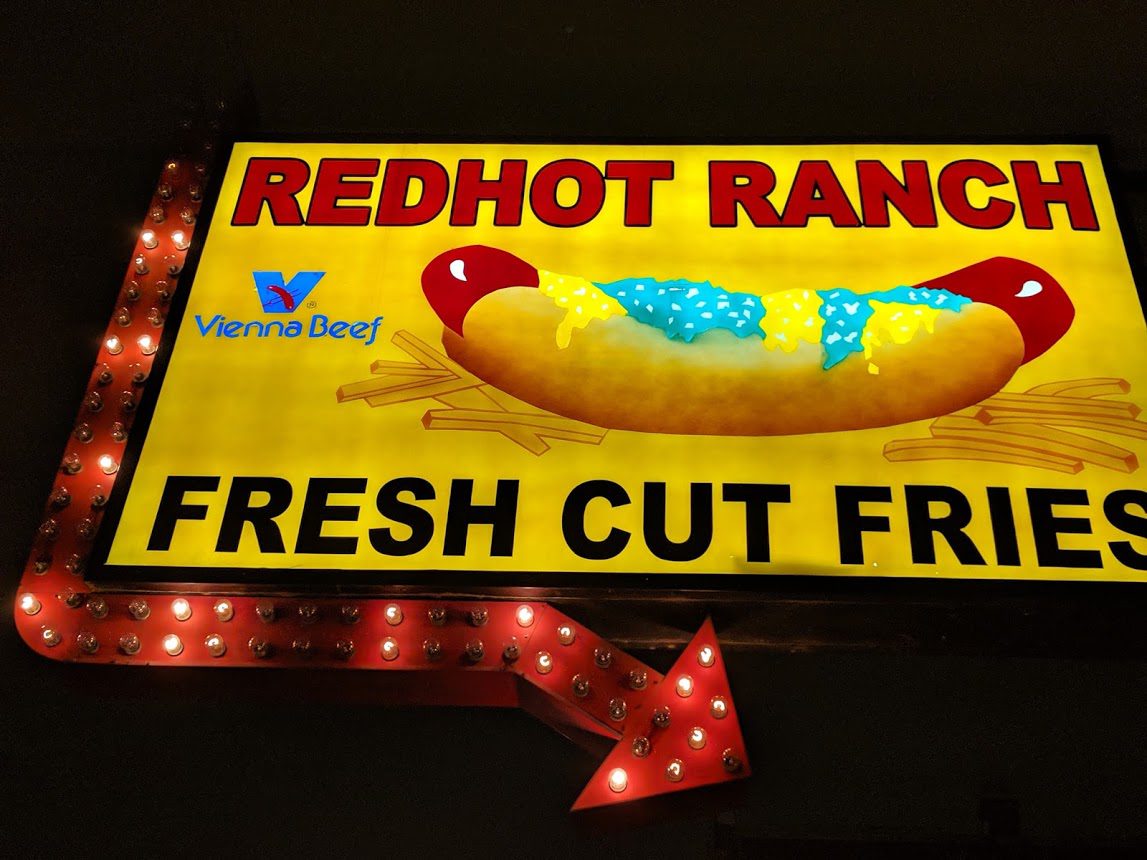 Red Hot Ranch-2072 N Western Ave, Chicago in Wicker Park and one other location.
A cheap and phenomal burger with great fries.   Also they specialize in tail-less fried Shrimp which you want to get with the so called "mild sauce".  Their hot dogs are an abbreviated version of the Chicago Dog, without tomato or the pickle spear, BUT they can also make you a traditional Chicago dog.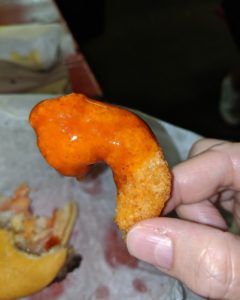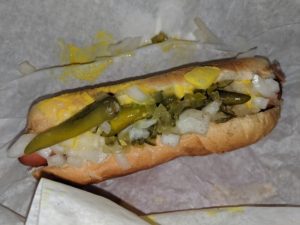 Kuma's Corner-2900 W Belmont Ave, Chicago, IL 60618-5804
(773) 604-8769  www.kumascorner.com   Burger joint with hybrid burgers like pulled pork on a burger or Sausage…Bigger than the normal burgers favored by TrashyTravel.com
Also, The inspiration for SNL's Cheeburger cheeburger sketch is the The Billy Goat Tavern & Grill-430 North Michigan Ave. (lower level) Chicago, IL (312)222-1525  You only see a stairway headed down to a below ground road.  I must be honest, the double cheeseburger was not all that, but the location is pretty cool.  Maybe if you are with friends you should split a cheeseburger, try another dish and sit at the pretty cool (separate) bar.

Carsons Ribs-multiple locations
Calabria Imports -1905 W 103rd St , Chicago , 773-396-5800-Italian glass case deli with a version of the "rocco" an italian sausage sandwich with tomato sauce and also meatball sandwiches as well as giant jars of giardinara and all your italian specialty needs.
Gale Street Inn- 4914 N Milwaukee Ave, Chicago, IL 60630-Famous for ribs
Roma's Italian Beef & Sausage-  4237 N Cicero Ave, Chicago, IL 60641  (773) 725-5715-cheap as heck italian beef, now featuring some recipes from hot dougs, the former hot dog emporium.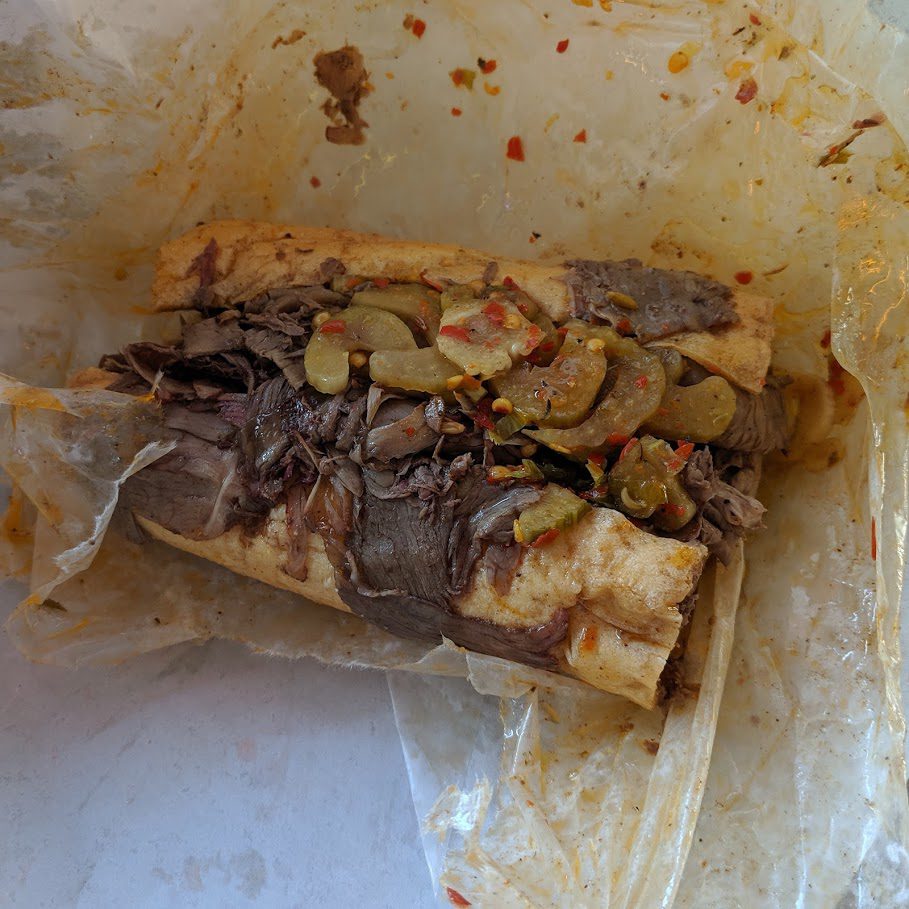 Al's #1 Italian Beef -1079 W Taylor St, Chicago, IL 60607-An italian beef sandwich is like a cheesesteak with tomato sauce instead of cheesewhiz.  The combo sandwich has beef AND sausage and giardiniera, that pickled vegetable mix. Theres a vintage italian ice stand that is seasonal across the street.  This is the original location and there is no bathroom to wash the juice drippings off your hands.
Also great for Italian Beef is Mr. Beef.  666 N Orleans St, Chicago, IL 60610  (312) 337-8500
Fatsos Last Stand--2258 W Chicago Ave, Chicago, IL 60622 (773) 482-1000-Char grilled burgers and dogs and awesome fried things, great fries, Cheesy tater tots and the best fried shrimp in Chicago.
Gene's Sausage Shop and Delicatessen -Sausage market with rooftop beer garden where you can eat em.    Get the alpine.  4750 N Lincoln Ave, Chicago, IL 60625 (773) 728-7243
Hackney's-733 S Dearborn St, Chicago, IL 60605 (312) 461-1116 home of the oblong shaped Hackneyburger® their special recipe ground exclusively for Hackney's for 75 years. Served on Hackney's Dark Rye® or bun.
Harold's Chicken Shack-636 S Wabash Ave Chicago, IL 60605 and others. Local chain that fries their chicken in beef fat
Paradise Pup and Char Grill-1724 S River Road
(between Kennicott Ln & Riverview Ave), Des Plaines, IL 60018-A cheddar burger is made with cheddar spread, delicious italian beef served french dip style and the classic chicago hot dog.
Rezas-(Clark St.) -5255 N. Clark, Chicago (773) 561-1898-large portions of Persian food.
Ann Sather -929 West Belmont, Chicago, IL 60657-incredible swedish style waffles.  If you love waffles, you will be blown away and amazing Cinamon Rolls and pecan rolls
Honey 1 BBQ-Storefront takeout only BBQ-746 E 43rd St, Chicago, IL 60653
Honey Butter Fried Chicken- 3361 N Elston Ave, Chicago, IL 60618  (773) 478-4000-Hipstery fried chicken joint with legit chicken, schmaltz mashed potatoes, chicken biscuits and honeycomb shaped biscuits
Janson's Drive-in -9900 S Western Ave, Chicago, IL 60643 (773) 941-6283-Old timey drive in with chicago dogs, burgers and more and a great old sign.
Lem's Bar-B-Q -Address: 311 E 75th St, Chicago, IL 60619 (773) 994-2428-good ribs and rib tips.   Limited seating.  Great sign.
Mickey's Gyros & Ribs-525 N Harlem Ave, Oak Park, IL 60302 (708) 848-3333-formica joint with infinite choices.  They call the regional big baby burger the big mickey and have ribs and rib tips.
Nickys-5801 S Kedzie Ave, Chicago, IL 60658  (773) 436-6458-one of the many and perhaps the first purveyor of the big baby burger, a double pattie with grilled onions and cheese.  Bright yellow sign.
Ruby's Fast Food-Cash-only Cheap as hell  Filipino cooking.  Get the shanghai Lumpia : 3740 W Montrose Ave, Chicago, IL 60618 : (773) 539-2669
Scatchell's Beef & Pizza -4700 W Cermak Rd, Cicero, IL 60804 Italian beef where the giardiana is just celery freshly pickled lightly
Skylark Bar-2149 S Halsted St ,Chicago, IL 60608-Burgers, tater tots with 3 dipping sauces, cheap ass steak dinner in a divey dive bar with old giant coffin urinals.
Superdawg-Address: 6363 N Milwaukee Ave, Chicago, IL 60646-Amazing Chicago hot dog joint with the only krinkle cut fries I've ever liked.  Also a location outside the city in Wheeling.
Taurus Flavors– since 1966-8534 S Stony Island Ave, Chicago, IL 60617  (773) 374-1872-Unique take on the regional steak with a "sweet steak" sandwich called the supreme steak, Sliced Steak Chopped on the Grill with Seasoned Grilled Onions, American Cheese, a Proprietary Sweet Sauce, Our Special Sweet Peppers, and Tomatoes, on a Steamed Steak Roll.  Also hoagies like the Hoagy Supreme – A Variety of Smoked Turkey Meats & American Cheese on French Bread Topped with Sliced Onions, Pickles, Mild Peppers, Tomatoes, Specially Prepared Hoagy Oil, and Herbal Seasoning
Vito & Nick's Pizzeria -8433 S Pulaski Rd, Chicago, IL 60652 (773) 735-2050-Trashy Travel is against the midwest "party cut" style pizza, aka a round pizza cut into squares.  Despite this, Vito and Nicks has an unusual pie with giardinara as well as the Big Nicky, a sausage burger on pizza bread and "Jasons Favorite" a beef and sausage sandwich on garlic bread. Also fried ravioli in many flavors and…fried smelts.
Roots Handmade Pizza -1924 W Chicago Ave, Chicago, IL 60622  (773) 645-4949-more wierdo regional pizza, here amongst the monkey bread and mozzarella sticks is a Taco pizza topped with crushed tortilla chips.
Shrimp de Jonghe is a shrimp and breadcrumb dish invented in a Chicago Hotel long ago and is on scattered menus around town.  Available at
Calo Ristorante-5343 N. Clark St. and Sabatinos-4441 Irving Park Road.  Sabatinos has a chicken dish that is also regional called Chicken Vesuvio.
Sunsub & Philly's-5542 W N Ave, Chicago, IL 60639 – (773) 622-8240-A gym shoe is a sandwich that is if a gyro and a sandwich had a baby.  The rendition here is supposed to be stellar of Gyro mean, corned beef and roast beef with tziki
Fancier-
Au Cheval– 800 W Randolph St, Chicago, IL 60607-upscale "dive" bar with a burger that tops almost everyones list.  (312) 929-4580. Actually pretty cheap, but can have huge waits.
Chicago has a branch of Lawrys the Prime Rib-started by the seasoning company they specialize in…prime rib.  Its kind of on the elegant side and my guess is not all that cheap.100 East Ontario Street (312) 787-5000
Fat Rice-2957 W Diversey Ave, Chicago, IL (773) 661-9170-higher end pan asian joint. get the ginger dumplings
Owen & Engine -2700 N Western Ave ,Chicago, IL 60647-Another burger contender.
The Weber Grill restaurant cooks everything over charcoal on…weber grills. 539 N. State Street, Chicago IL  312-467-9696
Smoque-800 N Pulaski Rd, Chicago, IL 60641, mempis style dry rub and sauced ribs, great beans.
For Dessert, get a rainbow cone at the original location in the southside,  9233 S. Western Ave. Chicago, IL 60620 773-238-7075, home of the  five-flavor Rainbow Cone, which features chocolate, pistachio, strawberry and Palmer House (a cherry-nut blend) ice creams, as well as a layer of orange sherbet.
Mannys Cafeteria and Deli-1141 S. Jefferson,  Chicago, IL 60607?Jewish style Deli, but not kosher so they are open saturdays, closed sundays.  Also unusual is that they serve cafeteria style (312) 939-2855
Johnnie's Beef-7500 W North Ave, Elmwood Park, IL 60707 (708) 452-6000-Italian Ice and italian beef.  No indoor seating.  HOt sweet and wet.
Jims Original-two locations-THE ORIGINAL LOCATION-1250 S UNION AVE, CHICAGO, IL 60607
(312) 733-7820  Some sort of sadist decided to put a WHOLE PORK CHOP WITH THE BONE IN IT inside a bun with mustard onions and hot sport peppers.  Its delicious but you can break your teeth.  Everything is served that way including a polish sausage and all include fries. open 24/7
Swedish Bakery – European Style Pastries and Cakes-located in the Andersonville neighborhood in Chicago. 5348 North Clark Street  (773) 561-8919
The Wieners Circle-2622 N Clark St, Chicago, IL 60614 : (773) 477-7444-char dogs and surly service in the place that served as McDowells in coming to america.
Wolfy's -2734 W Peterson Ave, Chicago, IL 60659,  (773) 743-0207-Chicago Dogs with an amazing Sign.  Fries and onion rings are forgetable.
The Jibarito Stop -1646 W 18th St, Chicago, IL 60608  (312) 988-0585-invented locally at another now closed Puerto Rican restauant, a jibarto is a sandwich served on tostones, smashed fried plantains.
Another Regional Specialty is the MOTHER IN LAW HOT DOG, not a hot dog but rather a "Chigago Style" Tamale topped with normal hot dog toppings
Available at
JOHNNY O'S-3465 S. Morgan St. Chicago, IL 60608 (773) 927-1011 and the much more rustic stand.
Fat Johnnie's Famous Red Hots-7242 S Western Ave Chicago, IL 60686
(773) 633-8196
Other things
The Alley-858 West Belmont Avenue-Leather shop in "alternative" mall.
The Brown Elephant -Thrift store to support Howard Brown Health Center.  5404 N Clark St, Chicago, IL 60640   (773) 271-9382
Dat Donut-8249 S Cottage Grove Ave (between 82nd St & 83rd St) Chicago, IL 60619 Some say this is the best donut in chicago.
Strange Cargo-T-shirt store in Chicago, Illinois ·Veteran go-to for customizable T-shirts, plus messenger bags, sneakers & quirky odds & ends.
3448 N Clark St, Chicago, IL 60657
Woolly Mammoth -collectibles shop with taxidermy.  1513 W Foster Ave, Chicago, IL 60640 (773) 989-3294
Chicago Postcard Musuem-Huge collection of Vintage Linen postcards
Museums-
IMSS: A Museum Dedicated to Surgical Science
International Museum of Surgical Science -1524 N Lake Shore Dr  Chicago, IL 60610
(312) 642-6502
Creepy museum.  Free on Tuesdays
Leather Museum and Archives-6418 N Greenview Ave, Chicago, USA-free Thursday evenings.
The Button Museum at the Busy Beaver button company, 3407 W. Armitage Ave.
Chicago, IL 60647 OPEN: Monday-Friday 10-4 or by appointment.
Logan Hardware-2532 W FULLERTON AVE, CHICAGO, IL 60647-Vintage record store with vintage arcade museum in back.
Intuit: The Center for Intuitive and Outsider Art, 756 N Milwaukee Avenue Chicago, IL 60642-Closed Monday
Arlington Heights, IL
Dinorex Arlington Heights , an indoor amusement park that claims to be the "Kingdom of the Dinosaurs". There are two Illinois locations, one in Arlington Heights and another in Crystal Lake. Both offer free admission and feature several kid sized thrill rides, including a junior roller coaster.
1227 N. Rand Road, Arlington Heights, IL
Berwyn, IL (Greater Chicago)
Old Route 66 runs through there
Eats-
Live Music-
Cigars & Stripes BBQ Lounge -6715 Ogden Ave
Berwyn, IL 60402
Wire – music venue & bar also with recording studios &  classes.   6815 W Roosevelt Rd, Berwyn, IL 60402 (708) 669-9473
Burbank, IL
Eats-
Mabenka-7844 S Cicero Ave, Burbank, IL 60459  (708) 423-7679-Outstanding polish and lithuanian food.
Collinsville, Illinois
Attraction-The World's Largest Catsup Bottle is at 800 South Morrison Avenue, just south of Main Street in downtown Collinsville, Illinois.  In July they have a festival.
Edwardsville, IL (outside of St. Louis, MO)
Bars-
The Stagger Inn again-Local divey bar with shuffleboard and live bands.104 E Vandalia St, Edwardsville, IL 62025 (618) 656-4221 right next to a comic shop and across from the Walgreens
Elmhurst, IL (Greater Chicago)
Eats-Macs Golden Pheasant-668 W. North Avenue, Elmhurst, IL 60126
ph (630) 279-8544-The oldest continuely operated restaurant in Dupage County.  Famous for onion soup, Pork Loin, Roast Duck and more.
Elmwood Park, IL (Greater Chicago)
Eats-
Russell's Barbecue-1621 N Thatcher Ave, Elmwood Park, IL 60707 (708) 453-7065-BBQ since 1930.  Mini Jukes on the table
Evanston, IL (outside Chicago)
Eats
Wiener and Still Champion-802 Dempster, Evanston, IL 60202 (847) 869-0100.  Hot dog joint that also makes the krispy kreme donut burger, the luther burger.  Corn dogs.  They make a sauce of the week! And have fried pickles too
Crystal Lake, IL
Tiki bar-The Breakers Restaurant -Chinese & American eats, a cocktail bar & "live music".
7728 US-14, Crystal Lake, IL 60012 Closed Monday and Tuesday
Gurnee, IL
Amusement Park
Six Flags Great America 
542 N Route 21, Gurnee, IL 60031
(847) 249-4636
Big, Standard Six Flags Park
Joliet, IL
Eats-
Hamburgerseria-1015 Essington Rd , Joliet, IL 60435-great burgers and shakes.  Many different styles.
Lombard, IL (Greater Chicago)
Live Music-
Brauer House – 1000 N Rohlwing Rd, Lombard, IL 60148 Most nights til 2.  Way west Chicago live music venue and restaurant.
Murphysboro, Illinois (near Evansville)
Eats-
17th Street Bar and Grill– 32 North 17th Street, Murphysboro, Illinois  62966, 618-684-3722- Features world championship winning BBQ.
River Grove IL (near Chicago)
Gene's & Jude's- old-school hot dog stand that is Steamed with mustard, onion, relish and sport peppers, and served encased in  fries. Ketchup is banned from the premises.  They also Serve Tamales- 2720 River Road, River Grove IL 60171
Romeoville, IL
Eats-
The Original White Fence Farm-1376 Joliet Road, Romeoville, IL 60446
630 / 739-1720-Old fashioned fried chicken dinner restaurant.
Springfield, IL
Springfield has its very own sandwich: the Horseshoe.toast on a plate with a hearty hamburger patty resting on top,  underneath a mound of French fries covered with a thick cheese sauce, now there are variations available with Ham and other things.  Available at D'Arcy's Pink, 661 West Stanford Avenue
Charlie Parker's Diner, 700 North St,  217 241 2104.  diner food served in a quonset hut
other food
Cozy Dog Drive In, 2935 South 6th St., 217-525-1992 cozydogdrivein.com, on historic Route 66. Their specialty is the Cozy Dog, a cornbread-encased hot dog known elsewhere as a corn dog. $3-$8.  Also try their vinegar fries and chili
Head West Sub Stop,  submarine sandwiches, plus other locations
530 E Capitol St,  217 789 9101.
Joe Roger's Chili, 820 S. 9th Street,217 522 3722, classic Springfield chili parlors. with or without beans, with or without meat  with six different levels of spiciness.
Maid-Rite Sandwich Shop, 118 N Pasfield St, 217 523 0723.  loose meat sandwiches of spiced ground beef. Used to be lots of these.  Sandwiches are similar to sloppy joes
Sabatino's- 4441 W Irving Park Rd, Chicago, IL 60641
Old-school Italian fare served in a retro supper-club setting with live piano music on weekends. They serve complementary pizza bread
Wauconda, IL
Musuem
Curt Teich Postcard Archives at the Bess Bower Dunn Museum of Lake County
1899 W Winchester Rd, Libertyville, IL 60048
www.lcfpd.org
+1 847-968-3400 lcfpd.org
The largest collection of the Curt Teich Postcard company who produced millions of Linen postcards
Westmont, IL (Greater Chicago)
Eats-Uncle Bub's BBQ & Catering : 132 S Cass Ave, Westmont, IL 60559 (630) 493-9000 Good Ribs.
Willowbrook, IL (greater Chicago)
Eats-Dell Rhea's Chicken Basket -Historic Route 66 fried-chicken dinner joint,  645 Joliet Rd, Willowbrook, IL 60527