For Montreal and Southern Quebec-, Click Here. Suggestions, comments? Send them to me at evan @ trashytravel.com
Toronto
Toronto Gigs Click here.
Record stores
Rotate This, 186 Ossington Ave, Toronto, ON M6J 2Z7, Canada
Neurotica-585 Markham St, Toronto, ON M6G 2L7, Canada-cheap vinyl
Kop's & Vortex Kollectibles-229 Queen St. W., Toronto-(416)593-8523
Vortex Records-2309 Yonge, Toronto -(416) 483-7437-Great used selections
Soundscapes-572 College, Toronto-(416) 537-1620-slim but decent selections
Live Music-
Tranmit Puts on shows around town.
The Dakota Tavern: 249 Ossington Ave, Toronto, ON M6J 3A1, Canada
The Garrison-197 Dundas St W, Toronto, ON M6J 1X3, Canada
Horseshoe Tavern-370 Queen Street West  Toronto, ON M5V 2A2, Canada (416) 598-4753
The Piston-937 Bloor St W, Toronto, ON M6H 1L4, Canada
The Axis Club FKA the  Mod club-dance club with lots of big shows-never very mod
Opera House-735 Queen St. E. at: Broadview Ave. phn: (416) 466-0313.  Big space where Saint Etienne played, among others.
The Legendary Horseshoe Tavern 370 Queen Street West Toronto
Bar Orwell-1595 Dundas St W, Toronto, ON M6K 1T9, Canada
Parts & Labour Catering & Restaurant-Basement band room.: 1566 Queen St W, Toronto, ON M6R 1A6, Canada +1 416-588-7750
Silver Dollar room-486 Spadina Ave, Toronto, ON M5S 2H1, Canada
El Mocambo-464 Spadina Ave.at College St. Toronto (416) 968-2001 On the W. side of Spadina Ave., just S. of College St. Open til 3:00am-venue for smaller national and local acts.
Lee's Palace-529 Bloor St. W. at Bathurst St. Toronto (416) 532-1598 On the S. side of Bloor, just E. of Bathurst subwaystop. Daily 12:00am- 3:00am-Downstairs is club the Dance Cave
Rivoli-332-334 Queen St. W. at Spadina Ave. Toronto (416) 596-1908 Open til 2:00am -restaurant with back room with alt comedy and music.
Ted's Wrecking Yard-549 College St. (above Bar Code) Toronto (416) 928-5012-Local alternative act club.
Clinton's Tavern-693 Bloor St. W. Toronto (416) 535-9541-another small local act venue.
The Smiling Buddha-961 College St, Toronto, ON M6H 1A6, Canada
Dance Clubs-Roxy Blu-12 Brant St. at King St.-Toronto (416) 504-3222 lounge-like dance club (check to see if its current)
Tiki Bars-
The Shameful Tiki Room Toronto -1378 Queen St W, Toronto, ON M6K 1L7, Canada
Most days 5PM–1AM
Miss Thing's – 1279 Queen St W, Toronto, ON M6K 1L6, Canada Closed Sunday and Monday +1 416-516-8677
Bars-
BLACK DICE CAFE. Japanese Rockabilly Bar 1574 Dundas Street W Toronto, ON M6K 1T8-Just your average rockabilly punk rock sake cocktail bar, but they actually have real booze too. Teeny.
Sweaty Betty's-Small, unpretentious hangout with mismatched furniture, a loungelike back room & a cozy patio.: 13 Ossington Ave, Toronto, ON M6J 1H1, Canada
Unlovable-1415B Dundas Street W , Toronto, ON M6J 1Y4 Very cool rock bar
Live Music-
Monarch Tavern– 12 Clinton St, Toronto, ON M6J 2N8, Canada
Bovine Sex Club-542 Queen St W, Toronto. Clearly the best bar name ever. Live music too. Tiki themed Bar upstairs. Best club in Toronto.
Cherry Cola's Rock N' Rolla Cabaret Lounge-200 Bathurst Street,Toronto, ON M5T 2R7-Burlesque and rock and roll shows but a lot are tribute shows
The Baby G-1608 Dundas St W, Toronto, ON M6K 1T8, Canada
Amusement Park
Canadas Wonderland. Great big former Paramount park now owned by Cedar Fair..  Lots of coasters.  Similar to Kings Dominion in Virginia.
Regional Specialty-Smoked Brisket Sandwiches. The Jews that moved here in the early part of the 1900s smoked as well as cured their Corned beef and it is what you will find all over Toronto. This is not peppery like Pastrami is.
Toronto is a city with three major Chinatowns, a couple of Little Italys and large communities of Asian, Greek, Portuguese, Polish and Indian immigrants. You will find Chinese restaurants along Spadina Avenue to the city's Greek town, along Danforth Avenue.
There is another distinctly Torontonian characteristic: hybrids. You can find Polish-Canadian food, a Portugese-Italian groceries.
Yonge Street (pronounced "young"), is a mishmash of clothing stores, cafes and restaurants frequented by students at the nearby University of Toronto.
The Brownstone Cafe is one of dozens of cheap, casual eateries along Yonge Street. Here, and in fact everywhere in Toronto you will find big portions and small prices.
In Little Italy, on nearby College Street, which also caters to a young crowd, you will find a swath of music clubs and bars.
Toronto's main commercial strips are Queen Street West and the Kensington Market. Queen Street runs east-west through the heart of downtown. Its eastern flank is dominated by two hubs of activity: City Hall at Nathan Phillips Square, and the Eaton Center, a massive, blocklong mall with a soaring open-air atrium.
The western end of Queen Street has shorter town houses and buildings and a funkier, more inviting vibe. It is the city's prime shopping street for young people, with dozens of quirky boutiques, designer outlets, antique stores and thrift shops. Art supply shops are also in abundance, evidence of the area's reputation as an artists' haven. The street also has a variety of bohemian restaurants like the Swallow, where a sign reads "No Smoking — Anything," and where breakfast of eggs Benedict, fresh orange juice and coffee came to $8.50.
It can take a while to walk down Queen Street, primarily because stores keep catching your eye.
Kensington Market is a kind of outdoor swap meet complete with overflowing fruit stands, fishmongers and vintage clothing stores
Kensington Market is bordered on the east by Spadina Avenue, the main strip for the city's Asian population. Locals say it's hard to get a bad meal in Chinatown. Pho Hung, a Vietnamese restaurant, had specialties like fried frog and snail vermicelli soup peppering a menu of more traditional fare.
In Toronto most of the clubs are along a six-block stretch between Spadina Avenue and York Street. The bars and clubs here are about five to a block.
Royal Ontario Museum at Bloor Street and Avenue Road has an enormous collection of dinosaurs, mummies and a nifty new earth sciences gallery. Better yet, the last hour of every day, and Fridays after 4:30 p.m., admission is free.
For shows, bargain hunters should visit the T.O. Tix booth in Eaton Center, which sells half-price tickets to many shows.
For general information about the city, call Tourism Toronto at (800) 363-1990; on the Internet, www torontotourism.com.
Places to Stay –
The Inverness, 287 Humberside Avenue, (416) 769-2028, is a four-room bed-and-breakfast in a 1923 house with fireplaces and terrazzo floors; 110 to 130 dollars per night.
Hotel Victoria, 56 Yonge Street, (416) 363-1666, is a straightforward downtown hotel with 66 rooms. Standard double with private bath, $84.
Eats-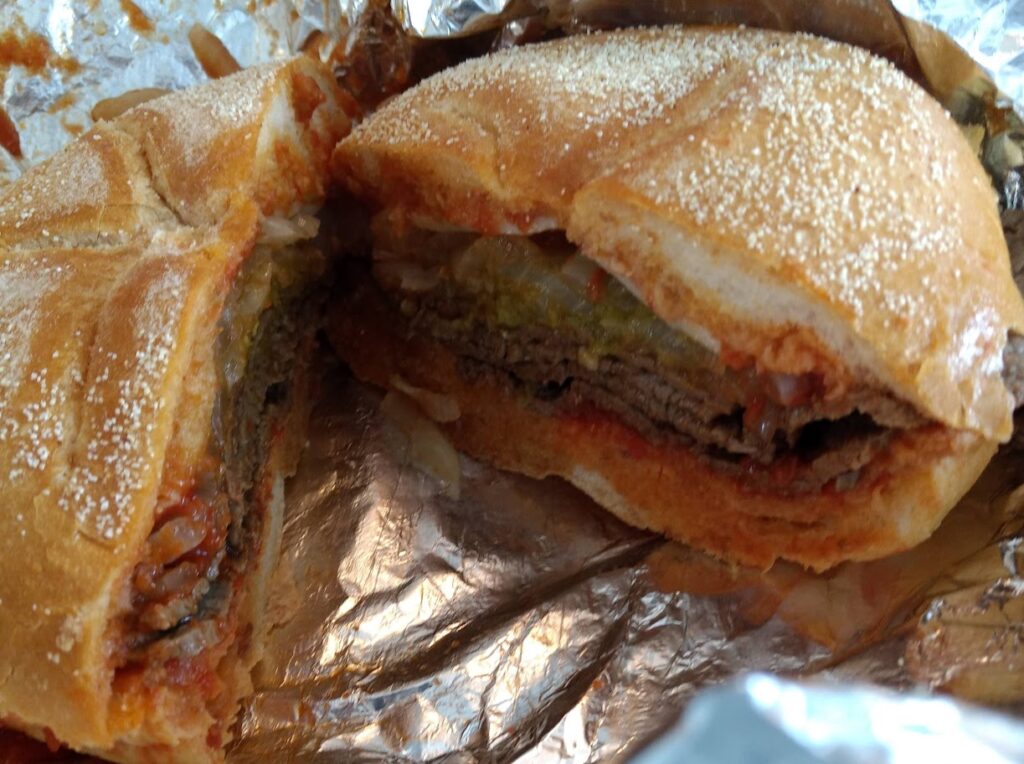 In the Little Italy Area is the original Location of California Sandwiches. They serve a steak sandwich with a spicy tomato sauce on a huge round kaiser roll which you can get topped with cheese, pepper and onion. They also do this with a breaded veal cutlet. Nearby are others that make a knockoff version of this sandwich such as San Francisco Sandwiches. I'd stick to California at the Original Location, close to Monarch Tavern, a great band venue.
California Sandwiches-244 Claremont Street , Toronto, ON M6J 2N2
Black Camel- tiny shop famous for BBQ style beef brisket & pulled pork. 4 Crescent Rd, Toronto, ON M4W 1S9, +1 416-929-7518
Bardi's Steakhouse -Classic dark wood steak house since 1966. Shrimp Bardi is an appetizer of shrimp in garlic butter yum. 56 York St, Toronto, ON M5J 1S8, Canada +1 416-366-9211
Carousel Bakery – 93 Front St E, Toronto, ON M5E 1C3, Canada +1 416-363-4247-Famous for peameal (Canadian) bacon on a bun.
Dairy Freeze – 1601 St Clair Ave W, Toronto, ON M6E 1C9, Canada open at 9 am, closes late, the type of classic burger, dog and Ice cream joint this site exists for. Great sign. +1 416-654-2565
Brownstone Cafe, 603 Yonge Street; (416) 920-6288. Oven-baked pasta with zucchini, peppers, onions and chicken, $6. Open late morning to late evening.
Dumpling House Restaurant-328 Spadina Avenue, Toronto, ON M5T 2E7 (416) 596-8898 and other location. Potstickers are served stuck together, an usual serving style.
The George Street Diner – 129 George St, Toronto, ON M5A 2M6, Canada: +1 416-862-7676
Katz's Deli & Corned Beef Emporium – 3300 Dufferin St, Toronto, ON M6A 2T5, Canada : +1 416-782-1111 Since 1970. No relation to the NYC one. They machine slice their meat. They have a meat knish that you can make into a meal.
Len Duckworth's Fish & Chips-2638 Danforth Avenue, Toronto, ON M4C 1L7
Pho Hung, 350 Spadina Avenue; (416) 593-4274. Wonton soup and iced Vietnamese coffee cost around $5. Open 9:30 a.m. to around 10 p.m. daily.
The Senator Restaurant -1940s-style diner, Torontos oldest restaurant. 249 Victoria St, Toronto, ON M5B 1V8, Canada. +1 416-364-7517

Porchetta & Co-825 Dundas Street W, Toronto, ON M6J (647) 352-6611 and other location. Pork sandwich with whole grain mustard sauce.
San Francesco Foods-10 Clinton Street, Toronto, ON M6J 2N8 (416) 534-7867-Home of a famous veal sandwich and a pulled pork sandwiches. Many are made as small versions for 4 bucks too. And of course poutine and an italian version of poutine. A must.
Tennessee Tavern -1554 Queen St W, Toronto, ON M6R 1A6, Canada: +1 416-535-7777-Old dive bar now a sorta fancy restauarant with eastern European food.
The Lakeview Restaurant-Diner open 24/7 – 1132 Dundas St W, Toronto, ON M6J 1X2, Canada: +1 416-850-8886
Wolfie's Deli -Since 1975, Montreal style deli- 670 Sheppard Ave W, North York, ON M3H 2S4, Canada +1 416-638-9653
Woody's Burgers -wood fired burgers. 3795 Lake Shore Blvd W, Etobicoke, ON M8W 1R2, +1 416-546-2093
Shopping
Courage My Love -Vintage shop in Kensington Market: 14 Kensington Ave, Toronto, ON M5T 2K1, Canada: +1 416-979-1992

Public Butter Vintage -1290 Queen St W, Toronto, ON M6K 1L4, Canada: +1 416-535-4343
Cambridge, ON
Live Music-
Obriens-215 Beverly Street m Cambridge, Ontario N1R 3Z9 519-267-7707-Mostly an irish bar with a rare punk show on occasion.
Eats-
Little Louie's Burger Joint & Soupery-234 Clyde Road, Cambridge, ON N1R 5L9 (519) 623-8500-Great burgers. Not sure about the soup. Closed Saturday and Sunday.
Kitchener, ON (Waterloo area)
Live Music-
The Boathouse in Kitchener's Victoria Park, 57 Jubilee Drive, Kicthener, ON
London, ON (near toronto)
Live Music- Call the Office – 216 York Street, on the north-west corner of York and Clarence (just south and across the street from Galleria mall).
Hamilton, ON
Record Store-
Sonic Unyon, 22 Wilson Street, Hamilton, ON, L8P 4X2
Live Music
The Underground-41 Catharine St N-Hamilton, ON 905.741.ROCK
This Ain't Hollywood-345 James Street North, Hamilton, ON L8L 1H3-live music venue in an old public house
Niagara Falls, ON
Bar-
The Daily Planet has some Superman theming, is part of a hostel, and is where the locals hang out to party. 4573 Queen Street, Niagara Falls, Ontario, L2E 2L7
Orillia, ON (North of Toronto)
Eats-Webers Restaurant-Charcoal cooked burgers in a roadside stop with a converted train car
Cash-only.8825 ON-11, Orillia, ON L3V 6S2, Canada 705-325-3696
Ottowa, ON
The alternative weekly for Ottowa is the Ottowa Xpress.
Live Music–
Zaphods-27 York Street , Ottawa, ON-613.562.1010
Ritual Night Club-137 Besserer Street, Ottawa, ON K1N 9M7, Canada, 613-680-7661-more a clubby club, but they have some big shows.
Peterborough, ON
Live Music-The MOHO-(montreal house) Awesome old building. They are very bad at updating their site, so if you are coming you might want to join their email list.282 Aylmer St.Peterborogh ON, K9J 3K7,705.748.2955
Bars-
Spanky's Downtown Pub & Patio – 201 Hunter W, Peterborough, ON K9H 2L1, Canada +1 705-874-5078 -Home of lots of fun vinyl soul nights such as one with Johnny Trash
London, Ontario
Live music-
Call the office-lots o punk bands here.Call the Office is located at 216 York Street, on the north-west corner of York and Clarence (just south and across the street from Galleria mall). British Columbia
Sudbury, ON
Live Music-
The Asylum-19 Regent St, Sudbury, ON P3C 4B7, Canada
Victoria, BC
Official tourist site-Tourism Victoria. Online list of clubs can be found here. Club Vibes has listings for western Canada including Vancouver and Victoria.