This page is for the Greater LA Area.  San Diego , Palm Springs and  Santa Cruz have their own pages and the general California Page is for Northern California including San Francisco
Hanging at the Santa Cruz Beach Boardwalk 
San Diego has its own page now.
 Notice anything outdated or missing?  Please email me at evan @ Trashytravel.com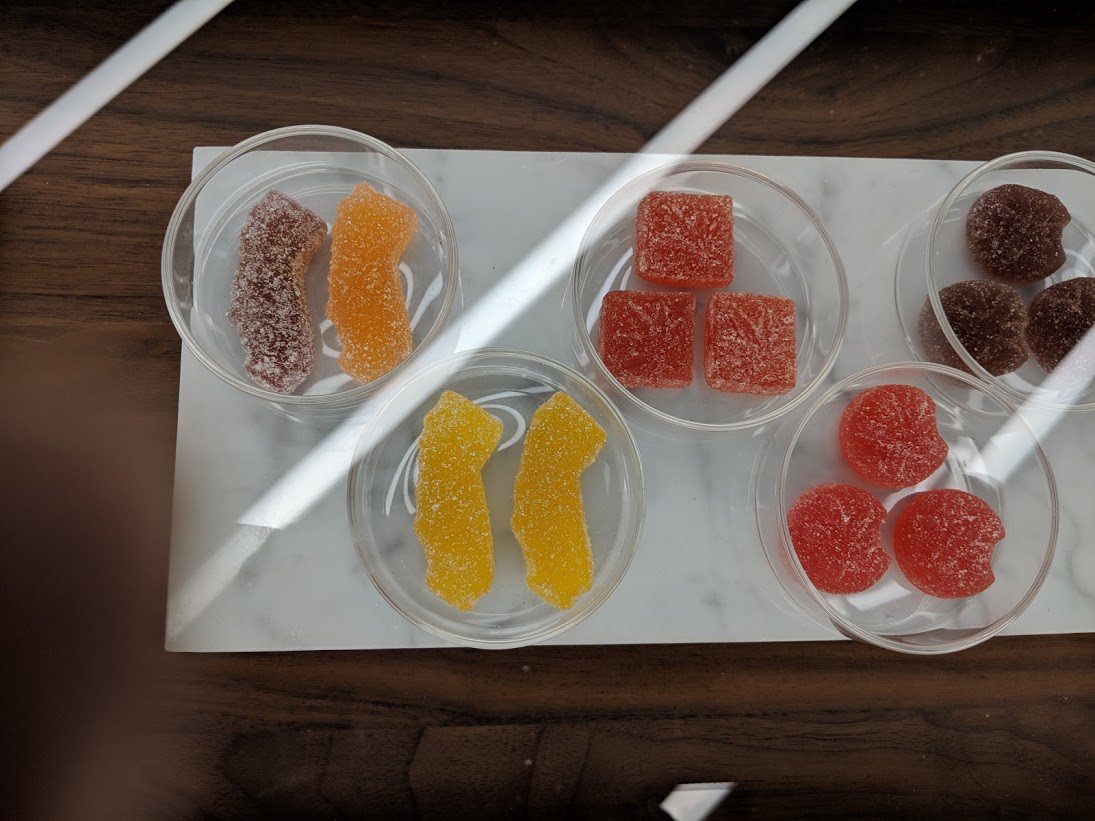 Marijuana is Legal in California and there are many dispensaries around.  I liked Med Men at the time of my visit.
Los Angeles, CA
Attraction-
Hollywood Forever Cemetery– one of the oldest cemeteries in Los Angeles. : 6000 Santa Monica Blvd, Los Angeles, CA 90038 (323) 469-1181 Burial place of Dee Dee Ramone, Vampira, Rudolph Valentino, Johnny Ramone, Judy Garland, Mel Blanc, Peter Lorre,and tons more.
Museums-
Velveteria– dedicated to velvet paintings-Sadly closed but moving in 2022 to Cerrillos, New Mexico
 For Music Listings, the west coaster Trashy Traveler is Mr. Hollywood.  The Local Alternative Weeklies for Los Angeles are the LA WEEKLY and The LA New Times.  The New Times is quite useless.  There is also the Campus Circle.  The Orange County Area has the OC Weekly.  Goth Events here.
The quest for the ultimate taco can be found at THE GREAT TACO HUNT
Find some old, one of a kind venues at LA Time Machines.
Mod Parties-Club Soulside 
Rockabilly promoters-Black Cat Entertainment, Brando Von Badsville, Spikes bar, Ronnie Macks Barn Dance, Dj Rockin Vic
BARS-
a few time machine bars listed here.
The No Name bar was in the movie Swingers.  The tiny joint that you have to walk down an alley and go in an unmarked door.  Fairly small, VERY dark and you can smoke. (editors note: This is old and may not be true anymore)
Good Times at Davey Wayne's – '70s retro bar with era-appropriate  decor: 1611 N El Centro Ave, Los Angeles, CA 90028 most days · 2PM–2AM  (323) 962-3804
HMS Bounty -Kitschy Nautical themed bar 3357 Wilshire Blvd, Los Angeles, CA 90010 (213) 385-7275
Idle Hour-Fancy cocktail lounge in a Barrel shaped building.  Better get there when they open as it gets crowded 4824 Vineland Ave, Los Angeles, CA 91601 daily til 2AM (818) 980-5604
The Formosa Cafe- It was in the LA Confidential "Lana Turner" scene.  Two bars, old school Hollywood with lots of hot chicks.  Outside roof bar.  Good martinis.
The Prince -Korean-style fried chicken served at a dark velvet wallpaper leather booth joint with  horseshoe bar. Finger licking good  3198 W 7th St, Los Angeles, CA 90005 most days · 4PM–2AM : (213) 389-1586
RED LION TAVERN;-2366 GLENDALE BLVD., LOS ANGELES, CA 90039
Hours: 11am-2am every day Oldest German bar/restaurant in LA
Sunset Trocadero Lounge-Hot spot of the moment you can actually get into.-8280 Sunset Blvd, West Hollywood, CA on the Sunset Strip.  (323) 656-7161
The Varnish – speakeasy hidden behind Cole's bar.  118 E 6th St, Los Angeles, CA 90014 (213) 265-7089
Casa Vega– 13301 Ventura Blvd, Sherman Oaks, CA 91423-50s old school Mexican Restaurant where lots of movies are filmed.  Open late
LA AREA TIKI BARS
Tiki-Ti-Tiki bar serving all kinds of tiki drinks. Might want to check the website before you go to find out what you want.4427 Sunset Blvd.Hollywood (Los Angeles), California 90027 (323) 669-9381, (recording during non-operating hours) Call first as they go on long vacations. historic Hollywood tiki founded in 1961.
Don the Beachcomber-considered the country's first tiki bar, and creator of the Zombie.
16278 Pacific Coast Highway, Huntington Beach
Trader Sams-1150 Magic Way, Disneyland Hotel, Anaheim, (714) 781-3463
The Purple Orchid-Near LAX in El Segundo. With Occasional bands and Burlesque- 221 Richmond Street in El Segundo
Tiki No-opened in 2010-4657 Lankershim Boulevard in North Hollywood, (818) 766-0116
Trader Vic's-One of a mini chain. The one in Oakland claims to have invented the Mai Tai. at The Beverly Hilton is located at 9876 Wilshire Boulevard in Beverly Hills, (310) 274-7777
Tonga Hut Tiki Lounge-since 1958, happy hour everyday from 4 p.m. to 8 p.m. with $3 well drinks and shots, and $2 Miller Lite and PBRs. Surf Rock DJs on Sundays-12808 Victory Boulevard, North Hollywood, (818) 769-0708
Swing Dancing-
Joe's Great American Bar & Grill-4311 W Magnolia Blvd, Burbank, CA 91505
(818) 729-0805 Venue with weekly swing dance lessons.  
Eats-
Apple Pan-Old fashioned Burger joint and fresh pies- 10801 W Pico Blvd ,Los Angeles, CA–TT-though a classic, was not my fave.
Pinks Hot Dogs-709 N. LaBrea Blvd., Hollywood, CA 323-931-4223-In the land of health food, the chili dog is king. Looong Lines.
Clifton's Cafeteria-648 S Broadway, Los Angeles, CA 90014, (213) 627-1673-old timey cafeteria with waterfalls inside and such.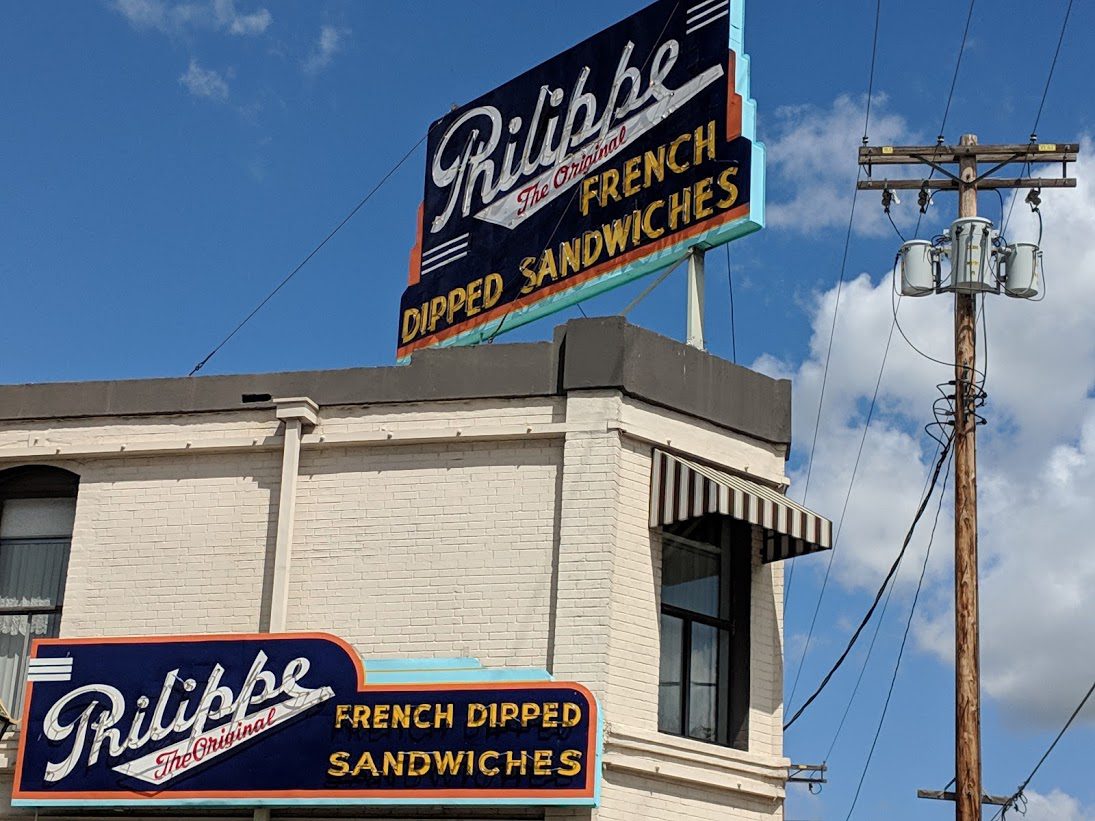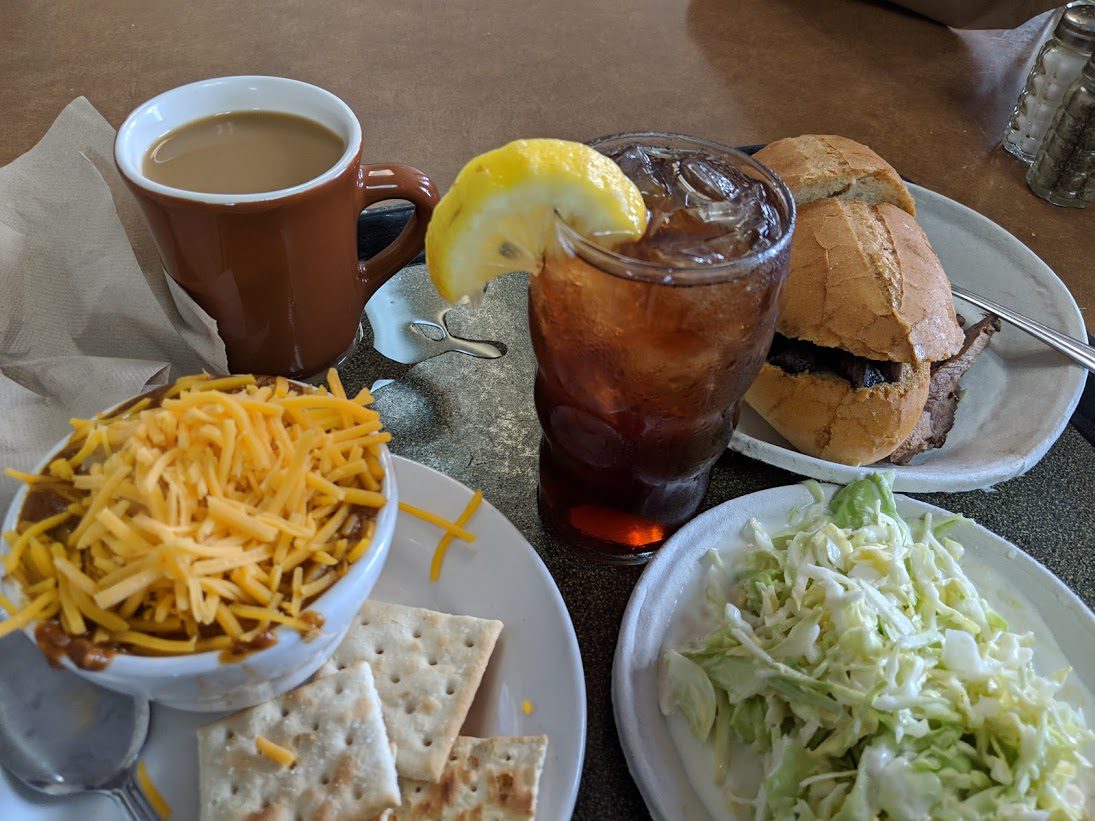 Phillipes-1001 N. Alameda St., Los Angeles, Home of the original french dip sandwich in roast pork, roast beef and roast lamb.  Great Slaw and Chili.  Mmm.
Cole's Pacific Electric Buffet – another contender for original french dip but this is much more plush has classic cocktails, plus hidden speakeasy in back.
118 E 6th St, Los Angeles, CA 90014: Most days til midnight, weekends 11AM–2AM ·  (213) 622-4090
Clementine-1567 Barry Avenue off Santa Monica Blvd. 310-552-1080.  Soups, sandwiches, homemade baked goods like ginger snaps.  They even have hot chocolate made with HOMEMADE marshmallows.
Mels Drive in–  Multiple locations of this 24 hour diner with classic food
Randys Donuts-the big giant famous donut-310.645.4707, 805 West Manchester Avenue , Inglewood CA 90301, near the airport
Stans Donuts-gourmet donut shop in westwood.  Seen on food network. original store in Westwood Village,  10948 Weyburn Avenue. (310) 208-8660
Pantry Cafe the Original-877 S Figueroa St, Los Angeles, CA 90017-2507
(213) 972-9279 Diner open 24/7 always.  no locks on the doors
Langers Deli-Pastrami, Corned beef mega old timey deli restaurant.on the southwest corner of 7th and Alvarado Streets, diagonally across from MacArthur Park
Canter's Delicatessen and Restaurant, 24/7 -419 North Fairfax Avenue
Los Angeles, California 90036 (323) 651-2030 Canter's is open 24 hours a day, seven days a week, and on all holidays except Rosh Hashanah and Yom Kippur. The Kibbitz Room Lounge is open from 10:00am-1:40am daily.  They also have a location in Las Vegas
Tokyo Fried Chicken Co. -Modern fast-food joint with Japanese fried chicken 122 S Atlantic Blvd, Monterey Park, CA 91754 (626) 282-9829
The Hat, World Famous Pastrami-Specializing in pastrami sandwiches locations in Los Angeles and Orange counties. 1 W Valley Blvd, Alhambra, CA 91801
(626) 282-0140 Try a pastrami topped burger or a tamale
The Oinkster-2005 Colorado Blvd, Los Angeles, CA 90041  (323) 255-6465-Pastrami Burgers and more in an A frame building.
Jim's Burgers – 1901 E 1st St, Los Angeles, CA 90033 (323) 266-3886-burgers, pastrami, tacos.  Signs probably better than the food but pic worthy.
Cassell's Hamburgers -old Burger joint that moved and its now in the Hotel Normandie : 3600 W 6th St, Los Angeles, CA 90020 Most days 7 am to 11, weekends· 7AM–2AM  (213) 387-5502 Also other locations now.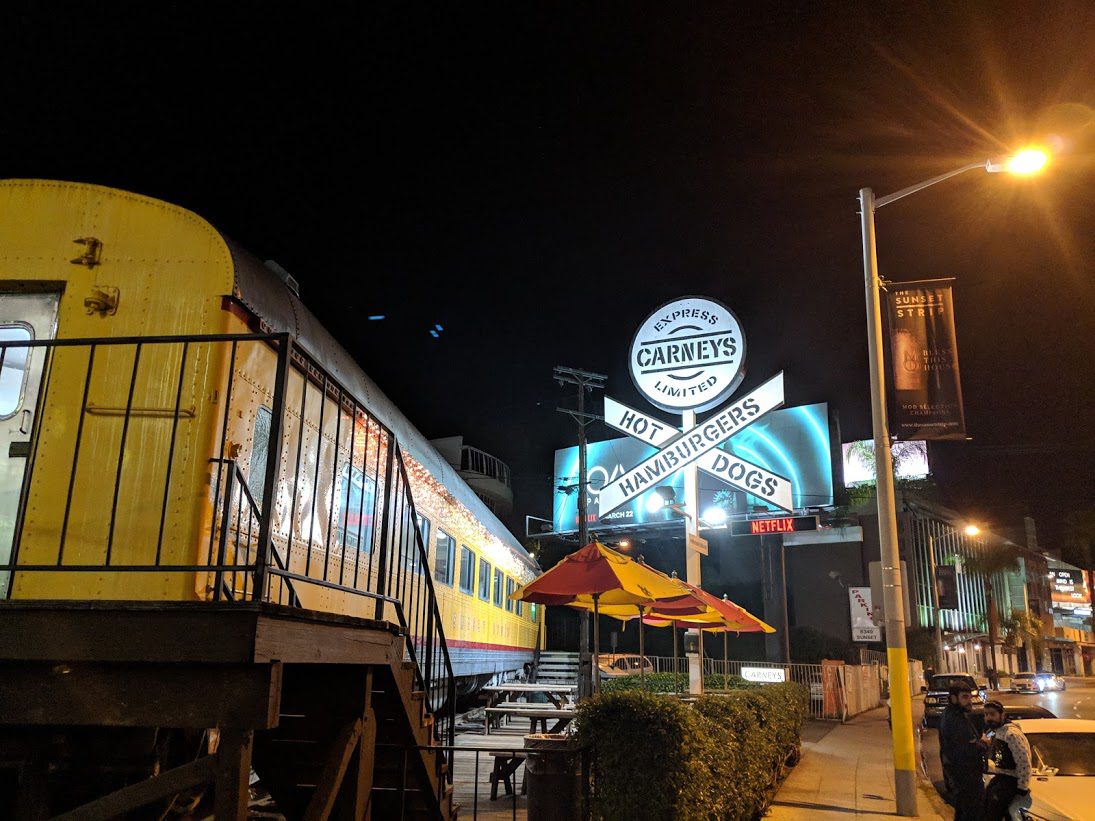 Carneys Studio City, 12601 Ventura Blvd. ,Studio City, CA 91604  818-761-8300-Chili Dogs and Chili Burgers in a railcar.  Probably a little better than Tommys.  Theres a second location but why would you want to not eat in a railcar?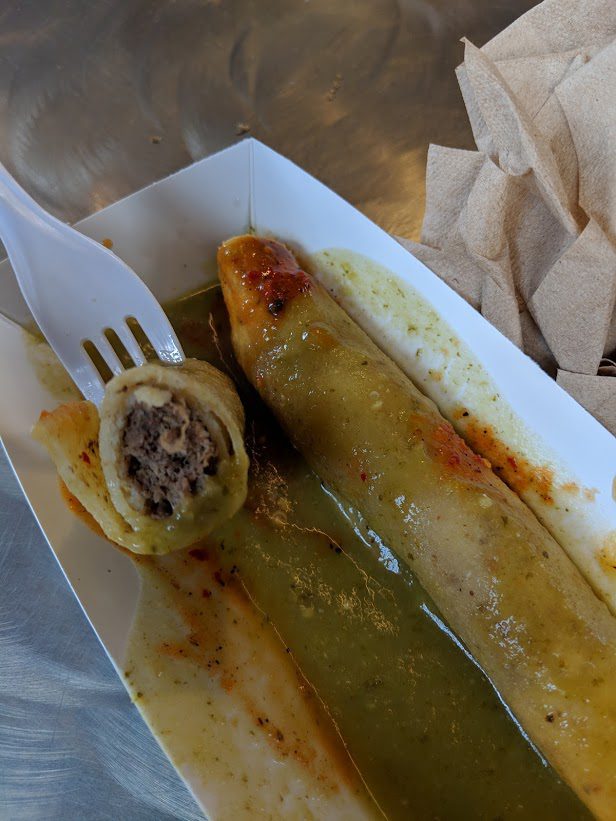 Cielito Lindo-Tiny Stand in a Mexican Market open since 1934 and dishing out fried Taquitos "in avacado sauce" which are pretty good.  Phillipes is super close so you can eat both in one go.   E-23 Olvera St, Los Angeles, CA 90012  (213) 687-4391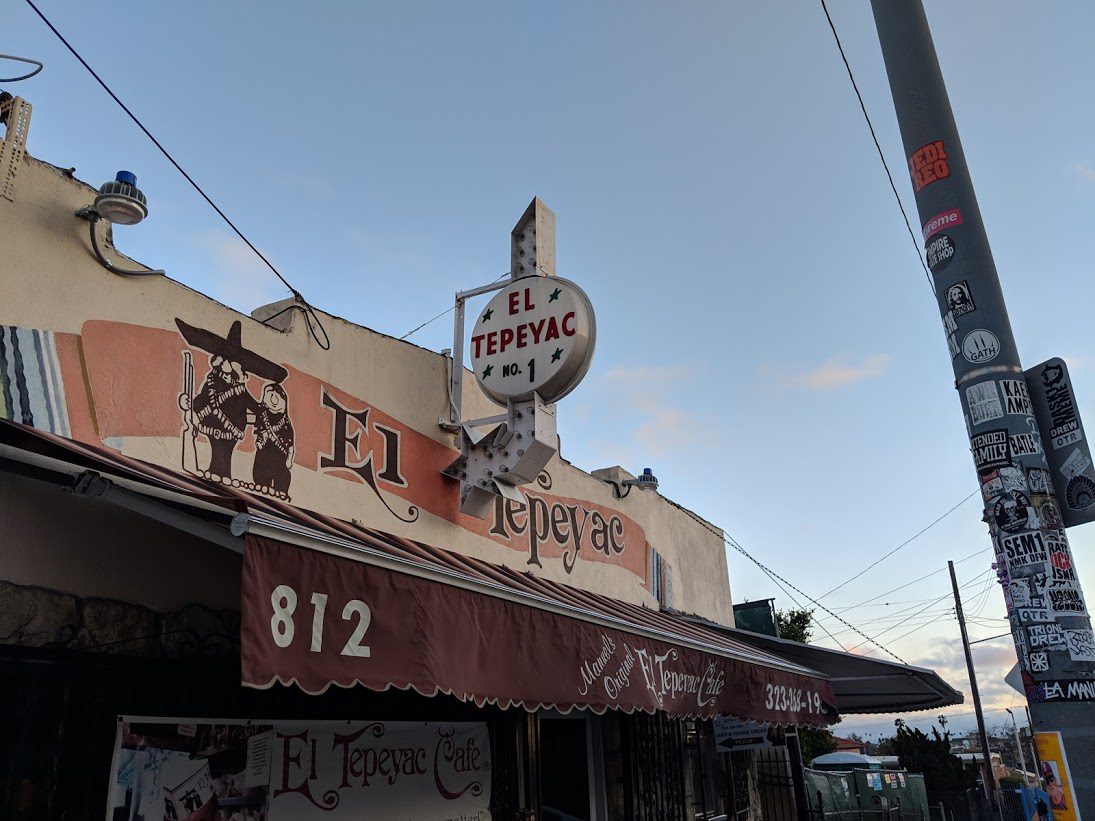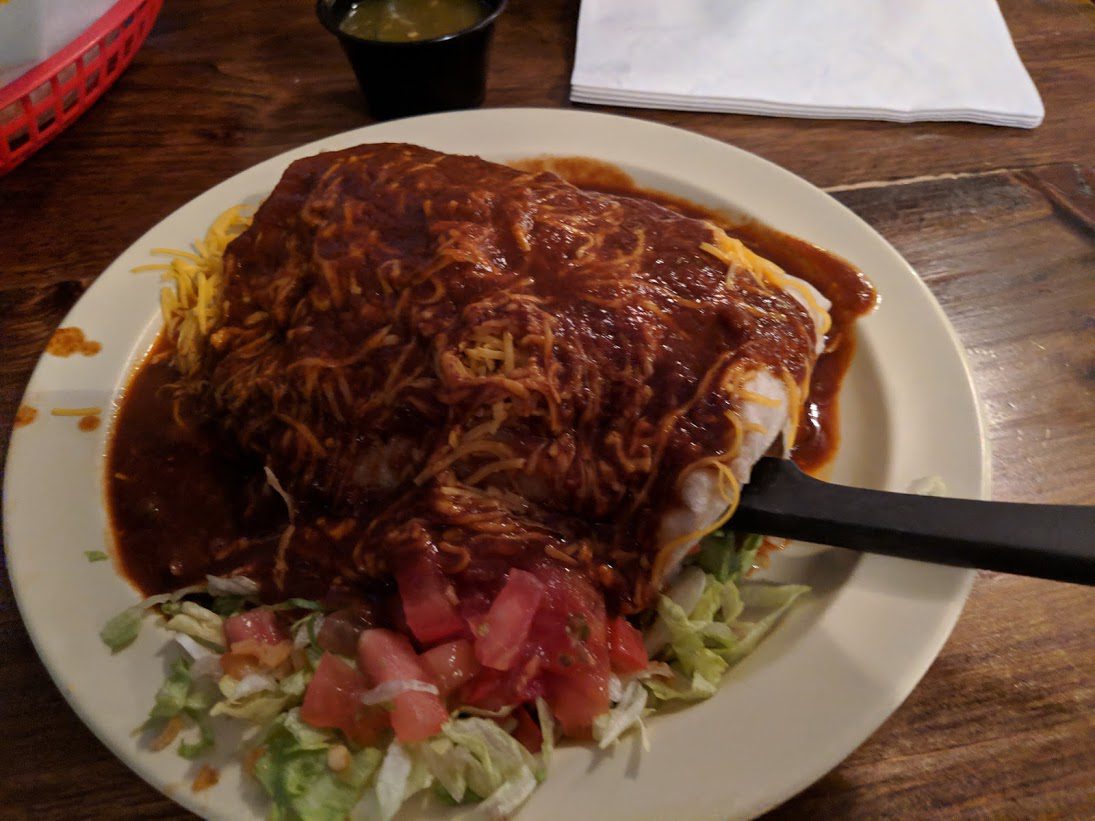 El Tepeyac Café-since 1955, famous for gigantic burritos.  The Mini is pictured above.
Address: 812 N Evergreen Ave, Los Angeles, CA 90033
Hours: Open ? Closes 9PM Phone: (323) 268-1960
Marty's Hamburger Stand-10558 W Pico Blvd, Los Angeles, CA 90064 (310) 836-6944 Chili Cheeseburgers, home of the Combos, combo burger, meaning burger patty AND hot dog
Pann's Restaurant -Classic 1950s coffee shop.  In a ton of movies. 6710 La Tijera Blvd, Los Angeles, CA 90045 (323) 776-3770 odd hours. Well known open face turkey sandwich.
Tam O'Shanter-Scottish pub, housed in a Tudor-style building   owned by the Lawrys group founders serving Prime Rib. 2980 Los Feliz Blvd, Los Angeles, CA 90039  (323) 664-0228
Tommys Chili Burgers-2575 Beverly Blvd, Los Angeles, CA  and other locations.  (213) 389-9060  Chili burgers, chili cheese fries and tamales since the 40s
Alhambra, CA (Greater LA)
Eats-
Twohey's Restaurant-burgers & sundaes since 1943. 1224 N Atlantic Blvd, Alhambra, CA 91801  (626) 284-7387
Arcadia, CA
Eats-
Rods Grill-Cool vintage googie diner-41 W Huntington Dr, Arcadia, CA 91007  (626) 447-7515-Since 1957
Canyon Country, CA (Greater LA)
Eats-Backwoods Inn -Old Fashioned Steak House: 17846 Sierra Hwy, Canyon Country, CA 91351  (661) 252-5522
Casmalia, CA
Eats-
The Hitching Post Restaurant – 3325 Point Sal Rd, Casmalia, CA 93429 (805) 937-6151-Vintage cowboy steakhouse.  Worth a trip.
Castaic, CA
Eats-
Mike's Original Diner -31537 Castaic Rd, Castaic, CA 91384 (661) 257-3233-Cool Old diner
Chatsworth, CA
Eats-
The Munchbox-21532 Devonshire St, Chatsworth, CA 91311 (818) 998-9240-Amazing chili and hickory burger joint.
City of Industry, CA
Eats-
Frisco's Carhop Diner -1950s-style joint with roller skating carhops  18065 Gale Ave, City of Industry, CA 91748  (626) 913-3663
Colton, CA (San Bernadino)
Eats-
P & G Burgers-190 W Valley Blvd, Colton, CA 92324 (909) 824-9630-retro style burger joint with zuchini fries.
Glendora, CA (Greater LA)
Eats-
The Donut Man– 24 hour donut shop seasonal toppings like strawberries & peaches.
Address: 915 E Rte 66, Glendora, CA 91740(626) 335-9111
The Golden Spur – 1223 E Rte 66, Glendora, CA 91740 (626) 963-9302-Classic vintage steakhouse with great neon boot sign.
Store-
Continental Gourmet Sausage Co ?-Old-school European grocery featuring housemade German sausages & specialty meats.  6406 San Fernando Rd, Glendale, CA 91201  (818) 502-1447
La Puente, CA (Greater LA)
Eats-
The Donut Hole -landmark shaped like two giant donuts through which customers drive through 15300 Amar Rd, La Puente, CA 91744  (626) 968-2912
Troy's Burgers-10 -720 N Hacienda Blvd, La Puente, CA 91744 (626) 330-3659
Mission Hills, CA
Eats-
The Bear Pit Bar-B-Que-10825 Sepulveda Blvd, Mission Hills, CA 91345  (818) 365-2500-Vintage charming KC style BBQ
Simi Valley, CA (Greater LA)
Tourist Attraction-
Grandma Prisbrey's Bottle Village -Bottle Village is a folk art piece made of bottles: 4595 Cochran St, Simi Valley, CA 93063
Museum-
Hotels-
San Dimas, CA (greater LA)
Eats-
San Pedro, CA
Live Music/Bar-
Harold's Place – 1908 S Pacific Ave, San Pedro, CA 90731 (310) 832-5503 Bar with occasional live music.
Yucca Valley, CA
Venue-
Sweet Spot-7124 Mohawk Trail
Yucca Valley, California, CA 92284
Eats-
John's Place
56249 Twentynine Palms Highway, Yucca Valley, CA 92284 Diner CLassics but all the chili dishes are the bomb. Chili cheese burger, chorizo breakfast burritos.