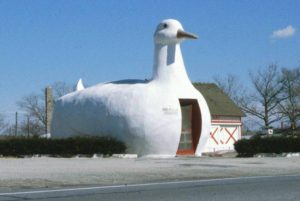 Long Island
Aquebogue, NY
Modern Snack Bar -Classic family-run restaurant with some midcentury touches and Steak, chicken and mashed turnips. 628 Main Rd, Aquebogue, NY 11948 (631) 722-3655
East Meadow, NY
Eats-Burger City -1900A Hempstead Tpke, East Meadow, NY (516) 385-3355-Cheap as hell burger joint with amazing onion rings.  served turnpike style in foil wrappers.  Only a few years old but classic style.
Massapequa, NY
Eats-
All American Hamburger Drive-In-4286 Merrick Rd, Massapequa, NY 11758 (516) 798-9574 Classic burger joint that gets a lot of press, so of course has many detractors. Window Service. Good rings. Great building
New Rochelle, NY
New Roc City-Entertainment complex with Movie theaters, skating rinks, video game rooms and a space shot freefall type ride.
Rye, NY
Rye Playland amusement park-one of only 2 historic landmark amusement parks that also operate currently.  Great blend of the old and the new.  Antique Carousel and Carousel Type ride called the derby racer which is only one of 3 left in existance.  Okay coaster, unique old mill ride (old fashioned tunnel of love) and many other rides.  Check with the MTA for ride and rail packages from NYC.  Playland Parkway, Rye, NY 10580
Phone Number: (914) 921-0370
Cortland Manor, NY
Popeyes Pub-Bar in a historic building with love bands, usually punk and metal-
2056 East Main Street Cortlandt Manor, NY 10567-2622 – (914) 737-9325
Farmingdale, NY
Amusement Park-
Adventureland-2245 Route 110, Farmingdale,  (516) 694-6868- Small family park.Live Music-
The downtown-190 main street , Farmingdale Long island-accessable from NYC via LIRR.
Fire Island
For info on Fire Island Clubs and events go to
Mr. Ladybug.Garrison, NY
Food-
The Bird & Bottle Inn 1123 Old Albany Post Road Garrison, NY 10524 (800) 782-6837.  Nice dinners served in this 18th Century House.  They have rooms which are pricey, but really not because they include a credit for dinner.Hillburn, NY
Food-
Mount Fuji-Route 17 North, Hillburn, New York-845-357-4270-Hibachi style japanese steakhouse in a giant pagoda, with a tiki bar.Hudson, NY
Live Music
The Hudson River Theater, 521 Warren Street.  Hudson, NY-Odd collection of shows here, like Marshall Crenshaw or Graham Parker, then things like Monade, a Stereolab side project.
Huntington, NY
Eats-
Herrell's Ice Cream Huntington-46L Gerard Street, Huntington, NY  11743 631-673-1100
Lake George, NY-Lake George is a resort area in Upstate NY. You can take a train to Albany from Penn Station and take a cab to Lake George Village for about $90 rt.  While in the Neighborhood, you can also drive up to Lake Champlain and take a ferry to Burlington, VT.
Eats-
The Boardwalk-518-668-5324-Burgers
Shoreline-518-668-2875
The Sagamore Club Grille-800-358-3585-pricey restaurant in 115+ year old hotel in Bolton Landing, 10 miles from Lake George.
Bars-
King Neptunes Pub-518-668-2017-Bar with live music.
Lake Grove, NY
Eats-
The Good Steer -2810 Middle Country Rd, Lake Grove, NY 11755(631) 585-8212 Steakhouse burger joint with a great sign and delicious onion strings on everything, including the onion soup.  Lost in time, which Trashy Travel loves.  Gotta love a joint with"Platter of Hot Roast Beef" on the the menu.
Long Beach, NY
Eats-
Laurel Diner: 300 W Park Ave, Long Beach, NY 11561 Since 1932 (516) 432-7728
Long Island, NY
Long Island has a local version of the Village Voice.
Record Stores-
Music Den, 4950 Nesconset Hwy, Port Jefferson Station, NY
Vinyl Solution, 33 N. Main St., Port Chester, NY 10573
Long Island City, Queens, NY
Mamaroneck, NYEats-
Walter's -937 Palmer Ave. Mamaroneck, NY-Hot dog shack in a Pagoda.  Must try.  They serve their hot dogs split on grilled buns.
Eats-
First National Franks, 3147 Rte. 112 Medford, NY 11772 631-696-1900, giant dogs on giant buns, plus burgers and fries.  Giant dog on the sign
Montauk, NY
Food
Duryeas Lobster Deck, Tuthill Road, Montauk, Phone: (631) 668-2410. Old fashioned lobster shack.
The unusual-
The Montague Bookmill is a used bookstore housed in an 1842 gristmill, and has some occasional events as well.
New Paltz, New York
Music-
6 Mohonk-House where they put on parties….
Northport, NY
Eats-Northport Sweet Shop: 55 Main St, Northport, NY 11768 (631) 261-3748-Classic ice cream and breakfast and lunch counter.
Eats
Clare & Carl's: 4727 U.S. 9, Plattsburgh NY-hot dog stand Open April through October-Old timey hot dog joint serving up Michigans, which are hot dogs with meat sauce
Port Jefferson, NY
Eats-
Tara Inn-1519 Main St, Port Jefferson, NY 11777
(631) 828-5987 Open 7 days.  Just a couple of blocks from the LIRR, this bar has cheap burgers and dogs and also a full menu.  As of this writing in 2017 it was 2 dollars for a hot dog or 2 dollars for TWO hot dogs or $2.75 for a burger.
Rockville Centre, NY
Eats-Bigelow's Fried Clams -Cash only clam shack: 79 N Long Beach Rd, Rockville Centre, NY 11570 (516) 678-3878  Mini crab cakes!
Venue-
Saints&Sinners 558 smithtown bypass smithtown, new york (on the corner of rt.111/347)
Watervliet, NY (Albany area)
Eats
Gus's Hot Dogs: 212 25th Street, Watervliet NY 12189-like the nearby Troy lunch, they serve tiny 3 inch dogs with a chili sauce
Westchester, NY
Record Store-
Music Arcade, 1077 Old Country Rd, Westbury, NY 11590
Yorkville, NY
Eats-
Voss' Bar-B-Q -Route 5A, Yorkville, NY -Not what you think of as BBQ, this place serves upstate style bbq which is slice roasted meat with BBQ sauce.  However, the hot dogs here are unusual overflowing gut bombs of amazing toppings.