Trashy Travel visited Colorado in October 2021. Here are the highlights-
Due to flight delays, my first meal was at the Cherry Cricket, who have an infinite number of burgers and combinations including other meats like Bison.
I got a green chili topped cheeseburger . Great bun, tasty burger.
The next day we went to Bud's Bar in Sedalia, CO.
Buds has a mind blowing never frozen burger that is fantastic. Its on many best of lists in the State. They have no fryer so the burger is served with a bag of chips. Full bar though.

After the burger, we headed to Manitou Springs to visit the totally free and mindblowing Garden of the Gods.
Not far from the Garden of the Gods is the Manitou Springs Penny Arcade. It's a great collection of Arcade games, some of them over a hundred years old!
After the Arcade, we headed to Cy's Drive In.

I got the Alaska burger, which is a essentially a big mac. Onion Rings were perfection.
The next Day I hit Davies Chuck Wagon Diner, a classic diner with a great sign!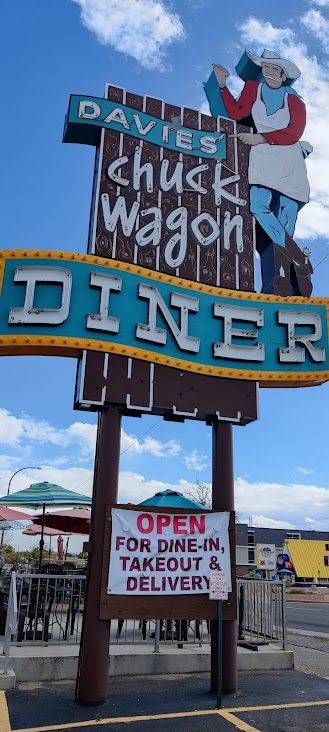 A short ride away is Boulder, Colorado. The Mork and Mindy house still stands there and I had to visit. Its a very short walk to a charming downtown with a classic deco theater too.
On that walk is The Boulder Dushanbe Teahouse, a restaurant brought over in pieces from overseas. Not far from there is also Mustard's Last Stand, a Chicago style dog house.
A quick drive back to Denver and I had the best dish of my trip at Tamales by La Casita.
I got a Tamale Platter, one red and one green smothered in green chili and served with refried beans and a tortilla. This was pure heaven.
Later that night, I ran across a man who sells burritos his Wife makes at a number of bars in Denver. Two for five dollars and they were delicious.
The next day, my friends and I went to El Taco de México for more green chile and some tacos. I got Al Pastor and Chorizo. I made the error of getting the "Large" green chile and you can see how it dwarfs the tacos. Way too much for one person. It was the size of a bowl of Pho. Quite delicious though.
Later that night, we hit Bastiens, home of the "Sugar Steak", which is essentially a blackened steak but omitting the spice of the blackening seasoning.
I got a ten ounce NY strip with the sugar seasoning for a small upcharge. It includes potato and Veg. I got the awesome twice baked potato. Always get this classic if its on a menu!
Another small 4 dollar upcharge gives these amazing mushrooms sauteed in Worcestshire sauce. Yum!
My last day I went to My Brothers Bar (thats the name) which is said to be the Oldest bar in Denver. I got a "Side" of chili, awesome onion rings and the "Jonny Burger", topped with Jalapeño Cream Cheese, American Cheese, Swiss Cheese and Grilled Onions. They serve it with a tray of Pickles, Pepperocini and raw onion.
The Jonny burger was Mindblowing! Must eat!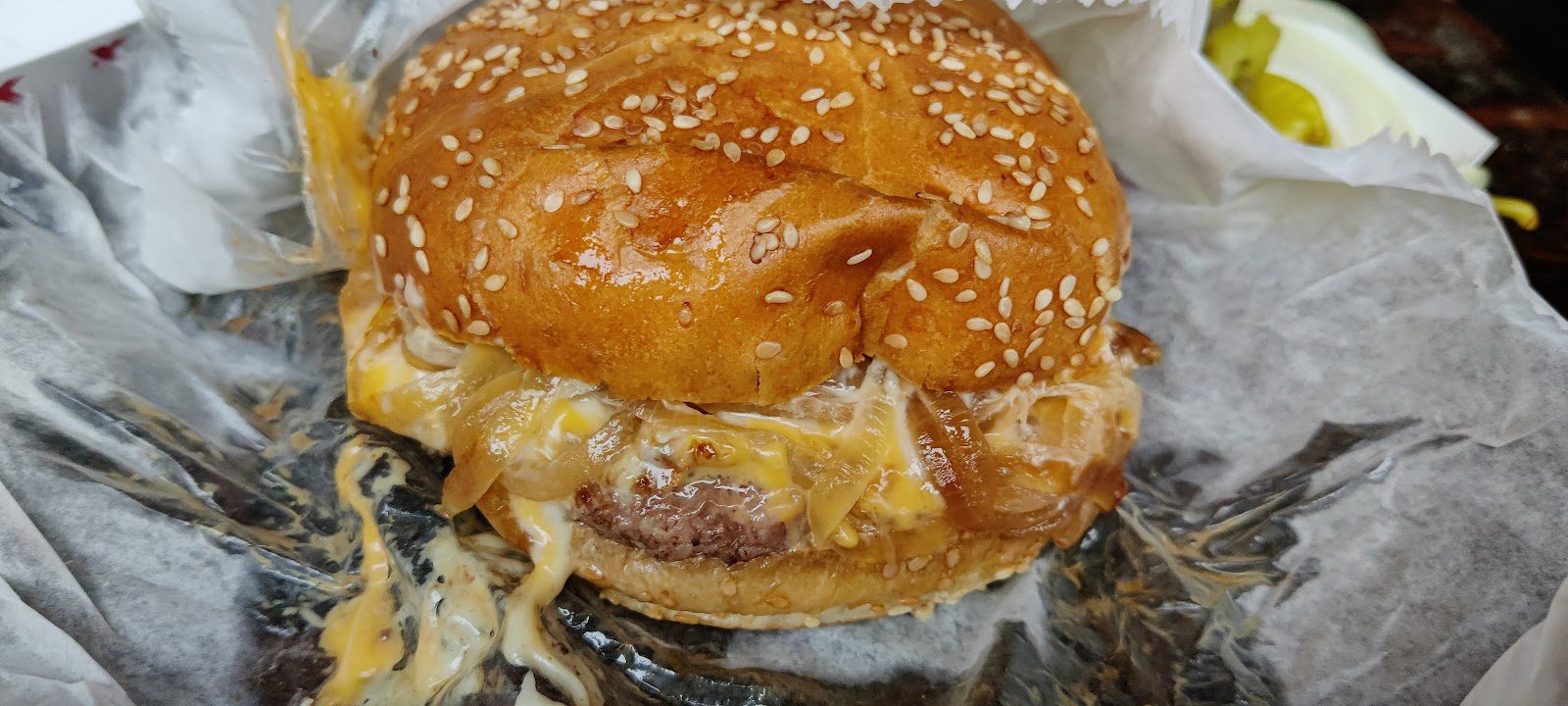 Finally at the otherwise HORRIBLE Denver airport, the last Chance green chili at Mesa Verde. It rivals the others in town.
And that was this trip. Hope you have your own trashy travel adventures!