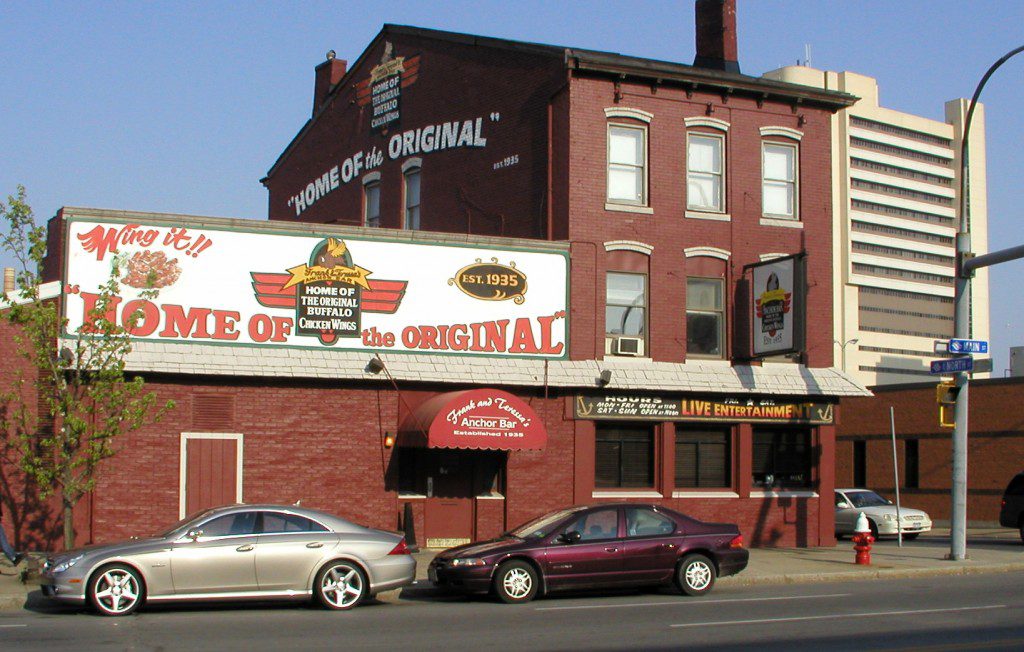 More Eats-
Brennans-4401 Transit Rd, Buffalo, NY 14221-Strip mall bar (open til 1 am) serving one Buffalo Native friends favorite rendition of the buffalo wing.
Art Space-
Amhearst, NY
Eats-
Duffs– 3651 Sheridan Drive, Amherst, NY 14226 (716) 834-6234-another contender for wing favorite.  Several locations but this is the original.
Check out Ithaca Underground for DIY shows also the Super Dark Collective does shows.
Eats-
Reids-150 Lake Ave, Lockport, NY 14094-(716) 471-0701-One yelp review sums it up…."If your (sic) in Lockport Reid's is a must-see.  Mediocre burger patties, cheap buns, mediocre hotdogs and ok French fries.  Why would I recommend it then?  Because Reid's sauce.  It makes everything mediocre taste spectacular and is a staple in Lockport, NY!"
Eats-
Bev's Dairy Treat-60 Co Rte 89, Oswego, NY 13126 (315) 343-0839-Ice Cream shop next to Rudys that also has chili dogs.
Oswego Sub Shop-106 W Bridge St, Oswego, NY 13126  (315) 343-1233-Famous for a cheeseburger sub. Also other subs such as italian cold cut subs.
Rome, NY
Regional Specialty-Turkey Joints are a bone like sweet filled with nuts and chocolate.  Available at
Utica, NY
Regional Specialty-Greens, aka Utica Greens are available at several restaurants, for instance Village Greens-Escarole, romano cheeses, prosciutto, hot cherry peppers with seasoned bread crumbs  and Georgio Greens, Escarole, romano cheeses, potatoes, salami, hot cherry peppers, with seasoned bread crumbs From Georgio's Village Cafe, 62 Genesee Street, New Hartford , NY 13413.  Utica also has a specialty pizza where the tomato is on top on the cheese, but thats just wrong.
Another Regional Specialty is Tomato Pie, a served cold pizza like object without mozzarella but usually sprinkled with Romano or Parmesean
Eats-
Chesterfield Restaurant-1713 Bleeker Street, Utica, NY 13501
Phone:(315) 732-9356-more of those greens, and a number of other inexpensive hearty rustic beans and greens type dishes like pasta and Peas as well as your italian standards
Roma Sausage & Deli- 2029 Bleecker St, Utica, NY 13501 (315) 792-1445-Italian Specialties like sandwiches but most well known for the Tomato Pie, mentioned above.
Waterloo, NY
Eats-
Macs Drive Inn-Vintage drive in with burgers and seafood with signature mini honey buns. Closed Monday.  1166 Waterloo Geneva Rd, Waterloo, NY 13165 (315) 539-3064 Seasonal for the summer.
Watkins Glen, NY
Eats-