In New Orleans, any drink in any bar can be ordered to go.  And many bars are 24 hours. You can drink anywhere, You cannot take glass on the street, but every bar offers takeout cups.  You can buy bottles of booze at the drugstores anytime.
NOLA DIY lists most of the rock and punk Shows.
The Local Alternative weekly for New Orleans is the Gambit weekly which you can access at the site Best of New Orleans.  Offbeat has a list of live music clubs around town.  Mojono.comhas a good club listing as well.  Also check live New Orleans.
Eater has a list of happy hours!  They Also have a list on where to get Yak a Mein, a noodle "hangover cure".  They also have a pretty comprehensive article on New Orleans eating.
A good quickie tour in New Orleans-
Eat chargrilled oysters at Acme, drink at Napoleon House, drink at the abbey and Aunt Tikis (never closes) , see a rock show at Siberia or Poor Boys, see some jazz on Frenchmen Street (Spotted Cat is a good free choice), 2 am beignets at Cafe Dumond, grab a takeout mufalatta or All That Jazz and dirty rice at verti marte.
First Timers to do, more on the normal tourist side:
1. Frenchmen Street at night-bunch of different bars with jazz, soul, etc.   Spotted Cat is a good one for Traditional jazz.  DBA across the street has occasional rock too.
2. Streetcar ride out to cemetaries to wander around.  While out that way you can get to Liuzzas or Katies.
3.  Must eat Beignets and coffee at Cafe Du Monde. Open 24 hours.  A hike away in dreamy City Park is another branch, though not 24/7 and cash-only
4. Must visit the Napolean house and get a pimms cup.  There is an inexpensive mufalatta version there as well as lots of cheap desserts.  Shockingly cheap for such an amazing place.
5.  Theres a fancy hotel with a fancy bar that rotates called Carousel bar.  Its near ACME oyster and Felixs.  Must drink one drink there.  Hotel Monteleone.
Please send any tips you have to Evan @ trashytravel.com
Best single food in New Orleans, Chargrilled Oysters
Best in order of Awesomeness
1. Neyows-Midcity Area-Amazing chargrilled oysters and excellent Cajun food.
2.  Acme Oyster House-French Quarter
3. Katies-Midcity area  in a residential neighborhood.
4   Dragos-they invented them.  Hotel restaurant so its big and giant and kind of charmless.  If you have a car the original is in nearby Metarie.
5. Some people will recommend Felix's., dont get the chargrilled at Felixs, get their Oysters Rockefeller instead and raw oysters if you swing that way.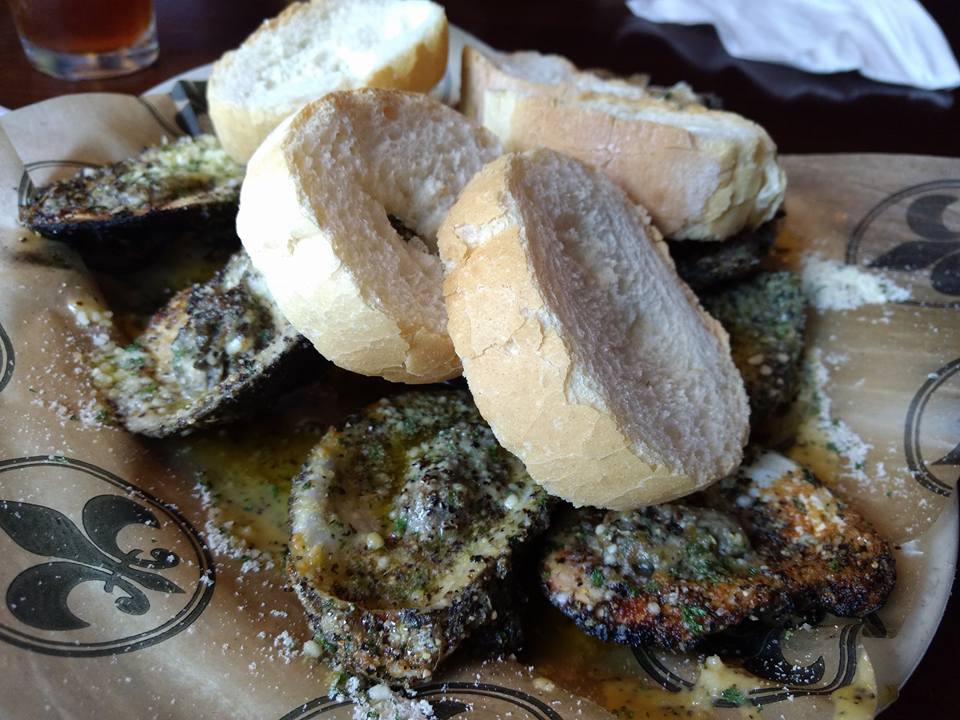 Delicious modern Southern food that is cheap at High Hat Cafe-Save room for pie.  This is a bus or cab ride away from the french quarter-4500 Freret St, New Orleans, LA 70115 (504) 754-1336 and very close to New Venue Gasa Gasa
The Muffalatta-
1. The greatest sandwich in new orleans is central grocerys Muffalatta.  They are a regular italian grocery with a few seats.  They are only sold in wholes or half loafs.  Italian cold cuts with olive salad.  They close at  five and sometimes run out.
2. Theres an upscale version at a fancy ny style place called cochon.
3 There is an ok one you can get from a safe 24 hour market in the French Quarter called Verti Marte.  Verti Marte makes amazing Po Boys too.
4. Liuzzas makes a version on garlic bread called the Frenchuletta and has lots of italian dishes.
5. Napoleon House in additions the their great cheap cocktails makes a hot muffalatta and you can order just a quarter sandwich. Get a famous Pimms cup too.
6. Mandina's Restaurant – Serves a hot muffalatta on french bread.  They also have a famous crab claw dip, crab fingers in wine sauce and great onion rings.
Famous fried Chicken at
1.Dooky Chase.  There was a branch of Dooky Chase at the airport but it appears to have closed.
2. McHardy's Chicken & Fixin'- 1458 N Broad St, New Orleans, LA 70119 (504) 949-0000
3.  McKenzie's Chicken in a Box-3839 Frenchmen St, New Orleans, LA 70122 (504) 943-8908
4. Chubbie's Fried Chicken-4850 General Meyer Ave, New Orleans, LA 70131 in the West Bank (504) 392-2377
5. Brothers Food Mart -148 Carondelet St, New Orleans, LA 70130   (504) 592-1113-Big convenience store with great fried chicken
6.  May seem weird, but Popeyes here are great!
Willie maes scotch house gets a lot of press for their chicken, but sadly Trashy Travel found it to be too oily.
Specials-
Luke is well known for a cheap oyster happy hour, now 1.00 cents each.  In a Hotel -333 St Charles Ave, New Orleans, LA 70130
Antoines is a fancy great restaurant with an inexpensive pre-fixe lunch.  713 St Louis St, New Orleans, LA 70130
Tujagues (pronounced Two-Jacks) is an old restaurant that used to have a five course pre fixe meal but now offers a la cart.   DO NOT get their chargrilled oysters.  Everything else is good though.  After a hundred plus years, they were forced for move.
Eats-
Acme Oyster House-French Quarter Location | Est. 1910, 724 Iberville Street, New Orleans, LA 70130  504.522.5973-Tourist trap legend and deservedly so.  Get the Chargrilled oysters, even if you didn't like oysters before.
504-899-3374 Open Monday thru Saturday, 11am to 10pm-Dozens of po boys including the regional favorite pot roast beef
Napoleon House Bar & Cafe -500 Chartres St , New Orleans (504) 524-9752-They make a hot muffeletta sandwich here.  Most places in New Orleans serve it cold. They also invented the Pimms Cup cocktail.   Very inexpensive
Central Grocery – New Orleans, LA, 923 Decatur St., New Orleans, LA -The famous Muffalata place.  A loaf of soft Italian bread is piled with salami, ham, and provolone,  chopped green and black olives with anchovies and garlic, then pressed flat.  Best thing ever.   All they really sell is the one sandwich.  Its premade and once they run out for the day, thats it. Open 9 to 5.  NOT 7 days during the summer/fall.
Domilise's Po-Boys – New Orleans, LA, 5240 Annunciation St. New Orleans, LA 504-899-9126 -has reopened since katrina.  In an unassuming blue collar neighborhood. you May want to phone in your order for Shrimp, oysters, and catfish, cold cuts,  Hot smoked sausage with gravy is the one we recommend above all others. "dressed," means topped with tomato, lettuce, and  Creole mustard.
Parasol's Restaurant & Bar, 2533 Constance Street, New Orleans, LA 70130 Bar Phone: 504.897.5413 504.899.2054 Parasol's Restaurant & Bar is on the corner of third and Constance Street.  Oooold building, but they make what is supposed to be an amazing Roast Beef Po boy, drenched in gravy.  Also a warm Muffalata, gumbo and fried boudoin balls, which is a regional sausage.  Great onion rings, and an "irish sundae" which is mashed potato salad with the roast beef debris (gravy). 
Neyow's Creole Café-3340 Bienville St, New Orleans, LA 70119-Amazing Creole restauant with phenomenal chargrilled oysters and great inexpensive food. HIGHLY RECOMMENDED BY TRASHYTRAVEL
Traceys – 2604 Magazine St, New Orleans, LA, 504.897.5413 -Another purveyor of Po Boys, especially the Roast Beef Po Boy
The Joint

-801 Poland Ave-New Orleans, LA 70117-(504) 949-3232-BBQ joint mixing different styles of Cooking.- alwayssmokin.com
Jaques Imos-(504) 861-0886 | 8324 Oak Street, New Orleans, LA-Famous for fried chicken.  NOT CHEAP
Company Burger-4600 Freret St, New Orleans, LA 70115 and possibly soon other locations-high on local burger lists.  Charmless space.
Teds Frostop-3100 Calhoun St, New Orleans, LA 70125-most days only open til 5, 3pm on the weekend. Old timey burger joint with a mustard based "special sauce", great root beer and onion rings and one of the best neon signs anywhere.  Remnant of an old chain.  (504) 861-3615
Mint Modern Vietnamese- 5100 Freret St, New Orleans, LA 70115 Theres great Vietnamese all over New Orleans, but this one has Kimchee burger that is highly rated.
Mimi's In the Marigny-as of 2021 moving to 2600 Chartres Street New Orleans, LA   (504) 872-9868-Very popular with locals bar with "tapas" that are pretty hearty american regional food.
Ralph's On The Park -in an 1860's house, fancy cafe with a great 2 course lunch and 3 course dinner prix fixe: 900 City Park Ave, New Orleans, LA 70119
Record Shops-
Louisiana Music Factory-504-586-1094. Louisiana Music Factory 210 Decatur Street New Orleans, in the French Quarter
Domino Sound Record Shack-2557 Bayou Rd, New Orleans, LA 70119-Cash only
Skully'z Recordz-907 Bourbon St, New Orleans, Louisiana 70116
Euclid Records-3301 Chartres St, New Orleans, LA 70117 -overwhelming selection.  Lots of 45s that they don't bother to mark and instead will "look them up" when you pick out your records so that they can overcharge you.
Jim Russell's Rare Records 1837 Magazine St., New Orleans, LA 70130 phone: (504) 522-2602
Other Stuff-
Marie Laveau House of Voodoo, 739 Bourbon St, New Orleans, LA-this is a voodoo shop.  They don't seem to have a direct link
Old New Orleans Rum Distillery-Book a tour with shuttles that leave from the French Quarter.
J & M Music shop was a recording studio operated by Cosimo Matassa at 840 N. Rampart Street, in New Orleans, Louisiana. It was the center of New Orleans recording in the late 1940, 1950s, and the early 1960s. Through the doors of the appliance store in front, and the back door, which led directly to the recording studio, walked some of the legends who laid the foundation of rock n roll music.
Live Music
The University of New Orleans Arena gets lots of national touring acts
Circle Bar-1032 Saint Charles Ave, New Orleans tel: (504) 588-2616
Funky Butt-714 North Rampart-504-558-0872
Mermaid Lounge-504-524-4747, 1100 Constance St, NOLA
THE HOWLIN' WOLF – 828 SOUTH PETERS – NEW ORLEANS, LOUISIANA – (504) 522-WOLF
Santos -1135 Decatur St · (504) 524-9822 Open until 7:00 AM-HUGE bar that has been getting some of the coolest shows lately and right near some other great bars.
Poor Boys Enterprises-Very casual start times for live music-1328 St Bernard Ave, New Orleans, LA 70116
Hi-Ho Lounge -2239 St Claude Ave, New Orleans, LA 70117 (504) 945-4446 Lots of crazy burlesque shows like the vice is right, a burlesque game show.
One Eyed Jacks ; 615 Toulouse St., New Orleans, LA 70130-Newly reopened after moving.
Toulouse Theatre– 615 Toulouse St, New Orleans, LA 70130  (504) 571-9771 -Formerly One Eyed Jacks. 
Carnaval Lounge-2227 St Claude Ave  New Orleans, LA 70117 (504) 265-8855-Formerly Siberia lounge, now has nights of various entertainment.
Bars-
Aunt Tiki's 1207 Decatur St. New Orleans LA-"punk rock" bar.  One of the cooler bars in the quarter.  Never closes
Beachbum Berry's Latitude 29– 321 N Peters St, New Orleans, LA 70130 (504) 609-3811-Tiki bar and restaurant. Nice happy hour specials-Very pretty inside.
Sazarac Bar at the Roosevelt Hotel-Fancy Schmancy joint inside a fancy schmancy hotel and inventented a famous fancy schmancy cocktail.  The hotel is really not all that much more than your average lodging so might be worth the splurge for a night.Edit
130 Roosevelt Way, New Orleans, LA 70112 *not trashy
Saturn Bar-3067 St. Claude Ave. NOLA 70117 504-949-7532. Monday Thru Saturday 5PM-Til Sunday 6PM-Til 3067 St Claude Ave  New Orleans, LA 70117 (504) 949-7532 Far far away from the French Quarter.  Its been there for years and has a great vibe and sometimes has bands.  Some say its haunted.
Lafitte's Blacksmith Shop Bar-941 Bourbon Street  New Orleans, LA 70116-(504) 593-9761 Said to be the oldest building containing a bar in the US, though the tvs kind of ruin the vibe.
The Abbey -1123 Decatur St, New Orleans, LA 70116  (504) 523-7177-Great 24 hour bar for the rock/punk crowd.
Maple Leaf Bar-8316 Oak St. New Orleans, LA (504) 866 9359 -Rebirth Brass band plays here every Tuesday
FANCIER BARS-
Cane And Table-Rum Bar, Cuban food $$$-1113 Decatur St, New Orleans, LA 70116
Carousel Bar-Hotel Monteleone-214 Royal St, New Orleans, LA 70130-fancy rotating bar on the ground floor of a luxury hotel right near Acme Oyster House where you must get the chargrilled oysters, even if you think oysters are icky.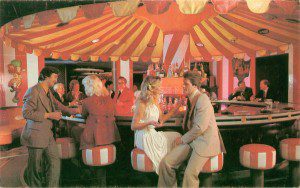 Vintage postcard of the Carousel. 
Seance Room at Muriels Jackson Square-801 Chartres Street- 504.568.1885
Museums
New Orleans Pharmacy Museum-514 Chartres St  New Orleans, LA 70130
(504) 565-8027-small inexpensive museum with some creepy things.
New Orleans Historic Voodoo Museum – 724 Dumaine St, New Orleans, LA 70116
Places to Stay-
Biscuit palace (haunted)
Lamothe House
Olivia House Hotel
Inn on St. Peter
Hotel St Marie
Balcony Guest House (Marigny)
Atkins, LA
Eats-
Middendorf's – 30160 US-51, Akers, LA 70421-Catfish specialists on a lake Est 1934
Breaux Bridge, LA
Shop-Poche's Market and Restaurant -3015 Main Hwy., Breaux Bridge, LA. 337 – 332 – 2108. Great place to buy sausage and also has a cajun buffet restaurant.
Eats-
Pat's Fisherman's Wharf Restaurant at Pat's Edgewater Inn- 1008 Henderson Levee Rd, Breaux Bridge, LA 70517
Glenda's Creole Kitchen Restaurant-soul plus homemade pralines – 3232 Louisiana 31  Breaux Bridge, LA 70517  (337) 332-0294
Le Cafe-124 Rees St, Breaux Bridge, LA 70517 (337) 332-2500-Great place for fried shrimp po boys.  Stick to those
Houma, LA
Live Music-Intracoastal Club – 8448 E Main St, Houma, LA 70363
Metarie, LA (Suburban New Orleans)
Hotel-Sleep Inn & Suites
4601 Utica Street, Metairie, LA, US, 70006 (504) 887-5337
Just a branch of a chain hotel, but super clean and a good place to stay before changing to pricier hotels in New Orleans.
Eats-
Lee's Hamburgers-3516 Veterans Memorial Blvd-AMAZING BURGER PLACE, great onion rings!
Acme Oyster House-Metarie-A fine outpost of the great chargrilled oyster purveyor in the French Quarter
Dragos Metarie-Original location of the restaurant that created Chargrilled oysters
Baton Rouge, LA
Live Music-
The Bayou-124 W Chimes St.-Baton Rouge, LA  (225) 346-1765
For beignets (despite the college students), go to Coffee Call on College, near the IHOP. (225) 925-9493  3010 College Dr, Baton Rouge, LA 70808
–Fleur de Lis, oldest pizza joint in BR. Square, sicilian-style pizza on Govt. Street-(225) 924-2904  -5655 Government St, Baton Rouge, LA 70806
–Ethel's Snack Shack; in Scotlandville, two blocks off Scenic Highway (upriver), just past the McD's. Breakfast favorite spot for SU students; cheap, tasty soul food. Delaware punch in the can & red velvet drapes. Used to sell a $3.00 plate of red beans & rice with half a dozen fried drumettes–I'm sure the price has gone up a little.
–Poor Boy Lloyd's (Riverside drive, downtown); nice fried seafood & mississippi mud pie, (225) 387-2271  -205 Florida St, Baton Rouge, LA 70801
–Riverside Patty; Third St. downtown, huge, huge hamburgers. Lunches weekdays (225) 387-5618  336 3rd St, Baton Rouge, LA 70801
Acme Oyster House-3535 Perkins Rd, Baton Rouge, LA 70808 Branch of the French Quarter fave
Parrain's Seafood -3225 Perkins Rd ,Baton Rouge, LA 70808  (225) 381-9922
Tony's Seafood (225) 357-9669-5215 Plank Rd, Baton Rouge, LA 70805-Cafeteria take out style, live catfish, decent crawfish, boudin, andouille, tasso, etc.
The Chimes-3357 Highland Road, Baton Rouge, LA (225) 383-1754- a favorite local pub
Louie's Cafe  (225) 346-8221-1058 North Blvd, Baton Rouge, LA -Diner food
Live Music-
Blue Moon Saloon And Guest House – 215 E Convent St, Lafayette, LA 70501 (337) 234-2422 Bar and Guest house.with touring bands on occasion but mostly cajun stuff.
Treats-
Borden Ice Cream -Stunning Restored landmark Ice cream parlor serving bordens. 1103 Jefferson St, Lafayette, LA 70501  (337) 235-9291
Eats-
STUFFED BREAD-Creole Lunch House-713 12th St ,Lafayette, LA 70501 (337) 232-9929 The famous stuffed bread. An old fashioned tasting thin bread dough stuffed with sausage, seasoning and a little cheese. Open for lunch only, Monday- Friday 11:00am-2pm
Olde Tyme Grocery-218 W St Mary Blvd, Lafayette, LA 70506
(337) 235-8165 despite the name, its a sit down restaurant with great po boys.
Blue Dog Cafe-1211 W Pinhook Rd, Lafayette, LA 70503  (337) 237-0005 fancier joint with creole dishes and lots of those blue dog paintings.  Crabmeat Au Grautin.  Mmm.
Record Stores
Toys Alternative Music, 133 Arnould Blvd., Lafayette, LA 70506
Lake Charles, LA
Eats-
Cotten's Famous Hamburgers -Old-school burger joint  w big onion rings.
2001 Oak Park Blvd, Lake Charles, LA 70601  Most Days 10:30AM–7:30PM
Bars-My Place ?- 630 W Prien Lake Rd # G, Lake Charles, LA 70601 Open 24 hours except for a short period on Sunday (337) 474-6447-rarely they have live music.
LaPlace, LA
Eats-
Frenier Landing -113 Dottie Ln, LaPlace, LA 70068  (985) 224-2178-Not trashy.  Pretty lakeview joint with seafood, alligator sausage.  Closed Monday
Port Barre, La.

Bourques Supermarket-581 Saizan St, Port Barre, La. 70577  (877) 426 8346-ordinary supermarket with extraordinary things, the main thing being Jalapeno Sausage Cheese Bread.  They make their own smoked sausage, cajun spice blends and more.  Worth a drive
Rayne, LA
Eats-
Chef Roy's Frog City Cafe-1131 Church Point Hwy , Rayne, LA 70578 (337) 334-7913-Fancy Cajun/Creole seafood restaurant $$$
Also in town, Hawks, only open during Crawfish season.
Shreveport, LA
Eats
Papa & Company – burgers, po' boys & seafood baskets in a formica joint: 545 E Washington St, Shreveport, LA 71104 Hours only 10:30 AM to 4 pm  (318) 869-2635
Thibodaux, LA
Eats-
Malt-N-Burger -1604 Canal Blvd, Thibodaux, LA 70301 Closed Sunday, Daily 10 am to 5 pm  (985) 227-9690-Giant retro awning drive up window burger joint.
Zachary, LA
Bars-Teddy's Juke Joint Blues Honky Tonk in East Baton Rouge Parish, Louisiana
17001 Old Scenic Hwy, Zachary, LA 70791 Phone: (225) 892-0064 cover on weekends can be up to $20