Notice anything outdated or missing?  Please email me at evan @ Trashytravel.com 
San Diego
San Diego has a great saved from destruction rollercoaster called the Giant Dipper located in Belmont Park by the beach.  There is also a rollercoaster themed dive bar nearby.
There is also a Historic Carousel in another area from 1895 in Seaport Village Open daily from 11:30 am to 4:30 PM -817 West Harbor Drive.  San Diego, CA, 92101
San Diego Punk Find some old, one of a kind venues at LA Time Machines.
Special Events-
Tiki Oasis– Annual Tiki event held in August.  At the Crown Plaza, Formerly the Hanalai. Heres an old photo I took in the 90s of the old sign.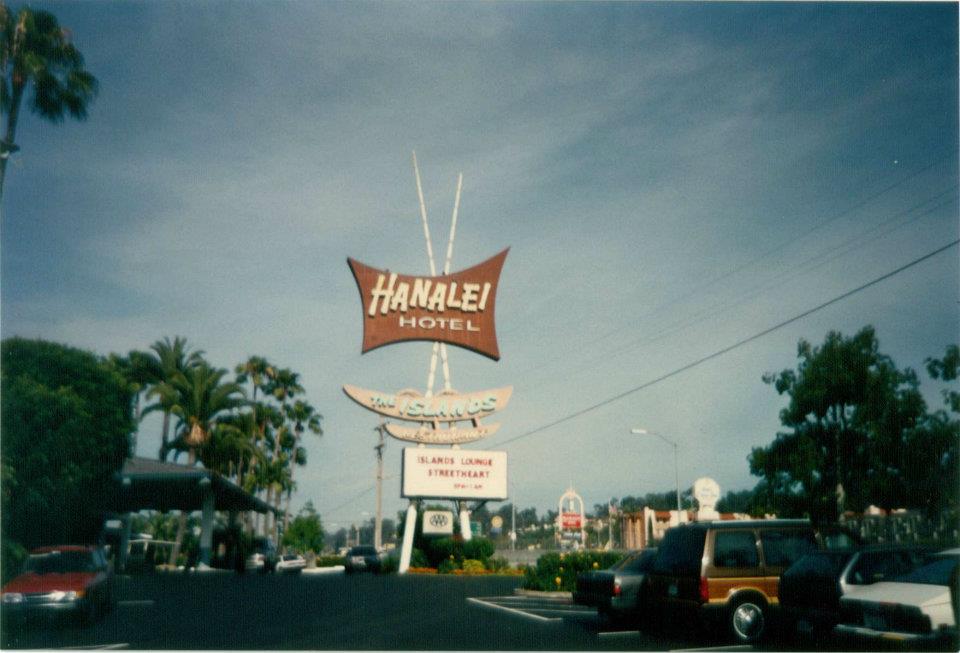 The local alt paper is the Reader. Check the site for bar coupons.  Also check out Casenet for concert listings.  Hillcrest is the bohemian area of town.  You are also very close to Tijuana, Mexico and can take a streetcar there.  A hipster tipster recommends the Gaslamp Quarter.  For food they also recommend Ole Madrid at 751 5th Avenue.
Live Music
The Tower Bar-4757 University Avenue, San Diego, CA 92105. (619) 284-0158-roadside architecture, cool music, rock, garage and rockabilly. Since 1932
Casbah-2501 Kettner Boulevard-San Diego, 619-232-4355-The best live music venue in SD.
Brick by Brick-1130 Buenos Avenue-San Diego,619-275-5483-bad location-okay booking.
Belly Up –143 S. Cedros Ave, Solana Beach, CA 92075 
Soda Bar -3615 El Cajon Boulevard, San Diego, CA 92104  619-255-7224
The Merrow-1271 University Ave, San Diego, CA 92103 (619) 299-7372
Til-Two Club– 4746 El Cajon Blvd, San Diego, CA 92115 (619) 516-4746
Whistle Stop Bar– 2236 Fern St, San Diego, CA 92104-Occasional live music
Bars-
Aero Club Bar-3365 India St, San Diego, CA 92103 daily til 2AM (619) 297-7211-cool sign, 400 whiskies.
Star Bar-432 E Street parking,619-234-5575-said to be the best bar in SD.
Live Wire-2103 El Cajon Boulevard-San Diego-619-291-7450-Punk rock country hip hop bar.
Coaster Saloon-744 Ventura Place,San Diego, CA 92109 (858) 488-4438-Food, near the beach, and a rollercoaster right next door. Perfect. 
Waterfront Bar & Grill-2044 Kettner Boulevard, San Diego, CA 92101 (619) 232-9656 San Diegos Oldest tavern
The Hideout-3519 El Cajon Blvd San Diego, CA 92104 Normal Heights-Occasional bands, and occasional Smiths vs Depeche Mode nights.
Pacific Shores Cafe-old-style, underwater-themed bar: 4927 Newport Ave, San Diego, CA 92107  (619) 223-7549 Daily til 2 am.
Tivoli Bar-505 6th Avenue, San Diego, CA 92101 (619) 232-6754 "the gaslamps oldest bar" dive bar which has a restaurant inside called Montreals serving crazy concoctions like hot dogs with cheese curds, deep fried pickles and stuff.
Bali Hai Restaurant-2230 Shelter Island Drive, San Diego, CA 92106 (619) 222-1181, a tiki restaurant that had been slowly detiki'd over the years, but is now  retiki'ed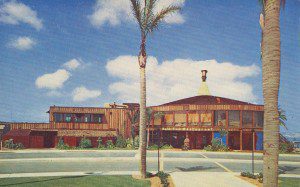 An old photo of Bali Hai on Shelter Island, San Diego
The Kensington Club Bar, 4079 Adams Avenue, San Diego, CA 92116-2505  619-284-2848 Open since 1935, unremodeled.  They have live music.
Hotels-
Crowne Plaza Hanalei-2270 Hotel Circle North   San Diego ,  California   92108  (888) 444-0401-The annual home of the Tiki Oasis convention.  Islands restaurant, lobby waterfall and more.  Not Cheap
Humphreys Half Moon Inn & Suites– 2303 Shelter Island Dr. San Diego, CA 92106  619-224-3411 Toll Free: 800-542-7400-On Shelter Island in San Diego next to the Bali Hai.  Tiki Themed resort.  They have concerts next door and have concert/hotel packages.  Unaffordable for most.
The Pearl Hotel -1410 Rosecrans Street (at Fenelon in Point Loma) San Diego, CA 92106-old mid century motel done up as a boutique hotel.  Nightlife stuff like a weekly
Dive in theater poolside movie   1-877-PEARL-SD
Catamaran Hotel-3999 Mission Boulevard, San Diego, CA 92109 (858) 488-1081-not quite so tiki hotel, but they still have a lot of tiki and they do Luaus during the summer.
The Pearl San Diego
Record Stores-
Lou's-434 North Highway 101, La Jolla
Off the Record, 3849 5th Ave., San Diego, CA 92103
Eats-
Rudford's Restaurant-1949 24 hour hour restaurant- 2900 El Cajon Blvd, San Diego, CA 92104
Cafe La Maze-1940s steakhouse with great Prime Rib- 1441 Highland Ave, National City, CA 91950
Las Cuatro Milpas-Mexican restaurant with homemade tortillas  since 1933.-1857 Logan Ave, San Diego, CA 92113
Hob Nob Hill-2271 1st Avenue,  San Diego, CA 92101 (619) 239-8176-Decades old awesomeness.  Incredible diner fare.
Taste of Thai-527 University Ave.-SD-Hillcrest, CA (619) 291-7525
Crest Cafe-425 Robinson Avenue-SD-Hillcrest, CA (619) 295-2510-best burger in town.
Red Fox Steakhouse-2200 El Cajon Boulevard-619-297-1313-steak in a piano bar.  New Location.
Turf Supper Club-1116 25th St-(between C St & B St) -San Diego, CA (619) 234-6363-cool looking olde supper club now a little divey with some crazy cheap steaks-619-234-6363 and grill your own steak!
El Indio-3695 India St. tel: (619) 299-0333 -Mexican food worthy of Eat your way across the USA.  They invented the Taquito.
Lucky's Breakfast-3804 Grim Ave between North Park Way & University Ave,San Diego, CA 92104-breakfast all day.  Cool old midcentury sign.  It used to be a chinese restaurant and they didn't change the interior
Imperial House restaurant and cocktail lounge. 505 Kalmia St San Diego, CA 92101 (619) 234-3525-Old timey "continetal" restaurant where they serve the mashed potatoes by using piping bags and serve mock turtle soup  Closed Sunday and Monday
Phils BBQ Restaurant-3750 Sports Arena Boulevard  San Diego, CA 92110 (619) 226-6333-beef ribs, tri tip, pork, el toro sammy with tri tip and sauce
Kings Inn Waffle Stop-Across the highway from The former Hanelei/Crown Plaza…classic Diner ambiance with great breakfasts-unusual as they have savory waffles with chilies as well as things like Chorizo and eggs -1333 Hotel Circle South San Diego, CA 92108 (619) 297-2231
Rickys Family Restaurant-Gigantic apple pancake, french toast, chicken fried steak and the burger which is huge and on toast instead of bun-2181 Hotel Cir S, San Diego, CA 92108 (619) 291-4498
San Diego Chicken Pie Shop-2633 El Cajon Blvd (between Hamilton St & Oregon St) 
San Diego, CA 92104 Incredly cheap and not just pies.  Daily dinner specials too like meatloaf or chicken livers-since 1938!
The Marble Room-Gaslamp District steak and cocktails restaurant is 1890s bordello with red velvet booths and waitresses in corsets and stockings. 535 Fifth Avenue,
Hash House A Go Go-3628 Fifth Ave-San Diego, CA 92103 (619) 298-4646-honestly this place is not for me, trashy travel, because they futz around too much with stuff.  Polenta Croutons?  13 buck scrambles?  I dunno.  Its here coz some folks like this stuff, but for me I'll go somewhere else and get a 5 dollar chorizo and eggs which they have lots of places around town.
Hodad's-5010 Newport Avenue, San Diego, CA (619) 224-4623-mini chain with huge tasty burgers including the pastrami topped ones
La Fachada-20 25th St, San Diego, CA – (619) 236-8566 top pick from Roadfood on carnitas tacos in San Diego
D.Z. Akin's -6930 Alvarado Road  San Diego, CA 92120 (619) 265-0218 Old School Jewish Deli
Canada Burger-3604 University Ave (between 36th St & Cherokee Ave)
San Diego, CA 92104 619.283.4345-Char broiled burgers and lots of greek influence.  Nothing Canadian about it but a good old timey hand painted sign
Donovan's Gaslamp Steakhouse-570 K St, San Diego, CA 92101 (619) 237-9700 Classic steakhouse with a happy hour that features free cheese steaks and burritos. Call to check first.
Trader Mort's Liquor & Deli-2904 Shelter Island Drive, San Diego, CA (619) 224-3771 Not much more than a liquor store with beef jerky,its on the tiki'd out shelter island and the building is cool tiki
San Diego Automotive Museum-Balboa Park-2080 Pan American Plaza-San Diego, CA 92101 (619) 231-2886-Car museum with exhibits like a steampunk one.  
Hotels-
Check the visitors bureau site for San Diego discount hotels.
Coronado Island, CA (across the Bay from San Diego)
Hotel del Coronado-The complete opposite of trashy, this 1888 hotel was featured in the movie the Stuntman as well as many other films and tv shows.  Its a rare all wooden hotel.  And it ain't cheap.  They do have a AAA rate that bring it from OMG to just painful.  Theres a pricey 80 dollar brunch thats in the amazing Crown Room.  Might be worth the mortage to visit at least for dinner.  I'm pretty sure you wouldn't be able to go in tee shirt and jeans.  One of the restaurants, the Shearwater,  actually has smoked pork, turkey and brisket albeit for 20 bucks for lunch.
Coronado History Museum website.
Eats-
Clayton's Coffee Shop- 979 Orange Ave, Coronado, CA 92118-Classic Coffee Shop
Encinitas, CA
Record Store-
LOU'S RECORDS
434 N. Coast Hwy 101
Encinitas, CA 92024
In nearby Escondido needs no explanation.It is on par with something you'd expect to find in the desert just outside Las Vegas.
Are you approaching Escondido? 
Can you finish the following line: "Mairsy doats and doasy oates and _______"?
If you answered "yes" to the five questions above, then the Lawrence Welk Museum will be a fun pit stop on your way to somewhere else.
Reviews say it is just a collection outside the theater in the Welk Resort
(between 7th St & 8th St) Ramona, CA 92065 (760) 788-3700
Bar–Molly Malones-Bands weekly-1270 Main Street  Ramona, CA 92065
(760) 789-9050 http://mollymalones.org/bands.php
Eats-Ramona Cafe-628 Main Street Ramona, CA 92605
http://www.ramonacafe.com
was on diners drive ins and dives-Giant Cinnamon roll was featured.  Mean yelp reviews, but hey, just get a big cinnamon roll if you are scared.