This Page Contains Information on San Francisco, Gilroy, Napa Valley, Links to 
Santa Cruz
 and other Northern California Cities.
Click Here For Los Angeles, San Diego and other Southern California Cities.  San Diego has a new page.
San Francisco, CA
When heading for SF, bring a jacket.  Even in summertime, the weather will bring plenty of suprises.  There is an old quote "the coldest winter I ever spent was the summer in San Francisco".
Punk Rock Show List-The List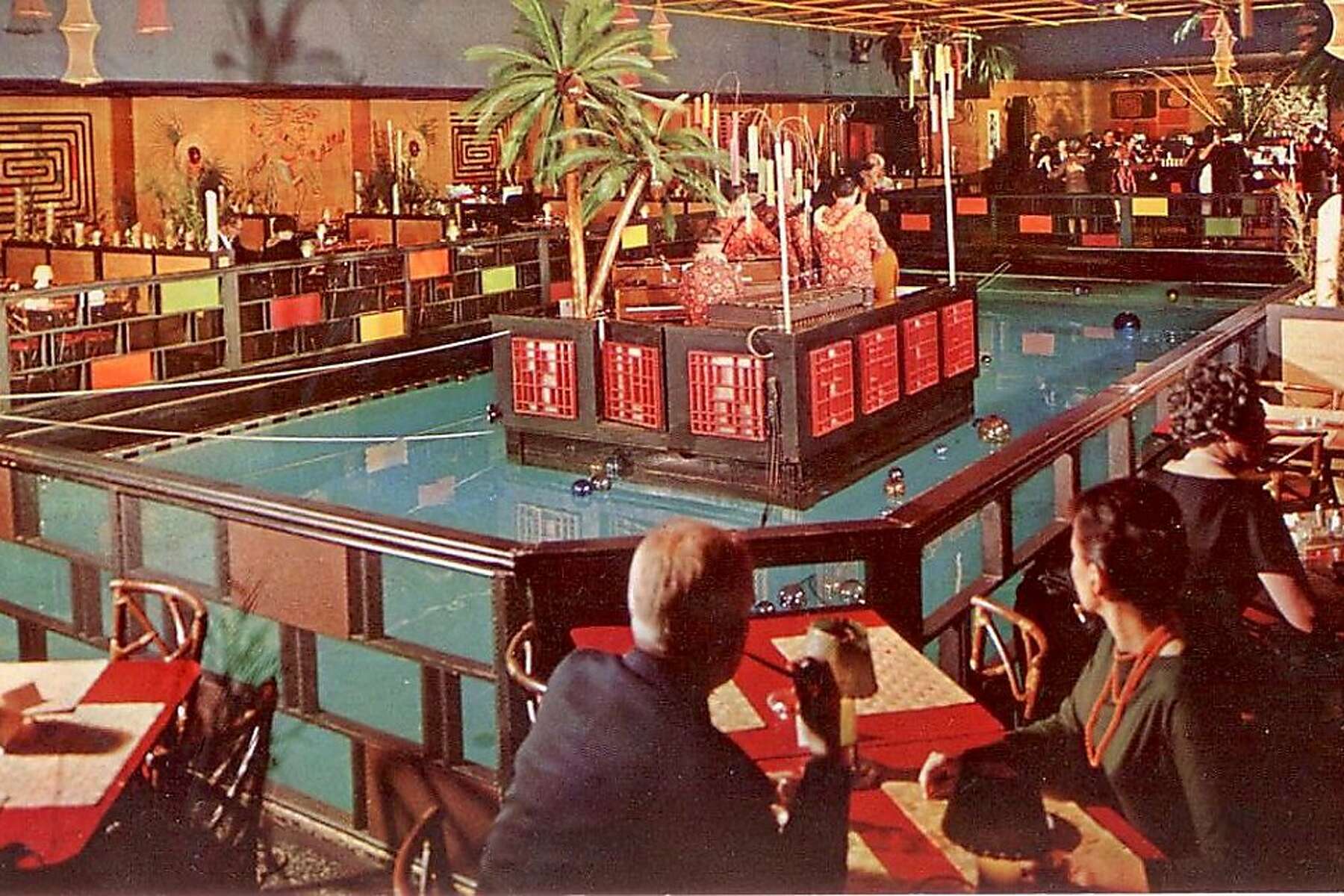 The Tonga Room at the Fairmont Hotel.
There is one must see tourist destination.  Head to the Tonga Room at the Fairmont Hotel on California Street for Happy Hour.  You have to enter through this incredibly plush hotel and you wind up in a giant tiki room with a pool in the middle of it.  In the pool is a boat that is sometimes filled with musicians.  Twice an hour there is fake lightning, and it starts to rain in the pool!  Its quite a sight.  Why go for happy hour?  Why, half price drinks, of course.  And they have a buffet of all you can eat appetizers for a nominal price.  They used to serve their fruity coctails in amazing carved glasses, but theft put a stop to that.  It is still worth checking out though.
Other Tiki-
Pagan Idol – 375 Bush St, San Francisco, CA 94104   (415) 985-6375-Huge tiki bar with live exotica bands.  Close to Tadich Grill, an amazing old seafood restaurant .
Smuggler's Cove-650 Gough Street-San Francisco, CA 94102 Tiki Bar of note.
Bamboo Hut-479 Broadway St, San Francisco, CA 94133 (415) 989-8555
Trader Vic's-, 9 Anchor Dr, Emeryville, CA 94608 This place invented Tiki and the Mai Tai.
Trad'r Sam- 6150 Geary Blvd, San Francisco, CA 94121  (415) 221-0773-Very far from the others this bar is minimal tiki and most of their drinks are very sweet.
Almost Tiki-Li Po Cocktail Lounge -old Chinatown bar with signature Chinese mai tais.916 Grant Ave, San Francisco, CA (415) 982-0072.

Non Tiki-The Buena Vista -1916 corner spot famous for Irish Coffee: 2765 Hyde St, San Francisco, CA 94109 til 2AM   (415) 474-5044
Whitechapel -Gin-focused  lounge with  in  Victorian-themed rooms: 600 Polk St, San Francisco, CA 94102   (415) 292-5800
Stookey's Club Moderne-895 Bush St, San Francisco, CA 94108 retro style cocktail bar in the Union Square Area.
Brewery Tour-
Anchor Brewing Company-1705 Mariposa St, San Francisco, CA 94107 Open 10:30AM–7PM (415) 863-8350-Tours NOT FREE twice or thrice daily, with tastings. $20-25 dollars.
Heres the party to go to:  Popscene .  One of the best sources for info on dance clubs in San Francisco comes from the SF Raves List.
The Weekly Alternative paper is the SF Weekly. and The Guardian. The south bay has the Metro.  Also check out Bay area Nightlife.
Also try THE LIST, Squidlist, The Station, Flavorpill, the gate and more.  Also try Fudcourt for great eating tips.  Virtuous tix.
Museum-
De Young Museum , a fine arts museum in Golden Gate Park.  Great design and tiki elements too: 50 Hagiwara Tea Garden Dr, San Francisco, CA 94118  (415) 750-3600  Free first Tuesday of the Month.
Galleries-
Keane Eyes Gallery – 3040 Larkin St, San Francisco, CA 94109  (415) 922-9309-Famous for the "big eye" Paintings.  The Artist passed away in 2022
Hashimoto Contemporary: 804 Sutter St, San Francisco, CA 94109 (415) 655-9265
John Berggruen Gallery-10 Hawthorne St, San Francisco, CA 94105  (415) 781-4629
The Exploratorium is a hands on Science Museum. Pier 15, The Embarcadero & Green St., San Francisco, CA 94111 Discounted and open late Thursday nights.  Theres a crawl thru all dark portion.  Yuck.
The Gregangelo Museum 225 San Leandro Way, San Francisco, CA 94127  (415) 664-0095
"Moderately" Priced SF Hotels from an old issue of the NY Times Travel Section: old old old
Pickwick-85 Fifth Street (415-421-7500)-near Union Square.
Stanyan Park Hotel-750 Stanyon Street (415-751-1000)-Doubles from $175 on the edge of Haight-Ashbury and its Gap store.
King George Hotel, 334 Mason Street, (800) 288-6005, A tearoom offers the usual treats, from crumpets to Devonshire cream. Doubles from $189
New listings from 2016-Hotel Triton -342 Grant Ave, San Francisco, CA, 94108 United States, 866-229-1260
The Marker(formerly Hotel Monaco) 501 Geary St, San Francisco, CA 94102 (415) 292-0100
Golden Gate Hotel-775 Bush St, San Francisco, California 94108  (415) 392-3702
Phoenix Hotel, 601 Eddy St  San Francisco, CA 94109 (415) 776-1380 Funky and Rock 'N Roll Hotel with a club called slims.  Renovated motor lodge style
Sam Wong Hotel-615 Broadway (415-362-2999)- from $179
The Best Band Club in the city is the Bottom of the Hill.
Other live music-
The Knockout-Wide variety of shows from Japanese punk rock to rockabilly to Indie 3223 Mission Street, San Francisco, CA 94110
Bimbo's 365 Club-1025 Columbus Avenue (at Chestnut Street),San Francisco, CA-big shows!
DNA LOUNGE-375 Eleventh Street-lots of different parties and shows
The Fillmore-1805 Geary, at fillmore-big show, ticketmaster big.  Also check shows at the warfield.
Slim's 333 11th St. (415) 522-0333
Great American Music Hall-859 O'Farrell Street San Francisco, Band like Cat Power and Peter Murphy play here.
Hemlock Tavern-1131 Polk Street @ Post (415) 923-0923
The Independent-628 Divisadero at Hayes, SF
Rickshaw Stop-155 Fell St, San Francisco, CA 94102 (415) 861-2011, venue with mod events like Bardot a Go Go
Thee Parkside-1600 17th St, San Francisco, CA 94107 (415) 252-1330-Live music. 
Elbo Room-647 Valencia St, San Francisco, CA 94110 (415) 552-7788-Soul parties and more.
Brick & Mortar-1710 Mission St, San Francisco, CA 94103 (415) 800-8782
Club Deluxe-1511 Haight St, San Francisco, CA 94117 (415) 552-6949 Pizza and Jazz?
Milk Bar-1840 Haight St, San Francisco, CA 94117  (415) 387-6455
Attraction-The Musee Mechanique has a huge selection of antique arcade games you can play. Pier 45 Shed A at the end of Taylor Street, Fisherman's Wharf The Mission District is the trendy area of town.
On  Saturday (8 am to 2 pm) and Tuesday and Thursday (10 am to 2 pm), you can head to the Ferry Plaza Farmers Market on Front and Green Streets in the Embarcadero area. Its an upscale market with stalls offering homemade honeys,  breads, meats and  vegetables, and a lot of prepared foods and an outdoor food court.  Its a good way to sample lots of different local food in one outing.
The following are recommendations from a local friend of mine:
North Beach neighborhood:
Vesuvios -semi divey bar that was a hangout for the Beats.  Cool vibe, singles scene, fairly cheap booze.
Across the street are two bars…Tosca's-a very cool little bar that has the
feel of a semi-divey (again) cafe in Italy without the food.  Known for
their Irish coffee, bartenders that still wear white jackets, a hangout of
Coppola (he supposedly wrote a good part of the Godfather in the back room), they only have operas on the antique juke box.  Supposedly Bono was so enamored of it he called his bar in Dublin Toscas.
Next to that is one of my faves- Spec's.  The quintessential dive bar.  On
any night you could be sitting next to a wino and a guy in a Thurston Howell III sailing outfit.
More clubs-
Make Out Room -3225 22nd Street & Mission San Francisco, California 94110. OPEN 6pm – 2am daily (415) 647-2888
The Independent-628 Divisadero St-San Francisco (415) 440-0409- Live Music Club
Cafe DuNord-2170 MARKET STREEt, (415) 861-5016-restaurant with awesome live shows.
The Chapel-Converted ex-chapel live music club- 777 Valencia St, San Francisco, CA 94110 (415) 551-5157
Record Stores
Amoeba is probably the largest alternative/indie record store around, though Rasputin Records, also in SF run a close second.
Amoeba Records-185 Haight Street and 2455 Telegraph Avenue
Stranded Records (formerly Aquarius, 1055 Valencia St., San Francisco, CA 94110
Mod Lang, moved to El Cerrito, CA, they specialize in UK/Euro imports and indies, classic and rare re-issues, U.S. indies & modern rock. 6328 Fairmount Ave, El Cerrito, CA 94530
Streetlight Records, 2350 Market St, San Francisco, CA 94114
Vintage Stores
-Retro Fit Vintage- 910 Valencia St, San Francisco, CA 94110 (415) 550-1530
VAMP vintage • art • music for the people, 331 19th St, Oakland, California 94612 Occasional instores too.
Must See!-Scharffen Berger Chocolate Maker is located at 914 Heinz Ave, on the corner of Heinz and 7th St in Berkeley.  They make the best chocolate in the USA.
Movies-sort of-
Werepad -2430 Third Street-San Francisco-(415) 824-7334-Hip, Alternative Film Hangout space.
Here is someone else's travel guide to San Francisco for the "goth-geek-freak-hipster-nerd" and here is another list of record stores.  Also here is a great list of compiled music performances, as well as a list for jazz and other improvised music.
Food-
Checked 2017-
4505 Burgers & BBQ-705 Divisadero St, San Francisco, CA 94117 til 10 pm. Supposed to have great burgers, though the BBQ looks legit.  Also the Frankaroni, fried mac and cheese stuffed with hot dogs.
Causwells -2346 Chestnut St, San Francisco, CA 94123-16 dollar in n out style burger on many best of lists.
Citrus Club-1790 Haight Street, San Francisco, CA  415 387 6366-Recommended by Ursula 1000 who says "The Garlic Edamame is to die for!" Its a noodle restaurant.
Mamas-1701 Stockton St., San Francisco, CA 415-362-6421-Best Breakfast spot
Liguria Bakery-1700 Stockton St., San Francisco, 415-421-3786-Nothing but Foccaccia, and when that runs out, they close for the day.
Grubstake-1525 Pine, SF-Portugeuse food in an old trolley car. Regular diner food too
Happy Donut-100 Bush St #101, San Francisco, CA 94104 415-285-5890-Get a cream filled chocolate bar.
Tadich Grill -240 California St San Francisco CA 94111-160 year old restaurant with classics fare and mind blowing crabcakes.
House of Prime Rib 1906 Van Ness Ave., San Francisco, CA 94109.  Another out of time restaurant, this one has been serving it up for 60 years or so.  Classic prime rib, creamed spinach and horseradish sauce.
That's It – 2699 Mission Street at 23rd Street. Open really late. 415) 285-9833.  In the back of a liquor store, lunch counter with crazy combo concoctions.  Anthony Bourdain ate here on an episode of No reservations.  The Cubana is pickled jalapeno, grilled onion, tomato, avocado slices, lettuce, two fried eggs, bacon, mayo, queso, sliced ham & chicken, Mexican chorizo, shredded chicken and pork, refried beans, and cubed ham, but the quesodillas and tostadas.
Old Mandarin Islamic Restaurant-Northern Chinese food including Beijing-style hot pots.
Address: 3132 Vicente St, San Francisco, CA 94116 11:30AM–9:30PM (415) 564-3481
Red's Java House-Pier 30, San Francisco, CA 94105,  (415) 777-5626-not a coffee house, famous for corned beef hash and griddles burgers on non tradional rolls, chili cheese fries.  Used to serve the longshoreman and another out of time place.
Sam's-Tiny hole in the wall formica joint with great burgers and dogs and some other stuff, but get the burger.618 Broadway, San Francisco, CA 94133 (415) 391-1539.
Trick Dog -3010 20th St, San Francisco, CA 94110  (415) 471-2999-known for a hot dog shaped burger.
Super Duper Burger-98 Mission St, San Francisco, CA (415) 974-1200 Local Chain with super burgers.  Must get garlic fries, a local specialty.
Silver Crest Donut Shop-340 Bayshore Blvd, San Francisco, CA 94124 (415) 826-0753 Open 24 hours.  Breakfast all day.
Swan Oyster Depot -1517 Polk St, San Francisco, CA 94109-Cheap market style eat in or take out seafood choice. Wasabi dipping sauce recommended for Crab dipping. Huge line. Recommended to get there at 10:30.  
Zeitgeist -199 Valencia St, San Francisco, CA 94103-Dive bar with picnic tables, great burgers and good bloody marys. Cash only
Taquerias-up for debate as to which is the best.
Taqueria San Francisco-2794 24th St, San Francisco, CA 94110-since 1990
Taqueria El Farolito-2779 Mission St, San Francisco, California 94110
Taqueria Cancun-2288 Mission St, San Francisco, California 94110

Whiz Burgers Drive-In -Old-school, walk-up counter – 700 S Van Ness Ave, San Francisco, CA 94110 (415) 824-5888

Bars-
Beauty Bar SF- 2299 Mission St, San Francisco, CA 94110: (415) 285-0323 SOUL NIGHTS WEDNESDAY, OTHERWISE HIP HOP AFTER 10 ALL OTHER NIGHTS.  Rock and roll during happy hours til 10.  NO MANICURES.
Casanova Lounge-Mission District neighborhood bar with DJs and a unique jukebox. 527 Valencia St, San Francisco, CA 94110 (415) 863-9328
Molotov's -punk rock dive bar with pinball machines in the Haight: 582 Haight St, San Francisco, CA 94117
The Royal Cuckoo- dark bar with church pew seating & vinyl played adn sometimes a hammond organ. 3202 Mission St, San Francisco, CA 94110 (415) 550-8667
Berkeley, CA
Eats-
Smokehouse -Charbroiled burgers, hot dogs & milkshakes window with benches 3115 Telegraph Ave, Berkeley, CA 94705 (510) 845-3640 most days 10:30AM–1:20AM
Spenger's Fresh Fish Grotto- 1890s, restaurant now owned by the McCormick & Schmick's chain-1919 4th St, Berkeley, CA 94710 (510) 845-7771
Venues-
924 Gilman Arts Space-924 Gilman Street, Berkeley, CA 94710.
Oakland, CA
Clubs-
The Night Light-311 Broadway, Oakland, CA 94607(510) 282-1413 "neighborhood bar downstairs, Intimate venue upstairs"
Bars-
Conga Lounge -5422 College Ave., Oakland, California; Tel. 510.463.2681 ,  kitschy lounge music, 50's decor, old movies and great island cocktails, upstairs from Pizza Rustico cafe
Starline Social Club-ground-floor bar & lounge plus an upstairs ballroom: 2236 M.L.K. Jr Way, Oakland, CA 94612 (510) 593-2109
Eats-
Fentons-4226 Piedmont Ave., Oakland, CA 94611-Ice cream parlor/cafe.  A banana split is made with 3 lbs of ice cream
Everett & Jones Barbeque, Jack London Square , 126 Broadway (between 2nd St & W Embarcadero) Oakland, CA 94607-REAL BBQ with down home sides to die for
Side Trips from San Francisco-
Santa Cruz is a short drive away.  See Feature Link Below.
One hour north of San Francisco in the town of Freemont is the Jelly Belly Factory, where you can take a tour.
45 minutes south of San Francisco is the Burlingame Museum of Pez Memorabilia, 214 California Drive, Burlingame, CA(650) 347-2301 Closed sunday and monday. free. To get there, take Interstate 80 through San Francisco, taking Highway 101 toward San Jose. Exit at the Burlingame/Broadway offramp and veer to the right. Cross the railroad tracks and turn left onto California Drive. Easy day trips to Sausalito, Point Reyes National Seashore with its famous lighthouse, Marin Headlands or walk amongst giant redwoods in Muir Woods.  Only Problem, mostly not trashy enough.
Gilroy, CA is 45 miles SW of San Francisco and they hold the Gilroy Garlic Festival the last full weekend of July.  See Feature Below.
45 minutes north of San Francisco is Six Flags Marine World, 2001 Marine World Parkway, Vallejo, CA  707-643-6722.  Its a small but rather typical Six Flags Park

Hanging at the Santa Cruz Beach Boardwalk Santa Clara, CA
Cambria, CA
Attraction-
Nit Wit Ridge-881 Hillcrest Dr, Cambria, CA 93428 (805) 927-2690-offbeat home that offers tours and is known as "the poor mans Hearst Castle"
Chalome, CA
James Dean Crash Site-The death of Hollywood actor James Dean occurred on September 30, 1955, near Cholame, California. Dean had previously competed in several auto racing events, and was traveling to a sports car racing competition when his car crashed at the junction of California State Route 46 (former 466) and California State Route 41.  There is a marker about a mile down the road.
Klamath, CA
Attraction-
Trees of Mystery-15500 US-101, Klamath, CA 95548-Redwoods and other trees in formations with a giant Paul Bunyon and Babe out front.
Palo Alto, CA
Hotel-Dinah's Garden Hotel -4261 El Camino Real, Palo Alto, CA 94306San Jose, CA-Funky Cool Hotel.
The Winchester Mystery house is here in San Jose.  One of the wackier tourists attractions.
Eats-
Neto Sausage Company-3499 The Alameda, Santa Clara, CA 95050 phone # (408) 296-0818-Every friday this sausage company has a bbq where you can sample their Linquica and other sausages. It is near San Francisco.
Peninsula Fountain Grill-566 Emerson St, Palo Alto, CA 94301-Classic soda fountain
Gotts Roadside-855 El Camino Real #65, Palo Alto, CA 94301-Little fancy for Punk Rock Travel but decent burger joint with mexican corn and other California foods.
Falafel Drive In  2301 Stevens Creek Blvd., San Jose, CA  (408)294-7886-old fashioned drive in restaurant for falafel.  Only in Ca.
Huong Lan Sandwich, 1655 Tully Rd , San Jose, CA 95122 , (408) 258-8868, chain of banh mi sandwich places.  A banh mi is a vietnamese sandwich served on french bread with either cold cuts and pate, pork, chicken or anything else you want but its topped with mayo, cilanto, marinated carrots in a vietnamese sauce, cucumber and jalapenos.  Delicious.
Super Duper Burgers-Westfield Valley Fair, 2855 Stevens Creek Boulevard #2465, San Jose, CA 95128 (408) 985-1352 local chain with great burgers.
Henry's Hi-Life-301 West Saint John Street  San Jose, CA 95110 (408) 295-5414-Ribs and steaks cooked over an open pit
Amusement Park-
Great America-2401 Agnew Road, Santa Clara, CA  (408) 988-1776-Big amusement park with lots of coasters.  Its in the dessert and gets really hot in mid summer.
Bars/clubs-
Branham Lounge=1116 Branham Lane, San Jose, CA   (408) 265-5525-Dive bar is hardware store parking lot.  Wierd but good. Time warp.
Hedley Club, 233 W Santa Clara Street, San Jose, CA  408.286.1000, Hotel Bar said to be the most elegant club in San Jose. Designed like a 30s nightclub
Johnny V's-31 E Santa Clara St, San Jose, California (408) 834-3905 Occasional punk rock and decent shows.
The Blank Club-44 S Almaden Avenue, San Jose, CA   408.295.7374-This place would make a New Yorker feel at homne. Great Live Punk and more.
The Ritz – 400 S 1st St, San Jose, CA 95113 most days til 2AM
The worlds largest flea market is in San Jose, Open Wednesday to Sunday,   1590 Berryessa Rd., San Jose, Ca 95133 – 408-453-1110, 800-Big-Flea
Alameda, CA (Bay area)
Tiki Bar-
Attractions-Pacific Pinball Museum -showcases the history of pinball machines since 1879. 1510 Webster St, Alameda, CA 94501 til 9PM (510) 769-1349
Nepenthe
Complex of Buildings designed by a student of Frank Lyoyd Wright.  Fancy and less fancy choices.  Cool View.
48510 California 1, Big Sur, CA – (831) 667-2345
www.nepenthebigsur.com
Deetjen's Big Sur Inn-on the other end of the spectrum from Nepenthe, this inn has no cell service, no tv, no phone. Inn and Restaurant
48865 Highway 1, Big Sur, California (CA) 93920
Telephone: 831-667-2377  http://www.deetjens.com
 Richmond, CA
Hotel Mac Hotel and Restaurant- 1911 hotel with $180+ rooms and a fancy diner like restaurant with great onion rings and inexpensive specials just north of Berkeley , 50 Washington Ave, Richmond, CA 94801 (510) 233-0576
Santa Cruz
Click here for my feature on SANTA CRUZ, the home of the Santa Cruz Beach Boardwalk.  Great seaside amusement park.
Santa Rosa, CA
Home of Guy Fieris Johnny Garlic Restaurant, though he is no longer involved.
Museum-Charles M. Schulz Museum and Research Center -museum dedicated to the works of Charles M. Schulz, creator of the Peanuts comic strip.: 2301 Hardies Ln, Santa Rosa, CA 95403 Daily 10AM–5PM, Tuesday Closed  (707) 579-4452
Eats-
Hank's Creekside-2800 4th Street, Santa Rosa, CA 95405-Cheap Burgers, Homemade Chili though almost only known for breakfasts.
Willie Bird's Restaurant -1150 Santa Rosa Ave , Santa Rosa, CA  707-542-0861 -Year round Turkey dinners and other turkey dishes
Venue-
Arlene Francis Center for Spirit, Art, and Politics -99 6th St, Santa Rosa, CA 95401
(707) 528-3009
Vallejo, CA
Amusement Park-
Six Flags Marine World-2001 Marine World Parkway, Vallejo, CA (707) 643-6722-Park with about 6 coasters.
Eats
Marin Joe's-1585 Casa Buena Dr, Corte Madera, California 94925 (415) 924-2081-open since 1954, great architecture and steaks, caesar salads, cheeseburgers, more.  The sort of Joint you want to get a martini at.
Napa Valley-
Eats-Taylors Refresher-933 Main St  St Helena, CA (707) 963-3486 Carry out only with amazing burgers. 
Gilroy, CA Gilroy is said to be the only place where you can marinate a steak by hanging it on a clothesline, since 90 percent of garlic in the USA is grown here.  They celebrate the last full weekend each July with the Gilroy Garlic Festival-3 days of eating and playing, all focusing on Garlic.  They even have a garlic themed tilt a whirl.
Amusement Park
Gilroy Gardens, 3050 Hecker Pass Highway, Gilroy, CA 408 840-7100-New park with a pair of rollercoasters-best amusement park food, fried artichokes.
Buellton, CA
Andersen's Pea Soup(Pea Soup Andersons) 376 Avenue of the Flags
Buellton, California 93427, (805) 688-5581-specializing in a bottomless bowl of vegetarian split pea soup, which you can "soup up" with bacon and other add ons.
Castroville, CA
Home of the giant artichoke.
Central Texan Pit BBQ   10500 Merritt St. Castroville, 831-633-2285.  Old fashioned bbq.
Dunsmuir, CA
Eats-
Burger Barn ?- 5942 Dunsmuir Ave, Dunsmuir, CA 96025 (530) 235-2902 most days 11AM–7PM  good looking onion rings.
Hayward, CA
Eats
Casper's Hot Dogs Hayward– 951 C St, Hayward, CA 94541  (510) 537-7300-bummer its a chain now but this is an awesome hot dog place in a great vintage building.  Since 1934. Skip the chili as it has beans but get the tamale.
Val's Burgers- burgers & shakes with a great sign.-2115 Kelly St, Hayward, CA 94541
(510) 889-8257 Closed Sundays at least during the winter.
Aggie's Hamburgers & Hot Dogs-19600 Hesperian Blvd, Hayward, CA 94541-Old burger joint.  Closed Tuesdays
1/4 Giant Burger-24134 Mission Blvd, Hayward, CA 94544-Another classic burger joint with a great sign.
Monterey, CA
The local alternative paper for Monterey is the Coast Weekly.
Venues-
Golden State Theatre – 1926 Theater. 417 Alvarado St, Monterey, CA 93940
Eats-
Hula's-622 Lighthouse Ave  Monterey, CA (831) 655-4852(hula)-Tiki Bar/restaurant with only beer/wine license.  Kitchy Decor.
Tarpys Road House– 2999 Salinas Highway Ste 1. Monterey, CA (831)647-1444-a favorite on chowhound.
Compagno's Market & Deli-2000 Prescott Ave, Monterey, CA 93940
Record Store-
Recycled Records-604 Lighthouse Ave, Monterey, CA 93940
Napa, CA
Eats-
Foster's Freeze-1195 W Imola Ave, Napa, CA 94559-Branch of Local Chain similar to DQ but with much more retro flair.
Pacifica, CA  (greater SF)
Eats-Nicks-Seafood restaurant & bar offering a signature crab sandwich and garlic bread & live music on weekends. 100 Rockaway Beach Avenue, Pacifica, CA 94044 (650) 359-3900
Hotels
Pacifica Beach Hotel-525 Crespi Drive, Pacifica, CA 94044
(650) 355-9999-Stylisticly similar to other much older famous California Hotels, every room has a fireplace and jacuzzi
Venues-
Winters Tavern-dive bar with live bands-1522 Francisco Blvd, Pacifica, CA 94044
most days 12PM–2AM: (650) 355-6162
Pittsburg, CA
Eats-
Little J's Pittsburg-3350 Loveridge Rd, Pittsburg, CA 94565-Small burger joint near a 7-11
Sacramento, CA
Seems like most cool parties are hosted by the people who bring you the Lipstick Tuesday and F**K fridays parties
Live Music-
Cafe Colonial-585-seat community theater with music, live shows & cult films: 3520 Stockton Blvd, Sacramento, CA 95820  (916) 718-7055
Old Ironsides-1901 TENTH ST at S, SACRAMENTO,CA 95814 (916) 443-9751 (club)
(916) 442-8832 (upcoming shows)-Every tuesday hosts the lipstickindie/britpop party
Blue Lamp -1400 Alhambra Blvd, Sacramento, CA 95816  most nights til 2AM
President's Day might affect these hours  (916) 455-3400
Press Club – 2030 P St, Sacramento, CA 95811  (916) 444-7914
TownHouse Lounge-Midtown Sacramento. 1517 21st Street  Sacramento, CA 95814
 (916) 837-3374-Live music club with elements of midcentury and a cool sign
Eats-
Arthur Henry's Supper Club & Ruby Room ?-Speakeasy-style steakhouse & lounge,  Live music too and bar is casual.  Nude paintings similar to the former Albies in San Diego : 3406 Broadway, Sacramento, CA 95817 (916) 737-5110
Jimboys is a chain of tex mex restaurants that has great tacos.
You should also stop at a Merlinos and have an orange freeze.
The Squeeze Inn is a tiny 12 seat restaurant that makes 1/3 lb Burgers with probably the same amount of cheese.  The cheese oozes off the burger and gets fried on the grill, leaving you with essentially a burger covered with a fried cheese frisbee.  Gigantic!  7916 Fruitridge Road , Sacramento,CA
Willie J's Burgers & More-2010 Club Center Dr, Ste 100, Sacramento, CA 95835-Burgers in a charmless strip mall.
Jim-Denny's-Breakfast and Lunch since 1934. in danger in January 2020- 816 12th St, Sacramento, CA 95814  (916) 410-5471
Village Drive-In-3810 60th St, Sacramento, CA 95820-Lean to Burger joint with nearby screened in eating tables.
Samoa, CA
Eats-
Samoa Cookhouse-Historic restaurant serving one dish per day only like Smothered Porkchops, ETC.  They post the weeks menu on Facebook.-908 Vance Ave, Samoa, CA 95564-Closed Monday and Tuesday
San Juan Bautista, CA
Eats-
Daisy's Saloon & Liquor- 213 Third St, San Juan Bautista, CA 95045-biker bar locals spot with Hot Dogs and more
San Lorenzo, CA
Eats-
Sam's 1-4 Lb Burgers -18401 Hesperian Blvd, San Lorenzo, CA 94580 (510) 278-6339 Cool building. Most days 2PM–2:30AM
San Luis Obispo, CA
Hotel-
Madonna Inn and Gold Rush Steakhouse– 100 Madonna Rd, San Luis Obispo, CA 93405 (805) 543-3000-Tacky over the top awesome not cheap hotel where every room is different and some rooms have cave walls.
San Simeon, CA
Attraction-
Hearst Castle – 750 Hearst Castle Rd, San Simeon, CA 93452-Amazing Home of William Randolf Hearst.  Not trashy.
Santa Ana, CA
Venues-Constellation Room -3503 S Harbor Blvd, Santa Ana, CA 92704 (714) 957-0600
Koo's-1505 N. Main Street, Santa Ana CA 92701  714.648.0937
Seiad Valley, CA (near the OR border)
eats-Seiad Valley Store & Cafe, 44719 Hwy. 96, Seiad Valley, Calif, 96086
Cafe: 530-496-3340, home of the biggest pancakes in the world.  
Sonoma, CA
Eats-
Lou's Luncheonette-2698 Fremont Dr, Sonoma, CA 95476-Amazing Onion Rings
Tulare, CA (near Visalia)
Eats-
Wimpys Burger-1417 E Tulare Ave, Tulare, CA 93274 (559) 688-2527 most days 10AM–9PM-Ice cream and burger joint, great fries which they sprinkle with seasoning.  And you can get hot peppers added.Old wood paneled DQ style place.
Watsonville, CA
Eats-
Taylor's Hot Dog Stand-336 Union St Watsonville, CA 95076-Classic Chili Dog joint which this site cherishes. Closed Sunday
Visalia, CA
Eats-
Doc's Drive In – 421 W Acequia Ave, Visalia, CA 93291 Most days · 8AM–10PM (559) 635-4934-Amazing Chili cheese fries and pastrami burgers in what looks like an old del taco.
La Fiesta Burger-2839 E Noble Ave, Visalia, CA 93292- Open most days · 8:30AM–9PM  (559) 738-8995-Hot dogs, chili dogs and burgers from a window.  The type of joint this site exists for.
Venues
The Cellar Door– wine & beer bar, with live music & other entertainment. 101 W Main St, Visalia, CA 93291    (559) 636-9463