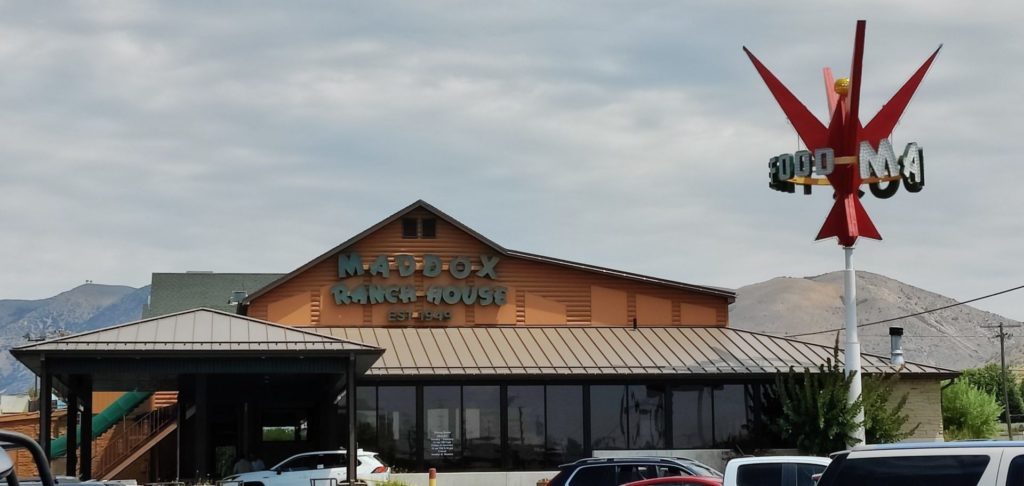 There is a regional burger chain called Apollo burgers. In Utah that means pastrami topped burgers and they have fry sauce here called Apollo sauce.
Fry Sauce, basically Ketchup and Mayonaise is served with virtually every single fry, onion ring or tater tot in the State.
Salt Lake City, UT
The Local Alternative Weekly for SLC is the
JRC events hosts some Psychobilly and Metal Events.
Slug Magazine has a good events calender (added 2021)
Museums-
The Leonardo- Science, technology & art museum-209 E 500 S, Salt Lake City, UT 84111
Bars-
Bar-X -Prohibition-era style cocktail bar owned by Modern Familys Phil Dunphy: 155 E 200 S, Salt Lake City, UT 84111 (801) 355-2287
Bongo Lounge-2965 Highland Dr, Salt Lake City, UT 84106-Dive Bar with Cheap Drinks and a good jukebox.
Ex-Wifes Place-465 S 700 E, Salt Lake City, UT 84102 (801) 532-1954-Dive bar with pinball and pool
Twilite Lounge- arcade games & a (possibly free?) jukebox.- 347 E 200 S, Salt Lake City, UT 84111
Club 48-Since 1986.-never a cover charge, and famous for a $7 steak dinner on Wednesdays. 15 dollar prime rib on Fridays, weekly karaoke, live music, and DJ's. Older crowd-16 West 4800 South Murray, UT 84107 (801) 262-7555-Murray is Greater SLC.
Redwood Lounge- 502 S Redwood Rd, Salt Lake City, UT 84104-Another wood paneled dive bar with pool and sports. This one has the best sign.
Eats-
Moochies Meatballs – at Circle Pottery and Gifts, 232 East 800 South, Salt Lake City, Utah (801) 596-1350 -Best philly cheesesteak in Salt Lake City in a place that started as a pottery store. Guy was here.
Crown Burgers-377 East 200 South, Salt Lake City, UT (801) 532-1155 and other locations. Known for the Crown burger, a pastrami topped cheeseburger, the signature burger at Crown Burger with "fry sauce" which is a special sauce available all over town.
Arctic Circle-Another regional burger and ice cream chain since 1951
Hires Big H-Renovated but with a nod to the the Old-timey.. Burgers, great onion rings and root beer – 425 S 700 E, Salt Lake City, UT 84102(801) 364-4582
Bruges Waffles and Frites -336 West Broadway Salt Lake City, UT 84101 (801) 363-4444 home of the machine gun sandwich. Merguez sausage sammy with fries and sauce on french bread. and of course waffels and fries and ice cream
Ruths Diner-4160 Emigration Canyon Rd, Salt Lake City, UT 84108-Since 1930
B&D Burger-chargrilled burgers with zucchini fries & milkshakes since 1981-222 S 1300 E, Salt Lake City, UT 84102
For the Vegans-Vertical Diner-234 W 900 S, Salt Lake City, UT 84101-Bar and small plates. Also Breakfast.
Dance Clubs
Area 51-348 W. 500 South; (801) 534-0819-Dance and occasional fetish parties
Live Music-
Diabolical Records -Record store with Concert Venue- 238 S Edison St, Salt Lake City, UT 84111 (801) 792-9204
DLC at Quarters Arcade Bar.- 5 East 400 South, Salt Lake City, Utah 84111-New Venue with local bands mostly.
In the Venue– 219 S 600 W, Salt Lake City, UT 84101, (801) 359-3219
Kilby Court-741 S. Kilby Court (330 West); 320-9887
Metro Music Hall-615 W 100 S, Salt Lake City, Utah 84101
Jackalope Lounge-372 S State St, Salt Lake City, UT 84111 (801) 359-8054 Til 2am
Urban Lounge – 241 S 500 E, Salt Lake City, UT 84102 (801) 746-0557-despite the hip hop name, all the cool garage punk bands play here.

The Loading Dock-1489 Major St E, Salt Lake City, UT 84115
Garage on Beck-1199 Beck St, Salt Lake City, UT 84103-Former Auto repair shopnow a bar with live music & patio and fried funeral potatoes which are epic.(801) 521-3904
Record Stores-
Beaver, UT
Eats-
Beaver Taco-1451 S Main St-Beaver, UT 84713
(435) 438-0912 Legit with the pickled carrots and a sauce bar.
Theres also a ranch style place in a motel that has pot roast, cinnamon rolls and Huckleberry Pie
Timberline Inn -1542 S 450th W
Beaver, UT 84713
(435) 261-2068
Arshels Cafe – 711 N Main St, Beaver, UT 84713 most days · 7AM–9PM
(435) 438-2977 Over 60 years.
Mels Drive Inn – 155 S Main St, Beaver, UT 84713 most days· 11AM–8PM
(435) 438-5600-NOT the California diner chain,an old roadside joint.
Bicknell, UT
Miles from Capitol Reef National Park, famous for stone arches.
Eats-
SunGlow Motel and Family Restaurant- 91 E Main St, Bicknell, UT 84715
(435) 425-3821-Famous for a sweet pickle pie and a red bean pie.
Boulder, UT
Area to drive over the "Hogsback Highway" aka US 12 which travels on a narrow spine across Mesas. Heading towards Torrey, the road eventually reaches 9200 feet above sea level.
Eats-
Burr Trail Grill -10 N State Hwy 12, Boulder, UT 84716 (435) 335-7511-Great pie
Hell's Backbone Grill & Farm ,Located in Boulder Mountain Lodge,20 N Hwy 12
Boulder, UT 84716 (435) 335-7464 not cheap but has grass fed meatloaf
Brigham City, UT
Eats
Idle Isle Cafe, Brigham City, UT-Cafe open for 95 years. 24 S. Main, Brigham City; 435-734-2468
Duchesne, UT
Eats-Cowan's Cafe-57 E Main St, Duchesne, UT 84021 (435) 738-5609-old steakhouse, homemade rolls.
Escalante, UT
Drive in
2020 West Highway 12 -Escalante, UT 84726 | United States
ph: 435-826-4440 Digital drive in and airstream RV park. YOu can rent a room in an airstream too.
Filmore, UT
Eats-
Cluff's Carhop Cafe-270 N Main St, Fillmore, UT 84631(435) 743-5510-Since 1950
Heber City, UT
Eats-
Dairy Keen – mom-&-pop joint with a miniature train serving burgers, fries & shakes, Great Onion rings -199 S Main St, Heber City, UT 84032 Most days. · 10AM–10:30PM(435) 654-5336
Huntsville, UT
Eats-
Shooting Star Saloon-7350 E 200 S, Huntsville, UT m-s 12 pm-9 pm/Sun 2 pm-8 pm Cheap beers and cheap Star burgers. They have burgers topped with Bratwurst as of 2019. No Fries Supposed the oldest continuously operating bar west of the Mississippi.They have been featured many times in magazines and travel shows, and they are a favorite destination biker groups enjoying the views around Huntsville, Pineview Reservoir and Eden. It's well worth the visit
Kamas, UT
Eats-
Hi-Mountain – 40 N Main St, Kamas, UT 84036 old fashioned soda fountain and burger joint 8AM–9PM (435) 783-4466
Layton, UT
Eats-
Sill's Cafe-335 E Gentile St, Layton, UT 84041 (801) 544-7438-Diner since the mid 50s
Logan, UT
Eats-
Bluebird Restaurant ?-Revamped 1920s candy shop with Address: 19 N Main St, Logan, UT 84321 (435) 752-3155
Millcreek, UT
Eats-
Iceberg Drive Inn -Burgers, milkshakes, sandwiches & more. Original location of a chain. Super cool building-3906 900 E, Millcreek, UT 84124: (385) 474-6254
Moab, UT
Area with lots of red rock formations.
Eats-
Milt's Stop & Eat-356 E Mill Creek Dr, Moab, UT 84532 Most days 11AM–8PM,Monday Closed (435) 259-7424-Grass fed burgers, fries, shakes
Ogden, UT
Bars-
Sand Trap Club-2851 Washington Blvd, Ogden, UT 84401 Closes 1AM (801) 394-4446
Eats-
Jake's Over The Top -1225 Country Hills Dr, Ogden, UT 84403 (801) 399-0676-Burger and ice cream joint.
Prairie Schooner Steak House-445 Park Blvd, Ogden, UT 84401 (801) 392-2712-Vintage steakhouse with taxidermy
Perry, UT
Eats-
Maddox Ranch House-1900 S Hwy 89, Perry, UT 84302 435-723-5935-Fancier sit down steakhouse with famous chicken and steak and desserts.
Maddox Drive-In-1900 S Hwy 89, Perry, UT 84302-Drive in where you eat in your car, burgers, chicken and more.
Calls Drive In-1650 S Hwy 89, Perry, UT 84302-Another burger drive in
Provo, UT
Live Music
Not much action in this town but at the concert area of
Muse Music, on the campus of Provo University, which has a suprising number of shows at this all ages, booze free place.
Richmond, UT
Eats-
L.D.'s Cafe-39 W Main St, Richmond, UT 84333 (435) 258-5135-Since 1959, vintage counter serve cafe.
Roy, UT
Eats-
Burger Bar-5291 S 1900th W, Roy, UT 84067 (801) 825-8961-open 60 years. Home of the "big ben"
Salina, UT
Eats-
Mom's Cafe -10 E Main St, Salina, UT 84654 (435) 529-3921-old diner great sign
Snowville, UT
Eats-
Mollie's Cafe -15 E Main, Snowville, UT 84336 Most days · 6AM–10PM : (435) 872-8295-great old timey diner burger joint
St George, UT
Eats-
Larsen's Frostop Old Fashioned Drive in- Ice Cream , Burgers, Root Beer-858 E Saint George Blvd St. George, UT 84770 (435) 673-2216
Angelica's -101 E St George Blvd
St George, UT 84770
(435) 628-4399-Legit Mexican food though the joint looks a little chainy.
Nielsons Frozen Custard-Theres a branch of this chain that sells custard only and is great.
Torrey, UT
Eats-
Broken Spur Inn & Steakhouse -955 E Sr 24, Torrey, UT 84775 (866) 338-2091-Steakhouse in a hotel that looks cheap but it is not. The food is a good deal and good too.
Slacker's Burger Joint-165 E Main St, Torrey, UT 84773 (435) 425-3710
West Valley City, UT
Eats-
Ab's Drive-In-4591 S 5600 W, West Valley City, UT 84120 (801) 968-2130-Since 1951 but sadly this building is new.
Wood Cross, UT
Eats
Kitty Pappas Steak House – 2300 S Main St, Woods Cross, UT 84010
Most days 11AM–10PM : (801) 295-9981 Retro steak house, great sign.