This page is for Western Areas of PA including State College and Pittsburgh.  For Eastern PA east of State College, Amish Country and Philly click HERE. 
Pennsylvania Tips Pennsylvania roadside attractions listings Here
Drive In Theater-
Becky's Drive In-4548 Lehigh Drive, Walnutport PA, 18088    (610)767-2249 -Family run drive in open every night through summer.
Altoona, PA
Amusement park
LAKEMONT PARK, 700 PARK AVENUE, ALTOONA, PA 16602: 1-800-434-8006 , (814) 949-PARK-Lakemont park has the oldest rollercoaster in the US with the leap the dips and some other fun rides.  It also is home to the Altoona Curves, a minor league baseball team
Eats-
Texas Hotdogs of Altoona, 1122 12th Avenue, Altoona, PA (814) 942-6381-A texas is a variation on the coney or the michigan.  Some lore has it that this place invented the Texas name variation.  Theres another location in town that is unclear as to whether they are related or not, though a family feud is suspected.  Also, the onion rings and texas mac and cheese, a chili and mac hybrid are supposed to be good
Beaver, PA
Eats-
Jerrys Curb Service-Since 1947-Burgers but also a steak salad that has a connection to Donna Reed.1521 Riverside Dr, Beaver, PA 15009
Daily 10:30AM–12AM  (724) 774-4727
Bridgewater. PA (Pittsburgh Suburbs)
Eats-Bert's Wooden Indian Restaurant-308 Leopard Lane | Beaver / Bridgewater. PA 15009-hot roast beef and Beef, Ham and pork "Bar B Q"
Conneaut, OH
Eats-White Turkey Drive-in-388 E Main Rd, Conneaut, OH 44030-Classic covered indoor/outdoor lunch counter for burgers and dogs and root beer
Dubois, PA (100 miles NE of Pittsburg)
Eats-Dr Doolittle's Roadside Cafe & Creamery – 1290 Rich Hwy, DuBois, PA 15801 (814) 375-7080-mind blowing prices.  49 cent hot dogs!
Calliari's Bakery – 318 Du Bois St, DuBois, PA 15801 (814) 371-4781 Italian subs. Gluten free meatballs available!
Duncanville, PA (near Altoona)
Eats-
The Meadows Original Frozen Custard, 1393 Old Route 220 N Duncansville Pa 16635,  814-695-0035
In operation since the summer of 1950, this location is open all-year-round and features miniature golf and batting cages. There is also a location in Holidaysburg nearby.
Chambersburg, PA 
Eats
Historic Texas Lunch-108 Lincoln Way W (PA Route 30), Chambersburg, PA 17201 split hot dogs topped with Chili.  Great blog post here.
Hamburg, PA
Cabelas is a 250, 000 square foot outdoor store where you can hunt without killing anything, see a live fish giant aquarium and more. 100 Cabelas drive, Hamburg, PA
Erie, PA
Amusement Park
Waldameer & Water World-220 Peninsula Dr, Erie, PA 16505-Classic old amusement park.  A treasure.  Please support!
Eats-
Coney Island Lunch-3015 Buffalo Rd, Erie, PA 16510-Chili dogs
New York Lunch-1005 Parade St, Erie, PA 16503-Great chili dog spot
Sara's Restaurant-'50s-style diner-25 Peninsula Dr, Erie, PA 16505
HERMITAGE, PA (north of Pittsburgh)
Record store-
FLIPSIDE RECORDS-940 NORTH HERMITAGE RD., HERMITAGE, PA 16148  724.342.0824-over 2 million records in stock..
Huntington, PA
Ice Cream-Kerbers Dairy Store, 1856 Guffy Road, N. Huntingdon, Pa 15642 ,  (724) 863-6930
This town is famous for a flood.  We here at Trashy Travel, however, love anything on a track, and they have a hundred year old Fununcular, which is a train that goes up a mountain.  You can put the fun in Fununcular.  the Incline
Our address is: 711 Edgehill Drive, Johnstown, PA 15905. We are located in Westmont borough.
Lancaster, PA
Live Music
The Chameleon Club, 223 n. water street, lancaster pa. THE place to see live music in Amish Country…Really.  The cutest homepage picture too!
Reading, PA
The bar that invented the free peanut craze (after a pretzel crisis) is in Reading, Jimmy Kramers Peanut Bar, 332 Penn Street, Reading, Pennsylvania, (610)376-8500
Scranton, PA
Eats-
Coopers Seafood House-I got this travel brochure for Scranton which non-ironically said the following: "Coopers is an architecturally significant, work of art; shaped like a pirate ship, it is one of Scranton's neatest places to eat"
Unlike the rest of the country, Pennsylvania has managed to hold onto its old fashioned amusement parks.  They have 2 of the most unique I have ever been to, and they are both worth a trip to visit.  Pittsburgh is home to Kennywood park, one of only 2 operating amusement parks that are historic landmarks.  It has 3 amazing wooden coasters including a racing coaster that is actually one continuous loop.  You leave on one track and come back on the other.  You can slap hands with the people in the other train because there are no obstructions between the tracks.
Elysburg is home to Knoebels, an old fashioned park without walls.  You can go on rides one at a time or buy a POP.  They have 2 wonderful wooden coasters, the Phoenix and the Twister.  They also have great food at reasonable prices and some very unique attractions, including a top rated haunted house.
Altoona, PA has the very small Lakemont Park, Home of Leap the Dips, the oldest operating wooden coaster with a top speed of 15 MPH.
Pittsburgh, PA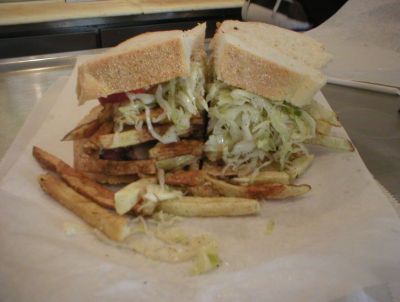 DONT MISS KENNYWOOD!!
The local alternative weekly is In Pittsburgh.  They also have a version of CItypaper.  Check Barsmartfor Bar listings.  Students guide to Pittsburgh.  Real/Time Interventions puts on some events.
Tiki Bar-
Hidden Harbor – 1708 Shady Ave, Pittsburgh, PA 15217 Closed Sunday and Monday (412) 422-5040
Bars
Skylark Motor Inn-Airport Area-225 Moon Clinton Rd, Coroapolis, PA (Pittsburg area)
Rock Room-Hardcore music and pierogies-located in Pittsburgh's Polish Hill @ 1054 Herron Ave. (Corner of Melwood)
Gooski's-(412) 681-1658, dive bar in polish hill, 3117 Brereton St
Pittsburgh, PA 15219
Live Music
Brillobox-4104 Penn Ave.  Pittsburgh  412  624 49 00-A lot of different types of events withWednesdays being Psych, rock, etc, the Thursday Monthly Throwback and more.
Howlers Coyote Cafe -local & national rock bands 5 nights a week, 4509 Liberty Ave, Pittsburgh, PA 15224
Phone: (412) 682-0320
Club Cafe-56-58 South 12th Street • Pittsburgh, PA   412-431-4950
Garfield Artworks-4931 Penn Ave-Pittsburgh-Art and performance space
31st Street Pub-Penn Avenue at 31st Street, Strip District. 412-391-8334-former biker bar makes good.
The Mr. Roboto Project-722 Wood Street, Pittsburgh (Wilkinsburg), PA  (412)247-9639-all ages artspace/diy bandspace.
Mr. Smalls Funhouse-multipurpose facility with everything from a skate park to studio to artist housing with numerous types of events.
The Shop-4314 Main St, Pittsburgh, Pennsylvania 15224-art space with all types of events.
The Smiling Moose-1306 E. Carson Street Pittsburgh, PA 15203
P: (412) 431-4668-home to the occasional soul party and more
Spirit-242 51ST STREET | PITTSBURGH, PA 15201| 412.586.4441
Gooski's-3117 Brereton St, Pittsburgh, PA 15219-Dive Bar with live music on weekends and polish food.
Thunderbird Cafe-4023 Butler Street, Pittsburgh, PA, (412) 682-0177  
Soul Parties- (pittsburgh soul party blog)
Vipers soul lounge at Shadow Lounge, (5972 Baum Blvd. East Liberty) Monthly
Steel City Soul Club with DJs Riel and Restless
Museums
Andy Warhol Museum -117 Sandusky St Pittsburgh PA (412) 237-8300.  Friday nights during the summer they have bands play here.
Mattress Factory-500 Sampsonia Way, Pittsburgh, PA 15212 in the north shore.  Unique museum with room sized environments
Other stuff-
Arsenal Lanes, 212 44th and Butler St, Pittsburgh.  Bowling alley with your typical rock and bowl nights, djs, etc.  Live bands on wednesdays where one cover gets you unlimited bowling and the band
Record Stores-
The Attic Records, 513 Grant Ave, Pittsburgh, PA 15209 (Millvale, pa)
Brave New World, (412) 682-5007, 3495 Bates St , Pittsburgh, PA 15213
Paul's CDs, 4526 Liberty Ave.,Pittsburgh, PA 15224
Jerry's Records-2136 Murray Ave, Pittsburgh, PA 15217 (412) 421-4533 named one of the best record stores in the us
Eats-
Primanti Brothers-46 18th Street, Pittsburgh, PA 15222-(412) 263-2142. Famous sandwich shop where each sandwich comes with French Fries and Coleslaw ON THE SANDWICH. Multiple locations but this is the original and its open 24/7.
Triangle Bar & Grill -2122 Monongahela Ave, Pittsburgh, PA 15218 (412) 271-9885-Classic Sub Joint with subs up to 2 and a half feet called destroyers and battleships.  Cash only.
Original Hot Dog Shop – 3901 Forbes Ave, Pittsburgh, PA  (412) 621-7388-also called the dirty O.  Chili dogs.
Klavon's Ice Cream Parlor (old fashioned soda fountain) 2801 Penn Avenue in Pittsburgh's "Strip District"
www.klavonsicecream.com.
Isalys is an old chain of ice cream and food counter places that specialize in a chipped ham sandwich, its really shaved ham.  Its a processed meat product that has a sweet taste to it on rolls baked in each restaurant.  This location sells a "slammer" which is grilled chipped ham with onions on their rolls.  Isaly's,    448 Perry Highway, Pittsburgh, PA 15229 Its the last of its kind.
Delucas DIner-2015 Penn Ave . Pittsburgh, PA 15222-Breakfast joint, always a line, chicken on roof.
Nadines-19 South 27th Street, Pittsburgh, pa 15203, Phone: (412) 481-1793-old fashioned bar with amazing homestyle food, all homemade and things like fried baloney sandwiches
Sunseri Brothers, 2010-12 Penn Ave., Pittsburgh, PA , 412-471-8330.  Italian deli is the home of Visionary bread, a  loaf layered with roasted peppers, onion, garlic, mozzarella, and herbs.  They have tons of olives and other italian specialties
Wiener World -626 Smithfield, Pittsburgh, PA -412-566-7719-gotta love a place with wiener in its name.  They also make good fried fish sandwiches
Stinky's Bar & Grill – supposed to have one of the best burgers, plus garlic wings. Smoking as of this writing was still allowed so you will be stinky after. 4901 Hatfield St, Pittsburgh, PA 15201 most days 11AM–12AM, unsure of kitchen hours. (412) 224-4301
Fat Heads-1805 E Carson St, Pittsburgh, PA 15203-Bar with headwich, filled with kielbasa, pierogies, grilled onions, American cheese and a horseradish mayo
Union Grill – 413 S Craig St, Pittsburgh, PA 15213  (412) 681-8620-one purveyor of the DEVONSHIRE sandwich, not unlike a hot brown.
Adamstown, PA
Funky Musuems- Toy Robot Museum-9 Market Plaza, Adamstown, PA 19501-large collection of Toy Robots.
Clearview, PA
Located in the middle of the state near State College and I-80, Dennys Beer Barrel Pub has giantic 2, 3 and 6 and 15 pound burgers.
Dennys Beer Barrel 
1423 Dorey Street, Clearfield, PA 16830
(814) 765-7190
Sharon, PA
Home of the Worlds Largest Candy Store, you can also take a tour of the factory, a short distance away..
Daffin's Candies – Sharon, PA
496 East State Street
1-724-342-2892
Toll Free 1-877-323-3465
Chocolate Factory Tour – The Tour consists of coming to our Factory at 7 Spearman Avenue, Farrell, Pennsylvania 16121. At the Factory, the group will see a short videotape of Daffin's and the History of chocolates. Our seven foot Rabbit and other artistic chocolate items are also on display at the factory. Then the group will take a tour through the factory and see how some of our chocolates are made. We require reservations be made at least 2 weeks in advance for ALL factory tours, and a minimum of 15 people per group. If there are less than 15 in a group, please call and we can group you with a full tour.
Factory tours are available only during the factory production season, Mid September through Mid April with reservations.
No Summer Tours available.
State College, PA
Regional specialty-Ye Olde College Diner serves "grilled stickys", a sticky bun grilled like french toast. (814) 238-5590, 126 W College Ave, State College, PA 16801
Penn State has a food science program with an ice cream masters program.  Taste the results at theBerkey Creamery. , The Pennsylvania State University, 119 Food Science Building ,  University Park, PA 16802 814-865-7535
Live Music-
Crowbar -420 E. College Ave -State College 814.237.0426
State Theater-home of the big shows
TIme Machine town.  The Wellsboro Diner has a gift shop with diner memorabilia in the gift shop. It would be fun to stay at the hotel and go to a movie. Theres a candy store which is just down the street. Not only do they have the classic hotel, but the Wellsboro diner and a cool old movie theater, and the old Dunhams Dept store thats still in business, the whole town is like a trip back in time.
Hotel-Penn Wells Hotel. From 1816 until the present, the site has always been occupied by a tavern, inn or hotel. In 1869, the present four-story brick hotel was built. In 1925, the Cole House was purchased by a group of local residents who closed it for extensive renovations. It then reopened in 1926 as the Penn Wells Hotel. The hotel that you can stay in today remains basically the same as it was in 1925.  Theres a lounge in the hotel as well

, the lounge is closed on Sundays unfortunately.
Right next door to a vintage theater and the Wellsboro diner is nearby.
West Mifflin, PA (Greater Pittsburgh)
Amusement Park-Home to Kennywood Park, Trashy Travels favorite amusement park.
Eats-
Jim's Famous Sauce
-2600 Skyline Dr,West Mifflin, PA 15122 (412) 466-1644-oddball chili dog place with more of a bbq sauce chili and when you get cheese they melt slices of american on your dog.
Wilkes-Barre, Pa
The local alternative weekly is the Weekender.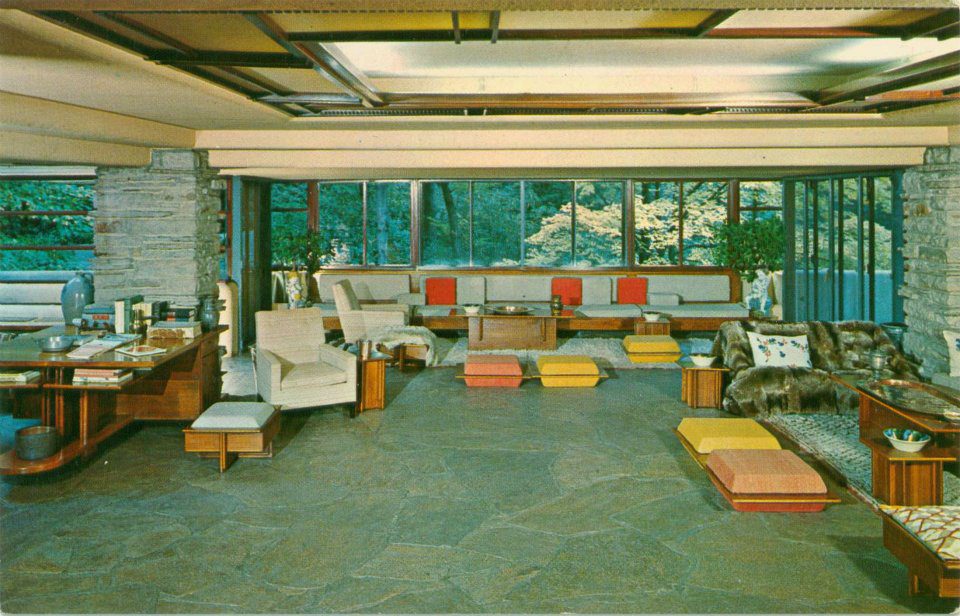 Frank Lloyd Wrights Fallingwater from a 70s era postcard