Kansas City
Home Of Worlds Of Fun Amusement Park!
Last call at many bars and clubs is 3 am.
Multi-Use Art Space-The Drugstore-Artspace in an old former corner Drugstore.
There are a million bbq restaurants, but the guys from GAShave been touring bbq joints and have reviews of all the Kansas city places….
The weekly alternative paper is the Pitch Weekly-whatever the hell that means.  Local  Burlesque can be found by going to the KC Society of Burlesque page.  More events here. Unusual Events can by found at the Pistol. Rockabilly parties by the Hepkat can be found here.  The annual KC Fringe festival here. Bobbys loft seems to be the only punk scene in town.
Labor Day Rockabilly Car Event-on the KANSAS side
Greaserama-Boulevard Drive-In-1051 Merriam Lane, Kansas City, Kansas Annual car and music event in Kansas City, KANSAS
Shopping-
Boomerang -Vintage clothing store, 3900 Pennsylvania Ave, Kansas City, MO 64111
It's a Beautiful Day Kansas City, 3918 Broadway Rd, Kansas City, Missouri
Live Music-
Daveys Uptown Ramblers Club-3402 Main Street-Kansas City, MO 816-753-1909
Fred P. Otts-4770 JC Nichols Parkway-Kansas City, MO 816-753-2878-Burger joint with live music occasionally
The Brick-1727 McGee, Kansas City, MO 64108. (816) 421-1634. _Music venue with great music venue with bar food, meatloaf sandwich, hot dog wrapped in bacon dipped in batter and deep fried
miniBar-3810 Broadway, Kansas City, MO 64111 (816) 326-8281
The Riot Room-punk-y kind of club.4048 Broadway, Kansas City, MO
Knuckleheads Saloon-2715 Rochester, KC MO 64120 -This is a country blues joint.  The reason its on here is there annual Elvis show and they have some vintage rockabilly too.
Crosstown Station-1522 McGee Street – Kansas City – MO – 64108 ::: 816-471-1522
Record bar-records, food, live music-1020 Westport Rd, KC, MO 64111
Record Stores-
Vinyl Renaissance-7932 Santa Fe Dr, Overland Park, KS 66204 (suburb of KC)
Seventh Heaven, 7621 Troost, Kansas City, MO 64131
Mills Record Company : 4045 Broadway Blvd, Kansas City, MO 64111 (816) 960-3775
Josey Records: 1814 Oak St, Kansas City, MO 64108 (816) 283-8452
Records with Merritt -1614 Westport Rd, Kansas City, MO 64111 (816) 585-7366
Revolution Records ?-1830 Locust St, Kansas City, MO 64108 (816) 399-4849
Amusement Parks-
Worlds of Fun-4545 Worlds of Fun Avenue, Kansas City, MO 64161
Phone Number: (816) 454-4545
A coupon book for theaters, museums, etc is available from the Convention and Visitors Bureau of Greater Kansas City, 1100 Main Street, Suite 2550, Kansas City, Mo. 64105; (800) 767-7700
Where to Stay
The Hotel Savoy -219 West Ninth Street, (800) 728-6922, 22 rooms ranging from $79 for a standard room to $120 for a two-person suite ($20 extra for each additional person).
Some comfortable, well-appointed suites can also be found downtown for $89 to $150 at the 100-unit Historic Suites of America , 612 Central Avenue; (816) 842-6544, www.historicsuites.com. Amenities include a breakfast buffet included in the rate and an outdoor pool and Jacuzzi.
Eats-
The Savoy Grill, 219 West Ninth Street, (816) 842-3890-Old timey fancy steakhouse in an old timey fancy hotel
Sidney's Diner, 3623 Broadway, is open all night- Diner food.
Arthur Bryants BBQ-1727 Brooklyn Ave, Kansas City 64127, tel: (816) 231-1123
Jack Stack Barbecue – 101 W 22nd St #300, Kansas City, MO 64108 and other locations
Town Topic -vintage Hamburger Restaurant, 2021 Broadway St, Kansas City, MO 64108
Open 24 hours (816) 842-2298
Humdinger Drive In -2504 E 9th St, Kansas City, MO 64124-The kind of joint we live for. Giant sign that says "ever eat here" Different than just burgers
Joe's Kansas City Barbecue –Best brisket and burnt ends in town from a gas-station counter. 3002 W 47th St, Kansas City, KS 66103  Great ribs too.  One of the highest rated of the moment.
Q39-1000 W 39th St, Kansas City, MO 64111 (816) 255-3753 New hipster bbq giving old school bbq a run for the money
LC's Bar-B-Q -rustic dining room: 5800 Blue Pkwy, Kansas City, MO 64129 (816) 923-4484, get ribs, burnt ends, pit beans
Gates BBQ-3205 Main Street, (816) 531-7522 and other Various Locations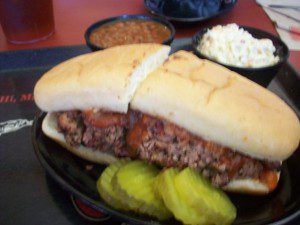 Hayes Hamburgers and Chili-2502 NE Vivion Rd KC Mo 64118   -one of the best slider type burgers we have ever had
Westport Flea Market Bar & Grill-817 Westport Rd, Kansas City, MO 64111- (816) 931-1986 HUGE great burgers (the mini is bigger than the normal burger) and great onion rings.  Daily 11 am til at least Midnight.
Smokin Guns BBQ -1218 Swift Avenue  Kansas City, MO 64116 (816) 221-2535-was featured on Triple D, Smoked Turkey, Burnt Ends, Brisket
Strouds-1015 E. 85th St.,Kansas City, MO , 816-333-2132-famous pan fried chicken but the best thing are these Cinnamon Rolls they serve.
TOWN TOPIC, INC.-2021 Broadway St, Kansas City, MO
(816) 842-2298  24 hour old timey burger joint.  See the review on Holly Eats.com
Winsteads Drive Inn-101 Brush Creek Boulevard, Kansas City, MO, 816-753-2244-The sign is the same, but the inside was made sort of Dennys like, but this place makes amazing THIN, SO SO THIN burgers that are incredible, plus several awesome types of shakes, including one frosty style, along with Cherry Lime sodas and incredible onion rings, which you can order half and half with fries.  !!! 
This location is also by the art museums famous Giant Shuttlecock.
Woodyard BBQ |- 3001 Merriam Lane  Kansas City, KS 66106 (913) 362-8000-This place provides the wood for many other BBQ restaurants in town.  They use a curry flavor in their rub
Plaza III -The Steakhouse -Old-school venue, known for its steak soup: 4749 Pennsylvania Ave, Kansas City, MO 64112 (816) 753-0000
Jess & Jim's Steakhouse -pricey steak house but Open since 1938: 517 E 135th St, Kansas City, MO 64145 Warning, you are coming for the vintage atmosphere. Check reviews on current quality
Andy's Frozen Custard -vintage roadside Ice Cream Shop
Frozen custard sundaes, concretes & more, plus a choice of toppings- 1200 Westport Rd, Kansas City, MO 64111
Independence, MO (KC suburb)
Eats-Dixon's Chili Parlor-9105 E US Hwy 40, Independence, MO 64055 (816) 861-7308
Mugs-Up Root Beer -Classic drive in with carhops serving house-brewed root beer, hot dogs, burgers & sandwiches. 700 East 23rd St S, Independence, MO 64055 (816) 254-7040. get a loose meat sandwich, lime aid, black cow, rusty warren
HiBoy Drive-In -Hamburger Restaurant-get the onion rings: 16721 E Gudgell Rd, Independence, MO 64055 (816) 350-2120
HiBoy Drive-In-3424 S Blue Ridge Cut Off, Independence, MO 64055 (816) 861-2677-Now a chain I think this is the original location drive in with great burgers and fantastic onion rings and super thick shakes.
Kansas CIty, KS
Eats-
Papa Bob's Bar-B-Que -Built to look like a barn.: 11610 Kaw Dr, Kansas City, KS 66111 (913) 422-4210 try the ultimate destroyer huge sammy
Fritz' Kansas City, KS, 250 N. 18th St.Kansas City, KS 66102913-281-2777 Fast food where you order on a phone and your food is delivered on a toy train.  3 locations.
Overland Park, KS (Kansas City area)
Eats-
John's Space Age Donuts: 8124 Floyd St, Overland Park, KS 66204. This is what donuts will be like in the future.  Get the Apple fritter.
Mission, KS (Greater KC Area)
R.J.'s Bob-Be-Que Shack -5835 Lamar Ave, Mission, KS 66202 (913) 262-7300 brisket soup?, baby backs, jalapeno sausages rolled in corn husks, deep fried corn, lamb ribs
Sedalia, MO
Eats-Wheel Inn Drive In-Home to the Guberburger, a hamburger covered with peanut butter.  This restaurant was featured in PBS's Hamburger America.
1800 West Broadway Boulevard-Sedalia, MO 65301
660-826-5177
Shawnee Mission, KS (Greater Kansas City Area)
Eats –
Johnny's BBQ -5959 Broadmoor Street  Shawnee Mission, KS 66202 Was on Triple DJ.  Smoked chicken that they then fry, Ribs, Pulled pork and smoked meatballs!
(913) 432-0777