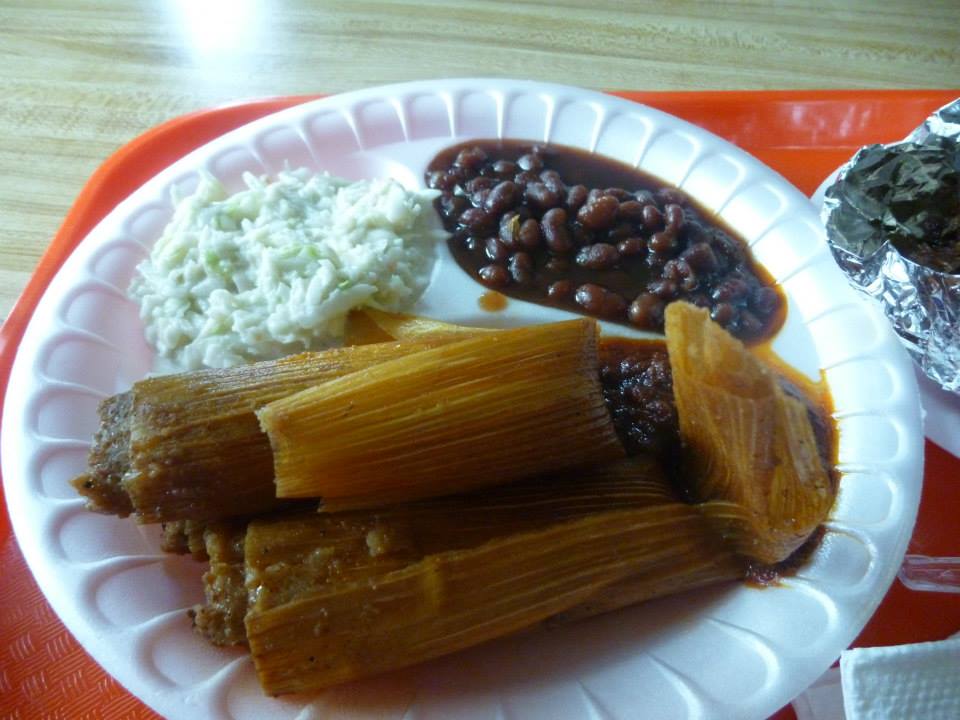 Above, Delta Style Tamales, done best in Mississippi.  They are different from normal tamales in that they contain much more meat and are more the size of a cigar than common tamales.  They are normally the spiciest food in MS.  They are everywhere, sold in coffee cans at donut shops and gas stations.  
They eat a lot of catfish in this state.  If you want to know where to get the best catfish, just ask a local.
Amory, MS
Eats-
Bill's Hamburgers – 310 S Main St, Amory, MS 38821- (662) 256-2085-High rated burger from folks like George Motz.
Biloxi, MS
Eats and Gas-Yes, you can get great food and po boys in gas stations in these parts.  Serves til 6:30 pm at FAYARDS Marathon-1757 Popps Ferry Rd Biloxi, MS 39532
Amusement park-
Biloxi Beach Amusement Park , 1785 Beach Blvd., Biloxi, MS (228) 374-4338 -small park with small coaster
Clarksdale, MS
Home of the Annual JUKE JOINT FESTIVAL every April
Birthplace of the blues and Ike Turner.  There is a plaque to Ike Turner on the main thoroughfare.
Museum
Delta Blues Museum-The Official Delta Blues Museum located in Clarksdale Mississippi. The Delta Blues Museum is the state's oldest music museum.
1 Blues Alley Ln  Clarksdale, MS 38614
(662) 627-6820
Eats-
Hicks' Variety Foods, 305 S. State Street, Clarksdale, MS 38614-6313
(662) 624-9887, along the blues highway, this place is famous for Tamales.
Lodging-
Shack Up Inn-1 Commissary Circle, Clarksdale, MS 38614
(662) 624-8329-Made up of former cotton picker shacks and a cotten storage bin converted to rooms in a boutique inn.  They have an onsite venue that they have great shows at but only on mondays.
Live Music-
Ground Zero-387 Delta Ave, Clarksdale, MS 3861 (662) 621-9009-Blues club owned by Morgan Freeman
Red's Lounge-398 Sunflower Ave, Clarksdale, MS 38614-Blues club with live music on weekends
Columbus, MS
Live Music- Elbow Room– 418 2nd Ave N, Columbus, MS 39701-Historic pub with occasional live music
Corinth, MS
Eats-Borrum's Drug Store– 604 E Waldron St, Corinth, MS 38834 (662) 286-3361-Old Timey Pharmacy
Greenville, MS
eats


Doe's Eat Place

 in Greenville (Make sure you go the original and not their spur by the highway). A very famous place for their 40oz. Porterhouse steaks, French fries, and tamales
Gulfport, MS
Eats-
Blow Fly Inn-1201 Washington Ave, Gulfport, MS 39507. Locals joint featured on DDD with amazing crabcakes.  Mini Muffalatta appetizers
Half Shell Oyster House -Upscale-casual Southern seafood with oysters & po' boys: 2500 13th St #1, Gulfport, MS 39501 most days 11AM–10PM   (228) 867-7001 part of a  mini chain.  Dont miss the chargrilled oysters.
White Cap Seafood Restaurant –560 Beach Dr, Gulfport, MS 39507 (228) 604-4444-More chargrilled oysters, right on the beach.
Hatttiesburg, MS
Live Music-
Thirsty Hippo-309 Mcleod St, Hattiesburg, MS 39401 (601) 583-9188
Eats-
There is a chain here called Wards, home of the Big one, a burger with chili and cheese, plus "homemade" root beer.  Plus chili dogs and spicy fries. Also throughout southern MS
Leatha's Bar-B-Que Inn is located at 6374 US Highway 98 West
on the left, 3 miles past the Interstate 59 bridge, behind Ken Pickett's RV Sales. Open Tuesday through Saturday from 11:00 A.M. to 9:00 P.M. Closed Sundays and Mondays. She serves melt-in-your-mouth ribs, tender beef short ribs, all covered with a very unique sauce, it's sweet, but not overly so. Amazing stuff.
Coney Island Lunch Stand- 400 Main St, Hattiesburg, MS 39401- (601) 582-8513-Charming Main Street Lunch counter for chili dogs and chili burgers.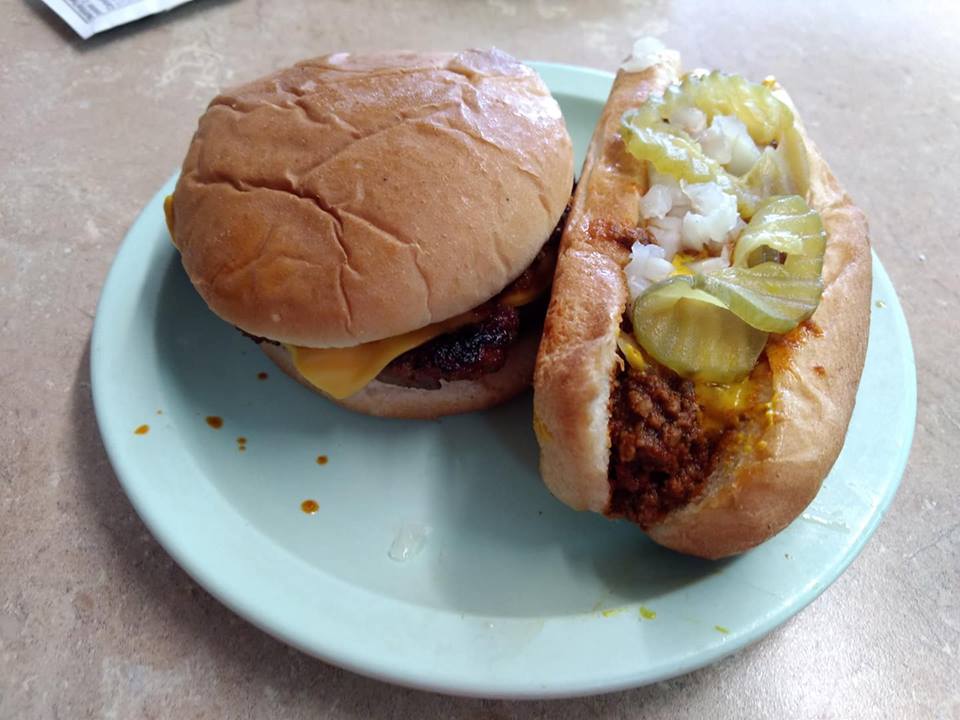 Jackson, MS
Bars-
Sam's Lounge-5035 I 55 N Jackson, MS 39206  (601) 983-2526-Dive bar with pool tables
Shopping-
Orange Peel – 422 Mitchell Ave, Jackson, MS 39216  (601) 364-9977 Vintage shop
Eats-
Mayflower Café. A 1935 diner that has retained its character. Like many places in Jackson, there is a Greek influence on the food. The seafood salad is especially memorable. Make sure you try the Comeback sauce. Comeback is a Jackson food specialty.  I guess you would call it a spicy Thousand Island but much, much better.  Good on crackers.
Brents Drugs-655 Duling Ave, Jackson, Mississippi (601) 366-3427-Drugstore/Soda fountain with the best Milkshakes in MS, including the ginger finger, butterfinger and Ginger Syrup, and the Maltdown, crushed whoppers in a malt.  Good chili and lunchcounter food.
Bully's Restaurant -3118 Livingston Rd, Jackson, MS 39213 (601) 362-0484-Soul food restaurant with good chicken, fries and oxtail.
Cock of the Walk-141 Madison Landing Cir, Ridgeland, MS 39157  (601) 856-5500-Only two dishes, catfish or chicken with great onion rings, fried pickles, cole slaw, pickled onions and greens..  They have two others, one in Nashville.
Stamps Superburger -1801 Dalton St, Jackson, MS 39204 (601) 352-4555-Lemon pepper fries and gigantic burgers in a rustic setting.
Roosters-2906 N State St,  Jackson, MS 39216 (601) 982-2001-Several types of burgers on a variety of buns.  Good onion rings.  Also country fried steak
Live Music-
Martin's Restaurant & Bar-214 State St, Jackson, MS 39201 601-354-9712-Original bands of many styles.
Hal & Mal's – 200 Commerce St, Jackson, MS 39201  (601) 948-0888-huge cavernous restauant with cajun food and live blues.   Food can be hit or miss.
Long Beach, MS
Eats-
Darwell's Cafe-127 E 1st St, Long Beach, MS 39560, Closed Monday and Tuesday-Til 9 pm most other nights- (228) 868-8946-Featured on Triple D.  Crab, Ham and cheese melt, Gumbo, Etoufee, even a burger topped with Etoufee and blackened shrimp.
Meriden, MS
Eats-
Weidmanns– (601) 581-5770-210 22nd Avenue Meridian, Mississippi 39301-Historic fine dining since 1870
Moss Point, MS
Eats-Tugus Restaurant, 6909 Highway 613, Moss Point, MS 39563 (228) 474-9910 Southern food restaurant just off I-10
Edd's Drive-In -19400 Mississippi 63,Moss Point, MS 39562. Ice cream and the Famous Edd's Special, double burger, chili and cheese, also chili dogs!

Natchez, MS
Eats- The Donut Shop-501 John R Junkin Dr, Natchez, MS 39120 (888) 920-1532  Drive thru donut shop with great tamales
Ocean Springs, MS
Eats-
Bayview Gourmet Restaurant -1010 Robinson St, Ocean Springs, MS 39564 (228) 875-4252-Breakfast and Lunch where you can get crab cakes benedict and Horn Island "Sunrise Breakfast:" Sautéed grouper or grilled tuna topped with crab meat and hollandaise sauce. Served with hash browns or grits, grilled tomatoes, biscuit and choice of 2 eggs
Phoenicia Gourmet– Mediterranean, Seafood, Greek .1223 Government St Ocean Springs, MS 39564
The Shed-www.theshedbbq.com, 7501 Highway 57
Ocean Springs, MS 39565 (228) 875-9590-Divey BBQ joint with a whole load of charm
Oxford, MS
You can find local info in the Oxford Town paper.
Eats-
Neon Pig Cafe-711 N Lamar Blvd, Oxford, MS 38655  (662) 638-3257 Hipster burger joint
Handy Andy-800 N Lamar Blvd, Oxford, MS 38655 (662) 234-4621-Basic BBQ joint with great ribs.  Also a great burger
Phillips Grocery-2406 S Lamar Blvd, Oxford, MS 38655  (662) 236-5951-cafe with famous burger (slug burgers to stretch the meat) but still amazing burger, great thick cut fries in a hundred year old plus grocery store next to a train yard.  Pretty awesome.  TrashyTravel recommended.
Ajax Diner-: 118 Courthouse Square, Oxford, MS 38655  (662) 232-8880-funky diner with a bar with tradional Mississippi food plus things like the Big Easy ,a country fried steak sandwich, covered with mashed potatoes and butter beans.
Bar-
The Long Shot, 1107 Jackson Avenue, Oxford, Mississippi.  Bar with bands
Live Music-
Proud Larry's– 211 S Lamar Blvd, Oxford, MS 38655   (662) 236-0050
Bookstore-
Square Books, Courthouse Square in Oxford
Label HQ-Fat Possum Records-827 N Lamar Blvd, Oxford, MS 38655
(662) 234-2828
Pascagoula, MS
Bozo's Grocery & Grill ?-Seafood Market with Po boys, 2012 Ingalls Ave, Pascagoula, MS 39567
Most days· 8AM–8PM (228) 762-3322
Tay's BBQ ,2318 Ingalls Ave, Pascagoula, MS 39581 (228) 205-2166 most days 10:30AM–9PM.  Good ribs.  Also a gas station location in moss and in Madison, MS
Raymond, MS
Record Store-
Little Big Store– 201 W Main St, Raymond, MS 39154  (601) 857-8579-Record store in an old train station.
Eats-
Sylvester's Ms Style BBQ : 9434 MS-18, Raymond, MS 39154  (601) 346-8000-Good ribs and chicken.
Taylor, MS
Eats-
Taylor Grocery-Old Timey Catfish Joint
4 County Road 338 # A  Taylor, MS 38673
(662) 236-1716
Tupelo, MS
Eats-
Neon Pig – 1203 N Gloster St, Tupelo, MS 38804 most days 11AM–9PM-they have a "smashburger" that has good press.  They also own a few other regional restaurants.
Museum-Elvis Presley Birthplace & Museum -306 Elvis Presley Dr, Tupelo, MS 38801
(662) 841-1245
Waterford, MS
Eats-
Betty Davis Grocery-3359 Old Oxford Rd, Waterford, MS 38685-Grocery Shack BBQ Joint-Near the intersection of 7 and 310.
Waynesboro, MS
Eats-
Cooley's Hamburgers-805 Fagan Ave, Waynesboro, MS 39367(601) 735-2048-Breakfast and lunch only.  Tasty burgers