Weed is legal in Colorado! Dispensaries are everywhere.
Above is Green Chile, a regional specialty. There are tons of places that make amazing versions of this slow burn chili usually with ground pork.
Aspen, CO
Food
Paradise Bakery and Cafe, 320 South Galena Street-Homemade muffins and gelato
Explore Booksellers and Pyramid Bistro, 221 East Main Street-cool bookstore with vegetarian restaurant
Woody Creek Tavern-2858 Upper River Road Woody Creek, CO 81656
(970) 923-4585-a rare trashy spot in Greater Aspen. Recommended.
Venues
Boulder, CO
Location of the exterior shot of the Mork and Mindy House at 1619 Pine Street.
The Local Alternative weekly for Boulder is the Boulder Weekly.
Record Stores-
Paradise Found Records & Music-1646 Pearl St, Boulder (303) 444-1760
Albums on the Hill-1128 13th St, Boulder (303) 447-0159
The Mile High Soul Club does a party at License No 1 on the first Friday of the Month.
License No. 1 inside Hotel Boulderado.-2115 13th St, Boulder, CO 80302 (303) 442-4560
Eats-
The Boulder Dushanbe Teahouse-Ornate landmark shipped piece by piece from Tajikistan-1770 13th St, Boulder, CO 80302-Always crowded. Teas and light food.
Efrain's of Boulder Mexican Restaurant-·1630 63rd St # 10, Boulder, CO 80301-Closed Sunday-Green Chili specialists.(303) 440-4045
Gold Hill Inn-401 Main St, Boulder, CO 80302 (303) 443-6461-Prix fixe super cheap frontier restaurant that is family run.
Lucille's – 2124 14th St, Boulder, CO 80302-great breakfast or lunch, Cajun food.
Beau Jos-Boulder, 2690 Baseline, Boulder, CO 80305 PH: 303-554-5312
actually a mini chain, specializing in gigantic monstrosities called mile high pizza that are like chicago style on steroids.
The Buff Restaurant-1725 28th Street, Boulder, CO, USA, 80301 Specializing in breakfast where they cook your eggs and meat into the pancake, etc called saddlebags
Mustards Last Stand-Chicago Style dogs-1719 Broadway, Boulder, CO 80302
Dark Horse-1975 bar with stuff everywhere making burgers-2922 Baseline Rd, Boulder, CO 80303
Colorado Springs/Manitou Springs, CO
Manitou Springs and Colorado Springs are loaded with amazing things. The Garden of the Gods is an always free park with many (packed) parking lots for hiking access. There is a visitor center across the highway.
There is also Pikes Peak where they make famous donuts at the summit, the Manitou Incline (A pain inducing hike), a replica of Cliff dwellings, Rainbow Falls (very limited hours) and a lot more. Manitou Springs is an adorable tourist area with an incredible vintage arcade that actually occupies several buildings plus TWO beef jerky stores and tons of Candy and Ice Cream Shops.
Attraction-Manitou Springs Penny Arcade- 930 Manitou Ave, Manitou Springs, CO 80829  (719) 685-9815
The Local Alternative weekly for Colorado Springs is the Colorado Springs Independent.
Eats-
Green Line Grill-amazing burger and coney dog joint-Cheap as heck-230 Pueblo Ave
Colorado Springs, CO 80903 (719) 964-1461
Regional Specialty called a slopper here and in Pueblo is a burger enchilada hybrid.
Mason Jar-hunting-lodge-style space with a fireplace 2925 W Colorado Ave, Colorado Springs, CO 80904 (719) 632-4820 Since 1982
Cy's Drive-In Restaurant-1833 W Uintah St, Colorado Springs, CO 80904-Great Burger place, great sign
Tony's-Packers bar with amazing burgers and cheese curds- 326 N Tejon St, Colorado Springs, CO 80903 (719) 228-6566
The Airplane Restaurant-Food in an old tanker plane & dining room.-1665 Newport Rd, Colorado Springs, CO 80916
Venues-
The Black Sheep – punk- & indie-rock shows: 2106 E Platte Ave, Colorado Springs, CO 80909  (719) 227-7625
Triple Nickel Tavern-Sports bar with TVs but they have live music-103 S Wahsatch Ave, Colorado Springs, CO 80903 (719) 203-4225
Denver
The Mile High Soul Club does an event the first Saturday of the Month at Roxy's on Broadway-Roxy on Broadway– 554 S Broadway, Denver, CO 80209
The Local Alternative Paper is the Westword, owned by the New Times Organization.
When in town, check and see if Dressy Bessy is playing.
The cheeseburger was invented in Denver at the Humpty Dumpty restaurant, now long gone but honored with a plaque at 2776 N. Speer Blvd., (a block west of Zuni Street)
Museums-
Denver Museum of Miniatures, Dolls and Toys – 1880 N Gaylord St, Denver, CO 80206: (303) 322-1053
Meow Wolf Denver- Convergence Station-1338 1st St, Denver, CO 80204 (720) 792-1200-part of the immersive art experience chain with locations in Vegas and New Mexico. Trashy Travel has visited this one and while it was enjoyable, one wonders at what point it becomes the next Hard Rock Cafe.
Eats-
El Taco de México- 714 Santa Fe Dr, Denver, CO 80204-James Beard award winning restaurant with Green Chile and all the standards. If you get the green chili dont get the large.
Tamales By La Casita-3561 Tejon St, Denver, CO 80211-Closed Sunday-The best thing Trashy Travel Ate in Denver-Two tamales smothered in Green Chile.
Habit Doughnut Dispensary -Donut shop in a weed dipsensary or vice versa: 1553 Platte St #130, Denver, CO 80202 (720) 428-8565
My Brother's Bar- 2376 15th St, Denver, CO (303) 455-9991. At Platte Street. Strange bar with classical music playing and the Jonnyburger, a burger with swiss, american and jalepeno cream cheese.
Cherry Cricket – build-your-own burgers, great sign and mash puppies – mashed potatoes, bacon, jalapeños, and fried 2641 E 2nd Ave, Denver, CO 80206 (303) 322-7666. Theres a second location with less charm.
Columbine Steak House & Lounge -300 Federal Blvd,Denver, CO (303) 936-9110-Cheap, been here forever, locals only fast food style steakhouse.
Davies' Chuck Wagon Diner-9495 W. Colfax Ave.
Lakewood, Colorado 80215 303-237-5252 Old diner on the National Register of historic places. Amazing Sign.
Hamburguesas Don Jesus-800 Decatur St, Denver, CO 80204-Mexican burger joint with some unusual combos.
The Original Chubby's – 1231 W 38th Ave, Denver, CO 80211 most days · 6AM–2AM (303) 455-9311-Famous for a wrapped chili smothered burger
Mickey's Top Sirloin – 6950 Broadway, Denver, CO 80221 (303) 426-5881-Recently renovated classic budget steakhouse.
Roaming Buffalo BBQ -2387 S Downing St, Denver, CO 80210 (303) 722-2226-Quick serve bbq similar to NYCs Mighty Quinns but with items like bison ribs and lamb shoulder
Sam's No. 3 Downtown-1927 diner with a massive menu with breakfast burritos and famous for their green chili- 1500 Curtis Street, Denver, CO 80202
Beau Jos has locations throughout Colorado. They offer many unique types of pizza including a 14 pounder for 50 bucks that is free if you and one other person eat it in one sitting. They give you honey to dip the crust in for dessert.
Bastien's Restaurant– since 1937.-3503 E Colfax Ave, Denver, CO 80206-Sugar crusted steaks for a reasonable price. Don't miss the Twice Baked potatoes and the Worcestshire Sauteeed Mushrooms. Awesome sign. Closed Monday
Record Stores-
Twist and Shout-2508 E Colfax Ave, Denver, CO 80206
Wax Trax-638 East 13th Street-(303) 860-0127
Vintage stores-
Regal Vintage -1866 S Broadway, Denver, CO 80210 (303) 830-0216
More bookstores-
Kilgore Books -Comic & used book purveyor with indie titles, sci-fi & fantasy and events : 624 E 13th Ave, Denver, CO 80203 (303) 815-1979
Live Music-
Hi Dive-7 South Broadway and food too, at the Sputnik Next door.
Ogden Theater-935 East Colfax Avenue, Capitol Hill, Denver, 303-830-2525, venue for mid level bands.
Bluebird Theater-3317 East Colfax Avenue, Denver, 303-322-2308
Colorado Music Hall-2475 East Pikes Peak Avenue, Colorado Springs, CO 80909
Globe Hall-4483 Logan St, Denver, CO 80216
Lost Lake Lounge– dive bar with local and touring bands: 3602 E Colfax Ave, Denver, CO 80206 (303) 291-1007
Matchbox-warehouse bar with a bocce court & bands-2625 Larimer St, Denver, CO 80205
(720) 437-9100
Mutiny Information Cafe– 2 S Broadway, Denver, CO 80209 (303) 778-7579 Coffeeshop used bookstore with punk shows. Near the lovely Mayan Theater, the chain bowling game emporium punch bowl social and more.
Fillmore Auditorium-1510 Clarkson St, Denver, CO (303) 837-1482-3000 seat music venue. Has acts like Elvis Costello. www.sfx.com for tix. Sister to the Fillmore SF.U
Skylark Lounge-140 S Broadway, Denver-not a ton of bands, but some good stuff in this cool bar
The Larimer Lounge – 2721 Larimer Street, in between 27th and 28th on Larimer Street, just north of Coors Field
15th Street Tavern-623 15th Street-Denver, CO 303-572-0822Soiled Dove – 7401 E 1st Ave, Denver, CO 80230
Lions Lair-2022 E. Colfax Ave , Denver CO. 303-320-9200
The Climax Lounge-They have been booking some great indy bands of late. 2217 Welton St. Denver, CO 80205
Squire Lounge – 1800 E Colfax Ave, Denver, CO 80218 (303) 333-9106
Moe's Original Bar B Que -part of a chain that does Alabama (white sauce) bbq but they have cool bands playing: 3295 S Broadway, Englewood, CO 80113: (303) 781-0414
Bars-
The Cruise Room -Historic, upscale Art Deco martini bar in the Oxford Hotel modeled after a lounge on the Queen Mary. 1659 Wazee St, Denver, CO 80202 (303) 628-5400
Horseshoe Lounge-414 E 20th Ave, Denver, CO 80205 (303) 832-1180 They have a bar made out of dice!
Tiki Bar-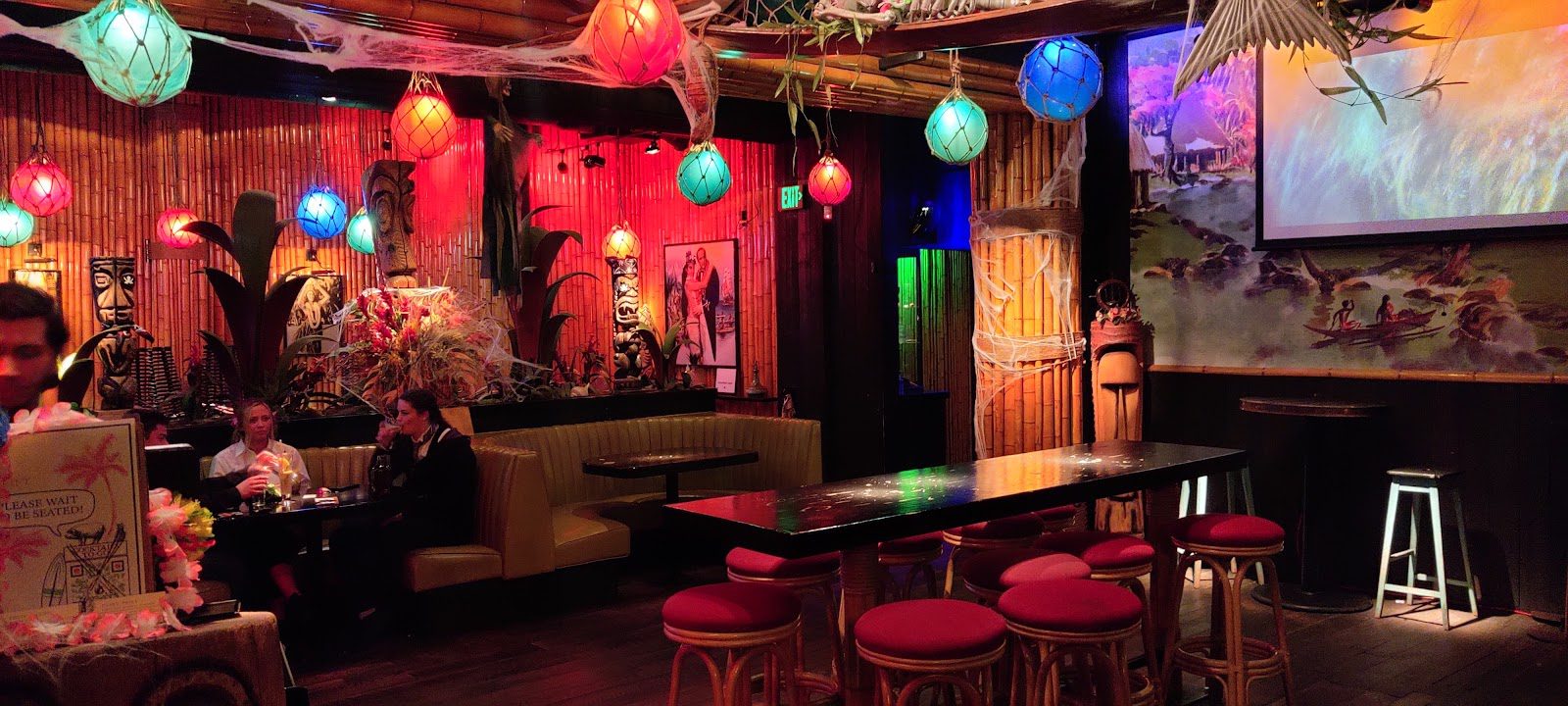 ADRIFT. tiki bar in the Baker neighborhood -4 p.m. to 2 a.m. Monday through Saturday. 218 S. Broadway, Denver; 303-862-5749
Amusement Parks-
Elitch Gardens-299 Walnut Street, Denver, CO (303) 595-4386 -Moved recently so it is not what it was. Six flags nearly ruined it.
Lakeside– 4601 Sheridan Boulevard, Denver, CO 80212 – (303) 477-1621- The little park that will not die. Support this baby.
Other Cities-
Cañon City, CO
Big Burger World-1205 S 9th St, Cañon City, CO 81212-roadside stand that is the type this site exists for.
Evergreen, Colorado
Eats
Tin Star Cafe & Donut Haus -28025 Colorado 74, Evergreen, CO (303) 679-1155 BBQ restaurant and donut house where they even do a dish serving smoked meat on an apple fritter
Englewood, CO (Greater Denver)
Live Music-
Gothic Theatre – former movie theater turned music venue: 3263 S Broadway, Englewood, CO 80113 (303) 789-9206
Fort Collins, CO
Live Music-
Surfside 7-238 Linden St, Fort Collins, CO 80524 (970) 221-4281 Til 2 am.
Attraction-Totally 80's Pizza & Museum-2567 S Shields St Unit 4C, Fort Collins, CO 80526
(970) 867-5309-Recently moved to a former pizza hut. Collection of 80s memorabilia and Pizza. Note the phone number.
Eats-
Big Al's Burgers and Dogs-140 W Mountain Ave, Fort Collins, CO 80524 Most Days 10 to 9 pm, Friday Saturday10AM–11PM (970) 232-9815 Famous for its 60/40 burger which is 60 percent beef and 4 percent bacon ground up in the patty. Also Chicago dogs.
The Colorado Room – 642 S College Ave, Fort Collins, CO 80524 (970) 682-1163 Bar with slow cooked meat slider sandwiches and poutine, the Canadian french fry, cheese curd and gravy concoction.
Ever Open Cafe & Gas Stop-1422 N College Ave, Fort Collins, CO 80524 (970) 221-3183-Open since the 50s, theres no gas anymore and its hours are 6 am to 10 pm. Even though its old it doesn't really look it. Good looking burgers.
Silver Grill Cafe -218 Walnut St, Fort Collins, CO 80524 (970) 484-4656-Actually the oldest restaurant in town since the 30s but doesnt look it. They have famous cinnamon rolls and use them in everything, Cinnamon roll french toast, Cinnamon roll toast sundae, and even a blue cheese burger on a cinnamon roll (gross, but glad it exists)
Charco Broiler -1716 E Mulberry St, Fort Collins, CO 80524 (970) 482-1472 Since 1957 when it started as a coffee shop and burger joint, now a moderate priced steakhouse that does some weird stuff like put chex on their salads.
Loveland, CO
Eats-
Dairy Delite -3080 W Eisenhower Blvd, Loveland, CO 80537 (970) 667-2111-Great burgers, onion rings, fries and ice cream.
Monte Vista, CO
Drive In Theater-
Star Drive In/Movie Manor Motel-2830 W. Hwy. 160, Monte Vista, CO 81144 (719) 852-2613-Playground, snackbar and in room movie watching of the big screen outside.
Morrison, CO (greater Denver)
Eats-The Fort -Wild game, steak & other food in a replica fort: 19192 CO-8, Morrison, CO 80465
(303) 697-4771
Penrose, CO
Eats-
Goose Berry Patch Restaurant- 660 CO-115, Penrose, CO 81240 (719) 372-3910-Family restaurant with pies, burgers or buffet including a sloppy pocket, a chili smothered burger
Pueblo, CO
Regional Specialty called a slopper here and in Pueblo is a burger enchalada hybrid. In Penrose the burger is called the Sloppy Pocket.
Available at:
Gray's Coors Tavern-515 W 4th St, Pueblo, Colorado, 81003
Rojas-877 E Enterprise Dr, Pueblo, Colorado, 81007, This Mexican restaurant is located in an old log cabin model home from the 1970s and serves the slopper.
Sunset Inn-2808 Thatcher Ave, Pueblo, CO 81005 (719) 564-9841-Dive bar with the Slopper and other mexican food.
Gold Dust Saloon-217 S Union Ave, Pueblo, CO 81003 (719) 545-0741
More Eats-
Schlep's Sandwiches -612 N Main St, Pueblo, CO 81003 (719) 924-9255-super rare jewish style deli for the area with homemade challah on certain days.
Pass Key Restaurant -518 E Abriendo Ave, Pueblo, CO 81004 (719) 542-0827-Older sandwich place with a unique sausage specialty sandwich.
Joe Tomato Italian Market-707 S Main St,Pueblo, CO 81004 (719) 584-3007-Good sandwiches on good bread.
Sedalia, CO (Greater Denver)
Bud's Cafe and Bar-5453 Manhart St, Sedalia, CO 80135 Amazing burger. No fries! Chips only.
Superior, CO
Eats-
Wayne's Smoke Shack – in Superior Marketplace: 406 Center Dr, Superior, CO 80027 : (303) 554-5319 Lunch only texas bbq open til 3 pm, closed Sunday and Monday.
Trinidad, CO
Attraction-
Art Cartopia Museum-2702 Freedom Rd, Trinidad, CO 81082
Eats-
Lee's BBQ-825 San Pedro Ave, Trinidad, CO Burgers BBQ and Chili Fries
Turquise Motel, Cortez, Colorado "finest in four corners"