Montreal
This page contains info on Montreal and Southern Quebec.  For Toronto, Yellowknife and Vancouver, click HERE!!
This map below may not refect the content below.  It is a work in progress.
PopMontreal happens in Late September, similar to CMJ or SXSW.
Undergroud punk shows often happen at Death House.  You have to google the space as it is underground.
Canada's East Coast Rockabilly Party in Amherst Nova Scotia
Orange Julep in Montreal, Serving a drink similar to Orange Julius
Roadside Attraction
Built in 1942 on Decarie Street in Montreal. 
Restaurant Orange Julep 
(514) 738-7486
7700 Boulevard Décarie
Montréal, Quebec H4P 2H4, Canada
Tiki Lounge-
Jardin Tiki, Montreal -5300 Rue Sherbrooke Est
Montréal, QC H1N 1A1,  514-254-4173
Bars-
Bar de Courcelle
– 4685 Notre-Dame Ouest, Montreal, Quebec, QC H4C 1S7
+1 438-382-4685 Home of the
Mod Club
dance party with DJ Parka Pat.
Live Music-
Casa del Popolo
– 4873 St Laurent Blvd, Montreal, QC H2T 1R6, Canada  +1 514-284-3804
L'Escogriffe Bar-4461 Saint Denis St, Montreal, Quebec H2J 2L2, Canada
TRH– 3699 St Laurent Blvd, Montreal, Quebec H2X 2V7, Canada
Here are some Montreal hotspots for people watching and hanging out. (old info-check to see if its current)
Record stores:
-L'Oblique, 4333 Rivard St., Montreal, PQ, H2J 2M7
– if you want to head out and check the used stores, then I'd suggest heading to St. Denis/Mount Royal.  There are quite a few stores there.
Coffee-
Café Olimpico -124 Rue Saint- Viateur O, Montréal, QC H2T 2L1, Canada and other locations.  Regional chain of cozy coffee shops.
Good Food:
– For Greek or Middle Eastern food there are tons of late
night places that sell gyros, falafels, chicken sandwiches, very cheap and healthy.  I would suggest Arahova  on Crescent street, or Amir's, which is located on the corner of Cresent and de Maisonneuve.
– La Belle Province: if you want to try "poutine" (ed. note-poutine, if I am not mistaken is french fries with gravy and a curd cheese, believed to be canadas own creation) and gain a few pounds within 5 minutes of ingesting that stuff.
– cafe's: GO TO St. Laurent for good cafe's and bars!!  There are some really good sandwich places, such as "the cafeteria", "Shed Cafe" and "Grano."  Shed Cafe is THE place to go…they've got a DJ spinning the tunes, hot women, and a very cool decor!  I highly suggest this place!!
It's on St. Laurent…
– anywhere on Prince Arthur street….
Wilensky's Light Lunch-Established 1932, Lunch counter and soda fountain famous for its "special" a fried baloney and salami sandwich which you should eat with mustard.  Wash it down with an egg cream or a cherry coke.34 Fairmount Avenue West,Montreal, Quebec  H2T 2M1
JOE BEEF-2491 Notre Dame Street West in the neighbourhood of Little Burgundy,  2491 Rue Notre-Dame O, Montréal, QC H3J 1N6, Canada.  You might call this a gastropub.  Duck fat fries, bacon wrapped horsemeat. Lots of seafood, and crazy looking hazelnut cake.
Boustan -2020 Rue Crescent, Montreal, QC H3G 2B8 Middle Eastern restaurant with famous "garlic potatoes" til 4 am
Chalet Bar-B-Q-5456 Sherbrooke St W, Montreal, Quebec H4A 1V9,Canada
Montreal Pool Room-1217 Boul. Saint-Laurent, Montréal, QC H2X 2S6, Canada-Steamed hot dogs.  No pool as far as I can tell.
Chez Ma Tante-3180 Rue Fleury E, Montréal-Nord, Quebec H1H 2R3, Canada-hot dogs and chili dogs since 1929.
Snowdon Deli-5265 Decarie Blvd, Montreal, Quebec H3W 3C2, Canada-Since 1946, another smoked meat restaurant.
Clubs:
– depending on your mood, Crescent street is a good place to start off with. Tons of tourists and good looking people hanging out at the bars there.
Another street worthy of checking out is St. Laurent.  TONS of clubs on this street.  DO check this street out…lots of the late night crowd, and unusual bunch!  It's always fun to go there!
Pick up a copy of 'The Hour' or 'The Mirror.'  They're weekly entertainment newspapers which can be picked up at most places in the downtown area.  Online you can find Rock Discography that has a good list of current shows.
Also check Whats up tonight.  And there is also The Hour.
For a good dinner, try going to Movenpick's…located in the ground floor of Place Ville Marie (corner of McGill College street).  As far as I know, there aren't any restaurants like Movenpick in the USA….it's definitely a cool restaurant to dine in.
Also a specialty in Montreal is a very different type of Jewish Deli where the corned beef is smoked instead of cured.  Some of the more famous ones are Schwartz's (3895 St-Laurent, 842-4813) , Lester's (1057 Bernard W., 276-6095) and Ben's (990 de Maisonneuve W., 844-1000)..  Also, just a few hundred feet from the Fairmount bagel bakery is Wilensky's. Wilensky's is the most unusual deli experience in Montreal. 11 stools at the counter, room for about 25 standing. You ask for a Wilensky Special, which is an ordinary deli club roll but made with the two LOWER halves of a bialy (the upper halves with the onion being used as hot dog buns), choice of
American or Swiss cheese, for $3.99. A cut of karnatzel taken out of a drinking glass is 25c, a sour pickle  is 60c, an old-fashioned fountain drink $1. (All these prices are in Canadian, so reduce by 1/3 and you'll realize how cheap this is.)
Live Music-
Divan Orange- · Le Plateau-Mont-Royal-Small venue for new & experimental live music in English & French, with DJs & late-night partying.4234 Boul St-Laurent, Montréal, QC H2W 1Z3, Canada  514-840-9090
Jailhouse Rock Cafe-corner St-laurent and Mont-Royal-30 Mont-Royal, Montreal, Qc – (514) 844-3656-Despite its unfortunate name, this venue books some decent shows of a more metal/hardcore variety.
Cabaret-2111 St-Laurent , Montreal, Qc – (514) 845-2014
Club Soda-5240 Ave. Du Parc, Montreal, Qc – (514) 286-1010
FOUFOUNES ELECTRIQUES-87 Ste-Catherine E., Montreal, Qc – (514) 844-5539
Brasserie Beaubien Ltée -Rosemont-La Petite-Patrie, 73 Rue Beaubien E, Montréal, QC H2S 1R1, Canada Live Music
Bar Le Ritz-179 Rue Jean-Talon-Ouest, Montréal, QC H2L 2X2, Canada
The following places were featured on the PBS showRoadside recipes: A tour of Southern Quebec.
North Hatley, Québec
Auberge Hatley-French Country Inn on lake Massawippi a half hour north of the Vermont Border. Four Star restaurant and inn. Open Year Round  819-842-2451
Otterburn Park (Near Mont Saint-Hilaire) Québec
La Cabosse d'Or Chocolatier-973, Ozias Leduc, Canada J3G 4S6
Tél.: 1-800-784-6937 Can-Usa.  Also 514-464-6937  Amazing chocolate pralines and other candy.
Chambly, Québec
Forquet Fourchette-1887,  Bourgogne Avenue – Chambly, Telephone : (450) 447-6370-French Canadian Restaurant & beer brewery where they specialize in high alcohol beers like "LE FIN DE MONDE" (the end of the world) and they have a huge dining hall with very hearty food. Next to old Fort Chambly
Seasonal hours: call for reservations
Gatineau, QC
Eats-
Chez Bob Pataterie-1180 Rue Saint-Louis, Gatineau, QC J8T 2L8, Canada-Burgers and of course, poutine.
Huntingdon, Québec
Leblanc Patate-Chateauguay Street. 450-264-2577-Hot dog stand near the NY Border where the dogs are served with a sweet rather than sour cabbage topping.  They also special in Poutin "the national dish of Canada" which is french fries topped with gravy and a curd cheese which sounds icky, but its supposed to be okay here. Open all year
Noyan, Québec
Fromagerie Fritz Kaiser, Inc. Traditional European Cheese Maker with a retail shop at the factory. 450-294-2207
Mont St-Gregoire
La Goudrelle Canadian Sugar Shack & Banquet Hall
450-460-2131 Web Site: www.goudrelle.qc.ca but its all in french!  This place is a huge hall where everything they cook has maple syrup in it, but its only open 8 weeks a year during sugaring season…I.e, when its very cold!!  They have muffin shaped pancakes, ham and tons of other yummy stuff.
Trois-Rivieres, Quebec
Tiki Bar and Hotel
Hotel-Motel Coconut-7531 Notre-Dame Ouest, Trois-Rivieres, Quebec G9B 1L7, Canada-Newly remodeled but not ruined tiki hotel with a great tiki bar.  Very nice now.
Quebec City, Quebec
Freeze your butt off at the Ice Hotel Canada, the sister hotel to the Icehotel in Sweden.  Rooms are kept at 30 degrees!!
Arcade-
MacFly Bar Arcade- 422 Rue Caron, Québec, QC G1K 5W7, Canada-Bar arcade with decent food too.
Bars-
Club Pelicano- 1076 Rue de Bleury Suite 001, Montréal, QC H2Z 1N2
Venues-Dagobert– 600 Grande Allée E, Québec, QC G1R 2K5, Canada-Multi level venue in a castle
Eats-
Dic Anns-10910 Pie-IX Blvd, Montréal-Nord, Quebec H1H 4B3, Canada-Older branch of a regional burger change
Fabrique du smoked meat-727 Raoul-Jobin St, Québec City, Quebec G1N 1S1, Canada
Casse-Croute Chez Gaston- 332 Rue Dorchester, Québec, QC G1K 6A2, Canada-tiny poutine restaurant
Le Bureau de Poste-296 Rue Saint-Joseph Est, Ville de Québec, QC G1K 3B1, Canada-Cheap Hipstery Eats-Burgers
Diner Saint-Sauveur-450 Rue Saint-Vallier O, Québec, QC G1K 1K8, Canada-Diner with Upscale diner food.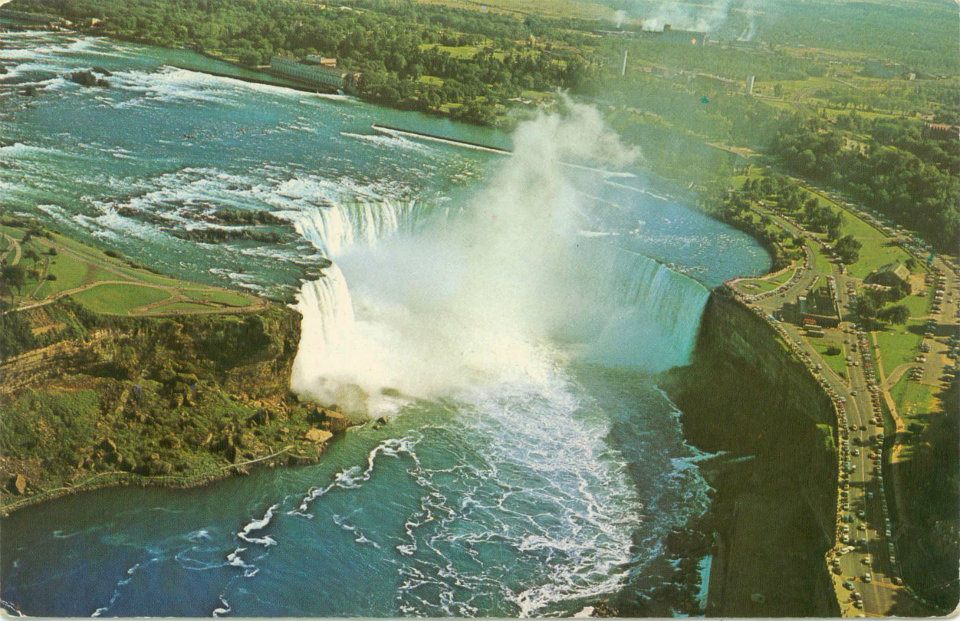 1970 postcard-Aeriel view of Horseshoe Fall, Niagara Falls, Canada