Kansas Tips
My charade was the event of the season
For Kansas City info, see Missouri
One Kansas City, Kansas Note
Greaserama-Boulevard Drive-In-1051 Merriam Lane, Kansas City, Kansas Annual car and music event in Kansas City, KANSAS
Kansas City, KS
Eats
Papa Bob's Bar-B-Que -Built to look like a barn.: 11610 Kaw Dr, Kansas City, KS 66111
(913) 422-4210 try the ultimate destroyer huge sammy
Lawrence, Kansas
Suprisingly active music town.  The Granada and Replay get some great acts.
Record Store-
Love Garden, 936 1/2 Mass Ave, Lawrence, KS 66044
Live Music-
Granada Theater -1020 Massachusetts -Lawrence, 785.842.1390
The Bottleneck -737 New Hampshire-Lawrence ,785.841.5483
The Replay Lounge-946 Massachusetts Street Lawrence. (785) 838-4510 and their myspace page
Jackpot Music Hall-943 Massachusetts. Lawrence KS-We saw a great local act here called "Wrong Crowd".  Nice club.
Mission, KS (Greater KC Area)
R.J.'s Bob-Be-Que Shack -5835 Lamar Ave, Mission, KS 66202 (913) 262-7300 brisket soup?, baby backs, jalapeno sausages rolled in corn husks, deep fried corn, lamb ribs
Olathe, KS
Amusement Park
Jeepers! Olathe – 20070 West 151st Street, Olathe, KS  (913) 393-3535
Overland Park, KS (Kansas City area)
Eats-
John's Space Age Donuts: 8124 Floyd St, Overland Park, KS 66204. This is what donuts will be like in the future. Get the apple fritter
Pittsburg, KS
Regional food war-2 dueling Chicken Dinner restaurants, Chicken Annie and Chicken Mary
Chicken Annie's-since 1934, 1143 E 600th Ave, Pittsburg, KS 66762
Chicken Mary's – 1133 E 600th Ave, Pittsburg, KS 66762 (620) 231-9510
Salina, KS
Eats-The Cozy Inn -108 N 7th St, Salina, KS 67401  (785) 825-2699-Legendary worth a drive slider joint.
Topeka, KS
Eats-
Bobo's Drive In ?-Vintage drive-in since 1953 : 2300 SW 10th Ave, Topeka, KS 66604: (785) 234-4511-Amazing burgers and onion rings.  Well known apple pie.burgers topped with their signature Spanish sauce.
Wichita, KS
Regional Chain 
Freddys Frozen Custard and Steakburger started here in West Wichita – 21st & Tyler 8621 W 21st St N, Wichita, KS 67205 316.722.2299
Select a seat handles many venues in the area.
Food-
Just west of Kellogg and West Street (couple miles east of airport) Town and Country is a great mesquite-grill steak house that also serves breakfast anytime.
Kansas Chicken Legend Strouds has a branch in Wichita.
Amarillo Grill is a local chain with branches at 5730 E. Central, 8406 W. Central, and 3151 N. Rock Road.  The parent company has filed for bankruptcy protection recently but they should still be operating.
Bomber Burger -4860 Clifton Avenue , Wichita, KS 67216  (316) 522-6291-tiny cash only shack with some rude signs, huge burgers and a bathroom you might want to stay away from.  Burgers are 12 oz.
Live Music-
Americas Pub-900 E. 1st St. Wichita, KS 316-267-1782-Drinking bar with occasional bands.
Ritas Little Uptown-252 N. Mosely, Wichita-venue gets all the names like Orgy and Fastball
Amusement park-
Joyland Amusement Park -2801 South Hillside Avenue, Wichita, KS  (316) 684-0179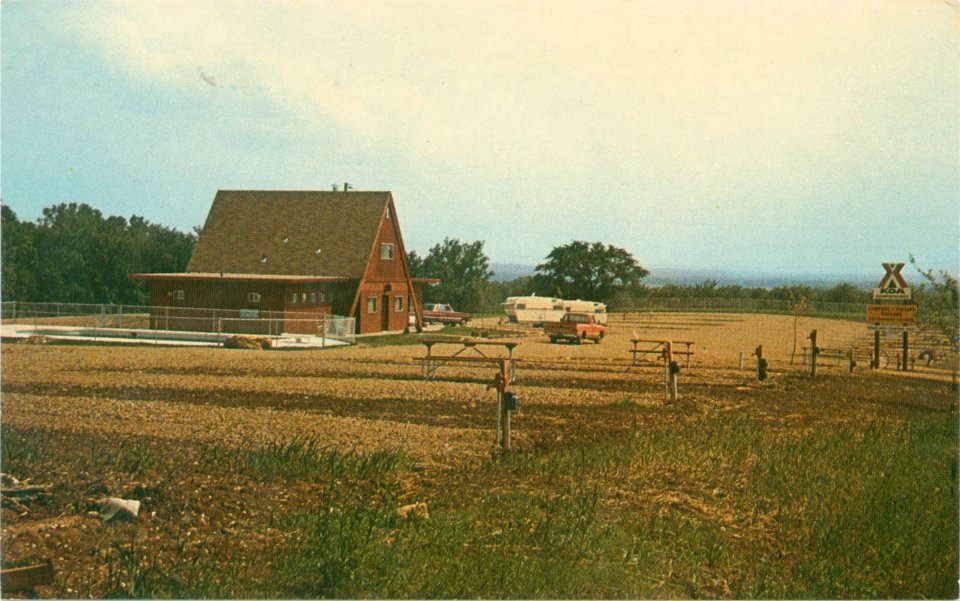 Vintage Postcard of KOA of Topeka