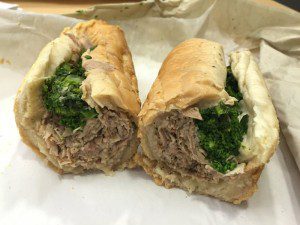 above-Dinics Roast Pork, Brocolli Raab and sharp provolone sandwich from Reading Terminal Market.  This is what SHOULD be the famous sandwich.  Tony Lukes makes a great one also.
Pennsylvania Tips Pennsylvania roadside attractions listings Here
Lehigh Valley-Allentown Bethlehem Area
Amusement Park-
Dorney Park & Wildwater Kingdom, 3830 Dorney Park Road, Allentown, PA
610-395-3724-great Six Flags like amusement park only an hour or so out of NYC.  Owned by the company that runs Cedar Point in Ohio.
Drive In Theaters-
Becky's Drive In-4548 Lehigh Drive, Walnutport PA, 18088    (610)767-2249 -Family run drive in open every night through summer.
Shankweiler Drive in-4540 Shankweiler Rd, North Whitehall, PA 18069
The Mahoning Drive-in Theater-1948 single-screen outdoor theater showcasing vintage films and festivals like a shlock fest.-635 Seneca Rd, Lehighton, PA 18235
Easton, PA
Candy Shop
Carmelcorn shop-62 Centre Sq Cir, Easton, PA 18042
Palmer Township, PA
Eats-
Jimmys Hot Dogs-2555 Nazareth Rd, Palmer Township, PA 18045-Over 100 years.  Local variation on the hot dog with a full pickle spear, mustard, onion
Wert's Cafe-515 N 18th St, Allentown, PA 18104-Multiple burger variations including a crabmeat burger and delicate onion strings. Fries with CRABMEAT?!?, and chili.
YOCCO'S – The Hot Dog King-2200 Hamilton Street  Allentown, PA 18104 (610) 821-8488 Hot dog and Cheesesteak joint with multiple locations-the incredibly cheap Yoccos hot dog is a well done dog with onions mustard and chili, you can also get a side of pierogies
Zandys Steak Shop-813 Saint John St, Allentown, PA 18103
(610) 434-7874-A different kind of steak sub place thats been around forever.  They specialize in a steak sub in a tomato based sauce.  Get pioeries on the side. Right across from Double Decker Records
Record Shop-
Double Decker Records–808 Saint John St, Allentown, PA 18103, (610) 439-3600
Philadelphia
South Street is the place where most hip stuff in Philly is, and old city has tons of bars and clubs as well.  South Street has Hipster Travels Favorite bar-Tattooed Moms at 530 South St.
R5 productions puts on some of the coolest shows in town.  Check before you visit.  Also check DIY Philly.
There are two alternative weeklies.  One is Philadelphia Weekly.  The other is CityPaper.  Holly Eats has a great rundown of Philly food.
Other things of note, and perhaps not that hip, but definately unusual:
Victor Cafe,1303 Dickinson Street at: 13th St tel: (215) 468-3040-this is an italian restaurant that has opera singing waiters and waitresses.
You can walk through Phillys Italian Market area.  It runs on 9th street between Christian and Wharton Streets and chow down on cheese, olives and sausages.
Amazing!  Reading Terminal Market, right by the Market East Station of the Septa train.  HUGE market of amazing foods like the DiNics Roast Pork Sandwich (get it with greens and provolone), Beilers Bakery (two booths, one for the most amazing DONUTS and one for amazing pies and breads like Garlic Cheese bread and Pizza bread) the down home diner (good and CHEAP!), Dienners Chicken, Salumeria and Carmens for Italian subs, Pearls Oyster Bar for seafood and crabcakes, Deli From Herschels, German food and amazing sandwiches from Wursthaus, Pot roast sandwich from Smuckers,  Dutch eating Place for Chicken pot pie and so much more  Take home a ton of beef sticks and cured ready to eat sausages from Smuckers Meat Stand.  You can eat here for a week and not try everything plus they have Bassetts ice cream.
Yum-In the old city area, Shane Candies, 110 Market St , is one of the oldest candy stores in the country.
Even odder-
Mutter Museum of Medical Curiousities-19 S. 22nd St. Philadelphia-tel: (215) 563-3737
Magic Gardens-Artist Mosaic attraction on South Street.
Record Stores-
A.K.A. Music,  120 N 3rd St., Philadelphia, PA 19106
Philadelphia record exchange-1524 Frankford Ave  Philadelphia, PA 19125 (215) 425-4389
Repo Records– 538 South St. 215-627-3775
Where to stay
For the budget conscious, the Chamounix Mansion Hotel, located in the middle of Fairmount Park, offers clean, dormitory-style rooms for between $22 per night.  Its a hostel.  Recent reviews say its clean but not that convienient
The SEPTA regional train system goes from the City Center to the suburbs, as does the rather limited subway system. The trains, however, along with the extensive city bus system, stop running at midnight, and cost $2.25 one way.  New Yorkers can get there fairly cheap by taking the NJ Transit train to Trenton from Penn Station, and then transfer at Trenton to the SEPTA train to Philly.  It costs about 29 dollars, about half as much as Amtrak.
Philly is a city based on squares. Figure out which one you are staying on and how to get back to it, and you won't have a problem finding your way around.
Eats
As I mentioned above, even better than the cheesesteak is the Roast Pork with Broccoli Rabe.  You can get it at DiNics or at Tony Lukes.
Anastasi Seafood , 1101 South 9th Street, Philadelphia, PA 19147. 80 year old seafood in the Italian Market
Nifty Fiftys-2491 Grant Ave, Philadelphia, PA 19114 hand ground crispy grilled burgers in a faux vintage diner.  Good rings.
Paesano's-1017 S 9th St  Philadelphia, PA 19147, (215) 440-0371 Amazing sandwiches in the Italian Market.
Campos-214 Market Street.  Excellent italian subs.  Get a laugh by reading their online typo filled menu with Brocolli "rabbi"
Cherry Street Tavern -129 N 22nd St, Philadelphia, PA 19103 bar famous for cheap HUGE roast beef sandwiches. Load em up with horseradish
POD-3636 Sansom St. Philadelphia, PA  (215) 387-1803-asian fusion and conveyor belt sushi.  Great for eating alone too.
Pamplona, 12th and Locust Streets, offers small portions of Spanish specialties such as Cocoa (a Spanish pizza) and orange garbanzo salad. Each dish is $5, and four or five are more than enough food for two people.
My Thai, located at 2200 South St., offers Thai specialties for about $12 for dinner.
Phoebe's Bar-B-Q, a take-out stand at 2214 South St., is famous for its barbecued ribs, rotisserie-cooked chicken, corn bread and cheap prices.
Villa Di Roma-936 S 9th St-Philadelphia, PA  (215) 592-1295 -classic, great, cheap red sauce italian.
Sarcone's Deli-734 S 9th St, Philadelphia, PA 19147(215) 922-1717  Hogie shop with tasty sammies, like the junkyard special with turkey, proscuitto, spinach, roasted peppers, fresh mozz and provolone
Jack's Firehouse -2130 Fairmount Ave-tel: (215) 232-9000. Down home food from TV Food network bbq guru.
Walk around City Center and Fairmount Park, and the Italian Market on 9th from Christian to Wharton Streets and the Reading Terminal Market on 12th and Filbert Streets.
Han Dynasty-37123 Chestnut Street, Philadelphia (215) 222-3711 Szechuan Food.  Not cheap
Ashland, PA
Eats-
Mays Drive In Restaurant-Center St & Memorial,Ashland, PA 17921 (570) 875-4601-Burgers, "BBQ sandwiches" and ice cream. Over 60 years.
Mineshaft-1120 Center St, Ashland, PA 17921 (570) 875-3292-casual coal country cafe with burgers and comfort food.
Catasauqua, Pennsylvania
Venue-
Chester, PA
Eats-
Doylestown, PA
Eats-
COACH'S Steak & Hoagie House – 44 E State St, Doylestown, PA 18901
Uptowne Deli-1007 N Easton Rd # B, Doylestown, PA 18902 (215) 348-2665
Records
Siren Records-25 E State St., Doylestown, PA 215-348-2323
Essington, PA
Eats-
RJ's Hot Dog Stand-47 Wyandotte St, Essington, PA 19029-Amazing Hot Dogs and Subs
Fracksburg, PA
Eats-
Dutch Kitchen Restaurant -433 S Lehigh Ave, Frackville, PA 17931 (570) 874-3265-burgers and PA Dutch food.
Mazz's Corner Cafe-64 N Nice St, Frackville, PA 17931  (570) 874-4496-onion burgers and other great food.
Eats-
Backwoods Brothers Authentic Texas Cuisine-272 S Fourth St, Hamburg, PA 19526-quaint little bbq restaurant.
Adams & Bright Drug Store-306 State St, Hamburg, PA 19526 (610) 562-2738-Another old timey vintage soda fountain counter
Highspire, PA
Eats-
Highspire Diner-255 2nd St, Highspire, PA 17034 (717) 939-5366
Huntington, PA
Lake Harmony, PA
Eats-
Piggy's Restaurant-91 N Lake Shore Dr, Lake Harmony, PA 18624 (570) 722-8493-Interesting quirky breakfast and lunch place. In the Poconos
Nick's Lake House Restaurant-20 S Lake Dr, Lake Harmony, PA 18624 570-722-2500-Classic Lakeside restaurant-Live entertainment on the weekends-Closed Tuesdays
Louie's Prime Steak House-244 Lake Harmony Rd, Lake Harmony, PA 18624-570-722-3990
Mechanicsburg, PA
Mechanicsburg was the home of the quaint Williams Grove amusement park which we had the pleasure of visiting.  It closed however in 2005 and it sadly abandoned.
Eats-Eckels Ice Cream Fountain-36 E Main St, Mechanicsburg, PA 17055-classic soda fountain with a tiny pharmacy museum
Rakestraw's Ice Cream Company Store-313 S Market St, Mechanicsburg, PA 17055-Since 1903, another ice cream spot, this one just ice cream and pretty new though they have been in production over  100 years.
Josie's German Restaurant And Market-5238 E Trindle Rd, Mechanicsburg, PA 17055 (717) 697-6462-cute little German food restaurant and deli
Dad's Garage Grill & Burger House-245 E Main St, Mechanicsburg, PA 17055 (717) 562-2996-vintage styled burger spot
Milton, PA
The Fence Drive In-drive-with a famous fish sandwich, cabbage salad and homemade sauces, Car hop, dining room or picnic table.   1605 PA-405, Milton, PA 17847   (570) 524-2865 On a lake.
Pottsville, PA
Bar-Hucklebucks-114 E Norwegian St, Pottsville, Pennsylvania 17901-Completely off the radar bar with occasional live music and beer and wings.
Eats-
Hilltop Drive In-2910 E High St, Pottstown, PA 19464 (610) 326-2342-Burgers, chicken and ice cream in an old timey joint.
Live Music-The Bog: 341 Adams Ave, Scranton, PA 18503  (570) 341-6761-Dive bar with live music.  Open til 2 am
Circle Drive in-1911 Scranton Carbondale Highway Dickson City, Scranton, PA 18508-Home of the NEPA horror fest and the fantastic giant Punksylvania festival.
Elysburg is home to Knoebels, an old fashioned park without walls.  You can go on rides one at a time or buy a POP.  They have 2 wonderful wooden coasters, the Phoenix and the Twister.  They also have great food at reasonable prices and some very unique attractions, including a top rated haunted house.
Altoona, PA has the very small Lakemont Park, Home of Leap the Dips, the oldest operating wooden coaster with a top speed of 15 MPH.
Lake Harmony, PA
Eats-
Piggys-Country Breakfast place with wood walls and vaulted ceiling-16 N Lakeshore Dr, Lake Harmony, PA 18624
Norristown, PA (Philly Suburbs)
Springfield, PA
Eats-
Hungry A -755 W Sproul Rd, Springfield, PA 19064  (610) 543-9720 Breakfast and lunch only, closed Sundays.  Diner since 1964 with amazing decor and classic sandwiches and burgers and a burger special called the Burgerama.  See the write up at the amazing Retro Roadmap.
Swarthmore, PA
Live Music-
WaR3House 3 -Antiques and Live Music. Not sure how this works- WH-3, 100 Park Ave, Swarthmore, PA 19081
Eats-
The Gas Light-100 E Hinckley Ave, Ridley Park, PA 19078 (610) 521-4461-Old Tavern bar style steakhouse.
Charlie's Hamburgers -336 Kedron Ave, Folsom, PA 19033 (610) 461-4228-Greasy old stand alone burger joint.  Thin burgers topped with just raw onion and pickle.
The Hot Dog Stand-401 W MacDade Blvd, Folsom, PA 19033-Great Hot Sausages
Wellsboro, PA
TIme Machine town.  The Wellsboro Diner has a gift shop with diner memorabilia in the gift shop. It would be fun to stay at the hotel and go to a movie. Theres a candy store which is just down the street. Not only do they have the classic hotel, but the Wellsboro diner and a cool old movie theater, and the old Dunhams Dept store thats still in business, the whole town is like a trip back in time.
Right next door to a vintage theater and the Wellsboro diner is nearby.
West Chester, PA
Eats-
Eats-
Abe's-419 S Main St, Wilkes Barre, PA 18701-Great chili dogs in a downtown storefront. There are a few other locations as well.