Most of the places on this page are clubs toured by garage rock friends such as Twin Guns or Baby Shakes, or Amusement Parks Visited by the American Coaster Enthusiests
When traveling in Europe and ANYWHERE, always pay in the local currency.  Often when using a credit card, places will ask if you want to pay in Euros or your local currency, in my case, US Dollars.  Always pay in Euros as your bank will always have the best conversion rate.  Point of sale conversion is ALWAYS a rip off.  Also, dump any cards you have that have foreign transaction fees.  Googling no fee-no foreign transaction free credit cards will offer many choices.
Spain has a great high speed rail system.  Trainline.eu offers many transit choices.
Hours are hard to get a handle on in Spain.  Many businesses close from 4 to 7 pm.  Many restaurants may open for lunch from 1 pm to 4 and then reopen from 8 pm to Midnight.  Despite this many bars don't stay open much past 3 AM in Madrid and Barcelona though theres a handful of clubs that may stay open later.  Google is not very accurate with the hours especially among holidays.  Incidently May 1 is a huge holiday and you should avoid traveling at that time.
Festival
HIGH ROCK-A-BILLY !!! Rockabilly Festival, Calafell, Tarragona in Early September
List of some garage rock bands tours
http://digitfanzine.chez.com/digitconcerts.html
Spanish Garage Rock Label
http://discoshumeantes.bandcamp.com/
Albacete, Spain
Live Music-
La Cachorra yeyé– Calle Del Tinte, 35, 02002 Albacete, Spain: +34 627 64 93 99
Alicante, Spain
If you are going to Benidorm, you have to either fly to take a Renfe train to Alicante then take a bus to Benidorm.  The bus and train stations are a 15 minute walk from each other.
Clubs-Sala La Gramola -Concert hall in Orihuela, Spain: Calle Valencia, 21, 03300 Orihuela, Alicante, Spain
Asturias, Spain
Café Dom Pedro , Paseo del Muro 2, GIJON, Asturias  -It is difficult to find much info on the location of this cafe, but they get some wonderful touring Garage rock acts.
Barcelona, Spain
For its size, Barcelona has only a few punk and garage rock options.  The A Wumba Baluba club has many shows and parties in Barcelona and throughout Spain.
Barcelona, Spain
Barcelona is home to a Picasso Museum.
Clubs-
Razzmatazz-multiple clubs under one roof.
High Culture-
The Prado Musuem has a few Bosch paintings and the Juan Miro Foundation has a Museum here.
Sagrada Familia is a Church designed mainly by the Architect Antoni Gaudi.  There are many Gaudi designed sites around town such a the hillside Parc Guell.  Make sure you buy tickets in advance to any museum and historical site in Spain.
Record Stores-
Wah Wah Records-C/ Riera Baixa, 14, 08001 Barcelona, Spain +34 934 42 37 03
Jazz club-23 Robadors– Carrer d'En Robador, 23, 08001 Barcelona, Spain-Tiny Gritty jazz club.  Closes at 2:30 am.
Tiki Bars-
Kahala Barcelona Tikibar– Av. Diagonal, 535-537, 08029 Barcelona, Spain-If you go to one Tiki Bar is Barcelona, this is the superior one, though still only  a 6.5 on Critiki. The music was not good but the drinks were superb.  They serve the drinks with delicious popcorn and corn nuts.
Aloha -Carrer de Provença, 159, 08036 Barcelona, Spain +34 934 51 79 62-Huge space often empty during the week with waterfalls and great decor.
Bars-
Boadas Cocteleria- Carrer dels Tallers, 1, 08001 Barcelona, Spain: +34 933 18 95 92-Time machine art deco fancy bar
Nevermind-Carrer d'Escudellers Blancs, 3, 08002 Barcelona, Spain- +34 663 71 00 95-in the Gothic Quarter-A comfy cheap bar with nice bartenders and a mostly local crown.  Occasional shows.
Psycho Rock & Roll Club-Carrer de Piquer, 27, 08004 Barcelona, Spain-Homey local rock and roll bar.  Music is usually pretty soft but cool folks hang out here
Manchester Bar-Now there are two of these bars, one in the gothic quarter.  They play deep britpop cuts.
The Box -Carrer d'En Gignàs, 30, 08002 Barcelona Spain +34 933 196 717-Teeny tiny cocktail bar with a ton of homemade infused spirits and a popular hot dog.  Til 2 am.
Paradiso/The Pastrami Bar-Carrer de Rera Palau, 4 08003 Barcelona
Spain +34 933 607 222-Cool designed bar with drinks in tiki mugs or glasses that look like bongs and a bar that serves pastrami sandwiches.
Les Gens Que J'aime -Carrer de València, 286, 08007 Barcelona, Spain+34 932 156 879-Underground dimly lit cocktail bar
Amusement Park-Tibidabo (Barcelona, Spain, )
Clubs-Barbara Ann Bar-Carrer del Taquígraf Garriga, 163, 08029 Barcelona, Spain-Very tiny but a great vibe.  Not far from Kahala Tiki bar.
Sala Apolo-Concert hall in Barcelona, Spain
Address: Carrer Nou de la Rambla, 113, 08004 Barcelona, Spain
Sala Begood-Sancho de Ávila 78
Barcelona 08018
Upload-Plaça Major, 9 Poble Espanyol, Barcelona, ES. Barcelona 08038 +34 932 28 98 08-soul nights at this club
Live Music- A Wamba Buluba Club at Club Marula. Carrer Escudellers, 49 , Barcelona
Eats-
Small sandwiches are called Bocadillos which are often a couple of slices of ham on bread.  The best version of this is said to be at Mercat de la Boqueria, a huge indoor food disneyland.
Anardi- Carrer del Parlament, 48, 08015 Barcelona, Spain: +34 936 67 21 96-Bar serving snacks on toothpicks for 1,70 euro each.  The food is Basque.  They add up the toothpicks to get your total plus there are other things you can order a la carte.
Baluard -Carrer del Baluart, 38, 08003 Barcelona+34 932 211 208-Popular bakery in pricey hotel with great fruit tarts, olive bread and sandwiches with Ham.  Mmm. Ham. Oddly enough the hotel is called the Hotel Praktik Bakery
Red Ant Noodle Bar-Carrer dels Tiradors, 3-5, 08003 Barcelona, Spain +34 935 016 860-Normally I don't list a lot of other cuisines on here, but this is a thai vietnamese joints that has some vegan options.
Casa Vallés Frankfurt's-Carrer Gran de Grácia, 84, 08012 Barcelona  +34 932 175 798-A wide variety of sausages and good fries.
Akashi Gallery and Sushi Bar-Photo gallery and Sushi bar?  Hmm.  Rossello, 197, 08036 Barcelona, Spain  +34 931 25 08 77
O Retorno -Carrer del Comte de Urgell, 168, 08036 Barcelona, Spain +34 934 531 104-restaurant serving tradtional Barcelona dishes including Cigalas aka Norway Lobster, huge prawns with claws. Prawns in Garlic sauce, octopus, ham.  Gets busy late, as the city is late. Reservations recommended.
Cervecería Catalana -Carrer de Mallorca, 236, 08008 Barcelona +34 932 160 368-Tapas bar.
Alta Taberna Paco Meralgo-Carrer de Muntaner, 171, 08036 Barcelona +34 934 309 027-Many excellent tapas including a great version of Pan con Tomate , ie, bread with tomato that is on most menus.
El Pachuco-Carrer de Sant Pau, 110, 08001 Barcelona +34 931 796 805-Normally I would smack someone in the head for eating at a Mexican restaurant in Spain, but this bar has cool decor and maybe you need a break from all that ham and octopus.
El Sortidor- Plaça del Sortidor, 5, 08004 Barcelona, Spain: +34 933 28 44 08-Wonderful delicious restaurant in a square near the Miro museum.
Benidorm, Spain
Benidorm is loaded with English tourists that can be poorly behaved at times.  It sort of looks like what a town would look like if it was was made out of a hundred hard rock cafes.   Its very user friendly though the food can be hit or miss.  It doesn't really feel like you are in Spain.
There is an old town area loaded with restaurants.
Home of 2 Garage rock festivals-
Fuzzville-Now on the site of the Magic Robin Hood Resort.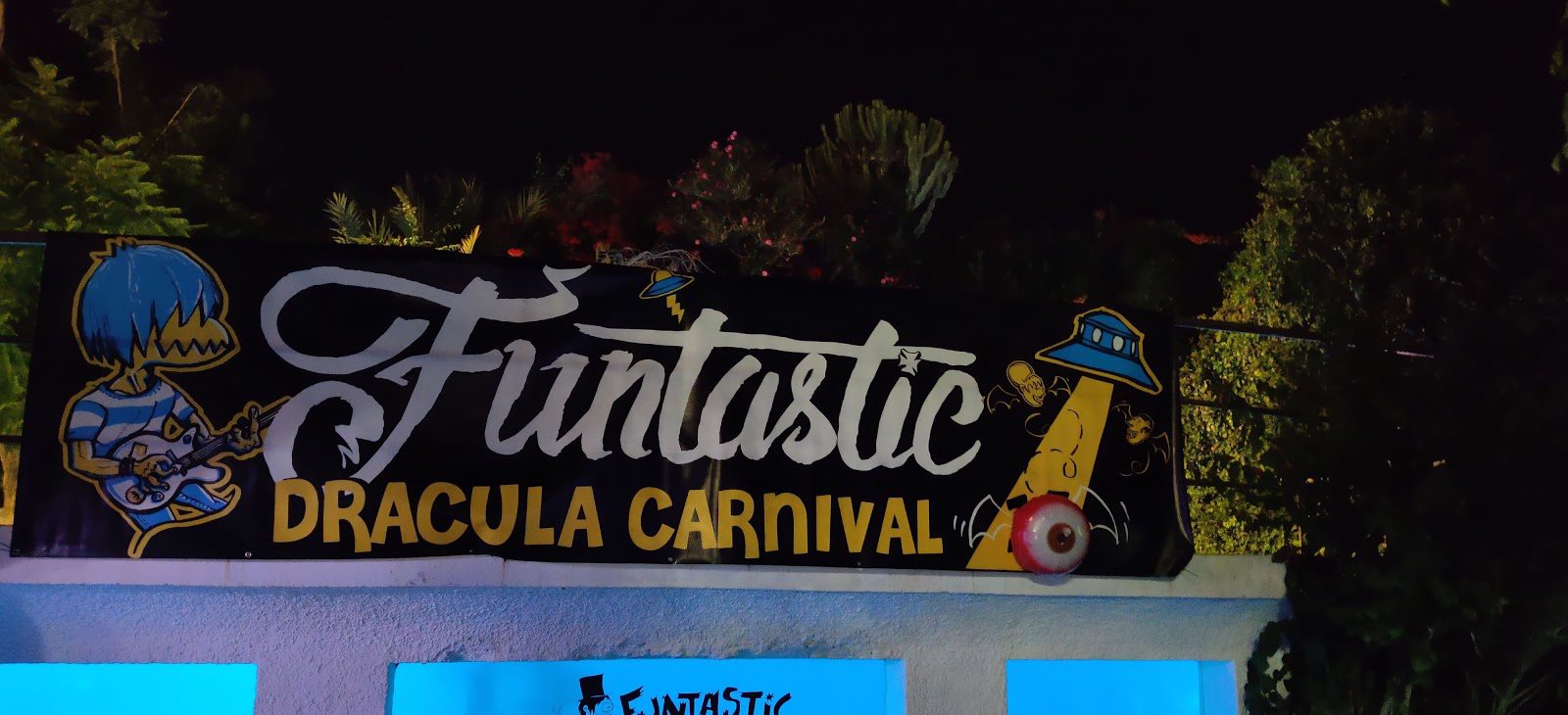 Funtastic Dracula Carnival-always sells out in minutes in late October formerlyt  at the UFO Shaped KU DISCOTECA. and Now next door at the Discoteca Penelope
Amusement Parks-
Terra Mitica (Benidorm, Alicante, Spain, )
Festilandia (Benidorm, Alicante, Spain, )-more of a kids park
Eats-
El corral del pollo- Calle Lepanto, 11, 03503 Benidorm, Alicante, Spain: +34 965 86 43 18-Go figure, but the best food in Benidorm when I asked local folks is a wood grilled chicken place.
Bilboa, Spain
Home of the Guggenheim Spain
Clubs-Satelite T -Botikazar Erribera, 3, 48014 Bilbo, Bizkaia, Spain-Restauarant with occasional nightlife djs/bands
Kafe Antzokia– Done Bikendi Kalea, 2, 48001 Bilbo, Bizkaia, Spain  +34 944 24 46 25-larger music venue/dinner theater
Burgos, Spain
Clubs-Estudio 27, c/la chopera nº 15, Burgos, Spain Facebook page
Castellón de la Plana, Spain (Between Valencia and Barcelona)
Four Seasons 60s Club, Castelldefels, 14
Castellón de la Plana 12004
+34 612 34 56 78
BMOL-Paseig de la Marina 174, 08860 Castelldefels-Home to the long running Thursday night Karaokete live band karaoke.  Lots of rock tunes played.
Carmen 13-Calle del Carmen 13  Burgos, Spain 09001
Cangas, Spain
Club-
Sala Son-Calle Lirio, 30, 36940 Cangas, PO, Spain
Phone: +34 986 30 71 32
Cordoba, Spain
Local shows-Find out about shows at Local places like Ambigú Axerquía Córdoba and La Sala here.
Costa Brava, Spain
Not a town, but a coastal region, this area has many Salvador Dali Attractions, including the Dali Museum in Figueres.
Hotels-
Hotel Llafranc, 16 Passeig Cipsela, Llafranc; (34) 972-300-208; $61 to $92.  28-room hotel at beachfront on a cove.
Parador de Aiguablava, Platja de Aiguablava, Bagur; (34) 972-622-162;  $66 to $104. On a rocky crag, 83-room, 50's modern-style government-run hotel .
Restaurants-
Eldorado Petit, 23 Rambla Vidal, Sant Feliu de Guíxols; (34) 972-321- 818; $35. Restaurant complex with a tapas bar and small  restaurant
Els Pescadors, 5 Port d'en Perris, L'Escala, (34) 972-770-728, $27, has splendid sea views. Simply prepared fish, like baked turbot over a bed of sliced potatoes, and a variety of shellfish are the specialties.
Empordà, Antigua Carretera a Francia, Figueres; (34) 972-500-562; $35. Low key restaurant in a roadside hotel.
Sa Gambina, Riba Nemesio Llo rens, Cadaqués; (34) 972-258-127; $16. A simple, harborside restaurant for casual fare based on fish and shellfish — fried, grilled, or in casserole — and paellas.
Estepona, Málaga, Spain
Live Music-Louie Louie– Puerto Deportivo, Av. Luis Braille, 1, 29680 Estepona, Málaga, Spain
Gijón, Spain
Live Music
The Monkey Club – Paseo Del Muro 2, 33202
Gijón, Spain
Girona, Spain
Home of the Dali Theater-Museum– Plaça Gala i Salvador Dalí, 5, 17600 Figueres, Girona, Spain
Leon, Spain
Live Music-
Sala Valentino's – Calle Federico Echevarría, 14, 24002 León, Spain: +34 642 65 89 27
Liérganes, Cantabria, Spain
Live Music-
Whiskey Bar Los Picos-Calle Camilo Alonso Vega, 27, 39722 Liérganes, Cantabria, Spain
+34 942 52 86 01
Madrid, Spain,
Eats-
Casa Toni- Calle de la Cruz, 14, 28012 Madrid, Spain  +34 915 32 25 80-small tapas bar with great dishes like pig ear, piquello peppers, mushrooms, garlic shrimp plus great garlicky olives.  Typical of regional food here but better than most.  Learn how to order half orders/half racions
Botin-Not trashy but the oldest continually operating restaurant in the world.  Known for its roast sucking pig. They have a fabulous garlic soap that is filled with bread.
El Museo del Jamon (the ham museum) Carretera San Jeronimo 6 and many other locations.  Not a museum, but rather a deli chain with cheese, chorizo, sausage and serrano ham which is served on a plate in thin slices or between loaves of dry, crusty bread.
La Taurina, San Jeronimo 5 serves ham. beer and wine.  It is like the Hard Rock Cafe of bullfighting.
La Venencia, Calle Echegaray 7, (34) 91-429-7313-Sherry, Amontillado and other liquors along with tapas like olives, smoked trout and cheeses.  Sherry is around a buck a glass, food plates run $1.50 to $4.
El Lacon-8 Calle Manuel Fernandez Y Gonzalez.  One of many tapas bars and restaurants along this stretch in the old section of Madrid.  Soup, one tapas and a glass of wine run around 5 dollars.
La Trucha, Manuel Fernandez y Gonzalez 3 have another more aged ham Jamon Iberico and other things like higado de bacalao, a pate made of codfish liver.  A local institution that is always crowded with local characters.
Los Gatos- Calle de Jesús, 2, 28014 Madrid, Spain, Small Tapas bar with a great seafood salad.  +34 914 29 30 67
Mesón del Champiñon- Cava de San Miguel, 17, 28005 Madrid, Spain +34 915 59 67 90-famous for chorizo stuffed mushrooms.  I'd recommend an order of the mushrooms and a half order of the peppers and move on.
Tiki Bars-
Tiki bars here give you a really wierd mix of snacks with each drink.  One gave us a baloney sandwich. One gave olives which do not go with tiki drinks at all.
Mauna Loa
:
Plaza Sta. Ana, 13, 28012 Madrid, Spain
Lunch Box and Tiki Room-Calle del Barco, 8 , 28004 Madrid , Spain-a strange mix of mid century modern, 50s malt shop and tiki vibe.
Bora Bora
:
Calle Ventura Rodríguez, 5, 28008 Madrid, Spain-A little more subdued and classic.  Lots of good makeout couches and an impressive front.
Bars-
La Via Lactea-Calle de Velarde, 18, 28004 Madrid, Spain Open most nights til 3AM ?   +34 914 46 75 81-Usually great DJs, catch all bar for cool and uncool people.  They actually have schwepps Seltzer to get a vodka soda, which is not easy to find in Madrid.  Great people watching.
Picnic-C/ Minas 1  ,Madrid, Spain 28004-Small quirky bar thats a good spot to start your nights drinking.
Tupperware -Calle Corredera Alta de San Pablo, 26, 28004 Madrid-Small quirky hipster type bar
Weirdo! Bar
-Calle Dos de Mayo, 6, 28004 Madrid, Spain+34 696 76 27 27-Super cool bard for the punk rock set.  Very limited hours.  Easy to miss.
Wharf 73- Calle de Colón, 12, 28004 Madrid, Spain: +34 649 76 76 76 indie rock bar that stays open late with djs.
Amusement Parks-
Parque de Atracciones de Madrid
Amusement park in Madrid, Spain
Parque de Atracciones de Madrid is a 20-hectare amusement park located in the Casa de Campo in Madrid, Spain. Casa de Campo, s/n, 28011 Madrid, Spain
Parque Warner Madrid-M-301, Km 15.5, 28330 San Martín de la Vega, Madrid, Spain-a more standard American Style Amusement Park
Clubs-
Rock clubs-
Gruto 77
–Calle Cuclillo, 6, 28019 Madrid, Spain
Moby Dick Club
: Av. de Brasil, 5, 28020 Madrid, Spain  +34 915 55 76 71
El Sol– Calle Jardines, 3, 28013 Madrid, Spain : +34 915 32 64 90- long running 300 person rock club.  Mystery Lights played here in 2019
Fun House Music Club-calle Palafox 8, Madrid 28010 phone +34 910 17 66 19-Small but great club with touring garage punk and other bands.
Rock Palace- Calle Vara de Rey, 6, 28045 Madrid, Spain  +34 914 67 06 23

Wurlitzer Ballroom -Late-night music venue in an industrial space, hosting national & international rock & metal bands. Calle de las Tres Cruces, 12, 28013 Madrid, Spain stays open til 6 am most nights
Murcia, Spain
Live Music-Sala Rem -30008, Calle Puerta Nueva, 33, 30008 Murcia, Spain
+34 868 12 49 17
Ourense, Spain
Venues-Café Cultural Auriense, Plaza del Corregidor, 11, 32005 Orense has events hosted by Rock Club.
Oviedo, Spain (Northern Coast)
bars-
Nunca Jamás drinks and dreams – Oviedo, club with occasional live bands
Live Music-
La Salvaje -Calle Martínez Vigil, 9, 33010 Oviedo, Asturias, Spain
La Lata de Zinc– Calle Julián Cañedo, 4 L, 33008 Oviedo, Asturias, Spain: +34 984 70 27 20
Pamplona, Spain
Live Music-
El Nebula– Calle San Francisco, 24, 31001 Pamplona, Navarra, Spain
Salou, Spain (near Barcelona)
Amusement Park-PortAventura– Huge Major Amusement Park
Santa Pola, Spain
Amusement Park-
Pola Park (Santa Pola, Alicante, Spain, ) very small park, Avda. Zaragoza, s/n, 03130 Santa Pola, Alicante, Spain
San Sebastián, Guipuzcoa, Spain (On the France Spain Border)
Amusement Park-Parque de atracciones Monte Igueldo-Plaza Funicular de Igueldo, 4, 20008 San Sebastián, SS, Spain-crazy wild unique cliffside amusement park.
Clubs-Le Bukowski Calle de Egia, 18, 20012 Donostia, Gipuzkoa, Spain, San Sebastián, Spain
Santander, Spain
Record Store-Discos Cucos: Calle Sta. Lucía, 41, 39003 Santander, Spain
Clubs-Sala Niagara-39003, Calle San Simón, 14, 39003 Santander, Cantabria, Spain
Segovia, Spain
Clubs-
Beat Club Segovia -Calle de San Millán, 1, 40002 Segovia, Spain
til 4:30AM
Sevilla, Spain-
This the the Sandwich capital of Spain with many local regional sandwiches.  There are available at many places.
The Serranito de Cerdo-seared pork loin (maybe chicken)  topped with Serrano ham and a grilled green pepper. Some add fresh tomato, scrambled egg and garlic aioli sauce.
Montadito de Cabrales con Lomo-Thinly sliced pork with Cabrales cheese, a blue cheese from Asturias in northern Spain.
Montadito de Pringá- made with the leftovers from puchero a stew that  may contain pork, chicken, blood sausage, chorizo, and lard. The recipe varies depending on the person making it
Mantecado de Cerdo- creamy whiskey and garlic sauce with grilled pork loin, and even french fries!  The Primanti bros style sandwich of Europe
The  Piripi a  montaditos (tiny sandwich)stuffed with pork, bacon, cheese, tomato and mayonnaise.
Home of festival MONKEY WEEK, which hosts lots of soul and garage acts.
Live Music
Sala X-Calle José Díaz, 7, 41009 Sevilla, Spain  +34 667 42 22 19
Soria, Spain
Live Music
ElCielo Gira Soria-Carretera de Madrid 2 Soria 42005
Valladolid, Spain
Check out the rock club for local shows and events.
Valencia, Spain
Tiki Bar-Hawaika -Cocktail Bar-Address: Calle Héroe Romeu, 6, 46008 Valencia, Spain
Clubs-
Loco Club-Carrer de l'Erudit Orellana, 12, 46008 València, Valencia, Spain
Magazine Club: Calle Pérez Escrich, 19, 46008 Valencia, Spain
Phone: +34 615 82 26 99  til 3:30 am
16 TONELADAS- Carrer de Ricardo Micó, 3, 46009 València, Spain: +34 963 49 45 84
Valenciana, Spain
Live Music-
TNT Blues-Calle de Albatera, 7 Cox, Valenciana, Spain 03350
Vitoria, Spain
Live Music-
Hell Dorado – Venta de la Estrella Kalea, 6, Pab. 44, 01006 Vitoria-Gasteiz, Araba, Spain: +34 945 23 01 31
Zaragosa, Spain
Do a search when you are here to see if you are lucky enough to arrive for a La Placica Vintage shopping/music event
Amusement park- Parque de atracciones de Zaragoza–Paseo Duque de Alba, 15, 50007 Pinares de Venecia, Zaragoza, Spain
Clubs-
La LEY SECA-Calle Sevilla, 2, 50007 Zaragoza, Spain
til 4:30AM
La Casa del Loco – Calle Mayor, 10, 50001 Zaragoza, Spain +34 976 39 67 71
Cafe and Copas King Kong-c/Monasterio de Rueda, 4 (3,682.96 mi)
Zaragoza, Spain 50007