Crabs everywhere, and one region has a stuffed ham specialty
Baltimore Maryland
If you are itching for crabs, this is the town to be in.  They have crab everything.  Another Local specialty is Pit Beef.
SHOWSPACE has a weekly list of music shows.
There is a monthly Soul Night called Save your Soul at Lithuanian Hall the first Friday of the Month.
Maryland specialized in a regional bowling style called Duckpin, which uses short squat pins and 3 balls per frame.  Its endangered with only 27 bowling alleys left in Maryland, from 38 just a few years ago.  Robins Web keeps track of where you can bowl currently.  Don't miss it.
Must see-20-foot statue of Divine at south Baltimore's harbor and the American Visionary Art Museum (800 Key Hwy., 410-244-1900). Many fans also visit her grave site at Prospect Hill Cemetery in the northern suburb of Towson (the grave reads HARRIS GLENN MILSTEAD).
Graves-
Divines Grave-find it at Roadside America
Poes Grave-515 W Fayette St, Baltimore, MD 21201
Local Products-Bergers cookies and Tulkoffs Extra Hot Horseradish
Parties-(updated 5/9/17)
Saturday is the Elektroschock party at Grand Central Pub, 1001/1003 N. Charles Street , Baltimore, MD 21201 $3 cover early, $6 later.  The party goes til 2am when all the bars close. Elektroschock.net
Every Thursday is Punk/Metal Night at The Depot, 1728 N. Charles, Baltimore, Maryland.  The Depot also has parties featuring members of P-Funk.
Fells Point is the touristy bar area.  The Canton neighborhood is getting more popular with scenester locals.
Camden Yards, ballpark of the local baseball team has some of the best food around.  Boogs Barbecue is home to Pit Beef Sandwiches, a smokey spiced beef concoction.  Its a local specialty that you can find all over town in these small roadside stands.  Bambinos ribs have local award winning ribs.  Once again, this is all in the ballpark.
Activities-
Duckpin Bowling lane-Patterson Bowling Center (410) 675-1011 2105 Eastern Avenue Baltimore, MD 21231 12 lanes of Duckpin Bowling, a version of Bowling unique to Maryland, VA, DC and CT.  Nearby Patterson Bowl is the Johnny Rad's Pizzeria Tavern-
2108 Eastern Ave, Baltimore, MD 21231 443-759-6464 which is a good bar with good bar food and a few vegan options including a vegan donut twist.
Bars-
Admiral's Cup Café -1647 Thames Street, Baltimore, MD 410-522-6731.  Comfortable restaurant/bar with good vibe and ecclectic dj spinning everything from blues to 80's music.
The Wharf Rat Pub-801 S. Ann Street, 410-276-9034.  They are famous for a 3 for 8 dollar draught beer tasting special any day but sunday and have great bar food and crab cakes.
Live Music
Metro Gallery -Gallery and art space with live music 1700 N Charles St, Baltimore, MD 21201  (410) 244-0899
Golden West Cafe-Restaurant with the occcasion punk show.
Joe Squared is a pizza joint with 2 locations with occasional live music.
Ottobar-2549 N. Howard Street410-662-0069-Multi-level dive bar venue for local and national indie rock.
The 8×10 Club– 10 E. Cross Street (410-625-2000). Legendary Baltimore music space.
13th Floor/Club 13- 1 E. Chase Street, 410-783-1332.  In an unusual venue, on the top floor of the classic Belvedere hotel is this live music and dance club with a great view, though no doubt on the touristy side.
The Sidebar Tavern-218 e lexington-Baltimore's home for Rock, Hardcore, Punk, Rockabilly, Metal, and more! Cheap booze, great bands and lots of bricks. Even a monthly Mod Party.
The Windup Space – 12 W North Ave, Baltimore, MD 21201 (410) 244-8855
The Crown Baltimore- 1910 N Charles St, Baltimore, MD 21218 (410) 625-4848
Record Stores
The Sound Garden, 1616 Thames Street, Baltimore, MD (410) 563-9011-Fells point area.
Celebrated Summer- 3616 Falls Rd, Baltimore, MD 21211 (443) 866-9988
Baltimore Tattoo Museum, 1534 Eastern Avenue, (410) 522-5800. A museum of all things tattoo, as well as a tattoo parlor. Open daily noon to 9 p.m. Admission is free.
American Visionary Art Museum, 800 Key Highway, Baltimore, MD 410-244-1900-Said to have a 20 foot sculpture of Divine, among other cool things.
Where to stay
Unless you plan to spend a lot of time on Antique Row,  avoid the B&Bs and go to any one of the chain hotels, most of which have a central locale.
The Paramount on 8 North Howard Street (410-539-1188),
is the downtown area's best value. Rooms start at $139.
Crabs in Baltimore-In most restaurants crabs are served in Crabcake form or as Crab Dip which is in turn served on or in crab pretzels or on pizza.   Harder to find are whole crabs crabhouse style.  These are mostly served at places such as LP Steamers. 
CRABCAKES-
Baltimore is the best town for Crabcakes.  The "Best" Crabcake isn't as important as avoiding the worst crabcake.  Here are a few ones I found to be good on a December 2018 Trip. Crabcakes are not cheap and the average cost at the time of my trip was 18 dollars for one.  Most recipes are the same, crabmeat, crushed crackers and old bay. This list is not in any order.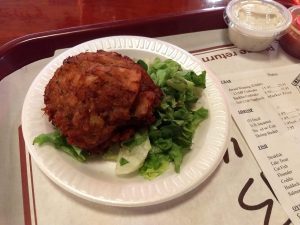 1.Faidley's Seafood-400 W. Lexington St.-Baltimore, MD 410-727-4898.  Lunch counter said to have the best crabcake in Baltimore.  This is located in the Lexington market, a giant food market.  There's many other food stalls too.  At the time we were there our experience was kind of awkward.  I got some steamed shrimp as well, so I got the "backfin" crabcake which is smaller and cheaper and they were trying to upsell me to the slightly larger and 8 dollars more jumbo lump one.  Even though it was a very quiet pre holiday week, I felt out of balance and uncomfortable with the entire experience.   Next time I go back I will be trying the burger at Parks Hamburger, the chicken box (with western fries) at Parks chicken or the Chili Dog at Konstants instead.  Poes grave is super close to hear and the Poe House Museum (Only Open Thursday to Saturday) is about ten blocks away.
2. The PaperMoon Diner-2905, W 29th St, Baltimore, MD 21211
(410) 889-4444. Sadly no longer 24 Hours, this Funky toy covered diner calls their bunned version the Crabbi Patty. You can also get a platter with 2 crabcakes which is a lot of $$ but comes with Garlic mashed and Veg.  Its super close to the free Baltimore museum with its large collection of Mattisse.   The Diner also has a giant pez collection in the vestibule.
3. Peter's Pour House-111 Mercer St, Baltimore, MD 21202 (410) 539-5818-Basic bar food and a great crabcake sandwich on a brioche bun which is a little too big.  At the time of our visit they were also famous for a five dollar -32-ounce draft beer.  Its in the Inner Harbor area in a collection of low rise buildings and restaurants and bars that have survived the boring tall tower onslaught- 111 Mercer St, Baltimore, MD 21202 (410) 539-5818
Other Crabcakes I didn't get to try.
Koco's Pub-4301 Harford Rd, Baltimore, MD 21214  (410) 426-3519-Kocos is known for the most massive and reasonable crab cake.
Pierpoint Restaurant– 1822 Aliceanna St, Baltimore, MD 21231  (410) 675-2080 Has multiple versions of the crabcake including a smoked version.
Other places to eat-
Aside from Faidleys in Lexington Market, noteworthy Trashy Travel approved recommendations are
Park's Hamburger
Parks Fried Chicken-Western Fries, Chicken boxes, Gizzards
Konstant Candies and Peanuts-(443) 863-7148 Chili Dogs-All at 400 W Lexington St
Lexington Market. Baltimore, MD 21201.  While here, you can head over to Poes Grave and the Poe House.  The Poe house is only open Thursday to Saturday.
Pit Beef Sandwiches, a smokey spiced beef concoction.  Its a local specialty that you can find all over town in these small roadside stands, particularly on Route 40.  You eat it like roast beef, with horseradish or bbq sauce.  Chaps , Heavenly Hot Dogs and Charcoal style are but a few of the places, not to mention Boogs at Camden Yards.
Chaps Pit Beef, 5801 Pulaski Highway , Baltimore, MD 21205 410-483-2379 Chaps cooks their pit beef over charcoal.  They have a "pitbull" with pit beef, cheese and sausage.  Typically served with raw onion and horseradish.
Attman's Deli-Deli established in 1915, located on Corned Beef Row-Not kosher so they have shellfish dishes too like shrimp salad.  They have the regional "Coddies", Codfish Cakes served on crackers and reasonable priced corned beef. 1019 E. Lombard Street
Baltimore, Maryland 21202  410-563-2666.  Theres another deli nearby, Weiss' but its pretty sad.  I wouldn't recommend going after lunchtime as at that time they reheat the corned beef in the microwave which makes it chewy and the western fries were soggy at that time.  If you do go after lunch, just get the specialty hot dog topped with baloney and a pickle.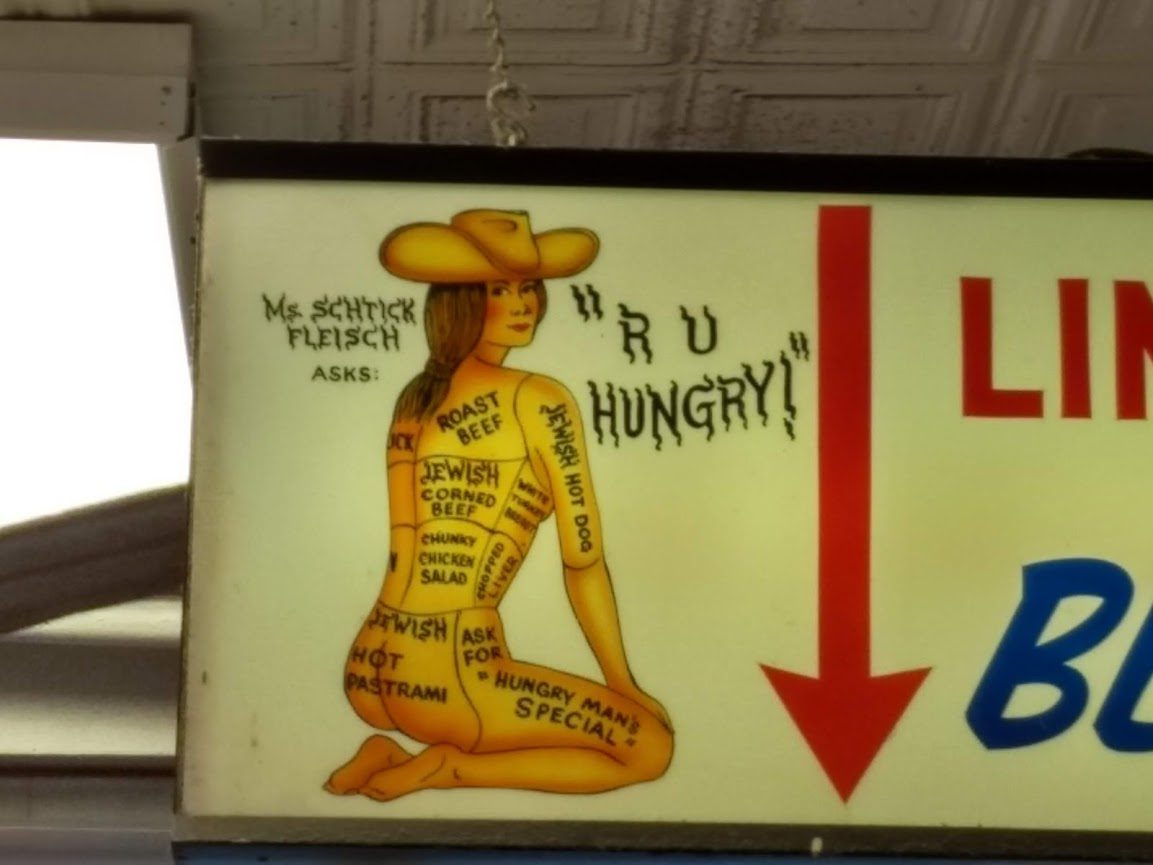 DiPasquale's-3700 Gough St, Baltimore, MD 21224-Closed Sunday-Italian market with great italian subs and a gigantic meatball sub and the Lamborghini- lamb, yogurt sauce, arugula.  ALSO Beef or Crab rice balls
G&A Restaurant ,  (410) 276-9422 ,  3802 Eastern Ave. Baltimore, MD, specializing in "coney dogs" hot dogs with an all beef chili which they also put on burgers with sauteed onions, or you can get sliders.  Plus the fries have gravy and are great!  Coney Dogs are better than the burgers.   Great Crab cake too.  Super closed to the Statue of Frank Zappa, Hoehns Bakery and the Super Cheap Venice Tavern.
Cafe Hon-1002 W. 36th Street Baltimore, Maryland 21211 / 410.243.1230. 50s style dolled up waitresses serving things like meatloaf and homemade pies.
Golden West Cafe-1105 W 36Th Street, Baltimore, MD 21211 (410) 889-8891- they have green chili cheeseburgers of they type you get in Arizona, etc, along with tons of veggie friendly choices.
Matthew's Pizzeria-since 1943: 3131 Eastern Ave, Baltimore, MD 21224 (410) 276-8755 Famous for a crab pizza.
Woodberry Kitchen-2010 Clipper Park Road, No. 126, Baltimore, MD 21211 410-464-8000, small plates, salads, lots of vegetarian choices.
Edmart Delicatessen Inc-1427 Reisterstown Rd, Pikesville, MD – (410) 486-5558  The funny thing about Jewish Delis in MD is that you can get Tiger Sauce horseradish sauce for you brisket!
Drive in Theater-
Bengies Drive-In Theater-3417 Eastern Blvd.,Baltimore, MD,410-687-5627
Nightlife
One of the great facets of Baltimore nightlife is that driving is non-essential, even for seemingly out-of-reach hot spots like Fells Point. You can catch a water taxi from the Inner Harbor that will take you to the Point, an area with bars, coffeehouses and clubs.
John Waters Baltimore, culled from various articles.
Holiday House (6427 Hartford Rd. at Pinewood Avenue) biker bar in the working-class neighborhood of Hamilton. Selma Blair's character in A Dirty Shame, Ursula Udders, works as a topless dancer here
Bengies Drive-in Theatre (3417 Eastern Blvd., 410-687-5627),  where Melanie Griffith set her head on fire at the climax of Cecil B. Demented.
The Drinkery (205 W. Read St., 410-225-3100) Mount Vernon area. one of Baltimore's oldest gay bars. Just outside is where Divine performed the infamous dog feces-eating scene at the end of Pink Flamingos.
The Harbor Court Hotel (550 Light St., 410-234-0550) on Baltimore's inner harbor is the site of much action in Cecil B. Demented.
The Parkville Convenience Store (7501 Hartford Rd.),called the Park 'n' Pay in A Dirty Shame, is where Tracey Ullman's character works.
supposed waters recommended food
Rocket To Venus , 3360 Chestnut Ave. , Baltimore, MD 21211  , filled with a retro palette and furnishings
Shops -supposedly recommended Waters tour shops.
Atomic Books , 3620 Falls Road , Baltimore, MD 21211 , 410.366.1004 , Atomic Pop specializes in collectible toys, Japanese imports, DIY crafts and other odditities.
Normal's Books and Records , 425 E. 31st Street , Baltimore, MD 21218 , www.normals.com , 410.243.6888 ,John Waters names Normal's Books and Records his favorite used book shop in town.
Attractions and Nightlife
WC Harlan , 400 W. 23rd Street , Baltimore, MD, formerly Mollys and Kitty Kat Bar, now a speakeasy with live trad jazz occasionally.
Holiday House , 6427 Harford Road , Baltimore, MD 21234
410.426.6794 from the John Waters' 2004 film "A Dirty Shame," the Holiday House captures classic Harford Road culture better than any other bar or restaurant in the area. Bikers swarm the joint .
Shamrock Inn , 6044 Harford Road , Hamilton, MD 21214
410.426.9715 , Enjoy a night out and listen to great bands and performances from a Black Sabbath tribute to DJs to live bands.
Bengies Drive-In Theatre , 3417 Eastern Blvd. , Baltimore, MD
410.687.5627 This drive-in movie theatre was featured in John Waters' film Cecil B. Demented.
C. Grimaldis Gallery , 5223 North Charles Street , Baltimore, MD 21201
410.539.1080 www.artnet.com/cgrimaldis.html Waters has exhibited his photographs several times at this art gallery.
Charles Theatre , 1711 North Charles Street , Baltimore, MD 21201
410.825.4266 , www.thecharles.com The only theatre of its kind in Baltimore,  The 1150-seat, 23,000 square-foot movie house is located in one of Charles Street's most intriguing historic buildings.
Club Charles , 1724 North Charles Street , Baltimore, MD 21201
410.727.8815 , After seeing the world according to John Waters at the Charles Theatre, have a drink at this just-as-locally flavored favorite. Filled with exotic artwork, music and drinks.
Bethesda, MD
Record Stores
Olsson's Books & Records, 7647 Old Georgetown Rd.,  20814
Cumberland, MD
Eats
Curtis' Coney Island Weiners-35 N Liberty St, Cumberland, MD 21502-Coney Dogs
Largo, MD
Amusement Park
Six Flags America, Park Address: 13710 Central Ave, Largo, MD 20775- (800) 491-4FUN.  One of the lesser known Six Flags parks, this one has what may be the cheapest of the seasons pass prices which are valid at all six flags parks.  If you live in the Northeast, or plan to visit at least 2 Six Flags parks over the summer, try to stop here early in the season and buy a pass.
ELDERSBURG, MD
Eats-
Smokeys-410-549-2880 2030 LIBERTY RD ELDERSBURG, MD-Pit beef, pit ham, ribs
Eats
Blues BBQ-http://bluesbbqco.com/
5800 Urbana Pike, Frederick, MD 21701 (240) 674-5805
Venues-
Krugs Place – 906 North East Street, Frederick, MD 21701
www.myspace.com/krugsplace
Ocean City, MD
If you plan staying for a long visit  and plan on drinking at your place, bring your beer, etc from home. Liquor/beer/wine prices are literally double once you get in OC.
Eats-
Hooper's Crab House -Iconic crab house 12913 Ocean Gateway, Ocean City, MD 21842: (410) 213-1771
Chowhound Ocean city recommendations-
Higgins Crab House (131st and 32nd st) Many all-you-can-eat specials
Dumser's Ice Cream (multiple locations)- mint-chocolate chip milkshake is to die for. Also has burgers, fries, etc. 50's style ice cream parlor.
General's Kitchen (72nd st)- breakfast, but go on a weekday if you can, there's a super long line on weekends. Get the creamed chipped beef.
Thrasher's fries  Warning: Thrasher's does not have ketchup. Vinegar only. They are better that way.
Fisher's Popcorn (multiple locations, some on boardwalk) Get some to take home too. Lasts for weeks, not that you won't eat it all before then.
Subs: Billy's (118th st), Tommy's (29th st) Fat Daddys Sub Shop
216 South Baltimore Avenue
Ocean City, MD 21843 "Family owned and operated since 1985. Offering made to order subs and sandwiches, also many salads and specialty sandwiches. Dine in or carry out, delivery until 4am." 410-289-4040
Anthony's (33rd st) Used to have really huge sandwiches
casual waterfront (bayside) dining: Fager's Island (60th st), Macky's (53rd st)
Boardwalk dining: Shenanigan's (4th st-boardwalk) Fun for having a beer outside and watching the ocean and people on the boardwalk.
Melvin's Steak House (25 N. Philadelphia) is an Old Towne classic, more than 50 years in OC but still unknown to most. It almost closed in 2006, but the owner of the Dough Roller chain of restaurants bought it and kept it going. Steak, baked potato, bread and salad done competently without breaking the bank. They also serve Dayton Bros. Fried Chicken, best on the Shore (sorry English's, although English's fried chicken is good. Stay away from the buffet at English's, though).
Alaska Stand (9th Street & Boardwak) is the last of this venerable classic beach food stands. Split, grilled dogs and burgers as good as always. The original on the boardwalk near the amusement pier is now the "Atlantic Stand" and is OK, but not quite up to snuff for us purists.
Wockenfuss at 1st Street and the Boardwalk. for fudge
In West Ocean City Captain's Galley has the best lump crab cakes in Ocean City.
Amusement Parks
Trimper's Rides-Boardwalk and South 1st Street, Ocean City, MD 21842. Phone Number: (410) 289-8617-Cute little amusement area in this cute little seaside town.  They have famous fresh caramel corn that is said to be wonderful nearby.
also********
Jolly Roger Park, 2901 Coastal Way, Ocean City, MD 21842
(410) 289-3477
www.jollyrogerpark.com
Eats-
Coins Pub & Restaurant -28th Street and Coastal Highway -Ocean City(410) 289-3100-for Crab cakes It looks like a bar in a strip mall, but go in. Esp. Thursday nights when entrees are 1/2 price. No reservations on Th. nights and some wait.
Fractured Prune Donuts.-Ocean City, Maryland – 127th St.
North Bay Shopping Center in the corner by Ledo's Pizza
127th Street and Coastal Highway , Ocean City, MD 21842
A quickie tour of Ocean City junk food.
Here's one way to hit four of these, Treetop family-style. Park at the inlet parking lot and get on the boardwalk. Start walking north. First up is Thrasher's, on the right between Wicomico and Worchester Streets. Buy some fries. Continue walking north on the boardwalk. Next up is Fisher's, on the left at Talbot Street. Buy some Carmel Corn. Keep heading north, alternating munching on fries and popcorn and looking out for "Boardwalk Elvis" (Who may have passed, sadly). By this time you need something cool. This time it's Dumser's Dairyland on the left at Caroline Street. Shift the fries and popcorn to your other hand while you get a cone or shake at Dumser's. Now you are fortified. Keep walking north. At 2nd Street marvel at Joe KroArt's Ocean Gallery and try to figure out what new piece has been added to the exterior. Say Hi to Joe from Treetop Tom. Find some piece of art to pick up on the way back south. Continue heading north, eating the fries, popcorn and ice cream. By the time you reach 9th Street, you will need further fortification. Go to Alaska Stand, on the left. Get some hot dogs and a cold drink. Sit on one of the benches, eat and rest.
Now it is time to head back south. Since you have eaten all of the major beach-food groups you can make a casual perusal of the shops along the Boadwalk. Buy a T-shirt you will only wear once. Get a temporary tattoo. Get your name on a grain of rice. Play some pinball/skeeball/draw poker at Marty's Playland. Think about going into Ripley's, but then decide against it. Go through the Haunted House. Go see the sharks in the glass cases at the end of the Boardwalk. Ride the Merry-Go-Round at Trimper's. By this time you are hungry again, so hit Bull on the Beach on 2nd Street for a sandwich and some spiced shrimp. Head back south towards your car, stopping at Fisher's to get some more popcorn and the Candy Kitchen for some fudge for the road and a box of saltwater taffy to take to the office. Think about getting more fries, but by this time the line is too long. Get back to the parking lot, get in your car and know that you have just done what thousands of other visitors to OC have been doing since they were kids. Welcome to the club.
Record Stores
Record and Tape Traders, Inc, 10435 Reistertown Rd. Bldg. #3
Rockville, MD
Record Stores
Olsson's Books & Records, 12350 Parklawn Drive,  20852
Yesterday and Today, 1327-J Rockville Pike, Rockville, MD
Salisbury, MD
Eats-
1 Fish 2 Fish Crabs And Seafood-1019 Eastern Shore Dr, Salisbury, MD 21804 (410) 219-3474-Dr Seuss themed seafood market and restaurant in an old DQ.  Best for takeout.
Johnny's Sub Shop-1124 E Main St, Salisbury, MD 21804 (410) 860-5447-Good looking burger, Breakfast sandwiches of Baloney and egg, scrapple, pork roll and more and chipped beef all day.  Hand Carved ROAST BEEF!
Silver Spring, MD
Venue-Quarry House Tavern -Longtime basement joint with bar food, plus a jukebox & live music. 8402 Georgia Ave, Silver Spring, MD 20910 (301) 587-8350
Towson, MD
Thrift Store-
Savers-1925 E Joppa Rd, Parkville, MD 21234  (410) 663-7481-Said to be good for vinyl
Windsor Mill, MD
Eats-
Pioneer Pit Beef -(410) 455-0015
Windsor Mill/Gwynn Oak › 1602 N Rolling Rd, Windsor Mill, MD 21244-pit beef stand