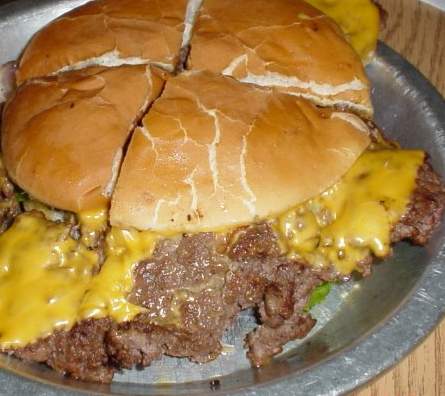 Meers, Oklahoma
Eats-The Meers Store-Home of the Meersburger, made of texas longhorn beef on a 7 inch bun.  Featured on the pbs show "Hamburger America".  located on highway 115, 1 1/2 miles north of the Wichita Mountain Wildlife Refuge. Take I-44 to Hwy 49. Travel West about 4 miles, to Hwy 58. Turn to the North for about 5 miles to the turn-off to Meers (follow the signs). Now turn to the West for 4 miles and you're there. (580) 429-8051
Oklahoma has many regional specialites.  The Onion burgers of El Reno and the Chicken Fried Steak Sandwiches of Oklahoma City among them.
Bartlesville, OK
Bars-
Solo Club-408 E 2nd street, Bartlesville, OK 74003 Since 1955, M-Saturday 10a–2a, Sunday 12n–12a
Frank and Lolas Neighborhood Restaurant & Bar, 200 East 2nd St. SUITE 1 Bartlesville, OK (918) 336-5652 A little fancier.  They have a house Green Pork Chili and a green chili cheeseburger
Eats-
Murphys Original Steak House–1625 SW Frank Phillips Blvd, Bartlesville, OK 74003 (918) 336-4789-Excellent sign on a counter service joint with a unique "Hot Hamburger" which is Meat and Onions on a slice of bread smothered in French Fries and brown gravy.  The hot hamburger is available at other joints around town but not with the same amount of charm.  Get the salad with the house creamy garlic dressing and end the meal with coconut merangue pie.
Broken Arrow OK (Tulsa suburbs)
Speedy West's final resting place is here, in Floral Haven Memorial Gardens, in Broken Arrow OK.
Catoosa, OK
Tourist Attraction-
The Blue Whale-Roadside attraction giant whale that sits in a lake and you walk through his face.
Eats-
Flo's Burger Diner-19322 E Admiral Pl, Catoosa, OK 74015  (918) 739-4858-Delicious burgers and fried things and hot dogs smothered under other stuff.
 Clinton, OK
Eats-
Jiggs Smoke House
-22203 North Frontage Road,  Clinton, OK 73601 (580) 323-5641  Gigantic specialty bbq sandwiches.  Some sliced very thinly, like the ham.  And a "pigsickle" sandwich which uses patties similar to mcribs
Erick, Oklahoma
Museum-
Roger Miller Museum –
The Roger Miller Museum (king of the road) is a museum dedicated to the life and career of entertainer Roger Miller. It is located on historic U.S. Route 66 in downtown Erick, Oklahoma, Miller's home town.  101 S Sheb Wooley Ave, Erick, OK 73645
Phone: (580) 526-3833 (head to Country Dove Tea room in nearby Elk City for eats and pies)
Oklahoma City, Oklahoma
Amusement Park
Frontier City– 11501 Northeast Expressway, Oklahoma City, (405) 478-2412
Eats:
Mini Chain-Tuckers Onion Burgers has 4 locations mostly in modern charmless digs.
The following restaurants were recommended by the foodies on chowhound:
Sala Thai, on 23rd St., across from the university. Best Thai Ive ever had. Great owners, great food, cheap, etc. Better than any Thai Ive ever had in NYC, over 14 years.
Korean House Restaurant -Casual sit-down spot for typical bulgogi & kimchi dishes plus other classic Korean dishes. 4716 SE 29th St, Del City, OK 73115 (405) 677-3215
Chelinos is a chain of tex mex restaurants that are said to be quite good.
Nic's Grill -1201 N Pennsylvania Ave-Oklahoma City, OK 73107-burger with "cheese and everything"-tiny, always a line, not fast burger joint
Johnnies charcoal grill is a local burger chain.  Great Chili, great onion rings.  Not related to the Johnnies in El Reno with onion burgers.
Chuck House- 4430 NW 10th St, Oklahoma City, OK 73107-Chicken Fried Steak sandwiches and more.
Jimmy's Round-up Cafe & Fried Pies– 1301 SW 59th St, Oklahoma City, OK 73119
Live Music-
HILO Club-dive bar & nightclub with live music, drag shows: 1221 NW 50th St, Oklahoma City, OK 73118 Most days 12PM–2AM (405) 843-1722  THIS IS THE BEST BAR IN OKC BY FAR!  The only problem is that as of this writing, they still allowed smoking as several bars do.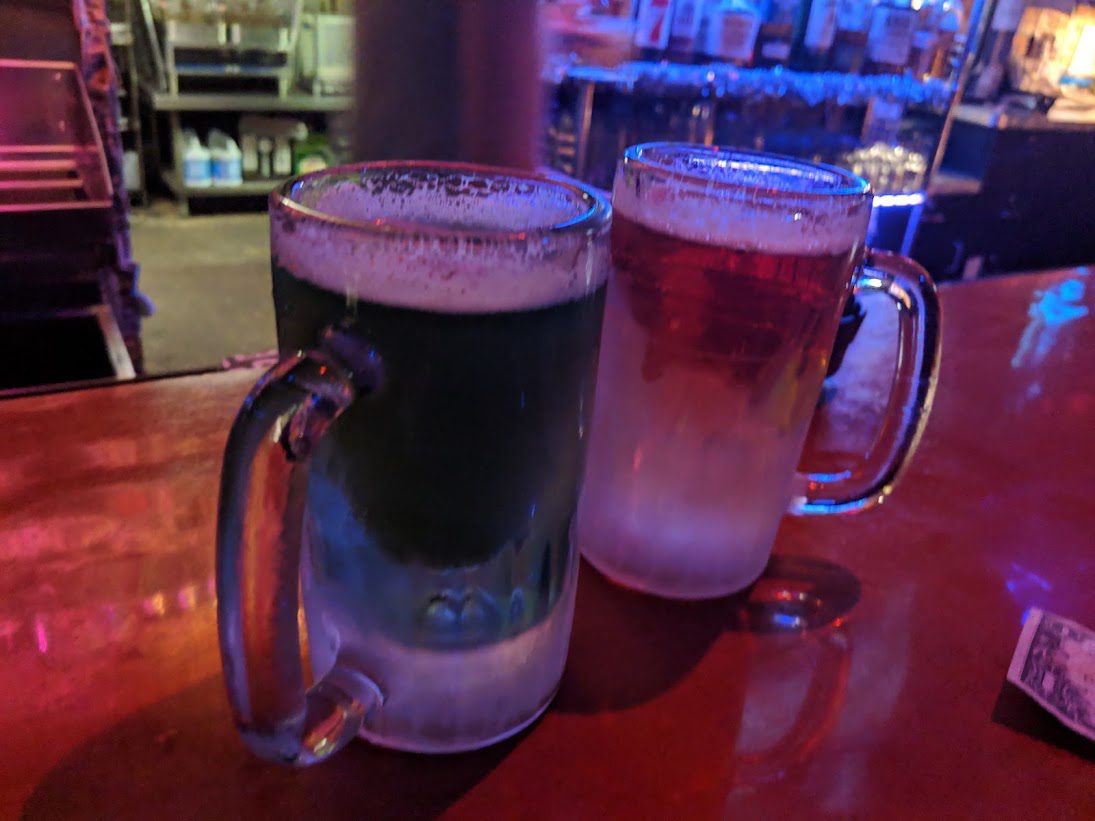 Ednas-Across the Street from Hilo is a bar with dollar bills covering the walls that specialize in an odd concoction called the Lunch box, which is a beer based shot made with coors light and other liquor flavorings..  You should definintely try one, before heading back to the Hilo.  Can get bro-ey.  5137 Classen Cir, Oklahoma City, OK 73118
Green Door, 329 E. SHERIDAN • OKC, OK.
Mercury Lounge -in a converted gas station with live music: 1747 S Boston Ave, Tulsa, OK 74119 (918) 382-0012
89th Street Collective -No-frills, all-ages live music venue 8911 N Western Ave, Oklahoma City, OK 73114
The following listings were provided by Catherine, a friend of hipster travel.
Great Strip Club:
Red Dog Cafe-6417 NW 10th St Btwn MacArthur & Rockwell Oklahoma City
Food
Cattlemen's Steakhouse in Historic Stockyard City-1309 South Agnew Avenue  Oklahoma City, OK 73108 (405) 236-0416-100 year old steakhouse-They specialize in Lamb Fries, which I ain't gonna try.  From the south end of the Lamb. Also, steak soup
Steak and Catfish Barn-5175 East Waterloo Road, Edmond, OK-North of the City plus another OKC location.  Hushpuppies with Green Tomato Relish, Cheap all you can eat catfish.
Oklahoma City, OK 73127, 73127 Phone: (405) 789-2712
Straight out of a Quentin Taratino movie.  Huge room – at least 25 foot ceilings. Lots of fun neon everywhere, including a large flashing space ship over the main stage and white pleather tables and chairs right out of James Bond upstairs. Large spinning cage with a trapeze that several girls made good use of while I was there. Bonus: the girls there are really beautiful because they are real – not a fake boob in site and many different body types and style represented.
BARS:
Best "New York" bar in OKC: Doleys Tower Club Citizens Tower Building, 2200 N. Classen, Lower Level
I stepped inside and felt like I was in a David Lynch movie. Mirrors on the Walls, red leather everywhere. A small band played blues and jazz while a couple in their 60's slow danced in the corner. The place was mostly filled with fairly cool seeming 20 and 30 somethings. Super nice staff, and reasonably priced drinks.
Much less cool but I still liked it:
Cookies
NW 23 & Western, across from the Gold Dome and a five minute walk from Doley's* OKC's answer to Rudy's in Hell's Kitchen, NYC. Nothing fancy at all, but if you just wanta relax in a truly down home redneck bar, this is the place. I ordered four top shelf cocktails and almost tipped the waiter $8 because I didn't understand that they were just $3 a piece. The bartender lived in Hell's Kitchen for 15 years, so if you're missing New York you can get a little bit of home right there
Check out the Gold Dome-It was a bank, was almost torn down for a walgreens and is now an event center.
ART:
The Oklahoma City Museum of Art
415 Couch Drive
OKC-$7 Admission
This museum isn't horrible, but it's very small. You can see everything inside in less than two hours, and it's the same sort of stuff you'd see anywhere else. HOWEVER, in the front lobby they have this insanely gorgeous three-story glass sculpture that is one of the most beautiful things I have ever seen. You can catch a glimpse of it running down the left hand side of their website – http://www.okcmoa.com/. You can walk into the lobby free of charge and look at it, and I highly recommend at least doing that. They also have a movie theater that regularly shows art films and docs.
El Reno, Oklahoma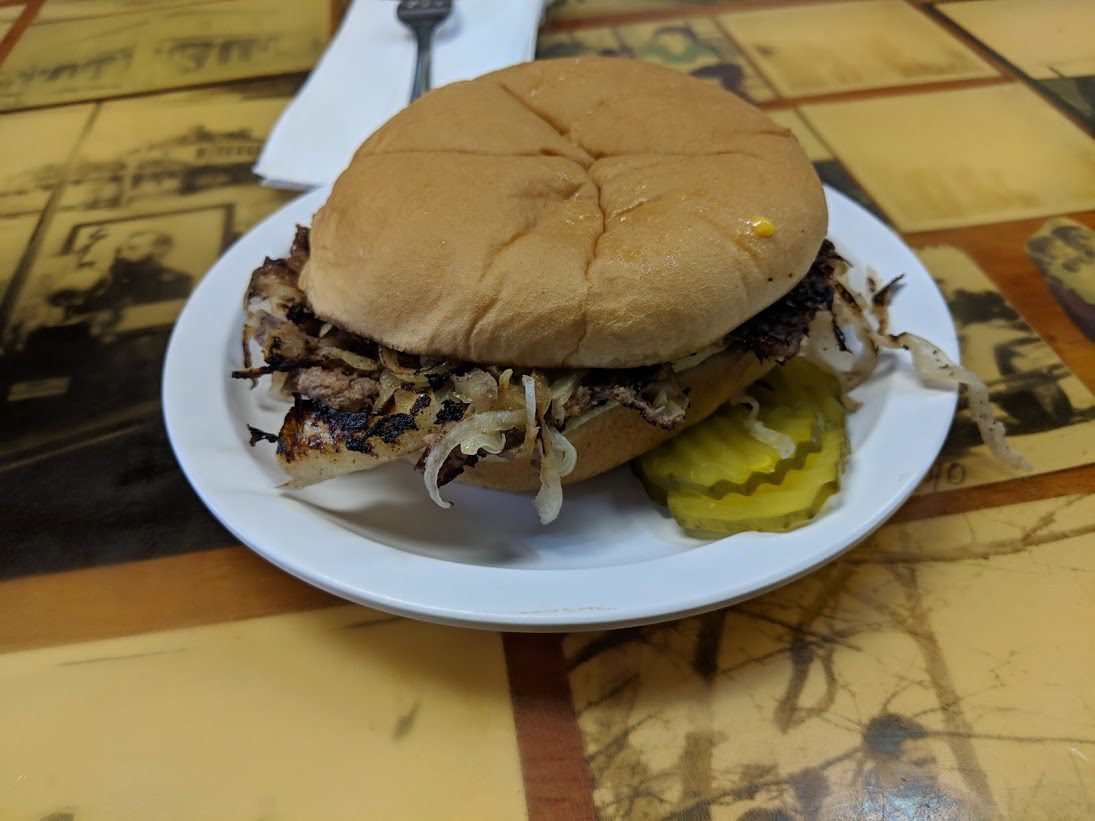 El Reno is home to the fried onion burger, said to be cooked in Reno since the 1900s, making it among the older hamburgers around.  A meat patty is slowly flattened into a pile of frying onions until the burger and onions are as one, a delicious carmelized meat and onion patty.  There are many places to get them here, all within a few blocks of each other.  Sid is the Main One, but all places in El Reno Sell them.  Usually topped ONLY with mustard and Pickles.  Each year they have the el reno burger festival.
There is also a regional slaw they put on their coney dogs that is similar to the neon green slaw in Memphis
Eats-
Robert's Grill-300 S Bickford Ave, El Reno, OK 73036 Famous for onion burgers. Chili and chili cheese fries are supposed to be good too. since 1926
Sids Diner-Open til 8, now a mini chain-300 S Choctaw Ave, El Reno, OK 73036
Johnnies Burgers and Coneys- 301 S Rock Island Ave, El Reno, OK 73036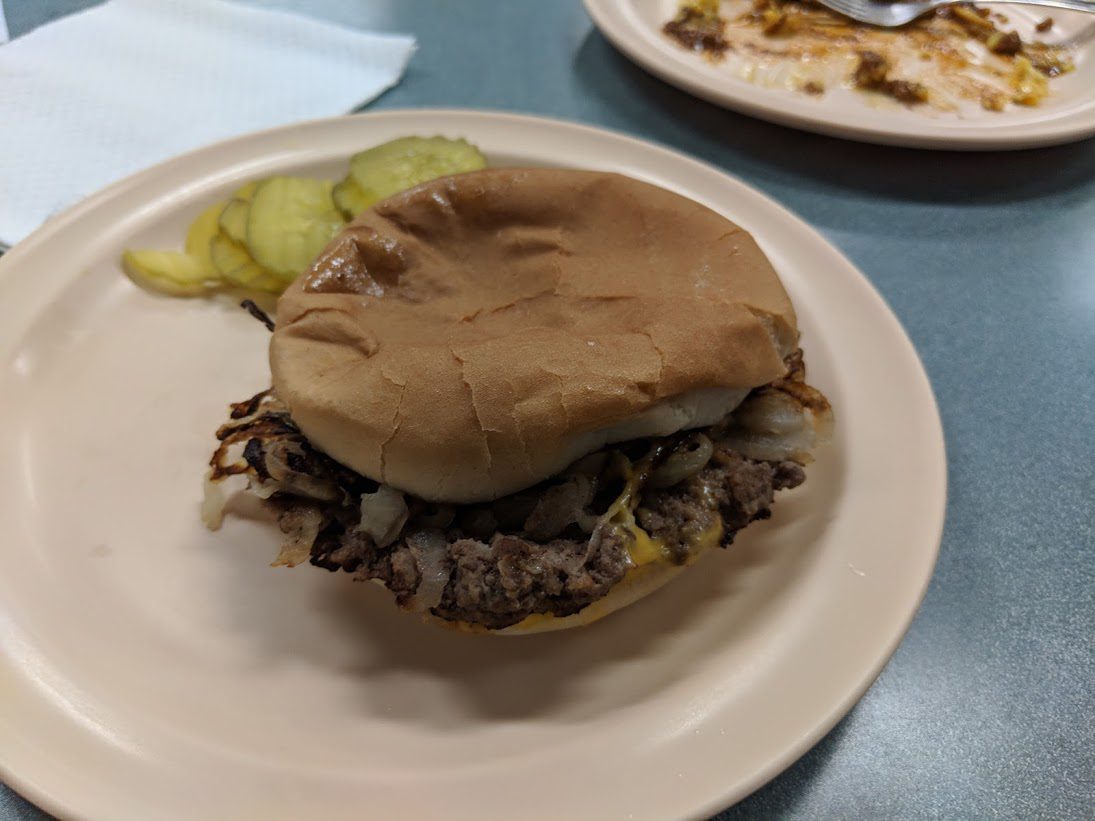 Guymon, OK
Drive In Theater-Corral Drive-In RV Park -825 SW Hwy 54
Guymon, OK 73942 (806) 339-2781-Drive in theater, RV park and pizza and grill on site.  They also have an RV parts supply on site.    The owner lady that wrote the webpage intro has an amusing sense of humor.
Eats-
Mr Burger– 1912 North Hwy 64, Guymon, OK 73942 (580) 338-7973-Local only fast food joint.  Great onion rings.
Lawton, OK
Eats-
Wayne's Drive Inn -7 SW Sheridan Rd, Lawton, OK 73505 (580) 353-7444-since 1950, now theres a 2nd location. Burgers, fried stuff, flavored sodas.
Okarche, OK (greater Oklahoma City)
Eats-Eischen's Bar – fried chicken, Frito pie in "Oklahomas oldest bar" 109 2nd St, Okarche, OK 73762  (405) 263-9939
Pawhuska, OK
Eats-P-Town Pizza -515 Kihekah Ave, Pawhuska, OK 74056 (918) 287-2314-big city type wood fired pizza
Stillwater, OK
If this floats your boat, the first Sonic is here which was just restored to a retro state but I wouldn't bother.  Its just here for the historical note.  Sonic Drive-In -215 N Main St, Stillwater, OK 74075 (405) 377-0930
Tulsa, Oklahoma
Check Out BOK tower, a half sized replica of the World Trade Center.
Regional Abberation-This area serves similar chili to Cincy style chili, and you can get your chili 3, 4, and 5 ways.The Alternative weekly is 
URBAN TULSA
.
Amusement Park
Bell's Amusment Park-3900 East 21st Street, Tulsa, OK 74114 (918) 744-1991-Small family style park with great wooden coaster.
Bars-Maxxwells-2626 E 11th St, Tulsa, Oklahoma, OK 74104 (918) 748-5550-DONT EAT THE FOOD HERE.  If for some reason you don't trust me just look on the yelp review photos.  BUT, its a good place to get a drink in the historic Campbell Hotel.   SO get a drink and then get one of Tulsa amazing burgers, dogs, BBQ or steaks.
The Whittier-Next Door to Whitty Books-2405 E Admiral Blvd, Tulsa, OK 74110
Books-
Whitty Books-Bookstore with many live events like touring bands-
2407 E Admiral Blvd  Tulsa, Oklahoma 74110  (918) 921-4030
Tiki Bar-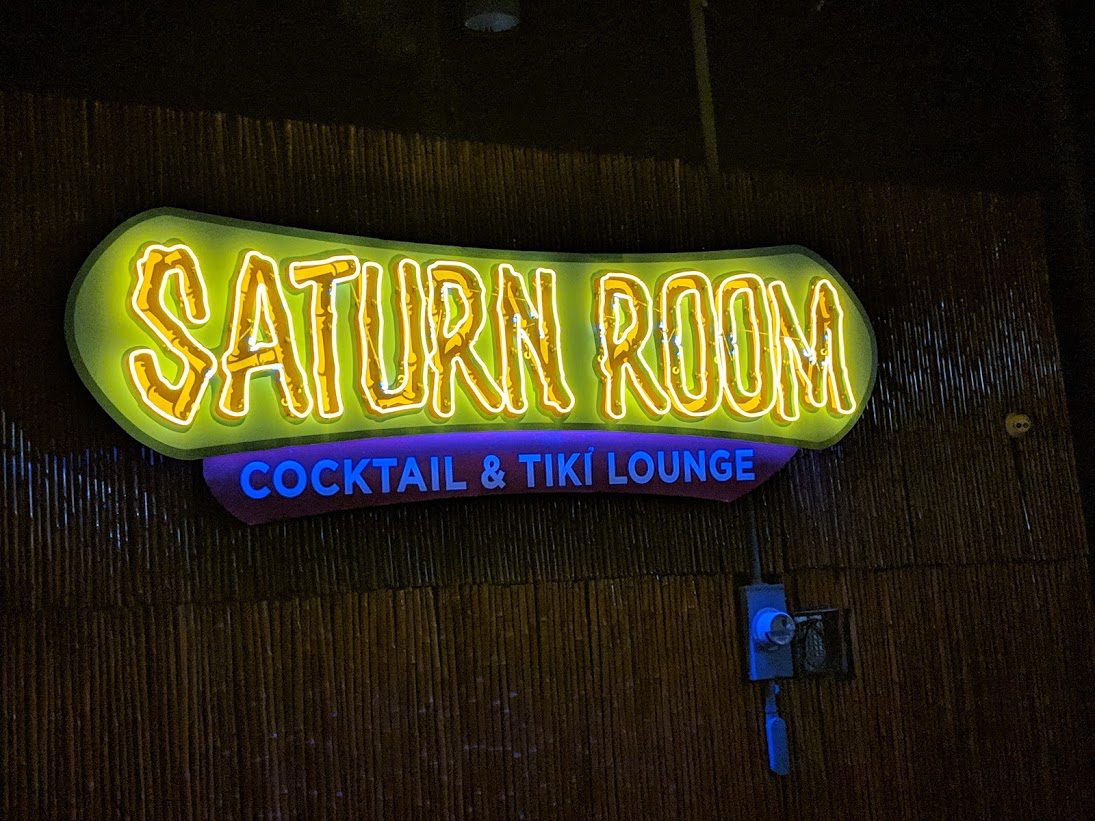 Saturn Room- 209 N Boulder Ave, Tulsa, OK 74103  Daily · 4PM–2AM
(918) 794-9422-A List tiki bar
Record Store-
Mohawk Music, 6157 E.51st Place, Tulsa, OK 74135
EATS
The Ponca City airport, NW of Tulsa in Ponca City Oklahoma has the best hand-made Mexican you'll find in Oklahoma~Family run-"Real" food. A plus: a no-compromise table salsa that's deep brown & ANYTHING but standard. Packs a punch. "Enrique's" is the name. Fun plane watching too. (Pilots fly in from all over to eat there: restaurant is right in the terminal.)
In Brookside try Weber's Root Beer and Hamburger's at least once — Weber's is a family-owned and operated restaurant that was started in June of 1933. located in the heart of Brookside at 3817 S. Peoria the oldest and longest-running business of any kind located in Brookside.
Another big hit is Ron's Hamburgers — it's become a chain the last few years, but it's darn good. There is one at 15th and Denver downtown.
15th Street, between Peoria and Utica, has a ton of places to eat and bars. Hideaway is the same pizza place out of Stillwater — it's also a must if you haven't ever been before.
Doe's Eat Place-on Cherry Street, @ 1350 East 15th St. Tulsa, Oklahoma.  Steaks and tamales
Also, a must-see is the downtown Tulsa Coney Island, near 3rd or 4th and Cheyenne. 123 West 4th Street, Tulsa, Oklahoma 74103 (a restaurant, not an attraction with chili dogs
Burn Co Barbeque -1738 S Boston Ave, Tulsa, OK 74119 (918) 574-2777-Amazing pork ribs which and then Texas style BBQ and amazing steaks for sale for take out.
Elmer's "It Be Bad" bbq  at 41st and Peoria in Brookside. Elmer died a couple of years back and rumor has it that no one else knew how to make the sauce… so it's not quite the same place. But it's still damn good. Get the "Badwich," which is everything on the menu on a bun.
Big Daddy's BBQ — there's one at 46th Street North and Lewis (a long way away and not worth going to) and another at 11th and Garnett (a little easier to get to off I-244). Get the Ghetto Potato. It's like the whole menu on a potato. One of those things you have to try once.
You might want to try one of the Lebanese steakhouses in town. Jamil's might be the easiest to get to… it's west of I-44 and Harvard. Good steaks and lebanese starters come with it for free (ribs, bologna, salad).  Eastern OK has a lot of Lebanese people and they make great food.
Brownie's hamburgers-  It's not far from TU. It's located at 22nd and Harvard… approximately 1 mile South of the Renyold's Center on campus. Take one old Marine, some long-time servers, a grill, hamburger, onions, and root beer and you have yourself a place with good eats-2130 S Harvard Ave, Tulsa, OK 74114 – 918-744-0320.  Great sign
Coney I-Lander-grilled mini-dogs, topped with Greek meat sauce, Served on steamed buns and covered with shredded cheese, such as they serve in Ohio.  Cool old joint open since 1926 -2838 E 11th Street, Tulsa OK 74104
Ike's Chili -1503 E 11th St, Tulsa, OK 74115 (918) 838-9410 since 1908
Hank's Hamburgers -tiny, old-timey joint since 1949. Killer looking onion rings 8933 E Admiral Pl, Tulsa, OK 74115 (918) 832-1509
Linda-Mar Drive-In-get the Westsider – two burger patties, double cheese, and all the fixin's piled between grilled-crisp slabs of Texas toast – 1614 W 51st St, Tulsa, OK 74107
(918) 446-6024 Cute and yellow!
Bill's Jumbo Burgers-2002 E Admiral Blvd, Tulsa, OK 74110 (918) 592-5191-100 year old burger joint.   Not the best in the city but definitely an experience .  Closed Sunday
Claud's Hamburgers-3834 S Peoria Ave, Tulsa, OK 74105  (918) 742-8332-Another simple cheap burger in a cool building.  Since 1954
Cain's Ballroom is THE place to see concerts in Tulsa (on Main, near I-244, cainsballroom.com), and Sound Pony is a GREAT little bar that opened next to Cain's ( non-smoking)  that also has bands
Soundpony–409 North Main Street  Tulsa, OK 74103