Dels Frozen Lemonade
Local Specialty
Find Dels frozen lemonade.  Locations throughout the State.  www.dels.com
Another regional thing is that Milkshakes are known as Cabinets.  The most ordered cabinet is a coffee milk and coffee ice cream version.
Heres a great article on Local RI Eats. And another Here.
Regional Chain-
Walts Roast Beef-Mini Chain in Pawtucket, Warwick and more with Roast Beef and a "thanksgiving sandwich" with Turkey, Stuffing and Cranberry sauce.
The Providence area has another mini chain called Millers Roast Beef.  They also have the Thanksgiving sandwich but also have the Caserla Sandwich, marinated and pulled pork with traditional Portuguese flavors.  They also have a snack sides "side of fried clams."
Many italian restaurants have a dish called Spezzi or Sofrit, which are chicken gizzards and livers in a hot spicy sauce.
Some of the regional chili dog spots, of which there are many, have a chili only variation called a dynamite, which can sometimes be more of a sloppy joe sauce.
Quahog.org has some cool RI roadtrip stuff.
Central Falls, RI
Eats-Stanleys Burgers-535 Dexter St, Central Falls, RI 02863
Charlestown, RI
Nordic Lodge : 178 E Pasquiset Trail, Charlestown, RI 02813  (401) 783-4515-All you can eat lobster buffet.  Prime Rib too.  Very pricey but all you can eat lobster.
Cranston, RI
Eats
Wein-O-Rama-Local specialty found only in RI, The weiner is smaller than your standard frank and much redder in color. They are topped in a hamburger meat sauce along with chopped onion, mustard and celery salt.  Wein-O-Rama
1009 Oaklawn Avenue, Cranston, RI
Dee's Deli- 1296 Cranston St, Cranston, RI 02920 (401) 942-0151-Crazy short hours, 10 am to 2:30 pm but said to make a tasty italian sub on fresh house baked bread
Forestdale, RI
Eats-Lindy's Tavern-98 School St, Forestdale, RI 02876 (401) 356-1966-Classic bar with great bar food, prime rib, awesome onion rings.Excellent fried things in general and all the regional things like stuffies, aka stuffed clams. (google maps has as another town name.)
Harrisville, RI
Eats-
Wrights Farm-Family style chicken restaurant plus baked goods and apple stuff and more Hours-Thursday & Friday , 4:00-9:00 PM, Saturday Noon-9:00 PM, Sunday Noon-8:00 PM-84 Inman Rd, Harrisville, RI 02830
Johnston, RI
Eats-
D. Palmieri's Bakery-624 Killingly St, Johnston, RI 02919 (401) 621-9357-The Regional pizza squares (served room temperature) in many flavors plus all sorts of breads, and a specialty in different flavors they call bisquits, some pepper flavored, but people talk about the wine biscuits.  I read something about calzones and italian tacos too.
Kingston, RI
Eats-
Walts Roast Beef-6660 Post Rd, North Kingstown, RI 02852 (401) 884-9719 and other locations.  These roast beef joints are all over New England with several different multi location chains.
Matunuck Oyster Bar-629 Succotash Rd., South Kingstown, RI 02879 401-783-4202-Famous for clams casino, stuffed with bell pepper, Bacon and breadcrumbs
Narragansett, RI
Eats-
Iggy's Doughboys and Chowder House -1151 Point Judith Rd, Narragansett, RI 02882
(401) 783-5608 doughboys are essentially donuts, though sometimes they are more like a fried dough where they dip them into marinara sauce.  They have all the chowder house classics
Aunt Carries-1240 Ocean Rd, Narragansett, RI 02882-Since 1920, Seafood joint that serves the regional "Shore dinner" Special, clam chowder ,clam cakes. , steamed clams, Flounder ,lobster and desert.  Seasonal.
Newport, RI
Lodging
Castle Hill Inn & Resort
Ocean Dr (401-849-3800). This is a Swiss-style chalet built in 1847. Pricey, but they have some packages available.Pineapple Inn
1225 Aquidneck Ave at the junction of Routes 138 and 138A, Middleton (401-847-2600). The cheapest hotel in town, or near town anyway in Middleton, two and a half miles from the center of Newport. Accommodations are basic low budget.
Live Music-
Parlor Bar & Kitchen-200 Broadway, Newport, RI 02840 (401) 848-9081-Bar Restaurants with very rare live music.
Eats-
Flo's Clam Shack-4 Wave Ave between Aquidneck Ave and Memorial Blvd, Middletown (401-849-6312). right next to the beach, this hut serves fried clams, etc.  Dress down.
Sardella's-30 Memorial Blvd West between Memorial Blvd and Bellevue Ave (401-849-6312). Spacious Italian eatery, standard Tuscan dishes. For dessert, try the ice-cream-filled napoleons.
Ben's Chili Dogs -158 Broadway, Newport, RI 02840  (401) 846-8206
North Providence, RI
Eats-
Riccotti's Submarine Sandwiches- 1360 Mineral Spring Ave, North Providence, RI 02904
(401) 724-8859-old school minimal sub shop
North Smithfield, RI
Eats-
Beef Barn-1 Greenville Rd, North Smithfield, RI 02896: (401) 762-9880-Since 1969, New England Style Roast Beef sandwich restaurant.  Now a second location too.
Pawtucket, RI
Annual Event-The Colonels Super Duper Guitar Show-Rockabilly, guitar show, bands, vendors.- NOTE: this appears to have gone on hiatus.
Eats-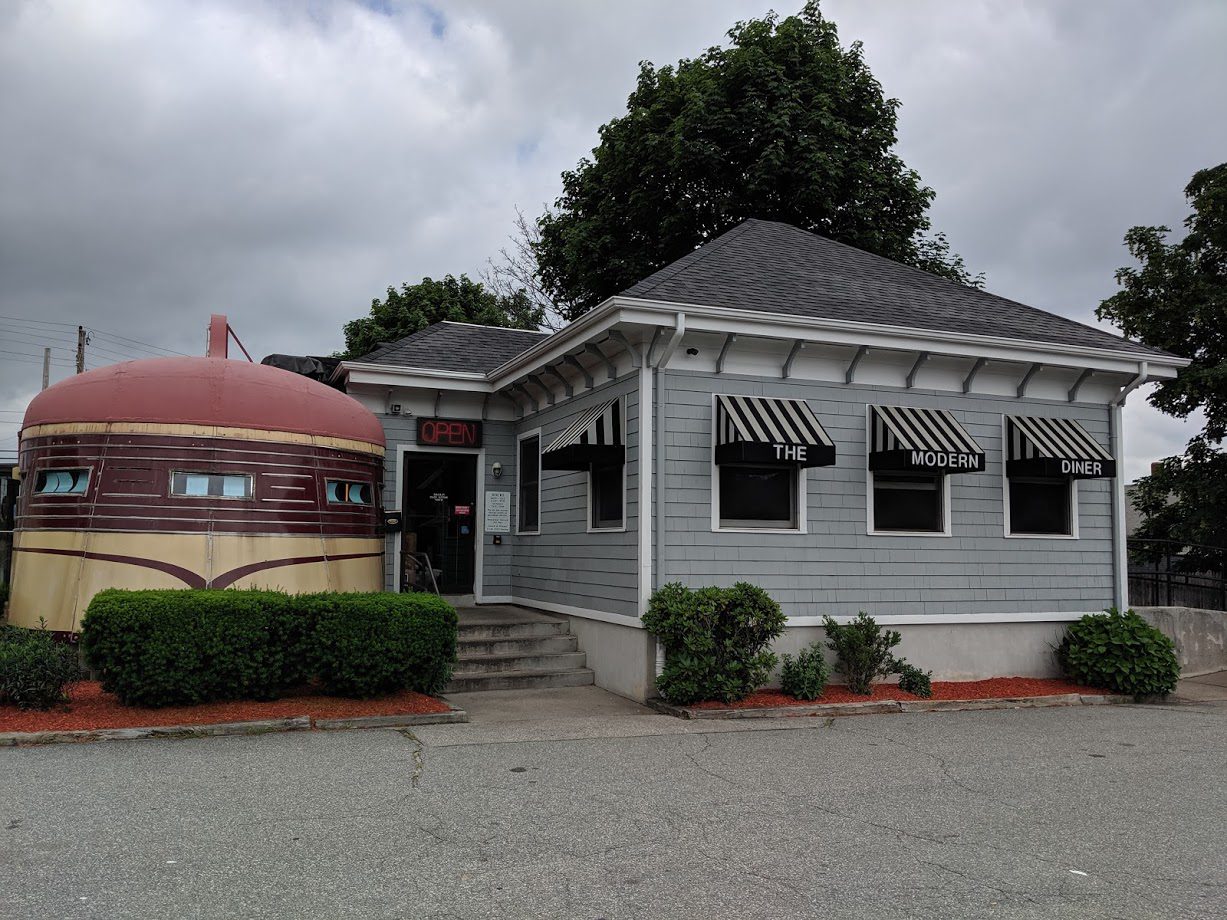 Modern Diner, 364 East Avenue, Pawtucket, 726-8390
Breakfast and lunch only, Mon – Sat, 6 a.m. to 3 p.m.
Sun, 7 a.m. to 2 p.m.  Chow down in a classic diner where diners were invented.
Providence, RI
Clubs are open til 1 am?!?
The weekly alternative paper is the Providence Phoenix.
AS220 is an arts organization which has all kinds of cool art and music events.  There is a gallery, performance space and classes.Go to Thayer St.  for cool Record stores, hip shops and great restaurants. Also look up PR Matrix Hex for possible underground shows.
Recommended Record Stores there are
In Your Ear, 286 Thayer St., Providence, RI 02906
Bars-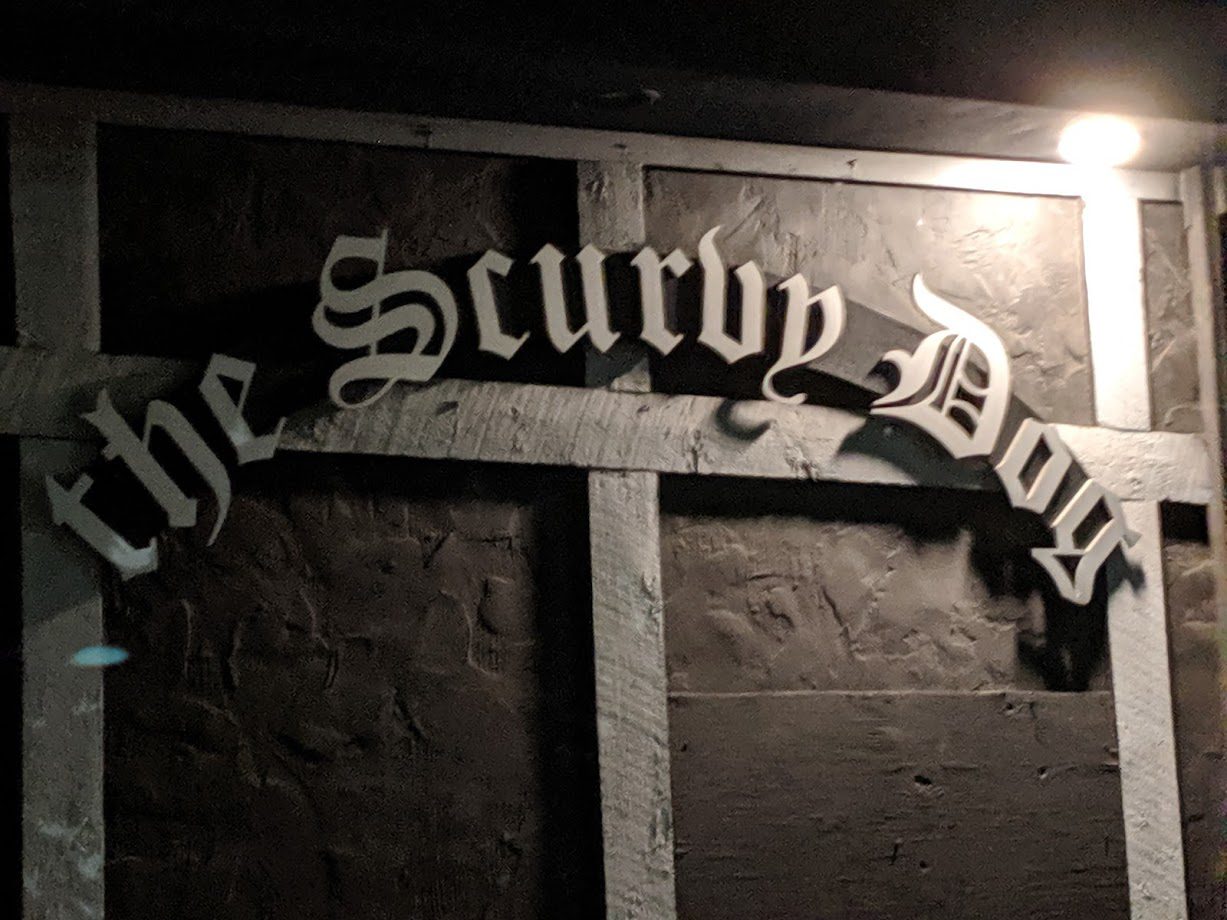 The Scurvy Dog–  1718 Westminster St, Providence, RI 02909  Closes 1AM-Punk rock Dive bar with periodic live shows in the parking lot.  A good catch all end of the night bar for all the cool folks.  (401) 270-7980 Short walk from NY System Hot dogs.
Ogie's Trailer Park-1155 Westminster St, Providence, RI 02909 Indoor outdoor plastic flamingo type tiki joint.  Burgers, Tater tots, Mac and Cheese balls, Lobster and Bacon grilled cheese.
Nick-A-Nee's-75 South St, Providence, Rhode Island 02907-Dive bar with live music usually of the bluegrass sort
Live Music-
Askew-150 Chestnut St, Providence, RI 02903 – (774) 526-9736-Bistro with event room with live funk, soul and other events.
Firehouse 13-41 Central St, Providence, RI, 02907 in an old firehouse
Lupo's Heartbreak Hotel and the Met Cafe, which share a website.
Another "venue"-Two Hundred Million Transit-200 Transit St., Apt. #2 * Providence, RI 02906, from the website "We are an apartment and also sometimes a venue. About once or twice a month we host vegetarian potluck shows. All are welcome!"Other live music-
The Green Room(at Snookers) 145 Clifford St.  Providence, (401) 351-7665Head to Club Hell for the best and only Goth club in the City.
Sax's Steak & Pizza -208 Taunton Ave, East Providence, RI 02914 (401) 434-3523-Good onion rings.  Rhode Island expats talk about the regional steak "grinder"
Crugnale Bakery-11 Newark St, Providence, RI 02908 (401) 831-9592-pizza squares, a talked about spinach pie and the local pepper biscuits and wine biscuits
Clubs-
Dusk-301 Harris Ave, Providence, RI 02909  (401) 714-0444-Home of occasional soul parties hosted by Ty Jesso. SOUL POWER ALWAYS HAPPENS ON THE 2ND AND LAST FRIDAYS MONTHLY!
Eats-
popular with brown university alumni is Al Forno, 570 South Main Street, 401-273-9767-Legendary local italian.  Pricey
Haven Bros. Diner -12 Dorrance St, Providence, RI 02903  (401) 603-8124-Actually a food truck serving burgers and dogs for over a hundred year.
Casertas Pizzeria, 401-621-3618-121 Spruce Street in Federal Hill, Providences Little Italy.  Takeout, but with small tables. Small pie with four toppings and a beer $9  They also have strip versions of a tomato pie called pizza strips.
Harrys Bar and Burger-121 N Main St , Providence, RI 02903-Slider style burgers.
The Lobster Pot 119-121 Hope Street 401-253-9100, old seafood restaurant overlooking the bay.
Sandwich Hut-1253 N Main St -Providence, RI – 401-272-2590-just a sub place, but a really good one. Seriously a phenomal sub!!!!
Local specialty-New York Systems Restaurant -Serving a unique RI delicacy consisting of a hot dog topped with mustard, meatsauce , chopped onion and celery salt on a steamed bun. 10am – 2am, 3am on Fri and Sat, 401- 621-9500 18 Plainfield St
Louis Family Restaurant -decades-old diner  only open for breakfast and lunch: 286 Brook St, Providence, RI 02906 (401) 861-5225
Venda Ravioli-275 Atwells Ave, Providence, RI 02903 (401) 421-9105 Good italian grinders
Dels Lemonadeis another local specialty with stands around the state.
Warren, RI
Eats-
Amaral's Fish & Chips- 4 Redmond St, Warren, RI 02885 (401) 247-0675 Seafood Fast food with good stuffies, the local stuffed clams.
Rod's Grill- 6 Washington St, Warren, RI 02885  (401) 245-9405-More great chili dogs
Warwick, RI
Record Store-
Newbury Comics, 1500 Bald Hill Rd., Warwick, RI 02886
Woonsocket, RI
Eats-.
Ye Olde English Fish & Chips-25 S Main St, Woonsocket, RI 02895-Very very old fish and chips restaurant. Currently closed Sunday Monday and Tuesday
Serio's Fish & Chips- 170 Providence St, Woonsocket, RI 02895-Since 1961.  Very limited hours.  Many good fried things.  The "red" chowder is not Manhattan chowder but closer to the regional clear chowder.
Al's Place-134 Providence St, Woonsocket, RI 02895-Great breakfast, only daily but only til either 12 or 2.
Kay's Restaurant-1013 Cass Ave, Woonsocket, RI 02895-Since 1968.  Open late.  Pub grub til 1 am.  Lobster rolls and "famous" steak sandwich
New York Lunch- 8 S Main St, Woonsocket, RI 02895-Delicious Chili Dog joint.
Unique Venue-