Alabama Tips
Regional Chain-Sneaky Petes Hot Dogs. Multiple locations. Slaw dogs topped with bbq sauce and also chili dogs
Another Regional Chain in Wintzells Oyster House. Only in AL. 10 Locations and the only chain I know of with Chargrilled oysters.
Athens, AL
Treats-
Kreme Delite – 401 W Washington St, Athens, AL 35611 (256) 232-9130-Photo op worthy ice cream joint. Chili dogs here have normal bean chili not coney sauce.
Dubs Burgers -400 S Jefferson St, Athens, AL 35611 (256) 232-6135-Lunch only burger joint
Bessemer, Alabama
Alabama Splash Adventure, FKA Visionland- 5051 Prince Street, Bessemer, AL 35023 Phone Number: (205) 481-4750. RIP-Visionland, now Splash Adventure and no longer operating the Rampage Wooden coaster, though they may open it for the 2014 or 2015 seasons.
Fairly new, decent amusement park 16 miles outside of Birmingham.
Eats-Bob Sykes Bar-B-Q , 1724 9th Ave., Bessemer, AL-its bbq, what more do you need to know?
The Bright Star -Historic landmark Greek steak & seafood house since 1907.
Address: 304 19th St N, Bessemer, AL 35020 (205) 424-9444
J and J Grocery -8169 Dickey Springs Rd, Bessemer, AL 35022 (205) 425-6760-tiny grocery with tiny counter with award winning burgers.
Live Music
Gips Place-3101 Ave C, Bessemer, AL 35020 (205) 919-8142-old blues juke joint with limited operation.
Birmingham, AL
Blog on Local Hot Dogs in Birmingham
Local Alternative papers
The Black and White
Birmingham Weekly
For country music buffs- The Redmont, 2101 5th Avenue, Birmingham AL. Hank Williams and Charles Carr spent the night here, at the beginning of their trip, Hank Williams last. Now a pricey hotel.
Record Stores-
Charlemagne Records- 1924 1/2 11th Avenue South (above Surin); 322-5349
Eats-
Golden Rule Barbeque -smokehouse chain for BBQ sandwiches & burgers but this location is roadside classic. Gorgeous. 1571 Montgomery Hwy, Birmingham, AL 35216 (205) 823-7770
Dreamland BBQ-Said to be the best ribs in Birmingham. 1427 14th Avenue South, 205-933-2133
The Golden Rule-BBQ with various locations around town.
Also, go for the chopped pork bbq at Johnny Ray's along with his cream pie. In fact skip the bbq altogether and have a slice of EACH of the cream pies.24 hour eats-
Als Deli and Grill-1629 Tenth ave south.
Miss Myra's Pit Bar B Q -3278 Cahaba Heights Rd, Birmingham, AL 35243 (205) 967-6004. The most photogenic bbq chicken i've ever seen and great looking ribs. The real deal. They have the regional white sauce too.
Niki's West -Southern buffet: 233 Finley Ave W, Birmingham, AL 35204: (205) 252-5751-Soul food buffet with lots of veggies
The Purple Onion-1931 2nd avenue North. Mediterranean food.
Gus's Hot Dogs-1915 4th Avenue North Birmingham, AL 35203 (205) 251-4540-Chili dog joint a couple blocks from Petes-Both have a sweet sauce that is somewhere between a bbq sauce and onion sauce. Gus's puts the sauce on its burgers too.
Pete's Famous Hot Dogs-1925 Second Avenue North, Birmingham AL 35203 205-252-2905-as mentioned above, this place has a cool neon sign and is teeny tiny, more than 3 people and its packed.
Ted's Restaurant -cafeteria style meat and 3: 328 12th St S, Birmingham, AL 35233: (205) 324-2911
Pop's Neighborhood Grill- 1207 20th St S, Birmingham, AL 35205 (205) 930-8002-burger joint and greasy spoon.
Live music clubs-
The Firehouse-DIY Space
Iron City – 513 22nd St S, Birmingham, AL 35233 (205) 202-5483
Parkside – 4036 5th Ave S, Birmingham, AL 35222-Monday Closed (205) 595-0920
The Oasis-live music
Saturn-Forest Park: 200 41st St S, Birmingham, AL 35222 (205) 703-9545
The Nick -2514 10th Avenue South -Birmingham AL 35205 -205.252.3831
Zydeco– 2001 15th Ave S, Birmingham, AL Food and music
The Bottletree Cafe– 3719 3rd Ave. South, Birmingham, AL 35222.(205) 533-6288.Pretty good touring bands
Sammy's Sandwich Shop- 4921 Messer Airport Hwy, Birmingham, AL 35212 (205) 591-1462-Good Burgers.
Other music stuff-
DIY Birmingham lists shows.
Greencup Books and Bare Hands Gallery hosts shows and events too, 105 Richard Arrington Jr. Blvd. South in downtown Birmingham, AlabamaIn the area is the Frank Lloyd Wright Rosenbaum House, The original house was completed in 1940 and enlarged by Wright in 1948. 601 Riverview Drive, Florence. Call for appointment. Admission charged. 256-764-5274.
Columbiana, AL
Eats-
Davis Drug Company- 111 S Main St, Columbiana, AL 35051 (205) 669-6713 Drug store lunch counter.
Eats-
Oasis Bar & Grill -6720 University Blvd E,-Cottondale, AL 35453 (205) 553-9965-Burgers
Decatur, AL
Eats-Alabama has a regional specialty form of bbq usually with chicken drenched in a mayonaise based white bbq sauce.
Big Bob Gibsons BBQ created it and you can try it at their two locations. 1715 6th ave, SE (hwy 31) or 2520 Danville Road, SW.
C F Penn Hamburgers -121 Moulton St E, Decatur, AL 35601 (256) 355-0513-Cool looking greasy spoon burger joint.
Daphne, AL
Manci's Antique Club, 1715 Main St., Daphne, AL, 36526
(251) 626-9917-hearty food in an antique store including a Jazzy burger with "jezebel" sauce, a sweet and spicy sauce made from apple jelly, lots of po boys too with homemade tartar sauce. And a bar self proclaimed the bloody mary capital of the world
Dothan, AL
Hunt's Seafood & Oyster Bar-177 Campbellton Hwy, Dothan, AL – (334) 794-5193-Get the crab claws. They have a weird variation of baked oysters with cheese, scallions and bacon bits.
Dobbs Famous Bar-B-Que -2636 S Oates St, Dothan, AL 36301 (334) 794-5195 Back to Back with Hunts seafood. Around for 100 years, but mixed reviews.
Elberta, AL
Eats-
Pirates Cove -6664 County Road 95, Elberta, AL 36530(205) 582-7376-Marina with downscale high rated burger.
Florence, AL
Original Location of Fame Studios.
Live Music-
116-116 E. Mobile is a music venue operated by Single Lock Records. It was established by artists with artists in mind. 116 E. Mobile . Florence . AL . 35630
Musuem-
Frank Lloyd Wright Rosenbaum House.-601 Riverview Dr
Florence, AL 35630 (256) 718-5050
Attraction-Toms Wall-Large hand built wall. You must park on the side of the road which seems not right, but it is. -13890 County Road 8, Florence, AL 35633, near the Natchez Trace & Hwy 20/Savannah Hwy Open from 8 am to 4 pm.
Eats-
Bunyan's Bar-B-Que-901 W College St, Florence, AL 35630 (256) 766-3522 Special slaw and white sauce makes this place special. Get a bright red hot dog with slaw called a Bunyan dog or bunyan, and chicken with white sauce. Pork is good too with their red sauce.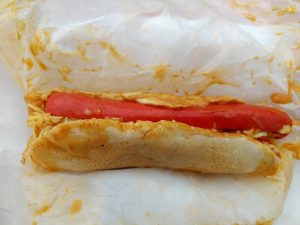 Chat N Chew Drive in- 3663 Cloverdale Rd, Florence, AL 35633 (256) 766-5060 Tiny little classic great sign drive in burger and ice cream place. Not much to see on the inside.
Dick Howell Barbeque Pit – 1350 N Pine St, Florence, AL 35630 (256) 712-5092 Slaw focused BBQ pit similar to Bunyans but their hot dogs are normal color and the BBQ meat looks a bit smokier. Bunyans is more beloved clearly among the locals.
Tio Juan Mexican Grill -1318 6th Ave SE, Decatur, AL 35601 (256) 306-9992-Home Made tortillas, street style tacos, ie, meat, sauce, lime, etc.
Trowbridge's Ice Cream and Sandwich Bar -316 N Court St, Florence, AL 35630 (256) 764-1503 Classic Must eat soda fountain, ice cream shop, chili dog slingers. They call a chili dog a "true dog" and have ham salad and pimento cheese.
Staggs Grocery-: 1424 Huntsville Rd, Florence, AL 35630 (256) 764-7382-Burger joint in a grocery.
Glencoe, AL
Eats-
Big Chief Drive-In -600 Main St W, Glencoe, AL 35905 (256) 492-4660
Gulf Shores, AL
Home of the National Shrimp Festival in October.Waterville USA-This waterpark has a decent wooden out and back coaster. Park Address: 906 Gulf Shores Parkway, Gulf Shores, AL 36542 Phone Number: (334) 948-2106
Hartselle, AL
Eats-Willie Burgers-205 Main St W, Hartselle, AL 35640
+1 256-773-0112
Helena, AL
Eats-
Depot Deli & Grill -29 Lake Davidson Ln, Helena, AL 35080(205) 620-1426-Burger joint with waterfall views.
Hoover, AL
Eats-Green Valley Drug-1915 Hoover Ct, Hoover, AL 35226 (205) 822-1151-Drugstore with lunch counter.
Heflin, AL
Treats-
Tasty Dip -1278 Ross St, Heflin, AL 36264(256) 463-7621 Ice cream joint with basic bbq sandwich and burgers. Great neon sign.
Huntsville, AL-
Betty Maes Restaurant -1222 Grace St NW, Huntsville, AL 35801 (256) 533-2188-Southern food.
Big Spring Cafe -3507 Governors Dr SW. , Huntsville, AL 35805 (256) 539-9994 Burgers dogs and a great bowl of Chili
Toybox Bistro -511 Jordan Ln NW, Huntsville, AL 35805(256) 513-8469-Little fancy for trashy travel but they put mac n cheese in waffles.
Venue-
Flying Monkey Arts
Flying Monkey Arts Center is a not for profit community arts collective that encourages, supports and promotes events, workshops and studios featuring but not limited to music, film, theater, dance, puppetry, visual and performance art with a focus on experimental works for mature audiences.
Sports Page Lounge-9009 Memorial Pkwy SW, Huntsville, AL 35802- (256) 880-9471-Dive bar with live music and bar food. Hard to find listed shows though
Homewood, AL (Greater Birmingham)
Eats-
Saw's BBQ -1008 Oxmoor Rd, Homewood, AL 35209 Closed sundays. Carolina pork, decent ribs and a chicken with white sauce. Also a good burger!
Jackson, AL
Eats-
Burger House -1007 Coffeeville Rd, Jackson, AL 36545 (251) 246-4157-Vintage large awning window burger joint.
Ed's Drive In -3018 N College Ave, Jackson, AL 36545 (251) 246-3054-A twin to the Burger house with different ownership and food.
Minnie Mae's -1007 Coffeeville Rd ,Jackson, AL 36545 (251) 246-4157-This is hysterical, this looks exactly like the two joints above but with a way nicer paint job.
Leeds, AL
Eats-
Old Smokey Bar-B-Q – 7323 Parkway Dr, Leeds, AL 35094 (205) 699-7904 most days 10AM–8PM, Sunday Closed-good looking ribs, plus a loaded baked potato.
Rusty's Bar-B-Q -7484 Parkway Dr, Leeds, AL 35094 (205) 699-4766 Open every day 9:30AM–9:30PM-White sauce chicken, the regional specialty. Photogenic sign, ugly building.
Mobile, Al
Eats-
The Dew Drop Inn-Said to be Mobiles oldest restaurant. They serve hot dogs in toasted buns, topped with sauerkraut, sweet beef chili, mustard, ketchup, and a pickle slice.and hamburgers topped with chili. 1808 Old Shell Rd., Mobile, AL 334-473-7872
The Brick Pit BBQ-5456 Old Shell Rd. Mobile, AL 334-343-0001, incredible slow smoked bbq-Pork smoked for 30 hours!
Wintzell's Oyster House -605 Dauphin St. Mobile, AL 334-432-4605 (chain)
seafood gumbo, crisp-fried crab claws, oyster po-boys, and West Indies salad, a favorite dish in Mobile, nothing but hunks of crabmeat marinated in oil and vinegar with grated onions. Usually it is an appetizer, but some have it for a main coarse, with nothing but saltine crackers. "Oysters Fried, Stewed. or Nude." Multiple locations also, but this location has been here for over 75 years.
Dick Russell's Bar-B-Q-5360 Hwy 90 W, Mobile, AL 36691 (251) 661-6090 Better for burgers.
The Boiling Pot -Cajun-Creole-style seafood & po' boys- 3704 Airport Blvd, Mobile, AL 36608
Phone:(251) 345-0749
Venues-The Cell Block-216 Dauphin Street, Mobile, AL
Blind Mule -57 N Claiborne St, Mobile, AL 36602 (251) 694-6853 bar and brunchy kind of place with "chicken and pancakes" that has occasional touring bands play
Montgomery, AL
Hank Williams Grave-Hank Williams Memorial – Oakwood Annex Cemetery-1305 Upper Wetumpka Road, Montgomery, Alabama 36107
A statue of Hank is across from the Old Auditorium, N. Perry Street
Montgomery, AL 36104
Eats-Chris Hot Dogs-Hank Williams favorite hot dogs-Located in Montgomery Alabama-just down from the Captial. Family Owned Since 1917.Hot dogs, chicken sandwiches & chili 138 Dexter Ave, Montgomery, AL 36104(334) 265-6850
Martin's-1796 Carter Hill Rd., Montgomery, AL – (334) 265-1767-Meat and 3, famous fried chicken
Hamburger King-: 547 S Decatur St, Montgomery, AL 36104 (334) 262-1798
Museum-The Hank Williams Museum-118 Commerce St, Montgomery, AL 36104 (334) 262-3600
Muscle Shoals, AL
Museums-
Muscle Shoals Sound Studios-3614 Jackson Hwy, Sheffield, AL 35660-Recording studio started by musicians who left the nearby Fame studios. The Rolling Stones, Aretha Franklin, Wilson Pickett, Willie Nelson, Lynyrd Skynyrd, Joe Cocker, Levon Helm, Paul Simon, Bob Seger, Rod Stewart, and Cat Stevens and more recorded here.
FAME (Florence Alabama Music Enterprises) Studios are located at 603 East Avalon Avenue in Muscle Shoals, Alabama. Still an active recording studio with limited tours. Tommy Roe, Joe Tex, Etta James,Wilson Pickett, Aretha Franklin, The Allman Brothers, The Osmonds, Bobbie Gentry, who recorded the album Fancy (1970), and then with the singer-songwriter Mac Davis and more recorded here. As of this writing, tours are only available at 9 am and 4 pm.
Eats-
Brooks Barbecue -203 Union Ave,Muscle Shoals, AL 35661 (256) 381-1491, Hot BBQ sauce, Spicy slaw
The Wild Lilly -702 Michigan Ave, Muscle Shoals, AL 35661 (256) 314-4447 Cajun fusion restaurant, fancy
Champys Fried Chicken-Branch of a mini chain. Live music on Fridays.Get Tamales.
Robertson, AL
Eats-
R Place – Highway 59, Robertsdale, AL 334-947-2935-known as the big butt king for their excellent pork butt sandwiches.Scottsboro, AL
Unclaimed Baggage is where all the lost luggage in the world comes to die. The only store of its kind anywhere. The flagship store is located at: 509 West Willow Street, Scottsboro, Alabama 35768. 256-259-1525. Closed Sundays.
Spanish Fort, AL (near Mobile)
Eats-
Blue Gill Restaurant-3775 Battleship Parkway, Spanish Fort, AL (251) 625-1998-Great Seafood and a local specialty, fried Dill Pickles
Thorsby, AL
Eats-Dari Delite Thorsby-21100 US-31, Thorsby, AL 35171 (205) 646-2527
Tuscaloosa, AL
Downtown Tuscaloosa holds a big
cityfest each year around the end of August.
Eats
Archibald & Woodrows BBQ -good looking ribs, hot wings & country-style dinners. 4215 Greensboro Ave, Tuscaloosa, AL 35405 (205) 331-4858 Open most days, including Sundays though they close at 6 pm on Sunday.
Dreamland BBQ-Southern chain with 3 restaurants
Record Stores
Vinyl Solution,1207 University Blvd 205-758-3710
Whirligig, 2111 University Blvd. 205-758-0690
Warrior, AL
Eats-
Big Daddy's BBQ-407 Main St N, Warrior, AL 35180 (205) 590-2279 Very Weird hours, close at 3 pm certain days.