A local specialty, loose meat.
Iowa Tips     
"Is this Heaven?  No, Its Iowa,"  Actually its the place where people in Omaha go to buy beer after 1 am, but here are a few other tips.
Regional specialty-Des Moines is the epicenter for the Loose meat sandwich.  Its kind of like a sloppy joe, without the tomato sauce.  You can find them at theMaid Rite restaurant, with tons of locations around the area.
There is also a local mini chain with 5 statewide locations called the Machine Shed, famous for giant cinnamon rolls.
Ankeny, IA
Eats-
Leaning Tower of Pizza – Uptown Ankeny- 512 SW 3rd St, Ankeny, IA 50023
Bettendorf, IA (Davenport Area)
Eats-
Ross' Restaurant-24-hour diner serving loosemeat sandwiches called Rossburgers and diner food since 1938.-2297 Falcon Ave, Bettendorf, IA 52722 (563) 355-7573-they also all kinds of crazy disco fries like the VOLCANO.
Cedar Falls, IA
Bars-
Blue Room-201 Main St, Cedar Falls, IA 50613 (319) 277-9950
Octopus – 2205 College St, Cedar Falls, IA 50613  (319) 242-7789
The Library-2222 College St, Cedar Falls, IA 50613  (319) 277-3962
Cedar Rapids, IA
Eats-
Lighthouse Inn-6905 Mt Vernon Rd SE, Cedar Rapids, IA 52403-Since 1912
Joensy's Restaurant-2660 Wiley Blvd SW # B, Cedar Rapids, IA 52404-Try the hot beef sandwich
Starlite Room-3300 1st Ave NE, Cedar Rapids, IA 52402-Bar and grill home of the "super burger".
Council Bluffs, IA
Eats-Christy Creme-Burgers and ice cream since 1954-2853 N Broadway, Council Bluffs, IA 51503
Davenport, Iowa (Part of the Quad Cities)
The Quad Cities invented a style of pizza known as Quad City Style.  It has malt syrup in the crust that gives it a nutty flavor.  Its also cut into strips. Find it at Harris Pizza, Since 1960.  To be Confusing though, the original is across the river at 3903 14thAve., Rock Island, IL
Eats-
Fat Boy's Pizza-1627 Washington St, Davenport, IA 52804 (563) 322-5446-Another Quad cities style pizza joint.  They also have the regional taco style pizza.
Gunchies -2905 Telegraph Rd, Davenport, IA 52804  (563) 323-9867-Sports bar with the regional pizza and hit or miss reviewed bbq and wings.
Live Music-
Triple Crown Whisky Bar & Raccoon Motel – 304 E 3rd St, Davenport, IA 52801-Touring bands
Eats-
Jethros BBQ-515-279-3300, 3100 Forest Ave, Des Moines, IA and other locations.  THEY HAVE BACON WRAPPED RIBS and all day breakfasts featuring an Elvis platter with bacon, bananas and peanut butter syrup.
Jim's Coney Island- 3700 SW 9th St, Des Moines, IA 50315-Chili dogs since 1971
George The Chili King Drive-In – burgers, chili & shakes in an retro diner atmosphere with carhops.: 5722 Hickman Rd, Des Moines, IA 50310
Smitty's Tenderloin Shop – 1401 Army Post Rd, Des Moines, IA 50315 (515) 287-4742-The place to get tenderloin in the state.  They have one called the Taco tenderloin with chili. Also Burgers including the "jack burger" with spicy "jack" sauce.
Bauder's & Donut King- 3802 Ingersoll Ave, Des Moines, IA 50312-1917 Soda Fountain
Tavern Pizza & Pasta Grill- 1755 50th St, West Des Moines, IA 50266-Here a sub is called a grinder and they have hot subs with ground beef similar to loosemeat and sausage.
Bianchi's Hilltop Restaurant-2820 Hubbell Ave, Des Moines, IA 50317
Bordenaro's Pizza & Pasta- 6108 SW 9th St, Des Moines, IA 50315-Since 1977 Amazing onion rings.
Christopher's-2816 Beaver Ave, Des Moines, IA 50310-Classic Steakhouse since the 1960s with a specialty Steak du Burgo- Beef Tenderloin Sautéed in Garlic Butter Cream Sauce w/Italian Seasonings
Henry J's Taco House- 2924 SW 9th St, Des Moines, IA 50315-Since 1972 Cheese loaded Tacos in fresh fried tortilla shells.
LJ's Burgers & Ice Cream-3702 2nd Ave, Des Moines, IA 50313
Noah's Ark Restaurant-2400 Ingersoll Ave, Des Moines, IA 50312-Old school italian joint with a giant Noahs ark mural. Since 1946.
Jesse's Embers-3301 Ingersoll Ave, Des Moines, IA 50312-Since 1963, Steaks cooked on a open pit.  Classic..  Great onion rings.
Ted's Coney Island-3020 Ingersoll Ave, Des Moines, IA 50312-Chili Dogs, former chain.  Ted sometimes still shows up.  Great onion rings.  I think Des Moines for some reason has amazing onion rings at many restaurants.
Dive Bars-
The High Life Lounge-200 SW 2nd St, Des Moines, IA 50309 ? Closes 2AM (515) 280-1965-Homage to classic beer bars with High life, hamms and some good inexpensive comfort food and great burgers.
Amusement Park-
Adventureland: P.O. Box 3355, Des Moines, Iowa 50316- (800) 532-1286
Record Stores-
Zzz, 424 E. Locust St., Des Moines, IA 50309-Also hosts a record collectors show 4 times a year.
Live Music-
Lefty's Live Music-Low-key music venue with local beer
2307 University Ave
Gas Lamp
Artsy, boisterous watering hole with a diverse music lineup, comedy & trivia nights & a snack menu.
1501 Grand Ave
Des Moines Social Club – 900 Mulberry St, Des Moines, IA 50309
Phone:(515) 369-3672 Coffee shop, art gallery, concert venue, culinary classroom
Woolys– 504 E. Locust St., Des Moines, IA
Vaudeville Mews-All types of performances happen here.
212 4th Street ,Des Moines, Iowa 50309.
Grimes, IA
Eats-
Mema's Italian Grinders– 2250 E 1st St Ste 300, Grimes, IA 50111-They make a sandwich formerly called the Guinea grinder which is half italian sausage and half ground beef called an italian grinder here.
Iowa City, IA
Iowa city music listings.
Eats-
SUB SHOP-Pepperwood Place-1913 Broadway, Iowa City, Ia.
PHONE: 354-8574
Diamond Daves Tacos-Various locations
Record Stores-
Record Collector-116 S Linn St,Iowa City, IA 52240 (319) 337-5029
Live Music-2 am is when most bars close
The Blue Moose Tap House -211 Iowa Ave. Iowa City, IA 52240.
open daily from 4pm to 2 am.
Gabe's Oasis -330 E. Washington St.-Iowa City, IA  (319) 354-4788-The Donnas have played here recently.  Ticketmaster carries tix.
Union Bar-121 E College St Iowa City, IA-319-339-7713
The Q Bar -211 Iowa Ave.-Iowa City, IA  (319) 337-9107
The Green Room-509 S. Gilbert St.-Iowa City, IA 52240
The Mill Restaurant – bar, patio seating & frequent music. 120 E Burlington St, Iowa City, IA 52240 (319) 351-9529
Hamburg Inn No. 2-214 N Linn St, Iowa City, IA 52245-Since 1935!
Iowa Great Lakes, IA
Amusement Park
Arnold's Park– Highway 71, Iowa Great Lakes, IA 51331
Phone Number: (800) 599-6995 Sioux City, IA On Lake Okoboji
Kellogg, IA
Eats-
Iowa's Best Burger Café-Part of a gas station & campground-1570 Hwy 224 S, Kellogg, IA 50135
Le Mars, IA
Eats-Bob's Drive-Inn -Hwy 75 S,Le Mars, IA 51031(712) 546-5445 Amazing Hot dogs topped with loosemeat style 'chili'
Marshalltown, IA
Eats-Taylors Maid-Rite-106 S 3rd Ave, Marshalltown, IA 50158-Loose meat is a regional specialty and this is one of many pioneers of the form. Basically a more simply seasoned taco meat.
Mason City, IA
Northwestern Steakhouse-304 16th St NW, Mason City, IA 50401  (641) 423-5075 Since 1920
Ottumwa, IA
Eats-
Canteen Lunch In the Alley- 112 2nd St E, Ottumwa, IA 52501-burgers and loose meat since 1936, the kind of place this site exists for
Sherrill, IA
Eats-Breitbach's Country Dining : 563 Balltown Rd, Sherrill, IA 52073 (563) 552-2220-The oldest restaurant in Iowa since 1850s
Sioux City, IA
Sioux City borders Nebraska and South Dakota, who each have their own Sioux Cities.
Local Specialty-Twin Bing Candy Bars.
Eats-
A & W-all over.  Old fashioned drive inns with to your car service.  And of course, root beer.
Town House Pizza-2701 Floyd Blvd. 712-252-5146-Not sure about the food but the building has old bar charm on the outside.
Milwaukee Wiener House No. 1-Classic Coneys with  meat sauce, onions and mustard, around 80 years.  309 Pearl Street, Sioux City IA 51101
Archie's Diner-723 W 7th St  Sioux City, IA 51103 (712) 252-3060 Classic diner
Record Stores-
Backstage With Ray, 420 5th St., Sioux City, IA 51101
Winterset, Iowa (not far from Des Moines)
Located in Madison County, famed for covered briges written about in books
Museum
Birthplace of John Wayne
216 S. 2nd St.
Winterset, Iowa 50273 USA
(515) 462-1044 – toll-free (877) 462-1044
http://www.johnwaynebirthplace.org/
Eats-
Rudys Restaurant
Hot Beef Sandwiches and more.  Even a Taco beef sandwich!
http://www.rudysinwinterset.com/
419 S. John Wayne Dr., Winterset, IA 50273, (515) 462-3160
Who knew Winsterset was the place?
Montross Coffee Shop
120 N 1ST Ave
Winterset, IA 50273
Traditional Drugstore Coffee and Ice Cream Shop.  Must Visit.
Waterloo, Iowa
Theme Park-
Lost Island Waterpark & Adventure Golf & Go-Karts-Multiple slides & pools plus an arcade, pool hall, go-kart track, mini-golf course & Rides-2225 E Shaulis Rd, Waterloo, IA 50701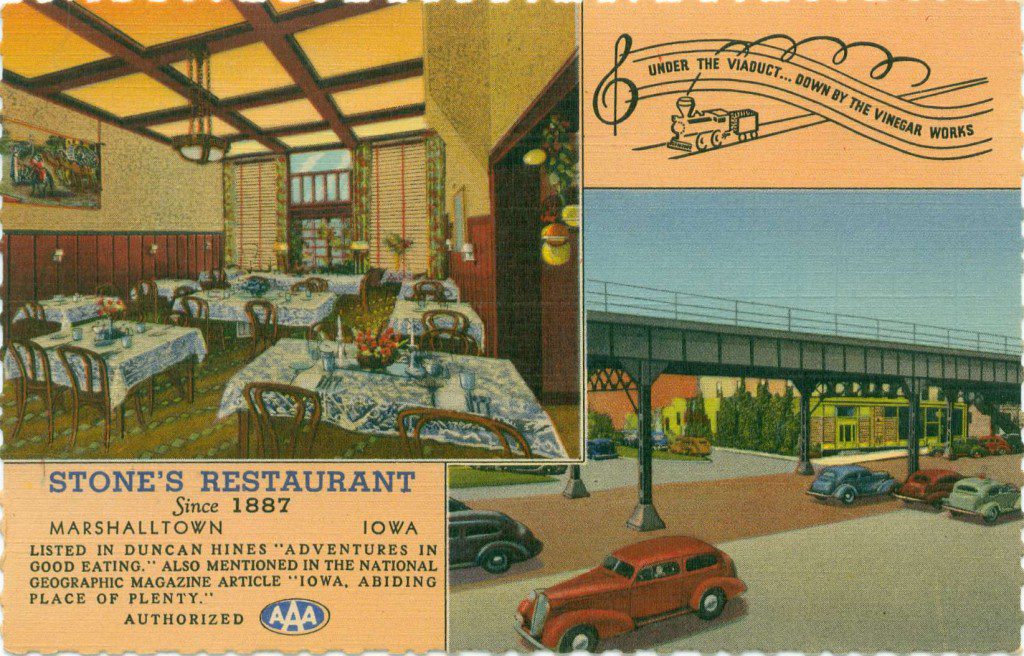 Vintage postcard of Stones Restaurant, Marshalltown, Iowa "since 1887" "Under the Viaduct, down by the Vinegar Works"