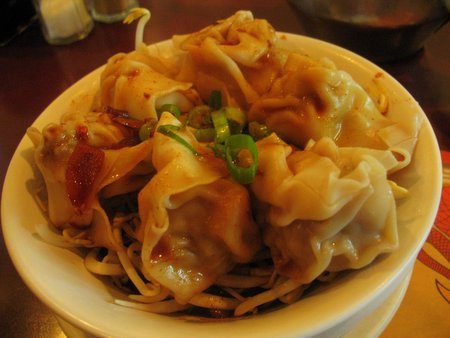 My Favorite dish in the whole world.  Suan La Chow Show, available only at Mary Chungs in Cambridge.  Wontons on a bed of beansproats in a savory sauce.  Yum!!!
This page is for Everything outside of the Boston Metropolitan Area
Danvers, MA
Candy Store
Putnam Pantry Candies, Ice Creams & Cafe-old timey joint with ice cream, shakes &  homemade candies since 1951.  255 Newbury St, Danvers, MA 01923  (978) 774-2383
Sturbridge, MA
The New England Shake up is a huge annual rockabilly event in Late September
Hotels-
Sturbridge Host Hotel & Conference Center-366 Main St, Sturbridge, MA 01566
Home of the New England Shake Up
Other Yum food and stuff
Herrells Ice Cream-my Favorite ice cream in Boston now no longer has any Boston Locations.  Now they are down to one location in Mass,
Herrell's Ice Cream Northampton Flagship Location!
8 Old South Street,Northampton, Massachusetts 01060
(Thorne's Marketplace, with entrance on Old South St.)
(413) 586-9700
Daily Noon to 9 or 10, Depending on the day
Eats-
Bluebonnet Diner-324 King St, Northampton, MA 01060
Venues-
Bishop's Lounge
– 41 Strong Ave 3rd floor, Northampton, MA 01060 (413) 586-8900
For a slight touristy diversion, you can take the blue line to Revere Beach.  Walk over to the water and you will find Kellys Roast Beef. Its not necessarily cheap, or necessarily good, but you can eat a roast beef or fried clams by the water.  It depresses me to go there because Revere Beach used to have an awesome amusement park like Coney Island right where those ugly buildings are.  Kelly's Roast Beef, 410 Revere Beach Blvd, Revere, MA  (781) 284-9129
Live Music-
The Abbey-3 Beacon Street, Somerville-dive bar with bands
The Midway Cafe-3496 Washington Street, Jamaica Plain, MA 02130 (617) 524-9038
In Western Mass is an old road called the Mohawk Trail.  You can drive it and hit all kinds of fun americana like General stores, etc.  It has its own Trashy Travel Page Here.
Beverly, MA
Eats-
Nick's Roast Beef -139 Dodge St, Beverly, MA 01915- (978) 927-6029-Roast beef sandwiches, great onion rings.  The house sauce is a bbq sauce.
Concord, MA
Eats-80 Thoreau-80 Thoreau Street, Concord, MA-Fancy Schmancy place with a good bar burger with a secret sauce for $16 (as of 12/2016)
Deerfield, MA
Richardson's Candy Kitchen-500 Greenfield Road  Deerfield, MA 01342 (413) 772-0443- Old Timey candy store with turtles that they call dixies here.
Egremont, MA
Venue-
The Barn  at The Egremont Village Inn – 17 Main St, South Egremont, MA 01258
Phone: (413) 528-9580
Easthampton, MA
Art and Performance space-
Flywheel arts-2 Holyoke St. Easthampton, MA 01027-all sorts of interestings art and music events.
Eats-Captain Jack's Roadside Shack, 232 Northampton Street (Rt. 10), Easthampton, MA open seasonally
Essex, MA
Eats-
Woodman's of Essex ?-1914 Clam Shack.  Great onion rings 121 Main St, Essex, MA 01929 Most days  11AM–9PM: (978) 768-6057
Fall River, MA
From a friend-"my beloved hometown of fall river is not high on most people's travel itinerary, but if you do find yourself there you gotta get the italian grinder at marzillis, a chourico and pepper pizza (i'd recommend highland pizza) some hot dog's from nick's original coney island, and maybe an awful awful from newport creamery (strawberry is the best).  chow mein sandwich from anywhere. they make it different there. "
From another friend-"Sam's Lebanese meat pies, Hartley's pork pies and a Portuguese steak from any one of the many Portuguese restaurants"
Eats-J.J.'s Coney Island
-Coney Island Dogs topped with chili, onions and mustard as well as such local favorites as the hot cheddar cheese sandwich, chourico rolls, stuffed clams and chow mein.
8am – 2:30am-571 S Main St, Fall River, MA
Marzillis Bakery-944 Bedford St, Fall River, MA 02723  (508) 675-5551 Sandwiches and chourico rolls.
Nick's Hot Dogs – 534 S Main St, Fall River, MA 02721 Most days· 10AM–12AM
(508) 677-3890-So many regional specialties at this place.  In addition to great coney dogs, you can get Coffee Milk, Chourico & Fry Plate and a melted cheddar sandwich which you can get with sauce too but why would you not get it with sauce?  Since 1920.
Mee Sum Restaurant Cocktail & Lounge – 1819 S Main St, Fall River, MA 02724 Closed Sunday- (508) 678-9869 The highest rated chow mein sandwich in town.
Hartley's pork pies-1729 S Main St, Fall River, MA, (508) 676-8605 Pork pies and Chorico pizza.
Patti's Pierogis-1019 S Main St, Fall River, MA 02724-Polish Food
Framingham, MA
Eats-
If you take the honky tonk route 9 instead of the Mass Pike, you will pass Kens Steakhouse, birthplace of the supermarket salad dressings.  Prices are not unreasonable.  A lot cheaper than a Ruths Chris
J & M Diner-50 Worcester Rd, Framingham, MA 01702
Gill, MA
Eats-
Wagon Wheel Country Drive In -Old fashioned counter-serve restaurant more suited to Branson, MO area than MA but absolutely our kind of place.   39 French King Hwy, Gill, MA 01354
Phone: (413) 863-8389
Gloucester, MA
Attraction-Hammond Castle -The castle, which was constructed between 1926 and 1929, was the home and laboratory of John Hays Hammond, Jr.  80 Hesperus Ave, Gloucester, MA 01930
Eats-
The Causeway Restaurant -78 Essex Ave, Gloucester, MA 01930 (978) 281-5256-Legit real deal locals and monster portions joint.  Even the octopus is great.  They have that regional "steak tips" thing which I can't understand why anyone eats them because nobody makes them not be chewy.  Lobster Pie is awesome and many baked dishes have a great crumb coating.
Cupboard of Gloucester – 41 Hough Ave, Gloucester, MA 01930 (978) 281-1908-open for generations, fried clam and ice cream classic harborside joint.  It is unclear as to whether it is seasonal or not so call ahead.  Not cheap for clams.
Salty Frank's Dogs-6 Rogers St, Gloucester, MA 01930 (978) 515-7849  Newish Dog and inexpensive lobster roll place.  Various styles of hot dog including Chicago style.
Supreme Roast Beef -218 Main St, Gloucester, MA 01930  (978) 282-0404-diner serving regional new england style roast beef sandwiches.  Oddly enough can't find any photos of the food except for a "fat chicken" sandwich which is one of those weird Jersey food truck sandwiches with fries, chicken fingers and other stuff on a sandwich, but its on here for the diner.
Granby, MA
Eats-Cindy's Drive-In, 455 East State Street (Rt. 202), Granby, MA
Home of the "famous" long dog and over 100 flavors of soft serve and a great sign
Hadley, MA
Eats-Creamy Delights, 71 Lawrence Plain Road (Rt. 47), Hadley, MA-Soft serve on Route 47 near the Olde Hadley Flea market.
Haverhill, MA
Record Store
Welfare Records– 58 River St, Haverhill, MA 01832  (978) 374-0777-Amazing record store with lots of rare garage records.
Haydenville, MA
Eats
Local Burgy-93 Main St, Haydenville, MA 01039-Seasonal version of Northhamptons "Local Burger".  Also try the Coffee Soft serve next door at village green.
Williamsburg Snack Bar  -109 Main St, Haydenville, MA 01039 fried clam and lobster shack.  Closed Tuesdays. CHEAP lobster roll.   Excellent Slaw.
Revere, MA
Revere Beach Eats-Kellys Roast Beef- 410 Revere Beach Blvd Revere, MA 02151 stand serving roast beef and seafood by the beach.  Easy to get to from Boston.  Don't get the seafood dude, though its good…
Salem, MA
Eats/Drinks/Music
Smokin' Betty's BBQ + Bar -BBQ roadhouse-style space with occasional live music and shuffleboard.  94 Lafayette St, Salem, MA 01970 Closed Monday, Most days 12–11PM, Til 1 am on Friday and Sat  (978) 594-1132
Koto Grill & Sushi – 90 Washington St, Salem, MA 01970(978) 594-8681-sushi bar open daily with live music, karoke and dj nights including having the "Lux Lives" dj play.
Opus-87 Washington St, Salem, Massachusetts 01970-Restaurant with an underground performance space.
Seekonk, MA
Home to Bennys, 2 stores of awesome useful things and then some large selections of things like patio lights and garden gnomes.
Eats-The Old Grist Mill Tavern-390 Fall River Ave, Seekonk, MA 02771-Old timey joint with a waterfall attached that serves traditional New England food.  Fairly reasonable for this type of place.
Chong Qing House-1165 Fall River, Seekonk, MA 02771-super spicy szechaun food.  DO NOT order from the american side of the menu.  Only get the szechuan dishes, salt and pepper shrimp, hot pot, spicy shrimp, smoked pork with garlic (sometimes known as twice cooked pork), cabbage with hot peppers. and tons more.
Eats Restaurant-1395 Fall River Ave-Seekonk, MA 02771 (508) 336-4384-Lots of good stuff, but I'd go with the Hot weiners topped with legit chili that you find in the region.
Ipswich, MA
Eats
Why, its the Ipswich Clam box, of course.  And shaped like a takeout box.
246 High St-Ipswich, MA 01938
(978) 356-9707
Leeds, MA
Eats-Scotti's Drive-In, 90 Haydenville Road (Rt. 9), Leeds, MA-9 different types of hot dogs, including a Pizza Dog, plus burgers and Lobstah rolls
Leicester, MA
Eats-Hot Dog Annie's -244 Paxton St, Leicester, MA 01524
Phone:(508) 892-9059 Famous for a skinny weiner that they top with a BBQ sauce among other toppings.
Lenox, MA
Eats/Tiki Bar-
Luau Hale Restaurant-569 Pittsfield Rd, Lenox, MA 01240-Formerly one of a pair of sister restaurants called Hu Key Lau, one of the endangered restaurants in Massachusetts with old fashioned Chinese food and Tiki Drinks
Lowell, MA
Live Music-
Thirsty First: Tavern & Grill, 280 Central St, Lowell, Massachusetts 01852-bar with occasional live music.
Lynnfield, Massachusetts
The fiberglass cows of Saugus' Hilltop Steakhouse now reside at
Hilltop Steakhouse Cows
1210 Market St, Lynnfield, MA 01940 (781) 484-5400
Tiki Joint-
Bali Hai-93 Moulton Drive, Lynnfield, Massachusetts, (781) 593-8600 -like a mini, less impressive Kowloon.
Natick, MA
Eats-
Casey's Diner- 36 South Ave, Natick, MA 01760-Teeny Tiny diner since 1890.  The oldest hot dog restaurant in Massachusetts and one of the oldest diners in the USA.  They serve a historic version of a dirty water dog, boiled and served in a New England Hot Dog Roll.  Other items as well.
Newton, MA
Tiki Joint
South Pacific-1152 Beacon Street  Newton, MA 02461 (617) 332-7250
Northhampton, MA
Music
Iron Horse Music Hall -20 Center Street , Northampton, MA 01060
(413) 586-8686
Gallery-
Gallery TK-114 main street
northampton, ma
Eats-Local Burger -16 Main St,Northampton, MA 01060 Lots of great burgers and even a deep fried hot dog that they serve in a bun.
Rockport, MA
Eats-
Top Dog-Not too trashy but delicious slaw dogs, great fried clams, tasty burgers and amazing light onion rings-2 Doyle Cove Rd,, Rockport, MA 01966 (978) 546-0006-Spring to Fall, sometimes open on weekends in winter.  Call to check.
Saugus, MA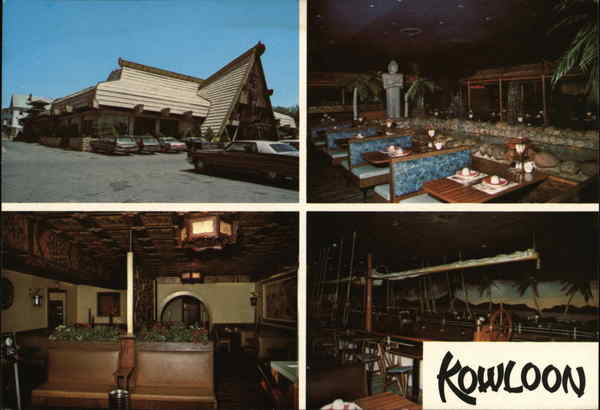 Saugus has some of the best roadside architecture along US1 in the country with the Giant Cactus of the now closed Hilltop steakhouse, Kowloon, the giant tiki themed chinese joint, and much more.  All of it is in danger.
Tiki Bar-
Kowloon Restaurant-probably the second greatest tiki bar in the US as far as experiences go.  Huge multi room New England style "bad" Chinese food with great soy chicken wings, pupu patters and tiki drinks since 1950 with a comedy room upstairs and indoor fountains.
948 Broadway, Saugus, MA 01906  Closes 2AM  (781) 233-0077
Eats-
Kane's Donuts, 120 Lincoln Ave, Saugus, MA 01906  (781) 233-8499-old fashioned donuts in a house. Doors open at 3:30 am! til 11 pm.  Famous for cake donuts, honey dipped, bismarks, sort of a cruller filled with fruit and whipped cream and a giant 32 oz chocolate covered cinnamon roll.  Whew.
SHREWSBURY, MA
Eats-
Dinky's Blue Belle Diner- 70 Clinton St, Shrewsbury, MA 01545-Adorable diner but only open 7AM–1:30PM. Closed Monday
Brody's Diner-308 Hartford Turnpike #4023, Shrewsbury, MA 01545-A bunch of wild unique breakfast combos like eggs, pepperoni and sausage, or pork chops and eggs.
South Attleboro, MA
Eats
Miller's Roast Beef -734 Newport Ave, South Attleboro, MA 02703(508) 639-5133-Local branch of a regional chain.  YEAR ROUND THANKSGIVING SANDWICH!
SPRINGFIELD, MA
In Western Mass, about 2 hours from Boston is Springfield.
Amusement Park-
Six Flags New England-(Agawam, MA) Formerly known as Riverside Park, they have the great Cyclone and the amazing SUPERMAN Hypercoaster.
Attractions-
Springfield is home to the new Dr. Seuss Memorial.  The Dr. Seuss National Memorial Sculpture Garden is located at the Quadrangle, State & Chestnut Streets in Springfield, Massachusetts.
Waltham, MA
eats-
Jakes Dixie roadhouse-Not cool at all, but they have bands and bbq which is rare for this area. 220 Moody Street , Waltham, MA 02453
(781) 894 – 4BBQ
West Springfield, MA
Eats-
White Hut-280 Memorial Avenue, West Springfield, MA-Cheeseburgers topped with standard American cheese and grilled onions preferably ordered on the side. If you say hamburger, the counter person will say, "You mean cheeseburger?"  Incredibly fast, very small, very good.  Was in danger but seems safe now.  Open 7 days 8:30AM–7PM, 6:30 am some days.
Weston, MA
Eats-
Cedar Hill Dairy Joy- 331 North Ave, Weston, MA 02493 (781) 894-2600-Roadside ice cream, fancy burger and seafood shack with mayonaise based lobster rolls.  High end hot dogs too.  Most Days- 11:00 am – 8:00 pm.  Unclear as to whether its seasonal.
Worcester, Mass
Worcester has a version of the Phoenix alternative weekly.
Other music info:
Wormtown 
Eats:
Georges Coney Island -Best sign and frontage ever at this place serving hot dogs with chili sauce since 1918. 158 Southbridge St, Worcester, MA 01608
(508) 753-4362
New England Roast Beef Inc- 33 Park Ave, Worcester, MA 01605-Closed Sunday.   Great Sign.  New England is loaded with these regional roast beef restaurants.
Addie Lee's Soul Food-596 Main St, Worcester, MA 01608-12–7PM. Closed Sunday Monday and Tuesday

Lou Roc's Diner-1074 W Boylston St, Worcester, MA 01606-Open 7 days but only open 6 am to 2 pm.  Home cooked corned beef hash.
Marvin's Corner Lunch Diner-Worcester is just loaded with Diners.  This one is only since 1955 and moved here in 1968131 Lamartine St, Worcester, MA 01608-Closed Tuesday
Boulevard Diner-155 Shrewsbury St, Worcester, MA 01604-24/7 on the weekend in this charming old diner.  Recent reviews have not been great mostly for service.
Miss Worcester Diner-Hey look!  Another diner!  This one is open 7 days 5AM–2PM-Except Saturday when its 6 am.
Breens Cafe-16 Cambridge St, Worcester, MA 01603-Irish Pub food since 1934.  7 days from 11AM–1AM
Live MUSIC clubs
Ralph's Chadwick Square Diner-95 Prescott St., Worcester
508-753-9543 aka Ralphs Rock Diner
Vincents-49 Suffolk St, Worcester, Massachusetts 01604 , (508) 752-9439-Bar with occasional DJ nights and tiki nights.
Vintage Riverside Park photo from Viewliner, LTD