In April, 2021 I went on a Trashy Food Trip with a starting Point in Charlottesville, Virginia. The goal was to try to eat in as many older restaurants as possible.
Amtrak offers service to Charlottesville and the Station is right on Main Street where there are several Trashy Travel Approved Eateries and a number of Hotels within walking Distance. There are also a couple of other spots that are a short drive away once you get or have a car.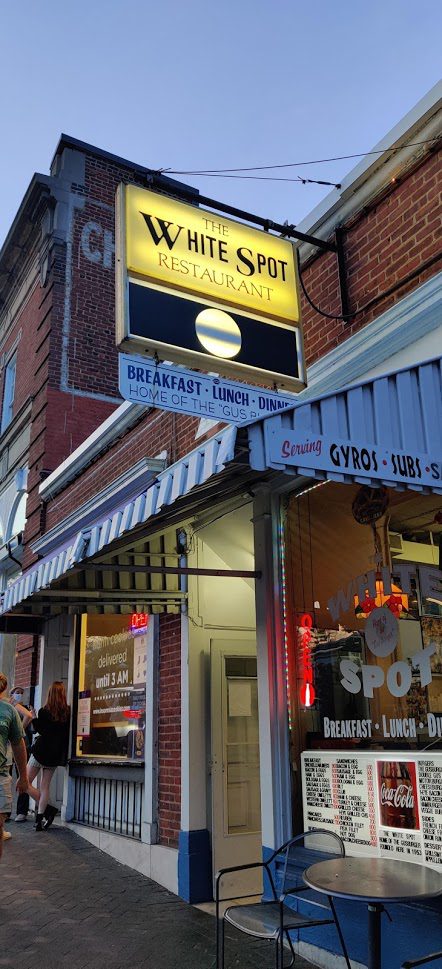 The White Spot has been open for decades and is famous for their Egg Topped "Gus Burger". Egg topped burgers are a thing in Virginia. They also have Gyros and other diner staples. I didn't eat there this trip, but I did on my last journey. They also have the regional specialty specific to Charlottesville, Grilled Donuts a la mode.
White Spot is at 1407 University Ave, Charlottesville, VA 22903. Open late.
Other nearby walkable spots I didn't get to this trip are Mel's Diner, who also have grilled Donuts and the Nook, which is breakfast and lunch only.
The Oldest Restaurant in Charlottesville is the Virginian. The Virginian many nights doubles as a bar so gets pretty rowdy and gets super crowded late. I went with the crab cakes but they have a famous photogenic Mac N Cheese which I did not get.
The Virginian is at 1521 University Ave, Charlottesville, VA 22903
My second day was a trip south to Charlotte. I stopped at a newish branch of the sort of chain from the past the Texas Inn Cornerstone. The original Lynchburg location was opened in 1935. This location opened about a decade ago. There are possibly related chili dog places in Roanoke as well. This place has chili dogs and a mustard based relish specific to here. Their specialty burger is the Cheesy Western, an egg topped burger with their relish. Both the dog and the burger were fantastic.
While at the Texas Inn, a fellow customer told me about another Chili Dog spot with a super spicy chili. Even though I had just eaten, I had to try it.
Moore's is a gas station with food which is very common in the South. I wish I was able to try the full menu as there are many great sounding foods like burgers, chili beans, fried chicken and daily Southern food Specials. They have a few locations including the Moore's Country Store at 6963 Richmond Hwy, Lynchburg, VA 24504 (434) 846-4815
I got one dog which I ate at a picnic table overlooking the gas pumps. It was delicious and had a great afterburn.
After Lynchburg I continued driving to Charlotte, NC. I was rushing down to try to make Brooks Sandwich House who are only open til 5. Thankfully I made it.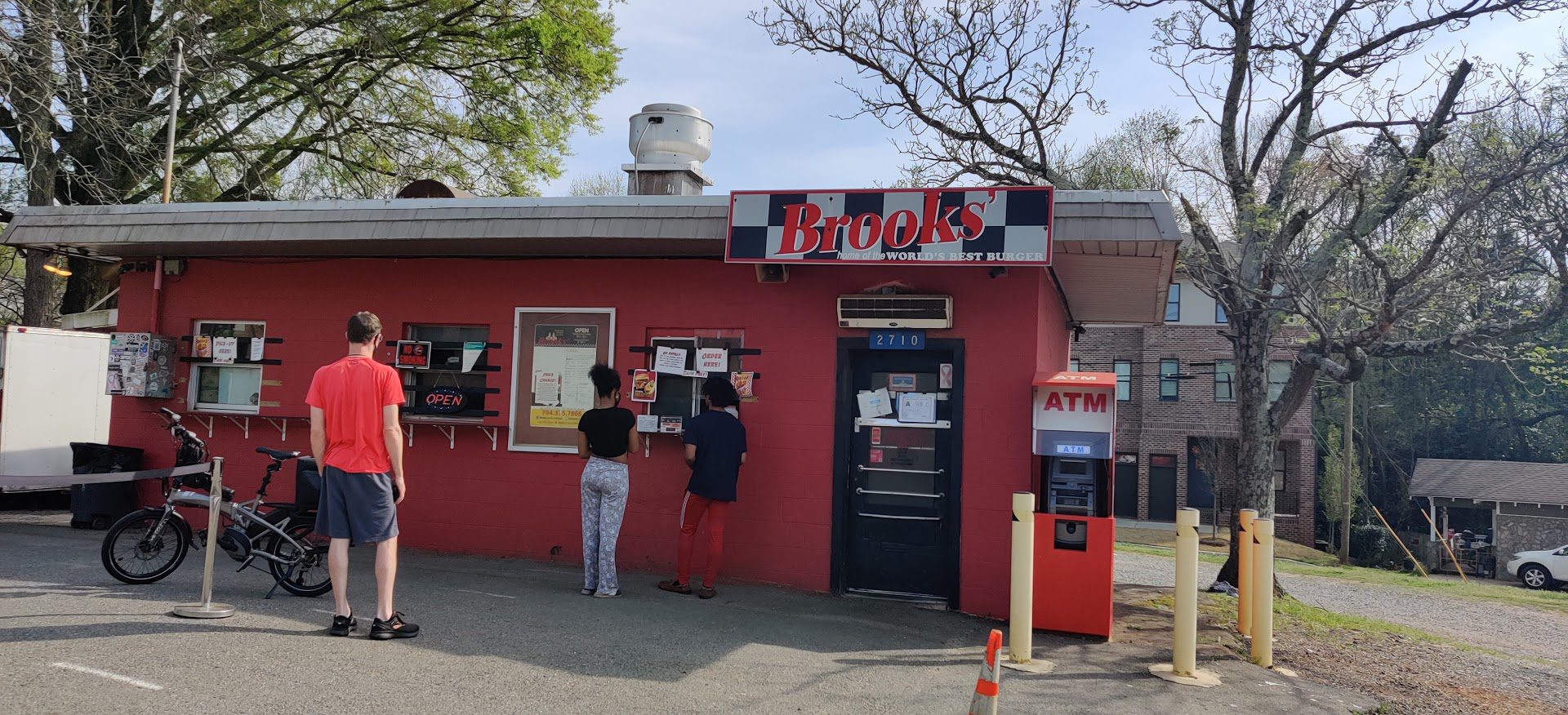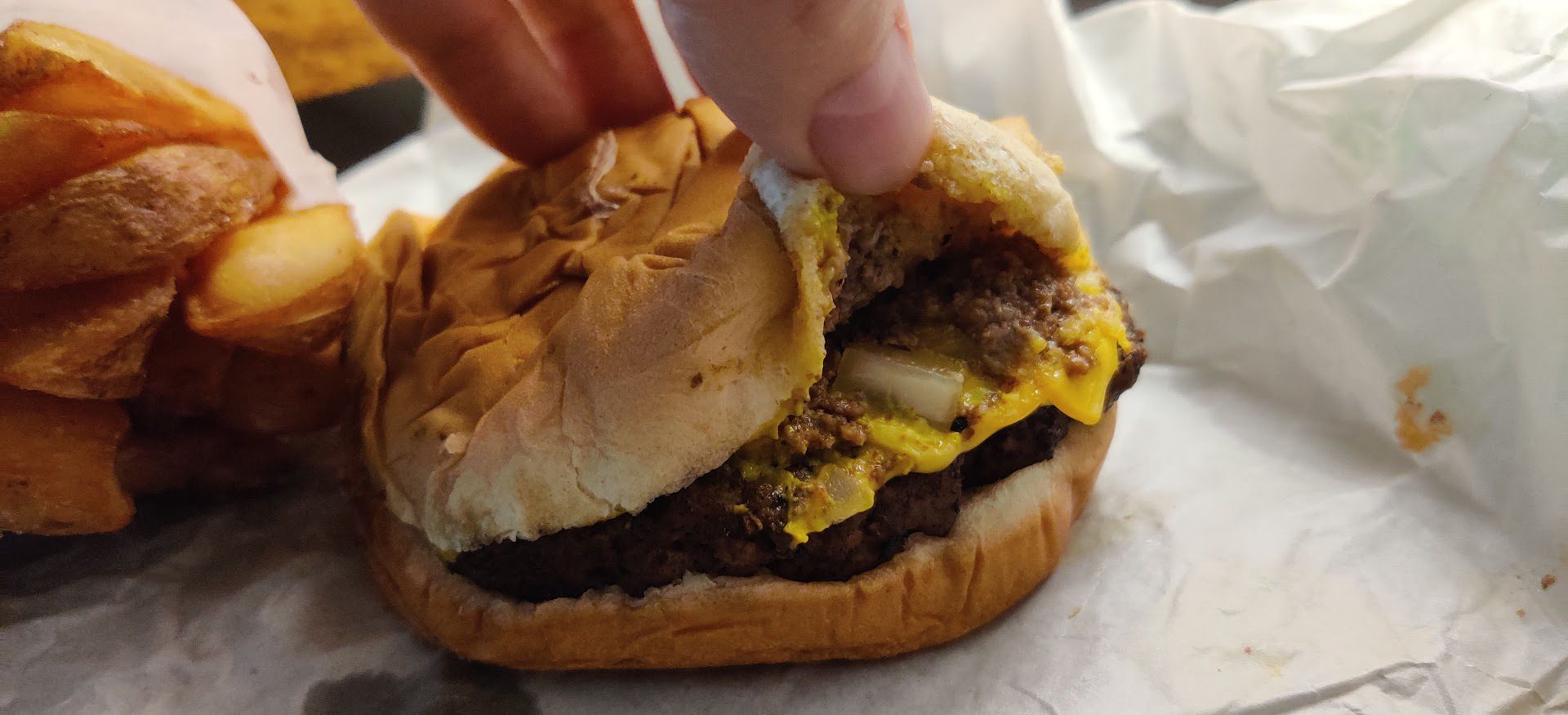 Brooks Sandwich house serves a Chili Burger and Chili Dogs. The "All the way" burger is with Chili mustard and onions. It was fantastic!

Brooks Sandwich House serves Potato wedges for their fries. They were also excellent.
The next afternoon I ate at one of the oldest restaurants in Charlotte (though not the original location), Greens Lunch.
Greens Lunch is breakfast and lunch only. At the time of my visit they closed at 1:30 pm which is freaky early for Trashy Travel.. I got the chili dog which is topped with mustard,ketchup, homemade cole slaw, and freshly chopped onions . I also got onion rings.. I loved the dog. The onion rings were too greasy for me.
After Greens I drove from Charlotte to Columbia, SC. This part of South Carolina uses a mustard based sauce on multiple types of meats. They also have a hyper regional "BBQ hash" which is tomato based sauce with chopped meat, organ meats and served over rice. I happened to be near Big Boys Original Smokehouse so I picked up some BBQ to take to my hotel.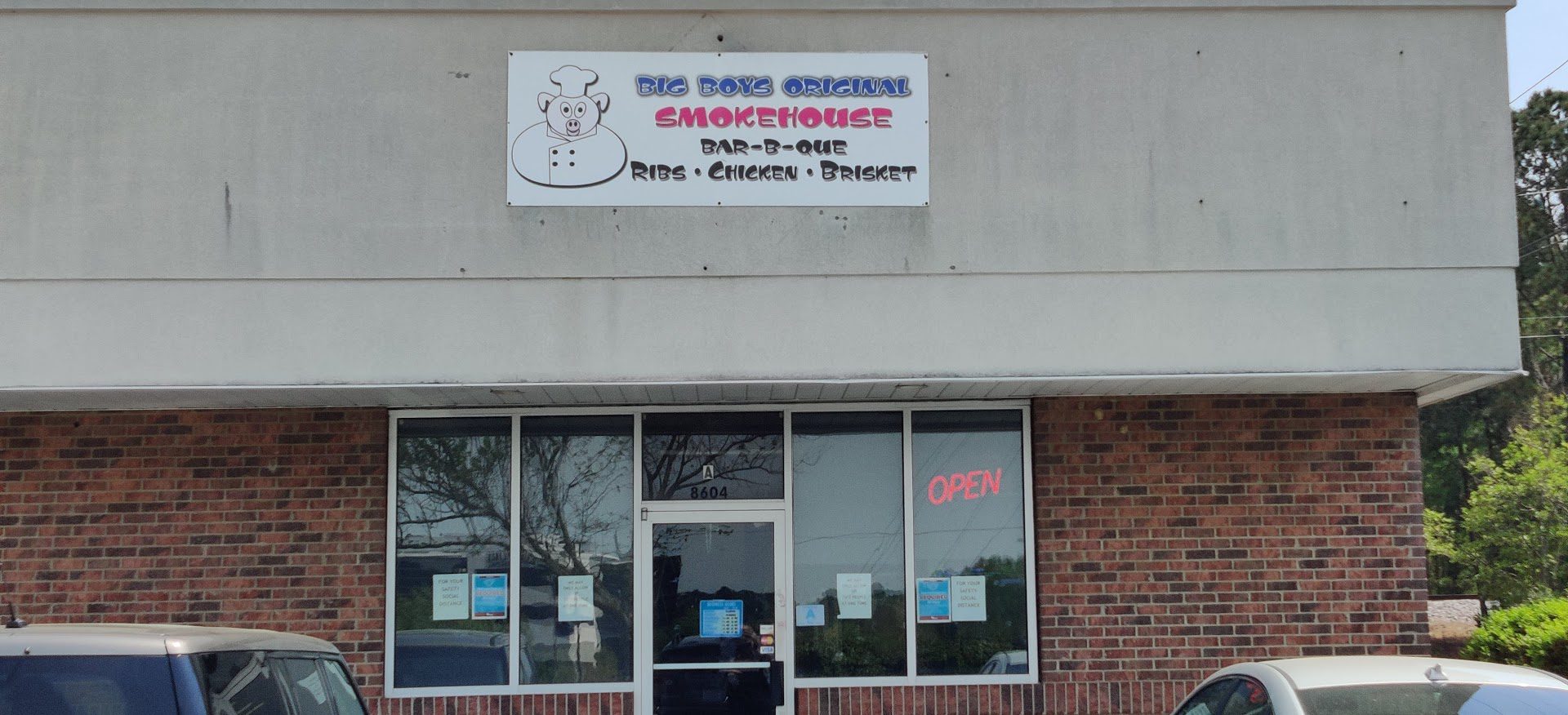 Lots of Choices at Big Boys.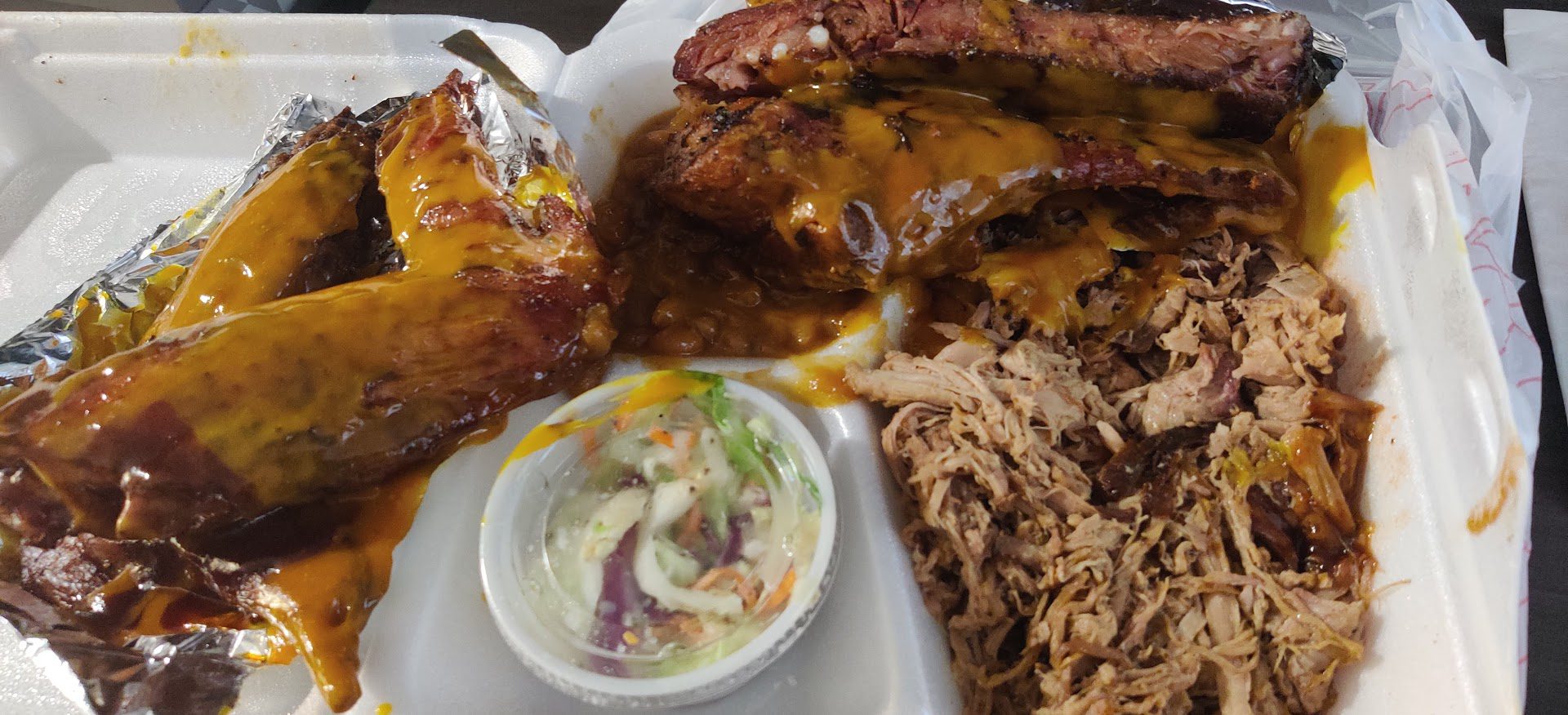 I got a combo plate with ribs, Turkey wings and Chopped Pork along with Slaw and Greens. I also got their bbq hash which I must admit was a little too flavorful with organ meat flavor for me. The Ribs were excellent though and definitely my favorite.
I'm glossing over all the fun I had in Columbia to keep this all food related. On my way out of Columbia I stopped at Macks Cash Grocery and got a pimento cheeseburger and slaw dog.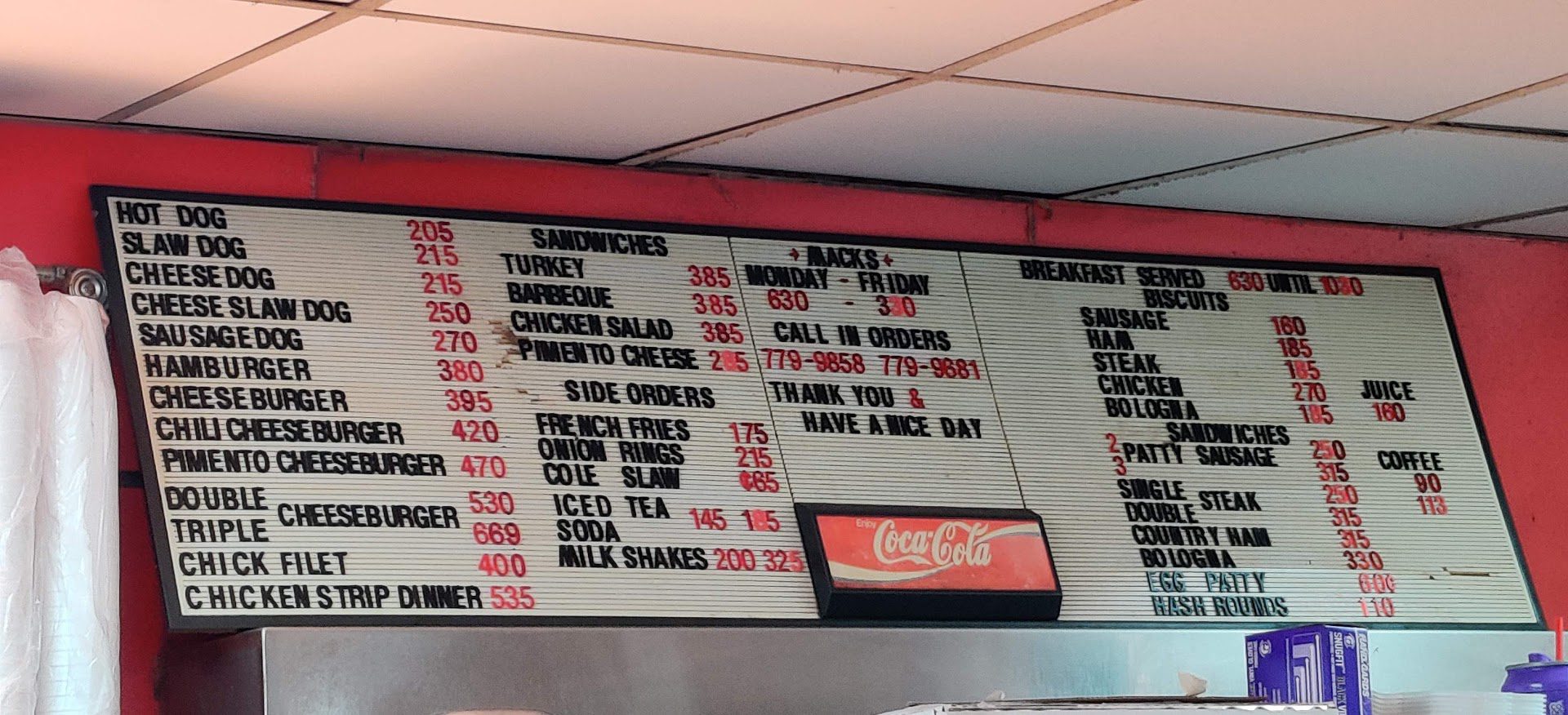 Macks Menuboard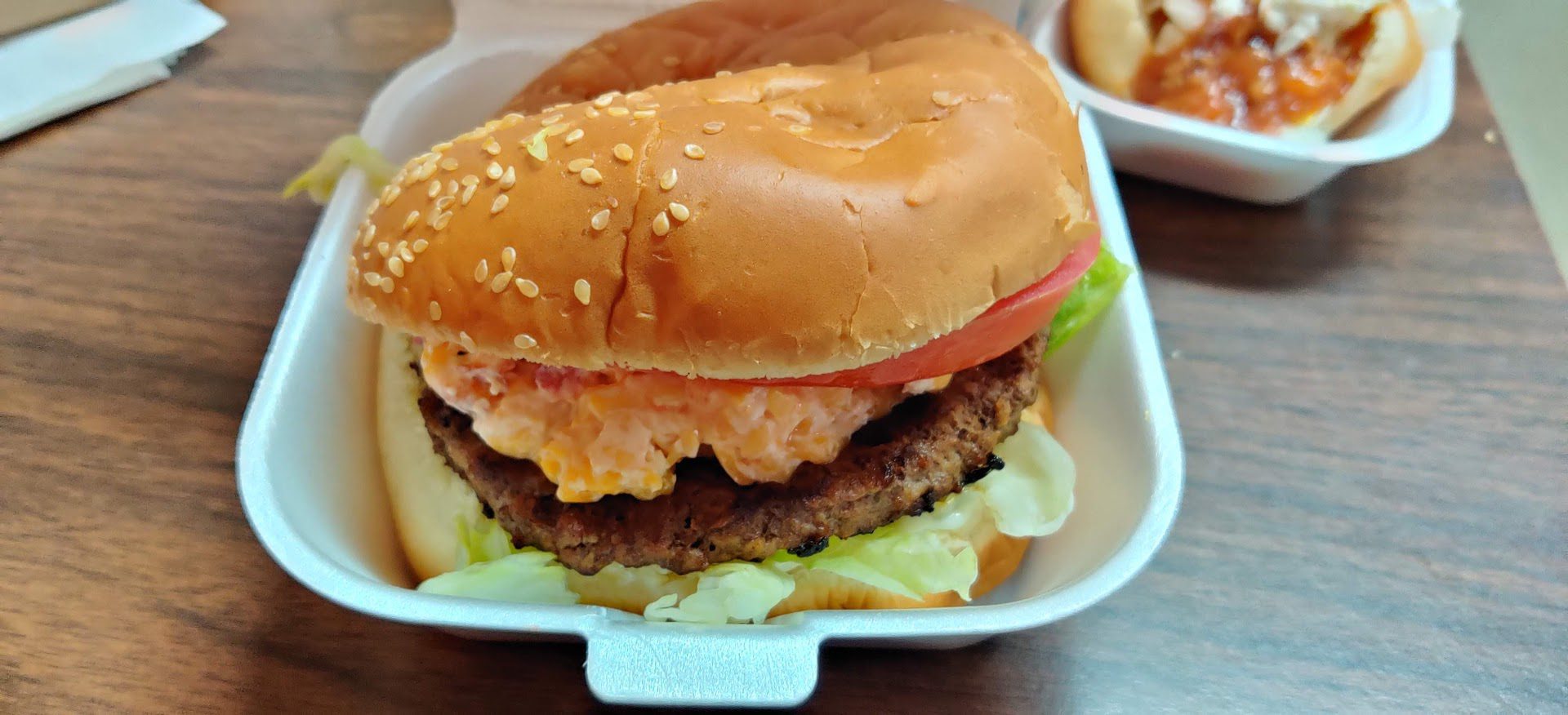 Leaving Columbia the next stop was Augusta, GA, hometown of James Brown. On my list was a burger from Sports Center.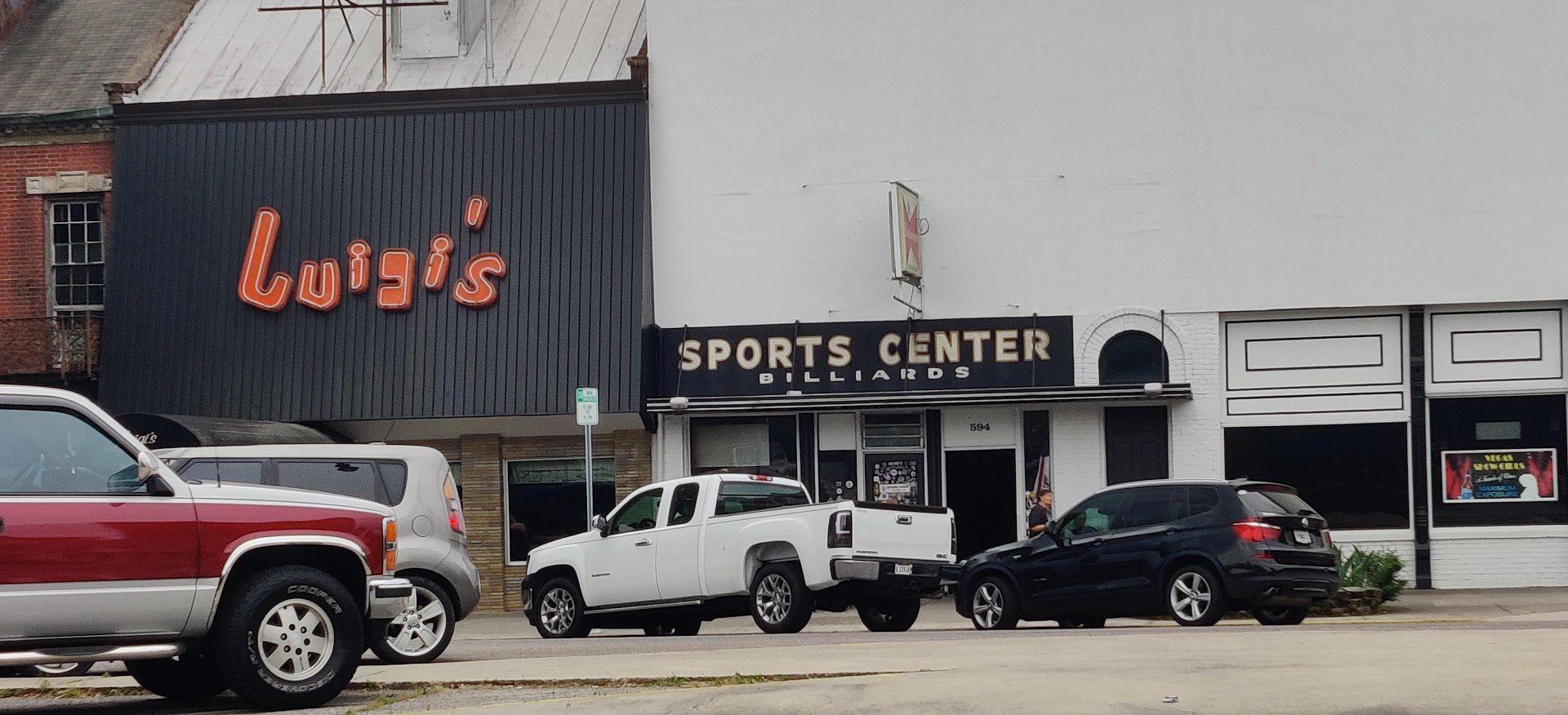 The Burger was amazing, but sadly they were out of onion rings. The bar is a big old wood paneled pool table bar. And best of all? It was only around 6 bucks.!
Sports Center Restaurant-594 Broad St, Augusta, GA 30901
After walking off the burger I did something I rarely do and stopped for something sweet.
The Boll Weevil has a huge selection of HUGE CAKES for reasonable prices.
I got the Coffee Toffee Cake and it was enough for two people for sure.
The Boll Weevil Cafe and Sweetery-10 James Brown Blvd, Augusta, GA 30901
After not sleeping because I was in the worst hotel room of my life, I stopped at the Sno Cap Drive In in Augusta before heading West.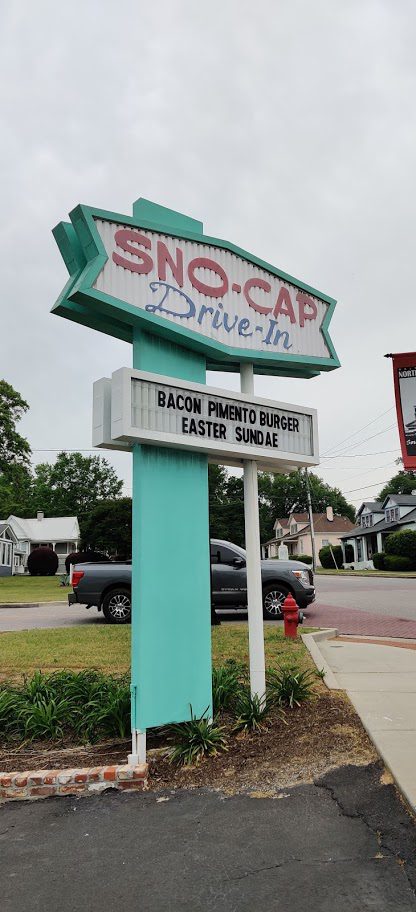 I only ate the footlong and onion rings. The Pimento Cheeseburger was delivered by mistake! Sno-Cap Drive in-618 West Ave, North Augusta, SC 29841
My next stop was Athens, GA. Not a ton of old things in Athens. I was too late to eat at Weaver D's which is on REMs Automatic for the People album cover, so instead I had these amazing Shrimp and Grits from the Place-229 E Broad St, Athens, GA 30608. Delicious!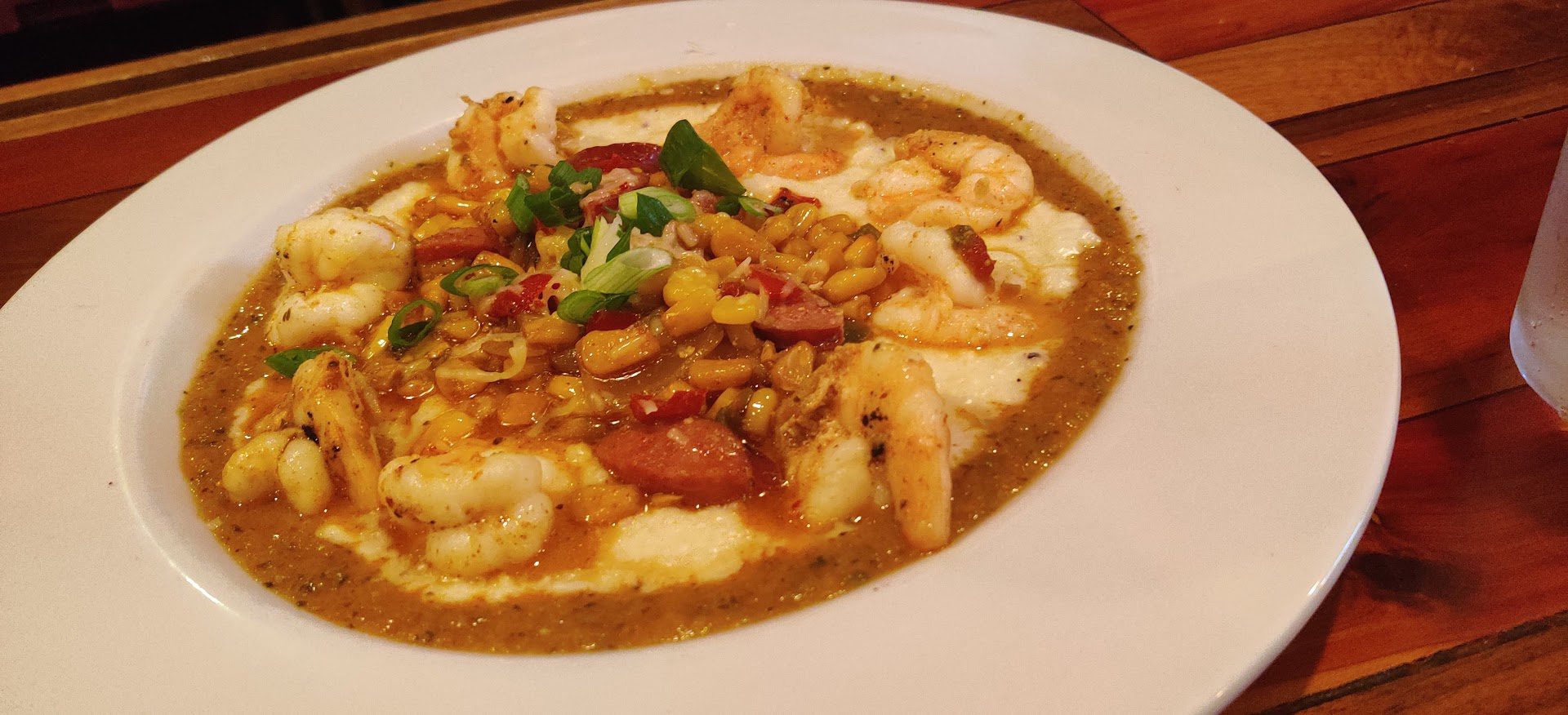 I was in Athens for 3 days. The second day I had this monster from White Tiger, a bacon pimento cheeseburger.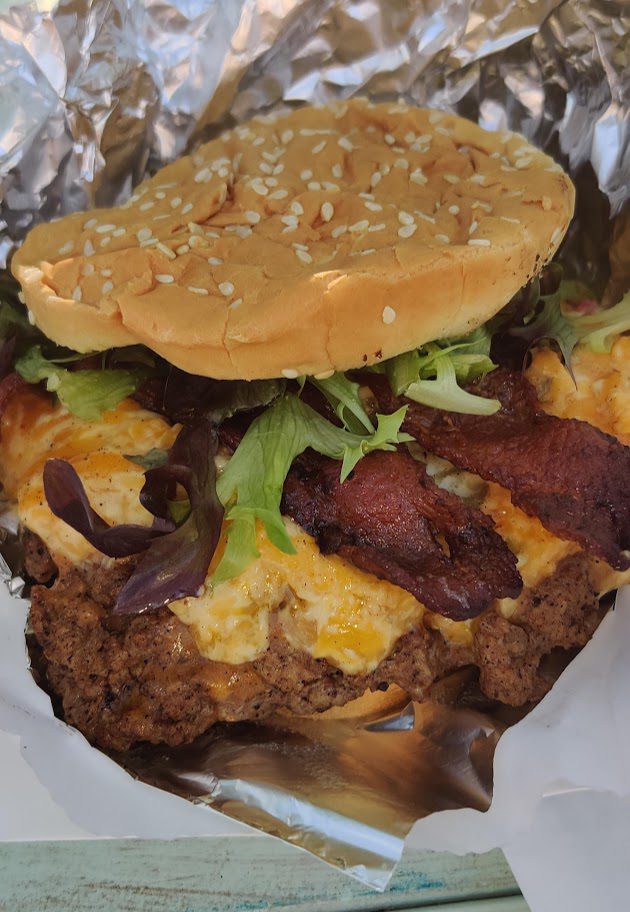 Another Stop was the lunch counter at ADD Drug. ADD Drug is in the back side of a pricey supermarket but the prices are cheap as hell for the Lunch Counter food.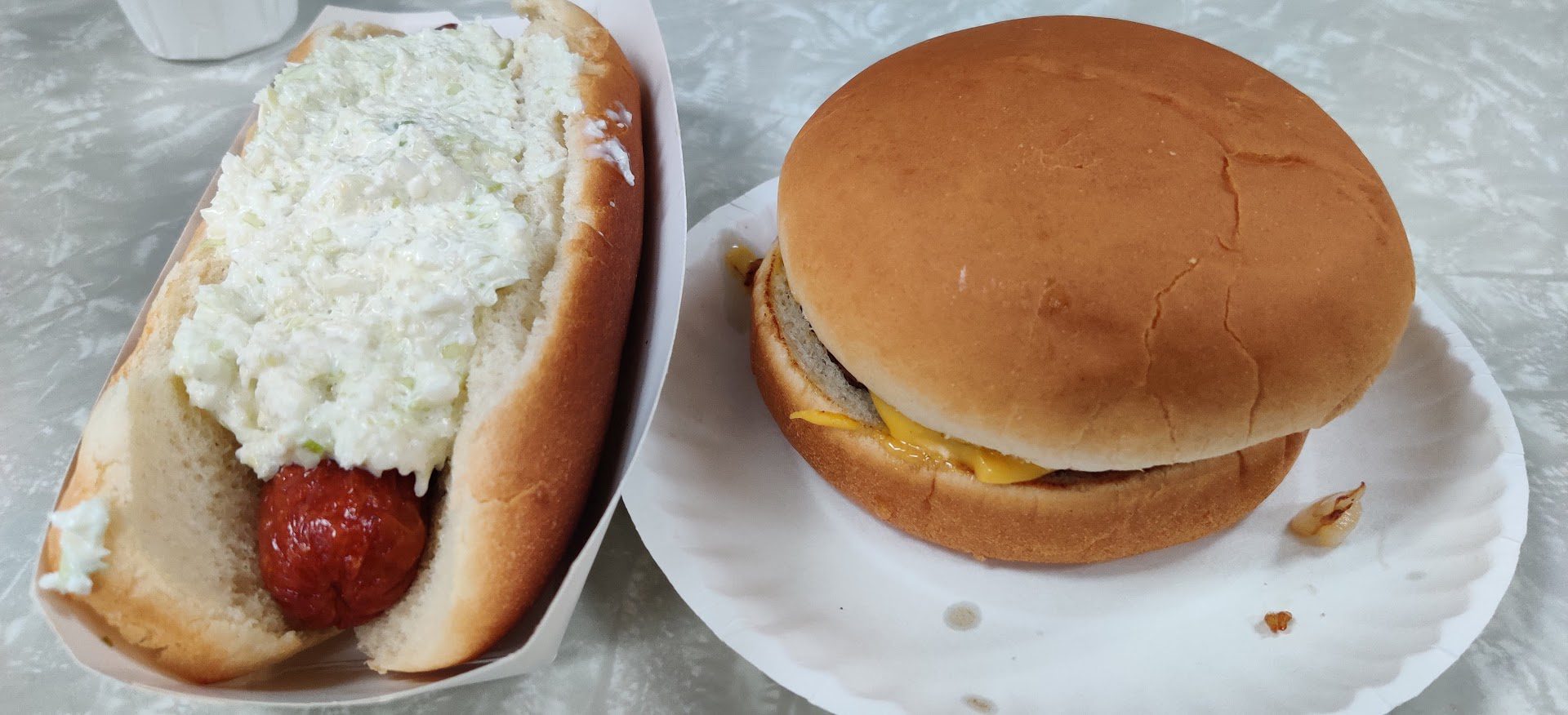 When I visit again, I will get a double burger topped with Pimento Cheese. The burger patty is very thin. ADD Drug is at 1695 S Lumpkin St, Athens, GA 30606
There's not a ton of BBQ in Athens but there's a pretty authentic place called Dawg Gone Good BBQ. I was a bit disappointed though because though the ribs were great, i ordered the combo plate and it was missing the sausage that was suppposed to come with it. This is Ribs and chopped chicken and pulled pork. Dawg Gone Good BBQ – 224 W Hancock Ave, Athens, GA 30601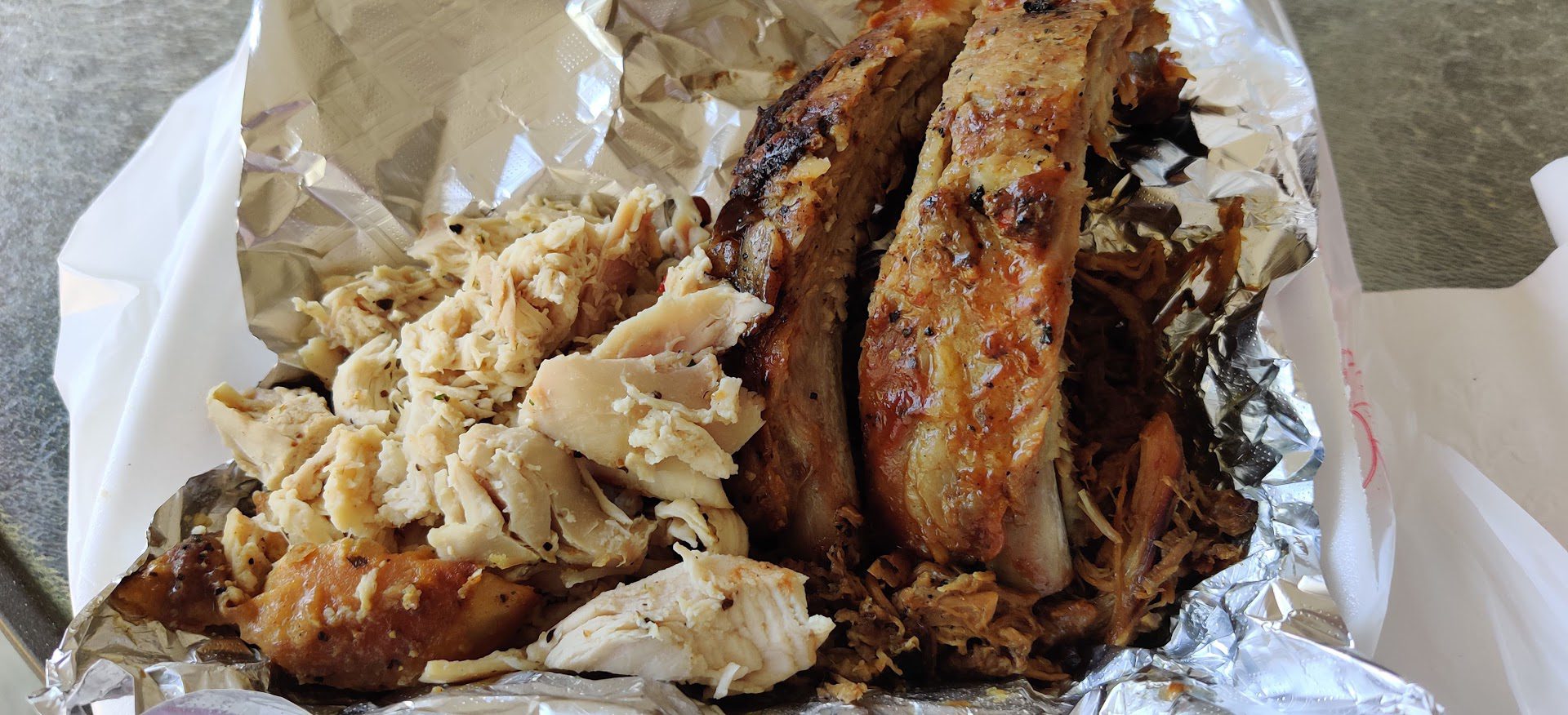 My time in Athens over, I headed on the Road to Greenville, SC and my first stop was the legendary Northgate Soda Shop. Its a classic lunch counter, but has a different feel than a regular lunch counter. This beatiful burger was a work of art.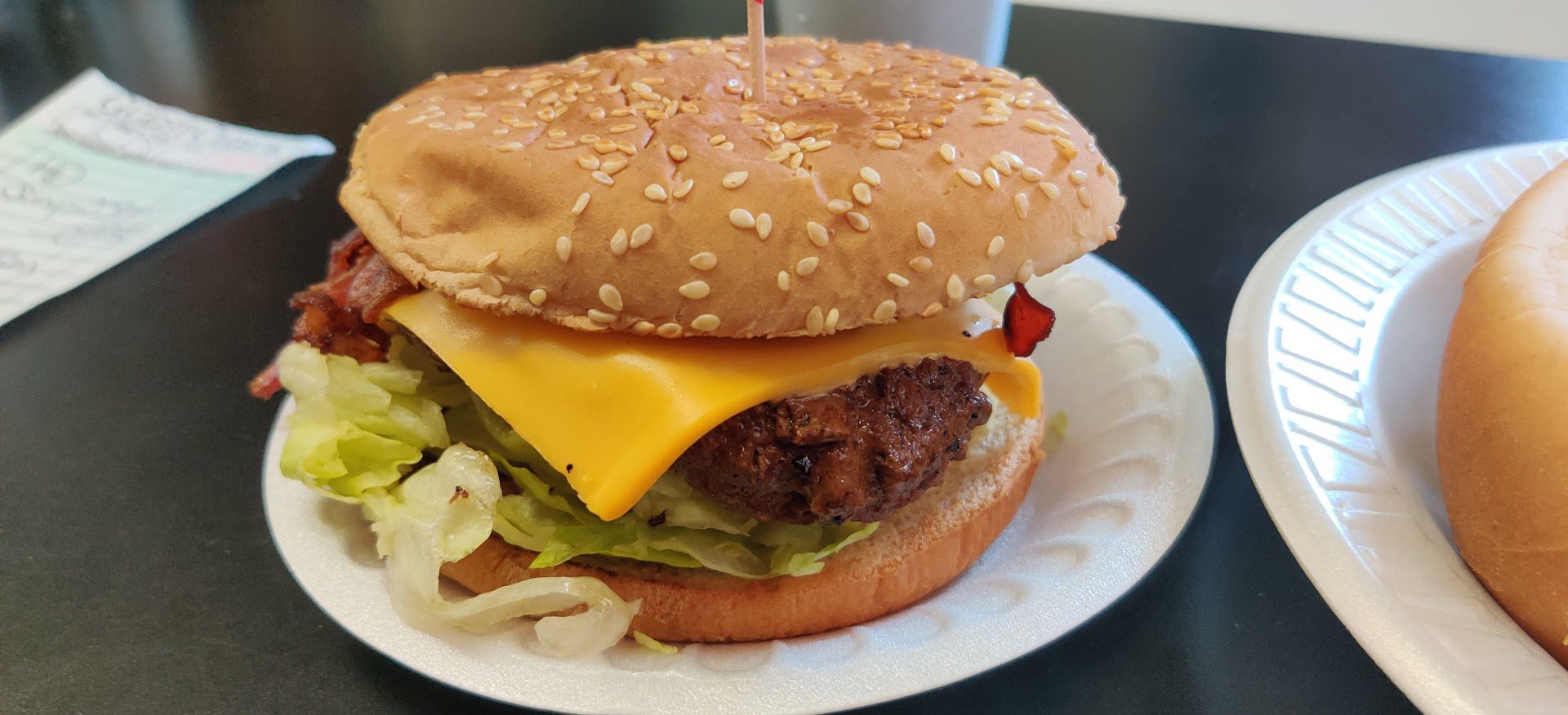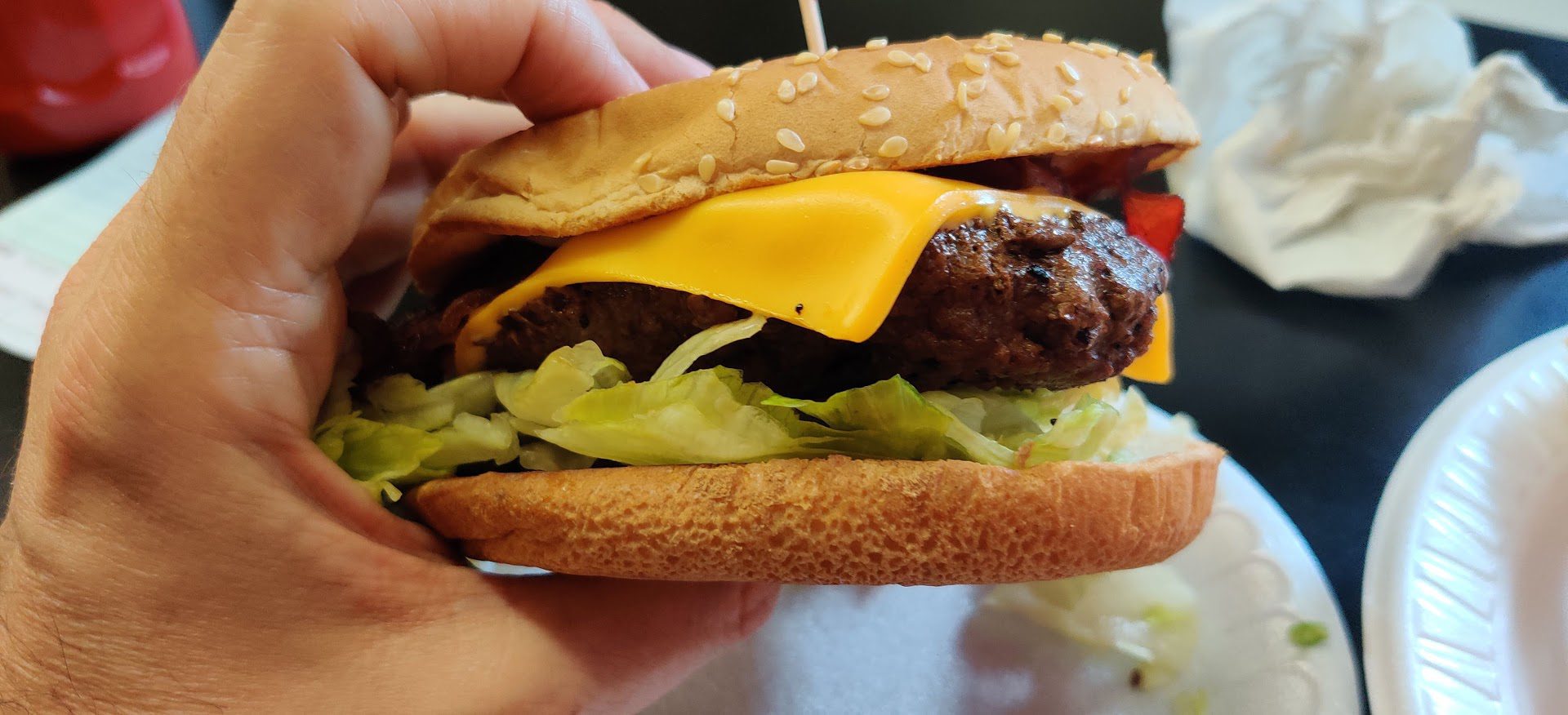 Because my eyes are bigger than my head i also got a chili dog plate with delicious onion rings and okay slaw. Northgate is at 918 N Main St, Greenville, SC 29609. They have a bar on one side.
Since I was still full from Lunch I wound up getting just an appetizer for Dinner at a fancy bbq Restaurant Husk In Downtown Greenville. I got this beautiful bowl of Shrimp and Grits.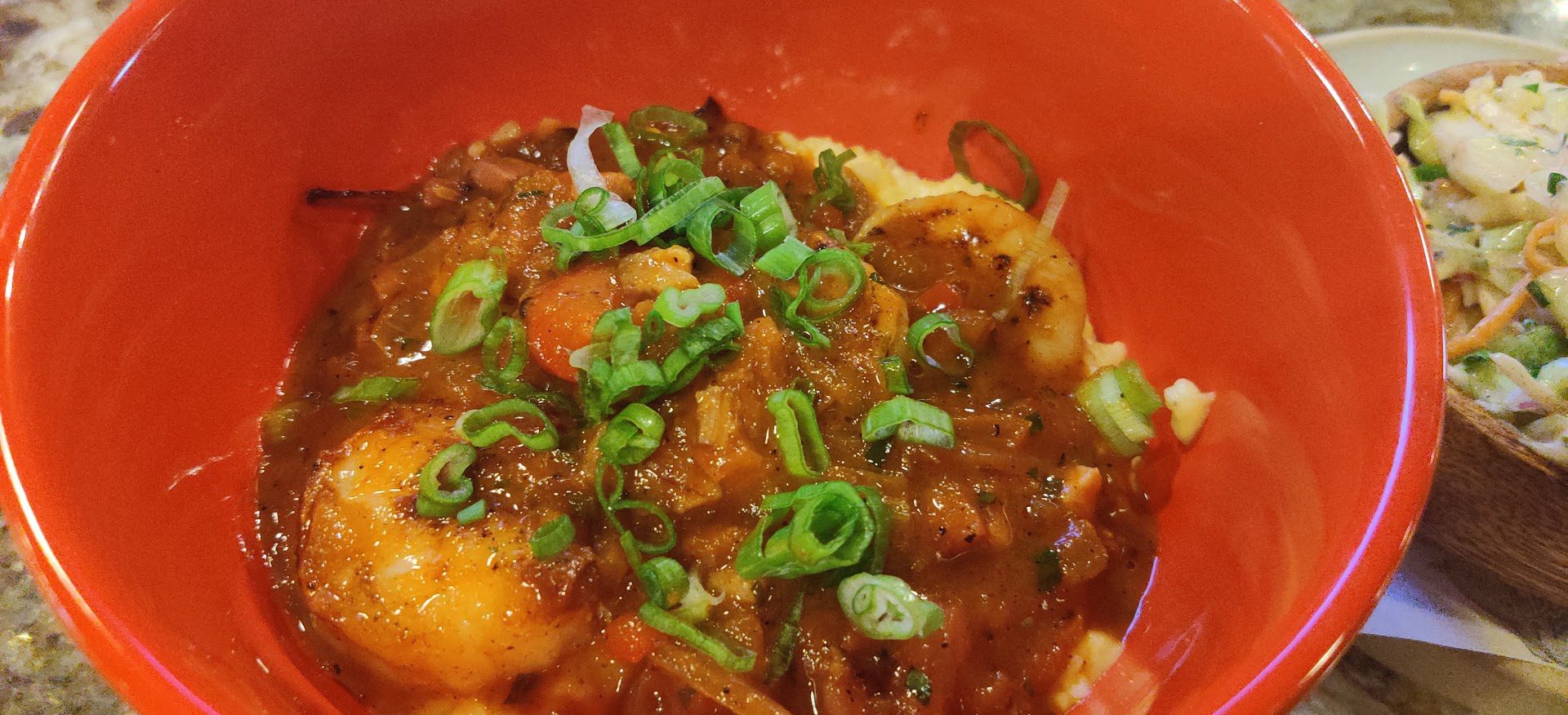 On the way out of Greenville, I stopped at the Sugar and Spice Drive In, home to the Roast Beef A Plenty. "A Plenty" is a hyper-regional food style in the region. Basically its whatever you get and then you add 50/50 Fries and rings, Slaw and pickles.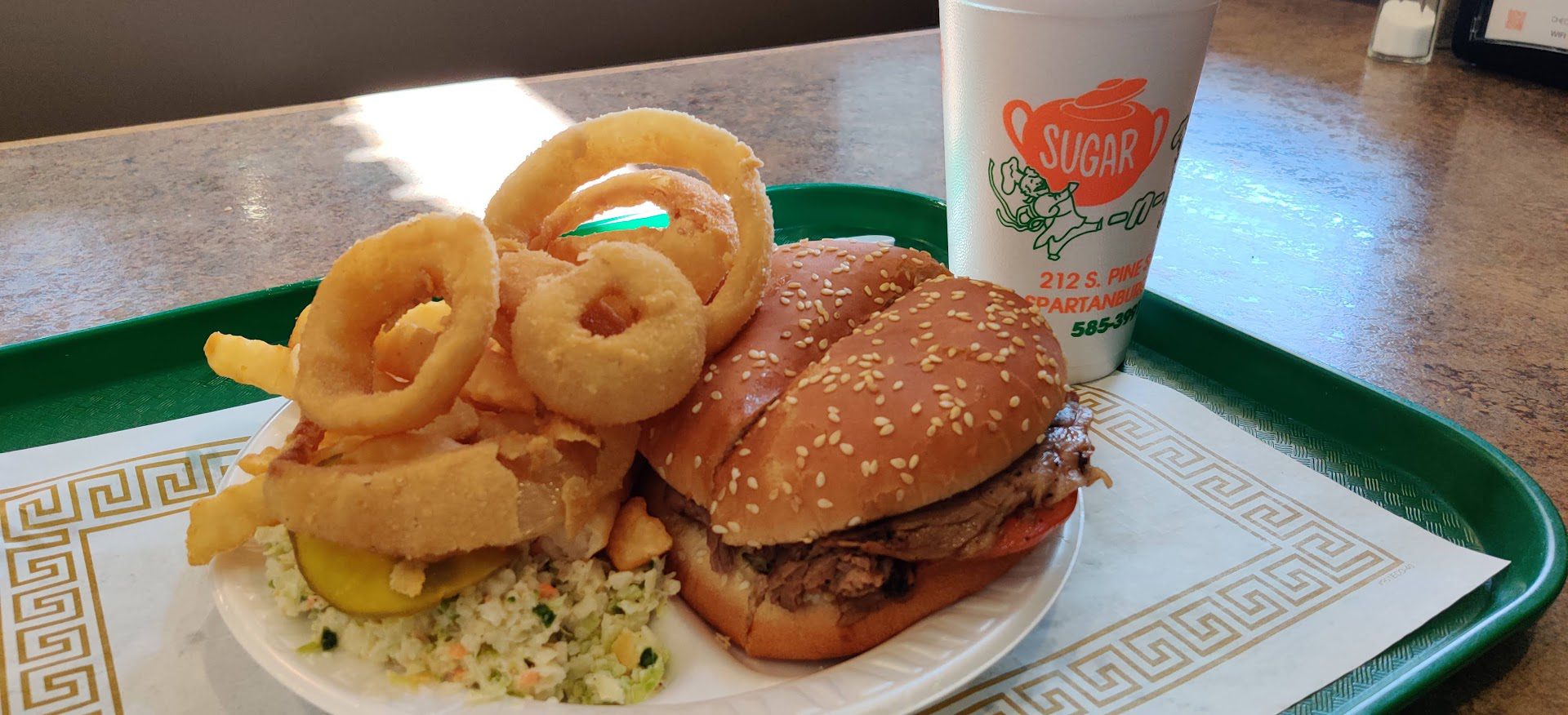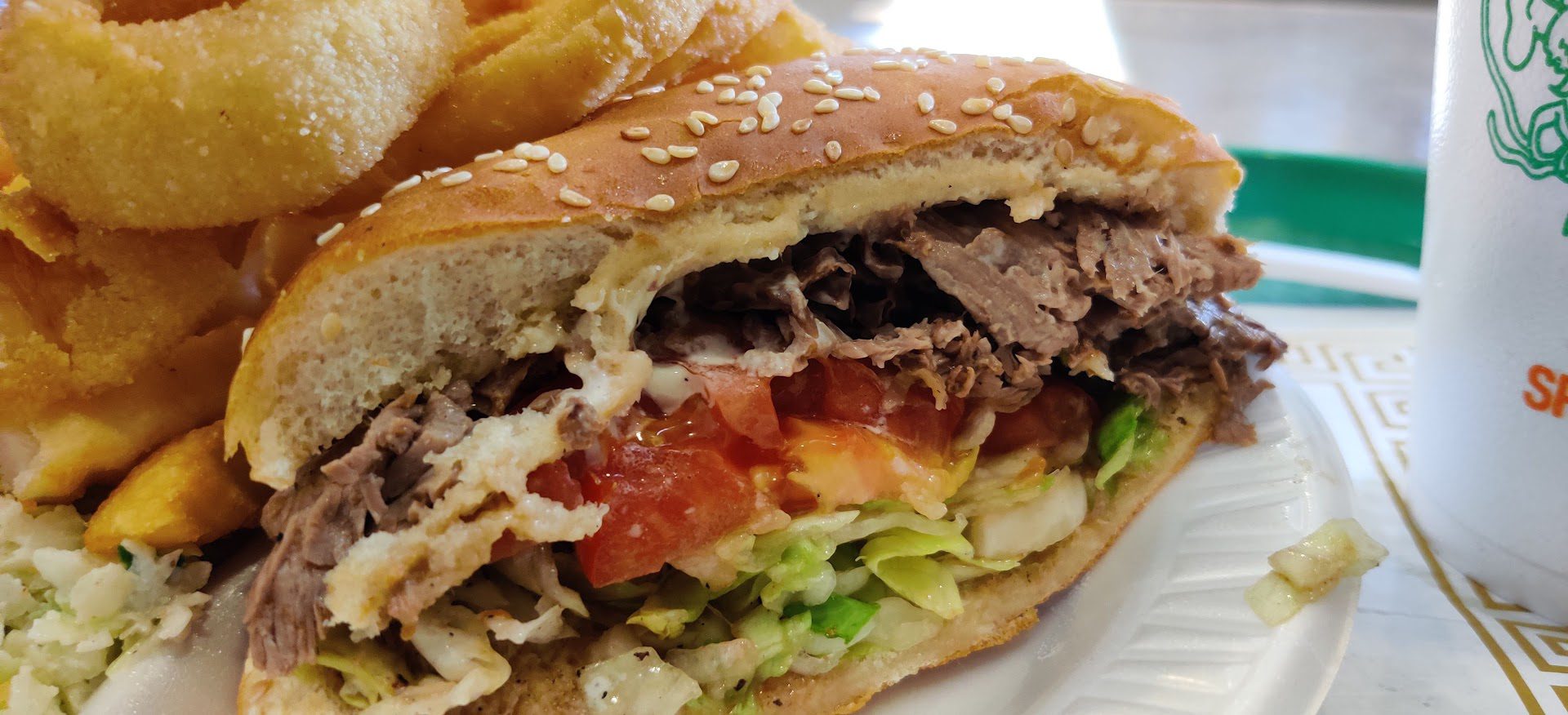 The Rings were delicious the Roast Beef was tender. There is nothing to spice up the sandwich though-No horseradish, etc. Still good though.
The Next Stop was Hendersonville, North Carolina for some treats from an old time bakery McFarlan Bake shop. This had one of the best black and white cookies and caramel and white cookies.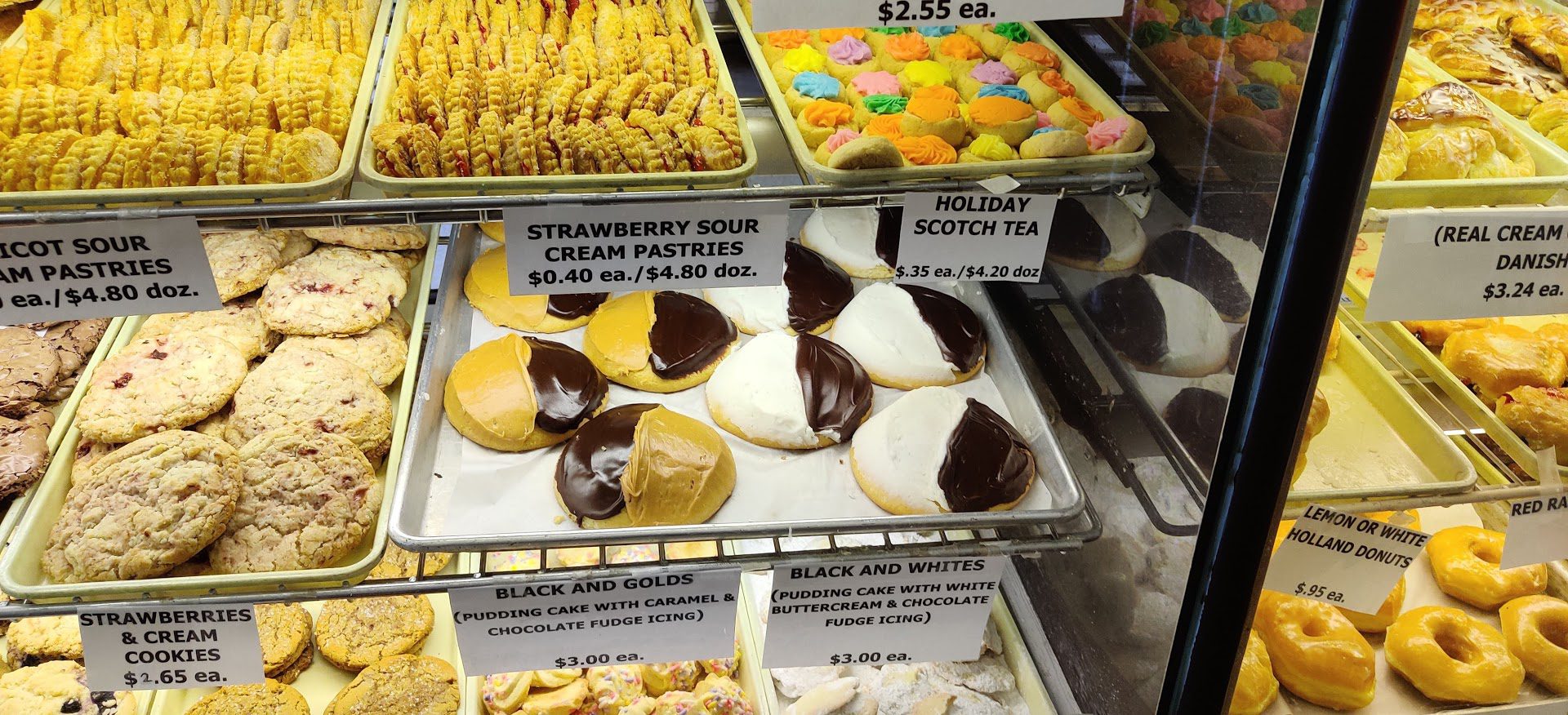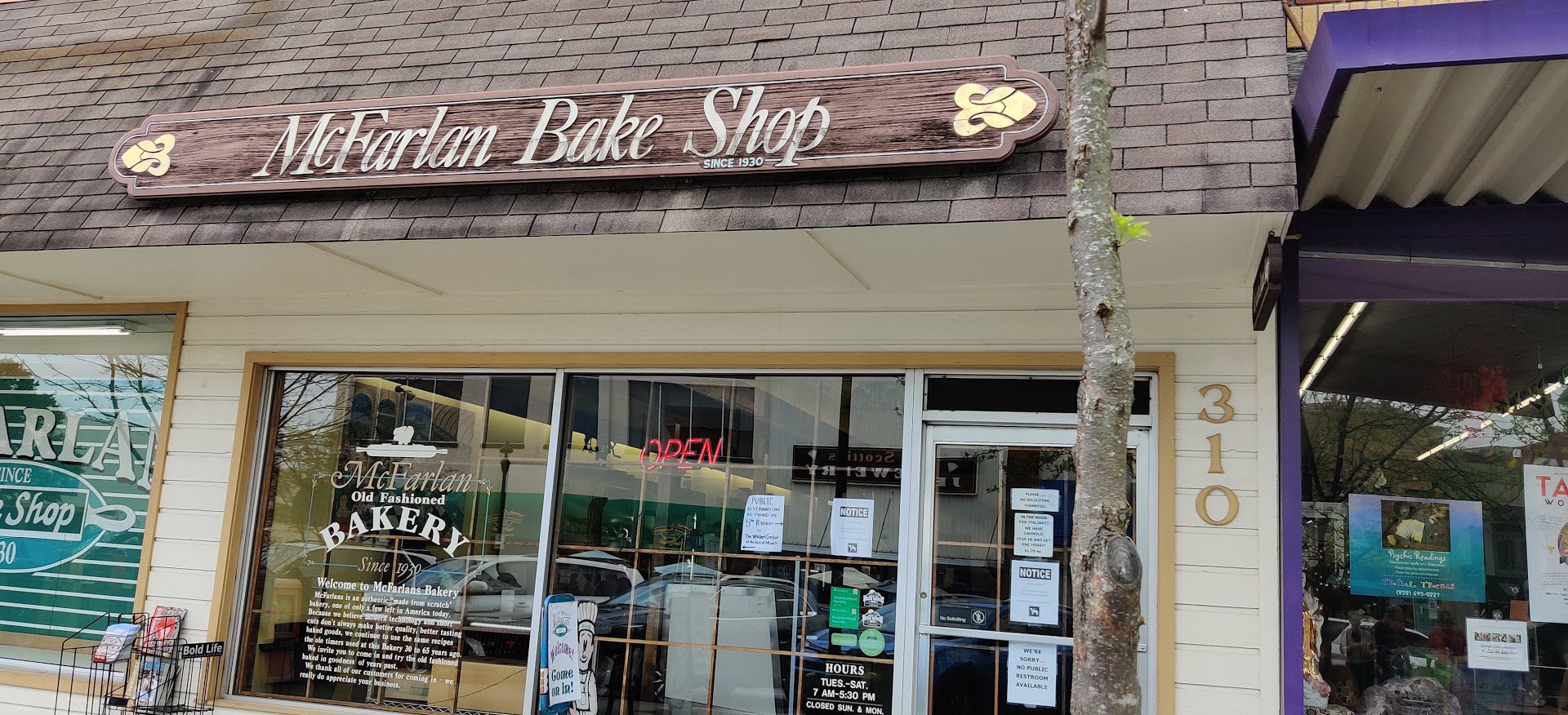 Next stop was Asheville and the Tastee Diner. Not a lot of other old stuff in the region but Tastee was great!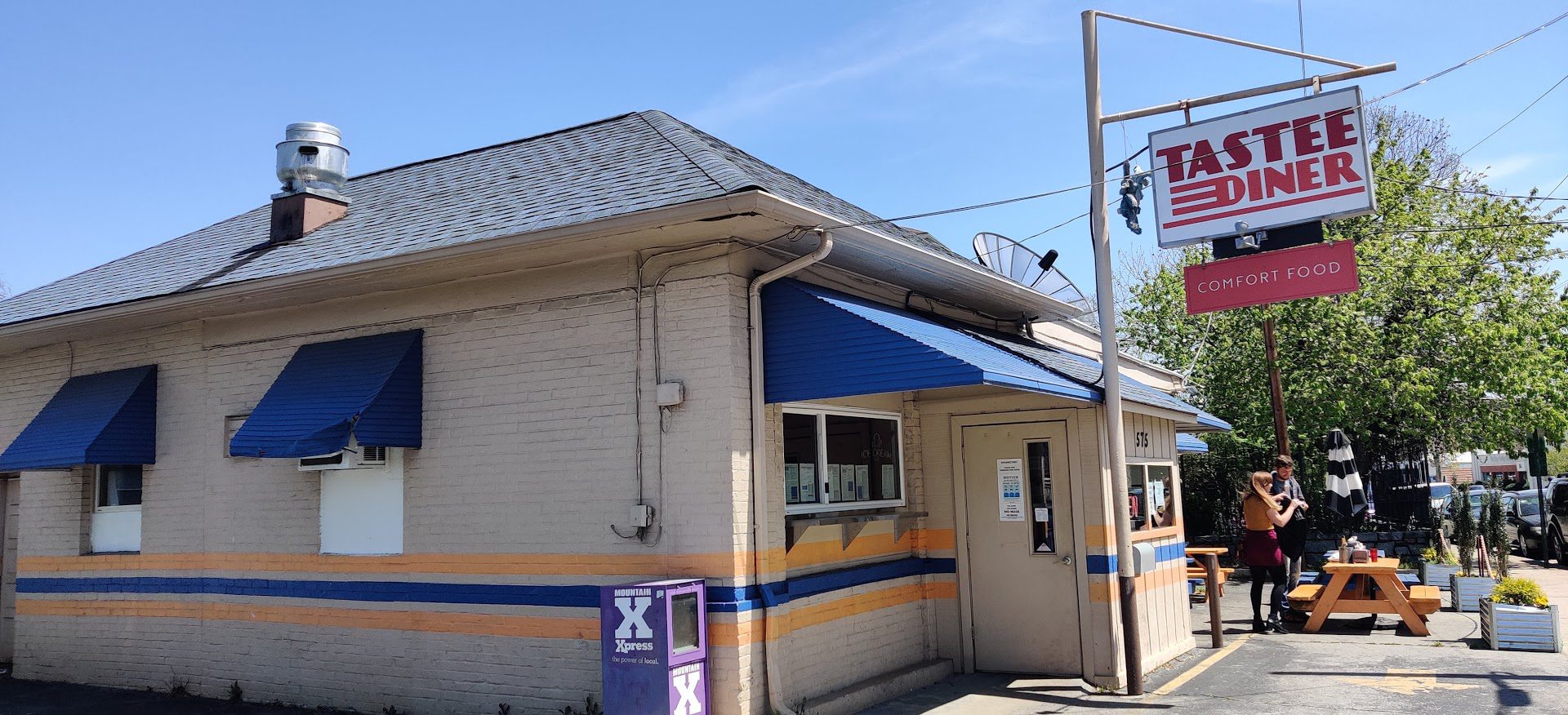 Bacon Pimento Cheese burger and Chili dog from Tastee. The Counter guys were great too. Tastee Diner-575 Haywood Rd, Asheville, NC 28806
Later on I ate at the famous Moose Cafe. I got the meatloaf plate with chicken and dumplings, ham , slaw and masked potatoes. It was good but the items were all of inconsistant temperature which I found unpleasant.
On the way back North, I stopped again in Hendersonville to Hot Dog world and got a great slaw dog and onion rings. It was amazing.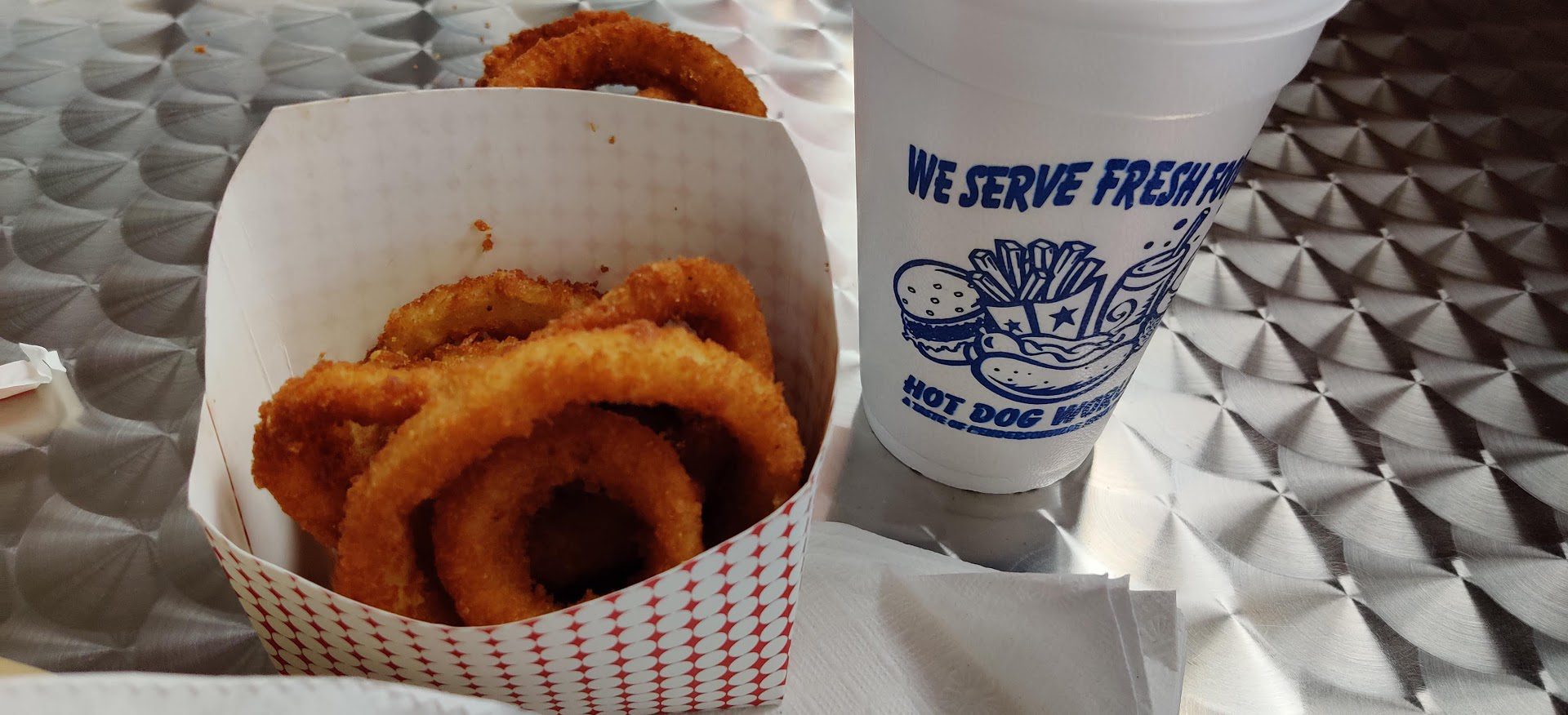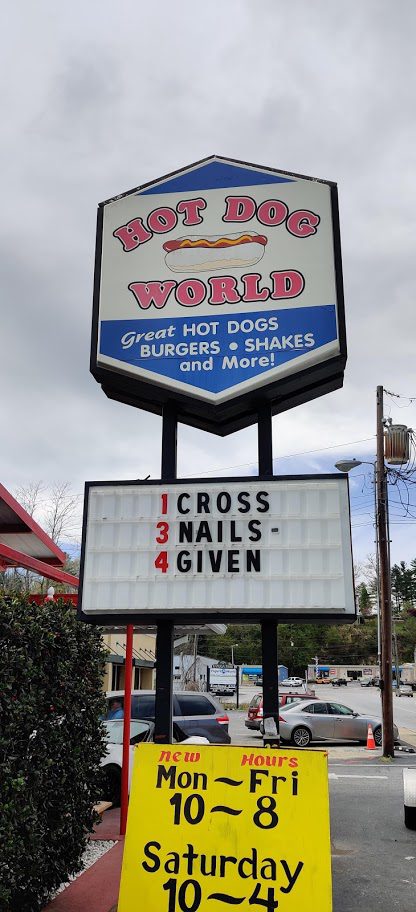 After Hendersonville, I headed to Greenville to one of the Clock Drive Ins, which I believe are all unrelated.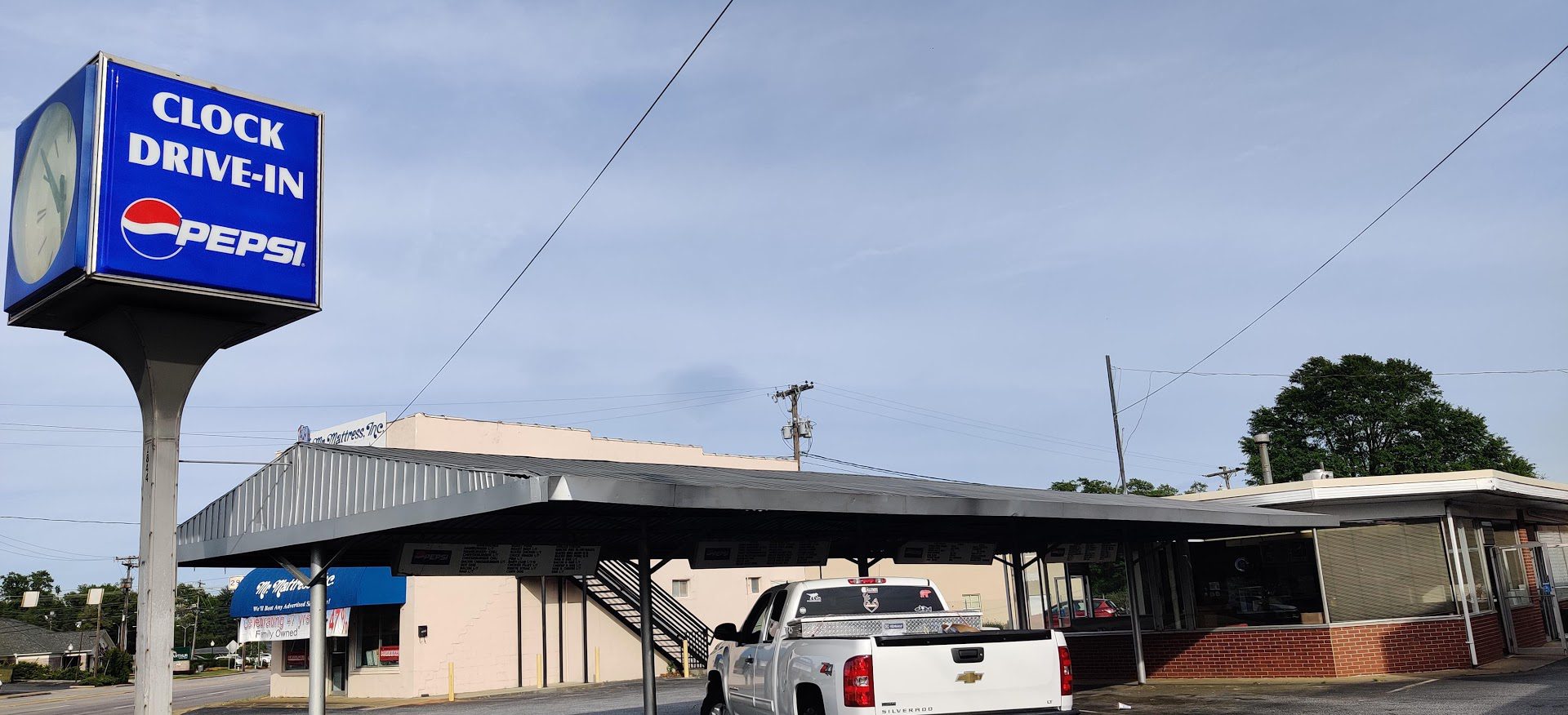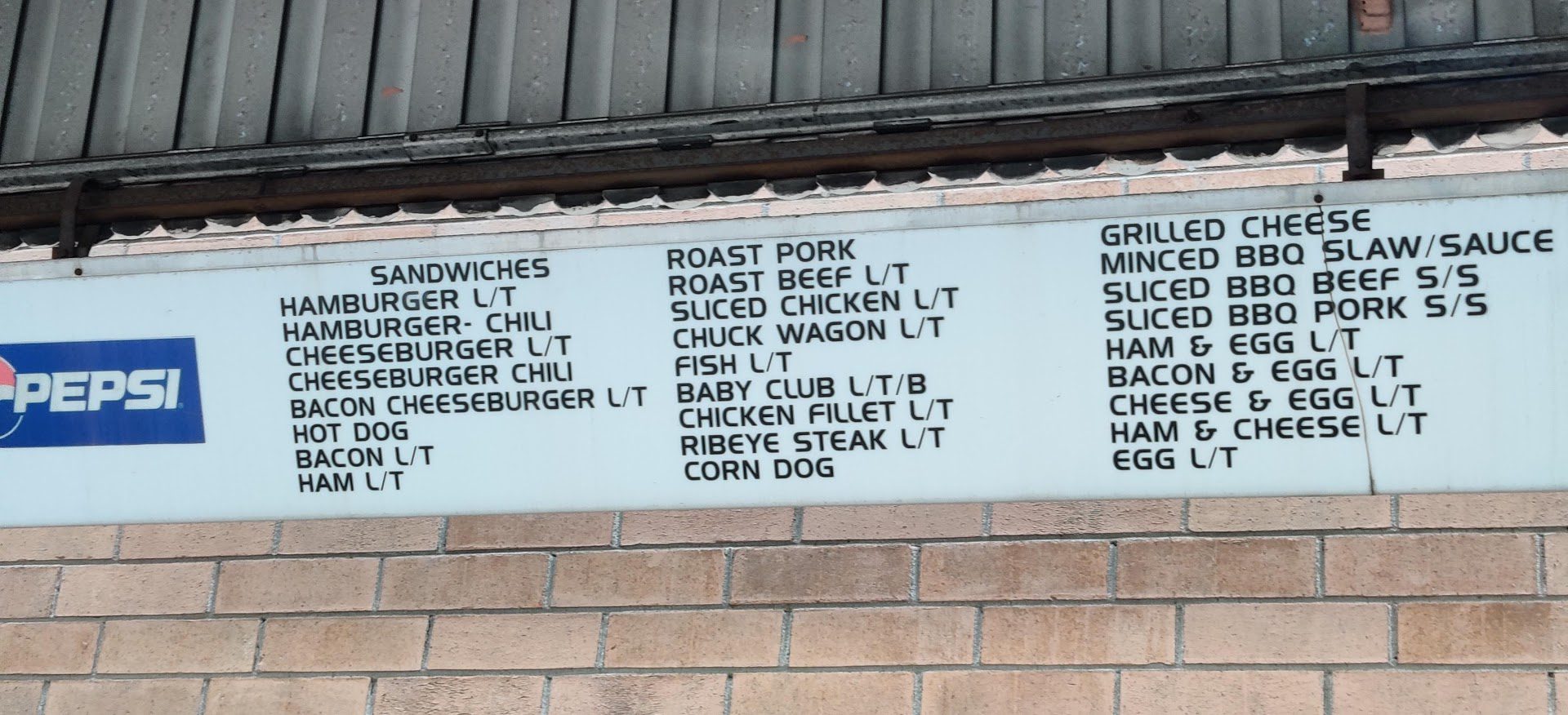 I got a chiliburger and awesome onion rings and a side of slaw. Everything was tasty. They have a lunch counter area to sit in as well.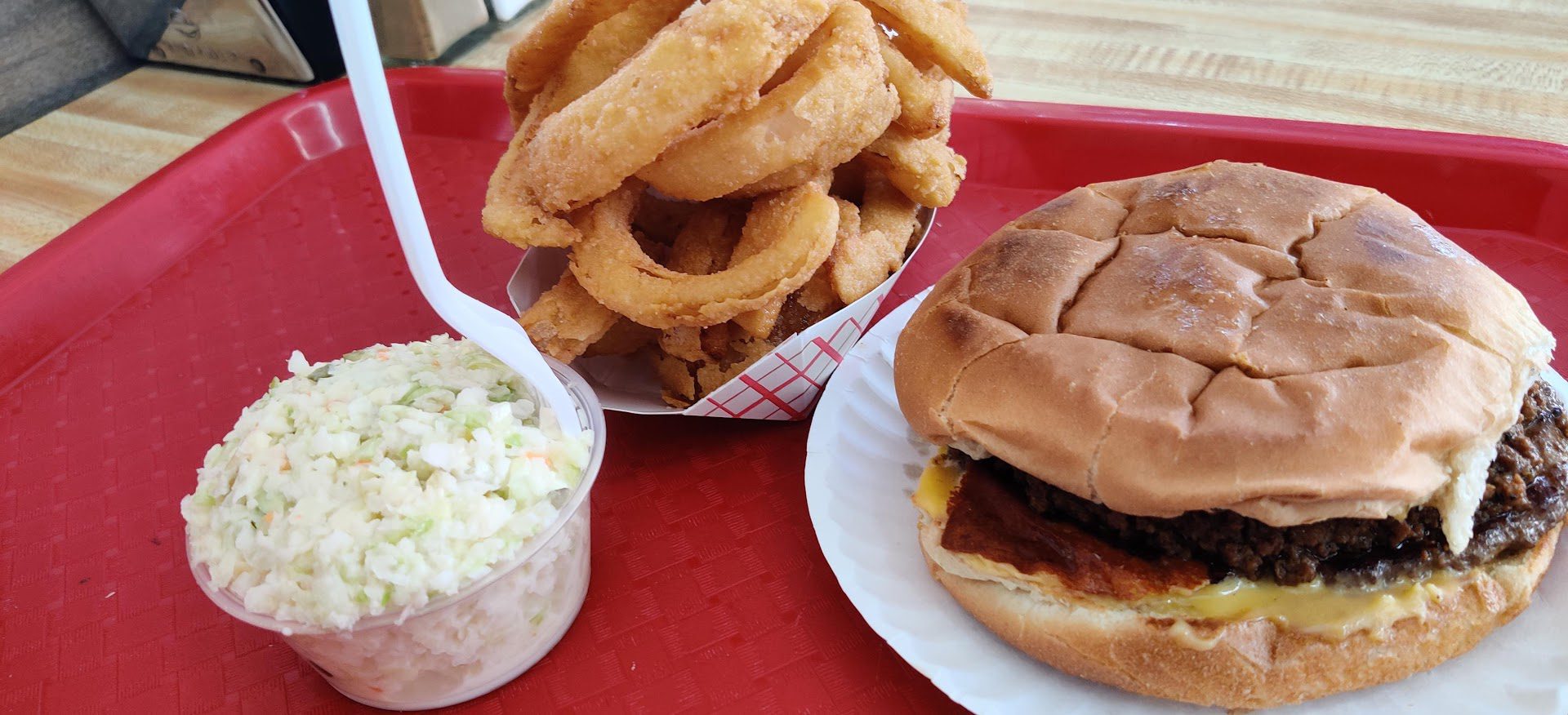 After Greeneville visit 2, I stopped in Gaffney, SC to hit Harolds Restaurant.
Harolds Specializes in a "chili burger" which they break up pieces of meatball as well. Its quite tasty.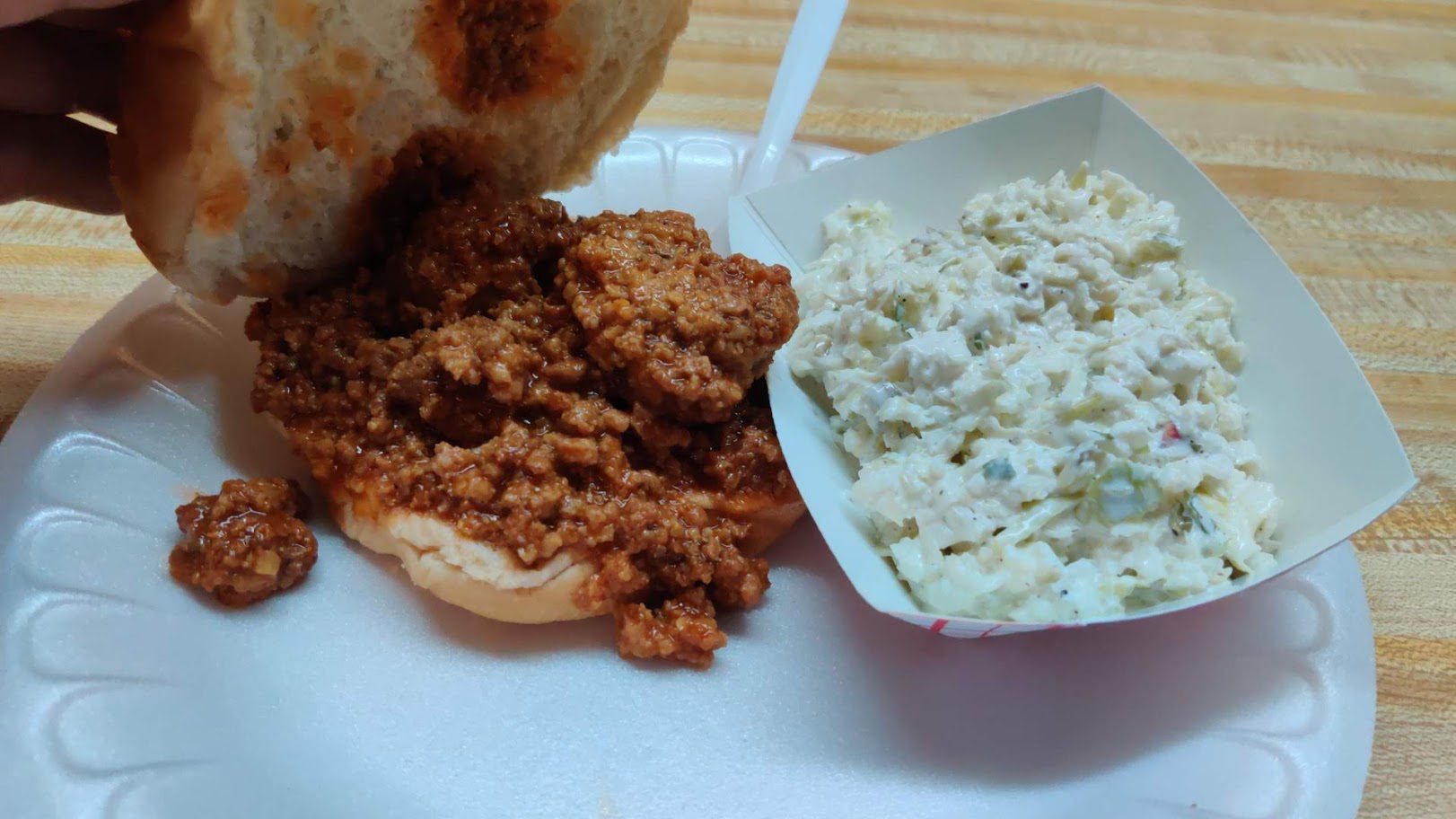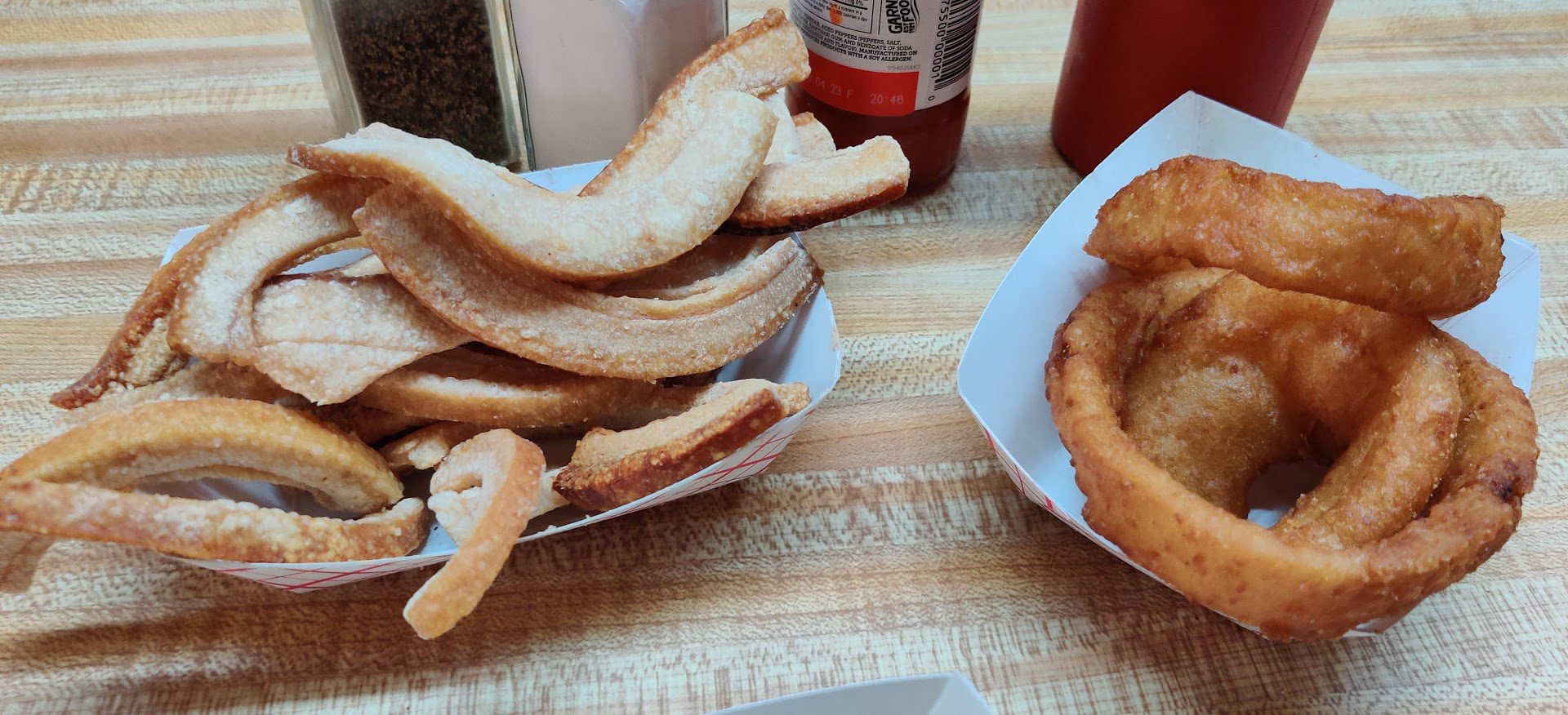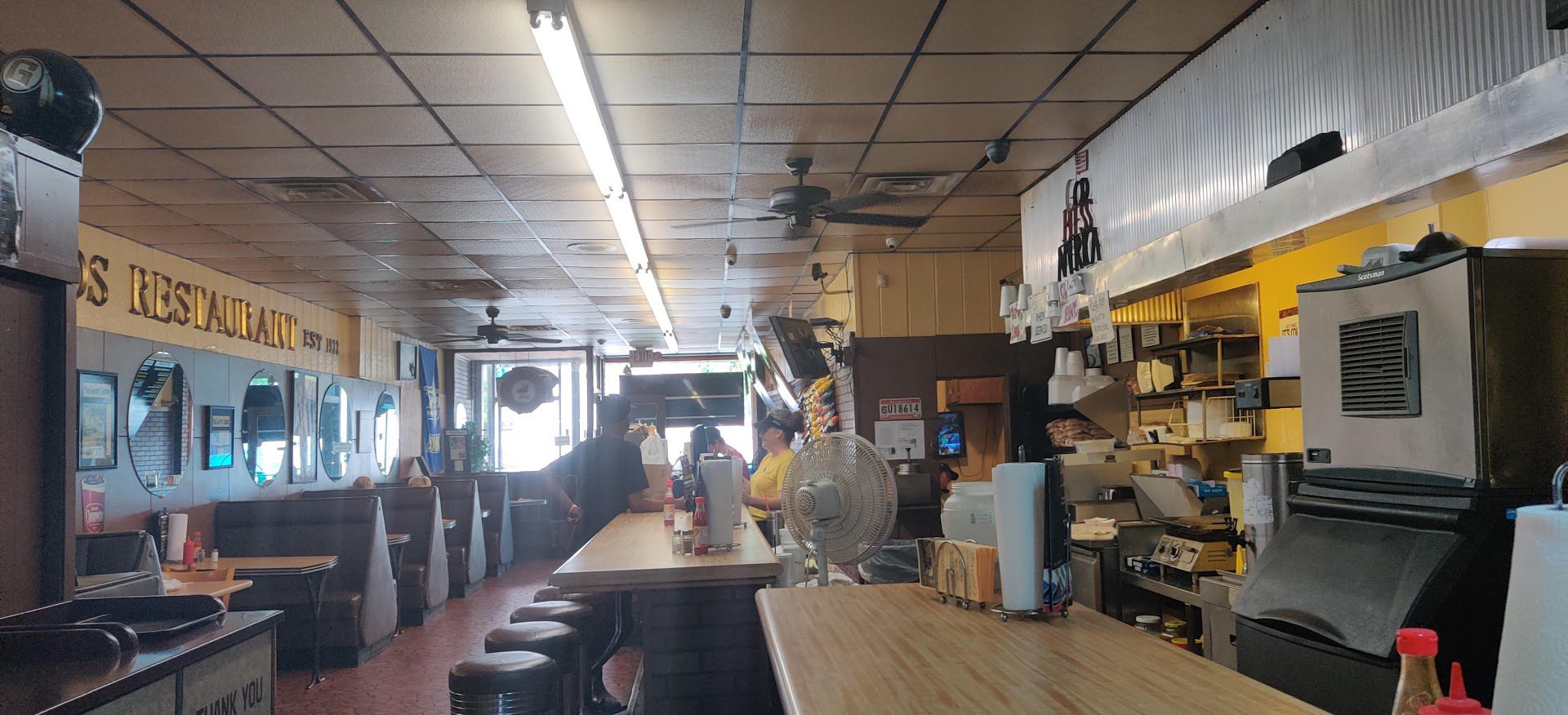 Made some new friends at a coffeeshop next to Harolds and then headed to Greenboro for my last night. Drove by this currently closed Beef Burger, formerly a Bif Burger, though it was currently closed.
Went to Stameys BBQ instead. Stameys is a small chain with regional chopped bbq.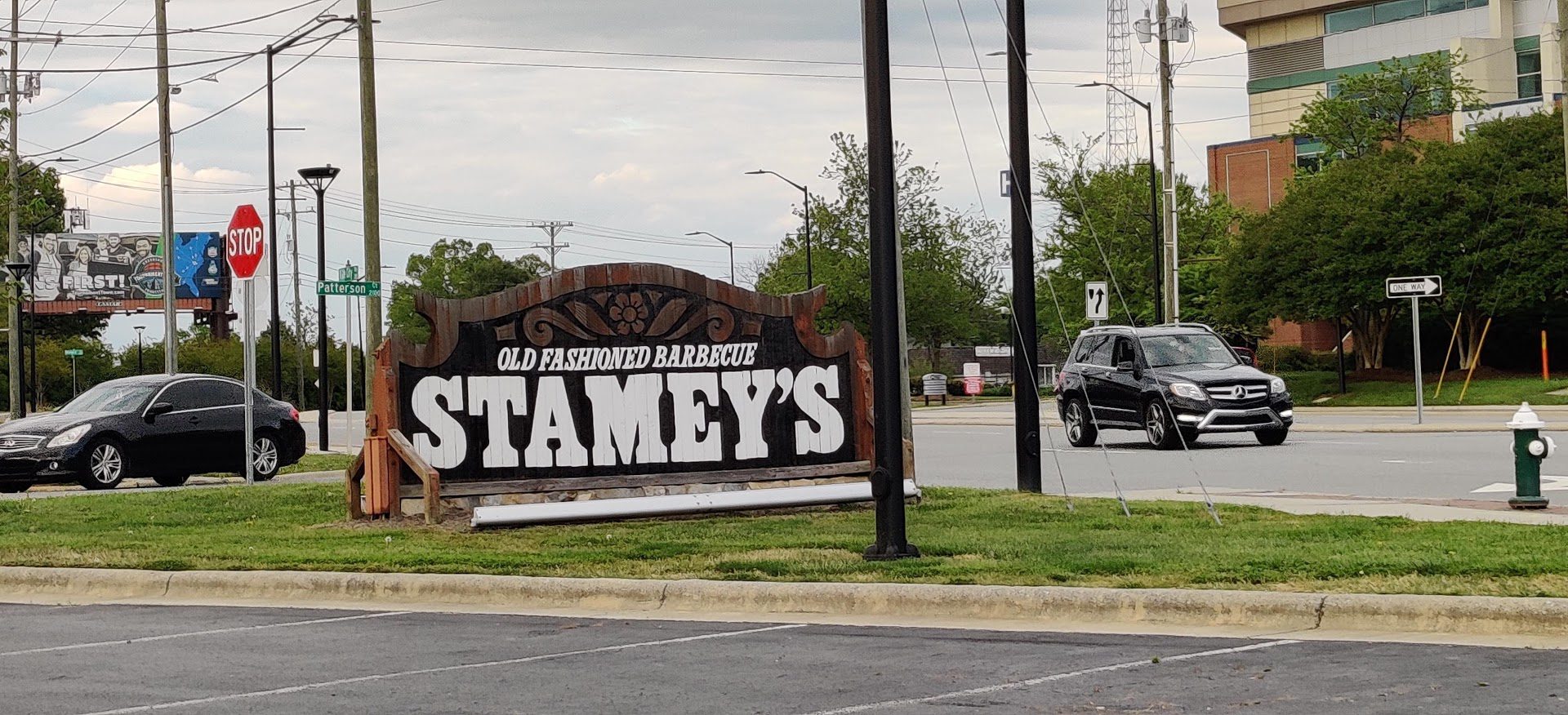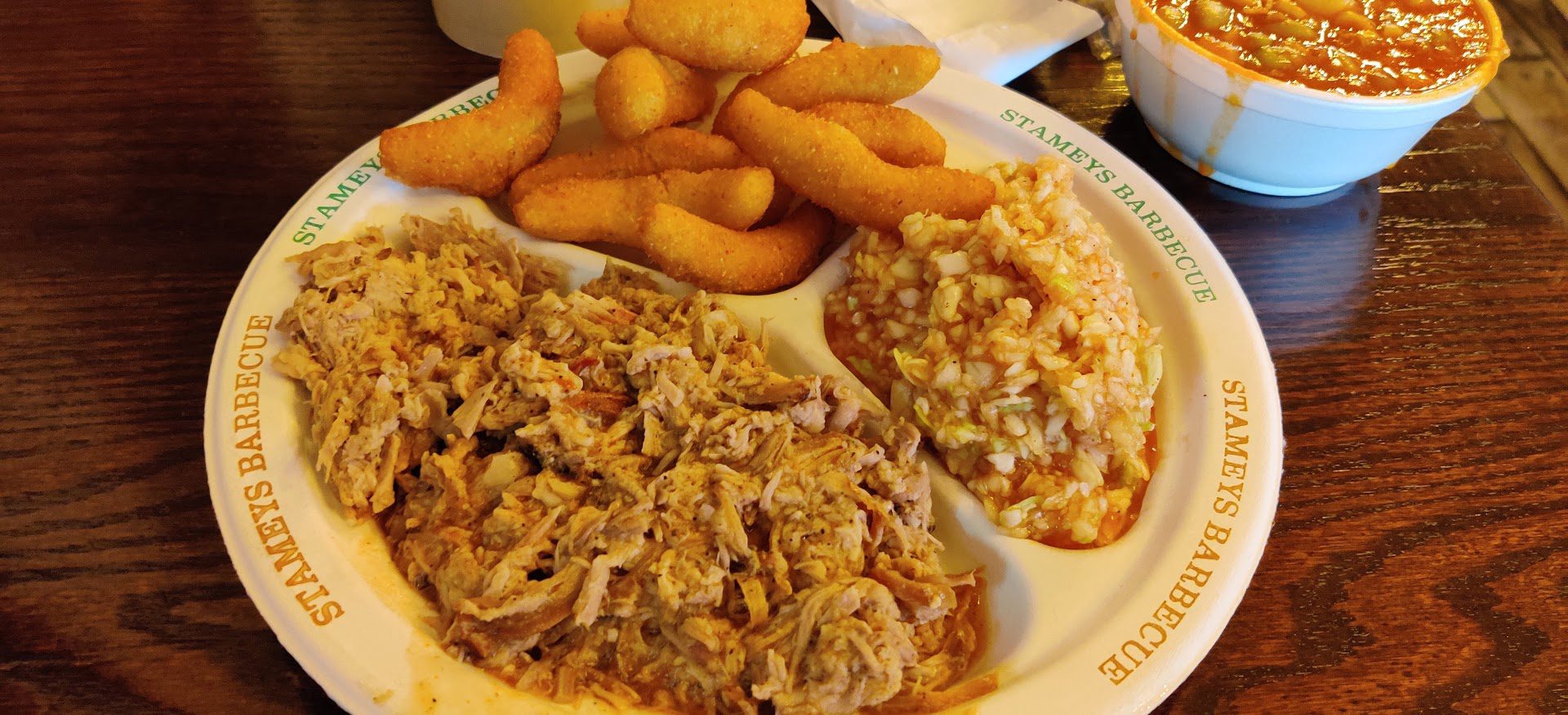 Stameys is at 1429 Hazel St, Charlottesville, VA 22902 and other locations.
On the way back I stopped again in Lynchburg, VA at the Stadium Inn. Who knew Lynchburg would have such great regional foods?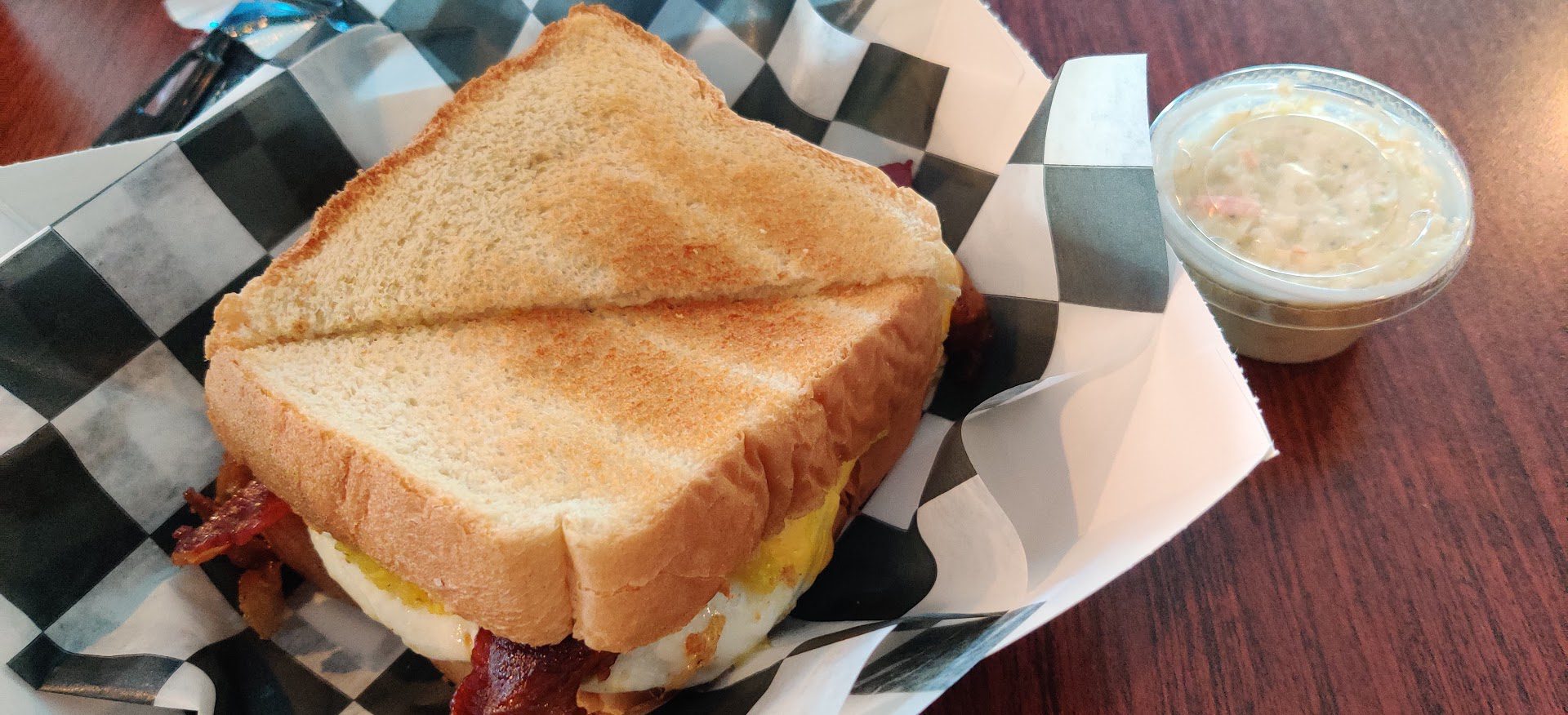 I got their version of the local Cheesy Western served on Texas Toast. The staff was great too. Stadium Inn is at 3007 Fort Ave, Lynchburg, VA 24501
On the way back I stopped at Riverside Lunch in Charlottesville before dropping off my rental car. A lot of the rural farm workers stop in here and it has an interesting character to it.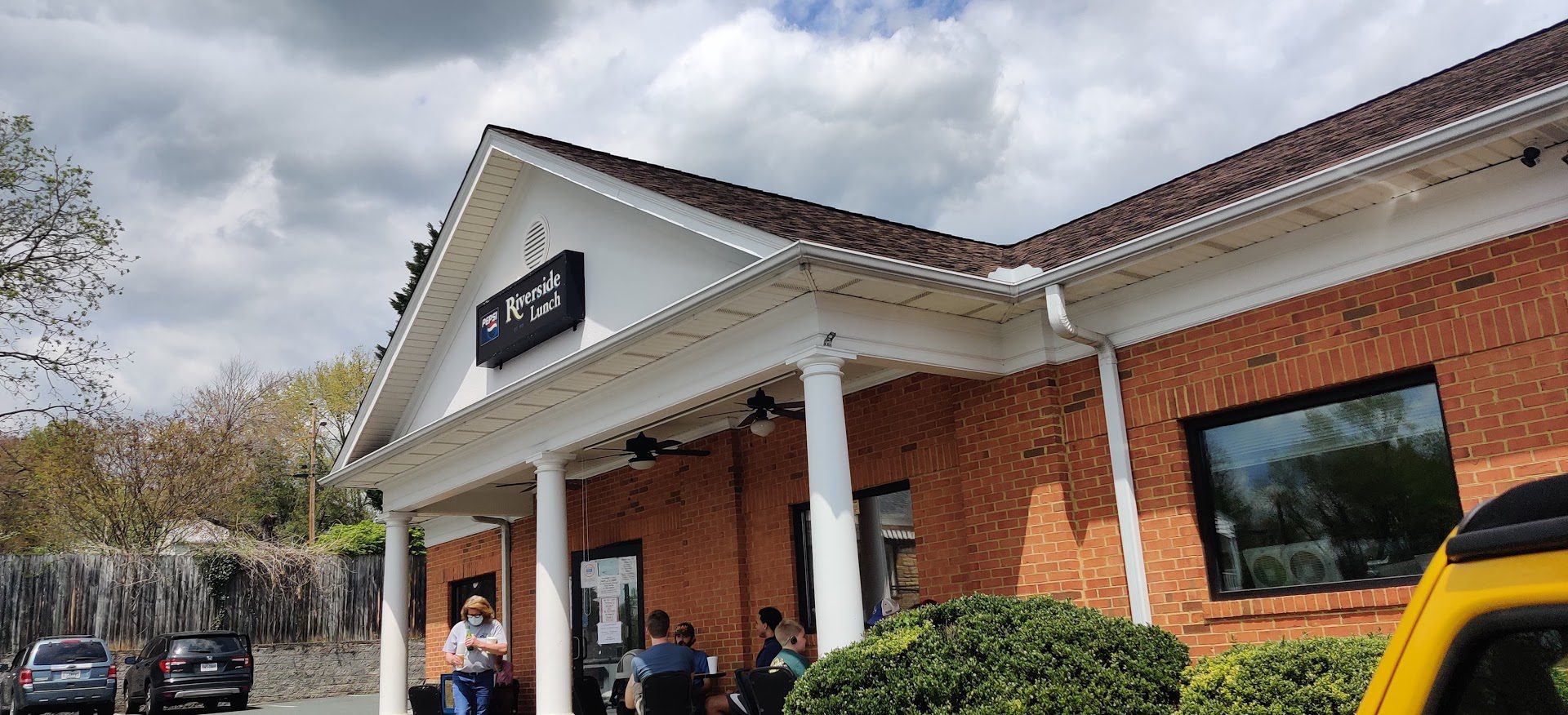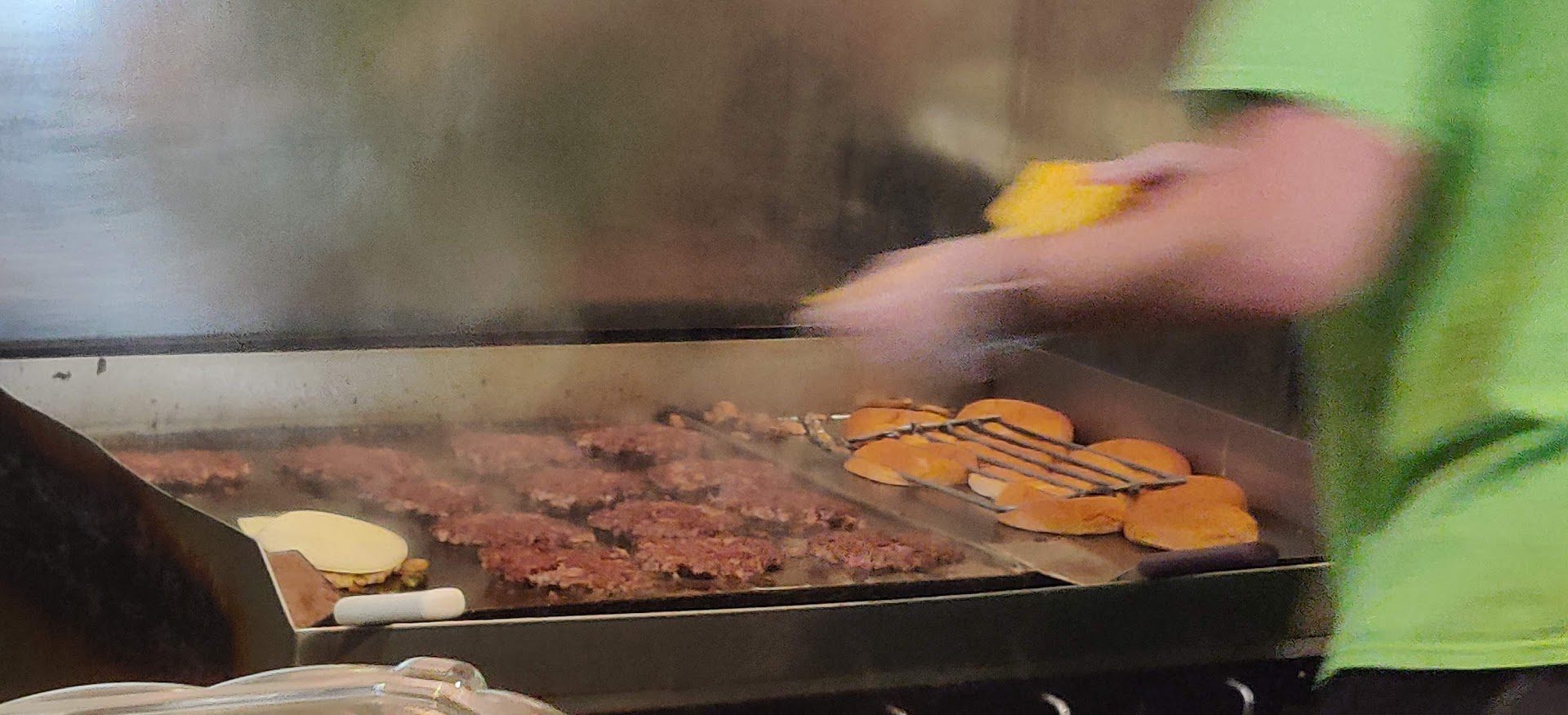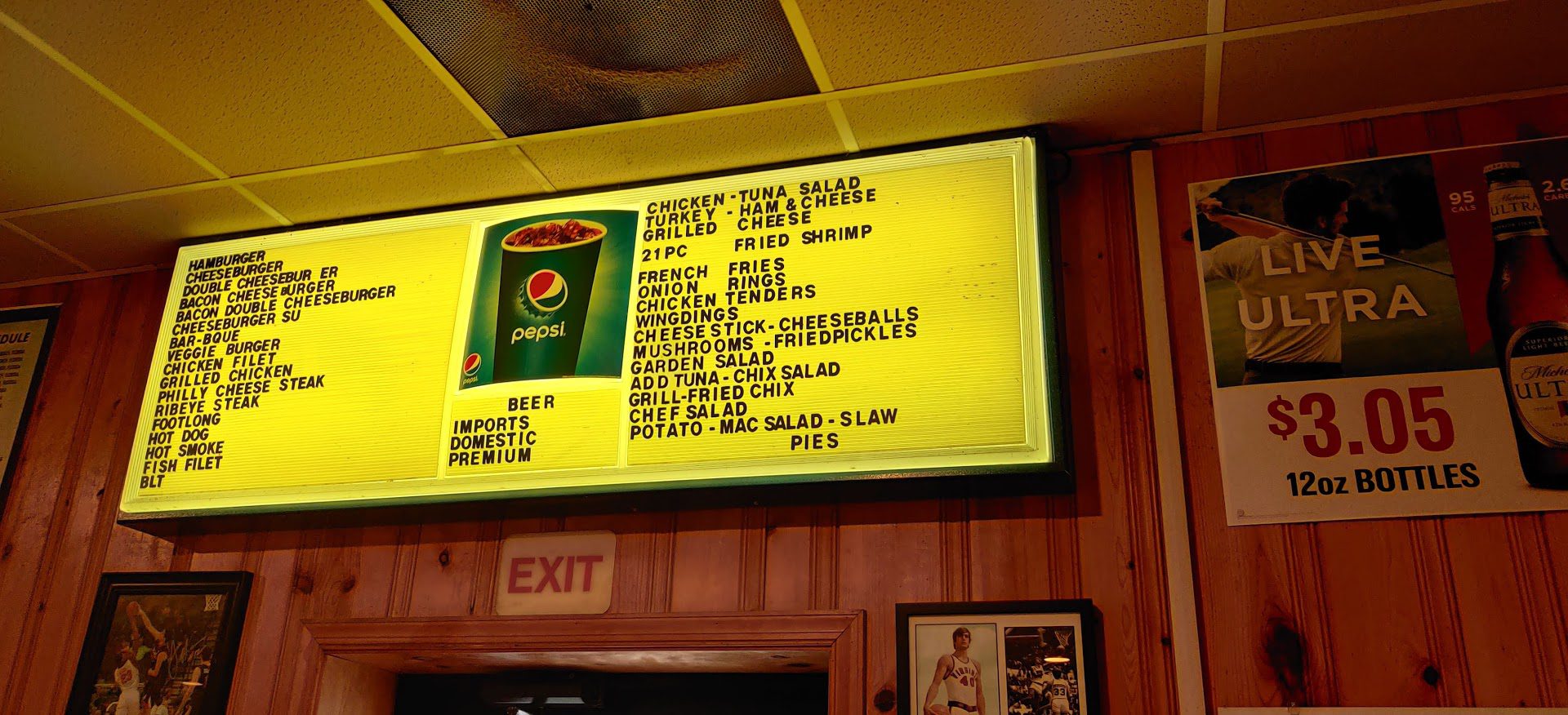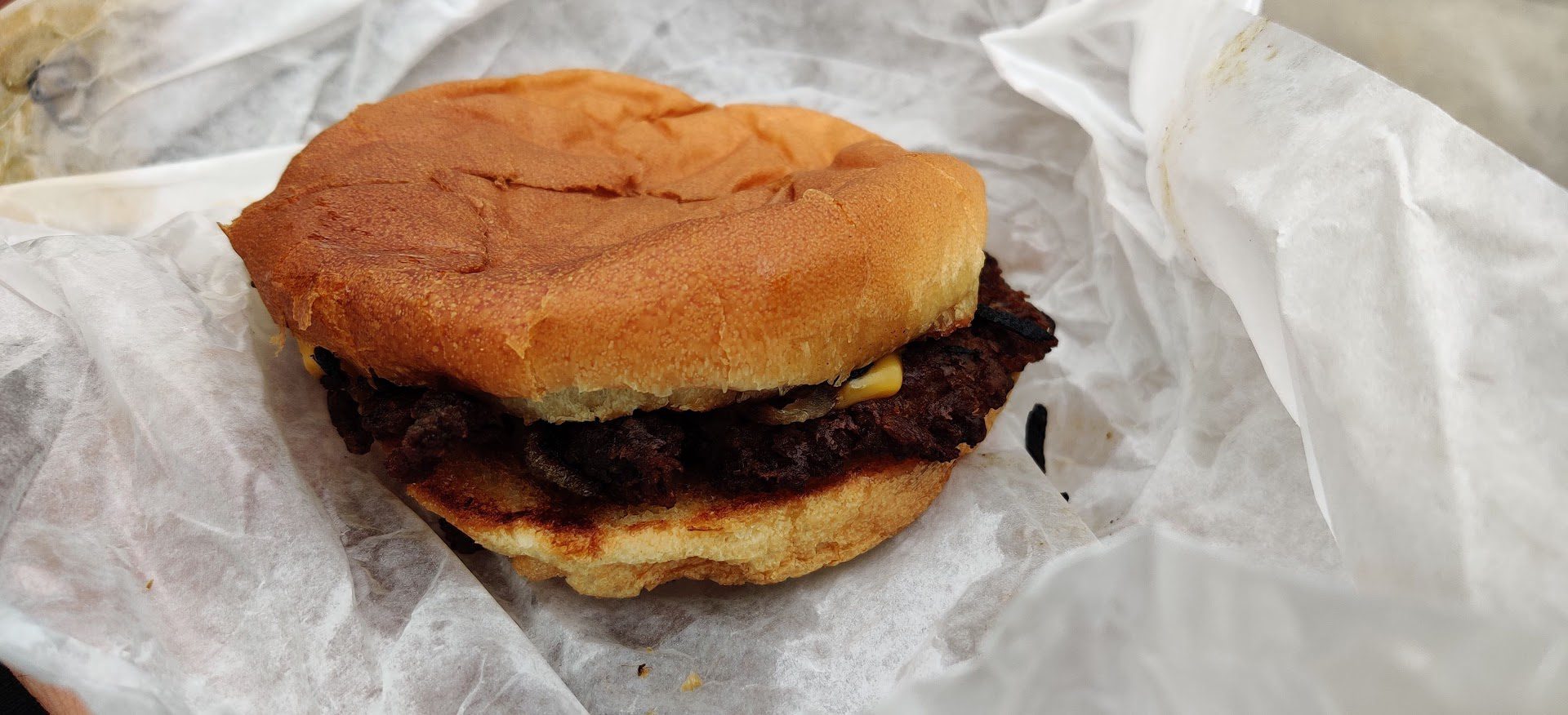 Despite this pic, the burger was great as usual. Riverside Lunch is Highly recommended.
I also got a bbq sandwich to eat later on the train, pictured below.
Riverside lunch is open Sundays at 1429 Hazel St, Charlottesville, VA 22902.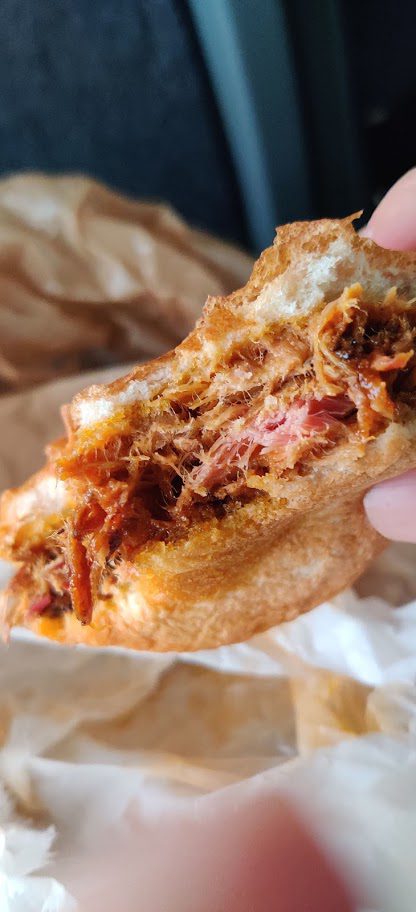 Now its time for my diet. Until the next Trashy Adventure.