Appleton, WI
Eats-
Best burger Trashy Travel had in Wisconsin was from the nearby Mihms charcoal grill in the Appleton area over in Minasha.
Toms drive in is a mini chain with burgers and cheese curds but this one location has booths made out of Tilt a whirl Cars
Tom's Drive-In-501 N Westhill Blvd-Appleton, WI 54914
George's Steak House -2208 S Memorial Dr, Appleton, WI 54915 (920) 733-4939-Fancy old cool steak house.  Time machine and a bargain.
JD's Drive-In-1939 E John St, Appleton, WI 54915 (920) 739-6935-Burger diner with DQ style dipped cones.
Live Music-
Live Music-Mousetrap Tavern-311 S Barstow St, Eau Claire, WI 54701 (715) 832-8418
Fennimore, WI (North of Dubuque, IA, West Of Madison)
eats-
Friederick's Family Restaurant-430 Lincoln Ave, Fennimore, WI 53809  (608) 822-7070
Old Fashioned Family Cafe, good pie
Fox Lake, WI
Eats-Mullin's Drive in-102 Spring St, Fox Lake, WI 53933-another homemade root beer ice cream and snack stand.  Good Burgers and Chili Fries
Glendale, WI (Milwaukee Northern Suburb)
Brewery tour-SPRECHER BREWING COMPANY
701 W. Glendale Avenue
Glendale, Wisconsin 53209
CALL (414)964-BREW(2739)
They not only make beer but gourmet soda as well.  Tours are 3 bucks, but end in sampling.  Must call first.
Eats-Sollys Grill-4629 N Port Washington Rd, Milwaukee, WI 53212-Famous for their butter burgers.  Its a must try but wasn't my favorite of the genre.
Kopp's Frozen Custard-5373 N Port Washington Rd, Glendale, WI 53209 "best frozen custard I ever had" Dean Curtis of Le Continental. They have a butterfinger custard!
Green Bay, WI
Below, Fried Cheese curds, available throughout Wisconsin at places such as Krolls below.  Also Bratwursts are everywhere.

Green Bay has a government owned kiddie park with an antique train ride, and it will be the home soon of the Zippin Pippin, which was at Libertyland in TN and was Elvis' favorite roller coaster.  Rides are strangely cheap, going for about 50 cents at last check.  Bay Beach Amusement Park, 1313 Bay Beach Road
Green Bay, WI, 920.448.3365
Live Music-
Phat Headz-420 N Clay St, Green Bay, WI 54301  (920) 349-7428
Eats-
Al's Hamburger – 1934 burger and breakfast joint. Great!  And great onion rings. 131 S Washington St, Green Bay, WI 54301
Krolls-
Kroll's East Restaurant,1658 Main St, Green Bay, WI 54302 (920) 468-4422 over 75 years. Also other locations- Get a prime rib sandwich or a double butter burger. Also fish fry every day!
Record Stores-
The Exclusive Company-423 Dousman St
Green Bay, Wisconsin 54303 (920) 435-0880  One of the few places where you can buy  a misfits with cheesehead shirt.  Other locations in Wisconsin too.
Hartford, WI
Eats-
Barbecue Company Grill and Catering-1699 WI-83, Hartford, WI 53027 (262) 751-4777 BBQ with this location and a location in Arizona.  This has award winning ribs, but unfortunately does not have the smoked meatloaf of the AZ location.
Hayward, WI
Musuem-
National Fresh Water Fishing Hall of Fame
10360 Hall of Fame Drive, Hayward, WI 54843-(715) 634-4440
Located closer to Deluth, MN rather than any major cities in WI, this spot features a giant fish you can walk in among its many attractions
Manitowish Waters, WI(near WI Dells)
Little Bohemia Lodge-142 Highway 51 S, Manitowish Waters, WI- (715) 543-8433
Famous shootout took place here.  Now a restaurant.
Hortonville, WI
Eats-
Charlie's Drive-In – 806 W Main St, Hortonville, WI 54944 Most Days 11AM–9PM
(920) 779-6753-Drive in with a nice lawn to enjoy during the summer.  Classic Car Tuesdays.
Luxemburg, WI (Greater Green Bay)
Eats-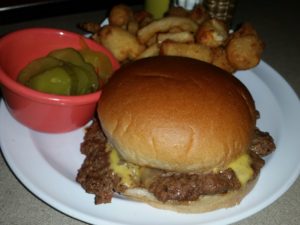 Joe Rouer's Bar- E1098 Co Rd X, Luxemburg, WI 54217-Amazing Burgers in a bar that doesn't look like much on the outside.  Get the Cheese curds with it!
Manitowoc, WI (near Green Bay, WI)
Eats-
Late's BBQ-Address: 1924 S 9th St, Manitowoc, WI 54220 (920) 682-1539 Not really BBQ. Amazing looking burgers, onion rings, plus brats, etc at a cool lunch counter.
Bud Willman's Lunch-1901 Washington St, Manitowoc, WI 54220 (920) 684-0005 they cook the burgers with thin sliced onions, mashing them into the meat.
Kaukauna, WI
Eats-
Dick's Drive-Inn-1718 Crooks Ave, Kaukauna, WI 54130 (920) 766-3511-Ice cream place with broiled burgers and proudly displays that in a neon sign.
Kenosha, WI
Attraction-
Mars Cheese Castle -Located along Interstate 94,  a "cheese landmark",  2800 W Frontage Rd, Kenosha, WI 53144 (855) 352-6277
Eats-Big Star Drive In – drive-in & window-serve spot doling out burgers, fries and shakes. 1500 Washington Rd, Kenosha, WI 53140(262) 658-1572 as of 2016 hamburgers were still 99 cents.
Franks Diner-508 58th St, Kenosha, WI 53140 (262) 657-1017-Classic Diner food in a diner car with some twists like a mac and cheese omlette.  Garbage plates.  Est 1926
Captain Mike's-5118 6th Ave, Kenosha, WI 53140  (262) 658-2278-Kooky crazy decorated bar with a wacky menu including a burger called the "shitty bill" and a deep fried burger.

Marinette, WI
Eats-
Mickey-Lu-Bar-B-Q, 1710 Marinette Ave, Marinette, WI 54143  (715)735-7721.  Old fashioned joint that cooks up stuff on charcoal like Brats and Burgers.  Some drive six hours to get these burgers.
Menasha, WI-
Eats-Mihm's Charcoal Grill-342 Chute St, Menasha, WI 54952 mihmscharcoalgrill.com (920) 722-0306 Butter Burger and "steak sandwich" aka burger, cheese curds, cooked over real charcoal fire. Good place to stop on the way from Osh Kosh to Green Bay.  THIS IS THE BEST BURGER TRASHY TRAVEL HAD IN WISCONSIN

Milwaukee, WI
Be on the lookout for DIY music event Turkeyfest, happening in late October.
The Shepard Express is the weekly alternative paper is Milwaukee.
Bowling Alley-
Holler House Tavern- 2042 W Lincoln Ave, Milwaukee, WI 53215 (414) 647-9284 Bar with the oldest bowling alley in the USA with human pinsetters.  Odd hours.
Bars-
Bryant's Cocktail Lounge – 1579 S 9th St, Milwaukee, WI 53204 (414) 383-2620-Oldest cocktail bar in Milwaukee.  Plush.
Landmark 1850 INN-5905 S Howell Ave, Milwaukee, WI 53207 (414) 769-1850-Really old bar with food near the airport
Foundation Tiki Bar-2718 N Bremen St, Milwaukee, WI 53212 (414) 374-2587-tiki bar, open til 1:30 A wonderful tiki bar with a great souvenir glass. A tiki great!  Now they have an airbnb above the bar!
Vitucci's -80-year-old cocktail bar 1832 E North Ave, Milwaukee, WI 53202 (414) 273-6477
Eats-
Mader's Restaurant-German Restaurant featuring a big giant pretzel with dipping sauces.1041 N Old World 3rd St, Milwaukee, WI 53203 (414) 271-3377
Speed Queen BBQ-1130 W. Walnut St (corner 12th & Walnut)
Miwaukee, WI 414-265-2900- Good BBQ joint, but get take out unless you want to be hassled for change.  They serve a sandwich called "outside" which is the crispy outside of the pork roast.  Rib Tips are recommended
Real Chili-419 East Wells. Hole in the wall with one of kind chili, served over beans, spagetti or hot dogs.
Solly's Grille-4629 North Port Washington Rd. Milwaukee, WI (414)332-8808-Specializing in the butter burger; a burger covered with a huge dollop of butter.  Yes.
If you don't want your burger drenched in Butter, try the nite owl drive in-830 Layton Ave., Milwaukee, WI with a cool neon sign out front.
Jakes-Traditional jewish deli, corned beef and matzoh ball soup.  1634 W. North Ave.Milwaukee, WI 53205
Jo's Cafe-3519 West Silver Spring, Milwaukee, WI-breakfast food, omletes, great cinammon rolls and Hoffel Poffel, eggs scrambled with potato, onions,spicy salami and cheese
Leon's Frozen Custard : 3131 S 27th St, Milwaukee, WI 53215  (414) 383-1784-Photogenic Custard and burger joint.
Safe House-Spy themed restaurant with fake walls and other spy toys.  fake name on the door…779 N. Front Street, Milwaukee, WI 53202
Three Brothers -2414 S Saint Clair St, Milwaukee, WI 53207 (414) 481-7530-Serbian food.  Great goulash.
Live Music-
High Dive – 701 E Center St, Milwaukee, WI 53212 (414) 763-0729 Open daily
The Rave, 2401 West Wisconsin Avenue, Milwaukee, (414) 342-RAVE
Shank Hall-1434 N. Farwell Ave. Milwaukee, WI (414) 276-7288
Circle-A-Cafe– 932 E Chambers St, Milwaukee, WI 53212 (414) 562-4101 Bar with punk bands
Cactus Club-2496 S Wentworth Ave, Milwaukee, WI 53207
Bremen Cafe-901 E Clarke St, Milwaukee, WI 53212
Quarters Rock and Roll Palace-900 E Center St, Milwaukee, Wisconsin (414) 263-4140
The Miramar Theatre -2844 N Oakland Ave, Shorewood, WI 53211(414) 967-0302 
Record Stores-
Bullseye Records-1627 E. Irving Pl. Milwaukee, WI 53202
(414) 223-3177
Off The Beaten Path-1938 N Farwell Ave Milwaukee, WI 53202 (414) 224-1550
Madison, WI
Isthmus is the local alternative weekly.
Eats-Ella's Deli and Ice Cream Parlor-Address: 2902 E Washington Ave, Madison, WI 53703 (608) 241-5291-Ice cream parlor with a Carousel in the Parking lot
Dotty Dumpling's Dowry-317 N Frances St, Madison, WI 53703(608) 259-0000 Institution serving burgers and cheese curds with quirky decor.
Montys Blue Plate-2089 Atwood Avenue-608-244-8505-vegan friendly diner
Alchemy -1980 Atwood Ave, Madison, WI 53704  (608) 204-7644-burger bar with live music and wasabi green beans as a side.
Bars-
Genna's-105 W. Main Street-608-255-4770-Darts and Jukebox bar
Mickey's-1524 Williamson Street-608-251-9964-hangout of musician types.
Cafe Montmartre-127 East Mifflin Street-608-255-5900-Chi chi wine bar where the band garbage hang out sometimes.
Live Music-
Mickey's Tavern- 1524 Williamson St, Madison, WI 53703 (608) 251-9964
Kiki's House of Righteous Music -1326 MacArthur Rd, Madison, WI 53714 This woman has a house and she has shows in her basement.  
Dance clubs-
Cardinal Bar-418 East Wilson St-608-251-0080
Memorial Union Terrace-800 Langdon Street-608-262-2215-This is really the student union of the local university, but they get national touring bands and have huge dance events.
LaCrosse, WI
Bars-Casino's-304 Pearl St, La Crosse, WI 54601 · 608-782-1910 – They have a sign outside this sleazy lounge that says they have terrible service. Its in the style of a 1950s Vegas cocktail lounge.
Osh Kosh, WI
Eats-Ardy and Eds Drive in-2413 S Main St, Oshkosh, WI 54902
(920) 231-5455
Hotdog Charlie's Encased Meat Emporium – 9 Church Ave, Oshkosh, WI 54901 Open some days til  3AM  (920) 230-3647
Leon's Frozen Custard-  121 W Murdock Ave, Oshkosh, WI 54901  (920) 231-7755-this drive in Ice cream stand serves whats called a Joos burger which is similar to a sloppy joe or loosemeat sandwich.  Chili dogs too.
Rudolph, Wisconsin
Tourist Attraction-Rudolph Grotto Gardens -Religious Sculpture Garden with an odd cave feature. 6975 Grotto Ave, Rudolph, WI 54475  (715) 435-3120
Sheboygan, WI
Eats-
Charcoal Inn South-1313 S 8th St,  Sheboygan, WI 53081-Original of multiple locations, Locally ground, charcoal grilled, perfectly seasoned meat served with a glob of butter on a Sheboygan hard roll, Brats, chili, and Friday fish fry. Real charcoal grilled.
Gosses-Broasted Chicken, Brats, Butter Burgers, Homemade Tortes.1909 Union Ave, Sheboygan, WI 53081
Somerset, WI (Near Minneapolis)
Eats-Sportsman's Cafe & Lounge-217 Main St, Somerset, WI 54025 They package and sell their own bloody mary mix, Redneck Juice. Bloody mary on a board with a deviled egg A cheese cube, beef stick, pickle, and olive. Mixed yelp reviews but recent ownership change. Looks like their ribs might be good too?
Superior, WI (near Deluth)
Eats-Anchor Bar -413 Tower Ave, Superior, WI 54880-famous for the "olive burger" with green olives and cream cheese.
Washington Island, WI
Eats-Albatross Drive in-777 Main Rd, Washington, WI 54246
(920) 847-2203 Great burger joint on this island ferry accessable from Door county