Virginia
Every June on a Wednesday, is the 

Virginia Pork Festival

.  This all inclusive festival limits tix to 15000 and you must buy your ticket in advance…..
WATCH OUT!!!! VA is known for Speed Traps.  Don't speed on the interstates
Charlottesville, Virginia
Alternative Radio-WNRN-91.9 FM
Alternative Paper- the Hook.  Nailgun is a local music site.
Record Stores-
Plan 9-Albemarle Square, Route 29, 214 Albemarle Square, Charlottesville, 434-974-9999
Spencer's 206-206 West Market Street (804-295-3080)-Prolific Artist Steve Keene worked at this store for a few months and apparantly the decor shows it.  Legend has it that they used to have a Steve Keene Vending Machine.
Clubs:
Tokyo Rose-2171 Ivy Road- (804-295-ROSE)-Mixed use oddity of sushi bar and Indie rock club.
Trax-122 11 St. NW-(804-295-TRAX)-Whats the deal with all these vanity numbers?  Another Indie pop club but with slightly bigger Alternative acts but no sushi.
Tea Bazaar-414 E. Main Street-Charlottesville, VA 22902
434-293-9947, yes, for bands…
Outback Lodge-917 Preston Ave, Charlottesville, VA
(434) 979-7211
The Ante Room -Caribbean Restaurant with bands.  Food has lots of bad reviews-219 Water St W, Charlottesville, VA 22902Phone: (434) 284-8561
The Southern Café and Music Hall ?- 103 1st St S, Charlottesville, VA 22902
Phone: (434) 977-5590 Southern food and touring bands
Bars:
Millers-109 West Main Street-(804-971-8511)- Fans of the Dave Matthews Band may want to know that Dave Matthews used to be a bartender here.  New Yorkers may be interested in comparing this place to the old Barmacy in NYC's East Village, because this bar is also in a converted pharmacy.  Jazz night on thursday.
Orbit-102 14 Street (804-984-5707) pool hall with good jukebox and view of passing trains.
C & O-515 East Water Street (804-971-7044)
Monticello Brewing Company-946 Grady Avenue (804-971-8229) one of those places that makes their own beer.
Food:
Spudnuts-309 Avon Street (804-296-0590)-Old fashioned Donut shop featuring potato four donuts.  Try the cherry cinnamon honey buns.
Mitchie Tavern-683 Thomas Jefferson Parkway (804-977-1234)-Old fashioned themed southern food place in an actual historic building that you can tour if you wish.
Big Jims-2104 Angus Road (804-296-8283) BBQ Joint
Mono Loco-Water Street (804-979-0688) hearty cuban fare with a big weekend "monkey brunch".
Wayside Takeout & Catering ?-Takeout Restaurant- 2203 Jefferson Park Ave, Charlottesville, VA 22903 (434) 977-5000 Fried Chicken in a roadside building. Inside doesnt have much charm, but well rated chicken. Get a ham biscuit too!
Misc. Shops:
Copernicus-100 East Main Street (804-296-6800) and Cha-Cha's-201B East Main Street (804-293-8553) are those sort of stores that every hip neighborhood seems to have.  Kitchy New and Vintage toys and trinkets.
Magic Tricks-101 14 Street (804-293-5788) Plastic Vomit emporium
Stelling Banjo Works-7258 Banjo Lane (804-295-1917)-yes, this place sells banjos.
Sneak Reviews-2244 Ivy Road (804-979-4420) Alternative Video Store.
There are also tons of new and used bookstores in the area, but that is a bit off topic.
Aldie, VA
Wierd stuff-
Bull Run Castle-Giant Castle Shaped Antique store/bed and Breakfast.  Bull Run Castle is located on Highway 15, 2 miles south of the intersection of 15 and Hwy. 50.
Arlington, VA
For more info on Arlington, see Hipster Washington, DC
Record Stores
Now! Music and Fashion, 3100 Clarendon Blvd, Arlington, VA 22201
Go! Compact Discs-2507 North Franklin Rd-Arlington, VA-703-528-8340
Alexandria, VA
Record Store
Olsson's Books & Records, 106 South Union St., Alexandria, VA 22314
Blacksburg, VA
Record Store
Record Exchange-302-A N. Main St.Blacksburg, VA 703-552-5904
Bristol, VA (Between Knoxville, TN and Roanoke, VA
Burger Bar-8 Piedmont Avenue, Bristol, VA 24201-Cool retro restaurant infamous as the last place Hank Williams was seen alive.
Doswell (near Richmond, VA)
Paramounts Kings Dominion is home to the Grizzley, one of the best wooden coasters out there, as well as tons of other coasters.  Right off I-95.  16000 Theme Park Way, Doswell, VA (804) 876-5000
Danville, VA (near Roanoke)
Venues-
Falls Church, VA
La Caraquena – 300 West Broad Street, Falls Church – (703) 533-0076-south american food, arepas stuffed as sandwiches, etc
Record Store
CD Cellar-709-B W. Broad Street-Falls Church, VA 703-534-6318
Fredicksburg, VA
Record Store
Blue Dog, 1019 Caroline, Fredericksburg, VA 22401
Eats-
Carls Frozen Custard-2200 Princess Ann Street, Fredericksburg, VA-think they are closed December and January…..
Gordonsville, VA(Greater Charlottesville
Eats
BBQ Exchange-102 Martinsburg Ave,Gordonsville, VA 22942-Good brisket, great sides
Harrisonburg, VA
Record Store
Town and Campus Records, 20 W. Water St., Harrisonburg, VA 22801
venue
Clementine-153 South Main Street
Harrisonburg, VA 22801 (540) 801-8881Newport News, VA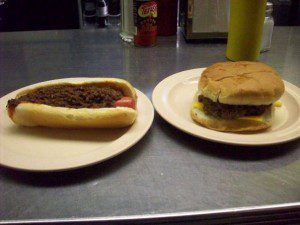 Lynchburg, VAEats-Texas Inn-Open 24 hours day.  Chili dogs and chili burgers, burgers with eggs on em.  Yummy. 422 Main St, Lynchburg, VA 24504 (434) 846-3823Record Store
Fantasy
9823 Jefferson Ave-Newport News, VA-757-595-1259

Norfolk, VA

Eats-
Doumar's Cones & Barbecue , 1919 Monticello Ave. at 20th
Norfolk, VA -Old fashioned drive in where they hang trays from your window.  They also claim to have invented the ice cream cone, which is, of course, a lie.  But they also have pork bbq sandwiches they serve with cole slaw ON the sandwich.  Yum.  They also make a shake called a reggie with broken pieces of waffle cones in it.
Live Music-
The NorVa- 317 Monticello Ave. in downtown Norfolk, VA
Taphouse Grill -931 w. 21st st. norfolk, va 23517-focusing on roots, rockabilly, psycobilly and mulitple sets from each band
Record Store-
Skinnies Records. 2119 Colonial Ave. Norfolk,Va.23517-in the Ghent neighborhood
Meat-Old Virginia Ham Shop, Inc. ,  217 East Little Creek Road , Norfolk, VA 23505 , (757) 583-0014
Port Royal, VA
Horne's Restaurant-25532 A.P. Hill Boulevard, Port Royal, VA 22535 (804) 742-5743-one of the last of a chain, with a distinctive architural style
Rescue, VA
Eats-
Captain Chuck A Mucks Ship store and secret hideout-21088 MARINA RD., RESCUE, VA, 23424, (757) 356-1005-Seafood joint with great crab cakes
Richmond, VA
Occasional Soul Party Info here.
Shockoe Slip is the hipster area for restaurants and bars and some live music in Richmond.
Live Music-
STRANGE MATTER – 929 W. Grace Street, Richmond
ALLEY KATZ-10 WALNUT ALLEY, RICHMOND VA.  804-643-2816-bands like Man or Astroman? play here.
En Su Boca – 1001 N Boulevard, Richmond, VA 23230(804) 359-0768 Tex Mex restaurant with occasional punk bands
Nanci Raygun– 929 west grace street – richmond, virginia 804.353.4263
Very Strange, but touring bands play at Nara Sushiin Richmond, 1309 W. Main St, Richmond, VA 23220
Hardywood -2408-2410 Ownby Ln, Richmond, VA 23220(804) 420-2420-craft beer bar with occasional bands.  
Wonderland -1727 E Main St, 23223-7262 Richmond, VA · (804) 643-9233-Dive bar decorated by a horror fan with a focus on Rockabilly and punk bands, plus occasional burlesque
National Theater ?-Live music venue in Richmond, Virginia. built in 1923
708 E Broad St, Richmond, VA 23219
STRANGE MATTER – 929 W. Grace Street, Richmond
Record Stores
Plan 9, 3012 W. Carey, Richmond, VA 804-353-9996 in the "Carytown" area
Eats-
Black Sheep-901 West Marshall Street  Richmond, VA 23220 (804) 648-1300 gigantic fancy subs called battleships with unique slaws, fillings and condiments
Alamo BBQ – authentic Texas style BBQ, award winning beef brisket. jalapeno mac-n-cheese
2202 Jefferson Ave
Richmond, VA 23223 (804) 592-3138
Roanoke, VA
Eats-
Blue Collar Joe's -1171 Roanoke Road * Daleville, VA 24083 * 540-992-5637-gourmet donuts including a "blueberry pancake breakfast" which has "bacon dust" in it.
Fiji Island-Tiki'd out chinese restaurant-627 Townside Rd SW, Roanoke, VA 24014 (540) 343-2522
Texas Tavern-114 Church Avenue SW, Roanoke, VA 24011
(540) 342-4825 -not a tavern, a tiny hot dog and burger diner, open 24 hours, open for nearly 80 years.
Springfield, VA
Venue-
Jaxx-6355 Rolling Road Springfield, VA 22152 703-569-5940-Metal shows
Staunton, VA
Live Music
The Pompei Lounge
 – 23 E Beverley St, Staunton, VA 24401 CLosed Sunday and Monday  (540) 885-5553
Williamsburg, VA
Busch Gardens Williamsburg is a beautiful, well kept park with great rides.  Absolutely worth the trip. 1 Busch Gardens Blvd, Williamsburg,  (757) 253-3350
Eats-
Pierce's Pitt Bar-B-Que, I-64 W along Rochambeau Dr.757-565-2955
Williamsburg, Virginia
Carrot Tree Kitchens-1303 Jamestown Road Suite 135, Williamsburg, VA 23185
(757) 229-0957-just get the ham biscuits.  cheap!
Birthplace of Patsy Cline.  Stop by the visitors center for a map with all the Patsy sites, including her grave.
Eats- Snow White Grill, 159 N Loudoun St, Winchester, VA 22601  (540) 662-5955
Mini Burgers and shakes, small ten seat joint
Virginia Beach, VA
Record Stores
Birdland Records-957 Providence Square, Virginia Beach, VA-757-495-0961