You're in the South now.  Enjoy regional specialities like the Slaw Dog, Meat and Three, Fried Chicken and BBQ!  Enjoy Grims snacks such as Sweet and Tangy BBQ chips, available at stores throughout the area.
Memphis, TN
My Quick Memphis List.
List:
1. See Graceland, Crystal Shrine Grotto at the Memphis memorial Garden (Isaac Hayes, Jay Reatard, sun records founded Sam Phillips buried here), Stax Museum
2. Fried Chicken at Gus Fried Chicken which is normal and the sides delicious, and Uncle Lous which dips in a sauce called Sweet Spicy Love but the sides are not great. The cashsaver grocery store has great fried chicken too which is nuts.
3. Get a pulled pork sandwich and some tamales at Paynes BBQ which has neon green relish.
4. Get ribs from Central BBQ or the BBQ shop. Get them "half dry/half Wet". Lots of folks will tell you to go to rendezvous, but they are cooked over charcoal and I think they suck coz they are dry and burnt.
5. Get a soul burger from ernestine and hazels, near the civil rights museum. Take a walk upstairs at E & H if you can.
6. Get a greek burger and lots of drinks at Alexs Tavern.
7. Get a burger deep fried in 100 year old grease at Dyers Burgers
8. See the Memphis Jazz Orchestra 6pm-9pm at Alfreds on Beale, a 27 piece band with a 21 piece horn section. FREE TOO!
9. Party and/or see bands at Hi Tone, Buccanner Lounge, or Murphys
10. Optional-Get chili and Tamales at Blues City Cafe on Beale Street
11-go to Arcade-biggest breakfasts in Memphis.540 S. Main Street, Memphis, TN 38103
12. Go to Goner records-2152 Young Avenue Memphis, TN 38104 , 901.722.0095 has Goner records has great music and hosts Goner fest
The Local Alternative Weekly for Memphis is the Memphis Flyer.  Thetourist info page has music listings.  Listings of blues clubs.  Best of Memphis.  Kinda Dated Club listing at Whats Happening.
Live Music-
Hi-Tone Cafe- 1913 Poplar Ave, Memphis, TN 38104
Phone: (901) 278-8663
New Daisy Theater-330 Beale Street, Memphis, TN 38103.
Bars-
Bar DKDC – 964 Cooper St, Memphis, TN 38104 (901) 272-0830-Small place with occasional live music or soul parties and a hipster menu including a hubcap burger.
Murphy's -1589 Madison Ave, Memphis, TN 38104 MEMPHIS, TN 38104. 901-726-4193. Indoor outdoor bar with lots of festivals like punkfest or gonerfest.  Very close to BBQ shop
Eats: A & R Bar-b-q -1802 Elvis Presley Blvd. Memphis TN (901)774-7444-another storefront BBQ stand in a faded commercial strip, this place has sweet sauces and beans.
Blues City Cafe-138 Beale Street, Memphis, TN-ribs finished served wet with a coating of bbq sauce and live blues plus amazing tamales and chili. Get the tamales with Chili combo.   
Charlie Vergos Rendezvous -52 S 2nd St Memphis TN (901) 523-2746. Large space off an alley.  Ribs are the specialty, served Memphis style, that is, dry rubbed with sauce on the side. (Note-I dont like this one but many do.)
Coletta's Pizza, Home of the BBQ pizza, 1063 S. Parkway East
Memphis, TN 38106,  (901) 948-7652, one of elvis's favorite foods, bbq pizza started here.  Pizza with cheese and bbq sauce topped with pulled pork.
Cozy Corner -745 N Parkway, Memphis, TN  (901) 527-9158 at Danny Thomas Boulevard-another great rib joint with Dry rubbed ribs and a great bbq Baloney sandwich
Gus' Fried Chicken- 310 South Front Street, Memphis, TN 38103 ,  901-294-2028
The Cupboard, 1400 Union Ave., Memphis, TN  (901) 276-8015, catfish, fried chicken, greens, fried green tomatoes.
Dyer's Restaurant-205 Beale St. Memphis, TN (901)527-3937-specializing in deep fried hamburgers cooked in grease that contains elements from the first fried burger done over 50 years ago.  I don't know how to explain it, really, except to say that if you are a foodie, you must have one.  Its not great, but you are eating history.
Huey's burgers -1927 Madison Ave, Memphis, TN (901) 726-4372 & other locations.  Said to be the best burger in town.
Jim Neely's Interstate Barbecue- 2265 S 3rd St, Memphis, TN (901) 775-2304 at Mallory Avenue.  BBQ baloney and spagetti mixed with pork and BBQ sauces, among traditional specialties.  Much better than it sounds.
Paynes BBQ-1762 Lamar Avenue, Memphis-901-272-1523-Said by some to have the best BBQ sandwich.  The cole slaw here is made with hot mustard.
Uncle Lous Fried Chicken-3633 Millbranch Rd., Memphis, TN 38116-in a strip mall near the airport, this place makes a secret fried chicken coating, then dips it in hot sauce
Kooky Canuck 97 South 2nd Street, Memphis, TN 38103-one of those joints that makes giant burgers, like multi pound.
Arcade-biggest breakfasts in Memphis.540 S. Main Street, Memphis, TN 38103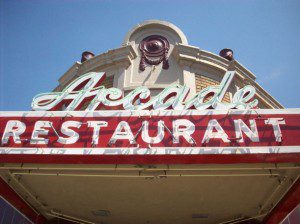 Cozy Corner-745 North Parkway at Manassas, Memphis, TN ,-Highest reccomendation from roadfood.com.   Best pork sandwich.
Tom's BarBQ and Deli-4087 New Getwell Road  Memphis, TN 38118 (901) 365-6690-some unusual bbq fare like rib tips and baloney
Record Stores-
Shangri-La, 1916 Madison Ave., Memphis, TN 38104
2152 Young Avenue Memphis, TN 38104 , 901.722.0095 has  Goner records has great music and hosts Goner fest http://www.goner-records.com/
Donuts-
Gibson's – 760 Mount Moriah Rd, Memphis, TN 38117-· Open 24 hours (901) 682-8200
Must See-
Duh, Graceland-Elvis.com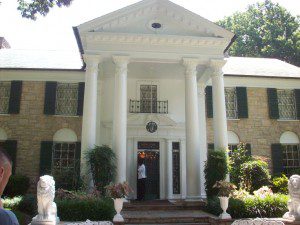 Memphis Rock 'n' Soul Museum, downtown Memphis, TN at the corner of historic Beale Street,  and legendary Highway 61 (Third Street), also known as "Blues Highway". The museum is located on the plaza of FedExForum Open daily, 10:00 a.m. – 7:00 p.m. Final museum admission at 6:15 p.m.  Museum Holidays: Thanksgiving Day, eve and  Day and New Year's Day (901) 205-2526. $10.00 for adults -discounts available to AARP, AAA and military members
Stax Museum-Dedicated to the classic soul label. Hotels- Located in the midtown arts district, the Artisan Hotel Memphis displays works of art. The property also houses the Elvis Presley Suite, where "The King" himself used to stay and play 1837 Union Ave, Memphis TN 38103,  (901) 278-4100  $70-100 (ed note:we recently had a miserable experience at this hotel, so never mind)
Hostel type-Pilgrim House, 1000 South Cooper St, Memphis, TN 38104 (901) 405-4414 email: pilgrimhouse06@yahoo.com $10-40 UBER-cheap, .. helping out with the hostel required.
Sun Records
Ardent Studios-2000 Madison Ave. Memphis, TN 38104-studios where 2 Big Star albums were recorded. The Kwik Chek market across the street has Korean food like Bi Bim Bop and a Bibimbop burger.
Amusement Park-
Libertyland-Sadly, this park has closed and the Fate of Elvis' favorite coaster, the Zippin Pippin is unknown.