Cincinnati
Check Cincymusic for local info.  City Beat is the local alternative paper with Best of Cincinnati listings.North of downtown Cincinnati, the neighborhood of Northside is becoming the hip place with a lot of local pubs and some unique restaurants. A great indie music store, Shake It Records nearby.
A recommended bar is the Comet with a great Jukebox and occasional live music such as local garage rock band The Greenhornes.  No Cover, cheap drinks, football sized San Francisco style burritos.  4579 Hamilton Avenue, Cincinnati, OH; 513-541-8900
Eats-
Ollies Trolley-1607 Central Avenue.  I dont know if this is open still, but if it is, its big news.  Ollies makes amazing burgers if it is indeed the same place.  A spice encrusted burger with a spicy sauce.  One in a million. Caution: in a sketchy neighborhood
Hathaways Coffee Shop-441 Vine St. in the Carew Tower Arcade, Cincinnati, 513-621-1332
Putzs Cream whip-Putz Place & West Fork, Exit 17 off I-74
Cincinnati, 513-681-8668-Ice Cream stand only open in summer.
Montgomery Inn-9440 Montgomery Rd., Montgomery, OH (513) 791-3482- Famous Ribs.
Blue Ash Chili Restaurant-9565 Kenwood Rd, Cincinnati, Ohio – (513) 984-6107-of all the chili joints, this one makes a Six way topped with jalapenos that are fried!
Terrys turf club.  Fussy burgers in a crazy decorated joint, filet mignon chili, crab cakes.4618 Eastern Avenue  Cincinnati, OH 45226 (513) 533-4222
Mr. Genes Dog House-3703 Beekman St, Cincinnati, OH 45223  (513) 541-7636-window only coneys and chicago dogs.
The Root Beer Stand -11566 Reading Rd, Cincinnati, OH 45241 (513) 769-4349-Gorgeous drive in with a lovely lawn with picnic tables to enjoy your coneys and ice cream and Chili Burgers aka Chattanooga cheeseburgers.  Yum.  Get a root beer at any joint that has it in the name!
JK's Chili -7718 Laurel Ave, Cincinnati, OH 45243-Non chain chili, coney and breakfast place.  They have the regional Goetta, a version of scrapple.
Hitching Post-4535 Kellogg Ave, Cincinnati, OH 45226 (513) 871-4293-fried chicken, chili and great chili cheese fries.  Historic.
Record Stores-
Everybody's, 6106 Montgomery Rd., Cincinnati, OH 45213
Shake It Records-4156 Hamilton Avenue Cincinnati, OH 45223 (513) 591-0123.  They also have some links to local happenings
.Live Music-
MOTR Pub-1345 Main Street  Cincinnati, OH 45202 (513) 381-6687
Bogarts-2621 Vine Street-Cincinnati OH-Recent shows include the Jon Spencer Blues Explosion and the Dandy Warhols.

Blue Rock Tavern-Blue Rock Tavern & Speakeasy 4114 Hamilton Ave. Cincinnati OH 45222  513-542-6644
Mad Hatter-620 Scott Street, in Covington, KY, Bar with great punk bands.  They also have burgers with Goetta, a very regional specialty of mixed beef and pork with oatmeal in it.
Gypsy Hut-now known as Mayday-Bar and Pizza Parlor with punk and other events-4231 Spring Grove Ave., Cincinnati, OH 45223, (513)541-0999
Dirty Jacks-5912 Vine St., Cincinnati, OH 513-242-2800-punk club.
In Newport, Kentucky you will find the Southgate House -24 East Third Street -Newport, KY 859-431-2201-It is a most unique venue!
THE COMET-4579 Hamilton Ave Cincinnati, OH-Hard to find info on the shows here but they have shows
Junker's Tavern- 4156 Langland St, Cincinnati, OH 45223 (513) 541-5470-dive bar with occasional live music.
Maudie's-1207 Main St,Cincinnati, OH 45202  -18 and up.  Use caution
Amusement Park-
Paramounts Kings Island-Huge great amusement park.  Worth a special trip.Must see-
Jungle Jim's International Market, 5440 Dixie Highway (Route 4)
Fairfield, OH 45014, 513.674.6000-a huge food market with interactive displays and more.  We bought these "Amish Recipe Whoopie Pies" in the bakery that were the best Whoopie pies we ever had.Hotels-
Pricey but amazing
Cincinnatian hotel-601 Vine St.  Rooms from 160 per night. Contains the Classy Palace Restaurant
Traders world-huge indoor flea market operating Saturday and Sunday-601 Union Road, Monroe, Ohio 45050, Between Cincinnati and Dayton, Ohio
Exit 29 on East Side of I-75 ~ Take Exit 29,  513-424-5708
Athens, OH
Best burger in Ohio period is at Swensons in Akron.  The Galley Boy uses two sauces.  Drive in only.
Bob's Hamburg -since 1931.,  1351 East Ave, Akron, OH 44307  (330) 253-2627
Live Music
Union Bar & Grill-18 West Union Street  Athens, OH 45701  (740) 593-5060
Smiling Skull Saloon.108 W Union St, Athens, Ohio 45701 (740) 589-2474, bar with live music
RIP GEAUGA LAKE
(See Aurora Below)
Cleveland
SOUL PARTY-Monthly-The Secret Soul Club at the Five O'clock Lounge.
Local Chain Mr. Hero has a sub called the roman burger.  "A unique combination of beef patties covered with Swiss American cheese, grilled Genoa salami and Italian luncheon meats that are carmelized to a yummy perfection"
The local chain MELT makes amazing unique sandwiches.
The Local Alternative weekly is the Cleveland Scene.  They also have the Cleveland Free Times.
Clubs-
Spitfire Saloon-1539 W 117th St, Cleveland, OH 44107 punk rock

Now That's Class-11213 Detroit Avenue  Cleveland, OH 44102 (216) 221-8576
The Social Room-2261 Lee Road, Cleveland Heights. Good bands Sun-Tuesday.
The Grog Shop-1765 Coventry Road, Cleveland Heights, 216-321-5588. The coolest shows and best bands are here.
The Mercury Lounge-1392 W. 6th Street, Cleveland, 216-566-8840
Beachland Ballroom-15711 Waterloo Rd. Cleveland-tel: 216/383-1124
Blind Lemon Concert Club-11729 Detroit Ave. Cleveland-216-521-8878.
The Foundry Concert Club -Small concert space featuring local & national bands & serving burgers 11729 Detroit Ave, Lakewood, OH 44107(216) 323-8201
Happy Dog-5801 Detroit Avenue, Cleveland, OH 44102-3001
(216) 651-9474Record Stores
Bent Crayon, 11600 Detroit Ave, Cleveland, OH 44102
Mahall's 20 Lanes-13200 Madison Ave, Lakewood, OH 44107 (216) 521-3280 Bowling alley with live music
The Big Egg-5107 Detroit Avenue, Cleveland, OH 216-961-8000-Diner for breakfast and lunch.  Good Burgers.
Honey Hut Ice Cream Shoppe-4674 State Road, Cleveland, OH  (216)749-7077 -MMmm Ice cream spot with multiple locations.
Ferris Steak House- 8700 Detroit Ave, Cleveland, OH  (216) 281-1437- Old fashioned no frills steakhouse.
Presti Bakery and Cafe-12101 Mayfield Rd, Cleveland, OH  (216) 421-8181-Get your Cleveland only sourcream donuts at this little italy spot.
Sokolowski's  University Inn-1201 university rd-Cleveland, OH 44113.  Old timey polish buffet.  Pierogies!
Steve's Lunch-tiny hot dog counter thats been around for years and serves chili dogs covered with cheese aand polish boys 24 hours a day. 5004 Lorain Avenue, Cleveland OH 44102
The west side market in the ohio city neighborhood has tons of food from Brats to Middle eastern and featuring the Best Gyro in Cleveland at Steves Gyros. The sauce is a non traditional sauce, more of a thousand island dressing.
Stevensons Bar & Grill -800 E 200th St, Cleveland, OH 44119-Closed Sunday  (216) 999-7156-Big guy and little guy versions of the big mac.  A must eat.
Hot Sauce Williams-7815 Carnegie Avenue  Cleveland, OH 44103 (216) 391-2230-polish boy with sausage, pork bbq, fries, slaw and hot sauce, plus fried chicken-Hit or miss service
Chef Michael Simon has a chain of burger joints called B-Spot.  Theres a pickle bar! They also have  Porky Fries, which come topped with pulled pork, Cheez Whiz, and pickled chilis
Szechuan Gourmet -1735 E 36th St, Cleveland, OH 44114,  (216) 881-9688-Pretty decent szechuan food.
Sandusky, OH
Amusement Park-
About an hour from Cleveland, Cedar Point is the KING of coasters…and crowds.
Akron, OH
Birthplace of Devo, Akron and Cleveland host the yearly DEVOtional party.  Find details at Booji Boys Basement.  Find the latest on Devo and Mark Mothersbaugh Art shows at CLUB DEVO.
Live Music-
Annabell's-784 W Market St, Akron, OH 44303 (330) 535-1112
The Lime Spider is located at 207 S.http://www.belgradegardens.com Main Street in Downtown Akron, between Church and University Streets
Each year in July, Akron Holds a Hamburger festival.  A local place claims to be one of the originators of the hamburger.  
Akron is the home of a local chain in the surrounding communties of Green, Fairlawn and Medina called the Skyway Drive In.  Super Awesome onion rings, coney dogs, Chipped Ham and more.  There is also another regional mini chain called Swensons, not to be confused with the southern ice cream parlor chain.  Both places make double cheeseburgers with special sauce as signatures.  Swensons uses two sauces on their burgers, a bbq sauce and a tartar sauce.
Directly outside of Akron is the town of Barbeton, with their own version of fried chicken that was featured on Food Feuds.  Both are fried chickens that are served with hot sauces that are unique to each.
Barberton, OH (near Akron)
Home to a "chicken war" with two places duking it out for chicken dinner supremacy. White house is now a regional chain with several locations.
White House Chicken-180 Wooster Road North  Barberton, OH 44203
(330) 745-0449
Belgrade Gardens-401 East State Street, Barberton, OH (330) 745-0113 with a "famous" hot sauce.
Another less famous contender is
Hopocan Gardens-4396 West Hopocan Avenue, Barberton, OH (330) 825-9923 which also has the legendary Barberton chicken, plus ham steaks, liver and onions and paprikash, which actually sounds more interesting to me.
Canton, OH
Live Music-
Buzzbin Art & Music Shop-Live music, lots and lots of Tap beer and an art gallery. 331 Cleveland Ave NW, Canton, OH 44702  (330) 754-6770
Chillicothe, OH
Eats-
Carl's Townhouse ?- 95 W 2nd St, Chillicothe, OH 45601  (740) 773-1660-Rescued historic restaurant that was actually moved to another part of town
Columbus, OH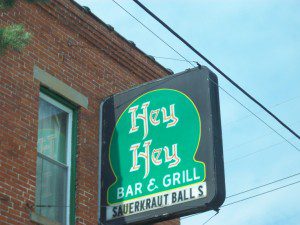 The "short north" area is the hip place to be in this city and the first saturday of each month, the galleries on High Street stay open late to showcase local art.  It includes the Victorian Village historic district.   Another community is Clintonville which is just north of the Short North. They don't have many bars, but tons of bookstores, ecclectic shopping, diners, holistic foods and community market, including the Studio 35 Cinema and Draft house.
Bars-
Bossy Girls Pin UP Joint-2598 N High St, Columbus, OH 43202 bar with burlesque.
Grass Skirt Tiki Room -105 N Grant Ave, Columbus, OH 43215
Phone:(614) 429-3650 restaurant with Tiki Drinks. NOT OPEN LATE
Eats-
Hey Hey Bar and Grill-See that sign above?  Go there, and get those Sauerkraut balls, then go below to Schmidts and get theirs. 361 E Whittier St, Columbus, OH 43206 Also get a coney dog across the street at Village Coney.
SCHMIDT'S SAUSAGE HAUS, 240 E. Kossuth Street, Columbus OH (German Village), (614) 444-6808-South of downtown Columbus is an area known as german village.  Old world feel.  You have not eaten there until you have the gigantic Half pound cream puffs.  Really.
VILLAGE CONEY-BEST HOT DOGS!  Get a slaw topped one!  I could eat here 5 times a week.  Only open til 4:30.   Excellent Onion rings! 418 E Whittier St, Columbus, OH 43206  (614) 445-9633
Little Palace Restaurant and Bar-Open late.  Great mini burgers, Polenta fries, fried cheese curds.  Stromboli and even great veggie sides like roasted brussel sprouts and green beans: 240 S 4th St, Columbus, OH 43215
(614) 460-8888
Figlio Wood-Fired Pizza-1369 Grandview Avenue-The name says it all.
Graeters Ice Cream-2282 East Main Street-Dense, rich store made ice cream
Betty's Fine Food & Spirits, 680 N High St , Columbus, OH (614) 228-6191-comfort food with "an extra side of Sass".  Reader recommended.
Dirty Franks Hot Dog Palace | 248 S. 4th Street | Columbus, Ohio | 43215 | (614) 824-4673
Katalinas-614.294.2233 1105 Pennsylvania Ave. Columbus, OH 43201 Only open for breakfast and lunch til 3 or 4. Round Nutella or Pumpkin Apple butter filled Pancake balls with spicy sweet bacon..  Also brussel sprout hash.
Buckeye Donuts -24-hour donut shop in the heart of the OSU campus. Gyros too 1998 N High St, Columbus, OH 43201 (614) 291-3923
Black Creek Bistro-51 Parsons Avenue Columbus, Ohio 43215
CAP CITY GRANDVIEW-1299 Olentangy River Road, Columbus, Ohio 43212 gourmet diner-Meatloaf, sometimes crabcakes for blue plate specials.
O'Reilly's Pub-2822 N High St, Columbus, OH 43202,  (614) 262-6343-Sports bar with a great burger, nearby to Ace of Cups.
Tip Top Kitchen & Cocktails-draft beers & entrees such as pot roast. 73 E Gay St, Columbus, OH 43215
Phone:(614) 221-8300
The Thurman Cafe-oversized, toppings-loaded burgers & a full bar.183 Thurman Ave, Columbus, OH 43206
Phone:(614) 443-1570
PJ's Grill – late-night overstuffed sandwiches, fries & beer.
Ohio Stater Mall Shopping Center 15 Frambes Ave, Columbus, OH 43201
Phone:(614) 299-2113
Starliner Diner- 5240 Cemetery Rd, Hilliard, OH 43026(614) 529-1198
Easy Street Greek cafe-197 Thurman Ave, Columbus, OH 43206 you can get omlettes with Gyro meat and Lamb lollipops as an appetizer(614) 444-3279
Tommy's Diner-914 West Broad Street, Columbus, OH – (614) 224-2422 only open for breakfast and lunch.  closes at 3
Katzingers Deli-NY style Deli w lots of types of reubens 475 SOUTH 3RD SREET COLUMBUS, OH 43215 (614) 228-3354
Hot Chicken Takeover -Nashville-style fried chicken & soul food, in North Market eatery with communal tables. 59 Spruce St., North Market, Second Floor, Columbus, OH 43215
Phone:(614) 800-4538
Ringside Cafe- 19 N Pearl St, Columbus, OH 43215 (614) 228-7464 Oldest bar in Columbus and they have burgers.
Clubs and Venues-
Ace of Cups – 2619 N High St, Columbus, OH 43202 (614) 262-6001 Live music venue hosting Sick Fest.  BBQ in the parking lot.
The Basement-391 Neil Ave, Columbus, OH 43215 , Phone: 614.461.LIVE, smaller venue for touring acts along with its big brother, the Newport Music Hall.  Both venues shows can be found at this site, www.promowestlive.com
Carabar-115 Parsons Ave, Columbus, OH 43215 (614) 223-1010 (note: May be moving soon)
Skullys Music Diner-Music venue and restaurant and they have scene friendly events like alternative craft fairs.  Recommended as cool by a tipster (added 7/7/08)
DOUBLE HAPPINESS-482 SOUTH FRONT ST, COLUMBUS,OHIO 43215 (614) 220-5558
Cafe Bourbon Street/The Summit-2216 Summit St, Columbus, OH 43201 Great Dive venue with an awesome hot dog joint, extreme wieners inside.

Wexner Center-1871 North High Street-Local film, music and art center.
The Great Southern Theater-21 East Main Street-19th century opera house.  Check it out if you can!
The Tree Bar-887 Chambers Rd., Columbus, OH, 43212  (614) 294-2264-a bit like hanging out in your parents basement,formerly the tree house and currently as of 2016 for Sale.
Ace of Cups-2619 N. High St., Columbus, OH. Home of the annual "SICK WEEKEND"
The Shrunken Head-251 W 5th Ave, Columbus, OH 43201-Dive bar with occasional burlesque and bands
Bars-
High Five Bar & Grill-1227 N High St, Columbus, OH (614) 421-2998-local bands and rock and roll karaoke.
Surly Girl Saloon, 1126 N. High St., Columbus, OH 43215. Directions on theirmyspace say  just south of the sex shops and one block north of the Bodega, so you know its cool.  And they have a gallery upstairs.
Saint James Tavern– (614) 294-0064, 1057 N. 4th St, Columbus, OH-one of the best hipster dive bars around.
Record Stores-
Lost Weekend Records -2960 N. High St. in Columbus Ohio. (Right on the corner of Crestview & High.) Free parking in front! Lost Weekend specializes in vinyl records of all genres
Used Kids, just moved to 2500 SUMMIT ST., COLUMBUS OHIO, as of 2016
Spoonful Records-116 E Long St, Columbus, OH 43215 (614) 570-3550
Misc. Stores-
Avalon Clothing and Shoe Salon-1434-1443 North High Street.  One side of the street shoes, across the street, clothes.
Aurora, OH
Amusement Park-
Geauga Lake 1060 North Aurora Road, Aurora, OH  (330) 562-7131-Geauga Lake was a beautiful old fashioned regional amusement park.  On the other side of the lake was a Sea World park.   Sometime later, Six Flags bought both parks, and merged them into one.  Then when Six Flags started having difficulties, they sold the Park to Cedar Fair, who operates Cedar Point.  Last Year, Cedar Fair decided to close the park, auction off the rides, including an antique coaster and just operate it as a water park called Wildwater Kingdom.Very Sad.
Bowling Green, OH  
Clubs-
Nyabinghi Dance Hall-odd named odd club with good bands
Record Store-
Madhatter Music Co., 143 E Wooster, Bowling Green, OH 43402
Dayton, OH
in the town of Fairborn on Main street, the Foy family has an empire of odd old fashioned stores.  Theres Foys Five and Ten with an old fashioned lunch counter, a costume shop and more.
Eats-
Local regional chicken Chain, Lees with multiple locations.  Better than average side dishes. Famous for gizzards apparantly too.
Company 7 BBQ -firehouse-themed joint -1001 S Main St, Englewood, OH 45322 (937) 836-2777
Dalton Dari-ette– 240 S Mill St, Dalton, OH 44618 (330) 828-2563-Ice Cream stand, also apple dumplings. at the corner of U.S. Rt. 30 and Ohio Rt. 94 at Dalton since 1957.
The Root Beer Stande-1727 Woodman Dr, Dayton, OH 45420  (937) 640-1114-Chili Dogs, Fried pickles, drive in style with trays, chili burgers.
Live Music
Blind Bob's -bar with burgers, sandwiches & live bands weekly. 430 E 5th St, Dayton, OH 45402(937) 938-6405
South park tavern -1301 Wayne Avenue  Dayton, OH 45410 (937) 586-9526
Canal Street Tavern-308 East 1st Street, Dayton, OH 45402
(937) 461-9343
The Warther Museum-327 Karl Avenue, Dover, OH – (330) 343-7513-A large collection of button artwork and hand carved Train models.  Said to be awesome.
Greenville, OH
Eats-
Maid-Rite Sandwich Shoppe-125 N Broadway St , Greenville, OH 45331  (937) 548-9340
Older location of this Loosemeat chain.  This one since 1934.  maidrite-greenville.com
Hamilton, OH
Eats-
Jolly's Drive-In -210 N Erie Hwy, Hamilton, OH 45011 (513) 894-7541 Real rustic drive in restaurant.  Foot long coneys
Lebanon, OH
Eats-
The Golden Lamb
-27 S Broadway, Lebanon, OH 45036 (513) 932-5065-Famous for fried chicken and Roast turkey.  Not trashy
Village Ice Cream Parlor & Restaurant-22 S Broadway St, Lebanon, OH 45036  (513) 932-6918, vintage ice cream parlor that reminds me of an old HOJO on the inside.
Lima, OH
Eats-
Lima is home to not 1 but 3 Kewpee Hamburgers!  Must eat!  Also get the old fashioned super thick its almost ice cream malts.  Heres 2
Middletown, OH
Eats-
The Jug-3610 Central Ave, Middletown, OH 45044 (513) 424-1677-Delicious thin fresh patty burgers in an old fashioned drive in.
Moraine, OH
Eats-
 Dixie Dairy Dreem
-4542 S Dixie Dr, Moraine, OH 45439(937) 293-2479-sliders, coneys and ice cream
New Philadelpha, OH
Eats-
Funday's ?- 1345 4th St NW, New Philadelphia, OH 44663 (330) 343-8856-drive in restaurant
Norton, OH (near Akron)
Eats-
Milich's Village Inn-4444 South Cleveland Massillon Road, Norton, OH (330) 825-4553 -Another place serving the famous Barberton chicken and hot sauce.  Another classic old family restaurant
Oberlin, OH
Record Store-
Co-op Bookstore, 37 W. College St., Oberlin, OH 44074
Oxford, OH
Record Store-
Wizards, 114 High St., Oxford, OH 45056
Parkman, OH
Eats
Frozen Dee-Lite Cafe-16508 Main Market Rd, Parkman, OH 44080 (440) 548-2800-Fried green beans, fried pickles, loaded potato skins and, oh yeah, ice cream.
Powell, OH
Amusement Park-
Wyandot Lake 10101 Riverside Drive, Powell, OH  (800) 328-9283-A small 6 flags coaster park.
Sidney, OH
Eats-
Spot Restaurant ?-hamburgers & cream pies,great sign  201 S Ohio Ave, Sidney, OH 45365  (937) 492-9181  thespottoeat.com
Stow, OH
Eats-
Tip Top Restaurant & Catering -Googie building- 3428 Darrow Rd, Stow, OH 44224
: (330) 688-3171
Toledo, OH
The Local Alternative paper for Toledo is the Toledo City Paper.
Sunday Blues has a decent club listing for the area.
A MUST!!! Tony Packo's Cafe– Various locations.  Original Location at 1902 Front Street, Toledo.  Amazing chili and amazing chili dogs.  Wonderful Struedel.  At the original location, they have buns signed buy celebrities.
Also, there is another local chili dog chain called Nettys with Multiple locations.
Live Music-
The Bait Shop-2543 SOUTH REYNOLDS ROAD, TOLEDO OH (419) 380-BAIT-voted best live music club in Toledo.
Mickey Finns Pub-Vistula Historic District, 602 Lagrange Street at North Huron, Toledo, Ohio 419-246-3466 or 419-246-FINN
Urbana, IL (35 miles west of Columbus, 20 miles from Dayton)
Eats-Crabill's-727 Miami Street, Urbana, Ohio- 513-653-5133
Sliders-Mini burgers a la White Castle, but that actually taste like meat.
Westerville, OH
Record Store-
Sour Records, ,Westerville, OH have recently closed their physical store to only exist online
Youngstown, OH
Eats-Mollys-1309 Salt Springs Rd, Youngstown, OH 44509 (330) 799-0038 steaks, homemade sausage and more
Saadeys place-870 North Canfield Niles Road-Austintown, Ohio 44515 330.349.0083 starters include ALL OUT TOTS- fried tots topped with smoked beef brisket, cheddar cheese drizzled with BBQ sauce
Bar-Royal Oaks Bar & Grill-924 Oak St, Youngstown, OH 44506
(330) 744-5501
Zanesville, OH
Treats-
Tom's Ice Cream Bowl ?- 532 McIntire Ave, Zanesville, OH 43701 (740) 452-5267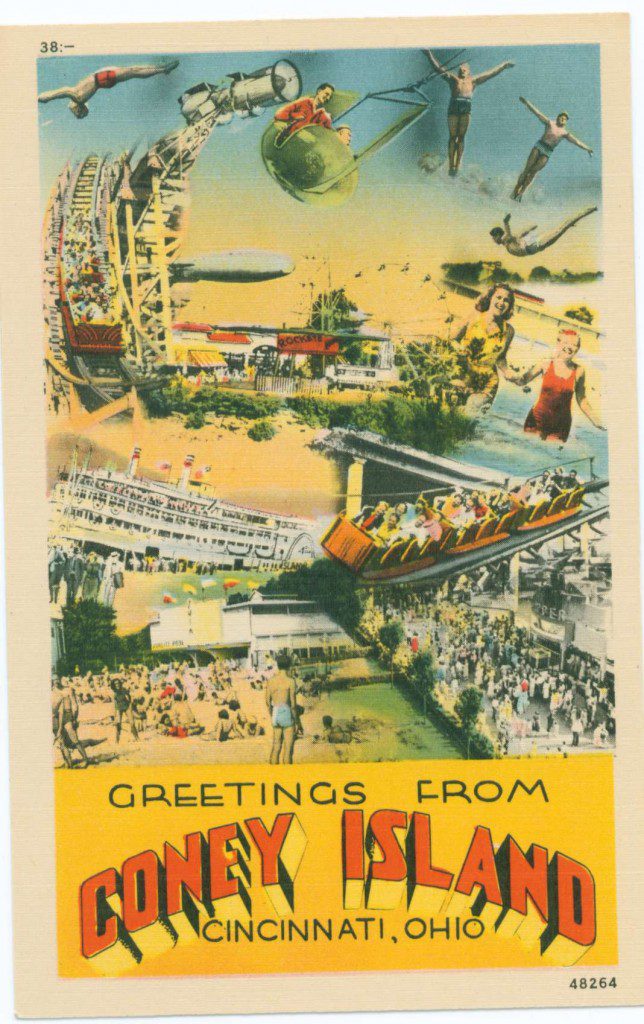 They have their own Coney Island out here