Double Check all info as Hurricane Sandy has damaged many Jersey Shore Institutions.  Above is the former HOJO in Asbury Park.  The building is still there though it is no Longer a HOJO
Holly Eats has a great rundown on finding Jersey Hot Dogs!
Specific Regional foods to New Jersey-
Taylor Ham-a "pork roll" that makes appearances throughout the state as a topping for burgers or as a mystery breakfast meat.
The Italian Hot dog-Like a sausage, pepper and onion, but with a hot dog instead.
The deep fried hot dog is popularized at Rutts Hutt in Clifton, which has several hot dog varients
For info on Jersey Shore Concerts check
Concertseast. Jersey Fun Links
Fun NJ
Wierd NJ
Asbury Park

Asbury Park used to be a wonderful seaside resort.  Then it got run down, now its getting nice again. It is also the home of the Stone Pony, where "the boss" got his start.
When traveling through NJ, you MUST visit this place and walk on the boardwalk.  You will see the shell of an amusement pavillion, an old Howard Johnsons that once had a theater on top of it, and a very unique convention center on a pier that, believe it or not is still being used.  You can take in a gig at the newly opened Stone Pony, too.  Just take the Asbury Park Exit and head east towards the ocean.  You cant miss it. Bring a camera.Live Music
The Stone Pony-913 Ocean Avenue, Asbury Park, NJ (732-502-0600)
The Saint -601 Main St.-Asbury Park, NJ  (732) 775-9144
Asbury Lanes, 209 4th ave, Asbury Park, NJ-gonna be a bowling alley too.News about Asbury Park at Asburypark.net.
Bars-
Bond Street Bar & Grill-208 Bond St, Asbury Park, NJ 07712 (732) 774-1575-Dive bar with great burgers, grilled cheese, corn nuggets and fried pickles and rings.
Asbury Park Yacht Club – Surf Bar – 1000 Ocean Ave, Asbury Park, NJ 07712,  (732) 455-3460
Museum-The Silver Ball Museum has over 200 antique pinball games you can play for a reasonable amount. Awesome.  Silver Ball Museum-1000 Ocean Avenue, Asbury Park (732) 774-4994
Atlantic city
There are 2 must do things in Atlantic City, model for the monopoly board: Go to the Steel amusement pier behind the Trump Taj Mahal, and ride the crazy mouse, a combination rollercoaster/tilt-a-whirl.  After the ride you can also walk down the boardwalk and hit some taffy places that look like they are stuck in time.

The other, more important thing to do in AC is go to The White House Sub shop where the Sub Sandwich was invented.  Even Sinatra used to eat there.  They are constantly getting fresh french bread which they hollow out and fill with high quality italian cold cuts, lettuce, tomato and an amazing hot pepper relish.  The relish is not overly spicy, but for the faint of heart, they also make a great cheese steak sandwich.  NOT TO BE MISSED!!!!!!!
White House Sub Shop-2301 Arctic Avenue, Atlantic City, NJ(609-345-1564
Beach Haven, NJ
Uncle Wills Pancake House-3 south Bay Avenue, Beach Haven, NJ (609)492-2514.  Old fashioned/new fangled pancake house with great omlettes and things like strawberry pancakes.  Yum.
NJ Music Scene Info:
The Aquarian
Jersey Beat
NJ Rocks
Jersey Shows
Jersey Music
Hoboken
Birthplace to Baseball and Frank Sinatra, Hoboken is really just a nesting ground for people who work in Wall Street now.  Washington Street has tons of bars and restaurants, though few have hipster potential, despite the proximity to NYC which is just a 15 minute PATH train ride away.
There is a thai restaurant here that used to be my favorite thai in the NYC area.  It is located at the corner of fourth and Washington and is called Bangkok City Thai Restaurant 335 Washington St  Hoboken, NJ (201) 792-6613.  I can't vouch for the quality lately though, since I haven't been for a while.
Also Try SRI THAI, recommended by a HT user.  Its on the Corner of 3rd and Bloomfield, 234 Bloomfield Street, Hoboken-(201) 798-4822
Slices as big as your head!  Benny Tudino's Pizzeria 622 Washington St  Hoboken, NJ (201) 792-4132 uses a yard wide pan for its slices which are very doughy with a mild sauce and quite good.
Provisions-For the most incredible fresh mozzarella and great sandwiches made with italian cold cuts head to Fiore Deli Of Hoboken 414 Adams St  Hoboken, NJ (201) 659-1655. Their fresh mozzarella is so good that Frank Sinatra had them send it to him in California.  Yum!
Blackwood, NJ(philly suburb)
Record Store
Full Circle Records-1031 Little Glouchester, Blackwood, NJ 08102-856-227-0662
Bound Brook, NJ
Eats-
Chimney Rock Inn -800 Thompson Ave, Bound Brook, NJ 08805  (732) 469-4600-Pizza-Burger joint since 1863 its claimed, but kinda doubt they had pizza and loaded fries back then.
Brick, NJ
Eats-
Junkyard Dogs-283 Mantoloking Rd, Brick, NJ 08723 (732) 451-1800
Cherry Hill, NJ
Eats-
Chick's Deli – 906 Township Ln, Cherry Hill, NJ 08002
Closed Sunday Daily· 7AM–6PM (856) 429-2022-Great cheesesteaks
Cinnaminson, NJ (Philly Suburbs)
Eats-The Jug Handle Inn-Famous for their Tony Bruno Wings plus other barfood: 1018 Forklanding Rd, Cinnaminson, NJ 08077
7 days 11AM–2AM  (856) 665-8696
Clark, NJ
Eats-White Diamond-burger joint with chili cheesburgers-1207 Raritan Rd, Clark, NJ 07066  (732) 574-8053
Clifton, NJ
Eats
Rutts Hut-417 River Rd , Clifton, NJ 07014-(973) 779-8615-Deep fried hot dogs with a mustard based relish.  What I find even more interesting though is the lost in time "restaurant" side with a bunch of old school dishes in a dark, very dark dining room.
Hot Grill-669 Lexington Avenue , Clifton NJ 07011. Since 1961, this joint sells Texas Hot dogs, which are similar to coney dogs or michigan dogs.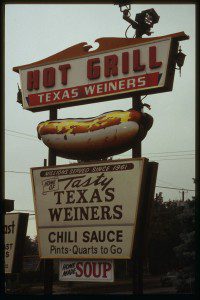 The New Corral -499 Hazel St, Clifton, NJ 07011,  (973) 772-0941-This is a diner with a full menu, but they also have a chili dog and chili burger similar to hot grill as the owner used to work there.
Dunellen, NJ
Eats-
Live Music
Roxy and Dukes-745 Bound Brook Rd, Dunellen, NJ 08812 (732) 529-4464-Live music and Burlesque.
Eats-
J&G Texas Weiner – 238 North Ave, Dunellen, NJ 08812-Chili dogs and good burgers too
East Hanover, NJ
Mastoris Diner-famous for homemade cheesebread and cinnamon bread- 144 US Highway 130, Bordentown, NJ 08505 East Hanover, NJ
Jimmy Buff's-Said to be the originator of New Jersey Italian Hot Dogs.  Deep-fried dog  stuffed into puffy bread they call pizza bread, but its not pizzaish, topped with peppers and  onions, and fries.  In case I am unclear, the fries are on the sandwich. 354 New Jersey 10, East Hanover NJ 07936
Fort Lee, NJ
Eats
Hiram's Roadstand-1345 Palisade Avenue  Fort Lee, NJ 07024, (201) 592-9602-more deep fried hot dog action in NJ, this one with beer and a cool sign.  Formerly located across from a rival Callahans that was sadly razed for a bleeping bank.
Garfield, NJ
Eats-
Barcelona's Restaurant & Bar
-38 Harrison Ave, Garfield, NJ 07026 (973) 772-6960-Outta time restaurant and unchanged bar with cheap pizza cut into half slices, meatballs and other red sauce joint staples.
Hackensack, NJ
Eats
White Manna-358 River Street, Hackensack, NJ (201) 342-0914
the best slider you will ever have, in a teeny tiny diner. There is another restaurant with a similar name in Jersey City with similar sliders but trashytravel prefers these.
Hamilton Township, NJ
Eats-Gaetano's Cheesesteaks ?-cheesesteaks, plus salads & burgers.
1280 NJ-33, Hamilton Township, NJ 08690: (609) 588-8111 Closes between lunch and dinner.
Hasbrook Heights, NJ
Eats-
Mt. Fuji
– 193 NJ-17, Hasbrouck Heights, NJ 07604 very similar to Benihana with a performance cooking at your table.
Hawthorne, NJ
Eats
(973) 423-0881-"texas" weiners with their famous sauce, italian hot dogs, the ubiquitous taylor ham, and they also tout their pastrami as being the best this side of the hudson.
Jersey City, NJ
Bars-
Lucky 7 Tavern
– 322 2nd St, Jersey City, NJ 07302- (201) 418-8585-DJs and occasional live music
Live Music-
Monty Hall -BYOB music venue run by WFMU: 43 Montgomery St, Jersey City, NJ 07302
Clubs-
Porta -135 Newark Ave, Jersey City, NJ 07302 (201) 544-5199-Italian restaurant with great cocktails and sometime dj and band events.
Eats
Boulevard Drinks – 48 Journal Square Plaza, Jersey City, NJ 07306-Chili dogs across from the path station.
White Mana-470 Tonnele Avenue, Jersey City, NJ (201) 963-1441
Sliders and Diner fare. There is another restaurant with an extra N in Hackensack which has superior burgers in trashy travels opinion
Theater-
The Landmark Loew's Jersey Theater-54 Journal Square, Jersey City, NJ 07306  (201) 798-6055, incredible old theater that shows old movies and also is very reasonable for using for events
Little Ferry, NJ
Tons of Korean Restauants are in Little Ferry and are worth a try.
Eats-
Callahans-Hot dogs, Sausage Peppers and onion sandwiches, the New Jersey Dog, and more. There also used to be a 2nd location in Fort Lee, Sadly Closed and now a bank.  146 Rte. 46. Little Ferry, NJ 07643
Bar-
The Great Notch Inn, 400 Rt 46, Little Falls, NJ. North Jersey's Premier Rockin Roadhouse bar since 1939.
400 U.S. 46  Little Falls, NJ 07424, (973) 256-7742 Daily live music too
Brighton Bar-121 Brighton Avenue  Long Branch, NJ 07740 (732) 229-9676 Lots and lots of punk shows from vintage rockers.  
Eats-
with sightseeing-Windmill-586 Ocean Boulevard, Long Branch, NJ (732) 229-9863-old hot dog stand with a windmill, now the flagship in a mini chain. As of this writing, the food pics on the webpage were very unappetizing.
Max's Hot Dogs-25 Matilda Terrace, Long Branch, NJ (732) 571-0248-Foot long hot dogs served on normal rolls.  I actually don't enjoy that so maybe ill stick to windmill.
Lyndhurst, NJ
Tiki Bar!-Lees Hawaiian Islander-768 Stuyvesant Ave, Lyndhurst, NJ 07071 (201) 939-3777-One of these classic tiki bars with mediocre asian food but awesome drinks.  Closes at 10 most days but open til 1 am on weekends.
Maple Shade, NJ
Eats-
Jay's Elbow Room -Dive bar with great sign, lots of tap beers and great bar food like wings: 2806 NJ-73, Maple Shade Township, NJ 08052 open 7 days 10AM–3AM
Middlesex, NJ
Eats-
Middlesex Texas Weiner
 – 1355 Bound Brook Rd, Middlesex, NJ 08846 most days 7:30AM–8:30PM  (732) 356-7973  Chili dogs.  This restaurant lacks the charm of many of the other hot dog places in NJ.
 Milburn, NJ
Eats-
Milburn Deli-328 Millburn Ave., Millburn, NJ
973.379.5800-Home of the NEW JERSEY SLOPPY JOE, which is nothing like a sloppy joe. Your Choice of Meat w/ Swiss Cheese, Homemade Cole Slaw & Homemade Russian Dressing on Triple Decker Rye Bread
Morristown, NJ
Museum-The Morris Museum has the largest collection of music boxes in the world it is believed.  Cooler than it sounds.-6 Normandy Heights Road, Morristown, NJ 07960
Newark, NJ
Clubs-QXT's Night Club-Alt/goth/sometimes punk club: 248 Mulberry St, Newark, NJ 07102: (201) 983-9397
Eats-
Burger Walla-47 Halsey St, Newark, NJ 07102-Indian style burgers (no beef-lamb or veggie burgers and a crab burger)
Dickie Dee's Pizza -despite the pizza name, known for Italian hot dogs stuffed in pizza bread with onions, peppers & potatoes. 380 Bloomfield Ave, Newark, NJ 07107
Most days 10AM–9PM : (973) 483-9396
Hamburgao -Brazilian Burger restaurant! 288 Lafayette St Newark, NJ 07105-Potato sticks on the burger
Krug's Tavern– since 1932 serving famous burgers, once owned by Jake La Mottas family. 118 Wilson Ave, Newark, NJ 07105   (973) 465-9795  Closes for Summer break late August Usually.
Bars-
McGoverns Tavern – 58 New St, Newark, NJ 07102  (973) 643-3984-Since 1936 Newarks oldest restaurant.  CLosed weekends?!
New Brunswick-
Venues- The Clinic-stand-up comedy club in New Jersey that just started having the occasional rock show-193 Hamilton Street in New Brunswick.
Passaic Park, NJ
Clubs
The Loop Lounge-373 Broadway Passaic Park, NJ 973-365-0807.
2 Rooms, 2 DJs, Live Bands.
Patterson, NJ
Patterson has a waterfall that is the second largest in the Northeast.
GREAT FALLS/S.U.M. National Historic District, McBride Avenue Extension and Spruce Street, Paterson-The City of Paterson's Great Falls Visitor Center is located across from the Great Falls at 65 McBride Avenue Extension, offers guided walks featuring an overview of the District, its significant industrial architecture, history, and current projects. For information about Visitor Center hours and services call 973-279-9587.
Eats-
Patterson has a few hot dog places
Libby's Lunch-98 McBride Ave, Paterson, NJ 07501 (973) 278-8718-Chili dogs in an old timey diner
Getty Avenue Grill-169 Crooks Ave, Paterson, NJ 07503  (973) 278-7999-Texas weiners aka chili dogs or coneys
Plainfield, NJ
Eats-
Texas Wiener I-100 Watchung Ave, Plainfield, NJ 07060
Phone: (908) 756-5480- Chili dogs
Princeton, NJ
Record Store
PRINCETON RECORD EXCHANGE-20 South Tulane Street, Princeton, NJ 08542,  1-609-921-0881-huge collector oriented record store.  About one hour by car from Philly or NYC.Sussex, NJ
Jump out of an airplane with
Sussex Skydiving at the Sussex Airport.  You get a nice view of NYC before you go splat.
South Orange, NJ
Eats-Town Hall Delicatessen -74 1st St, South Orange, NJ 07079
Phone:(973) 762-4900
Town Hall Deli opened in 1927. The Deli was purchased in the 1930's from the original owners. During the 1930's, the then-Mayor of Maplewood, Mayor Sweeney, visited Havana, Cuba. While there,he visited Sloppy Joe's Bar and Eatery.
While the Mayor was at Joe's in Cuba, he had a sandwich that he loved so much that when he returned to the US, he asked the deli owners to recreate it. It was made with cole slaw, ham, cow tongue, swiss cheese, with lots of dressing served on thin rye bread. Hence, now its The Birthplace of the Sloppy Joe. (New Jersey Style)
Sparta, NJ
Live Music-
Krogh's Restaurant & Brew Pub ?- 23 White Deer Plaza, Sparta Township, NJ 07871 (973) 729-8428
Stanhope, NJ
Live Music-
Stanhope House, 45 Main Street , Stanhope, NJ  (973) 347-0458
Vineland, NJ
DRIVE IN–  2203 S. Delsea Drive Vineland, NJ 08360: 856-696-0011
Vauxhall, NJ
Eats-Manny's Texas Wiener-2580 Springfield Ave, Vauxhall, NJ 07088 (908) 964-3585
Wildwood, NJ
Old fashioned amusement piers line the boardwalk in this town.  They have a tram that has a womans voice going "watch the tram car please" running on the boardwalk.  This town is best appreciated by getting a room and spending a few days.  Definately worth a trip.
Four of the amusement piers are run by Moreys Piers.  You can buy a pass for one or all the piers.  They have some very decent coasters here, one of which, the great white, is among the best wooden coasters.
The Moreys site has a whole list of lodging, but one of the freakiest places to stay is the Rolling Stones Themed MEMORY MOTEL. Wierd……
Also, you can try the Lollipop Motel, 23rd and Atlantic, WIldwood 609-729-2800.
Theres live music at the Hurricane East, or just the Hurricane, 218 E. Schellenger Ave. Wildwood, but its gonna be trashy!  Can't find links to the listings.
I will leave the dining to you.  The boardwalk has your standard vacation staples-Pizza, Frozen Custard and Fudge.
Except of this
maui's dog house-806 New Jersey Avenue  Wildwood, NJ 08260 (609) 846-0444 Hot dog joint that sells "salty balls" which is there name for syracuse salt potatoes, which are mini taters in a sauce similar the the delicious stuff that would run off corn on the cob
Also in southern Jersey, in the town of Delran near Philadelphia, you will find the L & M Bakery, said to make amazing Creme Donuts.  Also recommended are the chocolate covered crullers and chocolate covered cinnamon rolls.  Yum.   L & M Bakery 11 Saint Mihiel Dr  Delran, NJ (856) 461-1660-take out only.
Princeton, NJ has an alternative paper called US1.
Marlboro, NJ
Eats-
Spikes Fish Market and Restaurant-448 Rte. 9 N., Marlboro, NJ, 732-972-6066-Nice basic Seafood Joint, where nothing is fried.
Morristown, NJ
Morris Museum-Morris Museum | 6 Normandy Heights Road | Morristown, NJ 07960 Large collection of Caliopies and other carnival related stuff
Princeton, NJ
Music-Princetons Terrace Club has a handful of live music events
Ships Bottom, NJ
Eats-
Woodies Drive In-5th St & Long Beach Blvd,Ship Bottom, NJ 08008 (609) 361-7300 Not cheap but hand ground burgers with tons of variety.  Dirty Fries with old bay seasoning and the regional italian hot dogs and taylor ham.
Stone Harbor, NJ
Ice Cream-Springer's Homemade Ice Cream, 9420 Third Avenue
Stone Harbor, NJ 08247, 609.368.4631
Toms River, NJ
Eats-
Joe Joe's Italian Hot Dogs-2039 New Jersey 37  Toms River, NJ 08753
(732) 270-9720.  The Italian Hot Dog is one of SEVERAL regional specialty dogs in NJ.  These are served like sausage, peppers and onions, but with Hot Dogs instead. Also the italian dogs are served in a quarter loaf of italian round bread with potatoes.
Stewarts Root Beer-State Highway 37 NE, Toms River, NJ 08753 (732) 270-6377 Drive in with carhop service
Woodbury Heights, NJ
Record store-Jupiter Records, Woodbury Heights, NJ (856) 202-5122