Yankee Cannonball at Canobie Lake Park, Salem, NH
New Hampshire Tips
Glen, NH
Amusement Park-
Storyland, Route 16-Glen, New Hampshire-Phone Number: (603) 383-4293-Small kiddie park with junior steel coaster.
Eats
Quick to Go
196 Tri City Plz
Somersworth, NH 03878
(603) 740-9410
www.quicktogo.net/
Gas station with middle eastern food
Tourist attraction
Clark's Trading Post
110 Daniel Webster Highway
Lincoln, NH 03251
(603) 745-8913
http://www.clarkstradingpost.com
This tourist spot bought a number of attractions from Freedomland, formerly of the Bronx, NY.  Glorious things like a bear show, train ride and gravity spot mystery house.
Manchester
Record Store-
Newbury Comics, 777 S. Willow Plaza, Manchester, NH 03103
Relax, 658 Elm St., Manchester, NH 03101
Nashua
Record Store-
Newbury Comics, Pheasant Lane Mall, 310 Daniel Webster Hwy, Nashua, NH 03060
North Salem
Record Store-
Newbury Comics, 436 S. Broadway Street, North Salem, NH 03073
Portsmouth
Eats-
Gilley's -175 Fleet St,. Portsmouth, NH 03801  (603) 431-6343 tiny diner car, oldest restaurant in NH.  Amazing burgers.  They have dogs too but just get the burgers. or a grilled cheesy steak.
Record Store-
Bull Moose Music, 82 Congress St., Portsmouth, NH 03801
Raymond, NY
Eats-
Tuckaway Tavern and Butchery -58 NH-27, Raymond, NH 03077- (603) 244-2431-Lots of great burgers including a 25 dollar surf and turf burger topped with lobster salad.
Salem, NH
Amusement Park-
Canobie Lake Park, Salem, NH 03079-Phone Number: (603) 893-3506-Nice clean classic family amusement park with a classic wooden coaster.
West Lebanon, NH
Eats-
The Four Aces Diner -Vintage Diner- 23 Bridge St, West Lebanon, NH 03784 Daily 6AM–3PM  (603) 298-5515-Cinnamon roll pancakes, lobster benedict, popovers and the Hangover special, a mutated disco fries with bacon and eggs. Great burgers and onions rings and the "hogschild" Burger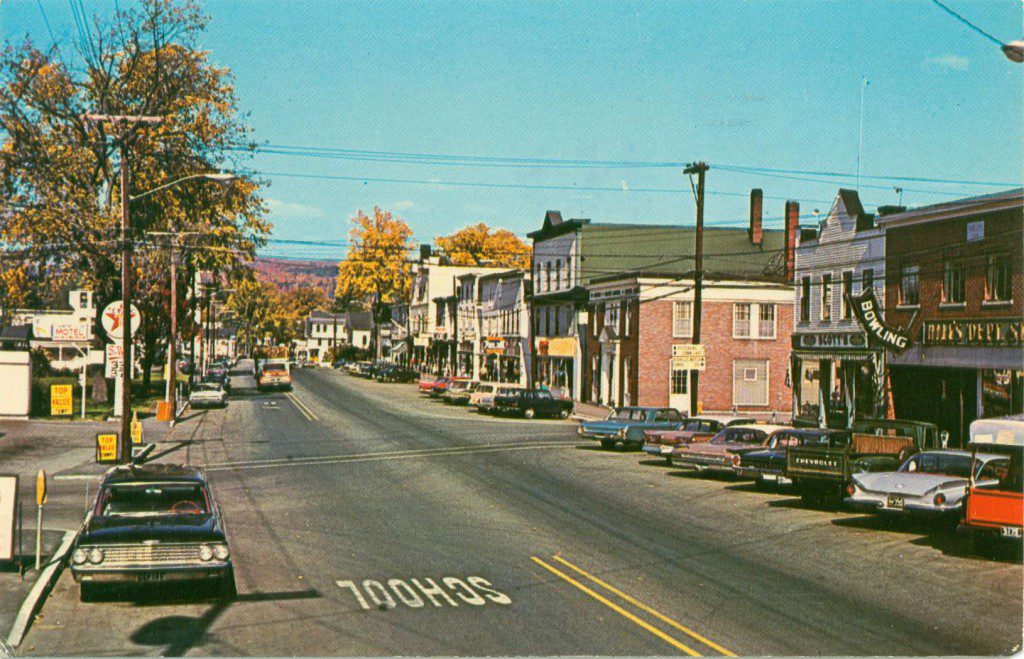 General Street Scene at Colebrook NH