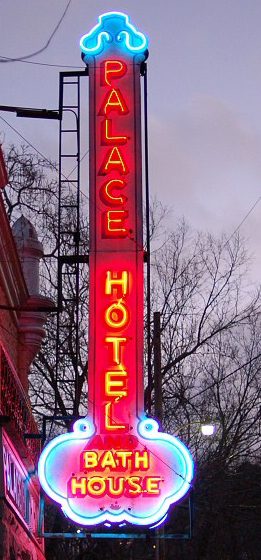 above: the Palace Hotel and Bathhouse in Eureka Springs
Tie Dye Travels has many articles on Arkansas food such as one on the regional cheese dip served throughout the state.
Flying Burger and Seafood is a mini chain with burgers and all sorts of reasonable seafood in a fast food style service. They have grilled seafood Po Boys (also fried ) for around ten bucks!
Arkansas Tips 
 True Story:
In June, 2009, The Former Lady Travel and I were at the Little Rock, AR Target Store.  We went to the Starbucks to get a cup of tea.  When I asked to get two cups of black tea, the counter girl had to look up how to make it in the manual.
Ash Flat, AR
Eats-
Meacham's : 191 US-62, Ash Flat, AR 72513 (870) 994-2101-Great Onion Rings, Catfish, Frogs Legs
Bald Knob, AR
Eats-
Bulldog Restaurant -3614 Hwy 367 N, Bald Knob, AR 72010  (501) 724-5195-Great onion rings, bbq sandwiches and an amazing strawberry shortcake dessert.
Who Dat's Cajun Restaurant-3209 Arkansas Highway 367, Bald Knob, AR 72010 (501) 724-6183-Giant sized monster burgers, gumbo and baked oysters stuffed with shrimp.
Bentonville, AR
Eats-
Sparks Soda Fountain- 105 N Main St, Bentonville, Arkansas 72712  (479) 273-1329-next to the….sigh…Walmart Museum.
Fred's Hickory Inn -1502 N Walton Blvd, Bentonville, AR 72712  (479) 273-3303-pricey but good odd combo of fine dining and bbq. Great ribs, steaks, prime rib and spagetti combo , smoked pork loin.  Since 1970
Blytheville, AR
Eats-
Kream Kastle- 112 N Division St, Blytheville, AR 72315 Closed Sunday (870) 762-2366-Drive in bbq and burger and ice cream place including a chili cheese pig sandwich.  Real bbq.  Burgers char grilled.
Yank's Famous Barbecue-213 E Main Street, Blytheville, AR 72315, (870) 762-2935-Drive thru only, super tiny bbq joint with great ribs, bbq sandwiches, and dirty fries topped with meat and bbq sauce.
Bull Shoals, AR
Bowling-Food-
178 Club-Bull Shoals lanes.-2109 Central Boulevard, Bull Shoals, AR 72619, (870) 445-4949-One side fine dining stone walled steak restaurant, the other side a classic old real bowling alley.
Camden, AR
Eats-
Woods Place -1173 W Washington St, Camden, AR 71701  (870) 836-0474-Legit southern food joint with good brisket. Some seafood options too.
Carlisle, AR
Eats-
Nick's Bar-B-Q & Catfish – 1012 Bobby L Glover Hwy, Carlisle, AR 72024 (870) 552-3887-Great bbq and amazing onion rings right off of
Cherokee Village, AR
Eats-
Carol's Lakeview Restaurant: 200 Iroquois Dr, Cherokee Village, AR 72529  (870) 257-3595-Stone walled lakeview restaurant with massive pie.
Choctaw, AR
Eats-
Frank's Hickory House Bar-B-Q -4736 Hwy 65 S, Choctaw, AR 72028 (501) 745-8970-Great BBQ sandwich, ribs, BBQ beef and onion rings.  Highly rated.
Clarkville, AR
Eats-
Diamond Drive In-1206 W Main St, Clarksville, AR 72830  (479) 754-2160-Best burger in town.
Coal Hill, AR
Eats-
Dee's Drive-In, 306 West U.S. 64, Coal Hill, AR 72832 (479) 497-1777-Small cafe on US 64 with catfish, malts, onion rings and something called a leroyburger.
Dermott, AR
Eats-
Willy's Old Fashioned Hamburgers-300 E Speedway Street, Dermott, AR 71638
(870) 538-5090-Almost no online presence.  If you go, send photos to evan@trashytravel.com
Devalls Bluff, AR
Eats-
Ms. Lena's Pies – 2885 AR-33, De Valls Bluff, AR 72041-Fried pies and regular pies but open Saturdays only.
Dewitt, AR
Eats-
Troy's Drive-In -1024 S Jefferson St, De Witt, AR 72042  (870) 946-1201-teeny teeny tiny burger and dog place. Corn dogs are good too.
El Dorado, AR
Eats-
Minute Man-318 W Main St, El Dorado, AR 71730 Closed Sunday  (870) 862-7995-Lost in Time charcoal grill burger joint/mexican restauant.  Used to be part of a big chain and now the lone survivor.  The burgers come with a relish sauce.  The storefront is Mid century Modern.
Flying Burger-704 S Timberlane Dr, El Dorado, AR 71730 (870) 864-0014-odd combo of retro style hand patties burger joint and fresh seafood restaurant.  There are 2 locations.
Emerson, AR
Eats-
The Smokin' Bull-306 S Elm St, Emerson, AR 71740  (870) 547-2020-steakhouse with a good burger.
England, AR
Eats-
Spradlins Dairy Delight- 324 N Main St, England, AR 72046 ,  (501) 842-2341, burgers, "BBQ" (often in these parts bbq is just pork with sauce) and these folks may have invented the frito pie, ie a bag of fritos topped with chili.
Eureka Springs, AR
Shop-
Two Dumb Dames Fudge Factory-33 South Main Street, Eureka Springs, AR 72632
(479) 253-7268-Fudge factory in the very cute Eureka Springs.
Eats-
Bavarian Inn Restaurant -329 W Van Buren, Eureka Springs, AR 72632  (479) 253-7741-german restaurant in german hotel since the 1980s
Bubba's Southern Pit Barbecue, 166 West Van Buren, Eureka Springs, AR 72632
(479) 253-7706 Stick to the ribs here.
Fort Smith, AR
Eats-
Benson's Grill -24 hour joint with the "big mama" burger and a "meat-o-rama" sandwich : 2515 Rogers Ave, Fort Smith, AR 72901  (479) 782-8181
Miss Anna's-5001 Towson Ave, Fort Smith, AR 72901  (479) 649-6300-Southern food, Tuesday is free pie day.  Open til 10 pm.  Great apple pie.
Ed Walker's Drive-In & Restaurant -retro style dining room & drive in restaurant with French dip sandwiches, giant burgers & beer.
1500 Towson Ave, Fort Smith, AR 72901 Most days · 10AM–12AM
(479) 783-3352
Calico County Restaurant-2401 S 56th St, Fort Smith, AR 72903 (479) 452-3299-Non chain but kinda looks like a chain, famous for cinnamon rolls but lots of goodness
Dairy Freeze – 5400 Midland Blvd, Fort Smith, AR 72904  (479) 783-2162-Ice Cream, Burgers and Great onion rings.
George's Restaurant-2120 Grand Avenue, Fort Smith, AR 72901-Mom and pop burger  shop with tamales and a bean chili.
Yellow Umbrella-1608 S Greenwood Ave ,Fort Smith, AR 72901  (479) 783-7929 Mon to friday 10:30 am – 4:00 pm closed weekends.  seasoned crinkle cut fries.  Heavy mustard on the burgers.
Hazen, AR
Eats-
Murry's Restaurant – US-70, Hazen, AR 72064 Legendary Seafood Restaurant (870) 255-3266
Hot Springs, Arkansas
Magic Springs & Crystal Falls Amusement Park
Park Address: 1701 East Grand Ave., Hot Springs, AK 71901
Phone Number: (501) 624-5411
Eats-
McClard's Bar-B-Q -505 Albert Pike, Hot Springs, AR 501-623-9665, closed Sunday and Monday.  BBQ ribs smothered with French Fries, or Tamales with BBQ meat and condiments similar to Frito pie.
Hoxie, AR
Eats-
Old Hickory Bar-B-Q-320 SW Texas Street, Hoxie, AR 72433 (870) 886-2004-Barn Shaped building, southern style breakfast.  7 days, Lunch only on Sunday.
Huntsville, AR
Eats-
Crossbow Restaurant- 537 N Parrott Dr, Huntsville, AR 72740  (479) 738-2422-Kind of looks like a cult office on the outside and has a parking lot full of pickup trucks.  Decent southern food and some cool counter stools and charmless tables.
Jonesboro, AR
Eats-
Demo's Barbecue and Smokehouse -1851 S Church St, Jonesboro, AR 72401 (870) 935-6633-Great ribs. Theres two locations of this place now.  This is the older one with more charm.
Keo, AR
Eats-
Charlotte's Eats & Sweets-290 Main St, Keo, AR 72083 (501) 842-2123-Sandwich and baked good cafe with lots of knick knacks in old display cases.
Lake Village, AR
Eats-
Rhoda's Famous Hot Tamales – 714 Saint Mary St, Lake Village, AR 71653  (870) 265-3108-Tamales, delicious burgers and Soul food. Get the Pecan Pie!  Cash only  Closed Sunday.  Daily 8 am to 7 pm.
Little Rock, Arkansas
The Local weekly paper for Little Rock is the Arkansas Times.  You can Also get the Little Rock Free Press.
Eats-
Cotham's In the City -"home of the hubcap burger": 1401 W 3rd St, Little Rock, AR 72201 -The original location burned down and now this famous burger joint moved to the city.
Mr. Mason's BBQ which is the heir to the recipes of an earlier operation. 915 West Capitol at Chester Street.
Sim's BBQ restaurants, noted for their thin, reddish, mustard-based sauce. Various locations around LR.
Cotham's In The City, 1401 West 3rd Street, 370.9177-home of the hubcap burger, huge one pound monster.
Whole Hog CafÉ, 2516 Cantrell Road, Little Rock, Arkansas 72202.  Well, you gotta have bbq, right?  Good looking ribs.
Live music clubs- Juanita's -1300 S. Main St. -Little Rock AR 501-372-1228
Vinos Brewpub-Pizza, beer and bands.
Live Music-Sticky Fingerz Rock-n-roll Chicken Shack – 107 River Market Ave, Little Rock, AR 72201  (501) 372-7707
Town Pump -1321 Rebsamen Park Rd, Little Rock, AR 72202 (501) 663-9802
White Water Tavern – 2500 W 7th St, Little Rock, AR 72205-: (501) 375-8400-beer, food and live music
Fayetteville, Arkansas
The Local alternative paper is the Fayetteville Free Weekly.
Bars-
The Nines-Beer and Wine bar in an alley.-100 W Ctr St
Ste 3 Fayetteville, AR 72701
Records-
Block Street Records -17 North Block, Fayetteville, AR 72701  (479) 966-0623 Open 7 days
Eats-
Catfish Hole-4127 W Wedington Dr, Fayetteville, AR 72704-mostly fried seafood joint
Sassy's Red House-708 N College Ave, Fayetteville, AR 72701 (479) 856-6366-BBQ joint with really good sides
Dot's Nashville Hot Chicken-617 N College Ave, Fayetteville, AR 72701 (615) 208-3272
Whole Hog Cafe -3009 N College Ave, Fayetteville, AR 72703 (479) 442-0100-delicious saucy ribs.
Hammontree's Grilled Cheese-326 N W Ave, Fayetteville, AR 72701 (479) 521-1669
Sit & Spin is a gorgeous retro style burger and salad joint but this might be the top of your list as you can eat and do laundry at the same time.-737 N Leverett Ave, Fayetteville, AR 72701 (479) 249-6570
Hugo's-25 1/2 N Block Ave, Fayetteville, AR 72701 (479) 521-7585-An everything but the kitchen sink overly decorated college hangout.  Famous for grasshopper crepes for dessert topped with mint ice cream
Feltner Brothers -2768 N College Ave, Fayetteville, AR 72703 (479) 935-4545-Slightly too stylized burger joint from the descendents of the whattaburger family.
Live Music-
Backspace-541 W Meadow St, Fayetteville, Arkansas 72701
Smoke and Barrel, (479) 521-6880 324 W Dickson St Fayetteville, Arkansas, Whiskey bar with live music
George's Majestic Lounge -since 1927 this bar tends to be more Jam Bands and Tribute shows: 519 W Dickson St, Fayetteville, AR 72701  (479) 527-6618
Drive In Theater-
112 Drive In-3352 Hwy. 112 N., Fayetteville, AR 72703, (501) 442-4542-Old drive in with classic stick it on your car speakers.
Record Store-
Clunk Records, 2147 North College, Fayetteville, AR 72701
Harrisburg, AR
Eats
Mel's Steaks-8610 N Cole St, Harrisburg, AR 72432  (870) 578-5153-A shed where you have to walk through kitchen to get to the dining area.  Menu is on the side of the napkin dispenser, but good inexpensive steaks.
Harrison, AR
Eats-
Daisy Queen -9044 Highway 7 S, Harrison, AR 72601  (870) 743-1122-this was a different ice cream place with a cool old sign, now taken over by the daisy queen folks .
Jasper, AR
Attraction/Eats-
Cliff House Inn, HCR 31 Box 85, Jasper, AR 72641 (870) 446-2292-Cool AF building hanging off a mountain.  Also cabins.  On the "Arkansas Grand Canyon"
Leslie, AR
Eats-
Two good cafes in this town
Leslie Cafe -408 Main St, Leslie, AR 72645 (870) 447-6101-Great pies, great sign, great rings.
Skylark Cafe-401 High St, Leslie, AR 72645 (870) 447-2354-Cute cafe with great pies. Great corn chowder.
Also, Misty's Conoco & Convenience gas station has a regional specialty called a chocolate roll.  6542 US-65, Leslie, AR 72645 : (870) 447-2544
Marianna, Arkansas
Eats-
Jones Bar-B-Q Diner, 219 W. Louisiana St, Marianna, Arkansas 72360, (870) 295-3802-James Beard award winner for being an American Classic with the standard bbq pork sandwich of the region. About an hour from Memphis.
Marion, AR
Eats-
Tacker's Shake Shack – 409 E Military Rd, Marion, AR 72364  (870) 739-3943 Closed Sunday.  Since the 70s.  Burger/Ice cream joint with lots of photos on the walls.  Fries are krinkle cut which Trashy Travel hates.  Some specialty pies including one called Tang pie.
Marshall, AR
Eats-
Daisy Queen, U.S. 65, Marshall, AR 72650 (870) 448-2180-despite the knock off name, this still fast food style place is brick and clean and has great burgers and a deluxe taco salad that is supposed to be good.
Melbourne, AR
Eats-
American Burger Center -1242 E Main St, Melbourne, AR 72556  (870) 368-4338-for over 40 years, burgers, catfish and other family style dishes.  Many come with a cup of chopped pickled green tomatoes that is common in the area.
Morrilton, AR
Eats-
Morrilton Drive-Inn Restaurant -1601 N Oak St, Morrilton, AR 72110  (501) 354-8343-Burgers and BBQ plates in a big barn style building.
Mountain Home, AR
Eats-
Back Forty -1400 Hwy 62 E, Mountain Home, AR 72653  (870) 425-7170-Charbroiled burgers and onion rings in a barned shaped building.  Chairs could use some updating.
Fred's Fish House -44 Hwy 101 Cutoff, Mountain Home, AR 72653  (870) 492-5958-Amazing southern fish house with valley view.  Part of a mini chain.  Great hush puppies.
Mountain View, AR
Eats-
Kin Folk's Bbq -118 Howard Ave, Mountain View, AR 72560  (870) 269-9188 BBQ joint said to have a good burger.
Mountainburg, AR
Eats-
Dairy Dream-1600 Highway 71 Northeast, Mountainburg, AR 72946
(479) 369-2295 Ice Cream joint with delicious sloppy chili dogs and burgers.
Ooltewah, TN
Eats-
Couch's Barbecue-8307 Old Lee Hwy, Ooltewah, TN 37363   (423) 238-4801 Good slaw
Ozark, AR
Eats-
Hillbilly Hideout -3202 Pence Ln, Ozark, AR 72949 (844) 240-7281-A little slick on the decor but a 24 hour restaurant off I-40 with homemade pie and the deep fried Heavenly Hog sandwich, Ham and turkey and two cheeses.
Paragould, AR
Eats-
Batten's Bakery-1735 Paragould Plaza, Paragould, AR 72450 (870) 236-7810-Classic pastries, donuts and fried pies.  Get the sampler!  Make sure you get a chocolate fried pie.
Hamburger Station – 110 E Main St, Paragould, AR 72450  (870) 239-9956-Legit burger place in an old small gas station.
Paris, AR
Attraction-
Eiffel Tower Park, 101-111 W Walnut St, Paris, AR 72855- Seven foot model of the eiffel tower on a fountain.
Pickens, AR
Eats-
Pickens Store & Restaurant-122 Pickens Rd, Pickens, AR 71662  (870) 382-5266 Monday to Friday from 7 to 5 this down home comissary is open.
Pine Bluff, AR
Eats-
Colonial Steakhouse-111 W 8th Avenue, Pine Bluff, AR 71601 (870) 536-3488-Fancy steakhouse from the 70s.  Stay away from the fried shrimp but get the prime rib and onion soup ($4!).  They have something called "cotton blossoms" on the menu but I can't figure out what that is.  Salad bar.
Leon's Catfish & Shrimp Restaurant -3801 Chapel Village, Ste 18
Pine Bluff, AR 71603  (870) 879-3150 they give you hush puppies with cheese sauce and cole slaw when you first sit down.
Redfield, AR
Eats-
Mammoth Orange Cafe – 103 AR-365, Redfield, AR 72132 (501) 397-2347-Sunday Closed.   Trashy travel LOVES giant oranges and its even more excited when the giant orange serves burgers, because normally giant oranges just serve orange juice.  Great looking burgers.  Also diner food for burger haters.  Since 1964
Rogers, AR
Eats-
Susie Q Malt Shop – 612 N 2nd St, Rogers, AR 72756 Cute drive in restaurant for ice cream, burgers and fries. Sunday Closed Daily 10:30AM–8PM  (479) 631-6258
Monte NE Inn Chicken-13843 E Hwy 94, Rogers, AR 72758  (479) 636-5511-Only open for dinner, closed Monday, Sunday open for Lunch and Dinner.  Bean Soup, Fresh bread, Real mashed potatoes and family style chicken
Russellville, AR
Eats-Taco Villa, 420 East Fourth Street, Russellville, AR 72801 ,(479) 968-1191-Tiny cash only hole in the wall mexican joint with the hyper regional queso and simple mexican food.
Feltners Whatta-Burger-1410 N Arkansas Ave, Russellville, AR  (479) 968-1410 Amazing time machine early chain restaurant.
Searcy, AR
Eats-
Barb's Bar-B-Q-905 W Pleasure Avenue, Searcy, AR 72143 (501) 268-3418.  Tiny joint with bbq sandwiches.
Siloam Springs, AR (Not far from Tulsa, OK)
Eats-
Barnett's Dairyette, 111 West Tulsa Street, Siloam Springs, AR 72761 (479) 524-3211-amazing classic dairy joint that has been  updated in the right way with upscale ice cream concoctions, hand cut fries, great burgers and chili dogs.   A must!
Springdale, AR
Eats-
Neal's Cafe -806 N Thompson St, Springdale, AR 72764 (479) 750-0090 since 1944, southern food, great apple pie.
A Q Chicken House- Southern-style chicken recipes , 1207 N Thompson St, Springdale, AR 72764-Great onion rings.  Traditional bbq and Over the Coals fried chicken, where they take fried chicken and give it a little char on the coals.   Amazing rolls.  Ask for bbq sauce whatever you get.  Since 1947
St Joe, AR
Eats-Coursey's -Highway 65, St. Joe, AR -870-439-2503 -Smokehouse where they cure old fashioned hams and bacon.  They also have has a small counter in back where you can have a sandwich made of ham, turkey, or peppered beef of their amazing smoked products.  And get a summer sausage to go.
Walnut Ridge, AR
The Beatles visited this area once and there are plans to build a beatles statue nearby.
Eats-
Polar Freeze-416 Hwy 67 N, Walnut Ridge, AR 72476  (870) 886-9976-closed Sunday and Monday.  Dairy joint with "real pit bbq"
Zulu-10 Sky Watch, Walnut Ridge, AR 72476,  (870) 886-5918-Yet to open as of 7/2018 it will be a "farm to table" (Trashy travel hates those words) restaurant in a plane painted to look like the plane the beatles landed in.  They should call it steaks on a plane.
Wynne, AR
Eats-
Hickory House-128 US Highway 64 W, Wynne, AR 72396 (870) 238-4041-simple bbq place with pork sandwiches
Skippers Catfish & Hamburger Delight-1211 Falls Blvd, Wynne, AR 72396  (870) 238-2270-very little online evidence of this burger and fish joint.
Van Buren, AR
Paul's Bakery -1800 Main St, Van Buren, AR 72956 (479) 474-7044-No idea if the baked good are anything special but they do have an adorable donut man logo.
Eats-
Kopper Kettle Smokehouse – 6310 Alma Hwy, Van Buren, AR 72956 Breakfast and lunch only, closes at 3 pm.  Burgers on homemade rolls. Sunday Closed Presumable near kopper kettle candies.
Waldron, AR
Rock Cafe – 355 S Main St, Waldron, AR 72958  (479) 637-2975-Main street restaurant with cool old decor.  Next to a donut shop.
West Helena, AR
East-
Burger Shack, 372 Sebastian Street, Helena-West Helena, AR 72390 (870) 572-2271-Burger and ice cream shop.  "Best coke in Town"
West Memphis, AR
Eats-
William's Bar-B Q-106 S 14th St, West Memphis, AR 72301  (870) 735-0979-Great bbq Sandwiches
Howard's DO Nuts -1711 N Missouri St, West Memphis, AR 72301  (870) 735-2046-Lots of Donut flavors.
Wiederkehr Village, AR
Eats
Wiederkehr's Weinkeller Restaurant-3324 Swiss Family Dr
Wiederkehr Village, AR 72821  (479) 468-3551-Out of time restaurant in a winery.  Get the fondue which feeds many.  Gorgeous.
Wilson, AR
Eats-
The Wilson Cafe-2 N Jefferson St, Wilson, AR 72395 (870) 655-0222-Excellent lunch only (dinner Friday and Saturday) restaurant that looks like it could have been dropped in from NY.  Closed Monday.  Shrimp and Grits, Fried Chicken ETC.
Yellville, AR
Eats
Blacksheep BBQ Smokehouse & Grill-327 US-62, Yellville, AR 72687, +1 870-449-5637-Try the burger at this quirky joint with legit Brisket too.